802.11ac Dual-Band Wireless-AC1200 Gigabit Router
5th generation 802.11ac chipset gives you concurrent dual-band 2.4GHz/5GHz at up to super-fast 1167Mbps
ASUS AiCloud app included! Sync, share, and stream your files on the go
AiRadar optimizes signal strength in any direction with 150% greater coverage
USB 3.0 plus USB 2.0 ports for file, 3G/4G, and printer sharing
ASUSWRT dashboard UI enables 30-sec easy setup with sleek network monitoring and control
Next Gen Connectivity for Fastest Sharing
The ASUS RT-AC56U leads the way in next generation routers, offering dual-band Gigabit wireless with all-new 802.11ac Wi-Fi. Its powerful dual-core CPU and 256MB DDR3 RAM provide the best performance in both 2.4GHz and 5GHz. The 5GHz band works at up to 867Mbps, while the 2.4GHz frequency tops 300Mbps, serving an incredible combined bandwidth of 1167Mbps. That's three times the speed of standard 2x2 wireless-N routers! Plus, a USB 3.0 port means data transfers at up to ten times the speed of USB 2.0, and the RT-AC56U comes dressed up in the classy black diamond design. Together with USB 3.0, the ASUS AiCloud app makes cloud access anywhere easy. This smart mobile application expands seamless ASUS cloud experiences to Android and iOS devices, so you can quickly access, sync, stream, and share content. The exclusive ASUSWRT interface delivers 30-second setup, multiple SSIDs, and IPv6 support to further enhance networking, while USB 3.0/USB 2.0 ports instantly turn the RT-AC56U into a file, 3G/4G sharing, enhanced media server, VPN, and printer server for the ultimate in multi-role router functionality


World's Fastest Wi-Fi: 802.11ac
Powered by 5th generation Wi-Fi (5G Wi-Fi), the new 802.11ac Broadcom chipset gives the RT-AC56U superfast Gigabit wireless speeds. Compared with current 802.11n, the RT-AC56U delivers up to 867Mbps at 5GHz, which is 3X faster than previous 802.11n 2x2 router! The upgraded bandwidth has the higher capacity you need to increase Wi-Fi enjoyment at home. With notebooks, desktops, pads, and smartphones now all Wi-Fi-reliant, it's time to upgrade to the next generation so you can expand you connectivity now and in future.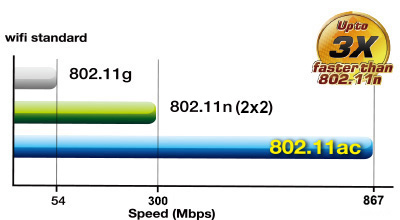 AiRadar improves Wi-Fi performance
ASUS AiRadar intelligently strengthens wireless connectivity using 802.11ac beamforming technology, high power amplification, and exclusive ASUS RF fine-tuning. This ensures extended coverage, dynamic data speed increases, and enhanced stability.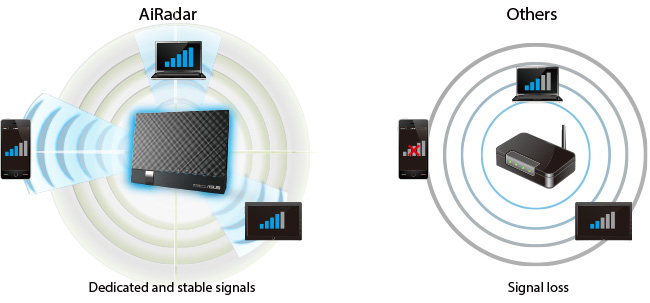 ASUS AiCloud – Your world on demand
ASUS AiCloud is a smart and easy mobile application that brings your ASUS cloud experience to iOS and Android. Access, stream, sync, and share all your files on the go from both public and private cloud storage services. Learn More


Dual-Band Connectivity for Lag-Free Entertainment
Delivering 2.4GHz and 5GHz concurrent bands at up to 300Mbps and 867Mbps, respectively, the RT-AC56U has a total speed of up to 1167Mbps, and maintains complete stability. You can perform basic tasks like web browsing and file downloading on the 2.4GHz band, while simultaneously allowing multiple devices to stream in HD or support online gaming and other demanding applications smoothly on the clearer 5GHz band.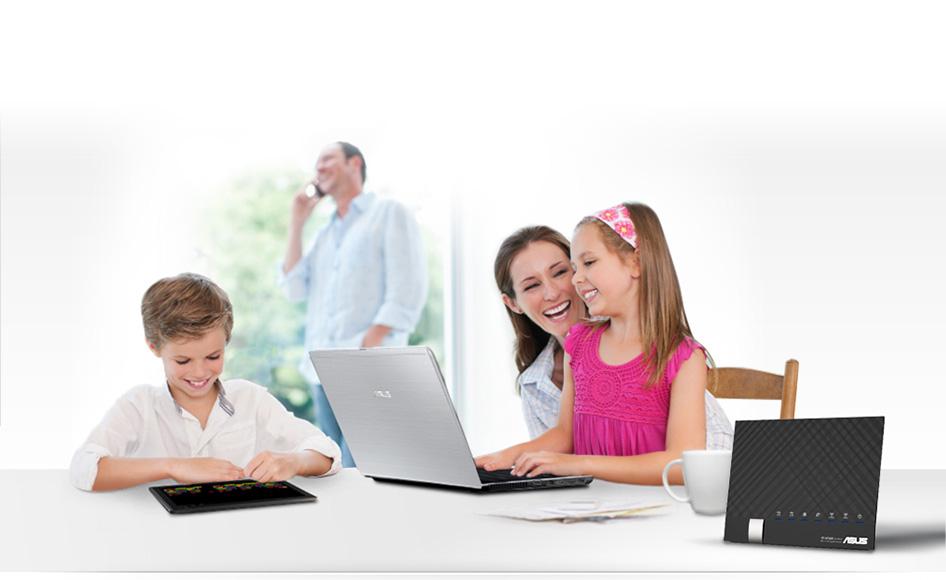 3-Step Easy Setup Through Your Pad, Smartphone, or PC
With the RT-AC56U, setup is a breeze. Simply power and connect the router and open a browser on a Wi-Fi-enabled device like a notebook or pad. You will then be taken to a setup page with a prompt to enter the ID/password from your internet provider, and that's it! Setting up your network is easier than ever.

Smart auto-detection design makes it possible for you to go from first plugging in the RT-AC56U to setup completion in under 30 seconds! Compared to the lengthy installs and hassles of other routers, this development from ASUS offers a true wonder of ease of use, and puts the most extreme networking speeds within your reach quicker than ever before.


ASUSWRT - Powerful Functions and Extra-Easy Management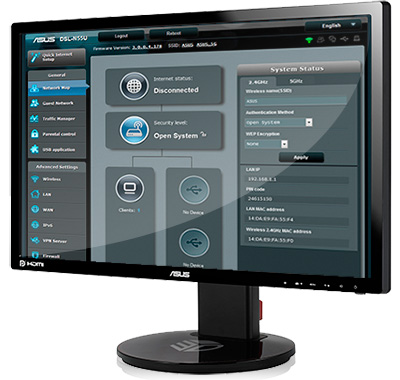 With the ASUSWRT dashboard UI, you can setup, monitor, and control network applications all in one intuitive area. The whole-new dashboard interface lets you manage all clients and settings via a single graphical interface, and provides 1-click updates.
Do you game a lot, or spend most of your time streaming videos? Whatever your planned use is, the RT-AC56U has Quality of Service (QoS) standards that let you select how much bandwidth is prioritized for virtually any task. Plus, the traffic monitor allows you to check your web usage in a clear graphical interface.


Highest USB speeds and double the connectivity for easier sharing
SuperSpeed USB 3.0 features data transfers up 10X faster than USB 2.0, which is also included. Two USB ports make the RT-AC56U perfect for file, multimedia, and 3G/4G sharing, while ASUS AiDisk offers remote access and a wide range of compatible devices content streaming.




Download and Stream Anywhere
Download Master and enhanced media server let you download and play multimedia files stored on router-attached USB storage on a wide range of compatible devices such as PC, pad, PS3, Xbox, and smart TV. Download Master can also download files while your PC is turned off, and allows you to manage and monitor download status remotely.





Discrete and Secure Wi-Fi Networks via Guest Access
The RT-AC56U supports up to three wireless networks over the 2.4GHz band and three over the 5GHz band, so you can set up usage times and limit access with advanced controls, including parental settings.


Powerful Online Multitasking with 300,000 Data Sessions
Support for a massive data pipeline of up to 300,000 data sessions means the RT-AC56U has around 20 times the networking capacity of conventional routers for exceptionally smooth performance.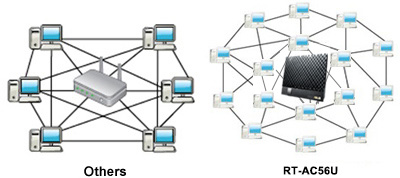 Compare (0)