ExpertBook B6 Flip (B6602F, 12th Gen Intel)
ExpertBook B6 Flip (B6602F, 12th Gen Intel)
ExpertBook B6 Flip
Work strong, stay flexible.


Windows 11 Pro (ASUS recommends Windows 11 Pro) / Windows 11 Home
Up to 12th gen Intel® Core™ i9 vPro processor
360°-flippable design
High-performance NVIDIA® RTX™ A2000 Graphics
Up to 128 GB DDR5 4800 MHz and 4 TB PCIe® 4.0 SSD
ISV certificated for professionals across industries
Two-way AI noise-cancelling audio technology with instant mic-mute key
Enterprise-grade security with the fingerprint-reader power button
Download datasheet
360˚ View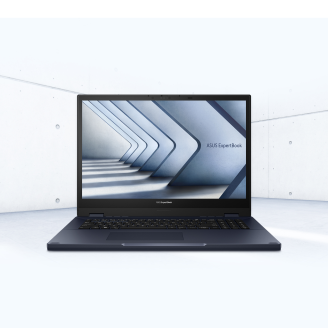 Multithreading powerhouse
ASUS ExpertBook B6 Flip is the mobile workstation that will realize your performance ambitions, pushing every limit to deliver the speed, power and portability you need — with a flippable, touchscreen form that can turn itself to any task. With enterprise-grade components, including up to Intel 55 W processors and professional NVIDIA® graphics, plus an advanced thermal design to keep everything running cool, quiet and at peak performance. It's also engineered with a stunning 16-inch, 120 Hz display with a 16:10 ratio for an expanded that keeps critical commands close — ensuring ExpertBook B6 Flip is ready to power through every creative endeavor, from audio and video editing to hardcore 3D modeling.
12th Gen Intel® Core™ HX processors
With an up to 12th Gen Intel
®
Core
™
HX vPro processor
1
, the world's best mobile workstation platform, ExpertBook B6 Flip brings packs desktop-level performance into a portable form. It cranks up the core counts and adds support for both the PCI Express
®
5.0 bus and error-eliminating ECC memory — so it's ready for whatever you throw at it.
NVIDIA® RTX A2000 graphics
ExpertBook B6 Flip brings NVIDIA® RTX™ power to professional workstations, with the latest NVIDIA® RTX™ A2000 graphics. With this raw power built in, ExpertBook B6 Flip transforms workflows with real-time ray tracing and accelerated AI. Now you have the power to create photorealistic renders, drive demanding AI applications or create immersive VR environments.
Advanced thermals
A liquid-metal thermal compound keeps ExpertBook B6 Flip's powerful CPU cool, while high-efficiency, 98-blade fans generate impressive airflow and minimal noise. Five heat pipes and seven intelligent sensors ensure optimum cooling performance, while keeping everything quiet — under 40 dBA in Standard mode — so you can concentrate on the task at hand without distractions.
ISV certified
We've tested ExpertBook B6 Flip with a roster of high-performance professional tools from independent software vendors (ISVs), so you know that it's certified to run the apps you need when you need them, routinely and reliably. Our exacting trials span software applications serving a gamut of industries, from architecture and engineering to product design and data science — offering an assurance that ExpertBook B6 Flip is primed to perform, whatever you do.
Massive computing power
ExpertBook B6 Flip maxes out computing power with the latest up to 12th Gen Intel
®
Core
™
i9 HX processor
2
, NVIDIA
®
RTX A2000 professional graphics, support for up to 128 GB of dual-channel DDR5-4800MHz memory
3
, and up to 4 TB of ultra-fast M.2 storage — delivering the ultimate performance for 3D design, machine learning and more. It's also incredibly versatile, with a flippable 16-inch display with up to 500-nits brightness
4
, enable the flexibility to work anywhere, and in any way. All this empowers designers, creators, engineers and other pros to amplify their productivity in the era of hybrid work.
Elevate your craft with NVIDIA graphics
Expertbook B6 Flip is engineered with professional-grade NVIDIA® RTX™ A2000 graphics that leverages the NVIDIA® Ampere™ architecture to that helps you elevate your craft — whether creating short online videos or full-length features, generating animations or 3D models, or exploring graphic design. Ampere features new ray-tracing and Tensor cores with support for sparsity, DLSS 2.0 AI super-resolution technology and streaming multiprocessors that deliver massively improved performance. This remarkable GPU offers the most realistic ray-traced graphics, cutting-edge new features and harnesses the power of AI.
Ray tracing
real-time 3D simulations
AI-augmented
computing process optimization
The perfect workstation for architecture and engineering
Planning, designing and constructing structures involves art, beauty, science, technology and teamwork. ExpertBook B6 Flip allows you to concentrate on bringing your concepts to life with BIM software, using tools such as Revit®, 3dsMax® and Maya®.
Whether you're designing cars, gadgets, furniture or cars, the design process often starts with a 2D sketch before moving on to 3D modeling and 3D printing. ExpertBook B6 Flip effortlessly runs tools like Creo®, SolidWorks® or Microstation®, making modeling and rendering more efficient and optimizing the product design pipeline.
Today's complex workflows for recording, editing, post-production work, rendering and transcoding demand resource-hungry tools like Adobe® Premiere. Let the unrivaled power of ExpertBook B6 Flip do the heavy lifting, so you can hit your deadline without compromising your creative vision.
Cooling that's quieter
Keeping a powerhouse like ExpertBook B6 Flip cool is vital for top performance, but unwanted noise is the enemy of creativity. We've optimized cooling system to let the mighty Intel CPU run comfortably at a blistering 135 watts total TDP (55 W CPU and 80 W GPU) in Performance mode — with no throttling. Also, with NVIDIA Max-P Dynamic Boost's support, power users can push performance even further. This remarkable feat of engineering uses dual 98- blade fans. The slim blades are quiet, power-efficient 3D-curved design increases airflow by 17%
5
. Three heat pipes and seven intelligent sensors ensure optimum cooling performance, while keeping everything quiet — under 40 dBA in Standard mode — so you can concentrate on the task at hand without distractions.
Up to
135w
total TDP (CPU + GPU)
< 40 dBA
noise under Standard mode
ISV certified
For creatives, software is key. That's why ASUS tests and invests in comprehensive certification processes with independent software vendors (ISVs) — ensuring ExpertBook B6 Flip works as expected with professional applications from the world's leading software companies.
Comprehensive connectivity
When you're working on the go, connectivity is vital — and a business laptop needs maximum I/O options to handle all workloads. ExpertBook B6 Flip offers a comprehensive set of ports for easy data transfers and versatile peripheral connections. This includes a built-in smart card reader for use as secondary ID check for enhanced security and a microSD slot makes it easy for creators to shoot, edit, and process massive images and videos anywhere. It also boasts two ultra-versatile Thunderbolt™ 4 ports with DisplayPort 1.4, along with two USB 3.2 Type-A ports and a pro-grade 2.5 Gbps Ethernet port.
Smart card reader
Volume key
Mini DP
USB 3.2 Gen 2 Type-A
Nano Kensington lock slot
DC-in
USB 3.2 Gen 2 Type-A
HDMI
RJ45
Thunderbolt™ 4
Audio combo jack
Enterprise-grade security
Data is the lifeblood of your business, which is why ASUS Business PCs offer comprehensive business-grade security from physical hardware protection to identity security. In particular, ExpertBook B6 Flip has multi-layered security — making it ideal for use in financial and government settings. This includes support for self-encrypting TCG Opal SSD drives to prevent unauthorized data access to the data, plus a discrete TPM 2.0 chip
6
to securely store authentication information such as passwords or encryption keys. It also has a smart card reader to enable easy two-factor authentication, with a password and recognized card required for login — plus an IR camera for easy face login with Windows Hello.
Fingerprint-reading power button​
Source Intel: Based on unique features and estimates derived from SPECworkstation™ v3.1 CPU Scores: Media and entertainment, product development, life sciences, financial services and energy measurements on 12th Gen Intel® Core™ i9 12900HX with RTX™ 3080 Ti versus 11th Gen Intel® Core™ i9 11980HK with RTX™ 3080, versus 12th Gen Intel® Core™ i9 12900HK with RTX™ 3080 Ti and AMD Ryzen R9 6900HX with RTX™ 3060. Operating system: Windows 11. For all workload and configuration details, see www.intel.com/PerformanceIndex. Results may vary.
ExpertBook B6 Flip has two configurations, with Intel® Core™ i9-12950HX vPro Processor​ or Intel® Core™ i7-12850HX vPro processor​.
Up to 128 GB memory is an optional feature that must be configured at purchase. ExpertBook B6 Flip has two upgradeable SODIMM slots, and also supports ECC memory.
ExpertBook B6 Flip's touch-display options: QHD+ (2560x1600), 1000 nits, 165Hz, Mini LED; 2K WUXGA (1920x1200), 300 nits, NTSC 45%, value IPS; or 2.5K QHD+ IPS (2560x1600), 500 nits, eDisplayPort (eDP) 1.4, DCI-P3 100%.
Thermal performance will vary depending on application workload and the specific hardware and software configurations.
TPM 2.0 is an optional feature.
Compare (0)