September 13, 2022
ASUS Adds The ExpertBook B3 Detachable,
A Portable Model for Flexible, All-Day Working and Learning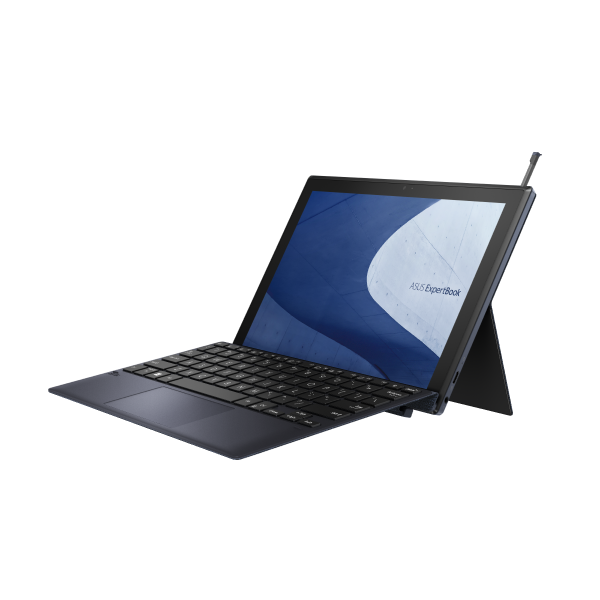 Fremont, CA - September 13, 2022 — ASUS, a global technology leader renowned for continuously reimagining today's technologies for tomorrow, today announces the availability of the ExpertBook Detachable (B3000) laptop, shipping today starting at $599. This latest addition to the Expert Series portfolio, the ExpertBook B3 Detachable delivers up to 21 hours of battery life in an agile, lightweight design that enables users to stay productive, working anywhere and any way they want.
ASUS Expert Series embodies the needs of today's modern workplace, whether in-office, at home, or in between with durable and reliable designs with the computing power and enterprise security businesses need to support remote work, flexible learning, and mobile collaboration. The ExpertBook B3 Detachable rounds out ASUS's ExpertBook lineup, complementing ExpertBook B9 and ExpertBook B7 Flip laptops as a highly flexible model to enable productivity and collaboration anywhere. Whether in the classroom, on the manufacturing line, or at the front of a small business, users can rely on the ExpertBook B3 Detachable as a laptop ready for anything, backed with always-on security and reliable performance.
The ExpertBook B3 Detachable is the first ExpertBook laptop with a dual-orientation stand, it's the first Windows laptop operating on ARM with a garaged stylus, as well as ASUS's first laptop powered by the Qualcomm® Snapdragon™ 7c Gen 2. The B3's agile, dual-orientation design delivers responsive performance and enables users to work anywhere longer. It features industry-leading, all-day battery life while weighing only 1.3 lbs. The garaged MPP stylus unleashes users' creativity, enabling them to quickly jot down notes, ideas and "aha!" moments with ease. The stylus features top-up charging — a 15-second charge that will power the stylus for an additional 45 minutes of use.
The ExpertBook B3 Detachable is versatile and mobile, with optional features to suit flexible working and learning. With the ExpertStand cover, users can shift the B3 from laptop to tablet mode, or horizontal to vertical configuration in seconds. The woven fabric finish was designed to reduce the risk of dropping, and the optional ergonomic keyboard is spill resistant, featuring ASUS Antibacterial Guard, and is designed for comfort and productivity when typing. The ExpertBook B3 Detachable delivers robust features, reliability, and flexibility today's workers need:
Durability: Despite the sleek form factor, the ExpertBook B3 Detachable delivers on the promise of the Expert Series, surpassing ASUS's robust durability testing and MIL-STD 810H U.S. military standards to ensure that the laptop can withstand years of daily use.

Collaboration: The laptop is also optimized for video conferencing and collaboration, featuring a dual-camera design with a five-megapixel user-viewing camera and a 13-megapixel world-facing camera, and innovative 3D noise-reduction (3DNR) technology which eliminates up to 94% of the random noise that naturally affects any camera, especially in low-light conditions.

Customization: With the ASUS ExpertWidget function, users can customize the ExpertBook B3 Detachable with their own "hot keys" with shortcuts for files, webpages, and WiFi settings.

Optimized: ASUS recognizes that customers may be on their laptop all hours of the day, so the ExpertBook B3 Detachable is equipped with a TÜV Rheinland certified screen that is flicker-free and emits low blue light.
ASUS Computer International President Benjamin Yeh said: "With the Expert Series portfolio, ASUS delivers a range of configurations that work for any business and the way they work. The ExpertBook B3 Detachable complements the portfolio, offering business users, remote workers, and educators the ultimate flexibility to work anyway and anywhere, with reliability they can trust day after day."
The ExpertBook B3 Detachable is available today at BestBuy. Learn more about the ExpertBook B3 Detachable here. For more information about ASUS visit www.asus.com/us.