Oct 3, 2022
ASUS Announces All-New 16" ExpertBook B5 and ExpertBook B5 Flip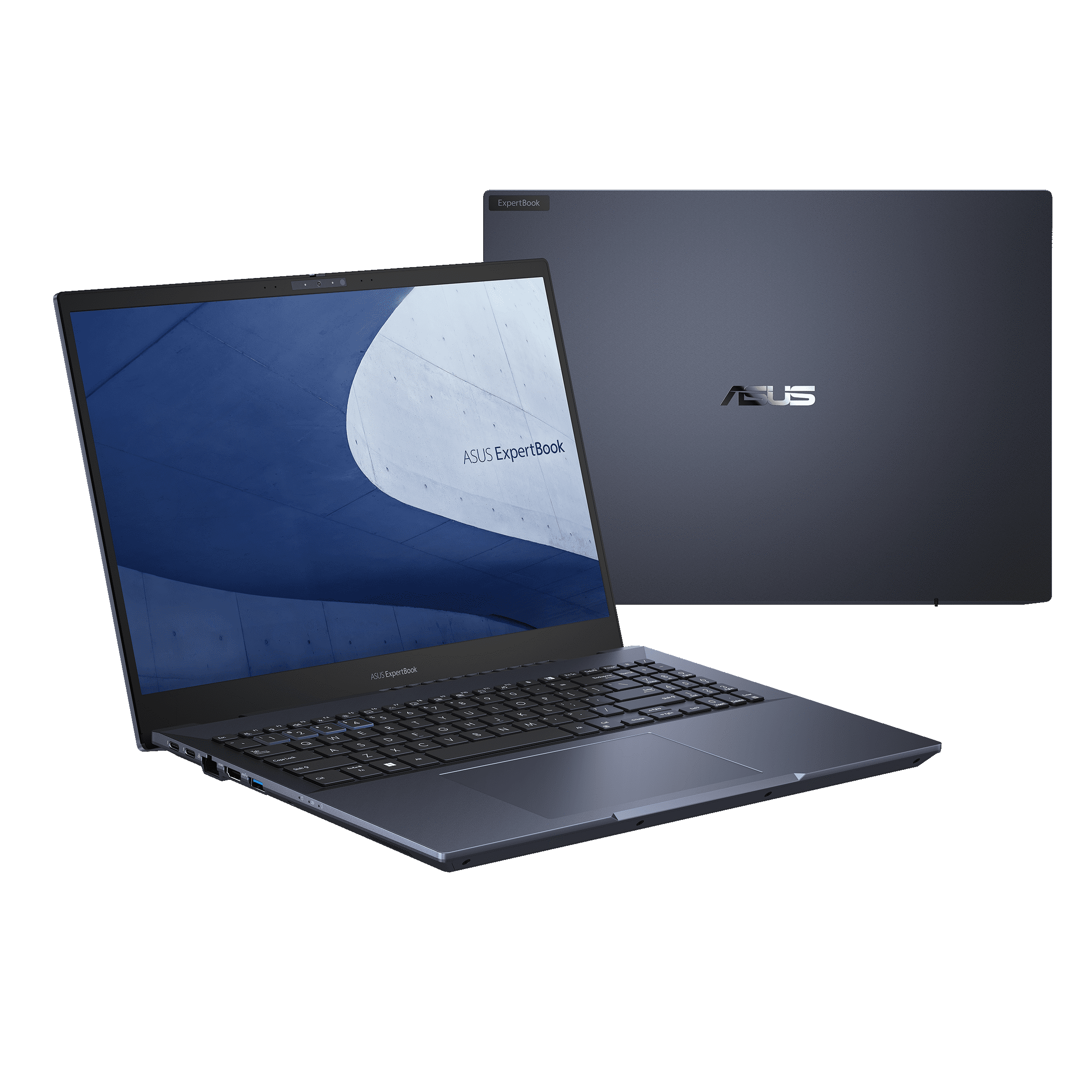 TAIPEI, Taiwan, October 3, 2022 — ASUS today announced ExpertBook B5 (B5602C) and ExpertBook B5 Flip (B5602F), all-new laptop models engineered with an expansive 16-inch, 16:10 display and strong, lightweight build for extreme flexibility and business productivity on the go — plus the option of an OLED panel for stunning visuals.
The new models laptops are set for serious travel with amazing all-day battery life, and are engineered with many cutting-edge technologies to improve mobile work efficiency. These include an up to 12th Gen Intel® Core™ processor with up to Intel Arc™ A350M discrete graphics, dual-fan cooling, AI-powered conferencing technology, and dual-SSD RAID support. B5 Flip additionally benefits from a 360°-flippable screen, plus the added versatility enabled by support for a fast-charging, garaged stylus.
ExpertBook B5 and ExpertBook B5 Flip are also packed with features to protect personal privacy and business data, including vPro® support, a built-in fingerprint sensor and TPM 2.0 chip.
Professional portability
ExpertBook B5 and ExpertBook B5 Flip are designed to be the perfect portable partners for modern business. Crafted with magnesium-aluminum alloy and pure aluminum, these 16-inch laptops weigh as little as 1.4 kg while providing up to 13 hours2 of battery life on a single charge — empowering big-screen productivity in or out of the office.
The glorious OLED-option 16-inch display has a 16:10 aspect ratio that provides a larger visual workspace compared to a standard 16:9 screen. This makes it easier to read articles, view websites, work on spreadsheets — or anything else that needs just that little extra room.
Serious performance
The new ExpertBook B5 and ExpertBook B5 Flip models are powered by an up to 12th Gen Intel Core i7 processor with the Intel vPro platform, with up to 40 GB of RAM. They also feature up to two SSDs to provide huge up to 2 TB capacity, and support RAID technology3 for improved data reliability or faster operation. The dual-fan design empowers up to Intel Arc A350M discrete graphics, delivering quiet, cool and powerful performance.
The new machines additionally benefit from the latest WiFi 6E technology, for ultrafast wireless connections with extended range and rock-solid reliability.
Expanded productivity
ExpertBook B5 and ExpertBook B5 Flip are both equipped with an expansive 16-inch display with an expansive 16:10 ratio and the option of a stunning OLED panel.
Compared to a traditional 16:9 aspect, the 16:10 design offers more vertical workspace for expanded productivity, while the OLED-option ExpertBook B5 and ExpertBook B5 Flip models deliver ultra-crisp visuals, with deep blacks and vibrant colors. The OLED panel features a cinema-grade 100% DCI-P3 color gamut, making everything displayed on screen more enjoyable to view and easier to work with.
ExpertBook B5 Flip additionally benefits from a 360° any-position hinge that gives it unrivaled flexibility for all aspects of the working day, from focused productivity to collaborative online meetings, including tablet, tent, stand and traditional modes. This model also includes a fast-charging garaged stylus, with a 15-second top-up providing enough power for up to 45 minutes of use — so the user is never left waiting to work. The integrated garage also minimizes the risk of the stylus being mislaid or lost, and keeps it close at hand for whenever inspiration strikes.
Enterprise-grade security and manageability
Both ExpertBook B5 and ExpertBook B5 Flip with OLED-option display empower business safety and excellence, with a range of features to enhance both security and productivity.
Robust, multi-layered security features ensure that confidential and private data does not leak out. These include support for the Intel vPro® platform for superior business protection, an integrated fingerprint sensor, a physical webcam shield for instant privacy and an optional TPM 2.0 chip to keep attackers away from private data. There's even an integrated Kensington Nano lock slot, making them quick and easy to secure, plus a physical webcam shield for instant privacy.
Made for business
Life on the road is tough, so the new 16-inch ExpertBook B5 and ExpertBook B5 Flip with optional OLED display are designed to both meet and surpass exacting industry thresholds — including the ultra-demanding MIL-STD 810H US military standard. This means they're built to survive every extreme, from freezing temperatures to the searing heat of desert storms, and from high-speed shocks to everyday bumps. They also undergo stringent in-house testing, including panel-pressure, shock and drop tests for an assurance of serious durability. Even the keyboard is resilient, engineered to resist everyday spills and splashes.4
The new laptops also level-up professional conferencing, with ASUS-exclusive AI-powered technologies. These include both two-way AI-powered noise-canceling technology and an AI-driven camera. The first facility employs sophisticated machine-learning techniques and includes both an upstream function to filter noise around the speaker, and a downstream function to eliminate noise from the person at the other end of the conversation — ensuring calls are both crystal-clear and free from distraction. The latest enhancement enables users to customize the microphone array, ensuring that their ExpertBook B5 or ExpertBook B5 Flip is precisely listening in whatever way best suits the location.
The AI-powered camera, meanwhile, ensures excellent video quality for every virtual meeting. The motion-tracking technology automatically keeps the user's face centered, and adjusts to the focus to their eyes – eliminating the annoyance of having to adjust the camera mid-chat. With its ability to enhance both image quality and brightness automatically, the AI camera is perfect for working anywhere, anytime.
In addition to a distinct numeric keypad to speed data entry, the new laptops also benefit from ASUS ExpertWidget to allow users to create custom hotkeys, making it quick and easy to trigger favorite functions. They're also engineered with an expansive touchpad, measuring a remarkable 15 x 9 cm, providing the user with extra room for everyday control and navigation.
With two Thunderbolt™ 4 and one HDMI® 2.0 port available, ExpertBook B5 and ExpertBook B5 also enable the connection of up to three external 4K UHD displays — ramping up the productivity possibilities.
SPECIFICATIONS
5
ASUS ExpertBook B5 (B5602CBA)

ASUS ExpertBook B5 (B5602CBN)

Operating System

Windows 11 Pro (ASUS recommends Windows 11 Pro)
Windows 11 Home

CPU

Intel® Core™ i5-1240P processor 1.7 GHz (12 MB cache, up to 4.40 GHz, 12 cores) (non-vPro / vPro Essential)
Intel® Core™ i7-1260P processor 2.1 GHz (18 MB cache, up to 4.70 GHz, 12 cores) (non-vPro / vPro Essential)
Intel® Core™ i5-1250P processor 1.7 GHz (12 MB cache, up to 4.40 GHz, 12 cores) (vPro)
Intel® Core™ i7-1270P processor 2.2 GHz (18 MB cache, up to 4.80 GHz, 12 cores) (vPro)

GPU

Intel® Iris® Xe graphics
Intel® UHD graphics

Intel® Arc™ A350M Graphics

Memory

1 x on board, 1 x SO-DIMM, up to 40 GB DDR5 4800MHz
On board: 8 GB DDR5 4800 MHz
SO-DIMM: 8 GB / 16 GB / 32 GB DDR5 4800MHz

Storage

2 x M.2 SSD slots, up to 2 TB PCIe® 4.0 performance SSD (1x PCIe® Gen4, 1 x PCIe® Gen3)

Display

16" WUXGA (1920 x 1200), IPS, 16:10, wide view, anti-glare, 300 nits, 45% NTSC
16" WQUXGA (3840 x 2400), OLED, 16:10, wide view, 400nits, 100% DCI-P3

I/O ports

2 x Thunderbolt™4 Type-C® (supports 4K display, USB PD3.0 )
1 x USB 3.2 Gen2 Type-A
1 x USB 2.0 Type-A
1 x RJ45
1 x HDMI® 2.0b
1 x microSD card reader
1 x 3.5 mm combo audio jack

Video camera

HD +IR camera, Webcam Shield
FHD camera, Webcam Shield

Wireless

Dual-band 2x2 WiFi 6 (802.11ax) + Bluetooth® 5.2
Dual-band 2x2 WiFi 6E (802.11ax) + Bluetooth® 5.2
Dual-band 2x2 WiFi 6E (802.11ax) + Bluetooth® 5.2 (vPro)

Audio

2 x speaker
3 x microphone
ASUS two-way AI Noise-Canceling Technology
Cortana voice-recognition support
Dolby Technology support

Weight

Starts from 1.4 kg

Dimensions

35.82 x 26.12 x 1.995 cm

Battery

84 Wh, 4S1P, 4-cell Li-ion
50 Wh, 3S1P, 3-cell Li-ion

Security

Fingerprint sensor(combo power bottom)
TPM 2.0 (optional)
Webcam Shield
Kensington® Nano lock slot

Keyboard and touchpad

Full-size keyboard with 1.5 mm key travel
backlit (optional); spill-resistant to 66cc*

Featured software

ASUS Control Center (sold separately), ASUS Business Manager, MyASUS

AC adapter

USB-C®, 90W AC Adapter, Output: 20V DC, 4.5A, 90W, Input: 100~240V AC 50/60Hz universal

Energy efficiency compliance

ENERGY STAR®, EPEAT GOLD
ASUS ExpertBook B5 Flip (B5602FBA)

ASUS ExpertBook B5 Flip (B5602FBN)

Operating System

Windows 11 Pro (ASUS recommends Windows 11 Pro)
Windows 11 Home

CPU

Intel® Core™ i5-1240P processor 1.7 GHz (12 MB cache, up to 4.40 GHz, 12 cores) (non-vPro / vPro Essential)
Intel® Core™ i7-1260P processor 2.1 GHz (18 MB cache, up to 4.70 GHz, 12 cores) (non-vPro / vPro Essential)
Intel® Core™ i5-1250P processor 1.7 GHz (12 MB cache, up to 4.40 GHz, 12 cores) (vPro)
Intel® Core™ i7-1270P processor 2.2 GHz (18 MB cache, up to 4.80 GHz, 12 cores) (vPro)

GPU

Intel® Iris® Xe graphics
Intel® UHD graphics

Intel® Arc™ A350M Graphics

Memory

1 x on board, 1 x SO-DIMM, up to 40 GB DDR5 4800MHz
On board: 8 GB DDR5 4800 MHz
SO-DIMM: 8 GB / 16 GB / 32 GB DDR5 4800MHz

Storage

2 x M.2 SSD slots, up to 2 TB PCIe® 4.0 performance SSD (1x PCIe® Gen4, 1 x PCIe® Gen3)

Display

16" WUXGA (1920 x 1200), IPS, 16:10, wide view, anti-glare, 300 nits, 45% NTSC
16" WQUXGA (3840 x 2400), OLED, 16:10, wide view, 400nits, 100% DCI-P3

Stylus

MPP 2.0 Garaged Stylus

I/O ports

2 x Thunderbolt™4 Type-C® (supports 4K display, USB PD3.0 )
1 x USB 3.2 Gen2 Type-A
1 x USB 2.0 Type-A
1 x RJ45
1 x HDMI® 2.0b
1 x microSD card reader
1 x 3.5 mm combo audio jack
1 x Garaged stylus

Video camera

HD +IR camera, Webcam Shield
FHD camera, Webcam Shield

Wireless

Dual-band 2x2 WiFi 6 (802.11ax) + Bluetooth® 5.2
Dual-band 2x2 WiFi 6E (802.11ax) + Bluetooth® 5.2
Dual-band 2x2 WiFi 6E (802.11ax) + Bluetooth® 5.2 (vPro)

Audio

2 x speaker
3 x microphone
ASUS two-way AI Noise-Canceling Technology
Cortana voice-recognition support
Dolby Technology support

Weight

Starts from 1.65 kg

Dimensions

35.82(W) x 26.12(D) x 1.995(H) cm

Battery

84 Wh, 4S1P, 4-cell Li-ion
50 Wh, 3S1P, 3-cell Li-ion

Security

Fingerprint sensor(combo power bottom)
TPM 2.0 (optional)
Webcam Shield
Kensington® Nano lock slot

Keyboard and touchpad

Full-size keyboard with 1.5 mm key travel
backlit (optional); spill-resistant to 66cc*

Featured software

ASUS Control Center (sold separately), ASUS Business Manager, MyASUS

AC adapter

USB-C®, 90W AC Adapter, Output: 20V DC, 4.5A, 90W, Input: 100~240V AC 50/60Hz universal

Energy efficiency compliance

ENERGY STAR®, EPEAT GOLD