July 27, 2022
ASUS Announces Refreshed 13" ExpertBook B5 and ExpertBook B5 Flip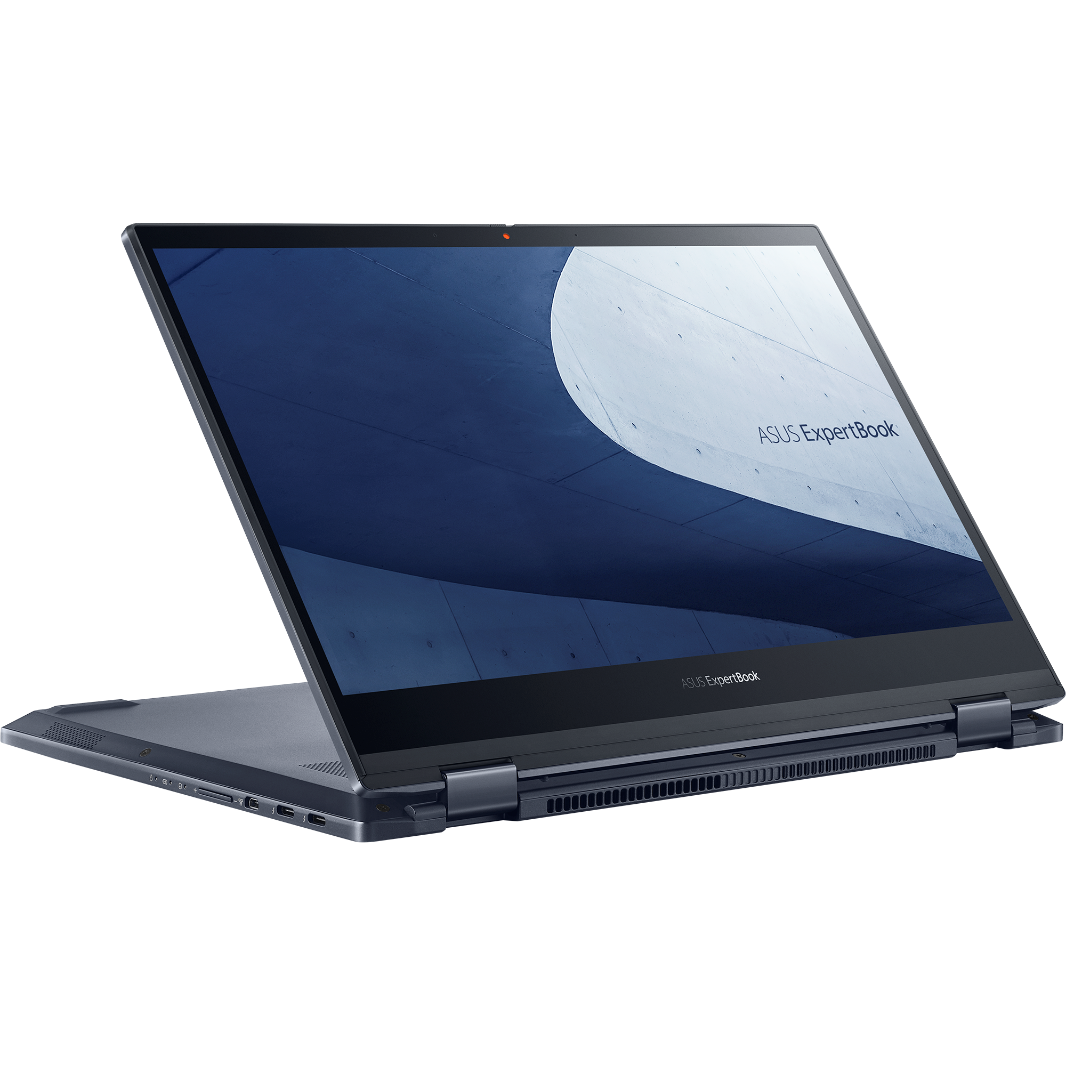 TAIPEI, Taiwan, July 27, 2022 — ASUS today announced the refreshed 13-inch ExpertBook B5, an ultralight, kilogram-class laptop series available in both traditional clamshell and 360° convertible forms for the ultimate in portability and flexibility, plus the added versatility enabled by stylus support in B5 Flip.
The new ExpertBook B5 laptops are built for business success in style, with a precision-crafted and minimalist chassis that pushes the limits of lightness. They're also set for stress-free travel with an amazing 11-hour battery life, and are engineered with many cutting-edge technologies to improve on-the-go work efficiency. These include a 12th Gen Intel® Core™ processor with vPro™ support, AI noise cancelation, dual-SSD RAID support, ASUS NumberPad 2.0 and ASUS ExpertWidget.
B3The all-new ExpertBook B5 models are also packed with features to protect personal privacy and business data, including a built-in fingerprint sensor and TPM 2.0 chip.
Ultimate mobility: Lightweight designs that tip the scales at just 1.1 kg
ASUS ExpertBook B5 laptops are sleek, stylish and crafted for the ultimate mobility. Both the top and bottom cover are cut from pure aluminum, while the area around the keyboard area is formed using magnesium-aluminum alloy. These premium materials and careful construction keep the weight down to as little as a feather-light 1.1 kg1 , while also ensuring that the machines are ready for the rigors of everyday use in the office or on the go.
ExpertBook B5 laptops are also remarkably thin, with a profile that measures just 16.9 mm, so they're easy to slip into a bag or briefcase, ready to travel anywhere. B5 Flip also offers stylus support.
Primed to perform: Up to 12th Gen Intel Core i7 with Iris Xe graphics, 40 GB RAM and Intel WiFi 6E
To make light work of all everyday business tasks, the refreshed ASUS ExpertBook B5 laptops are powered by up to a 12th Gen Intel Core i7 processor with Intel Iris® Xe graphics, up to 40 GB of RAM and superfast Intel WiFi 6E — ensuring quick and responsive computing, superb graphical performance and ultra-fast wireless networking.
They also feature two SSDs to provide huge up to 2 TB capacity and extreme-speed data reads and writes. These drives also supports RAID technology for improved data reliability or faster operation.
The new ExpertBook B5 laptops are also loaded with I/O ports, including cutting-edge Thunderbolt™ 4 with support for the next-level USB4 interface, 40 Gbps data transfer speeds, triple 4K display output and fast charging, plus USB Type-A and an HDMI® outputs. They're also equipped with wired network connectivity with a unique MAC address for easy device management.
Enterprise-grade security: vPro, TPM 2.0, IR and fingerprint login, lock slot and webcam shield
Both B5 and B5 Flip empower the user to excel at work, with a range of features to enhance both security and productivity.
Robust, multi-layered security features ensure that confidential and private data does not leak out. These include support for the Intel vPro platform for superior business protection, an integrated fingerprint sensor, a physical webcam shield for instant privacy and an optional TPM 2.0 chip keep attackers away from private data. There's even an integrated Kensington Nano lock slot, making them quick and easy to secure, plus a physical webcam shield for instant privacy.
All-day battery: Up to a 11-hour life, plus fast-charge technology for rapid top-ups
ASUS ExpertBook B5 laptops are engineered to ensure they're ready to power through a full business day, and even beyond. With up to a 11-hour battery life from a single charge, aided by energy-efficient Panel Self Refresh technology, the new B5 models have more than enough juice to keep going from morning through to night or from the start to the end of a long-haul flight — virtually eliminating worries about needing to find a mains socket.
Moreover, they benefit from fast-charge technology that allows the battery level to be accelerated up to 60% in as little as 34 minutes, so they're ready to go in no time.
Made for business: Military strength, AI noise cancelation, ExpertWidget, and RAID
Life on the road is tough, so the refreshed ExpertBook B5 laptops are designed to both meet and surpass exacting industry thresholds — including the ultra-demanding MIL-STD 810H US military standard. This means they're built to survive every extreme, from freezing temperatures to the searing heat of desert storms, and from high-speed shocks to everyday bumps. They also undergo stringent in-house testing, including panel-pressure, shock and drop tests for an assurance of serious durability. Even the keyboard is resilient, engineered to resist everyday spills and splashes.
ExpertBook B5 laptops also level-up professional conferencing, with two-way AI-powered noise-canceling technology that employs sophisticated machine-learning techniques. The technology includes both an upstream function to filter noise around the speaker, and a downstream function to eliminate noise from the person at the other end of the conversation.
ASUS NumberPad 2.0 is also optional on the new ExpertBook B5 series. This is an LED-illuminated numeric keypad that's perfect for crunching numbers. Tap the NumberPad 2.0 icon on the top right of the touchpad to turn it on, and tap the icon on the left to toggle between two brightness settings. Clever software allows the mouse pointer to be controlled, even when NumberPad 2.0 is activated.
The ExpertBook B5 laptops also benefit from ASUS ExpertWidget. This increases productivity by allowing the user to create custom hotkeys, making it quick and easy to trigger favorite functions. RAID 0/1 technology is also supported to empower faster operation or improved data reliability.
SPECIFICATIONS
4
ASUS ExpertBook B5302CBA
ASUS ExpertBook B5302FBA

CPU

Intel® Core™ i7-1255U Processor 3.50 GHz (12MB Cache, up to 4.70 GHz)
Intel® Core™ i5-1235U Processor 3.30 GHz (12MB Cache, up to 4.40 GHz, with IPU)
Intel® Core™ i3-1215U Processor 3.30 GHz (10MB Cache, up to 4.40 GHz, with IPU)
Intel® Core™ i7-1265U Processor 3.60 GHz (12MB Cache, up to 4.80 GHz)(vPro)
Intel® Core™ i5-1245U Processor 3.30 GHz (12MB Cache, up to 4.40 GHz)(vPro)
Intel® Core™ i7-1255U Processor 3.50 GHz (12MB Cache, up to 4.70 GHz)(vPro Essential)
Intel® Core™ i5-1235U Processor 3.30 GHz (12MB Cache, up to 4.40 GHz)(vPro Essential)

Operating System

Windows 11 Pro (ASUS recommends Windows 11 Pro)
Windows 11 Home

Memory

1 x onboard, 1 x SO-DIMM, up to 40 GB DDR5 4800 MHz
Onboard: 8 GB DDR5 4800 MHz
SO-DIMM: 8 GB/16 GB/32 GB DDR5 4800 MHz

Storage

2 x M.2 SSD, up to 2 TB PCIe® 4.0 SSD
256 GB/512 GB/1 TB M.2 PCIe®4.0 Value SSD
1 TB M.2 PCIe®4.0 Performance SSD

Display

13.3" FHD (1920 x 1080), IPS, 16:9, wide view, anti-glare, 300 nits, 72% NTSC

13.3" FHD (1920 x 1080), IPS, 16:9, touch
screen, wide view, anti-glare, 300 nits, stylus
support, 72% NTSC

GPU

Intel® Iris® Xe graphics
Intel® UHD graphics

I/O ports

2 x Thunderbolt™ 4 Type-C® (supports 4K display, USB PD3.0 )
1 x USB3.2 Gen2 Type-A
1 x HDMI 2.0b
1 x 3.5 mm combo audio jack
1 x Micro HDMI (for LAN only)
1 x Kensington Nano lock slot

Video camera

2.0 MP camera with 1080p FHD video, webcam shield

Wireless

Wireless on board
Dual-band 2x2 WiFi 6 (802.11ax) + Bluetooth® 5.2
Dual-band 2x2 WiFi 6E (802.11ax) + Bluetooth® 5.2
Dual-band 2x2 WiFi 6E (802.11ax) + Bluetooth® 5.2, VPRO

Audio

2 x speaker
2 x multi-array microphone
ASUS two-way AI Noise-Canceling Technology
Cortana voice-recognition support
Dolby Technology support (TBC)

Weight

33 Wh battery: starting at 1.1 kg
66 Wh battery: starting at 1.2 kg

33 Wh battery: starting at 1.2kg
66 Wh battery: starting at 1.3 kg

Dimensions

309 x 210.6 x 16.9 mm

Battery

33 Wh, 2-cell, Li-Polymer; 66 Wh, 4-cell, Li-polymer

Security

Fingerprint sensor (combo power button), TPM 2.0 (optional), Webcam Shield , Kensington Nano lock slot

Keyboard

Full-size keyboard with 1.5 mm key travel; backlit (optional); spill-resistant to 66cc*
*Quantity used during testing, with duration of 3 minutes

TouchPad

Touchpad, ASUS NumberPad 2.0 (optional)

Featured software

ASUS Control Center (sold separately), ASUS Business Manager, MyASUS, ExpertWidget

Stylus

N/A

Stylus MPP 2.0 (optional)

AC adapter

USB Type-C®, 65 W; Output: 20 V DC, 3.25 A; Input: 100~240 V AC 50/60 Hz universal

Certificates

Energy Star, EPEAT