May 24, 2022
ASUS Announces ExpertBook B9
World's lightest 14" business laptop1 updated to remain the industry leader, with 11th Gen Intel CPU, Intel Iris Xe graphics
KEY POINTS
Next-level performance:

11th Gen Intel CPU and Iris Xe graphics, WiFi 6, Thunderbolt 4, all-day battery life.

World's lightest 14" business laptop:

Weighs as little as 880 g2 and benefits from rugged construction that meets US military standards.

Clear, fast and green:

AI noise-cancelation technology for undisturbed video calls, AdaptiveLock for rapid login and an accessory box that doubles as a stand.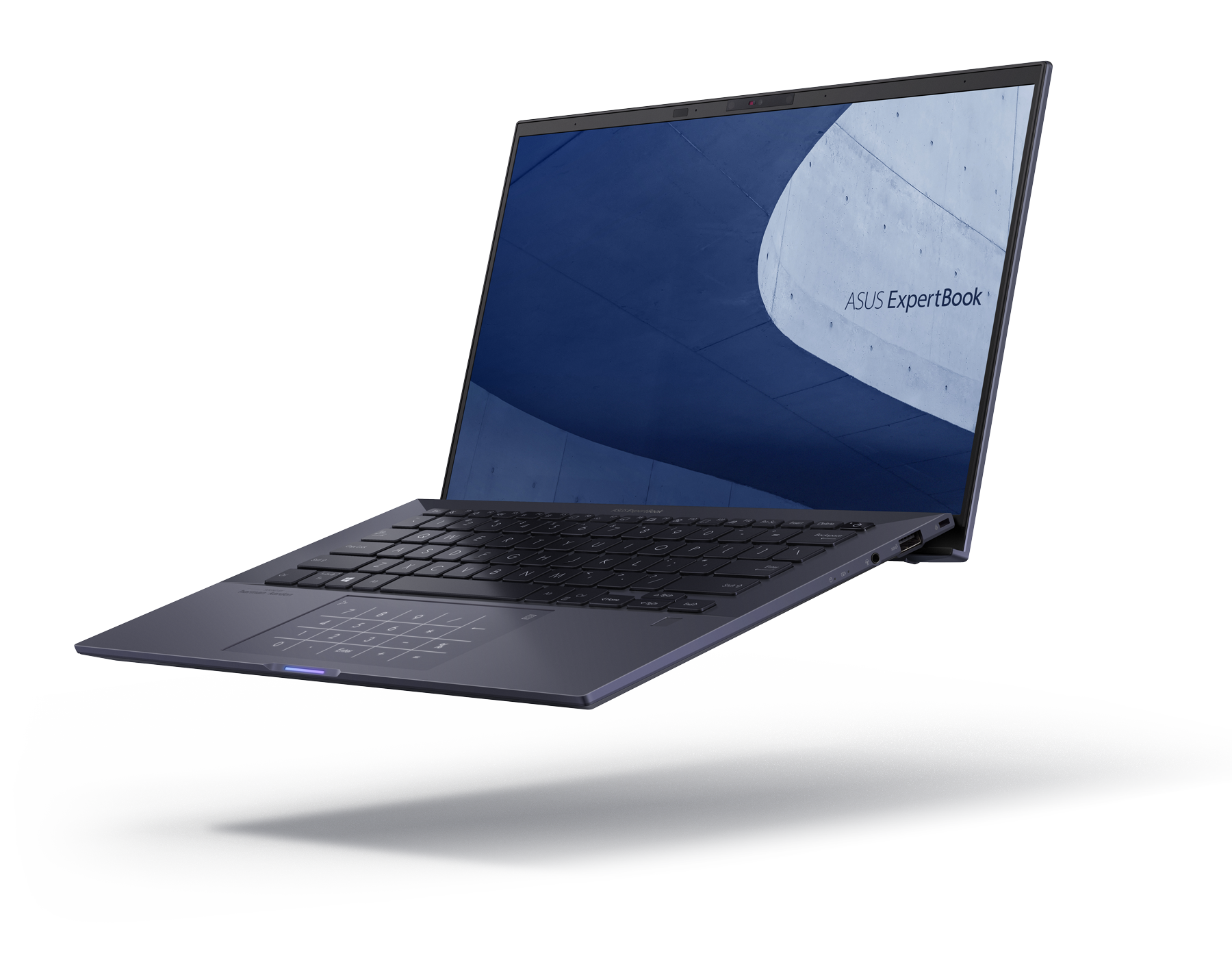 ASUS today announced ExpertBook B9, the next generation of the 2020 Red Dot Design Award-winning mobile powerhouse that is proudly the world's lightest 14-inch business laptop.
The latest ExpertBook B9 models inherit all the strong features of the previous generation, engineered with the latest cutting-edge up to 11th Gen Intel® Core™ processors with built-in Intel Iris® Xe™ graphics for serious performance and visual excellence, RAID 0 and RAID 1 technology support, Thunderbolt™ 4 for flexible connections at warp speed, AdaptiveLock proximity sensor for ultrafast logins and security, and AI noise-cancelation technology for undisturbed video calls – perfect for the increasingly remote working patterns imposed by the current pandemic environment.
Despite these vast improvements in performance and functionality, ExpertBook B9 retains its prestigious record as being the world's lightest 14" business laptop1 – weighing a mere 880 grams. It also offers close to a full day battery life, it's good for days of real-world use between recharges.
Committed to creating a sustainable future, ASUS has also strived to make ExpertBook B9 an environmentally-conscious choice. It is both Energy Star® 7.1-certified and rated by EPEAT™ Gold, offering an assurance of energy efficiency that reduces operating costs over the long term. Even the packaging is environmentally sound, with the accessory box able to transform into a laptop stand for instant elevation with an ecological nod.
Ultimate portability
ExpertBook B9 is incredibly thin and light, and is encased in a magnesium-lithium-alloy chassis, yet still has room for a battery that lasts for days of real-world use. The 880g model has a 33 Wh cell, while the 1005 g ExpertBook B9 packs a 66 Wh battery that stores enough juice for close to a full day – all in a 14.9-mm-thin profile.
Fast-charging support brings either battery option up to 60% of maximum capacity in just 39 minutes, so there's no need to worry about downtime on the road.
The guts of a champion
ExpertBook B9's appeal doesn't end with svelte dimensions and all-day battery life, though. Being superfast, secure, full of storage and connections to handle all the business situation professionals will encounter is what ExpertBook B9 pursues relentlessly – with the latest model packing the some seriously-powerful specifications.
These are led by new and high-performance 11th Gen up to Intel Core™ i7 processor with Iris Xe graphics which delivers discrete-level graphics performance for next-gen media experiences and 32 GB LDDR4x 4266 MHz memory. There's also superfast Intel WiFi 6 and huge storage in the form of up to dual 2 TB SSDs with for support RAID 0 and RAID 1 technology for improved data reliability or faster operation.
Despite its thin profile, ExpertBook B9 is loaded with I/O ports. These include cutting-edge Thunderbolt™ 4, the next generation of the universal cable connectivity solution that offers support for the next-level USB4 interface, 40 Gbps data transfer speeds, dual 4K display output and fast charging. It also offers standard USB Type-A and HDMI outputs, plus a wired network connectivity with a unique MAC address for easy device management.
US military-grade durability
ExpertBook B9 is remarkably durable, too. To be strong enough for every journey, it meets the next-level and industry-leading MIL-STD 810H US military standard test, which is more rigorous and demanding than ever before. It is also subject to drop tests, shock tests, vibration tests, extremes of high and temperatures, and days subjected to humidity levels of 95%.
Our engineers took things even further to prove that ExperBook B9 is built tough. Connectors are inserted and removed from the ports 5,000 times, up to 30 kg of force is placed on the reinforced lid, keys are struck 10-million times, and the lid is opened and closed up to 50,000 times. We also intentionally spill various liquids on the keyboard. After all that, we're confident that ExpertBook B9 is able to withstand the rigors of the daily grind.
A mobile workhorse with smart features
Despite it's the ultrathin bezels of its 14-inch NanoEdge display, ExpertBook B9 includes both a webcam for video calls, plus an infrared camera and smart proximity sensor for fast biometric face login. The moment the user sits in front of ExpertBook B9, ASUS AdaptiveLock technology detects their presence and the infrared camera to recognize their face before logging them in automatically — so it's possible to get to work without lifting a finger. Then, when the user steps away, ExpertBook B9 automatically locks itself, protecting both the laptop and the personal data it contains.
With the increase of remote work and video conferences, we also implemented exclusive ASUS AI noise-canceling technology to ensure the best experience. ASUS AI noise-canceling audio employs machine learning in order to isolate unwanted noise from human speech. The ClearVoice Mic feature in the MyASUS app can filter out ambient noise and, in Multi-presenter mode, normalize all individual voices from different positions for optimum group conference-call quality. The ClearVoice Speaker feature filters out all ambient noise apart from human speech — making it easy to hear what everyone else is saying.
ExpertBook B9 also features up to four 360° far-field microphone and Harman Kardon-certified speakers to ensure clear sound. It also includes a virtual assistant with Amazon Alexa integration, plus a built-in light bar that illuminates during interaction.
Of course, ExpertBook B9 features the exclusive ASUS NumberPad 2.0, the renowned LED-illuminated numeric keypad thatʹs perfect for crunching numbers. Tap the NumberPad icon on the top right of the touchpad to turn it on, and tap the icon on the left to toggle between two brightness settings. Clever software provides control over the cursor, even when NumberPad 2.0 is activated.
Rock-solid security
Security is a key concern in the modern world, so ExpertBook B9 is equipped with many measures to ensure that both the hardware and the user's data are kept safe. An integrated fingerprint sensor makes signing in as simple as one touch, while the aforementioned biometric-login webcam benefits from a physical sliding shield – so it just takes one swipe for the visual reassurance of a covered lens.
ExpertBook B9 also offers an optional Trusted Platform Module (TPM) chip to stores passwords and encryption keys for added security. There are also software-based tools offering numerous and diverse protections, including ASUS Business Manager and the optional ASUS Control Center.
ExpertBook B9 combines beauty, brains and brawn
ExpertBook B9's thin chassis and light weight would seem to be at odds with its rugged construction and high-performance specifications, but our engineers made sure that performance, durability, and longevity came together in perfect harmony. A combination of cutting-edge technologies enable high efficient video conferencing, seamless login, and snappier responsiveness in a smaller, lighter form factor. Extremely portable, powerful and tough, ExpertBook B9 is the ideal partner in the corporate world.
As of August 1, 2020. Based on internal ASUS market analysis comparing the size of ExpertBook B9 to competitor products from vendors including Acer, HP, Huawei, Lenovo, Microsoft and Samsung. Actual weight may vary by specs.

Weight may vary according to configuration.