[Chromebook] Troubleshooting - Charging Issues with Chromebook
If you encounter issues with your Chromebook battery not providing power to the computer or being unable to charge, please follow the troubleshooting steps below in sequence.
Note: When using USB Type-C charging, ensure that the USB Type-C port on your computer supports battery charging and supplying power to the Chromebook. If you are unsure about the USB Type-C port's functionality, refer to this article to download the user manual for your computer model: How to Search and Download User Manuals.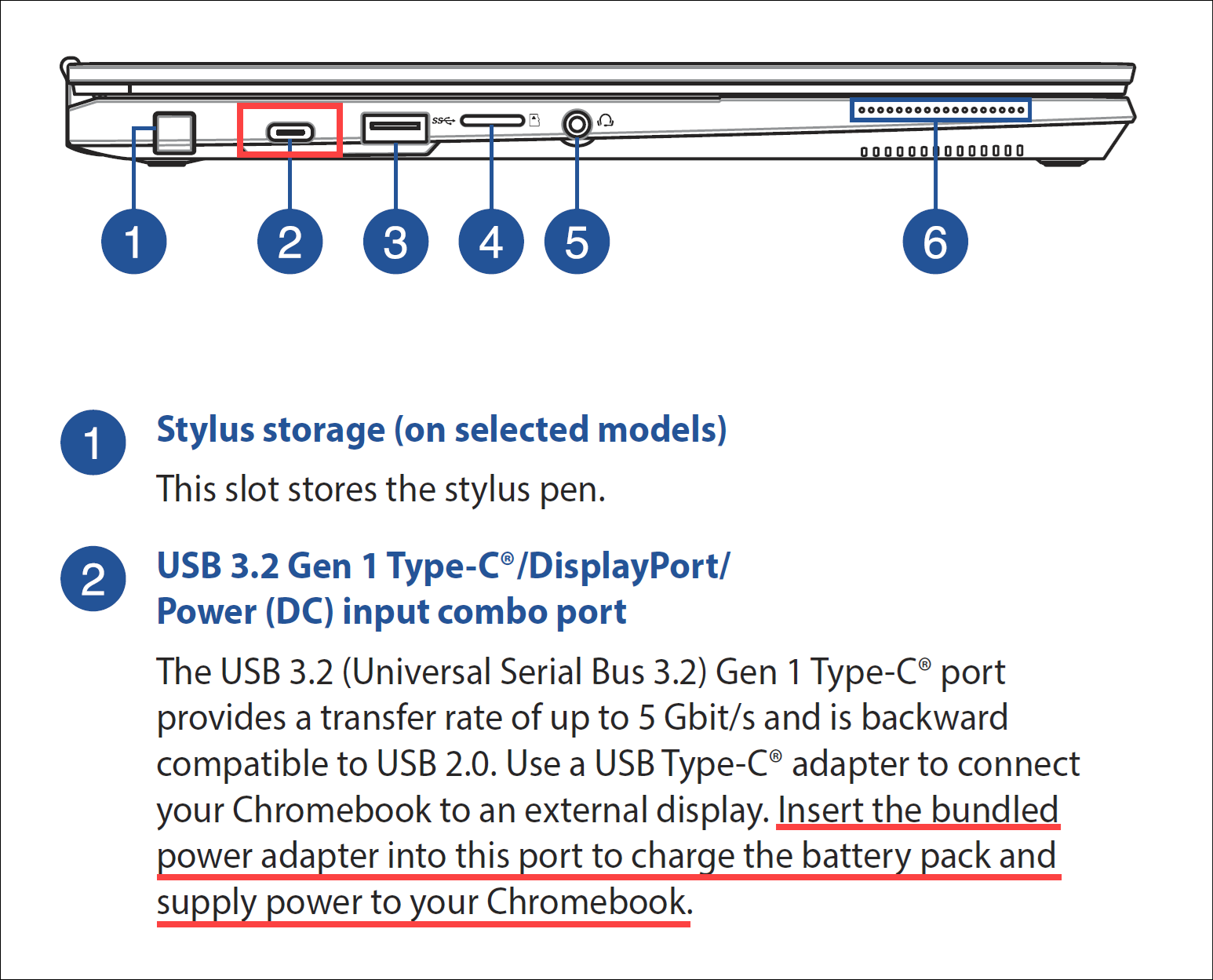 Inspect power adapter and connecting cables
Please ensure that the power adapter and connecting cables are checked properly. Verify that the power cable, adapter, extension cord, and wall socket are securely and properly connected to your computer. If you are using an extension cord, make sure it is switched on.
Use the original and correct specifications of the power adapter and cable provided by ASUS.
Check if the connection between the power adapter and the computer is secure, and consider trying different extension cords and wall sockets for troubleshooting. Refer to Figure A (power cord end) and Figure B (socket end) for guidance.
Note: Different computer models may have varying styles of power adapters, so please refer to the User Manual for specific instructions.

Examine the power adapter cable for any signs of damage, such as cuts, breaks, or fraying. If the cable is damaged, it is recommended to have it replaced at a repair center.
Verify battery charging status
If your Chromebook is unable to charge, it may be due to the battery being in a long-term storage state. In this state, the battery's charge may be at its lowest, and the Chromebook remains in a stable shutdown state. However, extended periods of battery inactivity can lead to improper functioning or even the inability to charge.
Note: For more information on long-term storage, please refer to this article: How to store Chromebook for a long period of time.
Connect your Chromebook to the power adapter and charge it for at least 30 minutes.
If your Chromebook can start up, keep it connected to the power adapter until it begins charging. You can check if the battery is charging by viewing the battery status in the lower right corner of the screen.


Perform a hard reset
If the battery still cannot charge, try performing a hardware reset on your Chromebook. Please refer to this article for instructions: How to Reset Chromebook Hardware Settings.
You can also refer to the Google Chromebook Help on the official website for more detailed information:
https://support.google.com/chromebook/answer/6309225
If your issue remains unresolved, please contact the ASUS customer service center for further assistance.