Modem-routeur ADSL/VDSL AC1900 Gigabit et à double bande
Modem-routeur avec port DSL WAN et ports Ethernet WAN/LAN
Compatible avec les services de connexion ADSL, ADSL2/2+, VDSL2, fibre et câble
Débit maximum sur les deux bandes de fréquences de 1900 Mb/s pour une bonne fluidité du streaming de vidéos 4K/HD, des jeux vidéo et de toute autre tâche intensive sur la bande passante
Deux processeurs différents pour la connexion filaire et la connexion Wi-Fi, pour plus de couverture et de stabilité AiRadar pour un signal renforcé dans toutes les directions et une couverture améliorée de 150%
Port USB 3.0 multifonction : partage de fichiers, connexion d\^dune imprimante, partage d\^dun dongle 3G/4G et streaming multimédia
Application AiCloud pour accéder, synchroniser, partager et lire en streaming vos données depuis votre réseau domestique vers tout PC ou périphérique Android/iOS connecté à internet
Future-proofed versatility with super-fast wireless speeds
The ASUS DSL-AC68R is the super-fast ADSL/VDSL modem Wi-Fi router, with combined dual-band data rates of up to 1900Mbps. On the 5GHz band, 802.11ac gives 1300Mbps wireless data rates, while Broadcom® TurboQAM™ technology super-charges 2.4Ghz 802.11n performance from 450Mbps to 600Mbps with compatible devices. Compatible with ADSL2/2+, ADSL, VDSL2, fiber and cable services, the top specification completes future-proofing.

Three external antennas boost coverage to the next level, so you can enjoy lag-free gaming and streaming almost anywhere around the house. ASUS AiRadar with universal beamforming technology enhances the Wi-Fi stability and improves coverage up to 150%*. Most importantly, the universal beamforming not only works on 802.11ac clients, but also 802.11a/b/g/n clients.

Powered by dual dedicated CPUs for wired and wireless connections, the DSL-AC68U eliminates the performance drops that plague other routers with busy networks and maximizes both range and stability. So even on the busiest home networks, HD video streaming is always smooth, the latency low for online gaming and VoIP calls, and file downloads are never interrupted.

The easy-to-use ASUSWRT graphical user interface unlocks the power of the DSL-AC68R giving robust control to optimize your network for you. 30-second set-up and easy traffic management means even network newbies can enjoy its sophisticated features, while power users will love its IPv6 support, multiple wireless SSIDs and encrypted VPN access.
One device, two functions
With a choice of DSL or Ethernet WAN connections, DSL-AC68U can be used a DSL modem plus wireless router, or as a standalone wireless router. You can choose the mode to suit your needs, saving energy and clutter by replacing two separate power-hungry devices. Whether for a basic home setup or an advanced wireless network, DSL-AC68U has all the flexibility you need. You can also let two modes work simultaneously and manage them with ASUSWRT dual WAN function.
AiProtection Pro
Commercial-Grade Security for Family
All your family members, young or old, are exposed to the dangers of internet every single moment they're online. Disguised cyber threats can sneak in to steal your private data, or your kids may accidentally encounter inappropriate content during their ever-growing screen time. DSL-AC68U includes Advanced Parental Controls to give you total peace of mind, with AiProtection Pro - commercial grade security for your home network and comprehensive, easy control of the online experience for each family member and each device, all via the mobile app. learn more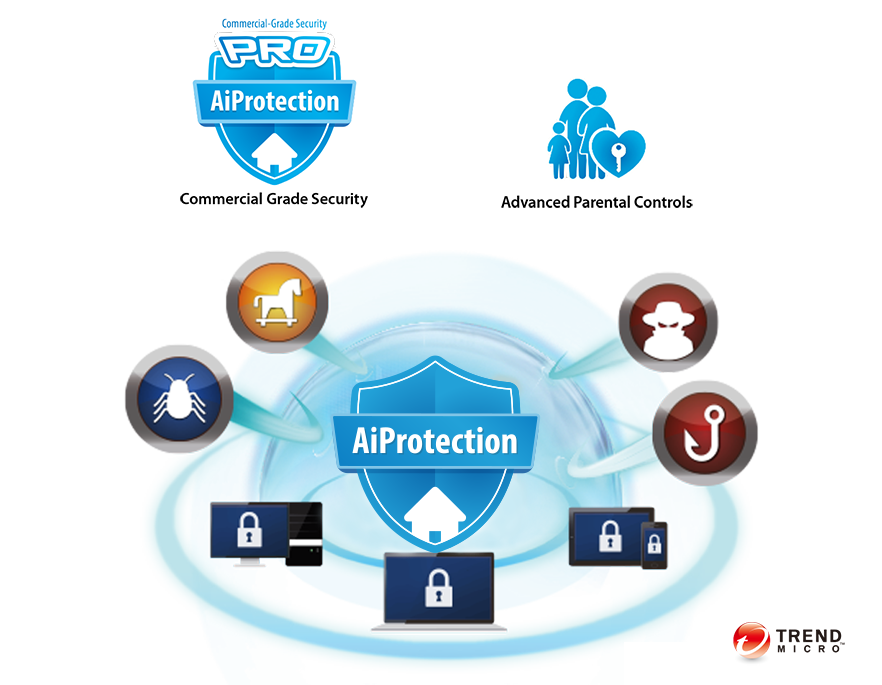 No Subscription Fee
Some routers only offer 3 years of protection, ASUS AiProtection has you covered for the life of your product

Block Access to Malicious Websites
AiProtection uses Trend Micro's official database to identify and block known malicious sites, preventing infection even before you click.
Protection Against Attacks
Intrusion Prevention System (IPS) blocks all common internet-based attacks.

Infection Detection and Blocking
Even if an already-infected device is connected to DSL-AC68U, AiProtection prevents any personal data on the device from being compromised.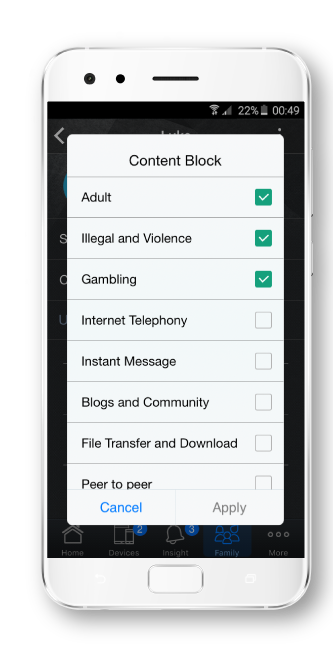 Parental Controls
Keep your kids safe when they explore the internet. The state-of-the-art parental controls in AiProtection integrate all the management functions you need in one place and the intuitive interface makes it super easy to view and apply security settings to all the devices owned by individual family members.*
| | |
| --- | --- |
| | View each family member's internet activity on a clear graphical dashboard showing the peak time and what kind of content they are viewing. You can group devices that belong to your children to view aggregated data and apply scheduled block times and content filters with just a few taps. |
| | Check the box when editing a device and profile, and the preset automatically applies filters for inappropriate content to all their devices. |
| | Reserve valuable family time or help your children develop responsible behavior by selecting scheduled time periods to block internet access on specific devices. |
| | Block specific categories of mobile apps and websites, and apply these settings to all devices belonging to individual family members. The advanced filtering integrates Trend Micro's Deep Packet Inspection (DPI) engine to filter not only by website URL, but also by the internet packets themselves, which means it filters content viewed not only in a web browser, but also within mobile apps on your devices.* |

Works with any kind of internet connection
Works with any kind of internet connection DSL-AC68U supports all common types of DSL connection, including ADSL2, ADSL2+, ADSL and VDSL2. Thanks to its Ethernet WAN option, it can also be used seamlessly with any fiber or cable-based modem with an Ethernet connection. This makes it ideal for those who intend to upgrade their ISP in the future.

Two CPUs for fast and stable connections
The DSL-AC68U offers dual CPU performance and flexibility. Its twin processors each optimize wired and wireless connections. By separating wired VDSL/ADSL and Wi-Fi networking into two compute modules with their own dedicated processing power, the DSL-AC68U achieves maximum performance for both connection types with no compromises.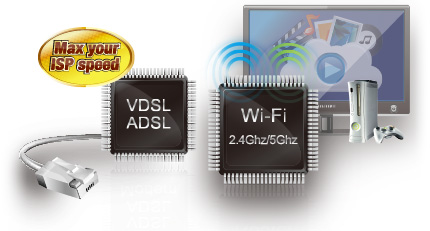 Super-fast AC Wi-Fi with TurboQAM™ Wi-Fi acceleration
Powered by 5th generation Wi-Fi (5G Wi-Fi), the new 802.11ac Broadcom chipset gives the DSL-AC68U superfast Gigabit wireless speeds. Compared with current 802.11n, the DSL-AC68U delivers up to 1.3Gbps at 5 GHz, which is 3X faster than 802.11n! The upgraded bandwidth has the higher capacity you need to increase Wi-Fi enjoyment at home. With notebooks, desktops, pads, and smartphones now all Wi-Fi-reliant, it's time to upgrade to the next generation so you can expand you connectivity now and in future.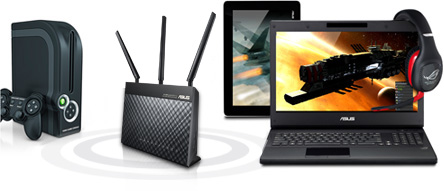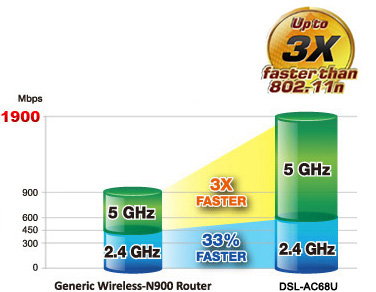 AiRadar delivers 150% Wi-Fi coverage*
ASUS AiRadar intelligently strengthens wireless device connectivity using precise directional signal amplification for extended coverage, increased data throughput speed and enhanced stability. Because connection strength varies based on your environment, DSL-AC68U uses three external high-gain antennas and universal beamforming to detect wireless device locations and shape transmissions so they're optimized for fast and stable connection strength. Most importantly, the universal beamforming not only works on 802.11ac clients, but also 802.11a/b/g/n clients.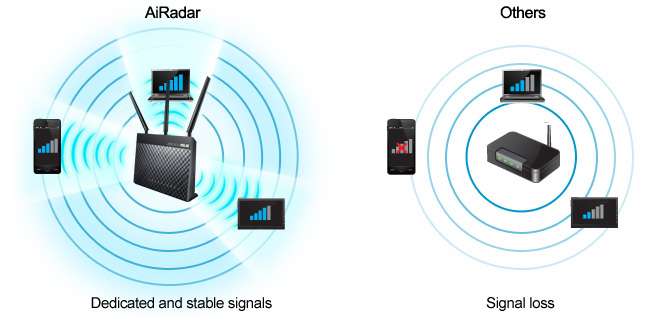 Powerful Whole-home Wi-Fi System.
The Way You Want.
In most cases, your RT-AC68U can deliver smooth, reliable Wi-Fi to every part of your home. But Wi-Fi coverage can be affected by many factors — room layout, construction materials, and even furnishings. ASUS AiMesh is an innovative new router feature that fixes these problems: it creates a whole-home Wi-Fi network using multiple ASUS routers. AiMesh is powerful, flexible and you can use a mix of ASUS router models — protecting your investment! AiMesh gives you time-saving central control, and seamless roaming capability. AiMesh is Wi-Fi you can rely on — for all your devices, all the time! Learn More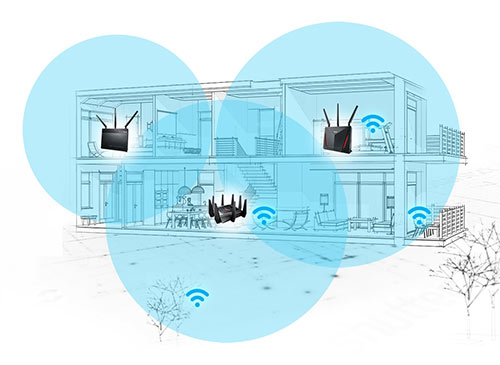 Turn your ASUS routers into whole-home Wi-Fi system with a simple firmware update
Mix and match preferred models from selected ASUS routers
Create a Wi-Fi network with either a single SSID or multiple SSIDs
All router features works across the entire Wi-Fi system


ASUS Router App
Control your network anywhere
In your increasingly mobile-enabled life, having control over your network via an app is more important than ever. The new ASUS Router App is built from the ground-up to be both intuitive and robust, allowing you to setup your router, manage network traffic, diagnose connection issues and even update firmware, all without needing to boot up a PC.
» Learn more
Click below to download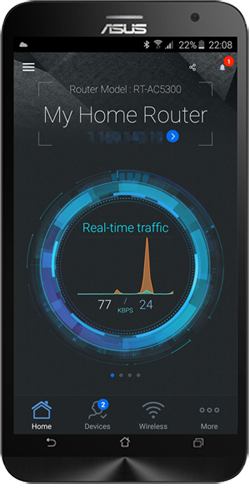 Highest USB speeds
The ASUS DSL-AC68U wireless modem router arrives loaded with USB 3.0 port. USB 3.0 offers up to ten times faster transfers than USB 2.0. FTP, HTTP, and UPnP server functions all achieved with instant ease and speed, alongside 3G/4G connection sharing and ASUS AiDisk remote file access and content streaming from a wide range of compatible devices. Best of all, downloading can occur 24/7 even with the PC off, and printers can be shared too.

Gigabit Internet browsing with hardware NAT
Equipped with powerful hardware NAT acceleration and built-in Gigabit Ethernet, the DSL-AC68U wireless modem router gives you full Gigabit LAN-to-WAN performance of more than 900 Mbps, which is over 4.5 times that of traditional software-based NAT Gigabit routers. This reduces the possibility of bottlenecks on fast internet connections.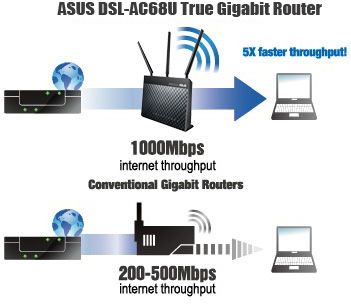 Sync. Share. Stream. Your world on demand
ASUS AiCloud keeps you connected to your data wherever and whenever you have an internet connection. It links your home network and online Web storage service* and lets you access it through the AiCloud mobile app on your iOS or Android smartphone or through a personalized URL in a Web browser. Even better, the new Router-to-Router Sync function allows you to synchronize your stuff with storage devices connected to other compatible ASUS routers— it's as simple as choosing a sync folder. Sharing with friends and family is now easier than ever!
Learn more.

* Works with select Web storage services only.

Robust control and optimization with ASUSWRT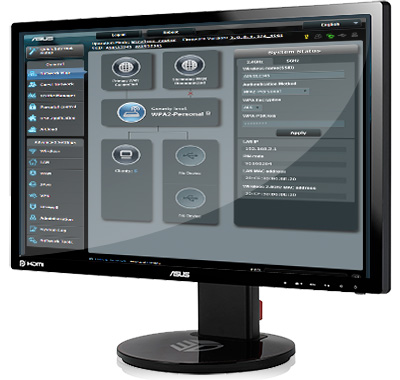 With the ASUSWRT dashboard UI, setup, monitor, and control network applications all in one intuitive area. On top of 30-second setup, multi-device detection, and flexible settings that make the most of your network performance, it's been upgraded with quick scanning of USB storage connected to routers to verify data integrity and drive health. Dual WAN enables having two connections/ISPs on one router, with load balance and failover mode for added stability and redundancy to ensure uninterrupted internet access.
Do you game a lot, or spend most of your time streaming videos? Whatever your planned use is, the DSL-AC68U has Quality of Service (QoS) standards that let you select how much bandwidth is prioritized for virtually any task. Plus, the traffic monitor allows you to check your Web usage in a clear graphical interface.
Try our ASUSWRT


3-step easy setup through your pad, smartphone, or PC
Use your smartphone, tablet, or PC to effortlessly set up your ASUS router in less than 30 seconds* and in only 3 easy steps. Simply connect the cables to the router, open a Web browser, and follow the setup wizard to get you to the internet in no time.

* ASUS-tested and verified setup time. Actual duration may vary by ISP, specific connection type, location, and other factors.





Download and stream anywhere
Download Master and enhanced media server let you download and play multimedia files stored on router-attached USB storage on a wide range of compatible devices such as PC, pad, PS4, Xbox, and smart TV. Download Master can also download files while your PC is turned off, and allows you to manage and monitor download status remotely.


Dedicated Wi-Fi for your visitors
Share your internet connection with your guests with no need to share your personal password or network resources. ASUS Guest Network supports up to three separate guest networks, each with its own usage limits and password. Guests cannot access your primary network or any other connected devices.

Keep Up to Date!
Remember to always keep your device's firmware up to date so you can benefit from the very latest service and security enhancements — and get exciting new features! Learn more about updating new firmware.

* The actual performance may vary as a result of network conditions and environmental factors.
** The Innovations Design and Engineering Award is based upon descriptive materials submitted to the judges. CEA did not verify the accuracy of any submission or of any claims made and did not test the item to which the award was given.