The Business Mini PC for Maximum Productivity
Meet the mini desktop PC with full-size power.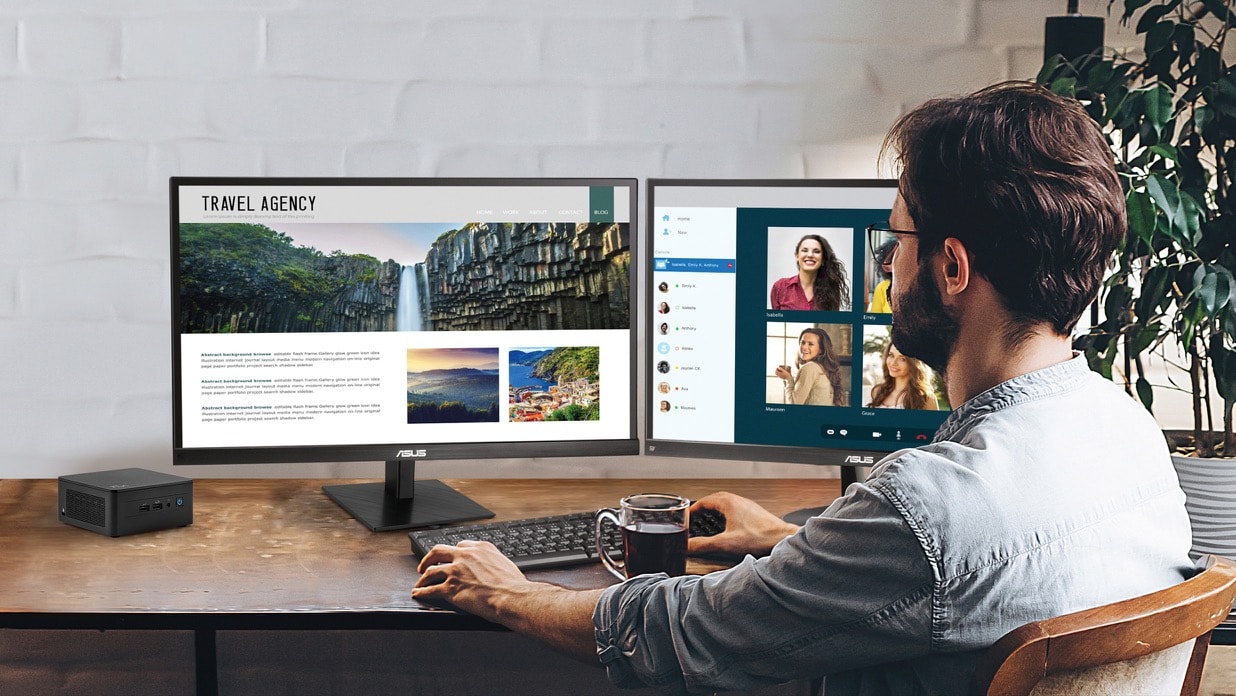 Introducing the NUC 13 Pro Desk Edition
Along with its sleek, stylish design, the NUC 13 Pro Desk Edition is powerful enough to be the hub for homes and offices, and offers the combination of size, performance, and reliability you need.
Why use an NUC for business?
NUC packs the power of the latest-generation, full-size desktop PCs into a form factor small enough to hold in your hand. They range from NUC boards for embedded applications to ready-to-run business mini PCs.
1
High-performance building blocks for business
Graphics-intensive workstations, video conferencing and collaboration hubs, embedded machines on the factory floor— NUC can put computing performance to work practically anywhere.
Full-size desktop PC performance. Tiny NUC
Choose the latest Gen Intel® Core™ processors with extensive I/Os—including USB 3.1 ports, HDMI, Thunderbolt™ 4 technology, Gigabit Ethernet—all packed into a range of flexible, customizable form factors.
Multidisplay 4K video and graphics
NUC can drive multiple 4K displays while processing multiple streams of incoming video via Thunderbolt™ 4 technology. Multiple dedicated graphics cores rip through 3D animation, CAD models, and video rendering. This makes NUC equally adept as high-performance workstations and digital signage PCs.
Built for commercial environments
NUC Pro and Rugged Mini PCs, kits, and boards are certified for 24/7 operation
1
 and offer additional features for commercial environments. These include persistent display emulation, variable input voltage, and HDMI CEC.
Quality and reliability
Achieve superior, finely-tuned performance paired with around-the-clock 24/7 support. Seeking commercial-grade reliability? NUC Pro and Rugged models come certified for nonstop operation, 365 days a year.
Built for business: NUC on the Intel vPro® platform2
The Intel vPro® platform delivers the performance, security, manageability, and stability businesses need to be productive and efficient. Look for Intel vPro platform-eligible NUC Mini PCs, kits, and boards.
Flexible, versatile, customizable NUC
There's an NUC for every business need, from office mini PCs that take up less space than a smart speaker to rugged NUC boards and chassis that stand up to life on the factory floor.
It's more than a 4x4 mini PC; it's a wide portfolio of devices, kits, and elements that give you the ability to create the exact system you need.
These mini desktops are ready to go right out of the box. They come completely configured with RAM, SSDs, and Windows*. Connect an HDMI or Thunderbolt™ 4 monitor, plug a keyboard and mouse into a USB port, power on, and you're up and running.
NUC kits provide a foundation for computing with room to expand. Many ship without memory, storage, or an operating system so you can configure them the way you want. Use NUC kits to build Windows mini PCs, create headless Linux media servers, or support practically any configuration in between.
These bare boards are ready to put computing power into digital signage, kiosks, robotics, and IoT applications. Kits are available in a range of processors with options based on the Intel vPro platform.
NUC Pro Elements separate components—like boards, computing cores, and chassis—into modular, plug-and-play parts that make it easy to build the exact NUC you want.
NUC Rugged kits, boards, and chassis are made to stand up to harsh environments. You can also find IP-rated chassis for water resistance and more from third-party vendors in our ecosystem.
How can an NUC power your business?
From web-based conferencing to digital signage to IoT applications, NUC offers versatile performance for an incredible range of business use cases
Professional workstations that save space
NUC Mini PCs take up very little space and most models consume little power compared to a traditional desktop PC. This makes them ideal for office productivity and high-performance, multi-display workstations for designers, video editors, engineers, and architects.
Conference rooms and live collaboration
Power all of your conference room technology, drive multiple displays and projectors, and stream live collaboration. As the go-to hub for meeting room technology, NUC Pro supports popular conferencing software. Add cameras and interactive displays for immersive experiences.
Edge compute solutions
NUCs support a variety of uses, including industrial, telehealth, digital signage, and more. Choose an out-of-the-box solution—or combine NUC kits, boards, and elements to upgrade or build your own embedded digital device.
Embedded devices for industry and IoT
NUC extends high performance to manufacturing lines, transportation systems, robotics, and IoT. Features like delayed AC start and internal voltage regulators support robust industrial applications. Choose from boards with additional headers for expanded I/O, ready-to-run mini PCs, and rugged chassis for harsh environments.
Versatile uses for education and government
Computer labs, classroom PCs, large lecture halls, and collaborative conference rooms— NUC Mini PCs can play multiple roles throughout education and government. Select the Intel vPro platform to simplify management and help support security policies.
NUC for managed service providers
Expand your offerings with NUC-based solutions for backup and recovery, digital security and surveillance, and more.
NUC Mini PCs for business
Office, conference rooms, signage, and IoT—there's an NUC Mini PC for every business need.
Connect with ASUS
Our professional team is here to provide you with the information and assistance you need!
Contact sales
On July 18, 2023, Intel and ASUS announced that they had agreed on a term sheet for a non-exclusive license for ASUS to manufacture, sell, and support 10th to 13th Gen NUC systems. ASUS will be responsible for NUC sales distribution for 10th to 13th Gen NUC systems. For 13th Gen NUC and future generations, ASUS will select and create new ASUS NUC SKUs.
The SKUs listed may not cover all SKUs and all specifications are subject to change without notice. Please check with your supplier for exact offers. Products may not be available in all markets.
Products certified by the Federal Communications Commission and Industry Canada will be distributed in the United States and Canada. Please visit the ASUS USA and ASUS Canada websites for information about locally available products.
Specifications and features vary by model, and all images are illustrative. Please refer to product specification pages for full details.
PCB color and bundled software versions are subject to change without notice.
Brand and product names mentioned are trademarks of their respective companies.
The terms HDMI and HDMI High-Definition Multimedia Interface, HDMI trade dress, and the HDMI Logos are trademarks or registered trademarks of HDMI Licensing Administrator, Inc. in the United States and other countries.
Price may not include extra fees, including tax, shipping, handling, and recycling.
For pricing information, ASUS is only entitled to set a recommended resale price. All resellers are free to set their own prices.
The technologies may require enabled hardware, software or service activation.
All versions of the Intel vPro® platform require an eligible Intel processor, a supported operating system, Intel® LAN and/or WLAN silicon, firmware enhancements, and other hardware and software necessary to deliver the manageability use cases, security features, system performance, and stability that define the platform. See intel.com/performance-vpro for details.