High-performance and durable mini PC with the latest 11th gen Intel Core processors and support for Windows 11 Pro, up to 64 GB DDR4 RAM, M.2 SSD, 2.5-inch HDD and USB 3.2 Gen 2
Windows 11 Pro: ASUS recommends Windows 11 Pro for business.
11th Gen Intel® processors: Latest technology for desktop-grade performance
Military-grade durability: Adheres to the latest MIL-810H military standards for outstanding quality and reliability
Flexible finish: Choice of traditional black chassis or all-new white design
Intel Wi-Fi 6 and Bluetooth 5.2 Ultrafast Gig+ wireless speeds, plus latest high-efficiency Bluetooth connectivity
Configurable port: Flexible support for DisplayPort™, VGA, LAN, COM or HDMI®
Physical security: Built-in Kensington lock slot enables instant protection
Dynamic tuning technology: Automated optimization to ensure best system performance
ASUS Corporate Stable Model (CSM): Exclusive program guarantees stable product supply for a minimum of three years
24/7 reliability test: A set of rigorous procedures ensure stable operation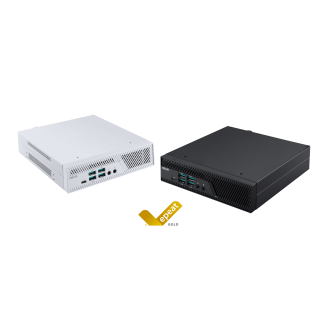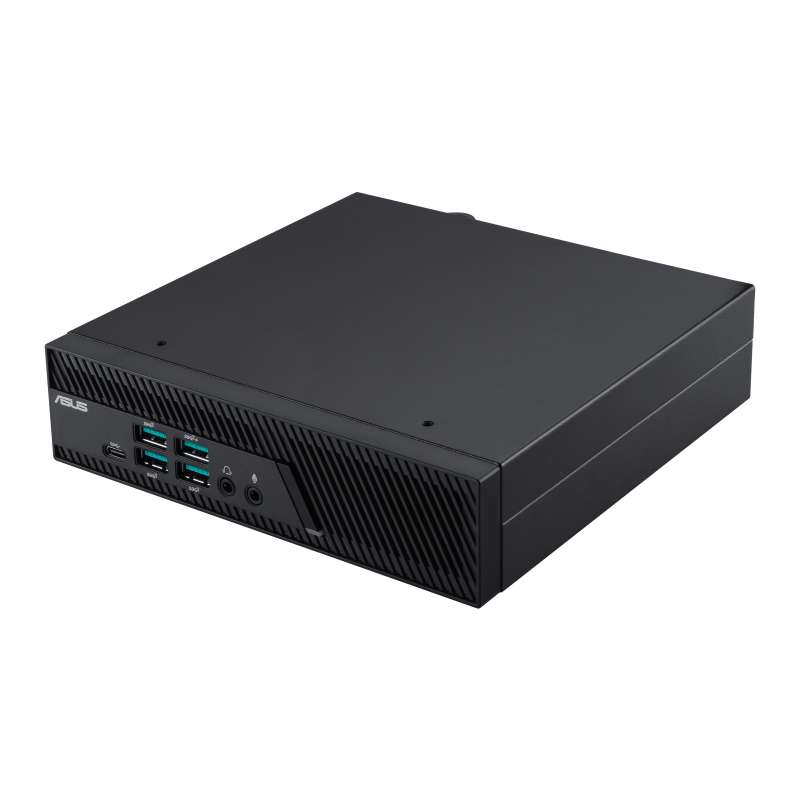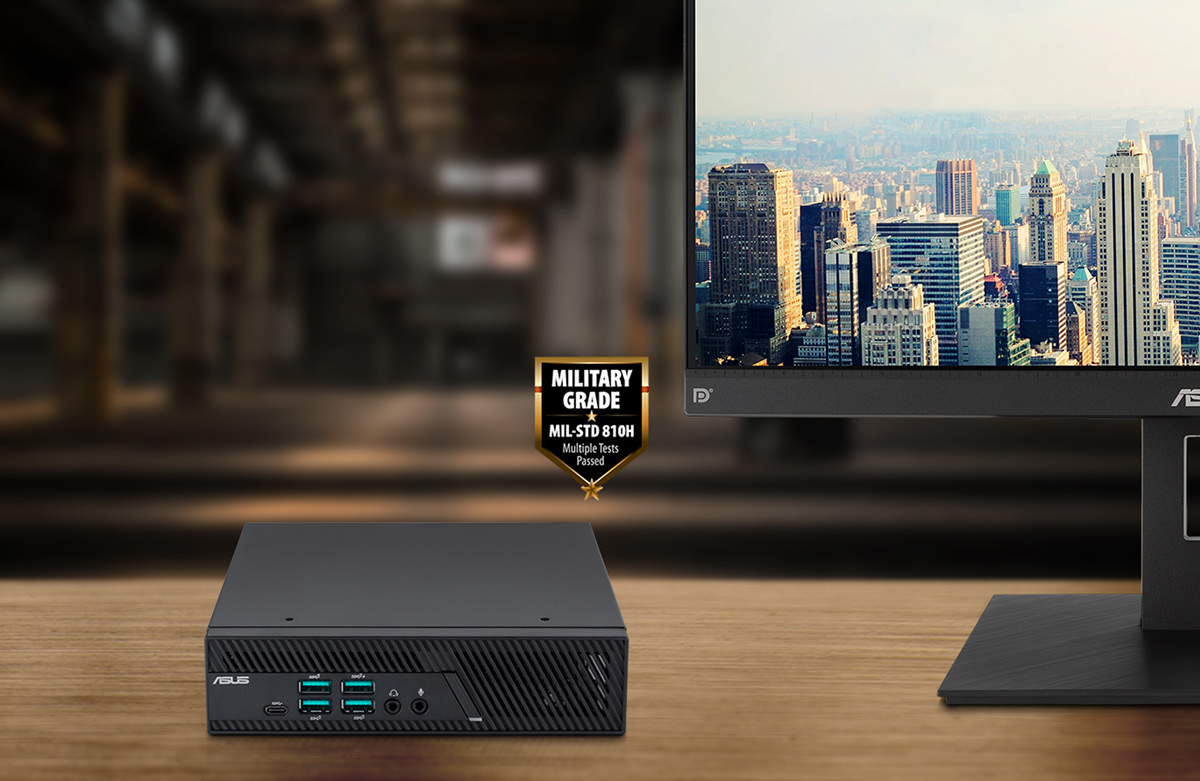 Solid reliability for your business
ASUS Mini PC PB62 is a durable, versatile and powerful PC suited to a range of business applications, including signage, point-of-sales (POS) systems, kiosks and intelligent vending machines. Powered by the latest 11th Gen Intel
®
Core™ processors, PB62 delivers desktop-grade performance in a compact size, with support for Intel
®
Optane™ technology for enhanced storage speed and increased business productivity. To cater to diverse demands, PB62 supports a 35- or 65-watt CPU – so it's easy to spec for supreme efficiency or maximum performance. Comprehensive connectivity with eight USB ports and support for up to three 4K UHD displays means PB62 is perfect for almost any business scenario. It's also tested to the latest MIL-STD-810H military standard to ensure it's ready for harsh environments.


Performance
Desktop-grade performance in slim style
With the latest 11th Gen Intel Core desktop processors, ASUS Mini PC PB62 is able to handle intensive computing tasks. Up to 64 GB of fast DDR4 3200 MHz memory ensures smooth multitasking, and a three-storage design with one M.2 PCIe® 4.0 x4 SSD*, one M.2 PCIe 3.0 x4 SSD** and one 2.5-inch HDD provides the perfect mix of fast data transfers and high storage capacity.
PB62 also has built-in support for Intel® Optane™ memory, the technology that greatly improve storage speeds. It enables your most frequently used documents, pictures, videos and applications to be accessed more quickly while improving overall system performance.
*10th gen Intel® CPU only support one PCIe 3.0 SSD
**One on the top side of the motherboard, and one on the bottom of the motherboard. The top M.2 slot will be disabled if a 10th gen Intel® CPU is installed.

Extreme reliability for business
ASUS Mini PC PB62 is built to last, with military-grade durability. Tested to the latest and rigorous MIL-STD-810H* standard, PB62 is subjected to extremes of temperature, altitude and humidity, and repeatedly dropped and vibrated to ensure that it's fit to perform even in harsh conditions.
*The MIL-STD-810H military-standard tests are rigorously designed and performed, and provide an indication of durability and solidity. The test results themselves do not constitute a guarantee of performance under particular conditions or in military use.
High Temperature Test
With the ability to withstand temperatures as high as 49° C and as hot as 71° C in storage, PB62 is ready in any warm environment – from the factory floor to industrial kitchens.
Low Temperature Test
Cold isn't a worry for PB62 either, as it will keep on going in temperatures as low as -32, or -33°C in storage – so it's perfect for anything from outdoor signage to cold-room monitoring.
Altitude Test
PB62 is also happy to travel as high as you need, able to deal with temperature extremes of -30 to 60°C at 40,000ft when in storage, and an operational range of
5 to 40°C at 15,000ft.
Humidity Test
Hot, tropical environments are no sweat for PB62 either, as it's comfortable in humidity levels of up to 95% at temperatures of up to 60°C.
Drop Test
We also repeatedly drop PB62 a full meter, four times on each side, to test its ability to brush off everyday knocks and bumps, and rough handling.
Vibration Test
Finally, PB62 is shaken across three axes at 5-500 Hz for up to 40 minutes per axis to ensure it's ready for the rigors of transport and everyday use.
Energy savings
Reduced environmental impact and lower operating costs
ASUS Mini PC PB62 has an energy-efficient design that reduces environmental impact while helping to lower operating costs for your business. Eco-friendly ASUS Mini PCs are recipients of some of the industry's highest environmental certifications, including ENERGY STAR®. Specifically, PB62 consumes as little as 9.17 watts and is extremely quiet, generating just 21.7 dB of noise at idle.
*Test configuration: Windows 10 Pro, 64 bit, Intel i7-11700, DDR4 16 GB x 2 3200 MHz, 512 GB PCIe SSD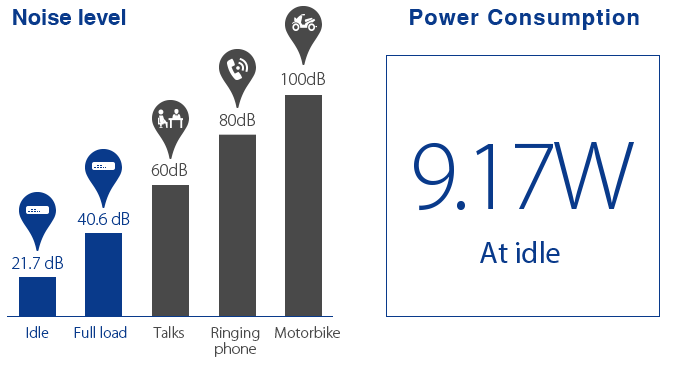 Design
Versatile, space-saving, secure design
With its compact size and VESA-compatible mount design, PB62 is perfect for use in offices, hospitals or retail environments. And now, for the first time in the ASUS Mini PC series, PB62 is available in a choice of two colors – classic black or stunning white – so it's ready to blend into any environment. It even includes an integrated Kensington lock slot and a padlock-eye design, providing ready-made security for any situation.





Design
Innovative lockable VESA mount for instant security
It's easy to mount ASUS Mini PC PB62 onto a standard VESA plate, and an innovative locking mechanism provides extra security. Included rubber-shrouded locking screws improve the coupling and protect the chassis surface from scratches.
Note: Accessories are selected by distributors, they may by model or region.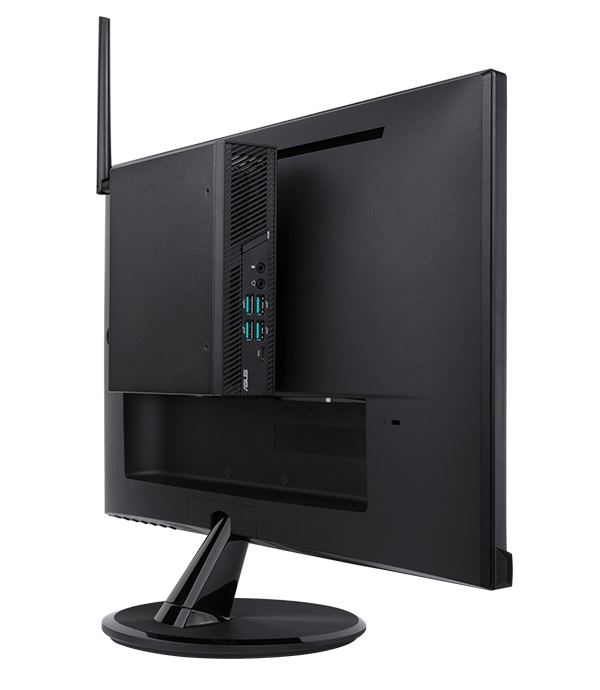 Design
All-new dust filter
ASUS Mini PC PB62 features an all-new dust filter to protect it from the ingress of airborne particulates*, helping to keep internal components clean, thus improving reliability. This design also makes PB62 ideal for use in areas of high dust density, from industrial environments or high-footfall retail to arid or smoggy regions.
Note: Accessories are selected by distributors, they may by model or region.
Connectivity
A plethora of ports
ASUS Mini PC PB62 provides fast and convenient connectivity with four USB 3.2 Gen 2 Type-A ports and one 3.2 Gen 1 Type-C® on the front panel, plus one USB 3.2 Gen 1 and two USB 2.0 ports on the rear panel. Additionally, a configurable port* supports HDMI 2.0, VGA, COM, DisplayPort or LAN functionality to create the perfect fit for any need – from signage and point-of-sale systems to kiosks and intelligent vending machines.
*Configurable port spec is selected and firmed by distributor. It may varies by model or region.
Productivity
Stunning 4K UHD resolution and three-display support
ASUS Mini PC PB62 is equipped with integrated Intel UHD Graphics to display videos and images in stunning 4K UHD resolution. With two DisplayPort connectors and a configurable port*, PB62 lets you extend your workspace across up to three displays.
*Configurable port spec is selected and firmed by distributor. It may varies by model or region.

3

Independent displays

4K

Display Resolution
Ready for diverse business needs
ASUS Mini PC PB62 is a powerful, well-connected and reliable PC solution for a wide range of business scenarios. With its high performance and support for up to three displays, PB62 is ideal for use in the office, banking environments or to power digital signage. It's also loaded with connectivity options, so it's a great choice for retail outlets. And don't forget the new all-white chassis choice, which is perfect for blending PB62 into clinical or other well-being settings.


Office PC / Thin Client

Retail store
Digital signage / Kiosk

Hospital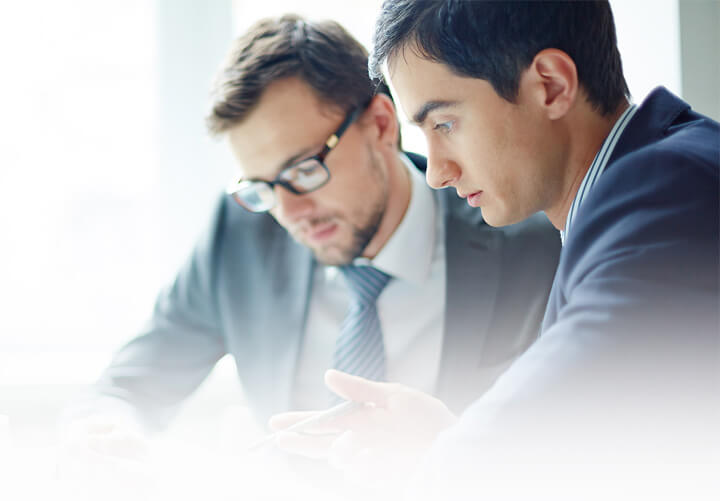 Longevity and manageability
ASUS Corporate Stable Model program
The ASUS Corporate Stable Model (CSM) program is an initiative designed to provide businesses with stable product supply and enhanced aftersales support. Each CSM mini PC purchase entitles the customer to the ASUS Control Center IT-management software suite (CSM Edition, a $60 value)* that provides comprehensive control and monitoring. ASUS CSM products also include a stable roadmap and assured 36-month supply availability, eliminating worries about material-supply gaps or extended availability.
Learn More
* Program offerings may vary by region. Please consult your local sales representative for more information.
Advantages
CSM Mini PC Features
Server Management
ASUS Control Center
Stable supply
36+ months product Lifecycle


*Starting from product launch date

6-month EOL notice
ECN control


*By request

Other support
Windows 10 and Pre-WHQL Ready
Reliability
Thoroughly tested
The military-grade durability of ASUS Mini PC PB62 is further bolstered by a raft of additional ASUS tests. All ASUS Mini PCs undergo rigorous noise, vibration, drop, and thermal shock tests to ensure they meet exacting ASUS standards and exceed industry requirements. Line voltage, frequency stability and port resilience is also tested — all so you can rest assured that your ASUS Mini PC can cope with extreme conditions, ranging from dry 0° C temperatures to humid and hot environments exceeding 50° C, for extended periods of time.


Vibration Test

Drop Test

Port Test

Temperature and Humidity Test

Noise Test

Line Voltage and Frequency Test
Security
Comprehensive protection, inside and out
ASUS Mini PC PB62 is built with multiple safeguards and security features to protect your personal or business information. These include an industry-standard Kensington lock slot to prevent theft and an intrusion alert that warns you if PB62's chassis has been opened since it was last turned on.


Trusted Platform Module
(TPM) data security

Chassis intrusion warning

Kensington lock slot

USB ports Read/Write control
Compare (0)