Overview

Tech Specs

Review

Support
Dual-band Wireless-AC1900 Gigabit Router
Concurrent dual-band data rates of 1900 Mbps for three times faster performance than 802.11n routers
Broadcom® TurboQAM™ technology increases wireless-N data rate to 600 Mbps for 33% faster performance
Five Gigabit Ethernet ports for fast, stable wired network connections
Dual USB ports with USB 3.0 for ten times faster data transfer than USB 2.0
Powerful 1.4 GHz dual-core processor for fast and responsive performance with Wi-Fi, Ethernet and USB devices
ASUS AiCloud cloud service to access, sync, share, and stream your data wherever you are, even connect to other compatible routers creating a private cloud server with family and friends
Consistently Praised for Networking Excellence!

The Most Consumer Recommended Router Maker of 2015!– PC Magazine
>>Learn more.

For Those Who Run Ahead
The ASUS RT-AC1900P is the top-of-the-line three-transmit, 3-receive (3x3) Wi-Fi router, with combined dual-band data rates of up to 1900 Mbps. 1300 Mbps 802.11ac at 5 GHz gives Gigabit wireless data rates, while Broadcom® TurboQAM™ technology super-charges 2.4 GHz 802.11n performance from 450 Mbps to 600 Mbps with compatible devices.

Powered by a 1.4 GHz dual-core processor, the RT-AC1900P eliminates the performance drops that plague other routers with busy networks. So even on the busiest home networks, HD video streaming is always smooth, the latency low for online gaming and VoIP calls, and file downloads are never interrupted.

The RT-AC1900P also features dual USB ports for file, printers and 3G/4G modems sharing and a USB 3.0 port for up to ten times faster data transfers than USB 2.0.

Exclusive AiProtection powered by Trend Micro™ improves your online safety and security by combining automatic vulnerability detection, malicious site blocking and parental controls, while the ASUS Router app allows you to setup your router, manage network traffic, diagnose connection issues and even update firmware, all without needing to boot up a PC.


World's fastest AC Wi-Fi with TurboQAM™ Wi-Fi acceleration
Powered by 5th generation Wi-Fi (5G Wi-Fi), the new 802.11ac chipset gives the RT-AC1900P superfast Gigabit wireless speeds. What's more, RT-AC1900P uses TurboQAM™ technology to upgrade 2.4G Wi-Fi even further to give you unprecedented speeds. At 2.4 GHz, it's 33% faster than generic wireless-N900 routers, reaching 600 Mbps, while on the 5 GHz band it blazes to 1300 Mbps - or triple 802.11n rates. That's 1900 Mbps of concurrent wireless power!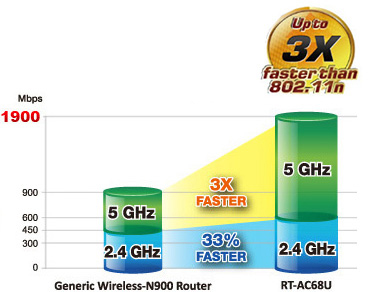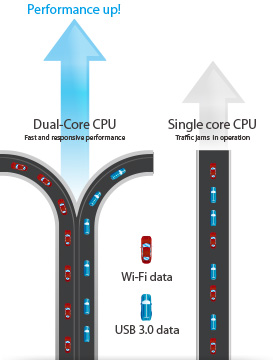 Do more at once with 1.4 GHz dual-core processors inside
The ASUS RT-AC1900P features a dual-core processor that eliminates the performance drops that plague other routers. So even on the busiest home networks, HD video streaming is always smooth, the latency low for online gaming and VoIP calls, and file downloads are never interrupted.
Entertainment everywhere, on every device
Exclusive ultra-sensitive receivers give improved mid- and long-range Wi-Fi signal, with high-powered amplifiers and AiRadar beamforming to deliver unrivaled coverage that's fast, reliable and stable for all your connected devices, from PCs and mobile devices to game consoles and beyond.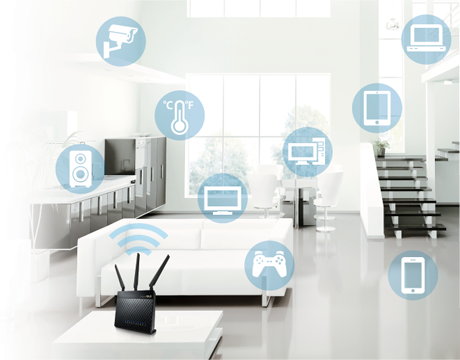 Powerful Whole-home Wi-Fi System.
The Way You Want.
In most cases, your RT-AC1900P can deliver smooth, reliable Wi-Fi to every part of your home. But Wi-Fi coverage can be affected by many factors — room layout, construction materials, and even furnishings. ASUS AiMesh is an innovative new router feature that fixes these problems: it creates a whole-home Wi-Fi network using multiple ASUS routers. AiMesh is powerful, flexible and you can use a mix of ASUS router models — protecting your investment! AiMesh gives you time-saving central control, and seamless roaming capability. AiMesh is Wi-Fi you can rely on — for all your devices, all the time! Learn More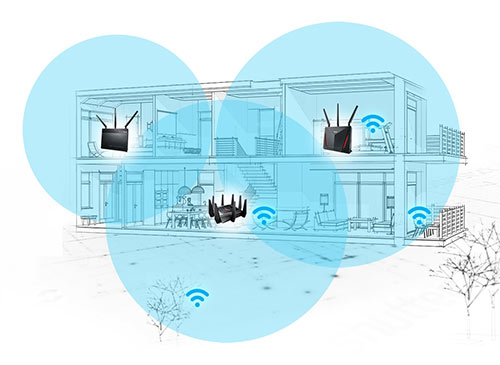 Turn your ASUS routers into whole-home Wi-Fi system with a simple firmware update
Mix and match preferred models from selected ASUS routers
Create a Wi-Fi network with either a single SSID or multiple SSIDs
All router features works across the entire Wi-Fi system
Ultimate USB speed and versatility
Highest speed USB 3.0 features data transfers up ten times faster than USB 2.0. Two USB ports make the RT-AC1900P perfect for file, multimedia, and 3G/4G sharing, while ASUS AiDisk offers remote access and quick content streaming. Where other routers have their USB ports sandwiched next to one another, both RT-AC1900P USB ports are evenly spaced for easy access to either at all times.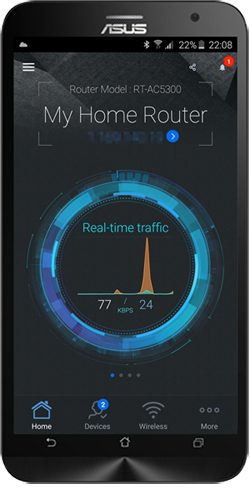 Control your network anywhere
In your increasingly mobile-enabled life, having control over your network via an app is more important than ever. The new ASUS Router App is built from the ground-up to be both intuitive and robust, allowing you to setup your router, manage network traffic, diagnose connection issues and even update firmware, all without needing to boot up a PC.
AiProtection Pro
Commercial-Grade Security for Family
All your family members, young or old, are exposed to the dangers of internet every single moment they're online. Disguised cyber threats can sneak in to steal your private data, or your kids may accidentally encounter inappropriate content during their ever-growing screen time. RT-AC1900P includes Advanced Parental Controls to give you total peace of mind, with AiProtection Pro - commercial grade security for your home network and comprehensive, easy control of the online experience for each family member and each device, all via the mobile app. learn more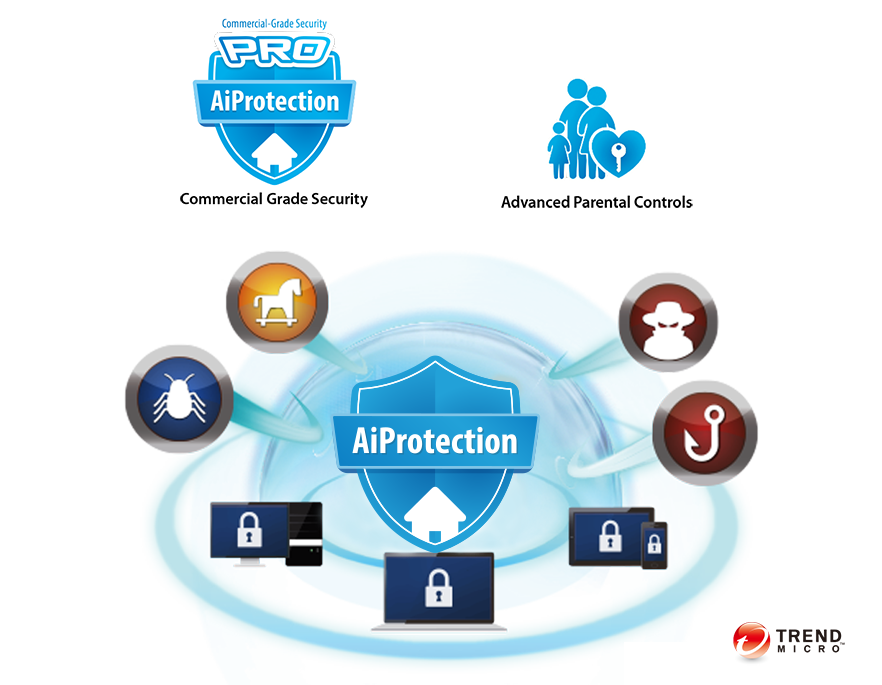 No Subscription Fee
Some routers only offer 3 years of protection, ASUS AiProtection has you covered for the life of your product

Block Access to Malicious Websites
AiProtection uses Trend Micro's official database to identify and block known malicious sites, preventing infection even before you click.
Protection Against Attacks
Intrusion Prevention System (IPS) blocks all common internet-based attacks.

Infection Detection and Blocking
Even if an already-infected device is connected to RT-AC1900P, AiProtection prevents any personal data on the device from being compromised.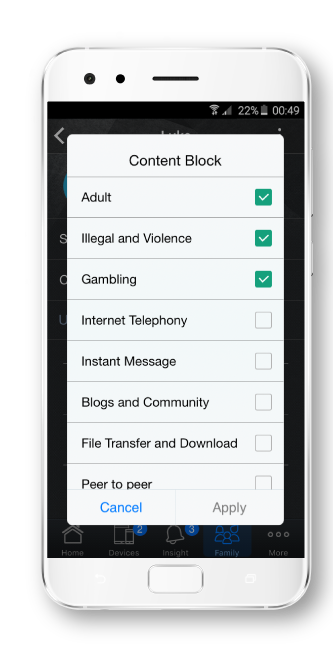 Parental Controls
Keep your kids safe when they explore the internet. The state-of-the-art parental controls in AiProtection integrate all the management functions you need in one place and the intuitive interface makes it super easy to view and apply security settings to all the devices owned by individual family members.*
| | |
| --- | --- |
| | View each family member's internet activity on a clear graphical dashboard showing the peak time and what kind of content they are viewing. You can group devices that belong to your children to view aggregated data and apply scheduled block times and content filters with just a few taps. |
| | Check the box when editing a device and profile, and the preset automatically applies filters for inappropriate content to all their devices. |
| | Reserve valuable family time or help your children develop responsible behavior by selecting scheduled time periods to block internet access on specific devices. |
| | Block specific categories of mobile apps and websites, and apply these settings to all devices belonging to individual family members. The advanced filtering integrates Trend Micro's Deep Packet Inspection (DPI) engine to filter not only by website URL, but also by the internet packets themselves, which means it filters content viewed not only in a web browser, but also within mobile apps on your devices.* |
Network Map

At-a-glance view of connected devices

SmartQoS

Optimizes bandwidth and prioritizes favorite devices and activities

Traffic Monitor

At-a-glance view of real-time traffic for diagnostics

Roaming Assist

Automatically switches device to the strongest AP
Guest Network

Separate and limited Wi-Fi network for your visitors

Parental Control

Monitor and restrict internet activities of your children

VPN server & client

Support encrypted remote connections

MAC, keyword and URL filter

Block unwanted devices and inappropriate websites
AiCloud

Your personal cloud space at home

Download Master

24/7 PC-off downloads to attached USB storage

Printer Server

Share printer and scanner wirelessly

Media Server

Centralize and stream media wirelessly

Mac OS backup support

Back up Mac OS to attached USB storage
Keep Up to Date!
Remember to always keep your device's firmware up to date so you can benefit from the very latest service and security enhancements — and get exciting new features! Learn more about updating new firmware.
* ASUS received the highest numerical score among wireless routers in the J.D. Power 2015 Wireless Router Satisfaction Report, based on 2,716 responses from 8 companies measuring satisfaction with wireless routers surveyed November-December 2015. Your experiences may vary. Visit jdpower.com