ASUS ExpertCenter D8 Tower D840MB
ASUS ExpertCenter D8 Tower D840MB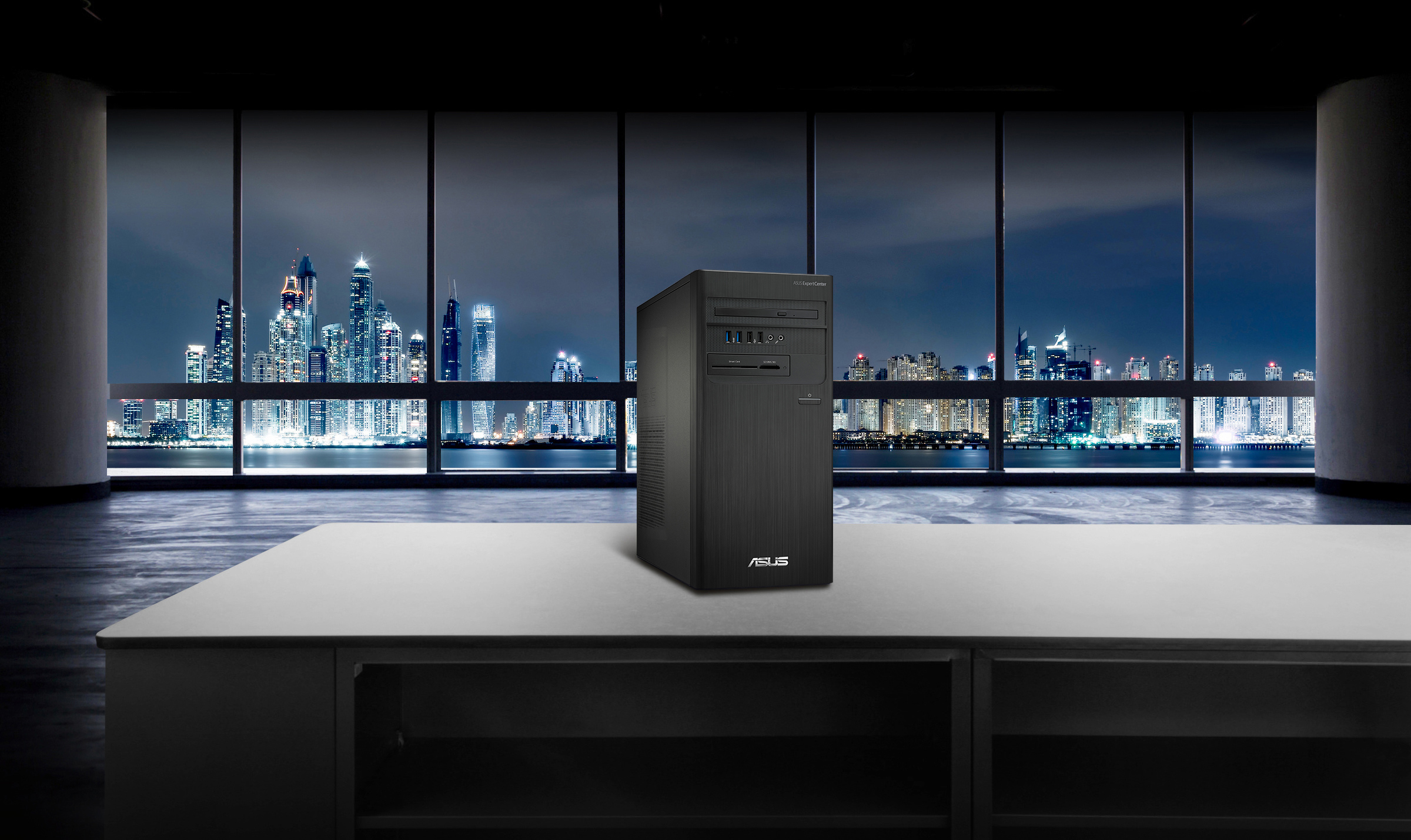 ASUS ExpertCenter Business Desktops
Redefine the Way to Do Business
The business world is constantly changing. To stay ahead, companies require higher standards of efficiency, data security and reliability. We strive to understand what you think, feel and do. This has led us to create the best business machines and is the reason behind us being voted the world's most recommended Windows desktop brand.1
Greater agility and faster response times are now necessary traits for success but these can only be realized through true organizational change. Powered by the 8th gen Intel® Core™ vPro™ Processors, our industry-leading desktop solutions are built with ultimate efficiency in mind, opening a new gateway to sustainable business growth.

ASUS ExpertCenter business desktops comes with DDR4 memory, providing twice the speed and consumes 20% less power than DDR3, allowing it to deliver excellent productivity and performance, making it the ideal choice for enterprise users.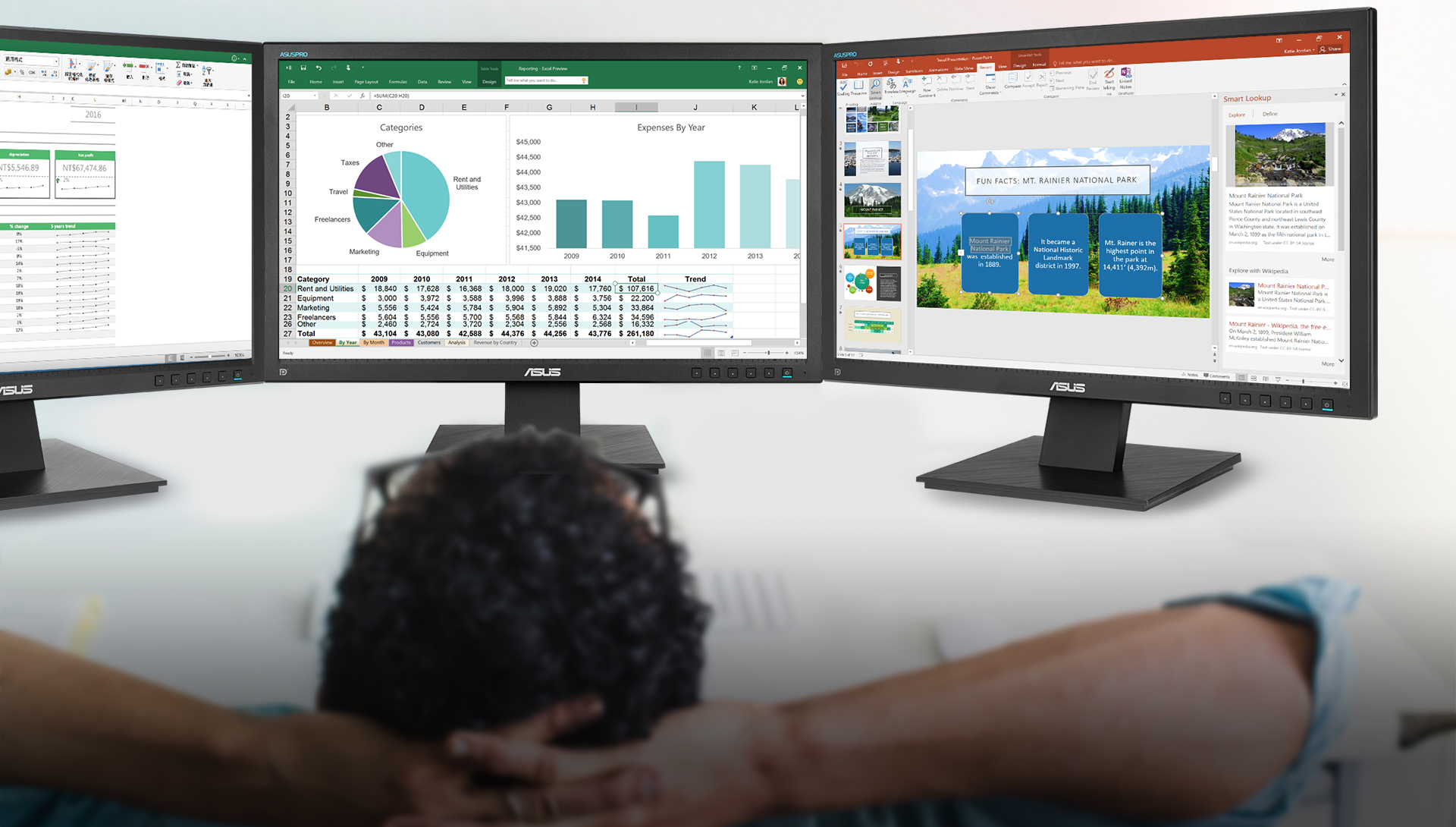 Expand your desktop workspace with triple displays with up to 4K/2K resolution, giving you the ability to expand their desktop workspace and multitask on three displays without the need for an additional VGA card.
3

Independent displays

4K

Display Resolution

0

Extra VGA card needed
Easily Connect to A Wide Variety of Devices
ASUS ExpertCenter business desktops are designed for convenient connectivity, equipped with USB 3.1 Gen 2 ports, HDMI, DisplayPort and VGA port, it can easily connect to other commercial devices. Serial and parallel ports are both optional, freeing up the multiple PCI Express slots for additional upgrades.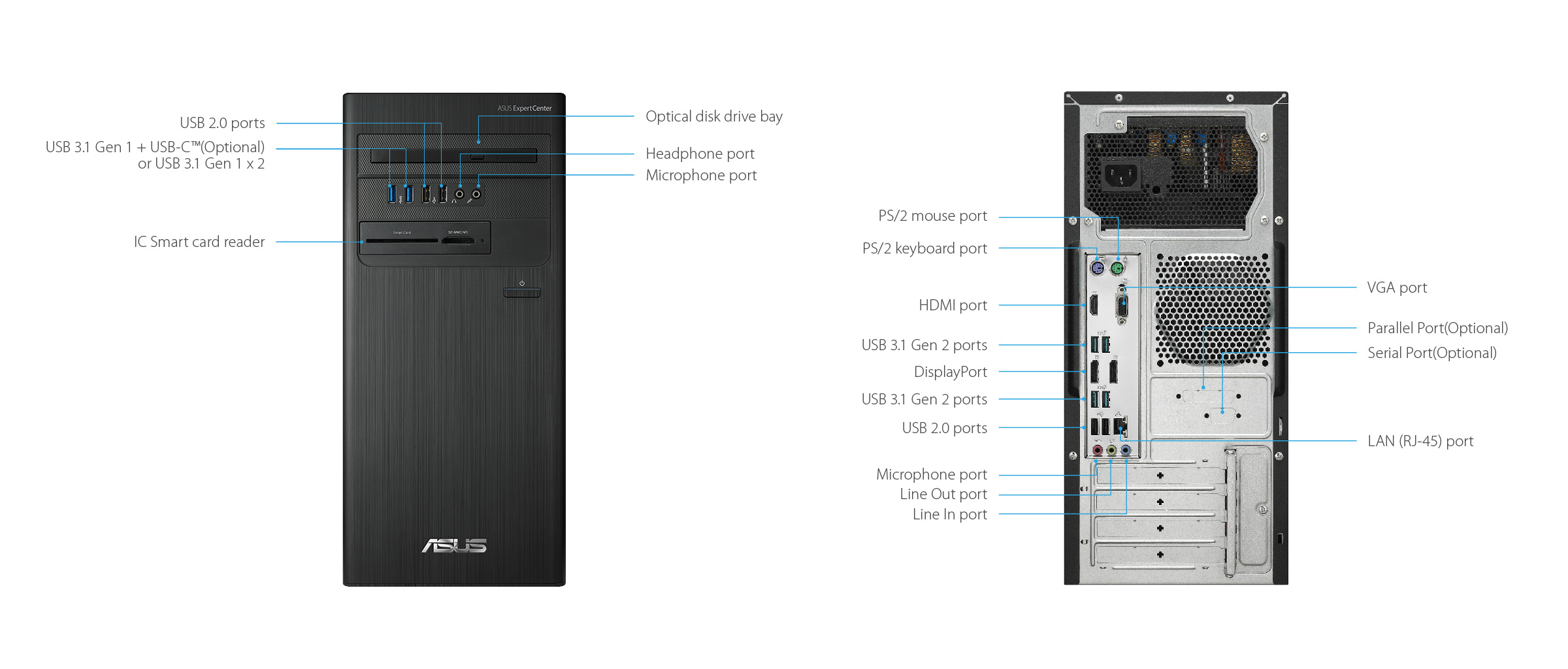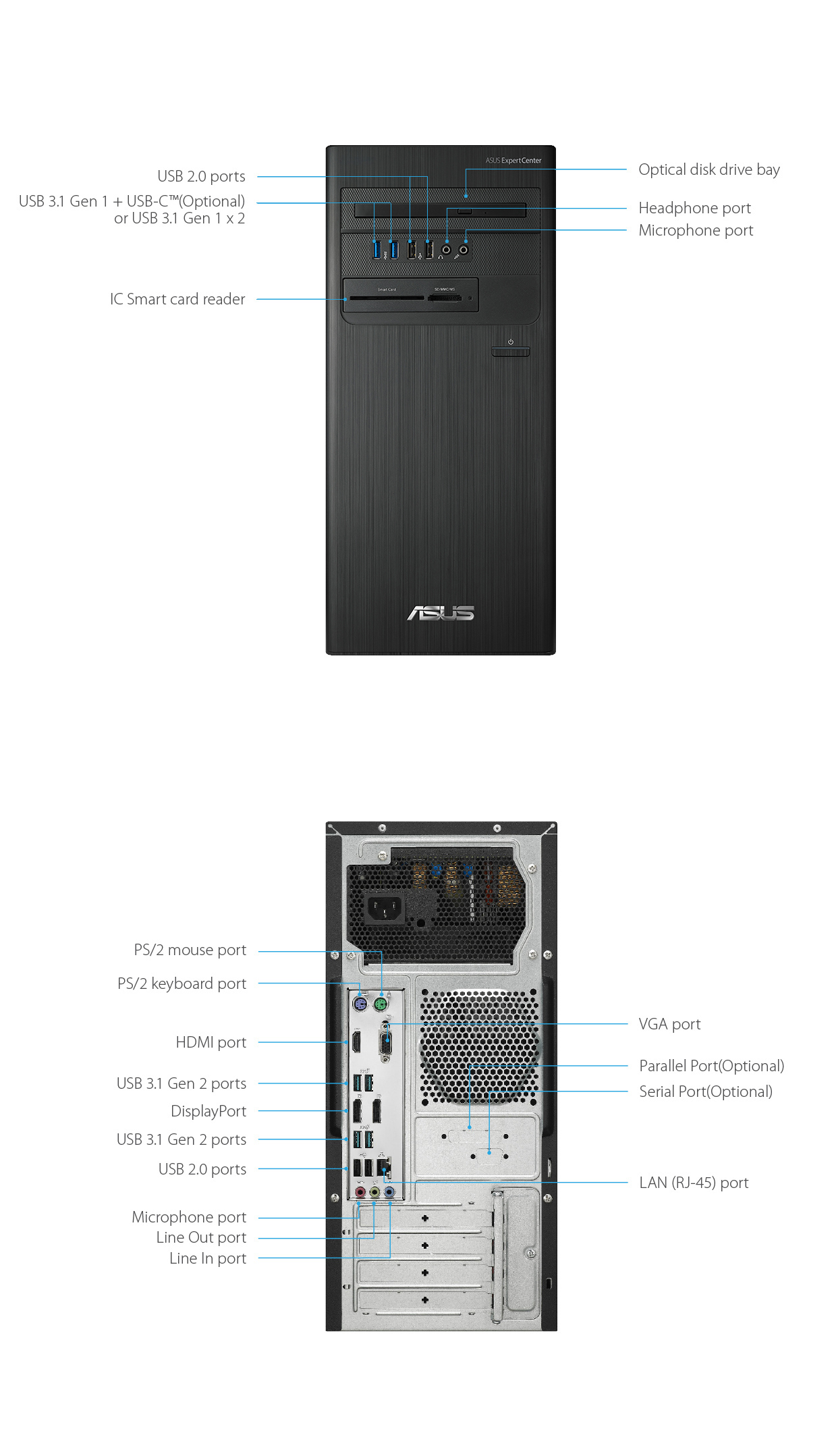 ---

Industry Leading Reliability
ASUS ExpertCenter business desktops are designed to provide the best quality, reliability and usability. ASUS ExpertCenter desktops have been certified by users and authoritative research institutes for their industry-leading performance on critical test items.
ASUS ExpertCenter business desktops are subjected to a series of rigorous noise, vibration, drop, and thermal shock tests to ensure they meet our exacting standards and exceed those used by other manufacturers. So you can rest assured that your new computer can cope with extremes of dry, icy -40°C to hot and humid 60°C environments, as well as the bumps and knocks during shipping.
Learn More
Vibration Test

Drop Test

Port Test

Temperature and Humidity Test

Noise Test

Line Voltage and Frequency Test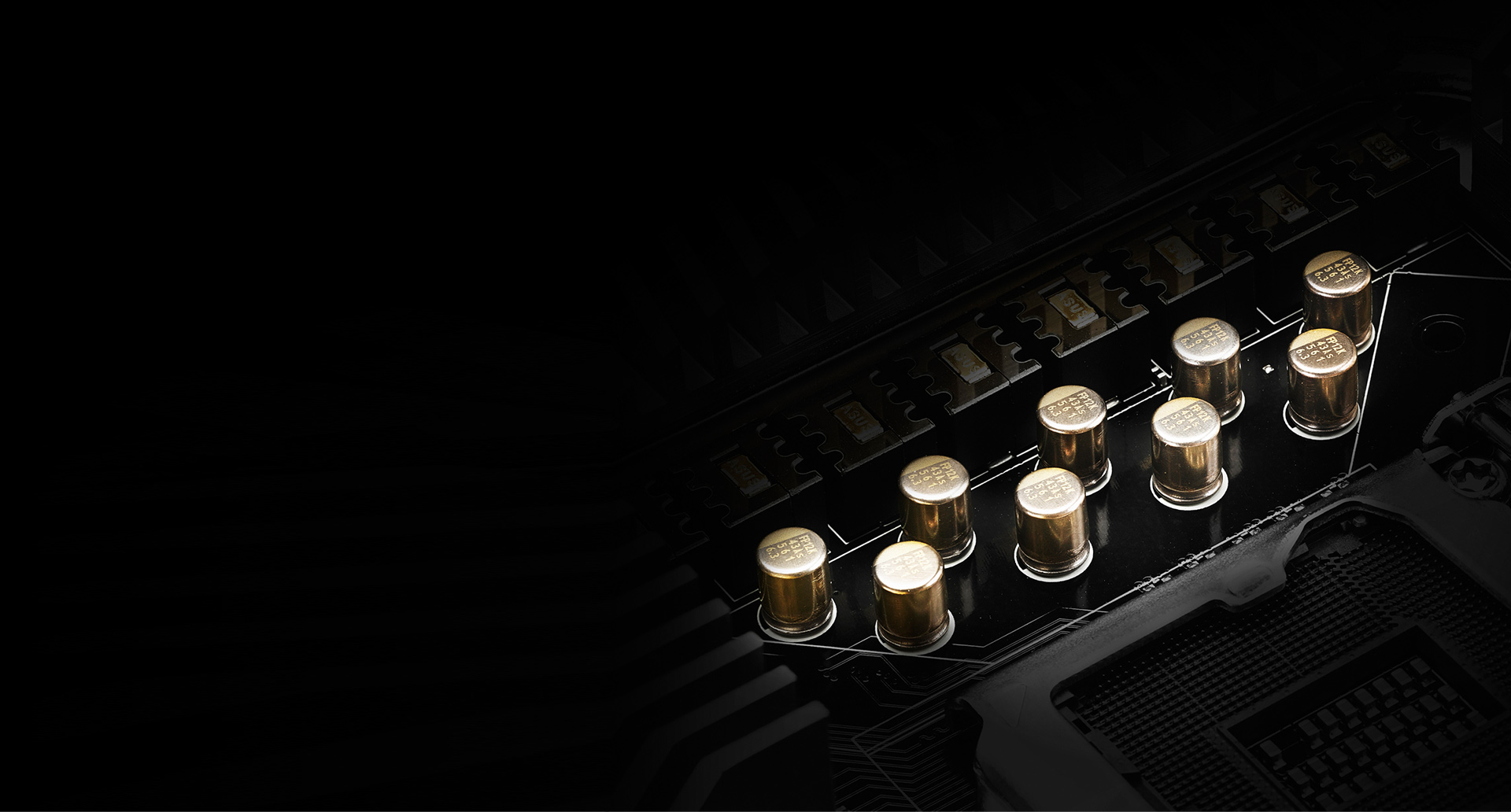 ASUS ExpertCenter business desktops are made with the world's best motherboards and employ premium solid capacitors. These high quality components provide utmost durability, improved longevity, and enhanced thermal performance.
Total Physical and Virtual Protection
Safeguarding intellectual property, business information and physical assets is becoming a management priority, especially in today's knowledge economy. ASUS ExpertCenter understands that, so our desktop solutions are built with sophisticated security features to keep your business, and your future, safe and secure.
Trusted Platform Module (TPM) data security

Onboard TPM offers a protected and encapsulated micro-controller security chip for safeguarding internal data structures against real world threats. This ensures that information like keys, passwords, and digital certificates remains safe from external attacks, physical theft, and other types of intrusion.

* Optional. Excludes Russia and China markets

Kensignton lock slot and padlock slot

ASUS ExpertCenter desktops come with a Kensington lock and padlock slot for additional asset management and security. Keeping your hardware and confidential data inside well protected.

USB ports read/write control

ASUS ExpertCenter desktops provides a mouse-controlled interface that enables more flexible and convenient input, including system management tools like I/O port activation.

Chassis Intrusion Alert

Brings up special security alerts when the case has been opened, further ensuring the safety of components and data.

* Optional.

Enterprise-Class Management
With the growing complexity of enterprise IT environments, managing it – and managing it well – is putting a strain on organizational resources. ASUS management solutions are made to cut through this complexity. They simplify business processes, enhance operational effectiveness and deal with today's issues so that you can focus on making tomorrow happen.
---
Simplified Remote Control and System Maintenance
The ASUS System Web-based management (ASWM) Enterprise2 monitoring tool is a reliable and user-friendly web-based interface that provides one-to-multiple centralized management, allowing system administrators to conveniently manage company assets through a single portal. System administrators can also utilize ASWM Enterprise to control desktops remotely.

One Stop Management and Data Protection
ASUS Business Manager is a set of program utilities that enables users to perform maintenance and optimization tasks in their PCs.
Customize power management and power saver

Easily update Apps, drivers, and BIOS

Easily delete cache, cookies, and history /Password-activated USB Lock

Easily reset, refresh, restore the PC and backup data anytime

Change BIOS logo when entering BIOS

Supports system information all you need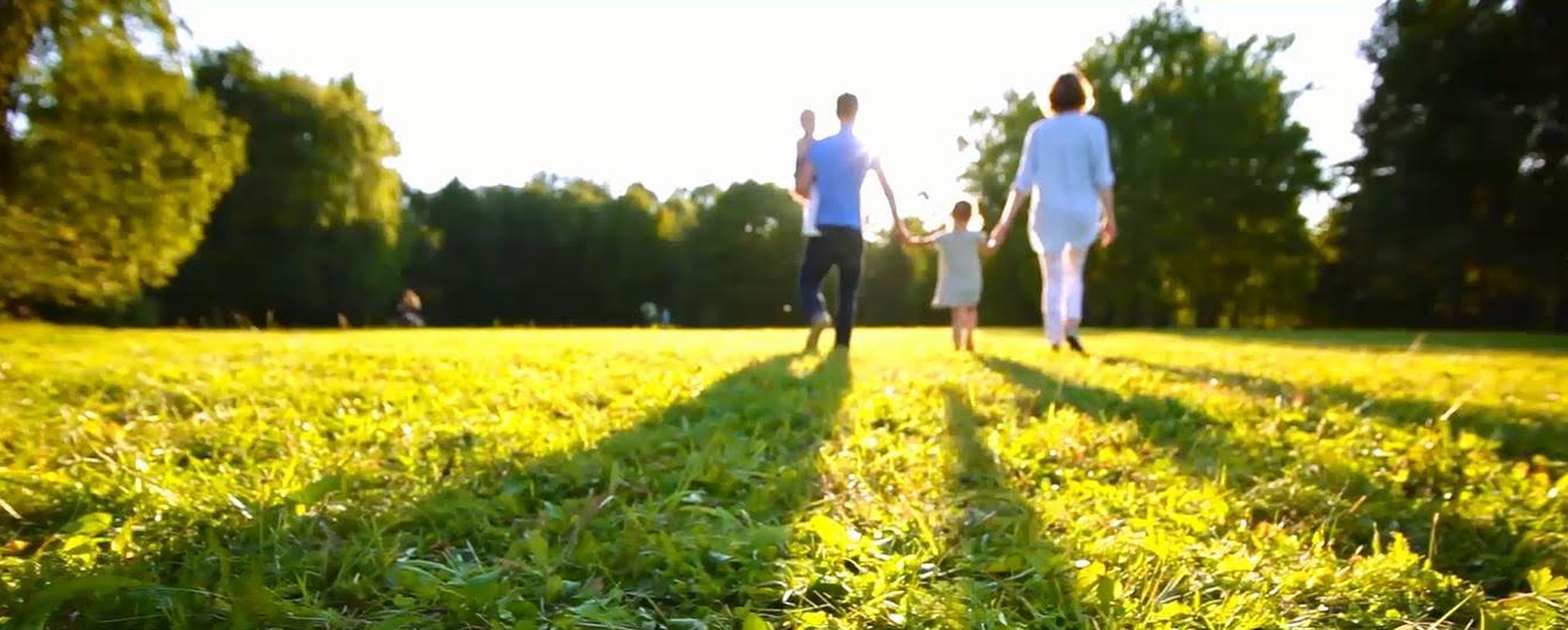 Designed With the Environment in Mind
The energy-efficient ASUS ExpertCenter business desktops protect the environment while helping lower businesses' operating costs.
Our range of productivity-enhancing accessories is designed to help you boost the performance, flexibility and usability of your ASUS ExpertCenter business desktops.*
* Accessories shown may not be available to all models, please check with your sales representatives for availability.
Hard Disk Drive Tray

Serial Port Extension Card

Serial Port Bracket

Parallel Port Bracket

Parallel Port Cable
---
Reprinted from www.pcmag.com with permission. © 2016 Ziff Davis, LLC. All Rights Reserved.
Additional software license fee may apply, please check with your sales representatives for details.
Certifications such as EPEAT may vary from models and countries. Find more about EPEAT on http://www.epeat.net/
Product photos are for reference only, and the actual delivered goods shall prevail.
Productos relacionados
Compare (0)