[Notebook] MyASUS - Customer Support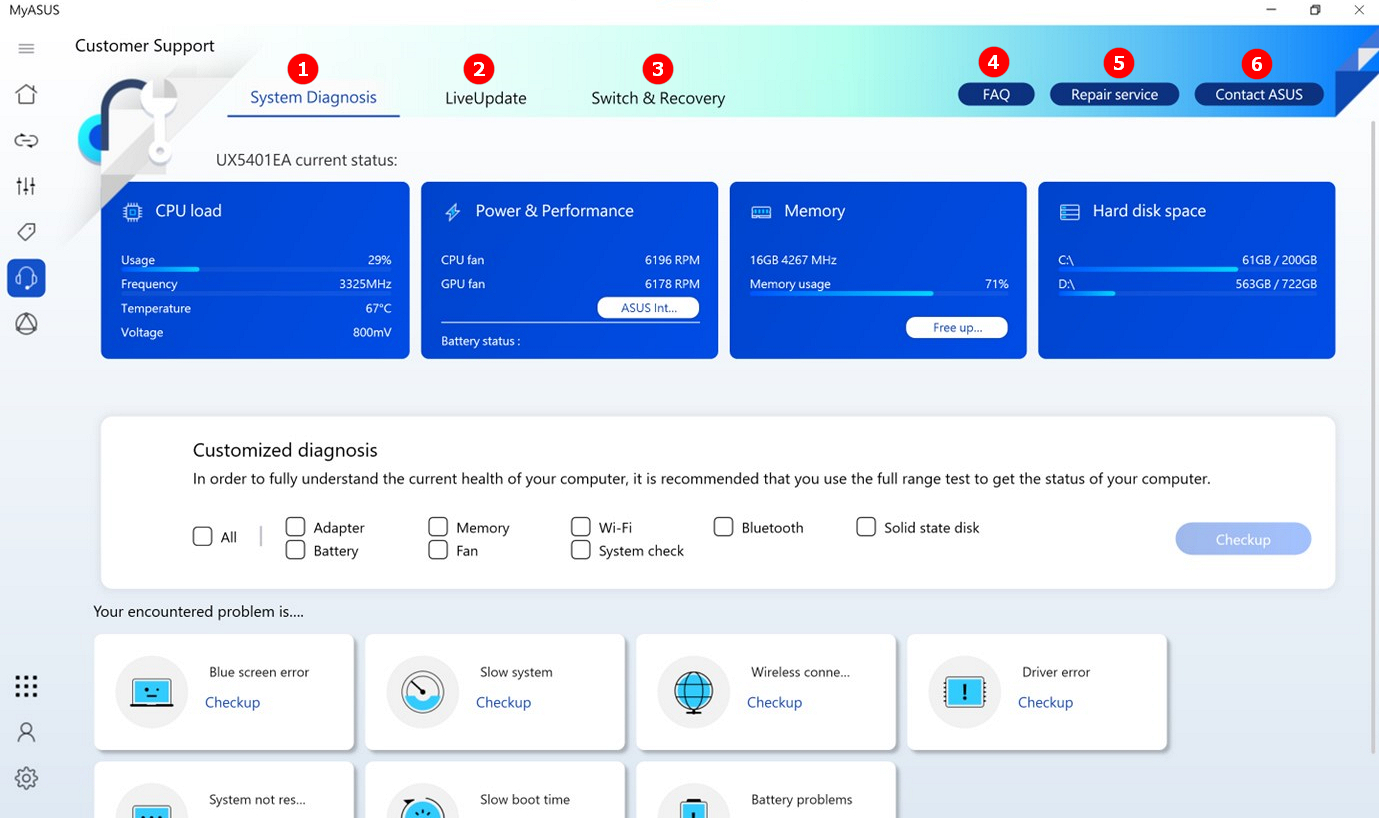 1.[System Diagnosis]
Di sini Anda dapat memeriksa CPU load, Fan load (Fan Dust Removal),, penggunaan memori, dan ruang hard disk.
System Diagnosis tool membantu pengguna untuk mengidentifikasi masalah yang dihadapi melaporkan sumber masalah, dan memberikan saran instan. Ini juga membantu perwakilan layanan pelanggan kami untuk mengidentifikasi masalah
dengan cepat dan akurat jika perangkat Anda perlu diperbaiki.
①Pilih bagian yang ingin Anda periksa ②Klik [Checkup].

Ini sedang memeriksa.

Inilah hasilnya.

Informasi lebih lanjut, Anda dapat merujuk ke link ini.
2. [LiveUpdate]
Untuk situasi kritis, MyASUS menyediakan [Essentials] untuk membantu user memperbarui dan menginstal software dengan lancar. Kemudian, user dapat menikmati layanan software terbaru.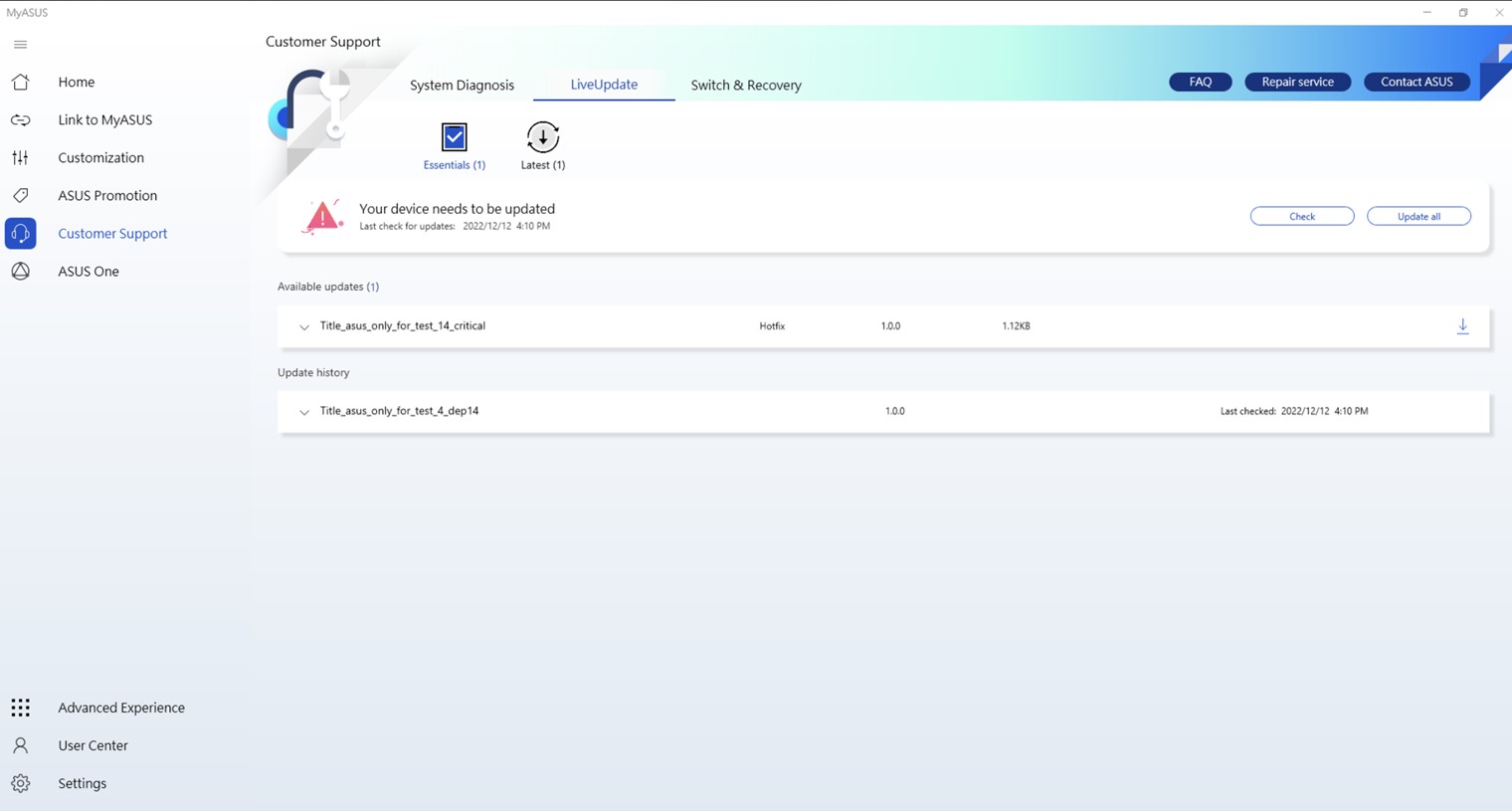 LiveUpdate setiap hari scan update terbaru dan khusus. user bisa mendapatkan update software, termasuk BIOS, Driver, dan Firmware.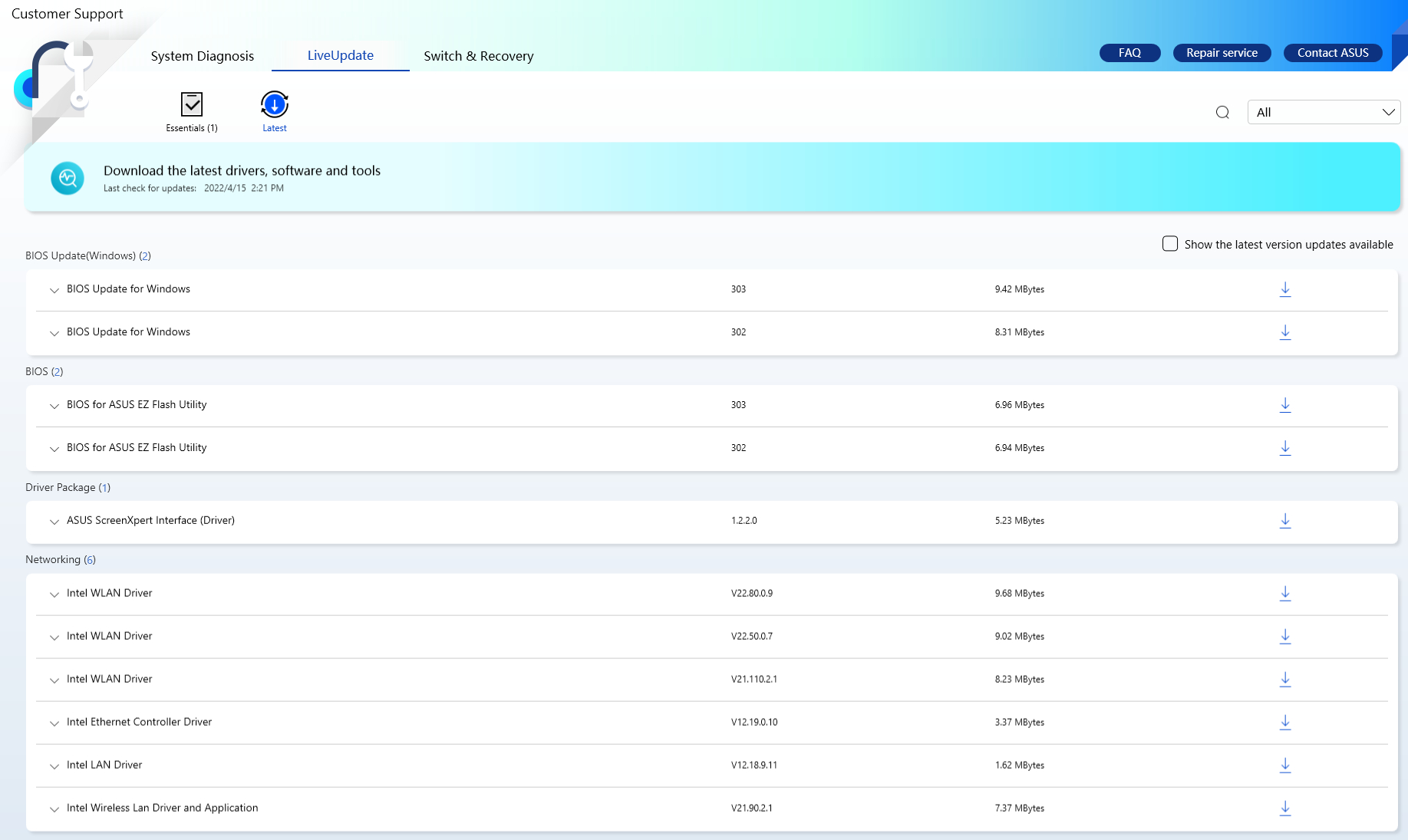 Anda juga dapat memilih jenis yang Anda inginkan di sini.

Ketika Anda memilih item di bawah ini, itu akan menampilkan update versi terbaru yang tersedia dengan titik merah kecil seperti yang ditunjukkan di bawah ini.
Perhatian: Menginstal ulang sistem operasi mungkin akan menyebabkan hilangnya beberapa driver di Device Manager dan MyASUS mungkin tidak dapat membandingkan nomor versinya. Ini akan membuatnya menunjukkan "no update available" di MyASUS. Jika Anda ingin menemukan daftar driver yang kompatibel dengan mesin ini, harap batalkan pemeriksaan [Tampilkan update versi terbaru yang tersedia], atau konfirmasi bahwa tidak ada perangkat yang tidak dikenal di manajer perangkat terlebih dahulu.
3. Switch & Recovery
Anda dapat merujuk ke ini .
4. [FAQ]
Di sini akan ditampilkan beberapa FAQ untuk MyASUS dan model yang Anda gunakan.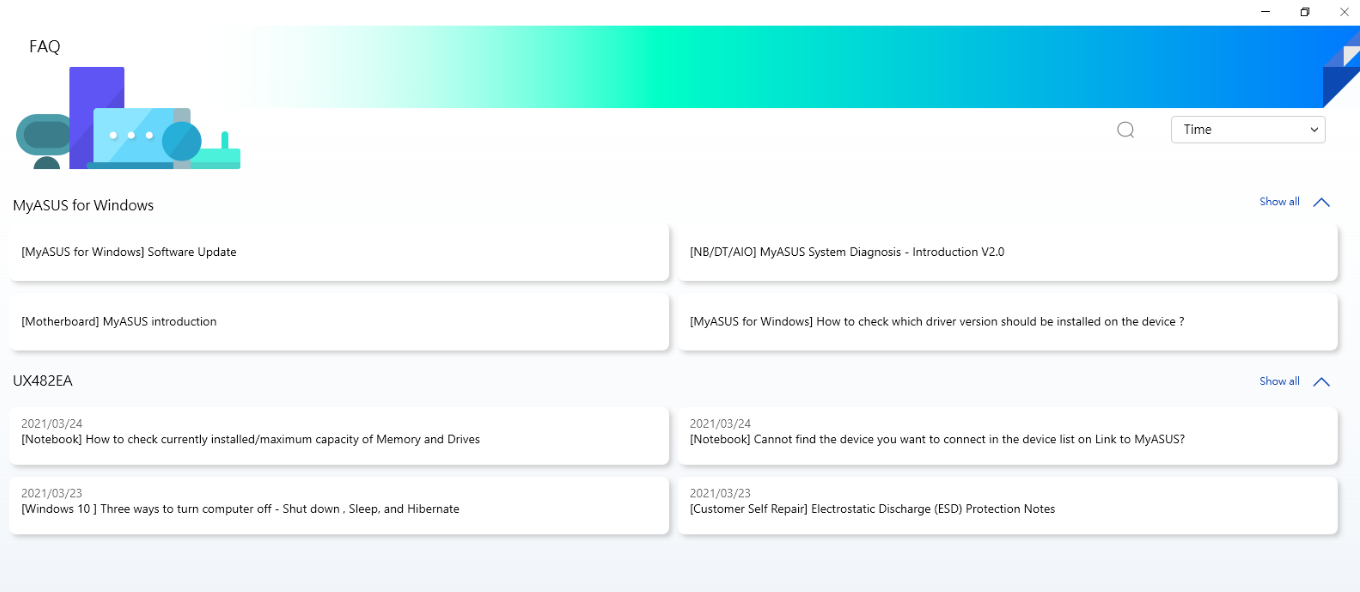 5. [Repair service]
Repair status: Anda dapat memeriksa status perbaikan menggunakan nomor RMA atau S/N produk.

Repair Center: itu akan menampilkan semua pusat perbaikan di negara Anda.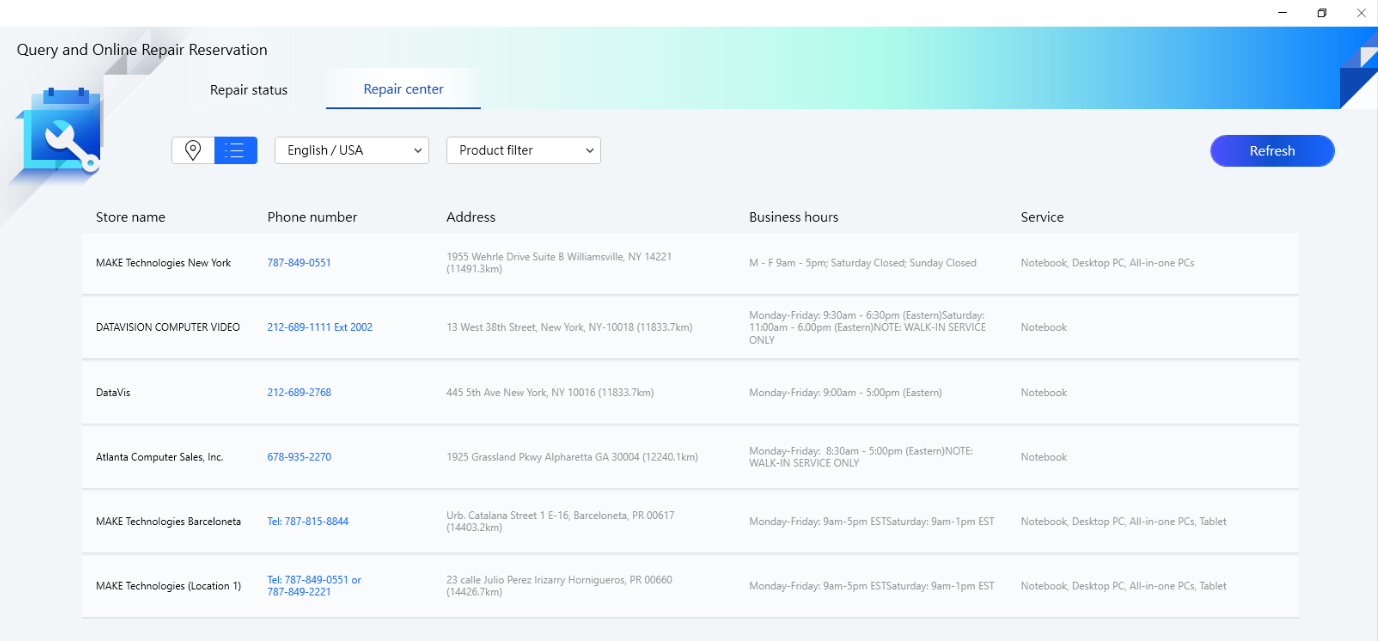 6. [Contact ASUS]
Klik contact ASUS dan pilih produk Anda.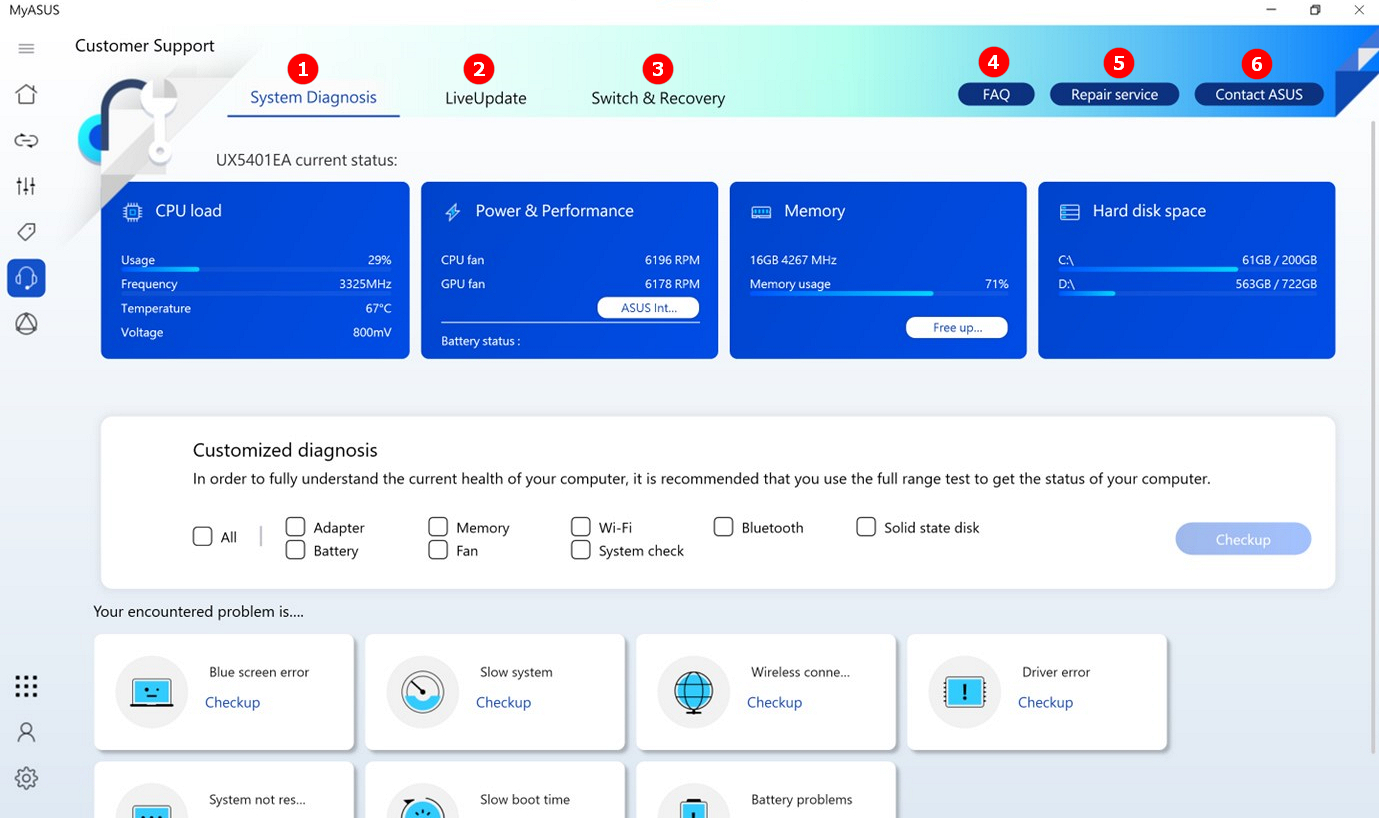 1.[System Diagnosis]
Here you can check CPU load, Fan load(Fan Dust Removal), memory usage and hard disk space.
The System Diagnosis tool helps the user to identify any problems that are encountered reports the sources of the issues, and provides instant suggestions. It also helps our customer service representatives to identify problems
quickly and accurately if your device needs repairing.
①Select the part which you want to check ②Click [Checkup].

It is checking.

Here is the result.

More information, you can refer to here.
2. [LiveUpdate]
For the critical situation, MyASUS provide [Essentials] to help user update and install the software smoothly. Then, users can enjoy the latest software services.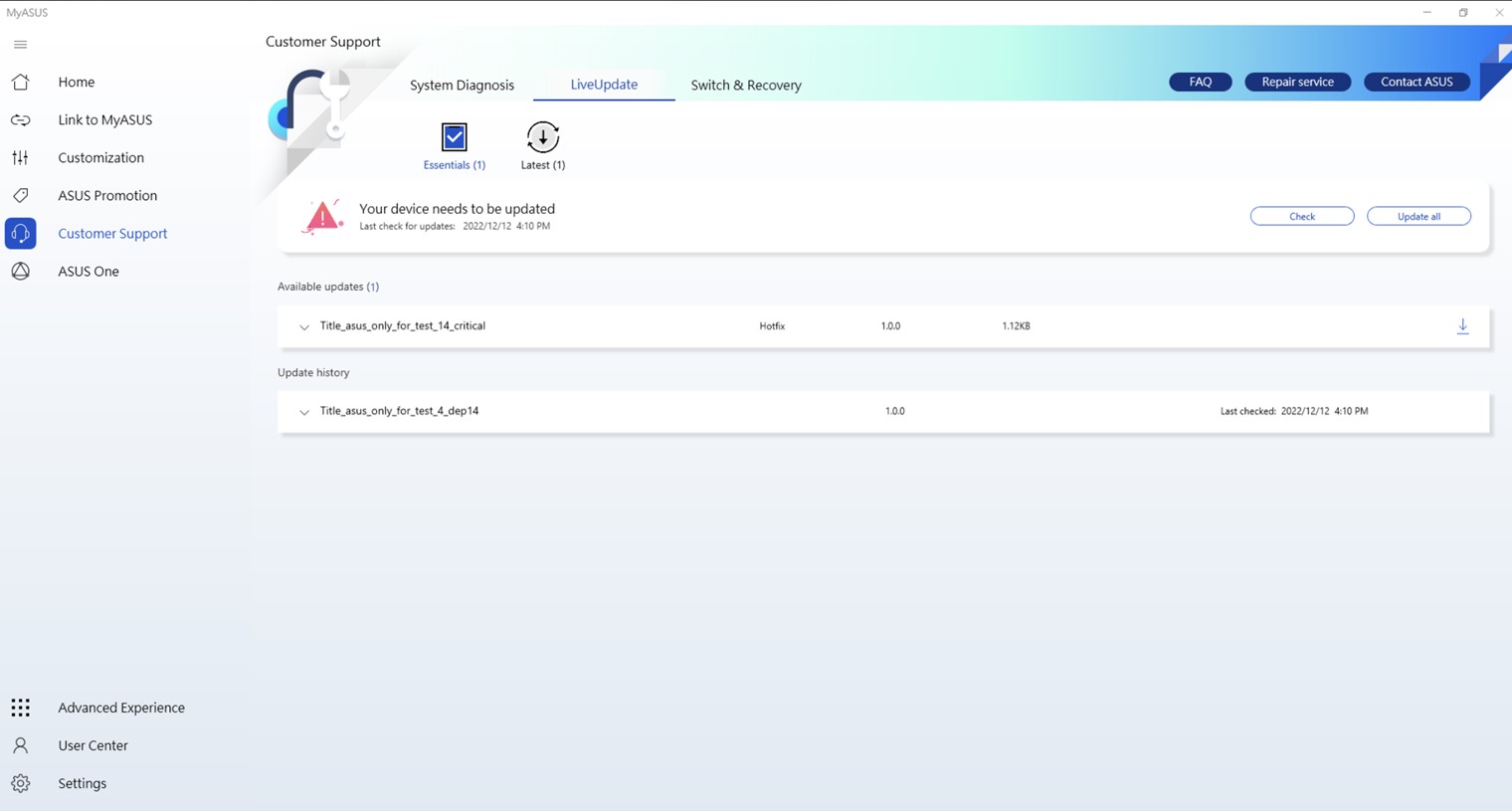 LiveUpdate daily scans the latest and customized updates. Users can get the software update, including BIOS, Drivers and Firmware.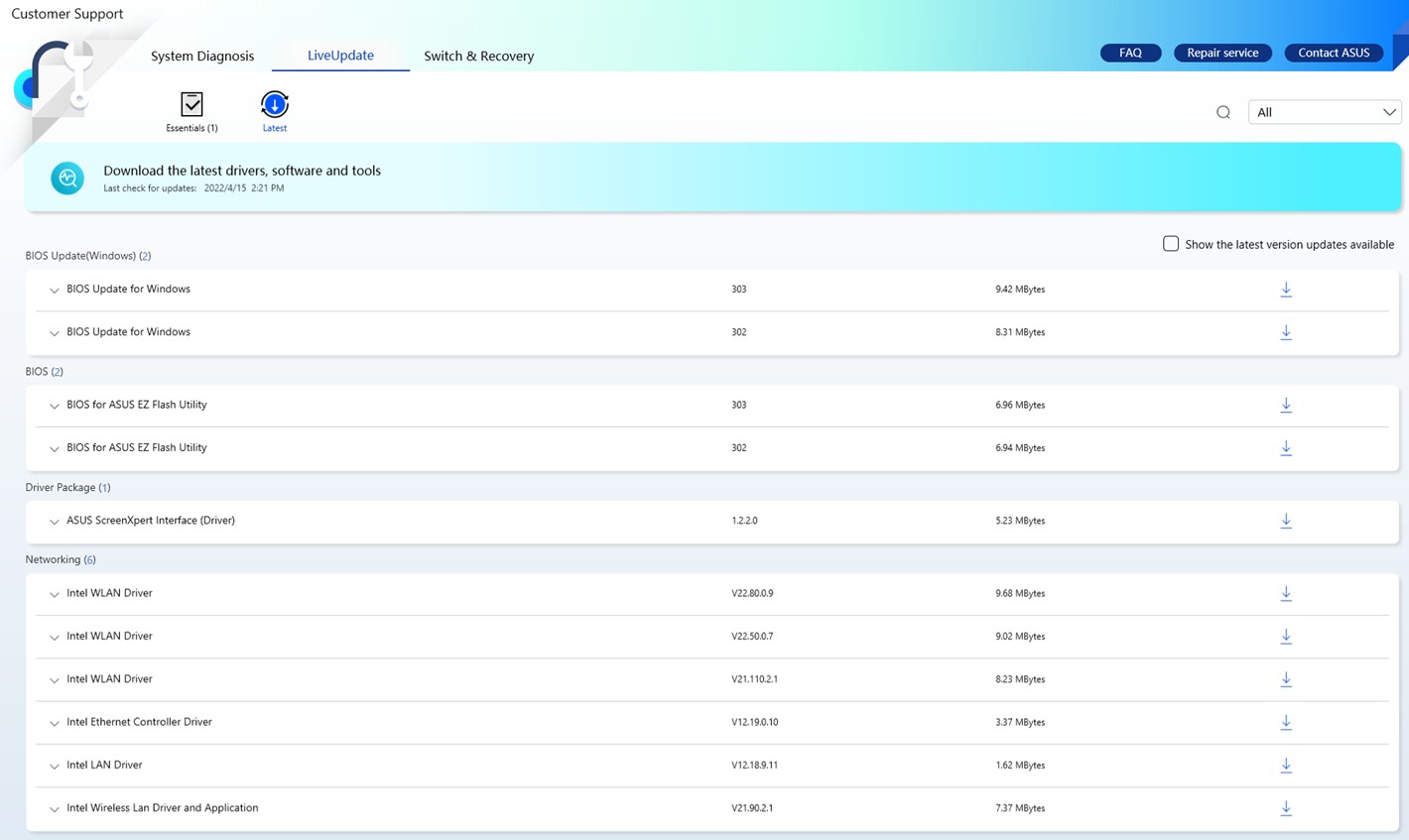 You can also select the type which you want here.

When you select below item, it will show the latest version updates available with the little red dot as below shown.
Notice: Reinstalling the operating system would probably cause the loss of some drivers in Device Manager and MyASUS might not be able to compare the version number. This would make it show "no update available" on MyASUS.If you want to find the list of drivers compatible to this machine, please cancel the check of [Show the latest version updates available], or confirm that there are no unknown devices in the device manager in advance.
3. Switch & Recovery
You can refer to here.
4. [FAQ]
Here will show some FAQ for MyASUS and the model you are using.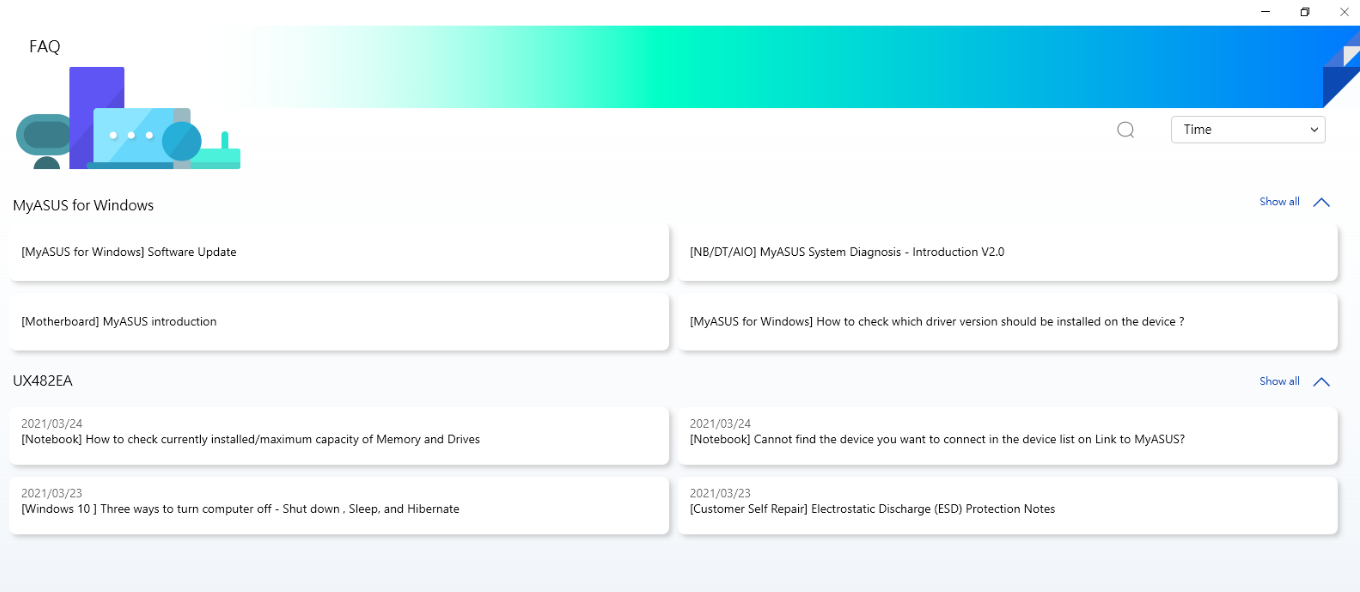 5. [Repair service]
Repair status: you can check the repair status using RMA number or product S/N.

Repair center: it will show all repair centers in your country.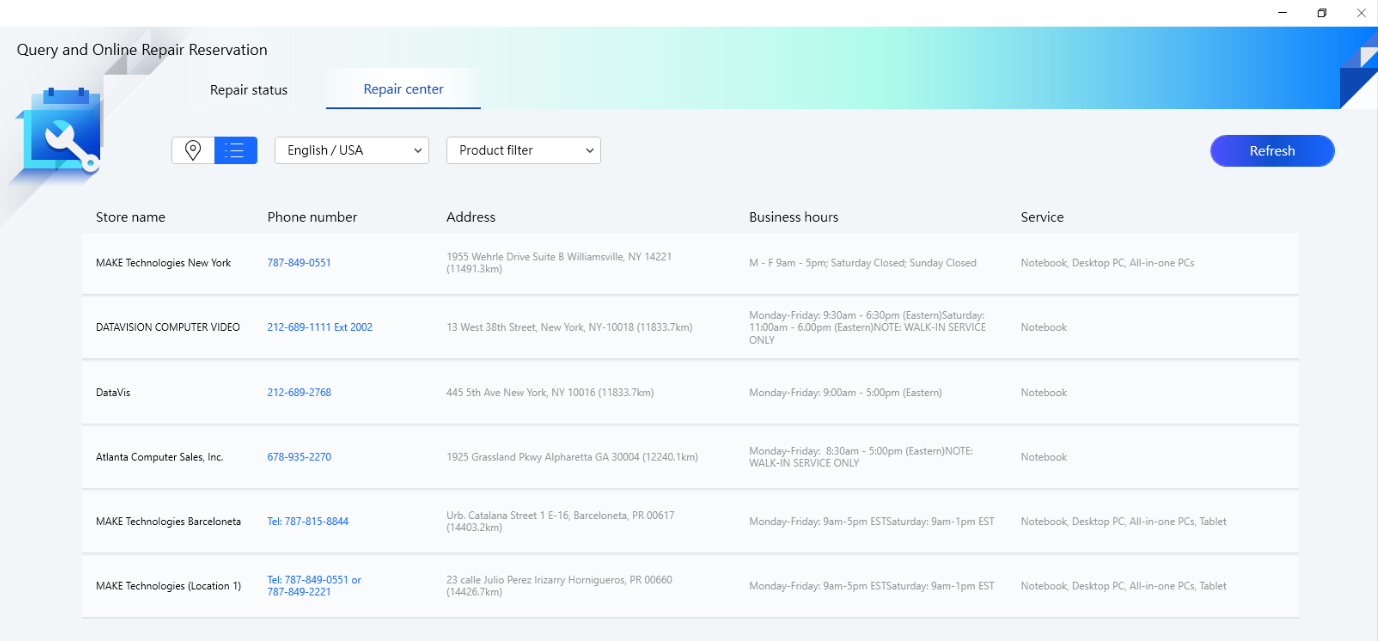 6. [Contact ASUS]
Click contact ASUS and select your product.
Pilih kategori masalah.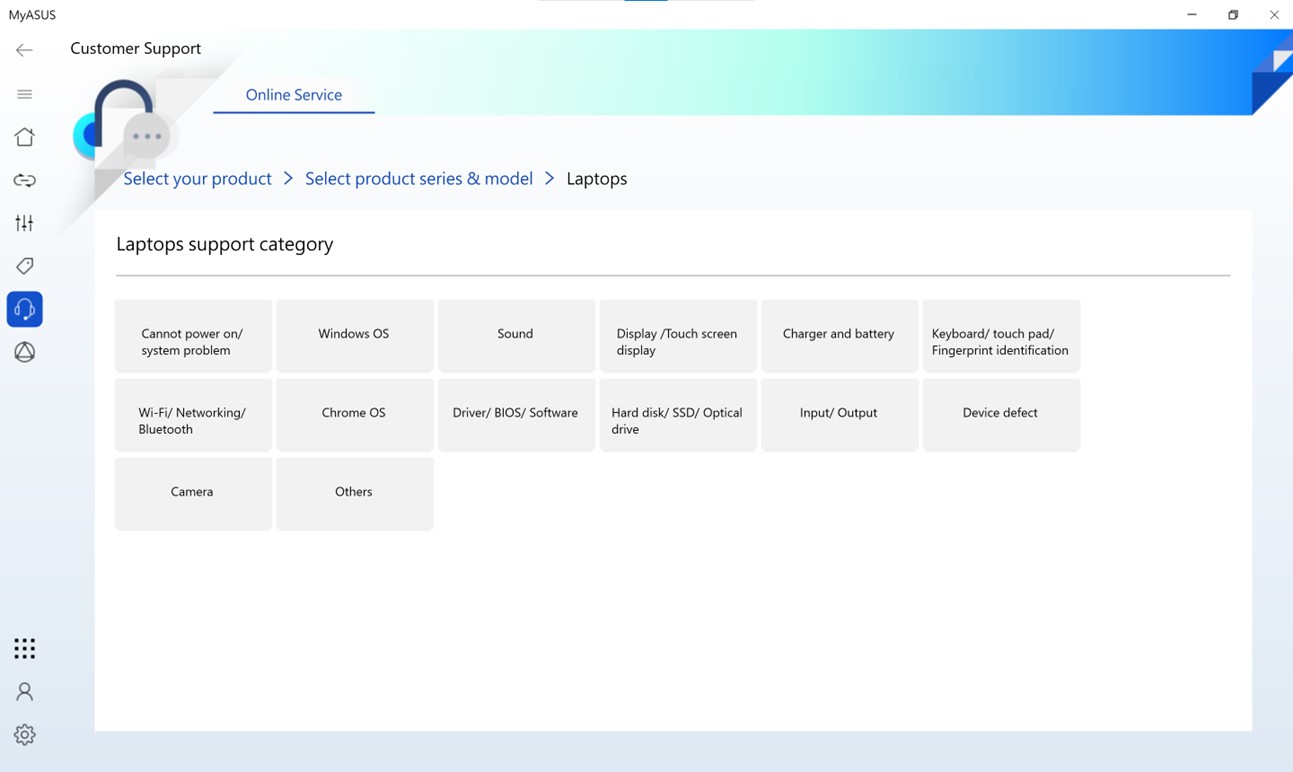 Anda dapat melihat artikel FAQ terkait atau menggunakan metode berbeda untuk contact ASUS.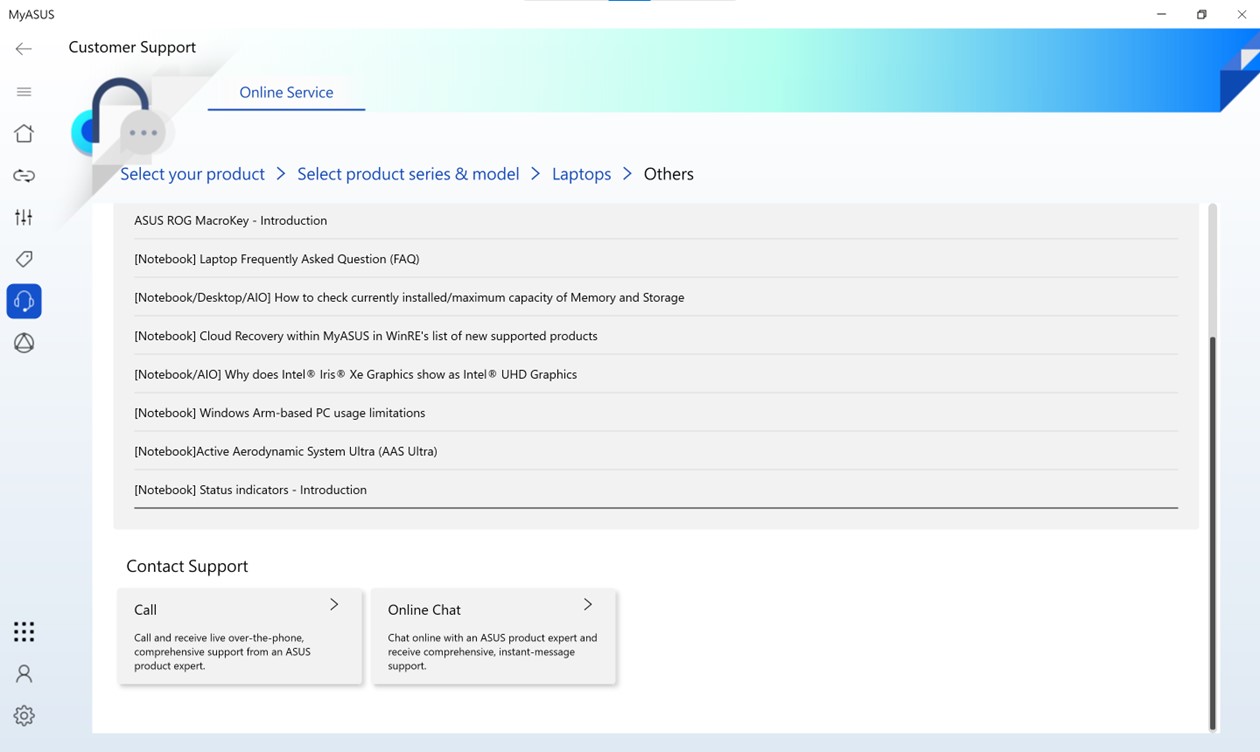 Download MyASUS sekarang mendapatkan layanan sempurna . Klik di bawah!