ASUS Vivobook Pro 15 OLED (M6500)
ASUS Vivobook Pro 15 OLED (M6500)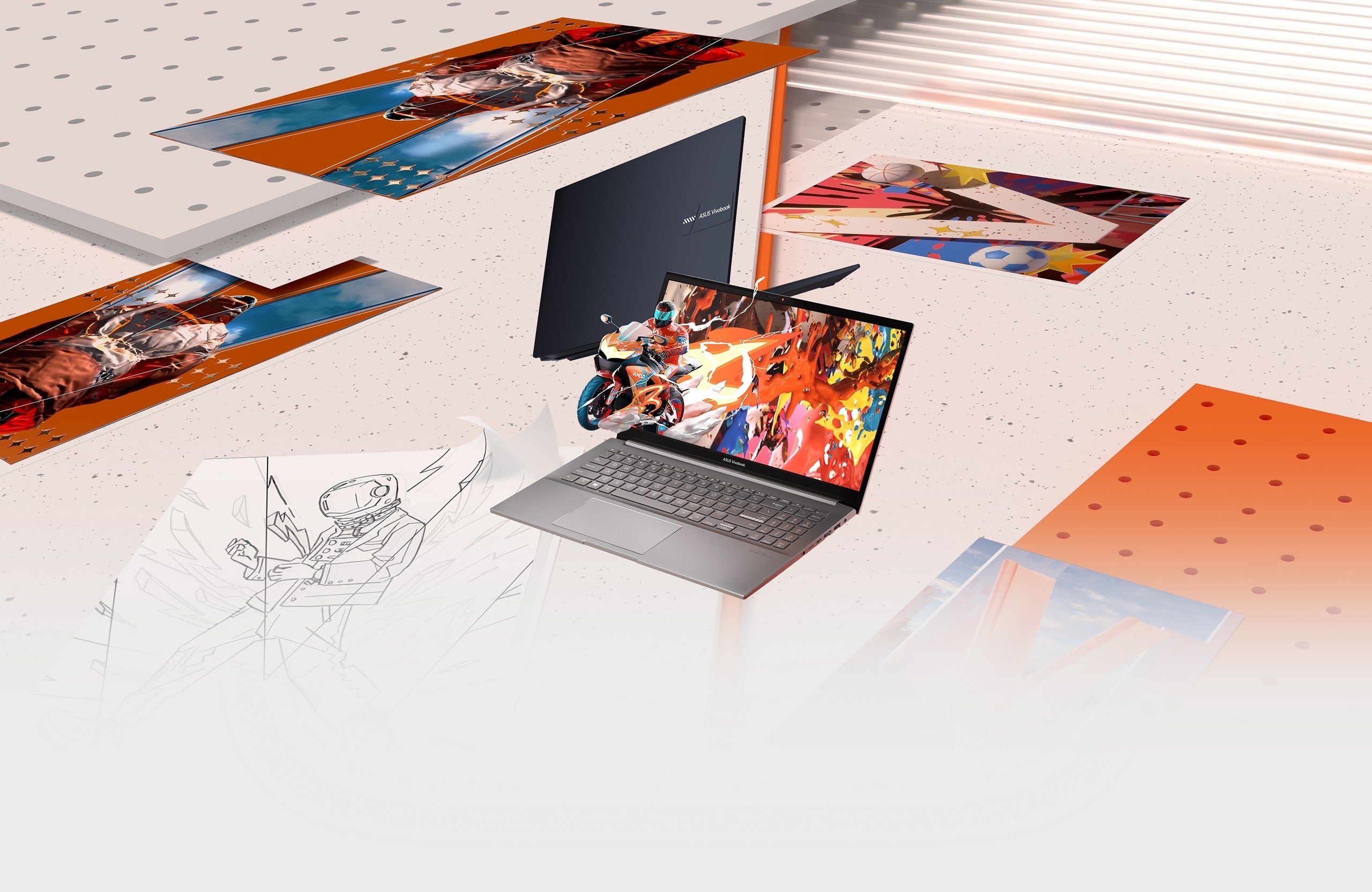 ASUS Vivobook Pro 15 OLED
Wow the World with Supreme Power
The world's leading 15.6" 2.8K 120 Hz OLED laptop
1
Shape your wonderland becomes easier than ever with the powerful Vivobook Pro 15 OLED. Its AMD Ryzen
™
7000 Series Processor and up to NVIDIA
®
GeForce RTX
™
4060 laptop GPU
2
deliver maximum performance thanks to the dual-fan cooling system. Your creations will look their best on the fantastic 2.8K OLED display, with its super-smooth 120 Hz refresh rate and ultra-accurate vivid colors.
ASUS No.1 Creator: GFK and NPD combined retail data in Q2~Q3, 2022, NVIDIA Studio laptop of worldwide market.
ASUS No.1 OLED: GFK and NPD combined retail data in 2021 Q4~2022 Q3, worldwide market.
The world's leading 15.6" 2.8K 120 Hz OLED display
16:9 aspect ratio, 2880 by 1620 resolution, 120 Hz refresh rate, 3-sided NanoEdge 84% screen-to-body ratio, 0.2 ms response time, 100% DCI-P3, customizable color gamut, PANTONE
®
Validated, Average Delta-E < 2
3
, 600 nits peak brightness
NVIDIA® GeForce RTX™ 4060 Laptop GPU
with NVIDIA Studio Driver support​
1 TB SSD PCIe® 4.0 SSD​
with up to 3.5 GB/s transfer speed​
battery capacity lasts longer between charges
Full I/O ports
ultrafast USB4® for fast data transfer, high-speed HDMI 2.1 for 8K 60 Hz external displays
for the best typing experience
with ASUS Antimicrobial Guard
for spatial audio experience
350% louder distortion-free sound
password-free one-touch login
ASUS AI noise cancelation
noise-free video conferencing
3DNR webcam with FHD camera
PERFORMANCE
Empower your lifestyle
Vivobook Pro 15 OLED is built to empower your creative lifestyle, with powerful components including up to Ryzen™ 9 7940HS Processor with 32 GB of LPDDR5x RAM, and up to NVIDIA® GeForce RTX™ 4060 Laptop GPU that's the perfect choice for all your creative apps. To maximize performance for the toughest tasks, you can switch to Performance mode, which increases the overall TDP to 85 W. Also, the 1 TB PCIe® SSD gives you plenty of ultrafast storage for all your projects, and loads your apps in the blink of an eye.
CPU
Power through your tasks
However complex or numerous your creative, productivity or entertainment tasks are, the up to AMD Ryzen™ 9 7940HS Processor will handle them, with effortless multitasking. There's even more performance on tap when you enable Performance mode: this can boost the CPU's power to a sustained TDP of 54 W. The AMD Ryzen™ AI Engine now provides better battery performance during long teams meeting sessions. Vivobook Pro 15 OLED will let you get everything done faster, in style.
AI technology is built-in.
The future of Windows laptops starts with AMD Ryzen™ AI
Automatic Framing
Automatically pans and zooms the video to focus on you as you move.
Eye Contact Correction
An effect to compensate for eyes looking away from the center of the camera.
Advanced Background Effects
New, high quality background blurs enabled by AI.
GPU
Empower your art
The up to NVIDIA GeForce RTX™ 4060 Laptop GPU is designed for the very fastest creator and gaming laptops. Built with the latest Ada Lovelace architecture, it enables ultrarealistic ray-traced graphics, cutting-edge AI computing and programmable shading — lifting all visuals to the next level. In short, no matter how heavy your demands, from 3D product design and model rendering to video encoding, the up to RTX™ 4060 Laptop GPU delivers all the performance needed for top-end content creation. Vivobook Pro 15 OLED is also backed up by the NVIDIA Studio Driver, ensuring every creative task perform is able to perform at its best.
GeForce RTX™ 4060
NVIDIA® GPU
NVIDIA DLSS 3.0
for massive performance boosts
Real-time ray tracing
cinematic-quality ray tracing
AI-augmented
computing process optimization
GEFORCE RTX 40 SERIES LAPTOP
Beyond fast for Gamers and Creators
AI-Powered Performance and Lifelike Graphics*
Get a quantum leap in performance in games and creative apps with AI-powered DLSS 3 and enable lifelike virtual worlds with full ray tracing.
Accelerate Your Ideas
NVIDIA Studio takes your creative projects to the next level. Unlock RTX and AI acceleration in top creatives apps, NVIDIA Studio drivers for max stability, and a suite of exclusive tools to fast-track your creativity.
Optimized Power and Performance
NVIDIA Max-Q is an advanced suite of AI-powered technologies that optimize your system for peak efficiency. This enables blazing-fast laptops that are thin, quiet, and have amazing battery life.
THERMAL
Cool, quiet and fast!
For always-cool performance, the ASUS IceCool Plus thermal technology in Vivobook Pro 15 OLED uses upgraded 8 mm and 6 mm heat pipes with dual fans that efficiently accelerate heat transfer. The 86-blade fan and impeller are made of side-chain liquid crystal epoxy polymer (LCP): the quiet, power-efficient 3D-curved blade design increases airflow by up to 16%. With less vibration, the Intel Core CPU and NVIDIA GPU can run comfortably at up to a blistering 85 W combined TDP in Performance mode — with no throttling!
< 40 dBA
noise under Standard mode
DISPLAY
Bigger, more immersive display
Dive deeper into your visual world with Vivobook Pro 15 OLED's stunning 16:9 aspect-ratio display. This super-bright NanoEdge display has an expansive 84% screen-to-body ratio, along with a 100% DCI-P3 color gamut for ultra-vivid colors. It's also PANTONE® Validated certified for professional-grade color accuracy, and TÜV Rheinland-certified for low blue-light emissions, so you can rely on accurate color rendering for your creations, while protecting your eyes during extended viewing sessions. Vivobook Pro 15 OLED will open your eyes to a new world of amazing visual experiences.
Learn more about ASUS OLED displays
Exhilarating OLED displays
Bring scenes to life with professional-grade colors.
Leading 120 Hz motion clarity
More frames per second, so fast-moving visuals are smoother and clearer than ever.
Make it personal, ASUS Splendid
Fully customizable color with sRGB, DCI-P3, Display-P3, and Native options.
CONNECTIVITY
Primed for productivity
Vivobook Pro 15 OLED features a productivity-enhancing array of I/O ports, including an ultrafast USB4® port that supports fast charging and up to 40 Gbps data transfers, a microSD card reader, and an advanced HDMI® 2.1 port, which supports up to an 8K 60 Hz external monitor, as well as USB 3.2 Gen 1 Type-A and USB 2.0 ports — so you can easily connect all your latest peripherals, displays, or projectors to help you import, export, share or display your content faster and more conveniently than ever.
Vivobook Pro 15 OLED is finished with a unique vibe that sets it apart from the crowd. Choose calming Quiet Blue, or classic Cool Silver — whichever reflects the true you.
Quiet Blue
Quiet Blue reflects that you're never average, always thinking outside the box, and exuding understated and unique style.
Cool Silver
Cool Silver resonates with the enthusiasm of your forward-looking generation, always encouraging you to explore every possibility.
DESIGN
Designed to impress
With its tactile solid metal lid and eye-catching raised logo tag, Vivobook Pro 15 OLED is stylish but not brash, Inside, the warning-striped Enter key adds a unique vibe. For collaborating, you can lay it flat on a table thanks to the durable 180° hinge design to share your creations or work stuff with your friends or colleagues.
BATTERY
Create for longer
For an efficient on-the-go life, Vivobook Pro 15 OLED has a long-lasting 70 Wh battery
11
that keeps on going — just like your creativity. So just relax in your favorite coffee shop or outdoors without worrying about charging!
USER EXPERIENCE
Thoughtful design
We go the extra mile to give you a more effortless and joyful experience, at work or play.
One touch login
The fingerprint sensor integrated into the power button allows easy and secure one-touch login.
Physical webcam privacy shield
The integrated privacy shield slides over the webcam for instant privacy protection against prying eyes and disturbances.
ErgoSense keyboard, comfortable typing experience
The ASUS ErgoSense keyboard has an incredibly satisfying feel, with the optimum key bounce and travel, calculated with fine-tuned precision.
Your hygiene, our priority
ASUS Antimicrobial Guard is proven to inhibit bacterial growth by 99%
12
with at least three years of protection.
Learn more
Perfect brightness and color tone!13
The ambient light color sensor auto-adjusts for changes in the environment brightness and color temperature.
SMART CONFERENCING
AI camera and audio system
Take back control of your meetings with our innovative camera system and ASUS AI noise-canceling audio technology, with new algorithms to make your conference calls even more productive.
Best online meeting experience
ASUS AiSense camera makes sure that you always look your best during virtual conferences.
Hear and be heard clearly
Two-Way AI Noise Cancelation leverages a massive deep-learning database to reduce background noise for microphone and audio.
AUDIO
Another dimension of sound
For unrivaled audio quality, Vivobook Pro 15 OLED has Dolby Atmos stereo sound system that's certified by the audio experts at Harman Kardon. It delivers powerful, immersive sound that's crystal-clear. The multi-dimensional soundscape of Dolby Atmos immerses you in your favorite entertainment, with sound that moves all around you with breathtaking realism in music, movies and TV.
Always in the best listening spot
Dive into a multi-dimensional cinematic sound experience with Dolby Atmos.
Maximum possible volume
Using a Smart Amplifier and ASUS Audio Booster technology, the audio volume is boosted by up to 5.25x.
WIFI CONNECTIVITY
Fine-tuned with ASUS WiFi Master Premium technology
ASUS offers a comprehensive range of wireless connectivity solutions. The WiFi 6E in your Vivobook Pro 15 OLED allows you to load online content in the blink of an eye, and it's made even better by ASUS WiFi Master Premium technology, which includes ASUS WiFi SmartConnect and support WiFi Stabilizer. WiFi SmartConnect automatically selects the best WiFi source, so your laptop connects seamlessly to the best WiFi signal and known mobile hotspots. WiFi Stabilizer gives your WiFi connections rock-solid stability, and also filter out wireless interference, so you'll always enjoy the fastest possible speeds.
MILITARY GRADE
World's most strictly tested US military-grade laptop durability18
ASUS laptops
19
are engineered with extraordinary toughness meet the exacting US MIL-STD-810H military-grade standard, undergoing 12 rigorous test methods and 26 punishing test procedures — exceeding industry standards. The upshot is a range of products that are renowned for reliability and durability. These factors also inherently benefit longevity and thus sustainability, so you can work, travel or relax with the confidence that your ASUS laptop is ready for the real world — today, and long into the future.
Learn more about each laptop quality test results
12
military-grade test methods
26
military-grade test procedures
-51~71°C​
extreme temperature endurance
95%
humidity tolerance for 10 days
Operational, Unpackage, 40 g, 11 ms, 18 shocks
2.
Transportation shock – on road
Non-operational, Package, 5.1-7.6 g, 11 ms, 3-42 shocks
Non-operational, Unpackage, 30-50 g, 18 shocks
Non-operational, Unpackage, 75 g, 6 ms, 12 shocks
Operational, Unpackage, 100 mm
Unpackage
Non-operational vibration: 5-500 Hz
Duration: 32 minutes
Unpackage
Non-operational vibration:5-500 Hz
Duration: 40 minutes
Unpackage
Operational vibration: 5-500 Hz
Duration: 60 minutes
9.
Basic hot storage and transit
Non-operational, 30~63°C, 168 hours, 5~44% humidity
10.
Basic hot operational
Operational, 30~43°C, 72 hours, 14~44% humidity
11.
Hot dry storage and transit
Non-operational, 33~71°C, 168 hours
Operational, 32~49°C, 72 hours
13.
Basic climatic storage and transit
Non-operational, -25~-33°C, 168 hours
14.
Basic climatic operational
Operational, -21~-32°C, 72 hours
15.
Cold climatic storage and transit
Non-operational, -37~-46°C, 168 hours
16.
Cold climatic operational
Operational, -37~-46°C, 72 hours
Operational
Particle density: 10 +/- 7 g/m3
Air velocity: 300~1750 ft/min
Temperature: 60°C
Operational
Particle density: 1.2 g/m3
Air velocity: 28 m/s
Temperature: 60°C
Non-operational, 40,000 feet, -20°C, 12 hours
Operational, 15,000 feet, 5°C/40°C, 12 hours
Humidity: 95% RH
Temperature: 30°C/-10°C
Duration: 1 hour, 3 cycles
Non-operational
Humidity: 95% RH
Duration: 10 days
Non-operational
Temperature: -51~71°C
Duration: 1 hour, 3 cycles
Non-operational
Spectral irradiance: 1120 W/m2, 49°C
Duration: 24 hours, 3 cycles
Mechanical Vibration Test
Operational
Frequency: 4-33 Hz
Duration: 2 hours
Explosive Atmosphere Test
Operational
Altitude: 15,000~3300 feet
Explosive air: 95% n-Hexane
CREATOR HUB
Power up your imagination
Creator Hub features an overview dashboard, and allows you switch to different performance modes or calibrate your screen color. It's a personal portal where you can monitor your laptop's status, personalize settings, or optimize your workflow. You can also setup the Customized Keys in Control Settings for endless creativity.
Learn more about ProArt Creator Hub
SOFTWARE
Truly personalized workflow
MyASUS hosts a collection of handy ASUS apps and tools that help you get more out of your laptop. GlideX is a powerful cross-device screen-sharing solution. ScreenXpert helps you to manage app windows across displays connected to your ASUS PC, giving you full control of your workflow!
MyASUS
MyASUS provides easy access to ASUS apps that are designed to help you maintain your system, update your software, optimize your PC's performance, and contact ASUS for after-sales support.
Learn more about MyASUS
GlideX
GlideX is a cross-device screen-sharing solution, with Mirror and Extend features that give you a bigger and better space for work and play. The Unify Control feature lets you use a single mouse and keyboard set to control different devices from one PC, across different OSes, so you don't need to switch between devices. GlideX optimizes your workflow in the blink of an eye!
Learn more about GlideX
Register your PC to get a coupon for a 365-day free trial of GlideX Pro
ScreenXpert for ASUS PCs
ScreenXpert for ASUS PCs — which you can download from Microsoft Store or find in your PC's Start menu — helps you to manage app windows across displays connected to your ASUS PC and puts you in full control of your workflow!
Learn more about ScreenXpert for ASUS PCs
XBOX GAME PASS ULTIMATE
Discover your next favorite games
Play over 100 high-quality games with friends on your PC, console, phone or tablet for one low monthly price.* With games added all the time, there's always something new to play.
Shown for illustrative purposes only. Actual performance varies by system.
The devices referred to on this web page are the most highly-specified models available. Some models and configurations may not have an OLED display option. Please check the product specifications to ensure that the correct type of display is configured before purchasing in-store or online.
Activation required. Credit card required. Unless you cancel, you will be charged the current subscription rate when your trial ends. Game catalog varies over time (xbox.com/gamepass). A conversion ratio applies for Xbox Game Pass Ultimate users. Limit: 1 per person/account.
Terms and exclusions apply. Game catalog varies over time, by region, and by device. See xbox.com/gamepass and https://www.ea.com/eaplay/terms, for details. Xbox Cloud Gaming: Streaming limits apply. Requires compatible controller (sold separately), supported device and Xbox Game Pass app; see system requirements. System requirements vary by game; performance scales with higher-end systems.
The characteristics of an OLED display can eventually change over long periods of use, leading to visible changes. This is completely normal, and can cause behavior such as image burn-in or persistence: this means that a faint ghost of an image remains visible even when it's replaced by a new image. These effects are more likely to occur if a non-moving (static) high-contrast image is displayed for an excessively long time. ASUS laptops with an OLED display minimize this risk by setting Windows Dark mode as default, as well as shortening the idle time before the screen is turned off — both on mains (AC) and battery (DC) power. This dual approach minimizes the potential for burn-in to maximize the lifespan of your OLED display lifespan, and also reduces unnecessary power draw for optimal battery life. We also recommended adjusting the brightness of your OLED display to complement the ambient lighting in your environment, rather than keeping the screen at maximum brightness at all times. You should also ensure that you have an animated, dark-background screensaver enabled in the Windows Settings tool.
Based on currently available 15.6" 2.8K 120 Hz OLED laptop displays as of March 2022.
Graphics card model varies according to device configuration.
Average tested result: Delta-E < 2, +/- 0.5.
The figures are based on theoretical performance. Actual performance may vary in real-world situations.
Maximum RAM capacity may vary according to device configuration.
Performance claim is based on the Cinebench R23 Multi Core benchmark, comparing the score of Vivobook Pro 15 M6500XV tested by ASUS in Apr. 2023 (configured with an AMD Ryzen™ 9 7940HS Processor, 32 GB LPDDR5x, and a 1 TB PCIe 4.0 SSD) and Vivobook Pro 15 M6500RE (AMD Ryzen™ 9 6900HX Processor, 32 GB DDR5, and a 1 TB PCIe 4.0 SSD). Test settings: select Performance mode under Fan profile in MyASUS, and idle the laptop for 10mins prior to running the benchmark under AC mode.​
Performance claims is based on 3DMark Time Spy benchmark, comparing the scores for ASUS Vivobook Pro 15 OLED M6500XV tested by ASUS in April, 2023 (configured with an AMD Ryzen™ 9 7940HS Processor, NVIDIA® GeForce RTX™ 4060 Laptop GPU, 32GB LPDDR5x, 1TB PCIe 4.0 SSD), and ASUS Vivobook Pro 15 OLED M6500XU (with an AMD Ryzen™ 9 7940HS Processor, NVIDIA® GeForce RTX™ 4050 Laptop GPU, 16GB LPDDR5x, 1TB PCIe 4.0 SSD) to ASUS Vivobook Pro 15 OLED M6500RC(AMD Ryzen™ 9 6900HX Processor, NVIDIA® GeForce RTX™ 3050 Laptop GPU, 16GB LPDDR5, 1TB PCIe 4.0 SSD). Test settings: select Performance mode under Fan profile in MyASUS, and idle the laptop for 10mins prior to running the benchmark under AC mode. Benchmark performance results may vary on production models as well as specifications and test environment.​
Compared to average LCD displays in the market, measuring energy emission of blue light in between 415-545 nm wavelength.
Compared to average LCD laptop panel. Average LCD display has 10 ms response time.
Product weight may vary according to device configuration.
Battery durability will vary depending on usage.
ASUS Antimicrobial Guard is applied to the laptop areas that users touch most frequently, including keyboard, the palm rest area, the power button/fingerprint sensor and touchpad. A sticker on the laptop will help to identify the device is covered by Antimicrobial Guard due to different spec configuration.
The color-temperature-adjustment feature is available with OLED models only.
WiFi 6E availability may vary by country and their specific regulations. Feature only supported by Windows 11 or later.
802.11ax 2x2 160 MHz enables 2402 Mbps maximum theoretical data rate, ~3x faster than standard 802.11ac 2x2 80 MHz (867 Mbps) and nearly 6x faster than baseline 1x1ac (433 Mbps) Wi-Fi as documented in IEEE 802.11 wireless standard specifications, and require the use of similarly configured 802.11ax wireless network routers.
This amendment defines standardized modifications to both the IEEE 802.11 physical layers (PHY) and the IEEE 802.11 Medium Access Control layer (MAC) that enable at least one mode of operation capable of supporting at least four times improvement in the average throughput per station (measured at the MAC data service access point) in a dense deployment scenario, while maintaining or improving the power efficiency per station. For additional details visit: https://mentor.ieee.org/802.11/dcn/14/11-14-0165-01-0hew-802-11-hew-sg-proposed-par.docx
"Up to 75% lower latency" is based on Intel simulation data of 802.11ax with and without OFDMA using 9 clients. Average latency without OFDM is 36 ms, with OFDMA average latency is reduced to 7.6 ms. Latency improvement requires that the AP and all clients support OFDMA.
Selected products are tested using enhanced military-grade MIL-STD-810H durability standards, with 12 test methods and 26 test procedures, to ensure extraordinary toughness. Based on ASUS internal market research using available information and testing reports from main laptop brand websites on Oct 28, 2022, ASUS consumer laptops use a regime consisting of 26 test procedures, which is the consumer laptop industry's strictest and most extensive test regime for the MIL-STD-810H standard.
The testing regime includes the requirements of both military-grade standards and ASUS quality tests, and varies depending on device. MIL-STD-810 testing is conducted on selected ASUS products only. Note that the MIL-STD-810 testing helps to ensure the quality of ASUS products but does not indicate a particular fitness for military use. The test is performed under laboratory conditions. Any damage caused by attempts to replicate these test conditions would be considered accidental, and would not be covered by the standard ASUS warranty. Additional coverage is available with ASUS Premium Care.
EPEAT registered where applicable. EPEAT registration varies by country. See www.epeat.net for registration status by country.
Percentage varies according to device configuration.
Ryzen AI technology is compatible with all AMD Ryzen 7040 series processors except the Ryzen 5 7540U and Ryzen 3 7440U. OEM enablement is required. Please check with your system manufacturer for feature availability prior to purchase. GD-220.
As of May 2023, AMD has the first and only available dedicated AI engine on an x86 Windows processor, where 'dedicated AI engine' is defined as an AI engine that has no function other than to process AI inference models and is part of the x86 processor die. For detail information, please check: https://www.amd.com/en/products/ryzen-ai