ASUS Chromebook CM14 (CM1402C)
ASUS Chromebook CM14
The everyday companion that does more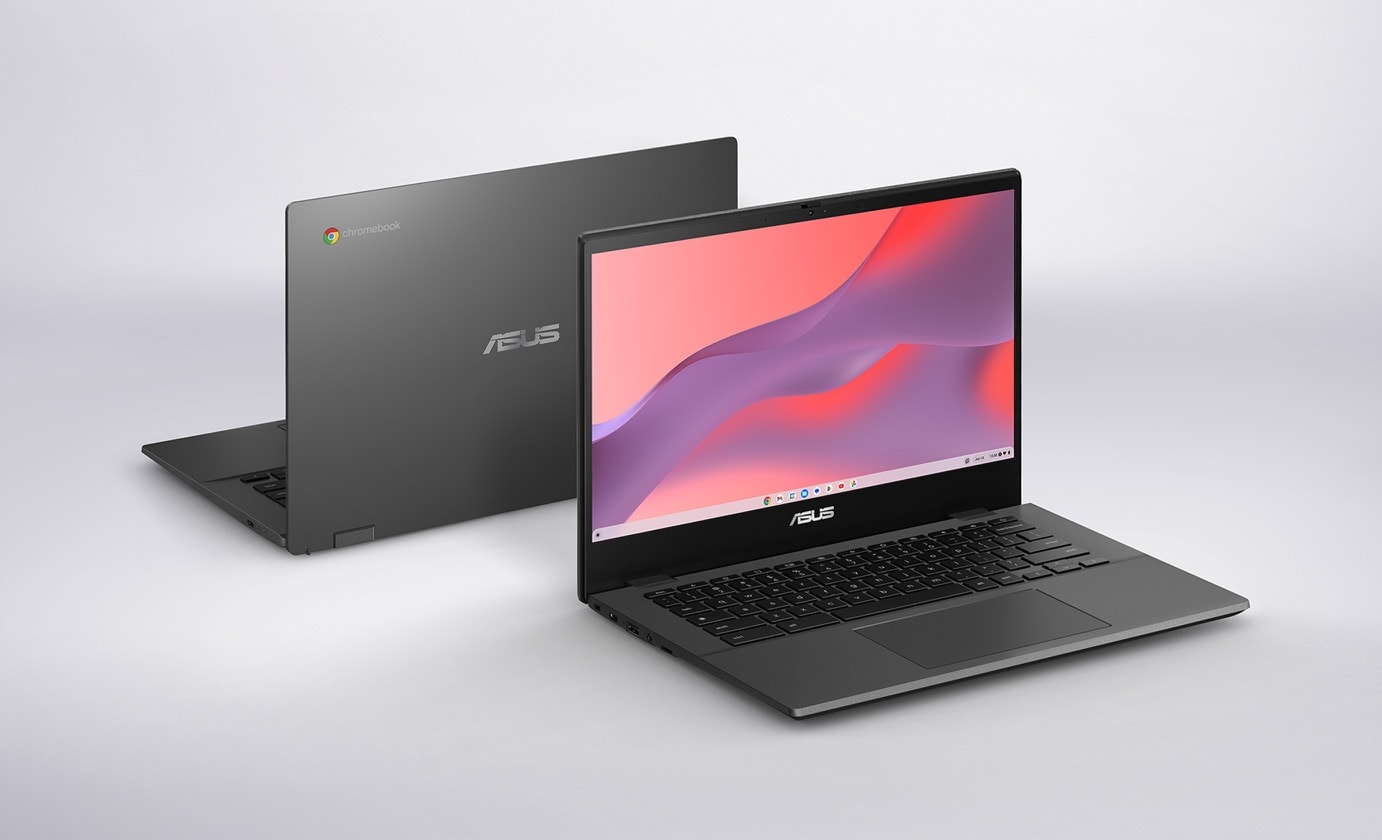 ASUS Chromebook CM14 is made for boosting productivity and having more fun — all day, every day. An efficient MediaTek Kompanio 520 processor and up to 15-hour battery life
1
gives you the freedom to stay productive throughout the day. The device also opens a gateway to the best of Google, including the rich library of apps for work and play, including the rich library of apps for work and play, found on Google Play
2
. With speedy performance, robust security and convenient features, ASUS Chromebook CM14 is not only perfect for students and teachers — it's ideal for anyone, anytime!
Design
Stylish and elegance
ASUS Chromebook CM14 embodies pure style and a distinctively trendy look and feel in a new attractive colorway. Whether for study, work or relaxation, Gravity Grey creates a refined aesthetic and elegance that will fit any environment. Combined with an 180˚ lay-flat hinge, it's easy to share visuals and ideas when you're working with friends, colleagues or clients.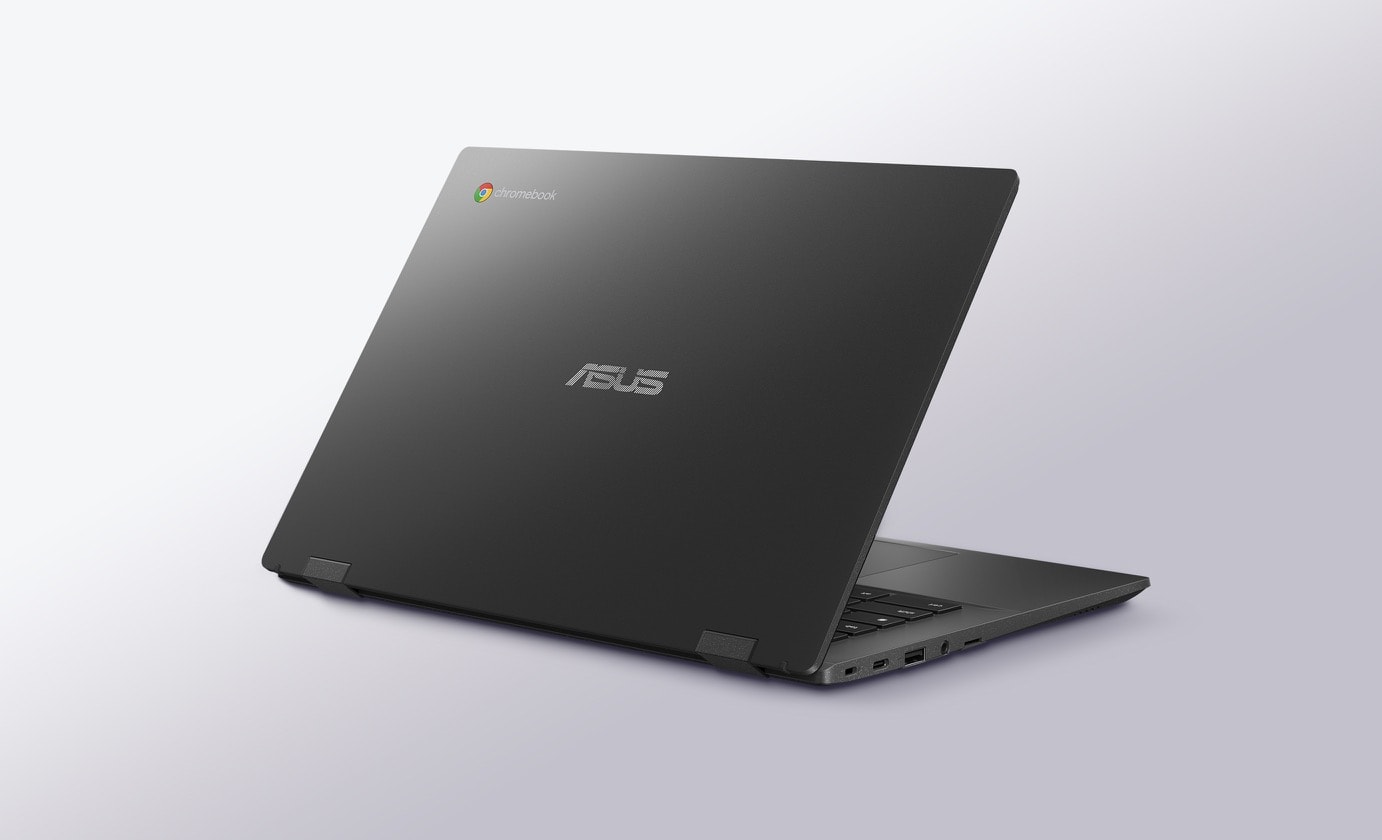 Durable Yet Sustainable
Tough enough to take anywhere
With structural reinforcements to boost chassis strength, ASUS Chromebook CM14 is solidly built and provides durability for all your travels. It also meets next-level and industry-leading MIL-STD 810H
3
US military tests, which are more rigorous and demanding than ever before. Additionally, the device undergoes stringent in-house testing — including panel-pressure, shock and drop tests — for ensuring maximal toughness, so you don't have to worry about everyday knocks and bumps. Sustainability is also embraced, with the inclusion of multiple recycled materials to create a product that is more environmentally friendly overall.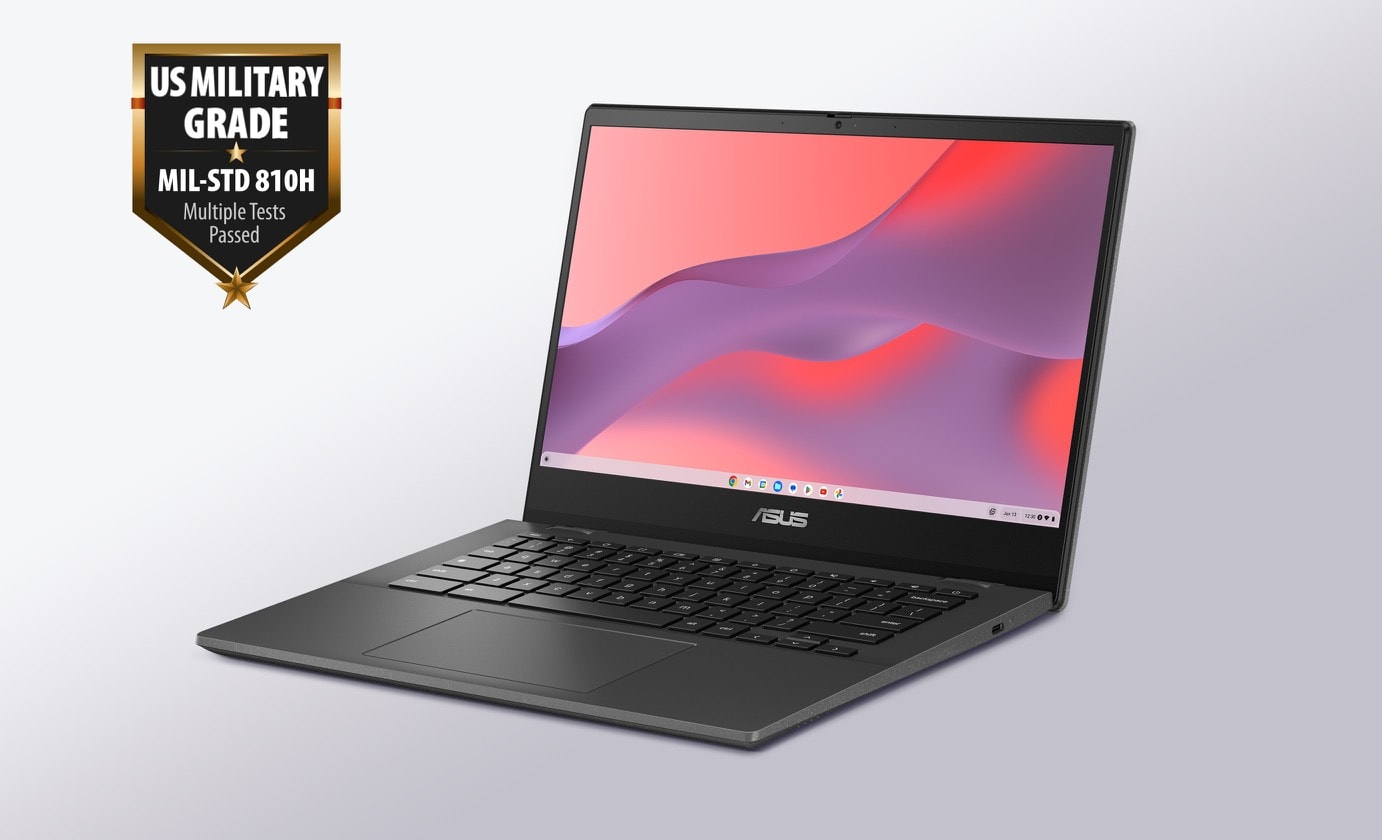 Port Durability Test
Tested to withstand 5,000 insertion-and-removal cycles.
Vibration Test
Withstands 5-500 Hz physical vibrations in all directions for one hour.
Altitude Test
Operates as normal at 15,000 feet to simulate an aircraft cargo hold and in-flight operation.
Panel Pressure Test
Endures a 25 kg force on the lid without LCD panel damage.
Keyboard Durability Test
Designed for a lifespan of up to 10,000,000 keystrokes.
Hinge Test
Subjects the laptop to up to 30,000 open-and-close cycles.
Camera
Level-up remote experiences
ASUS Chromebook CM14 ensures smooth and instant visuals. With a newly-integrated technology, it provides fresh, uplifting experiences when taking pictures or video conferencing.
Face Auto Exposure (Face AE) on the ASUS Chromebook CM14 webcam provides better video call experience. Face AE can track your face and adjust the light on your face according to the brightness of environment.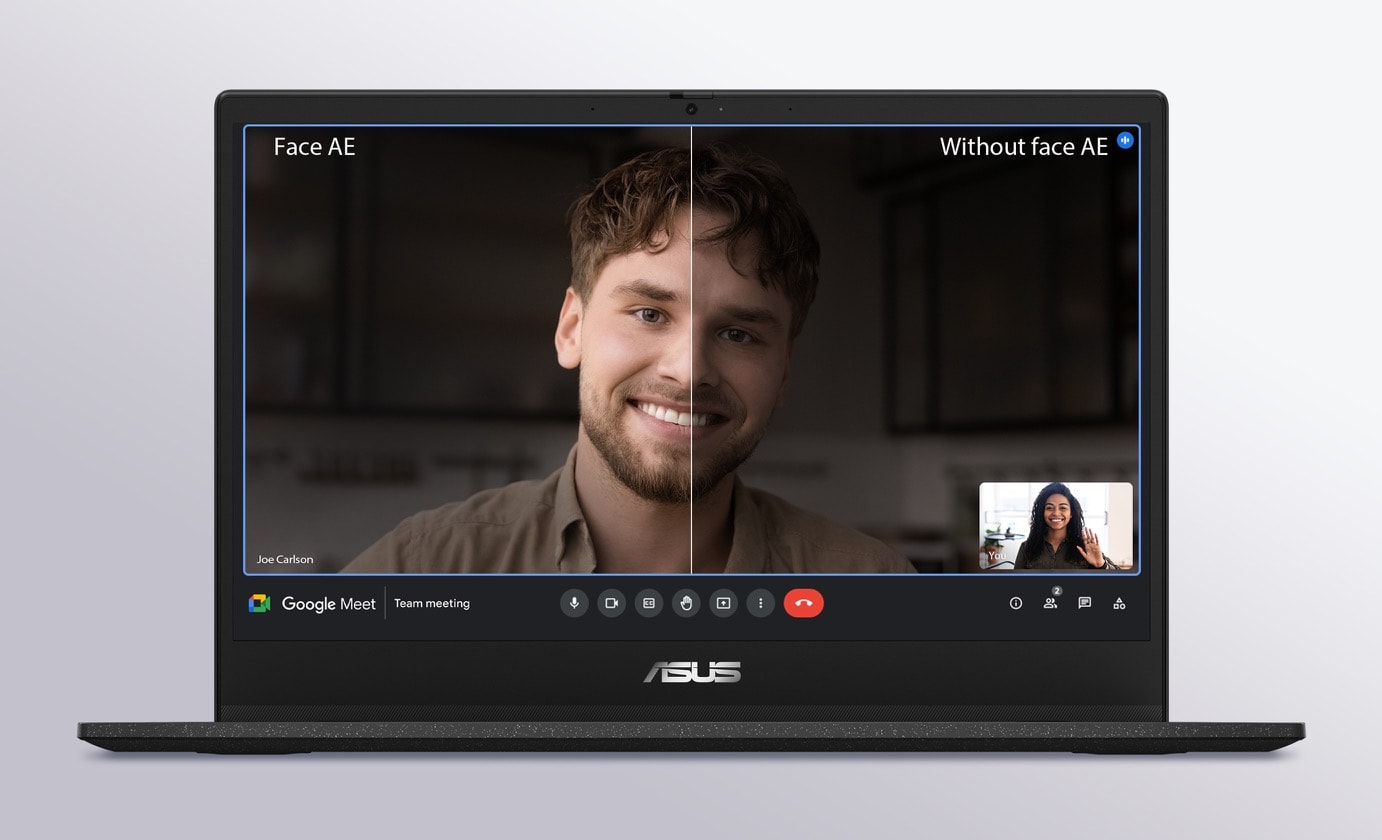 Keyboard
Exceptional typing comfort
A full-size, ergonomic keyboard with 1.5 mm key travel ensures that typing is supremely comfortable. Typing on a compact device has never been this smooth and easy!
Accidents happen, and ASUS Chromebook CM14 is ready for them: its spill-resistant keyboard
4
can cope with up to 405 cc of water without harm, so minor spillages can be easily drained, cleaned and dried.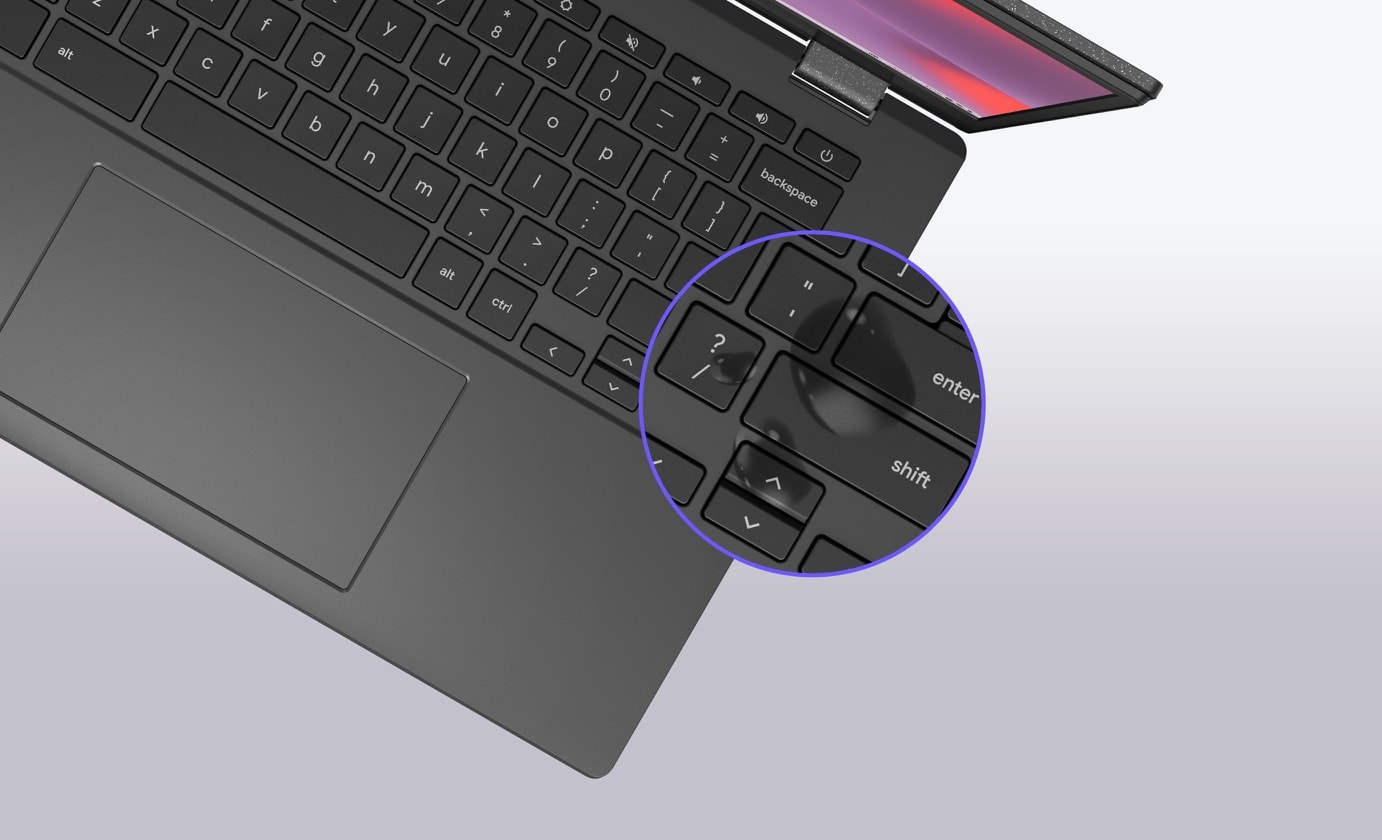 WiFi
Faster, stable connections
ASUS Chromebook CM14 offers dual-band WiFi 6 for strong, stable signals and superfast speeds, allowing you to load online content in the blink of an eye. Its connectivity is made even better by exclusive ASUS technologies — such as ASUS WiFi Master for ChromeOS
6
— that ensure greater speed, stability and range for your WiFi connections and help you stay connected anywhere.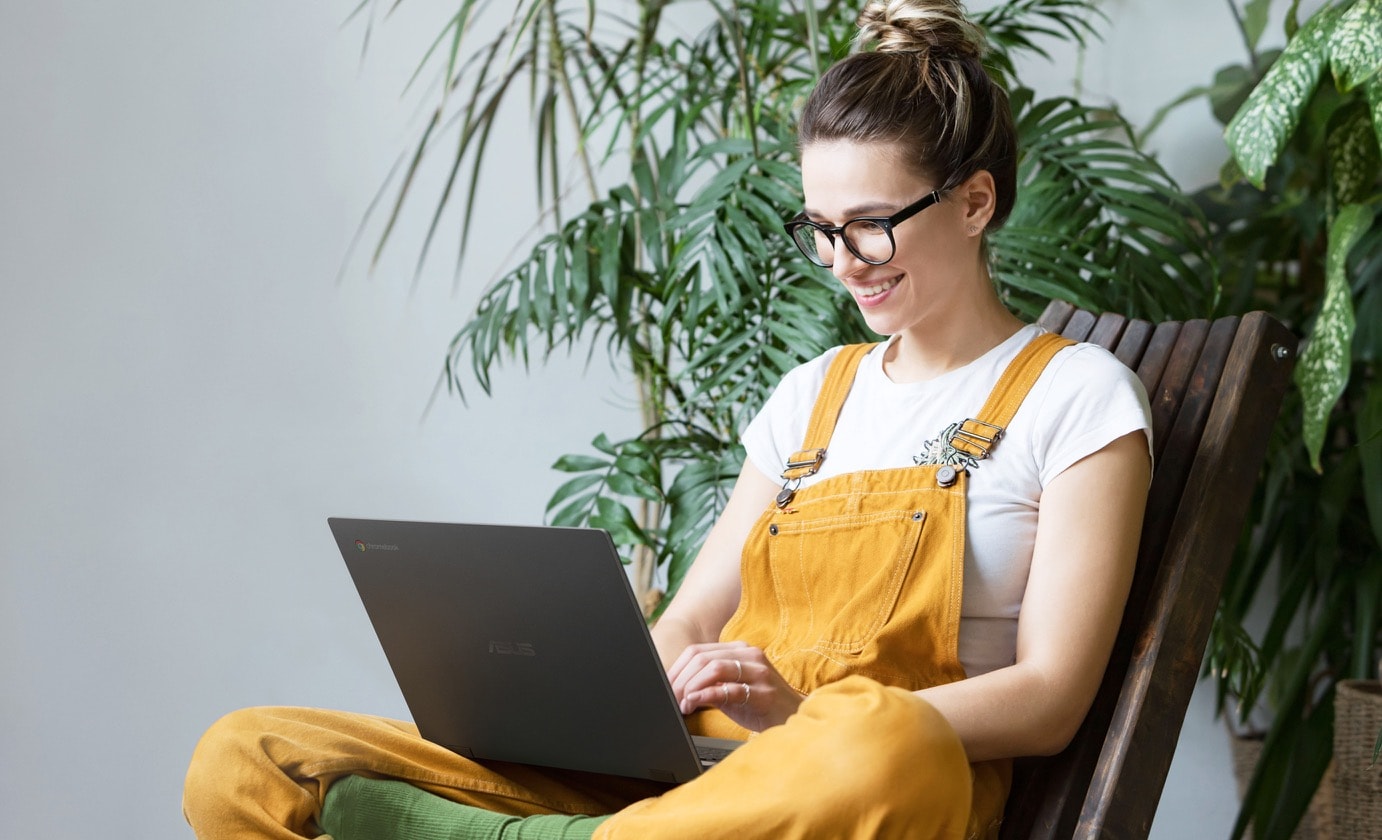 Performance
Breeze through work
Powered by the latest MediaTek Kompanio 520 processor, ASUS Chromebook CM14 delivers excellent performance for responsive experiences with your favorite apps. Combined with the full capabilities of Google Workspace and other productivity apps found on Google Play
2
, ASUS Chromebook CM14 has everything you need to get anything done, all in one place.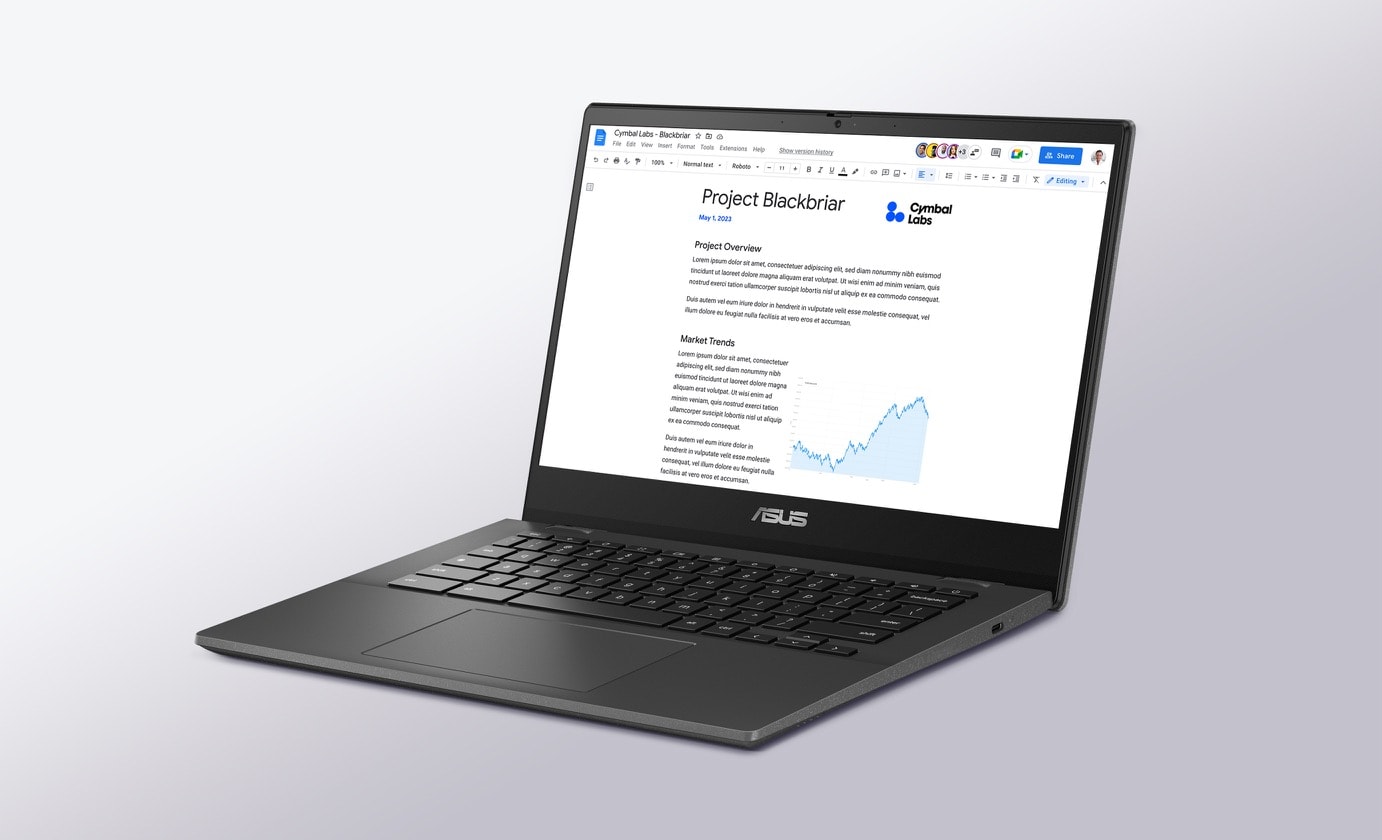 Connectivity
USB-C® for ultimate flexibility
Two full-function reversible USB-C
®
(USB Type-C
®
) ports make it easy to charge ASUS Chromebook CM14 or connect it to peripherals and external displays. USB-C provides superfast data-transfer speeds — making it possible to transfer a 2 GB video file to a USB drive in under 2 seconds
7
! For maximum convenience and compatibility, ASUS Chromebook CM14 also features standard USB 3.2 ports, and there's a microSD reader for adding more storage.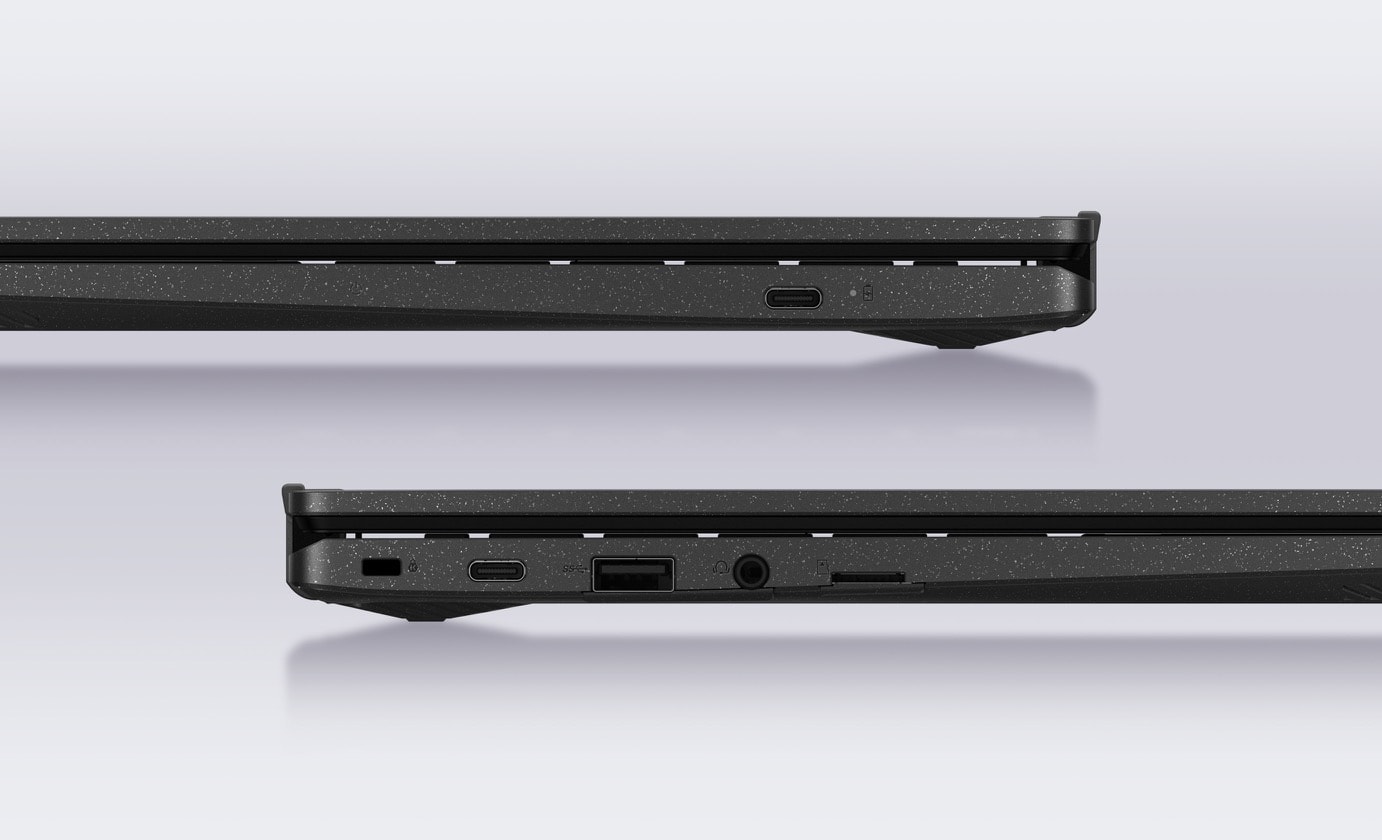 2 x USB-C®
1 x USB 3.2 Gen 1
1 x microSD card reader
1 x audio jack
1 x Nano Kensington lock
ChromeOS
Enjoy the best of Google
It doesn't get better than ChromeOS. For both work and relaxation, ASUS Chromebook CM14 is your gateway to the very best of Google. You'll enjoy full access to Google Play
2
and find the apps you love to be productive, get entertained, play games or get creative.
Easy access to apps on Google Play
With Google Play
2
, you can access a rich library of apps, games, music, movies, TV, books and more, all from your device. ASUS Chromebook CM14 opens a whole new world of freedom!
Built-in security features
ASUS Chromebook CM14 provides automatic updates
8
and built-in virus protection, seamlessly keeping your device safe, secure and always up to date. It is also built around the rock-solid security of your personal Google Account, so all your private documents, emails, photos and confidential data are kept safe at all times.
Google One with
100 GB of cloud storage
Your ASUS Chromebook CM14 purchase entitles you to a 12-month subscription of Google One
9
. The membership includes 100 GB of storage across Google Drive, Gmail and Google Photos, as well as access to Google experts and extra member benefits — all in one shareable family plan.
Activate your Google One offer
Based on Chromium OS power Load Test. Battery performance is based on a mix of standby, web browsing and other use. Charging time requires the battery to be at least 5% charged, with the device inactive and using the included charger. Actual battery life depends on usage, specifications, applications and environment, among other factors.
Internet connection required. Google, Google Play, Chrome and Chromebook are trademarks of Google LLC.
The testing regime includes the requirements of both military-grade standards and ASUS quality tests, and varies depending on device. MIL-STD-810 testing is conducted on selected ASUS products only. Note that the MIL-STD-810 testing helps to ensure the quality of ASUS products but does not indicate a particular fitness for military use. The test is performed under laboratory conditions. Any damage caused by attempts to replicate these test conditions would be considered accidental, and would not be covered by the standard ASUS warranty. Additional coverage is available with ASUS Premium Care.
The ASUS Chromebook CM14 keyboard is spill-resistant, not waterproof. Water damage is possible if the product is submerged or exposed to large amounts of liquids for long periods of time. ASUS standard limited warranty does not cover problems resulting from accidents such as water damage. To prevent water damage resulting from large spills or other accidents, ASUS recommends turning off the notebook, then tilting the laptop to drain away the excess liquid, wipe it off and let it dry for at least 24 hours.
The antimicrobial treatment is tested by an independent third-party laboratory according to the ISO 22196 standard (measurement of antimicrobial activity on plastics and other non-porous surfaces), using bacterial cultures that include Escherichia coli and Staphylococcus aureus, with antimicrobial activity (R) result of R > 2. R = 2 indicates a 99% reduction in bacterial activity compared to an untreated surface. The antimicrobial treatment is registered by the U.S. EPA and authorized under EU BPR.
ASUS Chromebook CM14 is certified with ASUS WiFi Master for ChromeOS. Device certified with ASUS WiFi Master for ChromeOS feature WiFi 6 and offer enhanced WiFi stability when USB 3.2 Gen 2 interference is present, allowing users to stream smoothly when they are up to 225 meters away or more from a router.
Unless otherwise stated, all data-transfer speeds are based on theoretical performance. Actual performance may vary.
Auto-updates and auto-backup require an internet connection. Chromebook software updates generally arrive every 4-6 weeks but are occasionally delayed to ensure optimal user experience upon rollout.
Google One availability varies according to country. Please check with your local ASUS retailer for details.