Vivobook 15 X513 (11th gen Intel)
Overview

Tech Specs

Review

Support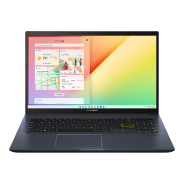 Color
Bespoke Black
Cobalt Blue
Dreamy White
Operating System
Windows 10 Home - ASUS recommends Windows 10 Pro for business
Endless
Windows 10 Home in S Mode - ASUS recommends Windows 10 Pro for business
Windows 11 Home - ASUS recommends Windows 11 Pro for business
No preinstalled OS
Windows 11 Pro - ASUS recommends Windows 11 Pro for business
Windows 11 Home in S Mode - ASUS recommends Windows 11 Pro for business
Windows 10 Pro - ASUS recommends Windows 10 Pro for business
Free Upgrade to Windows 11¹ (when available, see below)
Processor
Intel® Core™ i5-1135G7 Processor 2.4 GHz (8M Cache, up to 4.2 GHz, 4 cores)
Intel® Core™ i7-1165G7 Processor 2.8 GHz (12M Cache, up to 4.7 GHz, 4 cores)
Intel® Core™ i3-1115G4 Processor 3.0 GHz (6M Cache, up to 4.1 GHz, 2 cores)
Intel® Core™ i3-1125G4 Processor 2.0 GHz (8M Cache, up to 3.7 GHz, 4 cores)
Graphics
Intel Iris Xᵉ GraphicsIntel® UHD GraphicsIntel® UHD Graphics
*Intel Iris Xᵉ Graphics is only available in models with Intel® Core™ i5/i7/i9 processors and dual-channel memory.Intel Iris Xᵉ Graphics
*Intel Iris Xᵉ Graphics is only available in models with Intel® Core™ i5/i7/i9 processors and dual-channel memory.Intel® UHD Graphics
NVIDIA® GeForce® MX330
2GB GDDR5
Display
15.6-inch, FHD (1920 x 1080) 16:9 aspect ratio, LED Backlit, 60Hz refresh rate, 200nits, 45% NTSC color gamut, Anti-glare display, Non-touch screen, (Screen-to-body ratio)85%15.6-inch, FHD (1920 x 1080) 16:9 aspect ratio, IPS-level Panel, LED Backlit, 60Hz refresh rate, 250nits, 45% NTSC color gamut, Anti-glare display, Non-touch screen, (Screen-to-body ratio)85%15.6-inch, FHD (1920 x 1080) 16:9 aspect ratio, IPS-level Panel, LED Backlit, 60Hz refresh rate, 300nits, 100% sRGB color gamut, Anti-glare display, Non-touch screen, (Screen-to-body ratio)85%
Memory
4GB DDR4 on board
4GB DDR4 SO-DIMM
Total system memory upgradeable to:12GB8GB DDR4 on board
4GB DDR4 SO-DIMM
Total system memory upgradeable to:16GB4GB DDR4 on board
Total system memory upgradeable to:12GB8GB DDR4 on board
Total system memory upgradeable to:16GB8GB DDR4 on board
8GB DDR4 SO-DIMM
Total system memory upgradeable to:16GB8GB DDR4 SO-DIMM8GB DDR4 SO-DIMM
Total system memory upgradeable to:16GB
Storage
512GB M.2 NVMe™ PCIe® 3.0 SSD256GB M.2 NVMe™ PCIe® 3.0 SSD1TB M.2 NVMe™ PCIe® 3.0 SSD1TB SATA 5400RPM 2.5" HDD, 256GB M.2 NVMe™ PCIe® 3.0 SSD1TB SATA 5400RPM 2.5" HDD, 128GB M.2 NVMe™ PCIe® 3.0 SSD1TB SATA 5400RPM 2.5" HDD, 1TB M.2 NVMe™ PCIe® 3.0 SSD128GB M.2 NVMe™ PCIe® 3.0 SSD
Expansion Slots (includes used)
1x DDR4 SO-DIMM slot
1x M.2 2280 PCIe 3.0x2
1x STD 2.5" SATA HDD
I/O Ports
1x USB 3.2 Gen 1 Type-A
1x USB 3.2 Gen 1 Type-C
2x USB 2.0 Type-A
1x HDMI 1.4
1x Headphone out
Micro SD card reader
Micro SD 4.0 card reader
Keyboard & Touchpad
Chiclet Keyboard with Num-key, 1.4mm Key-travel, TouchpadBacklit Chiclet Keyboard with Num-key, 1.4mm Key-travel, TouchpadChiclet Keyboard with Num-key, 1.4mm Key-travelBacklit Chiclet Keyboard with Num-key, 1.4mm Key-travel
Audio
Audio by ICEpower®
Built-in speaker
Built-in microphone
harman/kardon (Mainstream)
with Cortana support
Network and Communication
Wi-Fi 6(802.11ax) (Dual band) 2*2 + Bluetooth 5
Wi-Fi 5(802.11ac) (Dual band) 1*1 + Bluetooth 4.1
Battery
42WHrs, 3S1P, 3-cell Li-ion
Power Supply
ø4.0, 65W AC Adapter, Output: 19V DC, 3.42A, 65W, Input: 100~240V AC 50/60Hz universal
Weight
1.80 kg (3.97 lbs)
Dimensions (W x D x H)
35.90 x 23.50 x 1.99 ~ 1.99 cm (14.13" x 9.25" x 0.78" ~ 0.78")
MyASUS Features
AppDeals
System diagnosis
Battery health charging
Splendid
Tru2Life
Function key lock
WiFi SmartConnect
Link to MyASUS
Microsoft Office
1-month trial for new Microsoft 365 customers. Credit card required.
Office Home and Student 2021 included
Microsoft 365 Personal 1-year included.*
*Activation required with 6-months of Windows activation date.
Regulatory Compliance
Energy star
Security
BIOS Booting User Password Protection
Trusted Platform Module (Firmware TPM)
McAfee® LiveSafe™
Fingerprint sensor
Included in the Box
Wired optical mouse
Backpack
Carry bag
* Included accessories vary according to country and territory. Please check with your local ASUS retailer for details.
Disclaimer
¹The Windows 11 upgrade will be delivered to qualifying devices late 2021 into 2022. Timing will vary by device. Certain features require specific hardware (see aka.ms/windows11-spec)