Stylish design,
smart productivity.
ASUS VivoBook 15 is the perfect combination of beauty and performance. Powered by an 8th Generation Intel® Core™ i7 processor with 16GB RAM and NVIDIA® GeForce® MX150 graphics*, VivoBook boasts a dual-storage design that combines the fast data speeds of an SSD with the large capacities of an HDD. It's the ideal laptop for daily computing and entertainment.
* Specifications may vary by region.
Design
Lively colors,
stunning spun finish
The stylish ASUS VivoBook 15 is available in a high-gloss spun finish in Rouge, Icicle Gold, Star Grey, and Pearl White.
Performance
Amazing performance
The ASUS VivoBook 15 is powered by up to the latest 8th Generation Intel Core i7 processor, with up to 16GB DDR4 RAM and NVIDIA GeForce MX150 graphics for smooth visuals and great gaming experiences. And with dual-band 802.11ac Wi-Fi, you'll enjoy super-fast online performance.
Dual Storage
Super-fast data,
large storage capacity
The dual-storage design of the ASUS VivoBook 15 provides the best of both worlds — with the blistering data speeds of a 256GB SSD and large storage capacities of a 1TB HDD. Install apps on the SSD for super-fast response times, and use the HDD to house large files such as movies, music libraries and photo albums.
Battery
ASUS Battery Health
Charging technology
Leaving a laptop plugged in when the battery is already fully charged may degrade the battery, resulting in a shorter lifespan. It may also lead to battery swelling due to internal gas buildup caused by oxidation, potentially warping or damaging the laptop. ASUS Battery Health Charging technology allows you to set the state of charge to 60%, 80% or 100%, prolonging battery lifespan and reducing the chance of battery swelling.
Faster charging and longer battery lifespan
The ASUS VivoBook 15 features a lithium-polymer battery that has 3x the lifespan of standard lithium-ion batteries. With ASUS fast-charge technology, a low battery can be charged to 60 percent in just 49 minutes.
Interface
Complete connectivity,
including USB Type-C™
A USB 3.1 port with a reversible USB Type-C™ connector makes connecting devices quick and easy. USB 3.1 provides data transfer speeds as fast as 5Gbps — up to 10x faster than USB 2.0 connections! You can transfer photos, music and large video files in a fraction of the time: transferring a movie with a file size of 2GB takes less than two seconds. The ASUS VivoBook 15 also features HDMI and VGA ports, as well as a 3-in-1 SD/SDHC/SDXC card reader for hassle-free compatibility with a wide range of peripherals, displays and projectors.
Visual
Enjoy a world of color with ASUS Splendid technology
ASUS Splendid visual optimization technology provides the very best visuals for any type of content. It features four display modes which can be accessed with a single click. Normal mode is ideal for daily tasks; Vivid mode optimizes contrast to deliver stunning photos and video; Eye Care mode reduces blue-light levels to ease eye strain; and Manual mode allows for personalized color adjustments.
Visual
Pixel-perfect video!
ASUS Tru2Life Video technology makes any video look amazing. Through intelligent algorithms, it optimizes the sharpness and contrast of every pixel in every frame by 150 percent to produce incredibly vivid and realistic imagery — every time!
Audio
Expansive audio,
tuned by experts
ASUS SonicMaster is a combination of hardware, software and audio tuning designed with the goal of giving you the very best audio experience. A professional-grade codec ensures precise audio encoding and decoding, while amplifiers, large speakers and resonance chambers perfectly suited for your specific device ensure a powerful audio delivery and deeper bass. Additional signal processing and tuning help refine minute details, filter noise and improve audio clarity — so you get truly immersive sound.
Audio
Fully optimized audio
ASUS Audio Wizard is a powerful software suite that makes it easy to achieve the ideal audio balance for any type of content. It also offers manual settings options, so you can take full control of your audio mix. Music mode brings your favorite songs to life; Movie mode produces cinema-quality audio; Recording mode optimizes settings for crystal-clear audio recording; Gaming mode provides truly immersive in-game audio; and Speech mode enhances the clarity of dialogue.
Touch
Stays cool —
even after hours of use
Laptop cooling is important as it directly affects your computing experience. ASUS IceCool uses smart fan control, thin heat pipes and a clever internal layout to create an efficient cooling system that keeps the average palm rest temperature below 36°C — lower than body temperature — to provide you with ultimate computing performance and a comfortable user experience.
Quality
Designed for
the real world
All ASUS laptops are stringently tested to ensure quality and durability in any environment. The VivoBook has undergone a 20,000-cycle open-and-close hinge test, a 10-million-keystroke test, and a simulated high-altitude (10,000 ft. for 24 hours) test.
10,000,000
keystroke test
10,000 ft
high-altitude test
Recommend for you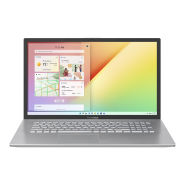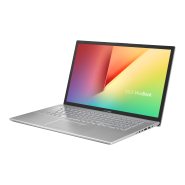 17.3"
ASUS Vivobook 17 X712
Windows 11 Home - ASUS recommends Windows 11 Pro for business, Free Upgrade to Windows 11¹ (when available, see below)
Up to 10th Intel® Core™ i7 processor
Up to NVIDIA® GeForce® MX110
Up to 16 GB memory
Up to 512GB SSD + 1TB HDD storage
17'' FHD NanoEdge display
NanoEdge 85% screen-to-body ratio
Optional fingerprint sensor login
Compare (0)