ASUS BR1102C
Your smarter, stronger study buddy
Windows 11 for Education
Intel® Processor N-series
Ultimate ruggedized design
Up to UFS 2.1 256 GB + PCIe Gen 3 SSD 1 TB1
All-day battery
Modular design for easy maintenance
MIL-STD 810H US military durability standard 2
Good-to-go LED indicator
Download datasheet
360˚ View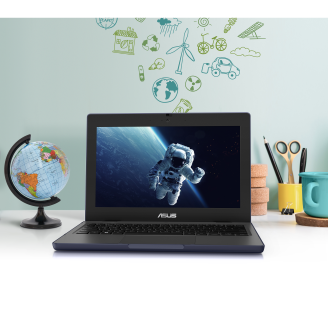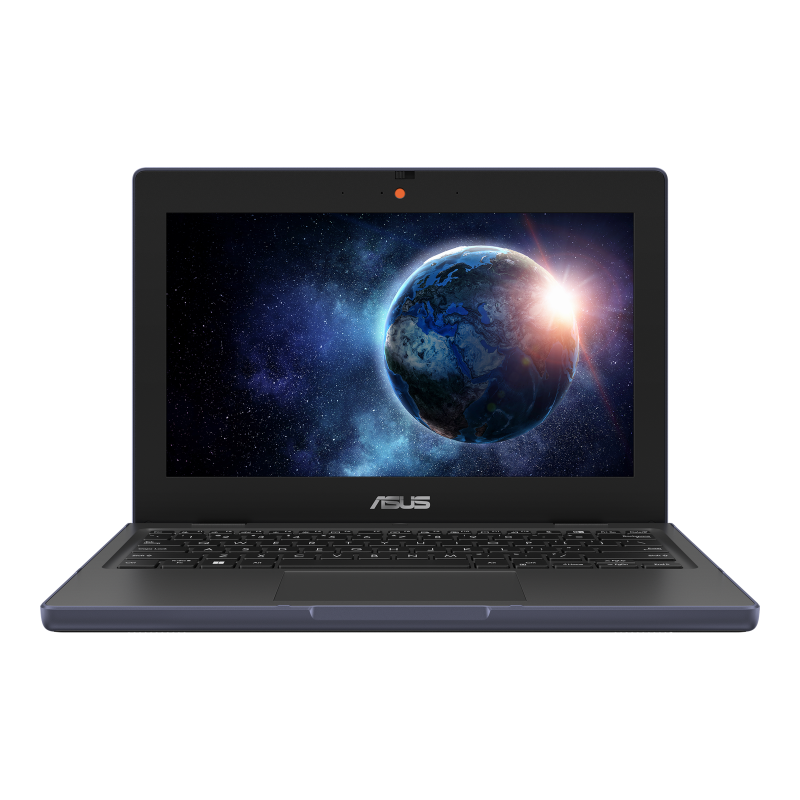 Your smarter, stronger study buddy
ASUS BR1102C is designed with one thing in mind: to keep on going however tough the environment gets. Built to military-grade standards, it's packed with clever protective features, including an all-round rubber bumper and a fingerprint-resistant​ finish to minimize the chance of accidental damage in the classroom. The I/O ports support both charging and fast data transfers, and there's also up to WiFi 6
3
and a 4G LTE eSIM
4
for fast web connectivity. AI noise-canceling technology enables high-quality remote learning and conferencing, and the modular design allows easy maintenance for uninterrupted learning, ASUS BR1102C is your tough and capable study buddy!
All-round rubber bumper
ASUS BR1102C is built to shrug off everyday knocks, bumps, drops, and spills
5
. So, whether it's dropped from a classroom desk or the dining table, its tough rubber bumper helps ensure it keeps on going.
180° lay-flat design
The versatile and robust 180° hinge makes group discussion and sharing easier, as it allows a fully-flat position.
Military-grade reliability
ASUS BR1102C is built to survive. Its US military-grade MIL-STD-810H proven durability
2
reduces the extra cost of hardware repairs.
Modular easy-maintenance design
For easy on-site servicing and reduced downtime, ASUS BR1102C has a modular design that allows key components — such as the keyboard, battery, panel, camera modular, mainboard​ — to be replaced in minutes with only one screw size and a simple tool.
All four exterior edges and corners are protected by a tough rubber bumper, which reduces the impact of physical shocks to ensure critical components are always safe and sound.
The spill-resistant keyboard can cope with spills of up to 400 c.c. water​
5
without harm, the design also ensures minor splashes can be easily drained, cleaned and dried.
Dropping your laptop is an everyday concern, whether it's moving between classes or working on the go. A rubber bar on the base of ASUS BR1102C provides sturdy support and also makes it easier to grip when carrying — a thoughtful design detail that reduces the risk of fumbles and slips.
ASUS BR1102 features a tough, micro-dimpled exterior that works like a shield to ensure fingerprint smudges do not happen as easily. This textured yet smooth coating on the chassis also makes it easy to keep the laptop clean.
Long-lasting battery
With up to 12 hours of battery
7
life on a single charge, ASUS BR1102C will last a full day of classes and more, empowering students to enjoy uninterrupted learning and relaxation.
AI noise cancelation
To provide exceptional learning and video-conferencing experiences, ASUS BR1102C features innovative ASUS AI noise-cancelation technology that employs machine learning in order to isolate unwanted noise from human speech. There's also a noise-reducing camera that eliminates up to 94% of the random noise that naturally affects any camera, especially in low-light conditions.
ASUS BR1102C has an 11.6-inch anti-glare display that reduces reflections to provide comfortable viewing for extended learning experiences. The screen is also certified by TÜV Rheinland for low blue-light emissions, helping protect your eyes​ from potential harm.
To keep your ASUS BR1102C hygienic, the keyboard, touchpad, and palm rest are all protected with ASUS Antimicrobial Guard technology
8,9
. This has been scientifically shown by the internationally-recognized ISO 22196 standard to inhibit the growth of bacteria more than 99% over 24 hours. ASUS Antimicrobial Guard can also withstand alcohol-based cleaning products, helping keep your laptop's surface clean and sanitary for longer.
ASUS BR1102C has a bright Good-to-Go LED indicator integrated into its top cover. This enables educators to see at a glance if a particular student's laptop is facing internet connectivity or power problems — giving teachers a heads-up when a student might need help.

LED indicator status:
On: Normal operation
Slow blinking: <20% battery or connection issue
Fast blinking: connection issue
Connectivity for productivity
Full connectivity is vital when you want to get things done efficiently. That's why ASUS BR1102C has USB 3.2 Gen 2 Type-C® port, one full-function and one with charging and fast data transfer support, along with a USB 3.2 Gen 2 Type-A port, a USB 2.0 Type-A port and HDMI® 1.4b.
Volume
Power button/fingerprint reader combo(optional)
Audio jack
USB 2.0 Type-A
USB 2.0 Type-C
Kensington lock slot
Ethernet
HDMI
USB 3.2 Type-C with full function
USB 3.2 Type-A
A technician can replace and upgrade the hardware inside ASUS BR1102C in just five steps. They can easily maintain the laptop, ensuring less downtime and more learning time.
The underside is secured using captive screws, eliminating worries about losing these little parts during repair.
Please note that the maximum storage configuration for ASUS BR1102 is up to 256 GB UFS 2.1, which can be expanded up to an additional 1 TB SSD by the user.
The testing regime includes the requirements of military-grade standards, and varies depending on device. MIL-STD-810 testing is conducted on selected ASUS products only. Note that the MIL-STD-810 testing helps to ensure the quality of ASUS products but does not indicate a particular fitness for military use. The test is performed under laboratory conditions. Any damage caused by attempts to replicate these test conditions would be considered accidental, and would not be covered by the standard ASUS warranty. Additional coverage is available with ASUS Premium Care. 
All specifications are subject to change without notice, feature may not be available in all markets.
4G LTE (eSIM) is optional.
USA LTE Band: 2,4,5,7,12,13,14,17,25,26,29,30,38,41,48,66,71.
Canada LTE Band: 2,4,5,7,12,13,14,17,25,29,30,38,41,48,66,71.
Other country Band: 1,2,3,4,5,7,8,12,13,14,17,18,19,20,25,26,28,29,30,38,39,40,41,42,43,48,66,71.
ASUS BR1102 keyboard is spill-resistant, not waterproof. Water damage is possible if the product is submerged or exposed to large amounts of waters for long periods of time. ASUS standard limited warranty does not cover problems resulting from accidents such as water damage. To prevent water damage resulting from large spills or other accidents, ASUS recommends turning off the notebook, then tilting the laptop to drain away the excess water, wipe off and let it dry for at least 24 hours.
Unless otherwise stated, all performance claims are based on theoretical performance. Actual figures may vary in real-world situations.
Battery tests conducted by ASUS on December 8, 2022 using the PCMark10. Battery life test configuration: Intel® Processor N100, 8 GB RAM, UFS 2.1 256 GB, HD display, 50 Wh. Test settings: WiFi flight mode, the display brightness set to 59%. Actual battery life may vary depending on product configuration, usage, operational conditions and power management settings. Battery life will decrease over the lifetime of the battery.
ASUS internal tests show that ASUS BR1102C can be safely cleaned and wiped using alcohol from a spray bottle. Individual sprays of up to 3 c.c. do not affect the performance of the antimicrobial treatment.
The antimicrobial treatment is tested by an independent third-party laboratory according to the ISO 22196 standard (measurement of antibacterial activity on plastics and other non-porous surfaces), using bacterial cultures that include Escherichia coli and Staphylococcus aureus, with antibacterial activity (R) result of R > 2. R = 2 indicates a 99% reduction in bacterial activity compared to an untreated surface.
Compare (0)