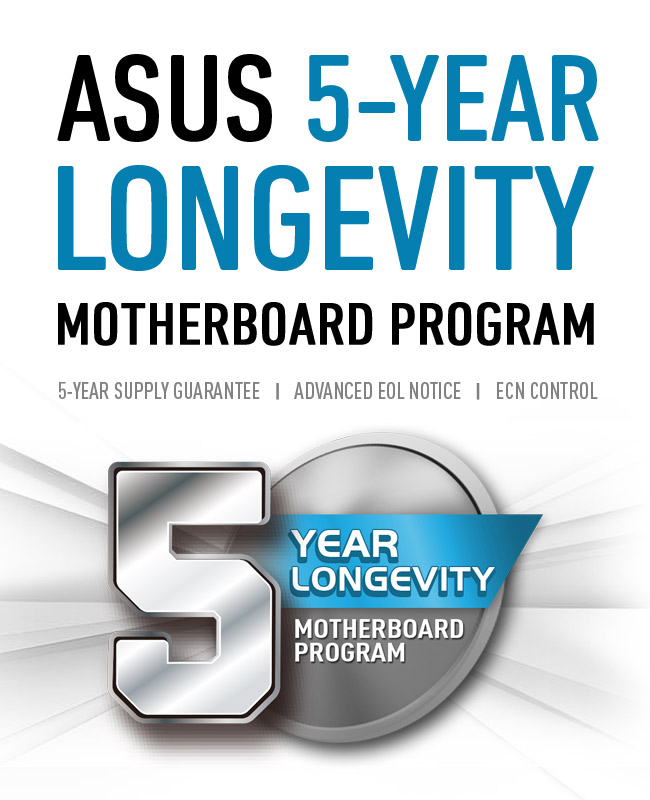 ASUS Motherboard Longevity Program
5 years Supply Guarantee | Advanced EOL Notice | ECN Control
About this program
ASUS understands the importance of product longevity in both commercial and embedded markets. Considering the high transition cost of re-validation and re-certification, we are committed to offering motherboards with a 5-year supply guarantee.
Advantages of ASUS 5-Year-Longevity Motherboard Program
Supply Flexibility

As the world's number-one motherboard brand, ASUS has great material-supply flexibility, and are able to respond to forecast change in real time. Working with ASUS removes the worry about material-supply gaps.

Extended Supply

When projects require a supply guarantee in excess of five years then we are happy to discuss optioned for extended supply, based on a confirmed purchase order (PO) and minimum order quantity. (MOQ). Please contact your ASUS representative for more details.

EOL Notice & ECN Control

We issue an Engineering Change Notice (ECN) before product revisions, an end-of-life (EOL) notice one year before a product's EOL, and a Last Buy Order (LBO) scheduled six months prior to EOL — giving your organization the time to ready itself for product transition.
Comprehensive Product Line-up
ASUS offers motherboard solutions for all major chipsets, with a full array of form factors, compatibility validations and certifications, and the full spectrum of features. Our selections fit every market segment, from small and medium businesses (SMBs) and government, to providers of specialized PCs for point-of-sale (POS), ATM, and lottery terminals. With ASUS there is always a motherboard to fit your needs.
See the line-up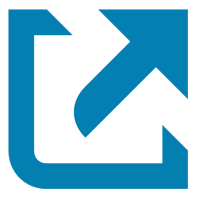 Model
Chipset
FormFactor
2012
2013
2014
2015
2016
2017
2018
2019
2020
2021
2022
Q1
Q2
Q3
Q4
Q1
Q2
Q3
Q4
Q1
Q2
Q3
Q4
Q1
Q2
Q3
Q4
Q1
Q2
Q3
Q4
Q1
Q2
Q3
Q4
Q1
Q2
Q3
Q4
Q1
Q2
Q3
Q4
Q1
Q2
Q3
Q4
Q1
Q2
Q3
Q4
Q1
Q2
Q3
Q4
P8H61-M PLUS V3
H61
mATX
P8H61-I R2.0
H61
MiniITX
H81M2
H81
mATX
H81T
H81
MiniITX
H110I-PLUS
H110
MiniITX
H110T
H110
ThinMiniITX
CS-B
Q87
mATX
Q87M-E
Q87
mATX
Q87T
Q87
MiniITX
Q170M2
Q170
mATX
Q170M-C
Q170
mATX
Q170T
Q170
ThinMiniITX
J1900I-C
J1900
MiniITX
N3050I-C
N3050
MiniITX
N3150I-C
N3150
MiniITX
Other Support
WHQL Reseller Program
WHQL (Windows Hardware Quality Lab) is Microsoft's testing process and logo program. This provides both hardware manufacturers and end users with the reassurances than WHQL-certified systems and peripherals will work with the Windows operating system.

The ASUS Reseller Submission Program allows customers who purchase WHQL-certified ASUS motherboard to apply their own system logo after the product has been repackaged or relabeled. Under this program, ASUS grants resellers permission to use the WHQL certification in accordance with Microsoft procedures — reducing time and money spent on testing and validation.
Apply

Apply to become an authorized reseller under the WHQL Reseller Program

Authorize

Request permission to use WHQL certification under the ASUS Reseller Submission Program

Submit

SI log in Microsoft website with its own account and accept submission
Integrator Tools
We also provide special integrator tools – ASUS Remote Management Tool and BIOS smart. ASUS Remote Management Too is useful remote management functions to your products and BIOSmart that allow you to modify the BIOS and export a new BIOS file to save time.
ASUS Remote Management Tool — one-stop routine maintenance and servicing Complete system management is of the utmost importance to businesses. ASUS Remote Management Tool is a one-stop PC management tool that offers:
Easy BIOS setting

Easily customize CPU, fan, or system settings

Quick BIOS update

Real-time BIOS updates through USB or the hard drive

System monitoring

Instantly monitor system's temp, power, or fan status

Remote power management

Control wake up/shut down/reset/hibernate modes

Customize DMI value

Retrieve DMI information, and edit DMI string in real time
BIOSmart — a quick and free BIOS customization tool BIOSmart is an easy-to-use software that allows system integrators to export a customized BIOS on their own, providing flexibility to customize and adjust logos, tweak various BIOS settings, and even change DMI strings.
* BIOSmart requires BIOS export to ASUS for approval.
Back to top