Raging Cool for the Win!
GT 730 is the astonishing high-value graphics card from ASUS! Equipped with the GeForce GT 730 graphics-processing unit (GPU), ASUS GT730-2GD5-BRK includes some brilliant technologies that you can get only from ASUS. We've fitted dust-proof fan for 25%-longer lifespan, and equipped the card with our exclusive Super Alloy Power components for superior stability. GT730-2GD5-BRK also comes with our easy-to-use tuning tool, GPU Tweak. Use this to squeeze every last drop of performance out of the card and then stream your pumped-up on-screen action over the internet in real time!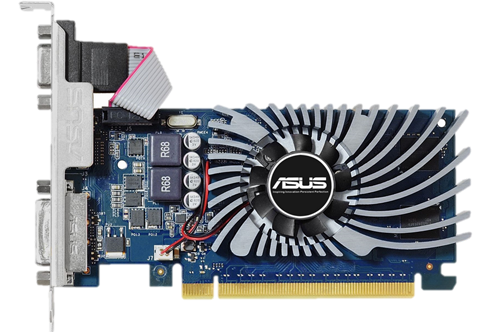 I/O Ports Highlight
1x Native D-Sub
1x Native DVI-D
1x Native HDMI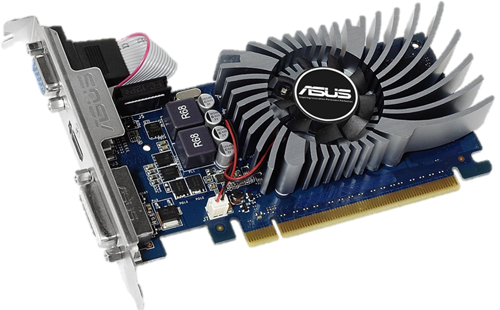 Dust-Proof Fan
25% longer graphics card lifespan
Unique fan design dissipates heat efficiently while extending a graphic card's lifespan by 25%* through increased dust and particle resistance.
Super Alloy Power
Enhanced durability and cooling
Exclusively-formulated alloy components boost performance by reducing power loss, enhancing durability, and achieving cooler operation. Choke concrete cores eliminate buzzing sound under full load while capacitors assure a 50,000-hour lifespan: equivalent to 2.5 times longer than traditional capacitors.
GPU Tweak with Streaming
Real-time intuitive graphics tuning
Shows detailed specs and actual card status with GPU-Z
Monitoring widget provides real-time detailed multi-parameter info
Automatically checks and updates drivers and BIOS versions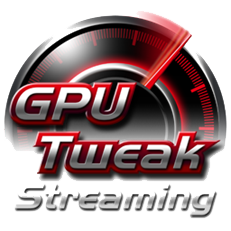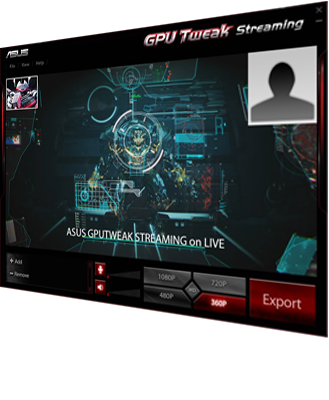 Stream online instantly
GPU Tweak streaming tool that lets you share on-screen action in real time – so others can watch live as games are played. It's even possible to add to the streaming window scrolling text, pictures and webcam images.

GeForce GT 730

NVIDIA® Adaptive V-Sync
Get more than just faster frame rates. Get ultra-smooth gaming every time with NVIDIA® gaming innovation Adaptive Vertical Sync. This technology dynamically adjusts vsync to current frame rates for maximum playability.

NVIDIA® PhysX™ Ready
Play games with advanced effects such as blazing explosions and lifelike characters with 10X faster switching between graphics and physics processing, enabling more complex effects to be rendered in real time.

DirectX® 11
DirectX® 11 GPU-accelerated tessellation allows more detailed geometry to be packed into a scene, allowing characters to be rendered with cinema-quality detail.

Microsoft Windows 8 compatible
Gives you access to advanced computing experiences with the latest operating system so you get more done with your PC
Compare (0)