ASUS TUF Gaming Radeon™ RX 6500 XT OC edition 4GB GDDR6
ASUS TUF Gaming Radeon™ RX 6500 XT OC edition 4GB GDDR6
ASUS TUF Gaming Radeon™ RX 6500 XT OC Edition 4GB GDDR6 is a supreme stalwart of cooling and durability
Axial-tech fan design features a smaller fan hub that facilitates longer blades and a slimmed down barrier ring that provides better airflow through the cooling array.
Dual ball fan bearings can last up to twice as long as sleeve bearing designs.
A 2.7-slot design expands cooling surface area to make the most of the powerful Axial-tech fans.
An all-aluminum shroud and metal backplate enhance durability.
A 144-hour validation program puts cards through a series of stringent tests to ensure compatibility with the latest games.
A vented backplate prevents hot air from recirculating through the cooling array.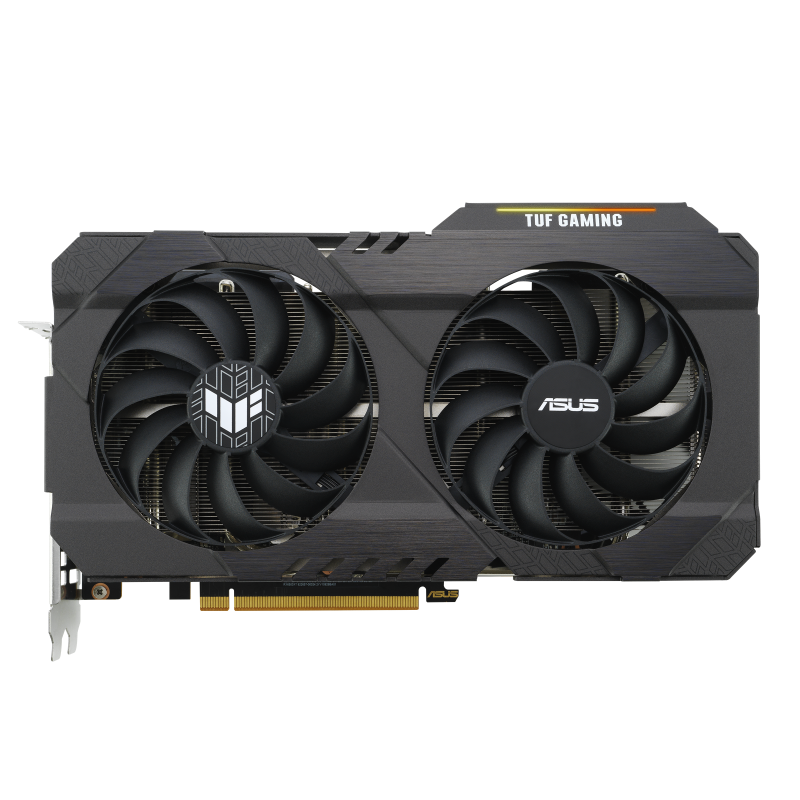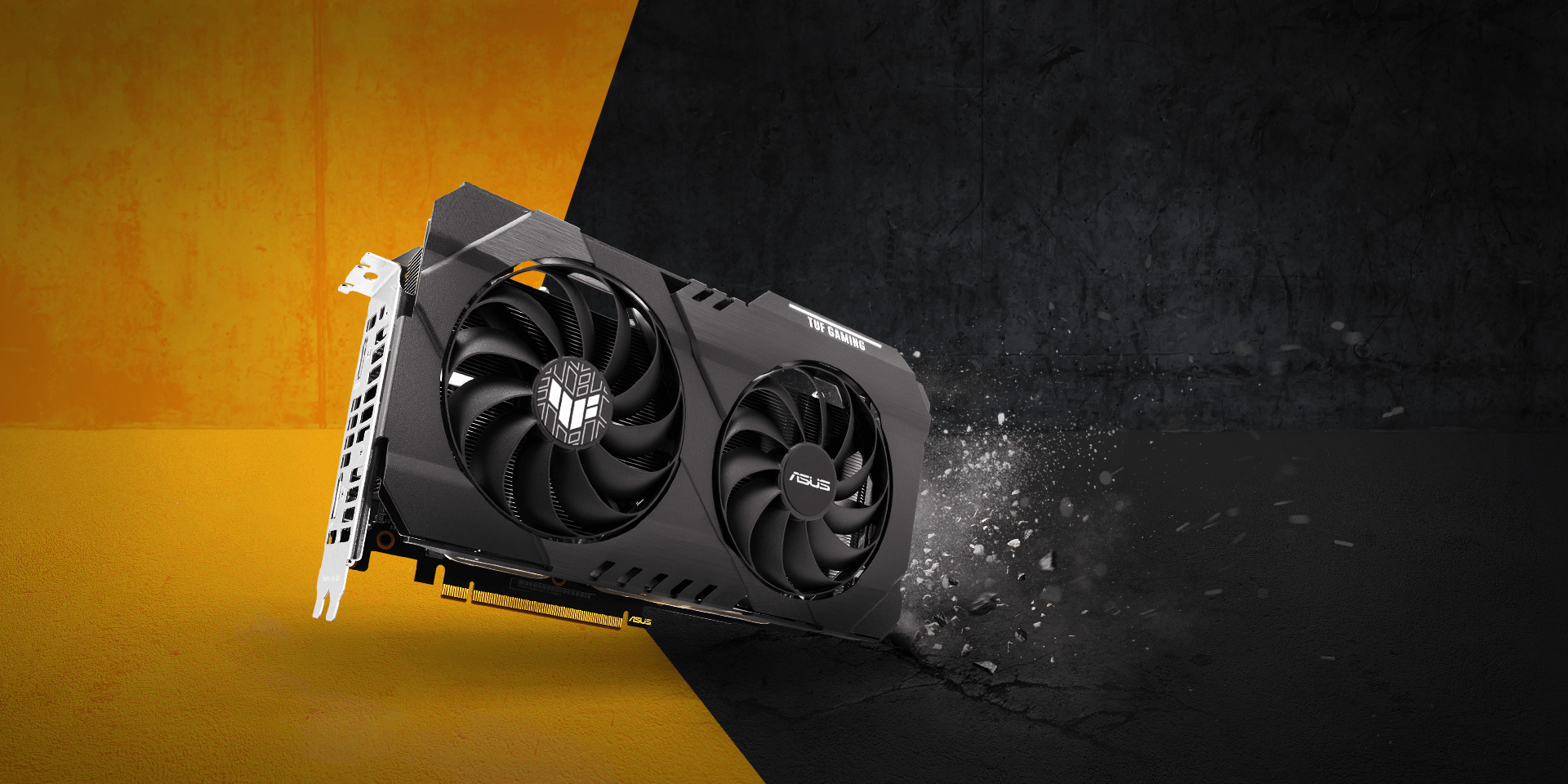 TUF Gaming
Radeon™ RX 6500 XT
TUF Gaming
Radeon™ RX 6500 XT
Built TUF
The TUF Gaming Radeon™ RX 6500 XT is a tenacious beast with a tough metal exterior, efficient cooling, and components that offer enhanced endurance. An all-metal shroud houses two powerful axial-tech fans with dual ball fan bearings. Underneath, a thick heatsink keeps thermals under tight control and TUF components, selected for maximum durability and performance, keep the card ahead of the pack. You asked for a mean machine... this one is ready for action.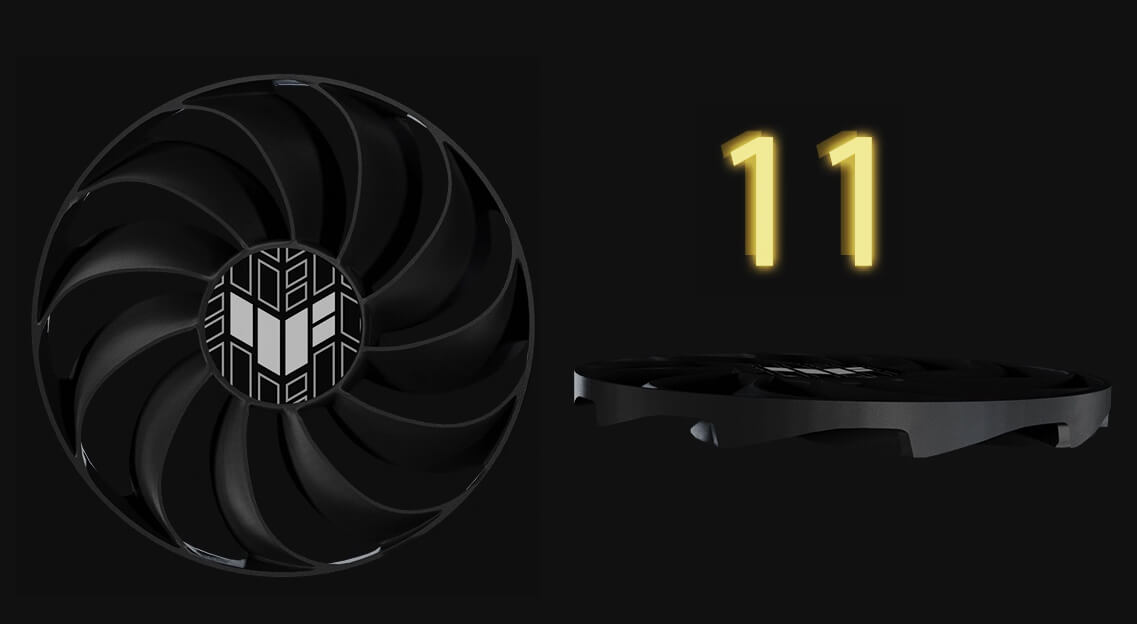 Fans
Axial-tech Fan Design​
Two tried-and-true Axial-tech fans feature a smaller hub that facilitates longer blades and a slimmed down barrier ring to provide better airflow through the cooling array.​
Fans
Quiet Cunning​
Fans will only start spinning when the GPU temperature hits 57 Celsius and shut off when temps drop below 50 Celsius, helping to reduce noise when the system is idling or under light load.


Increased Height
Heatsink
2.7-slot Design
The heat spreader draws heat up into heatpipes that carry it through a fin stack that fills most of the card's large, 2.7-slot footprint.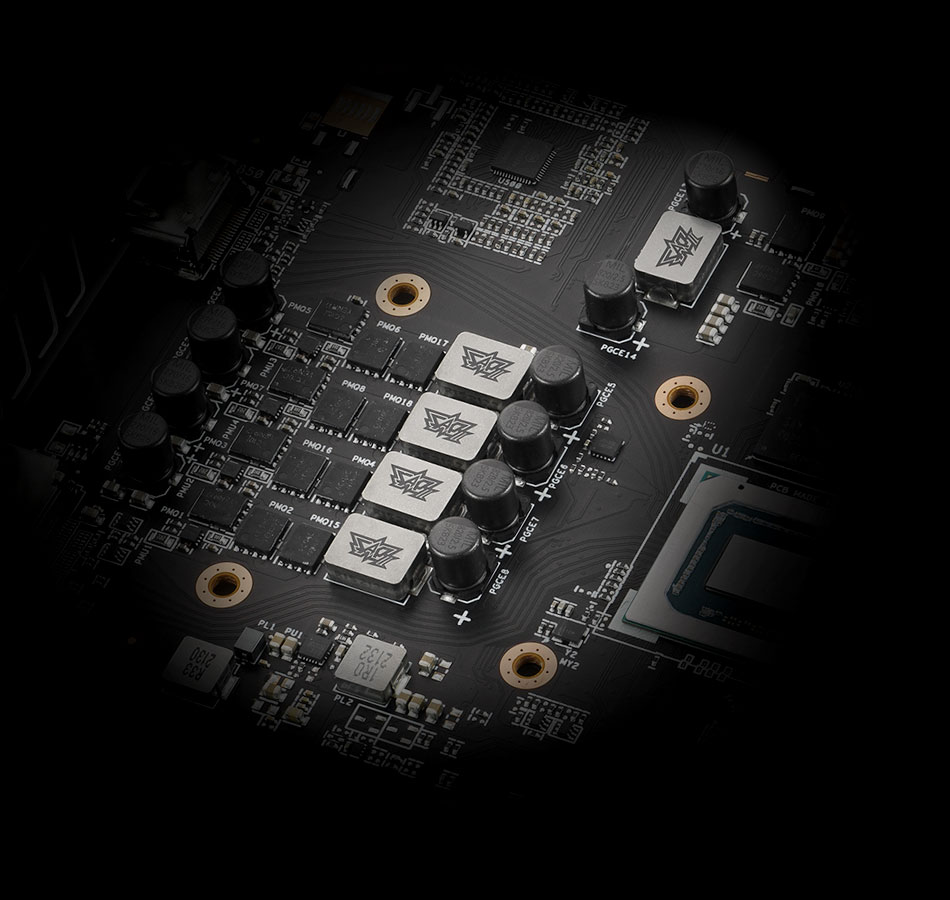 PCB
TUF Components
Robust military-grade capacitors were selected for the card's power design. They and other components are soldered to the PCB using our Auto-Extreme automated manufacturing process. Precise joints and the elimination of human error ensures each graphics card meets our rigorous specifications. To ensure flawless performance when it counts, the cards are subjected to a grueling 144-hour validation trial.
* For illustration only.
Design
METAL COAT
A machined all-aluminum shroud creates a robust outer shell and a no-nonsense industrial design and grayscale colorway fits into any build with ease.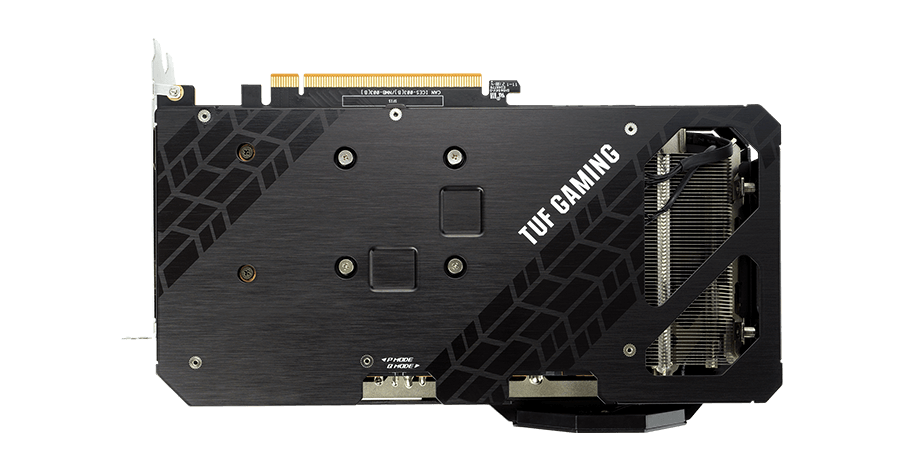 Design
ARMORED UNDERSIDE
The underside of the card reveals further improvements. Most of the rear is swathed in a protective metal backplate that prominently features a wide vent. The vent allows hot air to escape towards chassis exhaust fans instead of being recycled back into the GPU cooler. Stainless steel is used for the I/O bracket to protect ports and provide a more secure mount. And a conveniently placed Dual Bios switch allows customization of the card's default performance profile without software.

Design
Functional Front
The front-side RGB element can be customized to display a range of aesthetic and functional effects, and also synced with other ASUS components to enable uniform lighting. To fulfill the power demands of the Radeon RX 6500 XT, a 6-pin power connector is present, along with onboard LEDs that light up if PSU PCIe power connectors are not plugged in correctly.
Choose Color
By GPU
Temperature
Low point : ℃

High point : ℃
Select
Mode
Static

Breathing

Strobing

Rainbow

Color cycle

Starry night

Smart

Dark

Adaptive Color

Matches color to a selected region on your screen​

Music

Pulses to the beat of your music
software
GPU Tweak II
The ASUS GPU Tweak II utility takes graphics card tuning to the next level. It allows you to tweak critical parameters including GPU core clocks, memory frequency, and voltage settings, with the option to monitor everything in real-time through a customizable on-screen display. Advanced fan control is also included along with many more features to help you get the most out of your graphics card.
Radeon Software
The latest Radeon™ Software unleashes the full potential of your GPU with day-0 drivers optimized for new game releases and a highly customizable gaming experience. Pair with a PSU
Check out our PSU landing page to learn more about how we're pushing the industry forward and use our wattage calculator to estimate how much power you'll need to fuel your next rig.
Learn more >
Free 1 Month of Adobe Creative Cloud
Get complimentary membership with the purchase of selected ASUS products.* 

20+ Adobe apps

Industry-leading apps including Photoshop, Illustrator, InDesign, Spark and XD.

Adobe Fonts

Access thousands of fonts right within your Creative Cloud apps.

Behance

Find inspiration in the world's largest creative community.

Creative Cloud Libraries

Your team can share assets across their apps and devices, so everyone's in sync.

1TB of cloud storage per user

Extra storage makes it easier for your team to share and manage creative assets.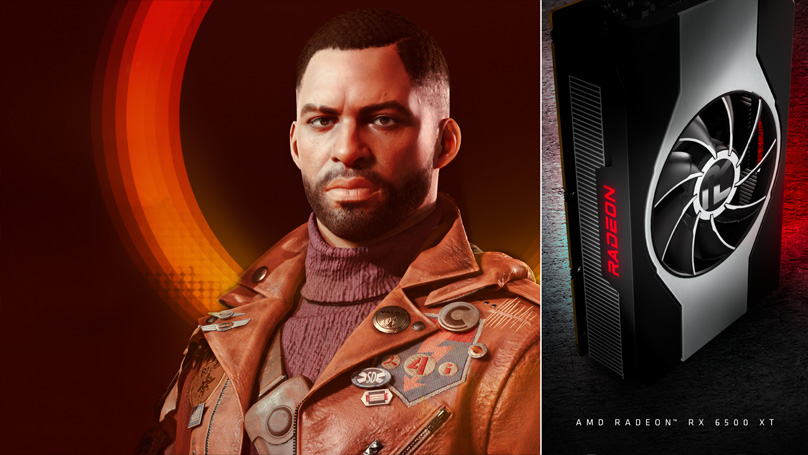 Performance To Step Up Your Game
Impressive 1080p gaming performance and boosted frame rates with AMD FidelityFX™ Super Resolution technology1.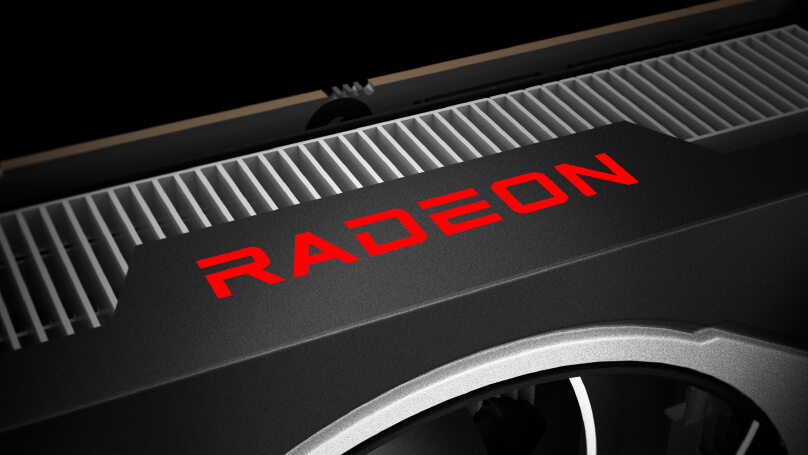 Intense 1080p Performance
AMD Radeon™ RX 6500 XT graphics cards deliver serious 1080p gaming and impressive frame rates. The power of AMD RDNA™ 2 architecture is unleashed with up to 16 powerful graphics compute units, coupled with all ultra-high bandwidth AMD Infinity Cache™, and up to 4GB of dedicated GDDR6 memory.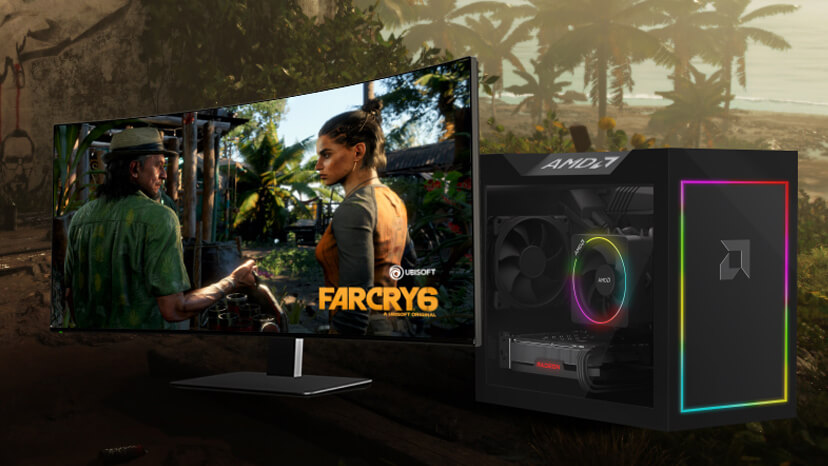 Vivid Visuals
With immersive gaming technologies and support for DirectX® 12 Ultimate, AMD Radeon™ RX 6500 XT graphics cards draw you into the action. Experience gaming with realistic lighting, shadows, and reflections along with rich detail, thanks to DirectX® Raytracing (DXR), variable rate shading (VRS), and AMD FidelityFX™ technology features, optimized for AMD RDNA™ 2 architecture.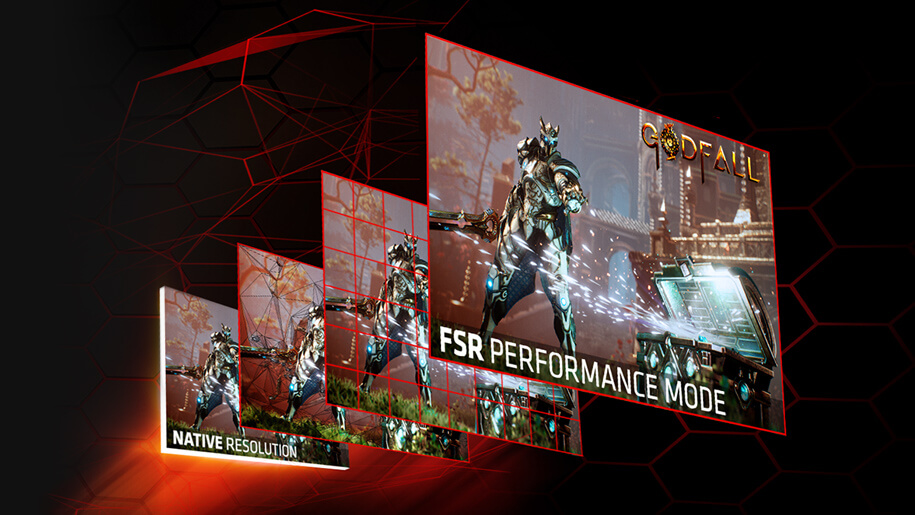 Get A Boost In Frames For Your Games
AMD FidelityFX™ Super Resolution (FSR) technology boosts your frame rates by 2.4X on average across select FidelityFX Super Resolution supported games2 with high-quality, high-resolution gaming experiences delivered by AMD Radeon™ RX 6000 Series graphics cards. Optimize your gaming experience between four presets, ranging from best visual fidelity to maximum performance.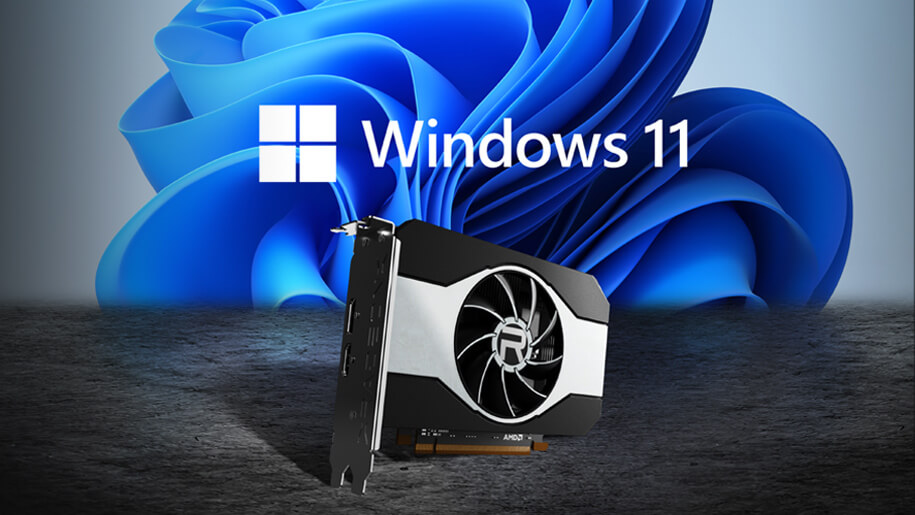 The Best Gaming Experience For The Best Gaming Os
AMD Radeon™ graphics with Windows 11 enables the ultimate gaming experience through superior graphics, amazing performance, optimized security features. With support for DirectX® 12 Ultimate, Auto HDR, AMD Radeon graphics, and Radeon™ software all stand ready to supercharge your gaming experience with Windows 11.
AMD FidelityFX Super Resolution is available on select games and requires developer integration. See https://www.amd.com/en/technologies/radeon-software-fidelityfx-super-resolution for a list of supported games. AMD FidelityFX Super Resolution is "game dependent" and is supported on the following AMD products: AMD Radeon™ RX 6000, RX 5000, RX 500, RX Vega Series graphics cards & all AMD Ryzen™ Processors with Radeon™ Graphics, as long as the minimum requirements of the game are met. AMD does not provide technical or warranty support for AMD FidelityFX Super Resolution enablement on other vendor's graphics cards. GD-187.
Testing by AMD Performance Labs as of June 11, 2021, on the AMD Radeon™ 6900 XT, AMD Radeon™ 6800 XT, and AMD Radeon™ 6700 XT graphics cards with pre-release AMD Radeon™ Software 21.6.1 RC Prime 9 (21.20-210518a-367616E) driver with AMD Smart Access Memory enabled, on a test system comprising of an AMD Ryzen™ 9 5900X, 16GB DDR4-3200 RAM, ASRock X570 Taichi motherboard with BIOS version P3.61 at default settings, and Windows® 10 Pro May 2020 Update (19041.508). Benchmark tests: Anno 1800, DX12, 3840 x 2160, Ultra Hight preset, no raytracing. Evil Genius 2, Vulkan, 3840 x 2160, Ultra preset, no raytracing. Godfall, DX12, 3840 x 2160, Epic preset, Raytracing ON. Kingshunt, DX12, 3840 x 2160, Ultra preset, no raytracing. The Riftbreaker, DX12, 3840 x 2160, Ultra preset, Raytracing ON. Terminator: Resistance, DX11, 3840 x 2160, Epic preset, no raytracing. Game 7, DX12, 3840 x 2160, High preset, no raytracing. Performance may vary and is dependent on the FSR Quality Mode selected. FSR requires developer integration and is available in select games only. RS-365.
© 2021 Advanced Micro Devices, Inc. All rights reserved. AMD, the AMD Arrow logo, FidelityFX, FreeSync, Infinity Cache, Radeon, RDNA, Ryzen, and combinations thereof are trademarks of Advanced Micro Devices, Inc. DirectX and Windows are registered trademarks of Microsoft Corporation in the US and/or other countries. Other product names used herein are for identification purposes only and may be trademarks of their respective companies.
GODFALL™ Published and distributed by Gearbox Publishing. Gearbox and the Gearbox Software logo are registered trademarks, and the Gearbox Publishing logo is a trademark, of Gearbox Enterprises, LLC. ©2021 Counterplay Games Inc. All rights reserved.
© 2020 Ubisoft Entertainment. All Rights Reserved. Far Cry, Ubisoft and the Ubisoft logo are registered or unregistered trademarks of Ubisoft Entertainment in the U.S. and/or other countries.
© 2021 BETHESDA SOFTWORKS LLC, A ZENIMAX MEDIA COMPANY. DEATHLOOP™ DEVELOPED BY ARKANE STUDIOS, A ZENIMAX MEDIA COMPANY. DEATHLOOP, ARKANE, ZENIMAX, BETHESDA, AND BETHESDA SOFTWORKS AND RELATED LOGOS ARE REGISTERED TRADEMARKS OR TRADEMARKS OF ZENIMAX MEDIA INC. IN THE U.S. AND/OR OTHER COUNTRIES. ALL RIGHTS RESERVED.