802.11ac Dual-band Wireless-AC1900 PCI-E Adapter with High Power Design for Longer WiFi Range
5th generation 802.11ac chipset gives you dual-band,2.4GHz/5GHz for up to super-fast 1.9Gbps
Flexible extended antenna placement helps you pinpoint the best reception in your environment.
Instant Wi-Fi upgrade for your desktop: no more messy Ethernet cables needed.
High-power design clears up dead zones with 150% greater coverage
Custom heatsink dissipates heat for more stable and reliable non-stop operation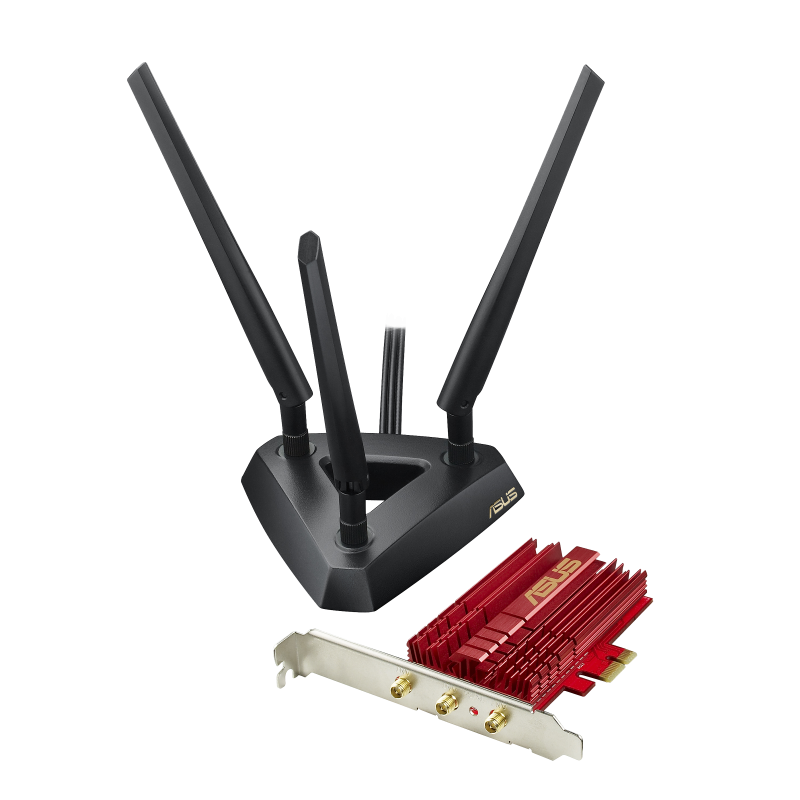 Awards
Video reviews
Media reviews
The ASUS PCE-AC68 is a new 802.11ac Wi-Fi PCI Express adapter which upgrades your desktop from tangle-some Ethernet cables to carefree industry-leading 802.11ac at up to 1.3Gbps. Plus, the stylish external magnetized antenna base gives you more flexibility in adjusting antenna placement to get the best signal reception quality possible.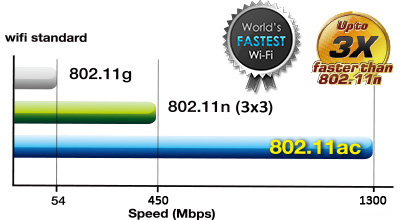 Fastest Wi-Fi standard: 802.11ac
The PCE-AC68 uses Broadcom's new 5th generation Wi-Fi 802.11ac chipset to reach speeds of up to 1.3Gbit/s through the 5GHz band, which is three times faster than 802.11n Wi-Fi. At the same time, it maintains full backward compatibility with all previous Wi-Fi protocols, providing high performance two-way transmission while ensuring a smooth transition to 802.11ac and seamless interconnection with existing devices.


Next-generation Wi-Fi on both bands!
Broadcom TurboQAM™ hardware integrated on PCE-AC68 brings the speed benefits of next-generation 802.11ac Wi-Fi to both 2.4GHz and 5GHz bands. At 600Mbit/s and 1.3Gbit/s respectively, they turn PCE-AC68 into a formidable AC1900 wireless adapter, providing speeds that cannot be bettered by generic wireless adapters.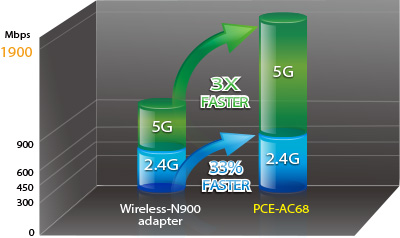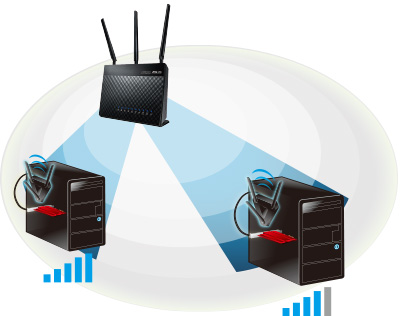 Extend and strengthen your wireless connection
ASUS AiRadar intelligently strengthens wireless device connectivity using precise directional signal amplification for extended coverage, increased data-throughput speed, and enhanced stability. Wi-Fi-connection strength varies based on your environment, so the PCE-AC68 intelligently detects wireless router locations and 'shapes' data transmissions using three external antennas and high-powered beam-packing — assuring fast and stable connection.


No more dead zones with 150% the coverage!
Powerful two-way transmission and a signal-boosting high-gain design give the PCE-AC68 improved two-way transmission that extends Wi-Fi range and coverage by up to 150% compared to generic client devices. This extended reach means the elimination of dead spots at any location, offering fast and uninterrupted HD streaming and smooth multiplayer gaming wherever you may be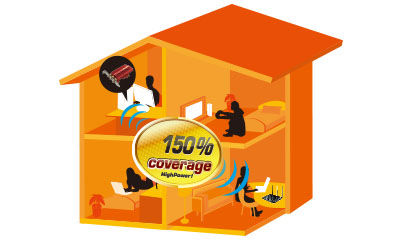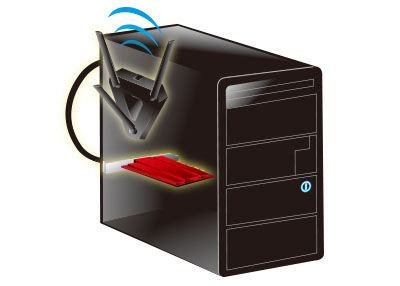 Flexible extended antenna placement
The three detachable antennas of the PCE-AC68 can be placed remotely via bundled extension cables. A magnetized stand also comes in the box, which can easily attach to various surfaces for more placement options. By making the antennas mobile, the design offers more flexibility in choosing locations for better signal reception and quality.

Stylish aluminum heatsink handles heat for extra stability
The added heatsink uses highly-conductive aluminum to remove heat from the chipset, ensuring greater reliability for non-stop operation. Lower temperatures translate into a more stable device in all climate conditions, even during hot summers, and greater stability means more consistent connectivity and longer product lifespan. Plus, the heatsink has been crafted for a stylish look, once more showing ASUS always goes beyond the spec.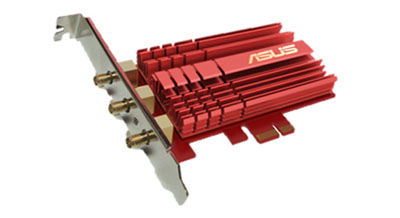 Keep Up to Date!
Remember to always keep your device's firmware up to date so you can benefit from the very latest service and security enhancements — and get exciting new features! Learn more about updating new firmware.