ExpertBook B5 Flip (B5602F, 12th Gen Intel)
ExpertBook B5 Flip (B5602F, 12th Gen Intel)
ASUS ExpertBook B5 Flip
Power to turn your business world
Windows 11 Pro for business
Up to 12th gen Intel® Core™ i7 vPro processor
Dual-fan design for cool-to-touch typing experience with enhanced performance
Immersive work experience with 16:10 ratio
360˚ flip design for versatile viewing modes
Quick-charging garaged stylus ready for any sparks of idea
16" display with thin-and-light design for expansive on-the-go productivity
All-day battery
Enterprise-grade security features
US military grade standard tested for robust durability
Download datasheet
360˚ View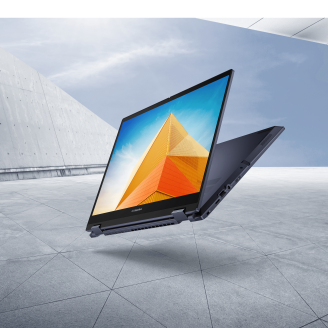 Power to turn your business world
ASUS ExpertBook B5 Flip is built for business success in style, with a 360
°
-flippable touchscreen and garaged stylus for ultimate flexibility. It's set for serious travel with amazing all-day battery life, and is engineered with many cutting-edge technologies to improve your on-the-go work efficiency. These include an up to 12th Gen Intel
®
Core
™
processor with Intel
®
Arc
™
A350M discrete graphics, AI-powered noise cancelation, and dual-SSD RAID support. ExpertBook B5 Flip is also packed with features to protect your privacy and business data, including a built-in fingerprint sensor and TPM 2.0 chip.
1
Flip & Stylus
360°-flippable hinge design with a fast-charging garaged stylus for various viewing modes that ensure ultimate productivity.
Productivity
ExpertBook B5 Flip is powered by an up to 12th Gen Intel
®
Core
™
i7 processor with the Intel
®
vPro platform. It also features up to two SSDs to provide huge up to 2 TB capacity, and supports RAID technology
2
for improved data reliability or faster operation.
Performance
The dual-fan design empowers up to Intel
®
Arc
™
A350M discrete graphics
3
, delivering quiet, cool, and powerful performance.
16:10 Display
A 16-inch 16:10 aspect ratio display gives you the best visual experience with more vertical workspaces.
Get the job done, effortlessly
To make light work of all your business tasks, ExpertBook B5 Flip is powered by an up to 12th Gen Intel
®
Core
™
i7 vPro
®
processor with the option of the Intel
®
Arc
™
A350M discrete graphics. It also features two SSDs to provide huge up to 2 TB capacity and supports the RAID technology
2
for improved data reliability or faster operation. In addition, with its dual-fan design, ExpertBook B5 Flip delivers quiet, cool and powerful computing and graphical performance with enterprise-grade manageability.
Up to
12th Gen
Intel® Core™ i7
Up to
A350M
Intel® Arc™ graphics
The ExpertBook B5 Flip comes with a 360°-flippable hinge and a garaged stylus, so you can work in a multitude of ways with precision and flexibility. The built-in stylus holder keeps the pen close at hand and reduces the risk of losing it. And, with a 15-second charge giving enough power for 45 minutes of use, you'll never be left waiting.
ExpertBook B5 Flip's expansive 16-inch display has a 16:10 aspect ratio that provides a larger visual workspace compared to a standard 16:9 display. This makes it easier to read articles, view websites, work on spreadsheets — or anything else that needs just that little extra room.
Designed with comfort in mind, ExpertBook B5 Flip features a backlit keyboard with a distinct physical number pad for a more accurate typing experience in dark environments, from dimly-lit offices to aircraft cabins.
ExpertBook B5 Flip helps you minimize the hassles and inconveniences of remote work. With two Thunderbolt™ 4 and one HDMI 2.0 port available, you're free to connect up to three external 4K UHD displays. So, for example, you could host a video conference on the ExpertBook B5 Flip's own display while using three screens to keep in view information that's important to your call.
Brilliant portability
ExpertBook B5 Flip is designed to be your best portable partner. Crafted with magnesium-aluminum alloy and pure aluminum, this 16-inch laptop weighs only 1.65 kg
4
while providing up to 13 hours of battery life
5
on a single charge. With the long battery life and fast-charging design, you'll be ready for productivity in or out of the office.
Business-focused design
With features such as a user-status indicator light, AI-powered noise cancelation and AI-powered camera, the ExpertBook B5 Flip is designed to make every moment of every working day more convenient and more productive. Not to mention its durability is also tested to the extreme, so the ExpertBook B5 Flip is ready for the business world.
To level up professional conferencing, ExpertBook B5 Flip has two-way AI noise-canceling technology that employs sophisticated machine learning to isolate unwanted noise. The technology not only filters out ambient noises picked up around you, allows you to deliver a clear speech, but is also able to filter out ambient noises coming from the speaker — so you can hear clearly. A step up from the original technology, you are able to specify the directions of the sound reception when enabling the microphone, which allows the ExpertBook B5 Flip to focus on the presenter, regardless of the location. This will result in even cleaner voice delivery.
With ExpertBook B5 Flip's AI-powered camera, you'll enjoy excellent video quality for every virtual meeting. The motion-tracking technology automatically keeps your face-centered and adjusts to the focus of your eyes — eliminating the annoyance of having to adjust your camera mid-chat. With its ability to enhance both image quality and brightness automatically, the AI camera is perfect for working anywhere, anytime.
A small, bright LED light on the top cover of ExpertBook B5 Flip offers an at-a-glance indication of your status — automatically glowing when you're busy in a conference call. So, if you're headlong into a Skype or Teams meeting, your colleagues will know instantly to not bother you at that moment!
Life on the road is tough, so ExpertBook B5 Flip is designed to both meet and surpass exacting industry thresholds — including the ultra-demanding MIL-STD 810H US military standard. It's built to survive every extreme, from freezing temperatures to the searing heat of desert storms, and high-speed shocks to everyday bumps. ExpertBook B5 Flip also undergoes stringent in-house testing, including panel pressure, shock, and drop tests for an assurance of serious durability
6
.
Learn more about ASUS ExpertBook Quality Tests
Comprehensive connectivity with no compromise
Despite its thin profile, ExpertBook B5 Flip is loaded with I/O ports. These include cutting-edge Thunderbolt™ 4, the next generation of the universal cable connectivity solution that offers support for the next-level USB 4 interface, 40 Gbps data transfer speeds, 4K display output and fast charging. The laptop also offers a microSD card reader and an HDMI output, plus an RJ45 Ethernet port, with a unique MAC address for easy device management.
Garaged stylus
Fingerprint reader /
power button combo
Audio combo jack
USB 2.0 Type-A
microSD card reader
Kensington Nano lock slot
Thunderbolt™ 4 USB-C®
RJ45
HDMI
USB 3.2 Gen 2 Type-A
Volume key
ASUS understands that IT security must evolve to effectively serve as the first line of defense against business disruptions. ExpertBooks feature a suite of sophisticated security features such as TPM 2.0
1
, Kensington lock slot, and USB device control to keep your business and its future, safe.
The ASUS Service Package
9
offers a wider range of solutions that go beyond the standard warranty to meet the needs of business-critical IT environments. The extended offerings protect your business — not just the hardware — allowing you to customize a service solution that best meets your needs.
ASUS Expert Series merges the ASUS Design Thinking ethos with the latest sustainability technology to foster a circular future, achieving multiple internationally recognized environmental certifications. By embracing our goal to achieve net-zero, ASUS Expert series creates minimum waste and maximum efficiency — ensuring the best quality for consumers and an ever-reducing impact on the environment.
ExpertBook B5 Flip has firmware-based TPM 2.0 onboard, with a discrete TPM chip also available as an option.
The same device will offer differing levels of available storage depending on the chosen RAID level. If RAID 0 is used, the system combines the capacity of all SSDs in order to enhance data-transfer speeds. The available storage will equal the combined physical capacity of all the SSDs on the device. However, if the device is configured with RAID 1, two copies of the data are saved simultaneously in order to protect your data if one SSD fails. As a result, the available storage capacity will be half of the combined physical storage capacity, as half the storage is used for backup copies. For example, a device with two 1 TB SSDs in a RAID 0 configuration will have 2 TB of available storage capacity, but with RAID 1 the available storage capacity will be 1 TB.
Intel® Arc™ graphics is available on select models only. Availabilities vary by country and region.
1.65 kg of weight based on 84 Whr battery SKU; weight may vary according to configuration.
Battery test conducted by ASUS on September 30, 2022, using the 1080p Video Playback scenario. Battery life test configuration: Intel® Core™ i5-1240P, 8GB RAM, 2K IPS display, 512GGB PCIe® SSD, 84Whr. Test settings: WiFi flight mode, the display brightness set to 150 cd/m2 (33%), Touch Pad. Actual battery life may vary depending on product configuration, usage, operational conditions and power management settings. Battery life will decrease over the lifetime of the battery.
The testing regimen includes the requirements of both military-grade standards and ASUS quality tests, and varies depending on device. MIL-STD-810 testing is conducted on selected ASUS products only. These tests do not demonstrate fitness for military use, or adherence to US Department of Defense (DoD) contract requirements. Similarly, the test results should not be considered an indication or guarantee of future performance under the specified test conditions. Damage occurring under these test conditions — or any attempt to replicate them — would be considered accidental, and would not be covered by the standard ASUS warranty. Additional coverage is available with ASUS Premium Care.
ASUS Control Center is optional and its availability varies according to country. Please check with your local ASUS retailer for details.
ASUS management solutions include ASUS Control Center and ASUS Business Manager platform.
ASUS Service Package options include: 24x7 support; MyASUS app; Three-year international warranty; Pick up & return service; Onsite service; Next business day onsite response; Accidental damage protection; Defective HDD retention. Service and warranty coverage may vary depending on country and territory. Service may not be available in all markets. We recommend that you check with your local retailers to confirm the options available.
Certifications such as EPEAT may vary from model and country.
Compare (0)