Ultracompact computer with AMD Ryzen 5000 series mobile processor and support for quad 4K displays, with up to 64 GB DDR4 RAM, M.2 SSD, WiFi 6, Windows 10 Pro and dual USB 3.2 Gen 2 Type-C.
Windows 10 Pro: ASUS recommends Windows 10 Pro for business. Other editions also available.
Powered by AMD Ryzen 5000U: Latest mobile processor with Radeon Vega 7 graphics
Quad-display support: Connect up to four monitors, at resolutions of up to 4K
8K UHD visuals: High resolutions at up to 60 Hz, via DisplayPort™ Dual-Mode (DP++)
Easy-access USB-C®: Dual USB 3.2 Gen 2 Type-C ports, supporting DisplayPort 1.4
High-speed wireless: Integrated Intel WiFi 6 (Gig+) and Bluetooth 5.0 for easy cordless connections
Configurable ports: Optional DisplayPort 1.4, VGA, Ethernet or COM sockets
Dual-array microphone: High-quality integrated mic enables seamless Microsoft Cortana support
Infrared (IR) receiver: Enables easy remote control of media applications and more
Built-in memory card reader: Accepts SD, SDHC and SDXC media
Dual-storage design: Up to 1 TB 2.5-inch hard disk drive and up to 1 TB M.2 SSD
24/7 reliability: Extensively tested to ensure long-term dependability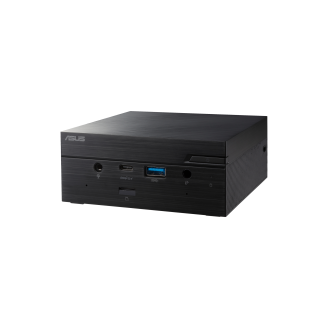 Mini PC PN51
Priserna från ASUS estore startar på
Easy modification, maximum possibilities
ASUS Mini PC PN51 is an ultracompact computer that delivers powerful performance for a wide variety of home and business applications – and is the worthy successor to the popular ASUS Mini PC 50. Featuring the latest AMD Ryzen™ 5000 mobile processor with Radeon™ graphics, plus support for high-speed 3200 MHz DDR4 memory, Mini PC PN51 is ready for demanding workloads, yet its diminutive size takes up minimal space on a desk and makes it suited for applications where traditional PCs won't fit – from digital signage to home-theater setups.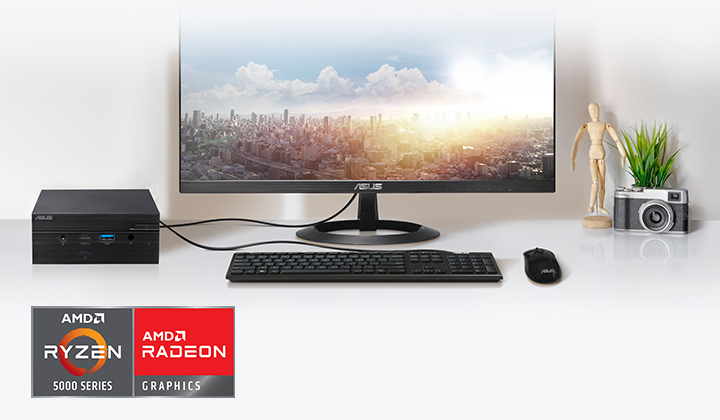 Performance
ASUS Mini PC PN51 is powered by the latest AMD Ryzen 5000U mobile processor. Compared with traditional same-tier mobile processors this delivers a whole-system performance uplift of up to 20.2%, and an up to 58.2% improvement for daily multitask computing – ensuring smooth operations for everything you do.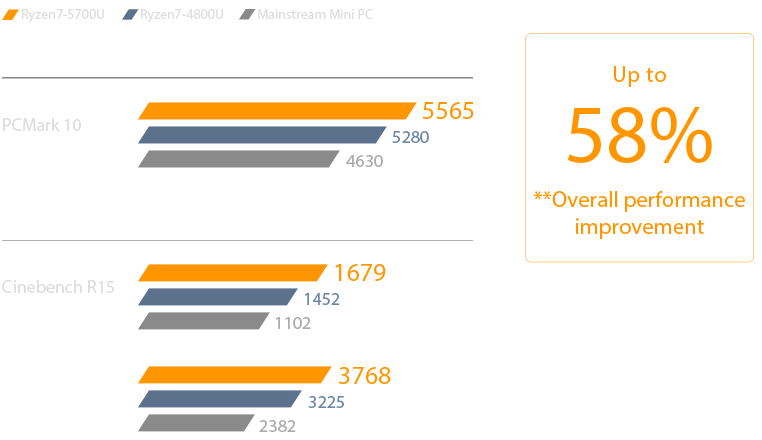 *Test configuration: PN51, Windows 10 Pro (64 bit), AMD Ryzen 7 5700U processor, 2 x 16 GB DDR4 3200 MHz, M.2 1 TB SSD PCIe®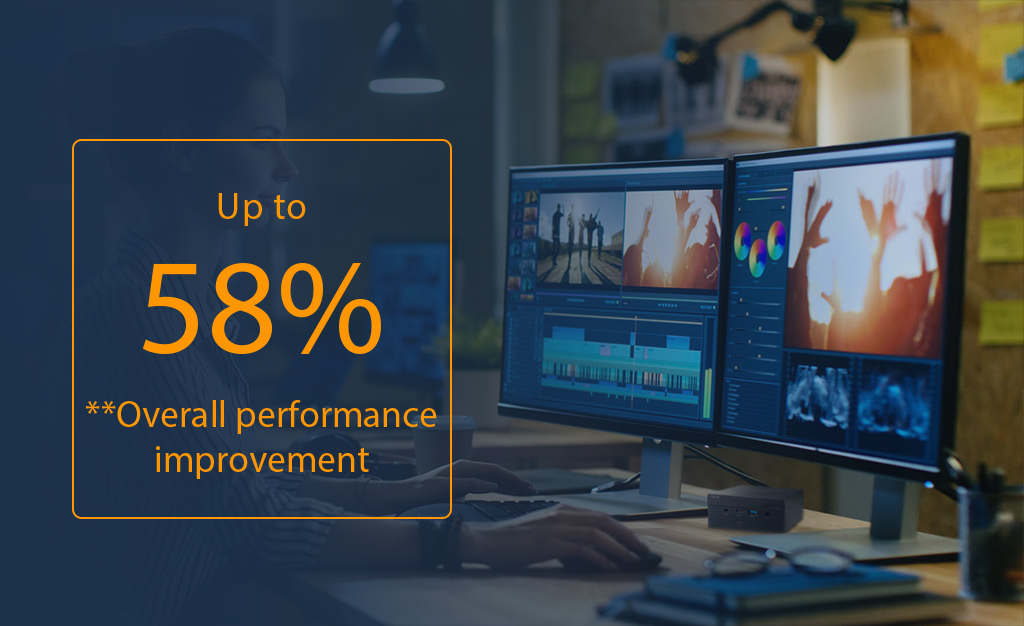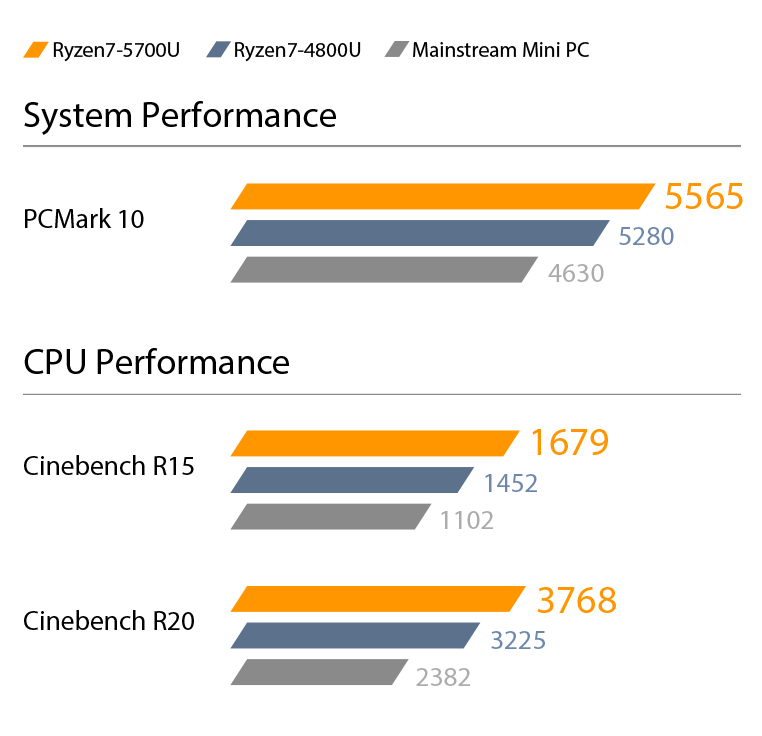 *Test configuration: PN51, Windows 10 Pro (64 bit), AMD Ryzen 7 5700U processor, 2 x 16 GB DDR4 3200 MHz, M.2 1 TB SSD PCIe®
4K resolution and quad-display support
ASUS Mini PC PN51 supports up to four displays with 4K resolution through HDMI, DisplayPort over dual USB-C and a user-configurable port*, with no restriction** on the combination.
* Configurable ports must be specified during the order process.
* Configurable VGA port does not support 4K or higher resolutions.
** Supporting 4K resolution across 4 displays requires at least 2 x 3200 MHz DDR4 16 GB memory.

Hyper - realistic 8K support
ASUS Mini PC PN51 also supports stunning 8K UHD through DisplayPort 1.4* or Type-C DisplayPort, for detail that's 4 times greater than 4K or a remarkable 16X higher than traditional Full HD output. Specifically, PN51 will pump 8K visuals at up to 30 Hz via a single DisplayPort and at up to 60 Hz through DisplayPort Dual-Mode (DP++)**, bringing every image to life in breathtaking style.
* DisplayPort 1.4 only on selected model
** DisplayPort Dual-Mode requires DP++-compatible devices.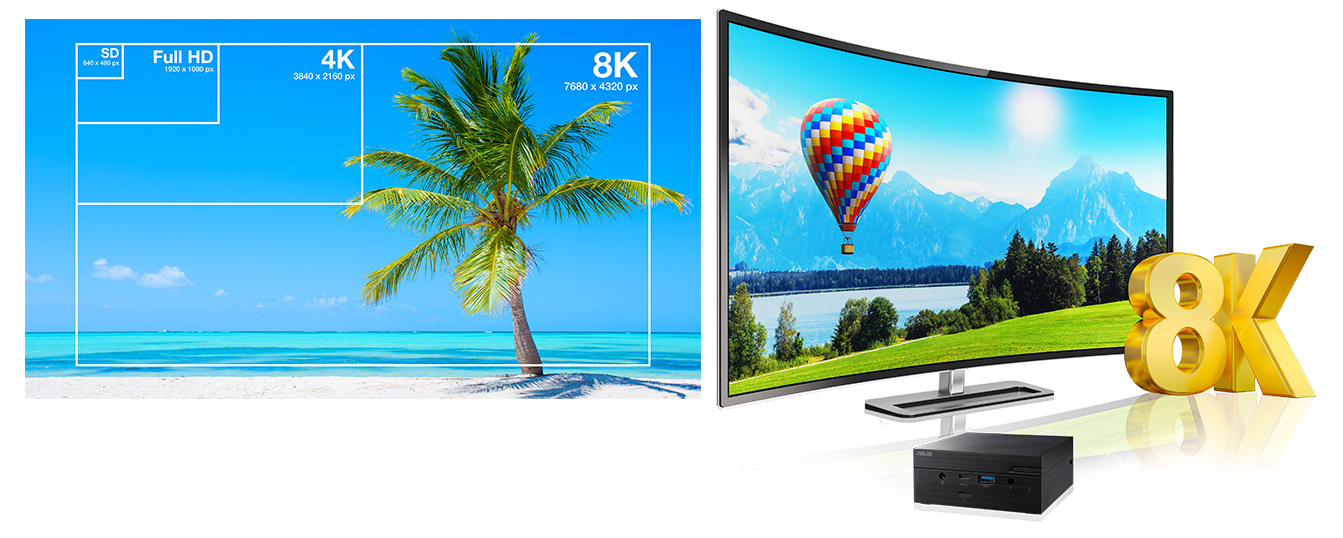 ASUS Mini PC PN51 features class-leading graphics performance, powered by AMD Radeon™ graphics. In fact, PN51's 6489 score in 3DMark 11 thrashes mini PCs powered by traditional CPUs by over 170%.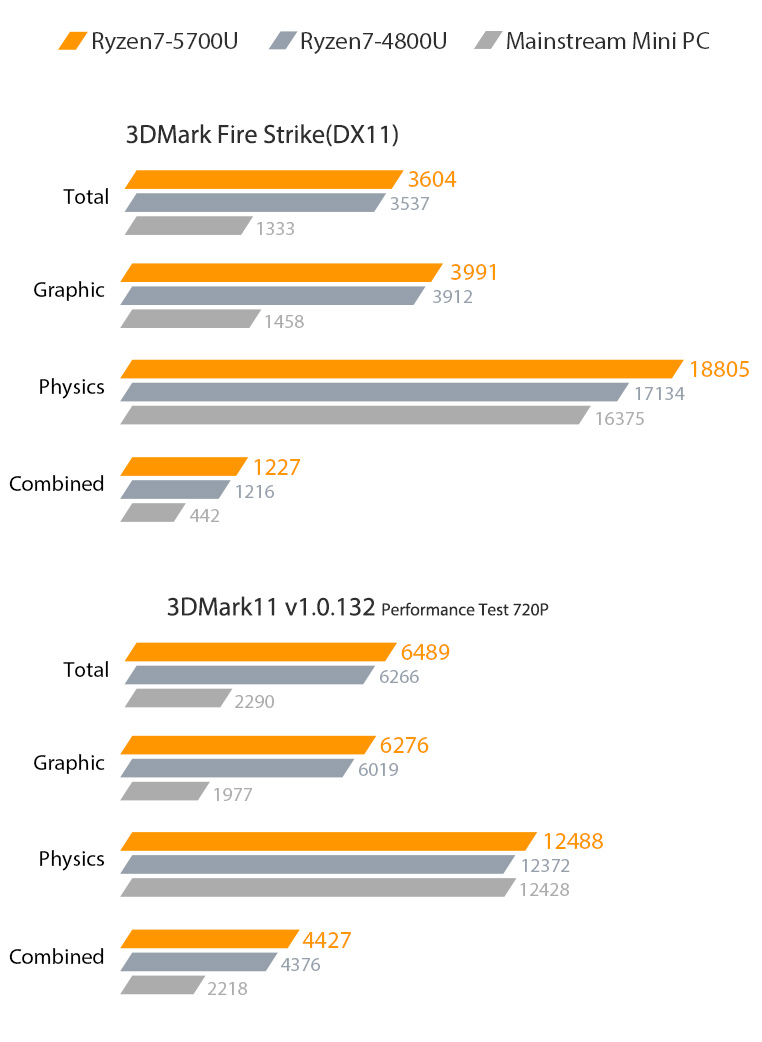 * Test configuration: PN51, Windows 10 Pro (64 bit), AMD Ryzen 7 5700U processor, 2 x 16 GB DDR4 3200 MHz, M.2 1 TB SSD PCIe
ASUS Mini PC PN51 supports up to four video outputs, so it offers flexibility to handle all manner of multi-display setups. You're also free to choose your own combination of ports, making PN51 suitable for almost any conceivable display scenario.*
*High-resolution, multi-display support requires sufficient memory bandwidth.

With support for up to four 4K displays*, ASUS Mini PC PN51 can be used to build high-resolution signage walls at lounges, halls, exhibitions and retail stores, all powered from just one device – saving on both cost and maintenance. As well, PN51's quad-display, microphone-array and IR-sensor support makes it easy to share information in workplaces, offices or conference rooms.
* Support for quad displays with 4K resolutions requires at least 2 x 3200 MHz DDR4 16 GB memory.
Service Counter

Retail Store

Conference Room

Office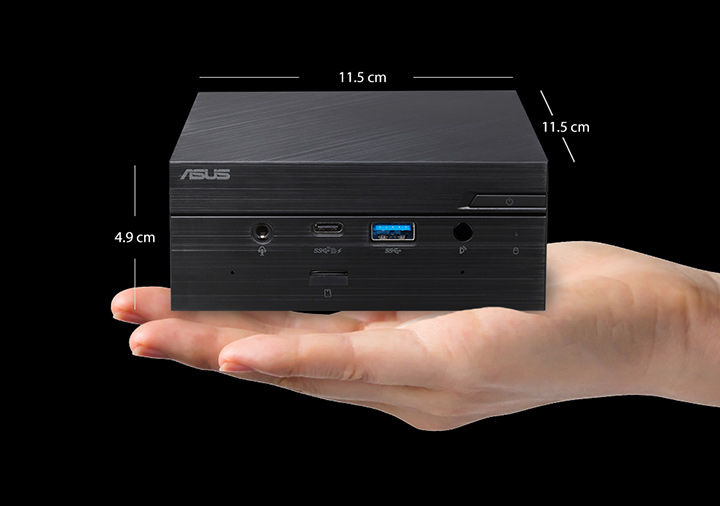 Modern, space-saving chassis
With a modern design featuring sleek lines and a stylish, brushed finish, ASUS Mini PC PN51 easily blends into home, office and retail environments. Compact and lightweight at 115 x 115 x 49 mm, and with a mere 0.62-liter volume, it can be placed almost anywhere and even attached to the back of a display with a VESA mount for a space-saving, all-in-one solution.


* Test configuration: AMD Ryzen 5700U processor, DDR4 3200 MHz 32 GB RAM, 256 GB M.2 SSD, Windows 10 Pro, SSD heatsink
ASUS Mini PC PN51 also benefits from an integrated SSD heatsink that keeps the temperate of the M.2 drive below 70° C at idle. This helps ensure durability and reliability, potentially saving on maintenance costs.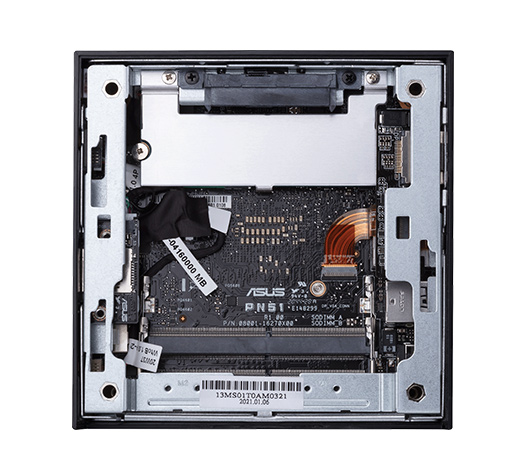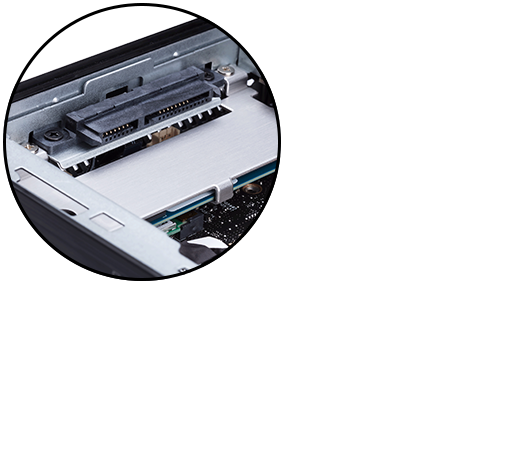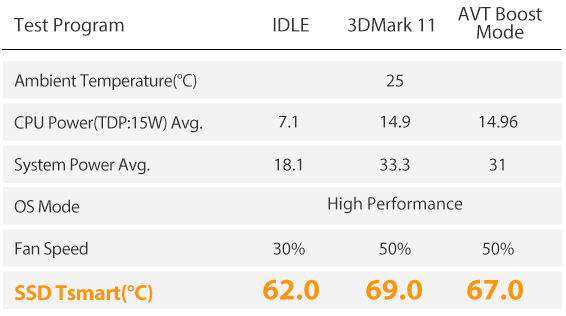 ASUS Mini PC PN51 provides comprehensive connectivity with multiple ports, including dual USB 3.2 Gen 2 Type-C ports with DisplayPort 1.4 support and a configurable port* to support legacy devices, additional displays or multiple network connections.
The configurable port offers the option of VGA, DisplayPort, COM or LAN connectivity, making it ideal for a variety of monitor types or legacy devices* – from barcode scanners to receipt printers. With such port versatility, PN51 is perfect for a wide range of business scenarios, including signage, point-of-sale (POS) systems and intelligent vending machines.
* Configurable port options may vary by model or region.
* Supports up to four displays at the same time via the front and rear USB 3.2 Gen 2 Type-C ports, configurable port and on-board HDMI port.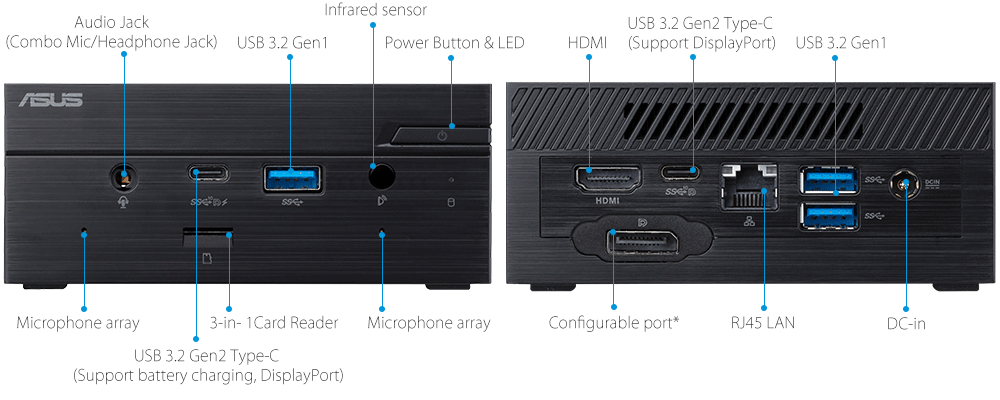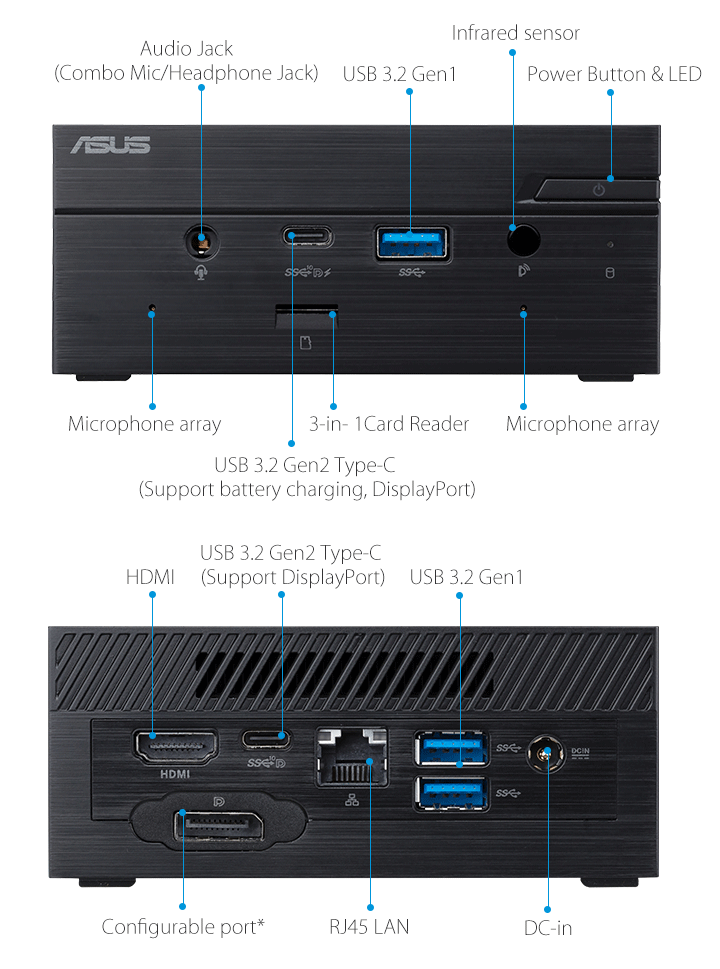 Seamless media experiences
ASUS Mini PC PN51 supports HDMI® CEC and has a built-in IR sensor*, allowing you to manage almost all your media devices, from audio and video playback to menu navigation, via a single remote control.
PN51 also sets the standard for the best Windows 10 experience, with a dual-microphone array* that supports Microsoft Cortana – the personal digital assistant that helps you get things done easily. The array mic ensures accurate voice control, even in noisy conditions.
* Specifications may vary by model or region.

HDMI CEC Header & IR Sensor

Dual-Microphone Array
To ensure stable performance, ASUS Mini PN51 has dedicated thermal monitoring for the SSD. It also has numerous preset cooling policies to cater to a diverse variety of scenarios.
* Testing performed on ASUS Mini PC PN6X series, without SSD heatsink
Whole-system cooling:
Fan speed is automatically adjusted according to the M.2 SSD temperature, achieving better heat dissipation. With previously models, only the CPU temperature was monitored.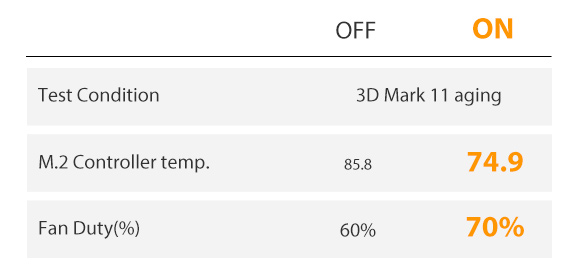 Multiple operating modes:
Three thermal policies are offered in the BIOS, so you're free to choose the one that best suits the usage situation.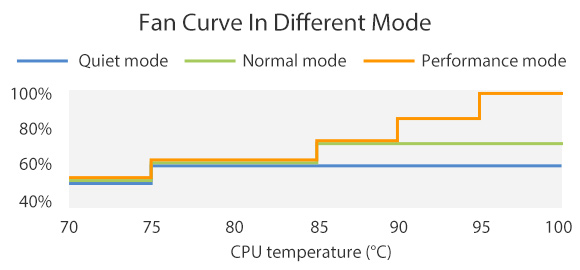 Reduce environmental impact while lowering operating costs
ASUS Mini PC PN51 has an energy-efficient design that reduces environmental impact while helping to lower operating costs. Eco-friendly ASUS Mini PCs are recipients of some of the industry's highest environmental certifications, including ENERGY STAR®. Specifically, PN51 consumes as little as 9 watts at idle. It is also whisper-quiet, generating just 21.9 dBA of noise at idle and 34.7 dB at full load.



*Test configuration: PN51, Windows 10 Pro (64 bit), AMD Ryzen 7 5700U processor, DDR4 3200 MHz 32 GB, 256 GB M.2 SSD PCIe
The ASUS Business Manager software suite provides exclusive features for Mini PC PN51. Designed for businesses that lack adequate IT support, it simplifies the processes of management and maintenance.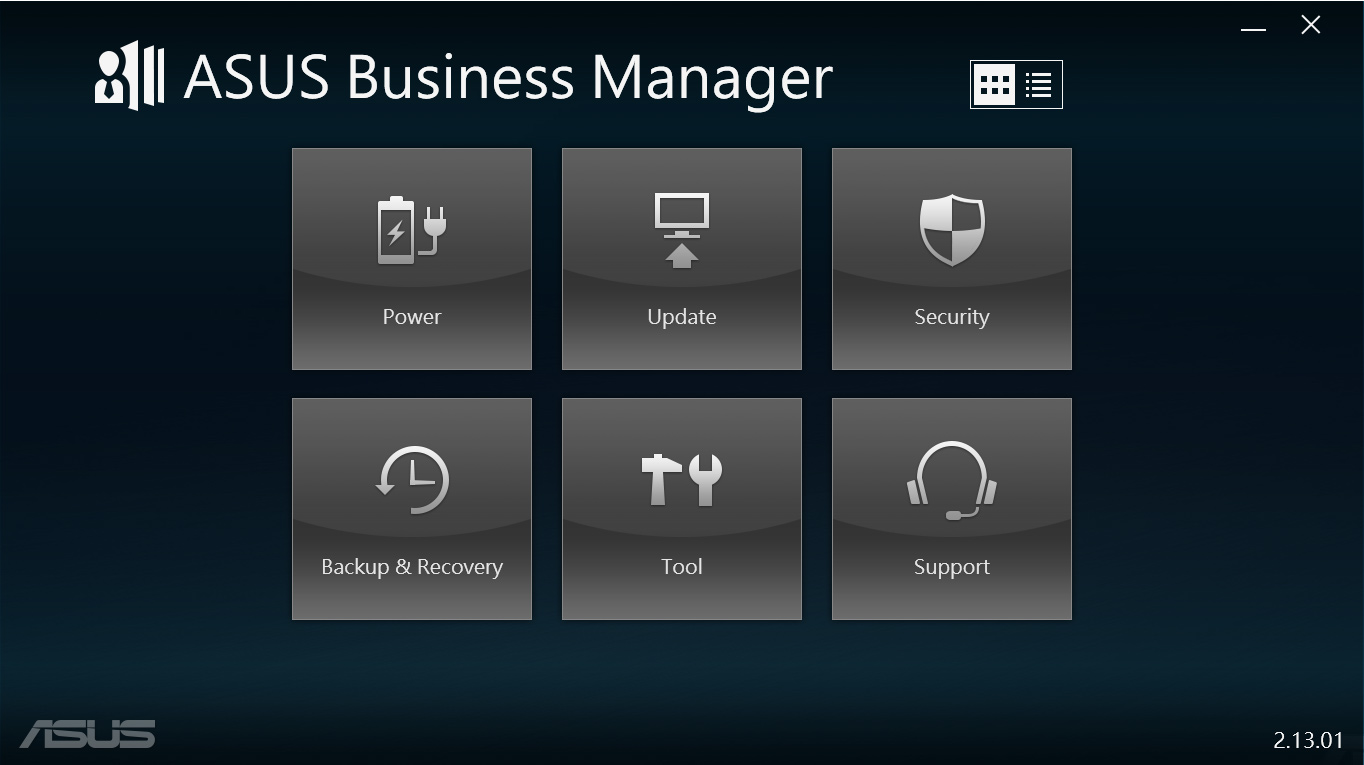 USB port management and administration security
ASUS Mini PC PN51 offers UEFI-level management of USB ports, so they're easy to selectively enable or disable. An admin password can also be applied to ensure that only authorized users are able to access the system's security settings.



ASUS Mini PCs undergo rigorous noise, vibration, drop and thermal-shock tests to ensure they meet exacting ASUS standards and exceed industry requirements. Be confident that your ASUS Mini PC can cope with extreme conditions for extended periods, ranging from dry 0° C temperatures to humid and hot environments exceeding 50° C.


168hrs

Aging time

35°C

Temperatures

80%

Relative Humidity
Vibration Test

Drop Test

Port Test

Temperature and Humidity Test

Noise Test

Line Voltage and Frequency Test