[Notebook] ICE Audio Wizard (ICE Sound) - Introduction(new version)
Introduction of ICE Audio Wizard
ICE Audio Wizard is intelligent audio enhancement software for Windows and Android portable and multimedia consumer products. This software improves the overall audio quality on laptops,smart phones and tablets. Each ICE Power Module has completely passed many tests by well-experienced engineers.
Start ICE Audio Wizard:
For ASUS models pre-installed with ICE Audio Wizard, please click the icon as shown below to open the software.
① Click Start menu ② Find AudioWizard and click it.
Function introduction: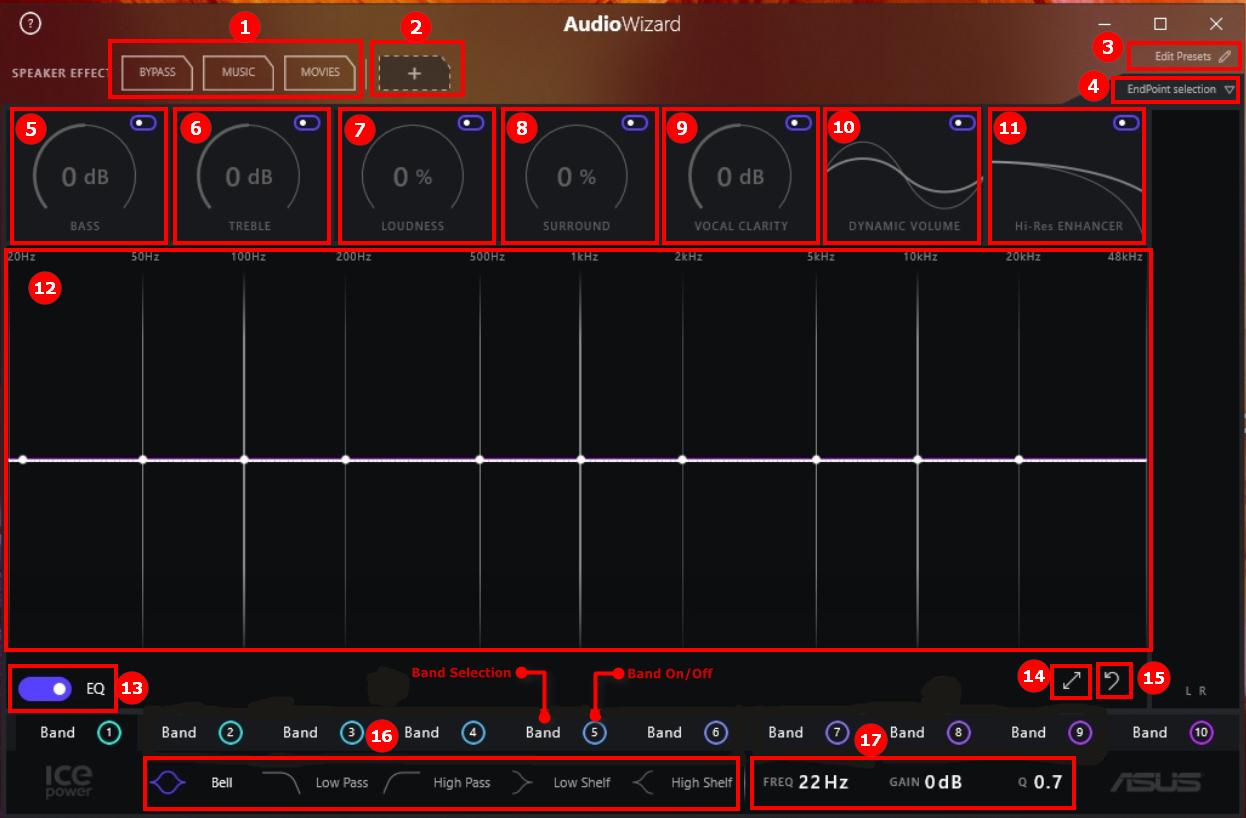 1. Standard Presets-- Here are some presets to get you started.Use them as a starting point for your own personal presets.
2. Add Preset Button-- When you have modified a preset you can add it as a new one. Try starting with one of the standard preset, turn a dial, and then save this as a new preset. You can have up to 8 presets.
3. Edit Preset Button-- If you want to rename your presets or delete them, this is where you do it.
4. Endpoint Selection Button-- AudioWizard can save different settings for your headphones and speaker. To select which one you are working on, do it here. You can also see other devices attached to your PC if they are supported by AudioWizard.
5. Bass-- If you like bass, then turn this up! If you also like to hear the rest of the music, turn it a bit down again.
6. Treble-- Treble is what makes sound come alive. Turn up the dial to get a crisp, rich and detailed sound.
7. Loudness-- Turning the volume down on your PC makes your music sound thin and boring. Turn this dial up so the music sounds perfect at all volume levels.
8.Surround-- Turn this up to get the sensation that the sound is surrounding you.
9. Vocal Clarity-- When you are watching a movie or your favorite TV show, this can come in handy. Turn it on to control the volume level of the actors voices, while still keeping the music low.
10. Dynamic Volume-- Turn this feature on, when you are doing some late-night watching. It turns commercials down, to avoid waking the house, and makes sure that you can hear every single word.
11. Hi-Res Enhancer-- Have you ever felt that something was missing from the MP3 file? That's because it is. Turn on the Hi-Res ENHANCER to reclaim the high frequencies lost in the compression. Watch their return in the RTA spectrum behind the EQ.
12. Equalizer-- This is where the magic happens. Use the equalizer to customize the sound profile of your ASUS computer or any headphone or speaker that you connect to your computer. To the left you have low frequencies (bass and thunder) and to the right you have high frequencies (hi-hats and bird songs). Use the different bands to adjust the sound character to your liking. Click a point, drag it around, adjust the width of the band using your scroll wheel. You can also change the type of filter for each band. Look at the Real-Time Analyzer behind the Equalizer to see how ICEsound affects the audio. Just a tip: listen to your favorite track while adjusting the EQ.
If you don't see any RTA values over ~20kHz, you can try to increase the playback device sampling rate by: Start -> Settings -> System -> Sound -> choose the right output device and press Device Properties-> select Advanced tab -> select an higher sample rate from dropdown in Default Format -> Apply.
13. EQ On/Off
14. RTA Fullscreen
15. Reset
16. Filter Type Selection--Try the different types and hear how they work.
17. Filter Fine Tuning--For maximum precision, go here and type in the values.
FREQ range from 20 to 20000 Hz/GAIN: range from -6dB to +6dB/IQ: range from 0.1 to 5
Here is the website for ICE sound, for more information, you can refer to it.
Q&A:
1. Q: The ICE Audio Wizard (ICE Sound) is not working, what can I do?
A: You can try to remove ICE Audio Wizard (ICE Sound) driver and install it again.
About how to search and download drivers, utilities, BIOS and user manuals, please refer to below link.
https://www.asus.com/support/faq/1035376
2. Q: How can I know if the Audio Wizard should be new version in my laptop?
A: For new version, the ICE power APO driver starts from 1.42.190307 and the Audio Wizard will show as 1.5.XX.0.
3. Q: Why can I only find below 2 funcions in the ICE Audio Wizard (ICE Sound)?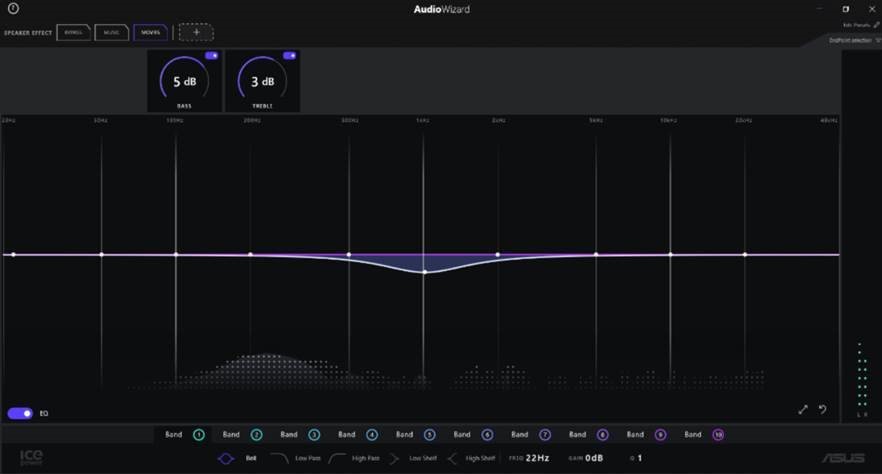 A: There is function difference for different models.
If your laptop meets the following criteria, there will be only part of functions for the the Audio Wizard.
1. There is ISST(Intel(R) Smart Sound Technology) device in device manager.
2. There is HW acceleration in Speakers properties of Sound control panel.