[Motherboard] AI Suite 3 - Introduction
AI Suite 3 has two functions - one is to monitor the system status, the other is to integrate ASUS software so that it is easy to access the ASUS software through AI Suite 3.
To provide you more detailed instruction, you can also click ASUS Youtube video link below to know more about AI Suite 3
https://www.youtube.com/watch?v=MVS2Bx8Uofg
How to use AI Suite 3
1. Click Windows icon, and click AI Suite 3 to open it.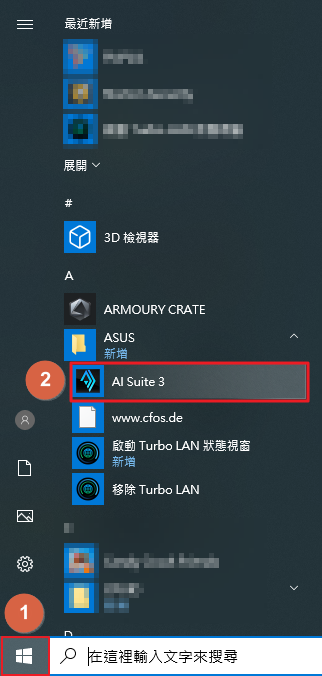 2. User can monitor CPU frequency, Voltage, Temperature, Fan through AI Suite 3.
*Example below: PRIME X299 EDITION 30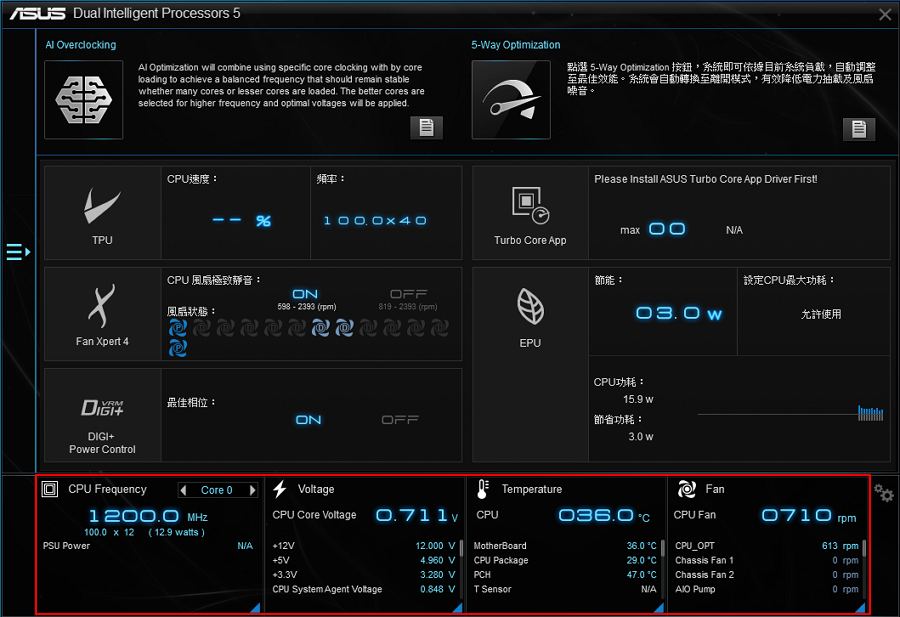 3. Click the blue triangle to check CPU frequency and CPU usage.
*CPU frequency affects CPU efficiency.
*CPU usage means the CPU is used in a period of time. The following figure shows the CPU usage of 6-cores 12-threads.

4. Click the blue triangle to monitor each voltage range.
*+12V provides voltage to CPU, graphic card and PCI express.
*+5V provides voltage to memory, Input / Output port and SSD.
*+3.3V provides voltage to PCI express, south bridge and LAN on motherboard.

5. Click the blue triangle to monitor temperature ranges, such as CPU, PCH, VRM, PSU, etc.
6. Click the blue triangle to monitor the rotating speed of each fan.

7. Click the back icon

, and click the list icon
to open the software list.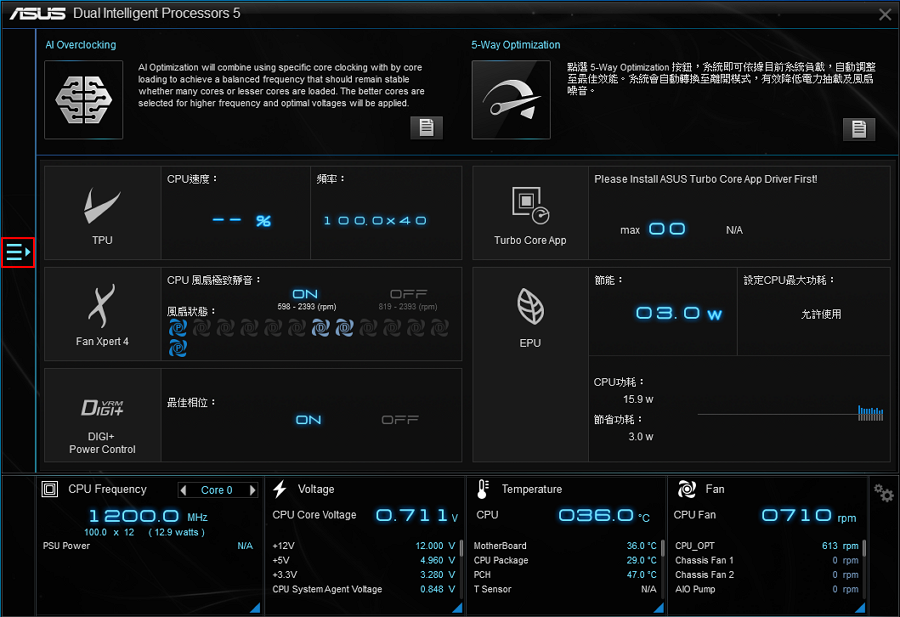 8. Click to open the software. Software list may differ from motherboard to motherboard.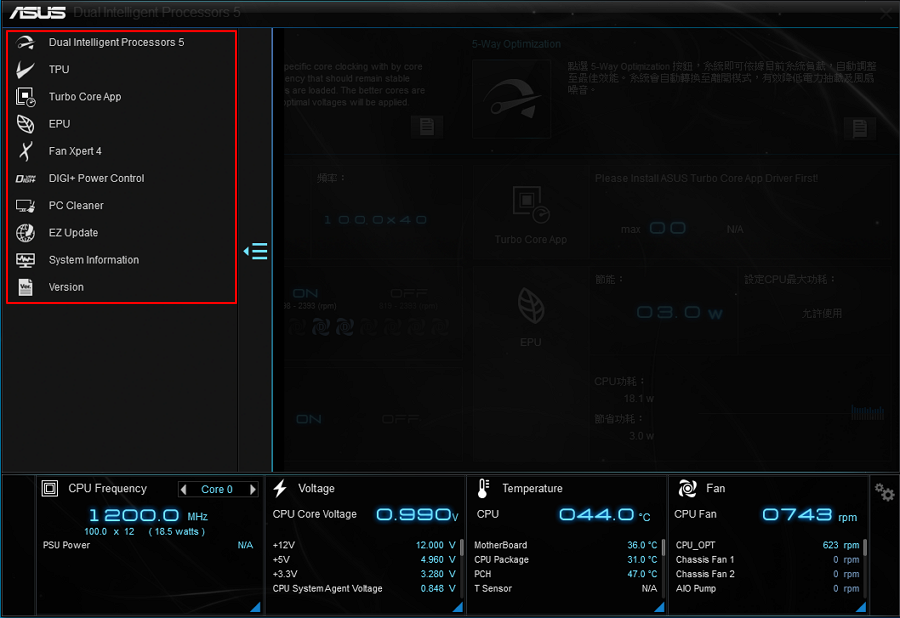 9. For each software, please refer to the related topics for more details.
System information provides the information of MB, CPU and SPD.
Version provides software version in AI Suite 3 and system version.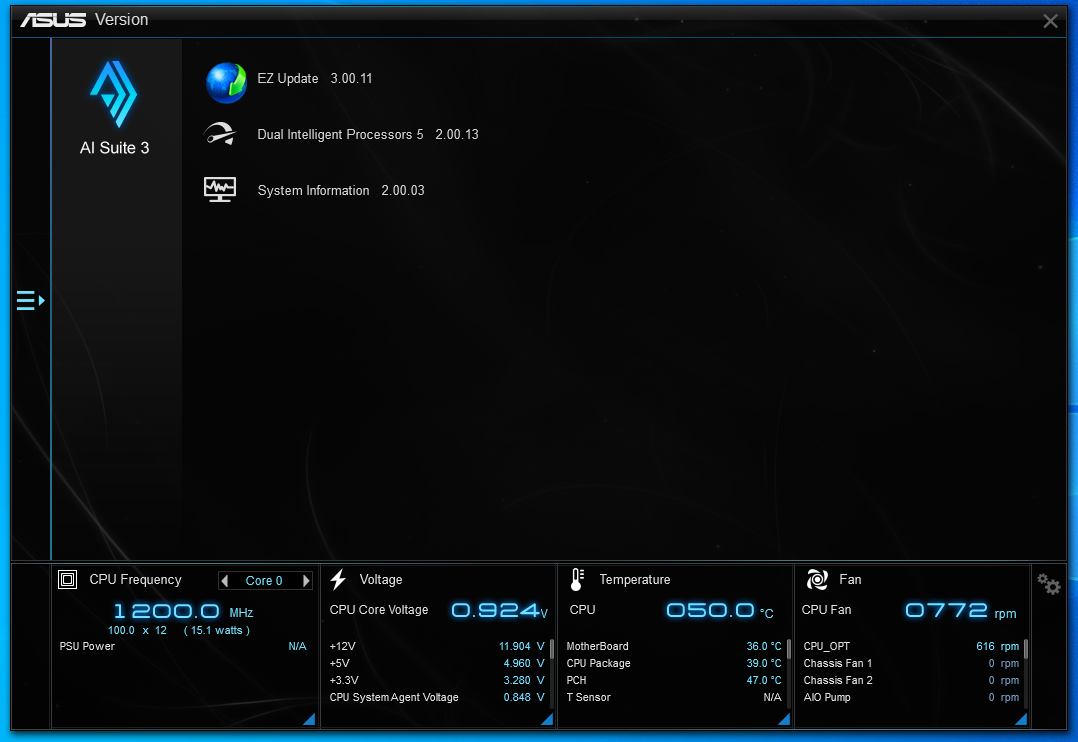 FAQ
Q1: How to install AI Suite 3?
A1:
Step 1: Go to ASUS download center. https://www.asus.com/support/Download-Center/
Step 2: Enter your model name.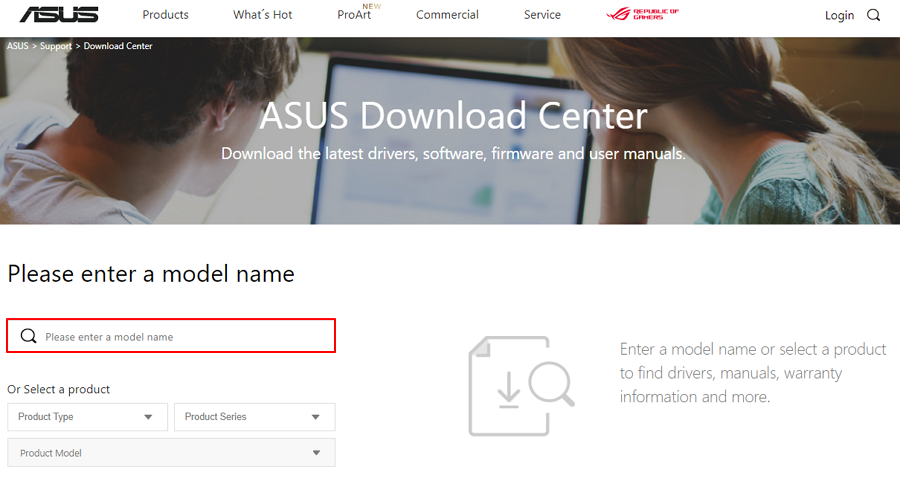 Step 3: Click Driver & Utility.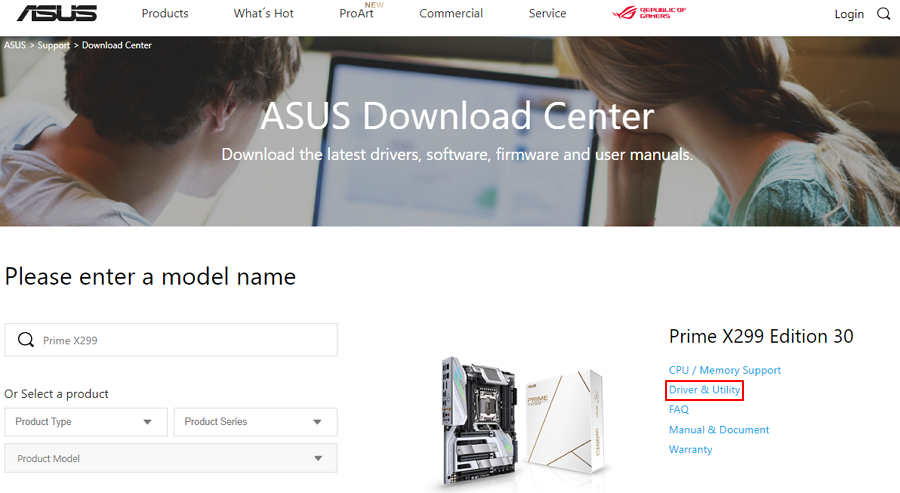 Step 4: Choose your Operating system and download the latest AI Suite 3 from Utility.

Step 5: Extract the files and open AsusSetup.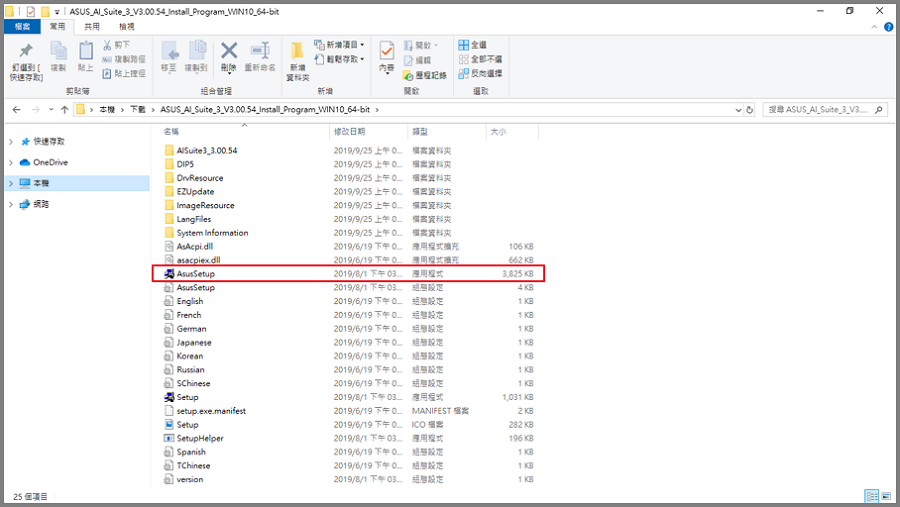 Step 6: Click the program you want to install, then click Install. (We recommend to install all programs that will help monitor your system more easily)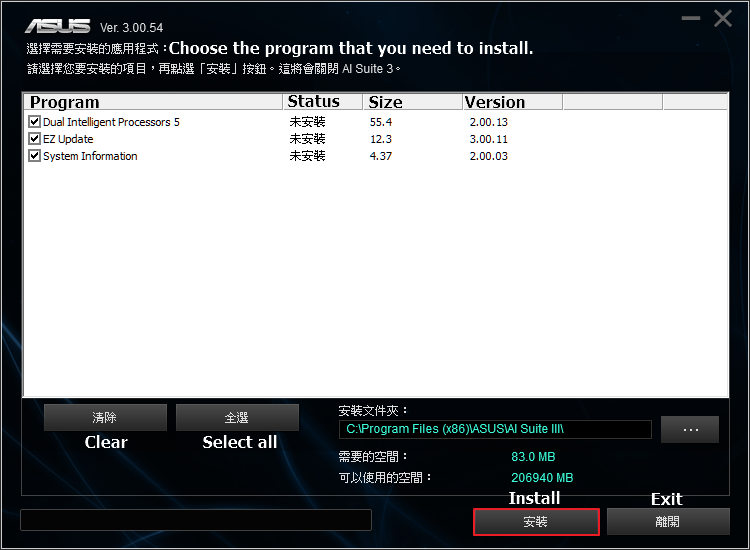 Step 7: Click OK when AI Suite 3 has finished the installation.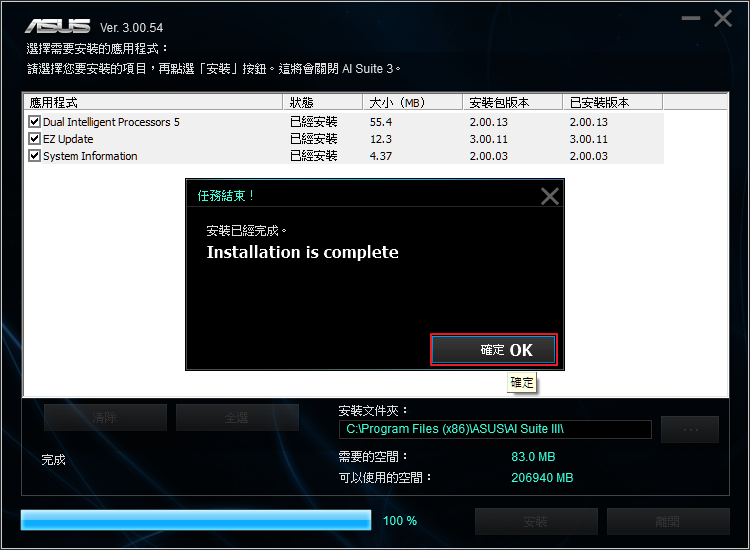 Q2: How to uninstall AI Suite 3?
A2:
Step 1: Open Windows settings, and click Apps.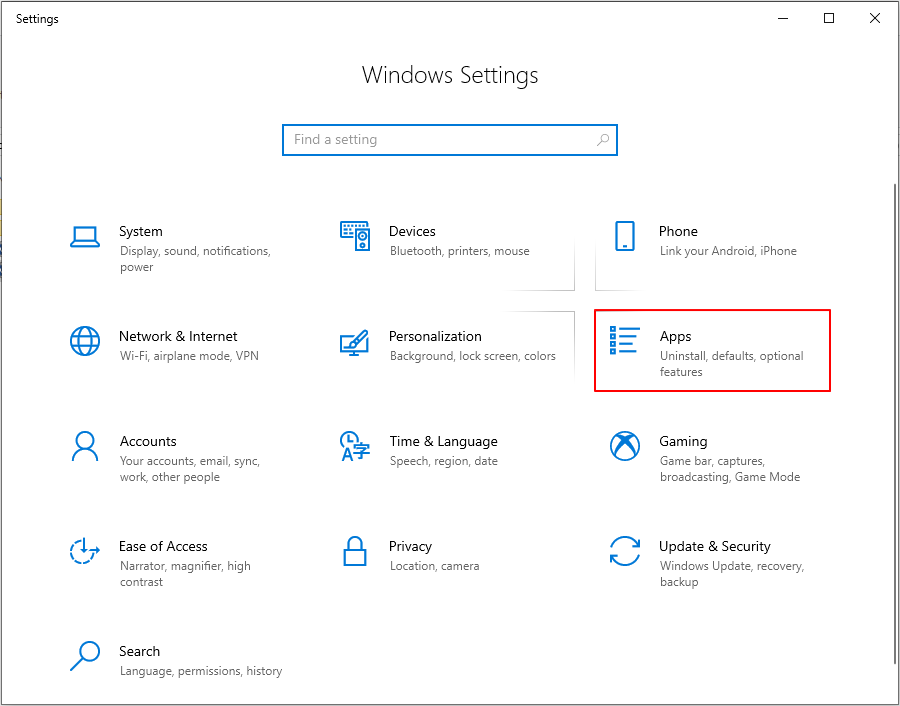 Step 2: Choose AI Suite 3, and click Uninstall.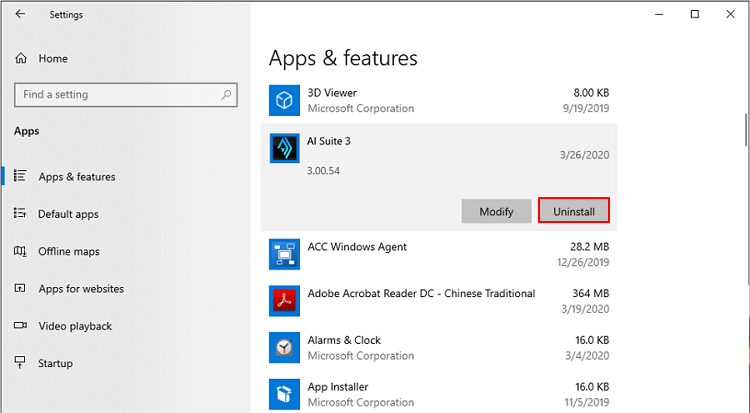 Step 3: Choose the program that you are going to uninstall and click Uninstall.