[Troubleshooting] ASUS Router Power LED flashing
The power light of your router flashes abnormally, please follow below steps to operate Rescue mode to fix this problem.
Support OS: Windows XP/7/8/10/11
To provide you more detailed instruction, you can also click ASUS Youtube video link below to know more about How to use Rescue Mode (Firmware Restoration)
https://www.youtube.com/watch?v=T8YKnpXxhx0
1. Download and Install the utility
Take router [RT-AC68U] and OS Windows 10 as examples.
1-1 Go to https://www.asus.com/, search for the model name of your router.

1-2 Under the product page of your model, click [Support]

1-3 According to your router specification, download the latest version of firmware and unzip it.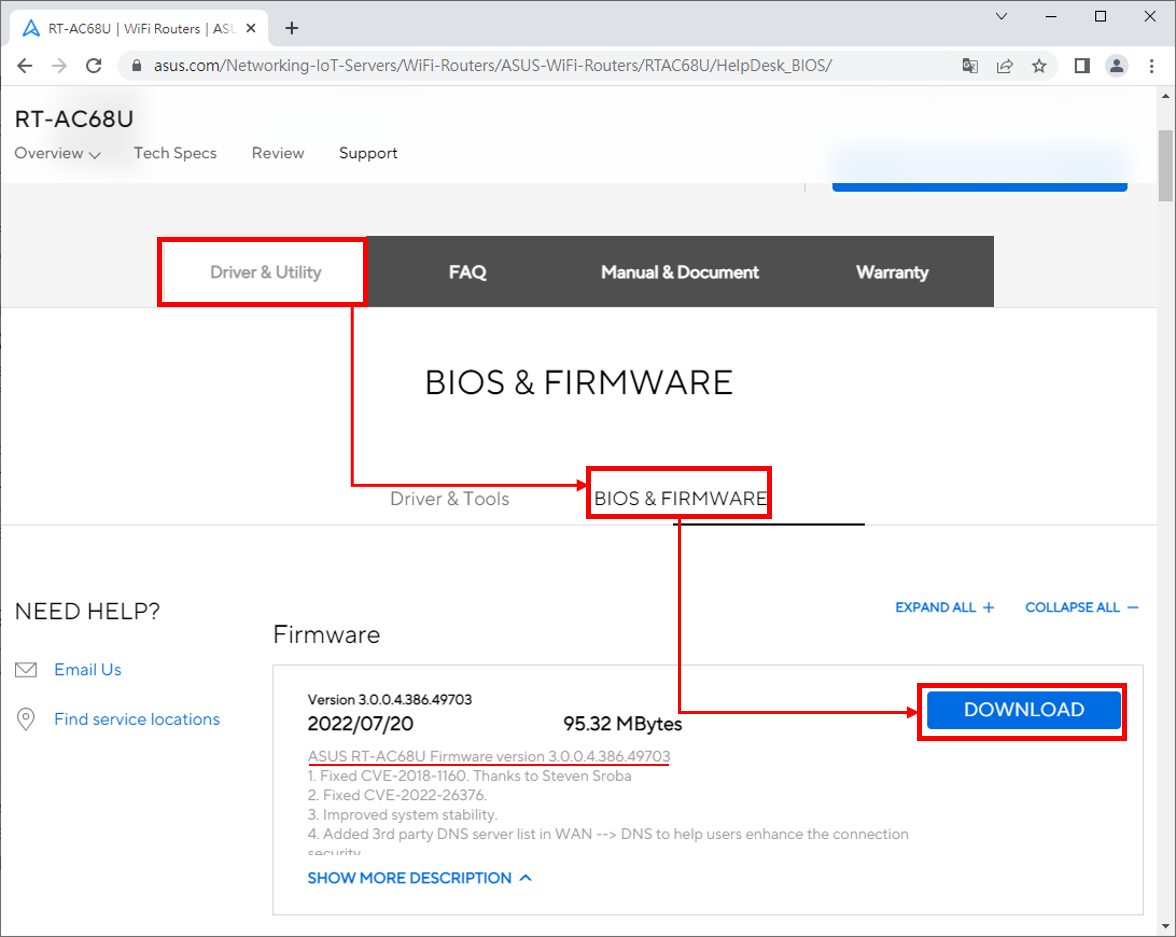 Notice : The firmware you've downloaded must be unzipped so that it can be uploaded by the Firmware Restoration.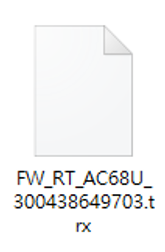 1-4 Click [Driver & Utility] and choose your Operation System.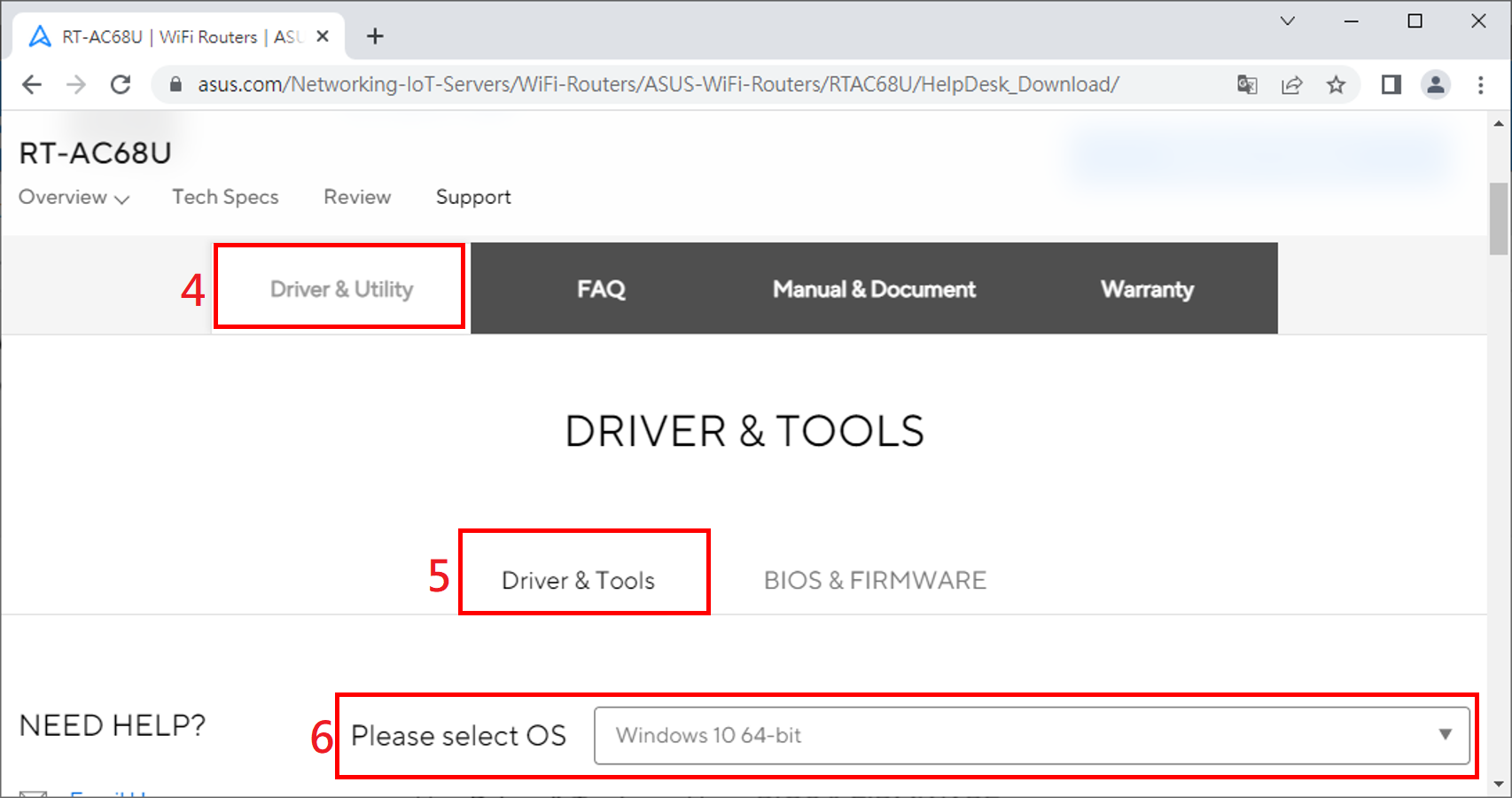 1-5 Find [ASUS Firmware Restoration], and click [Download].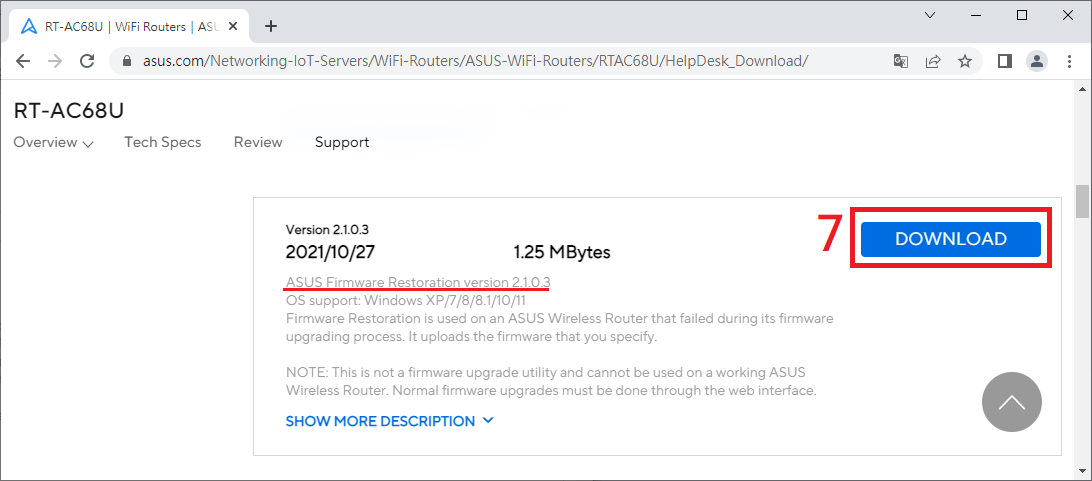 1-6 After the download process completes, click the zip file.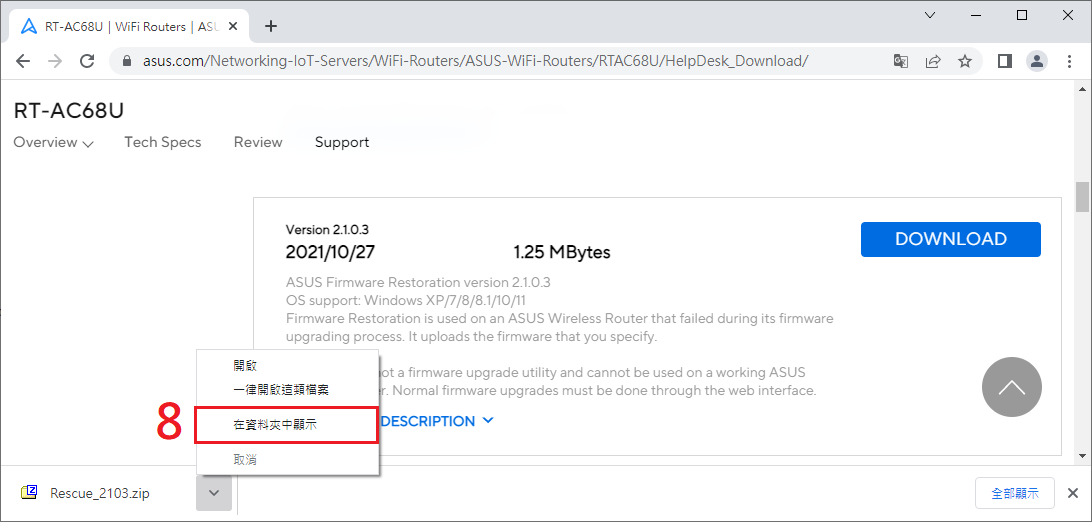 1-7 Click the Application: Rescue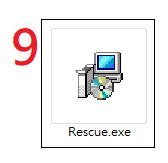 1-8 Choose the language and then follow the InstallSheild Wizard to complete the installation process.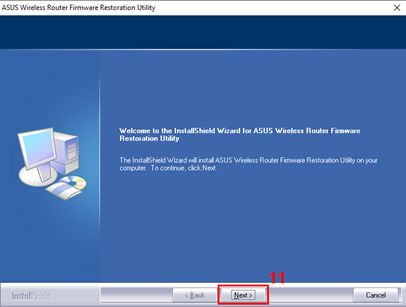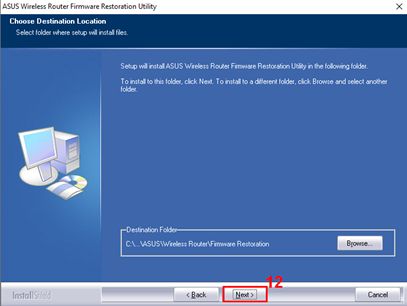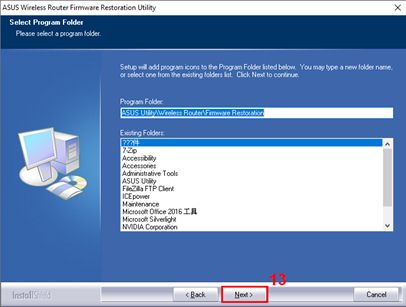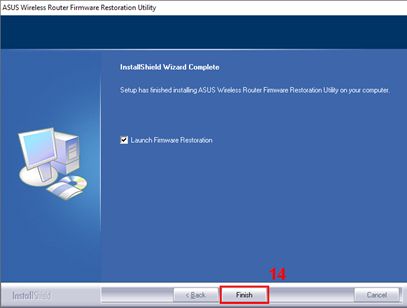 1-9 After the installation completes, you can find Firmware Restoration from [Start] > [ASUS Utility]
2. Change Network adapter Settings
2-1 Use the internet cable to connect your router with your computer.
2-2 Click [Start] > [Settings] in your computer
2-3 Click [Network & Internet]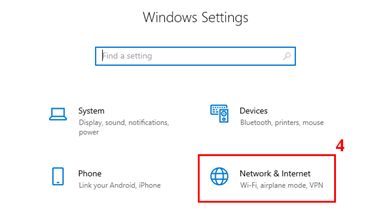 2-4 Click [Change adapter options]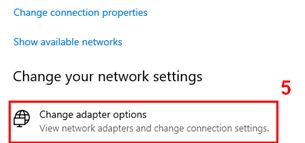 2-5 Choose your LAN.

2-6 Right-click on the [Properties]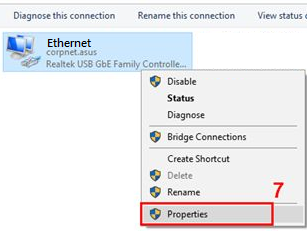 2-7 Click [Internet Protocol Version 4(TCP/IPv4)] > [Properties]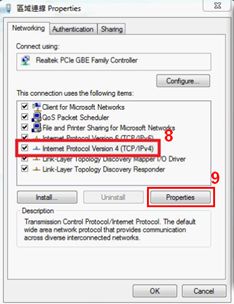 2-8 Change the properties as following:
IP address: 192.168.1.10
Subnet Mask: 255.255.255.0
Then click [OK]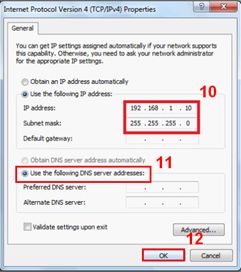 2-9 Finish the setting, then click [OK]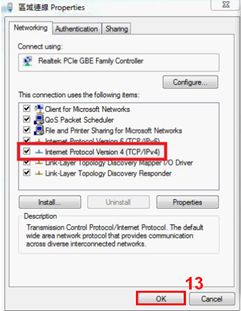 3. Set up the Router Rescue Mode
Take [RT-AC68U] as an example
3-1 Unplug the router's power cord.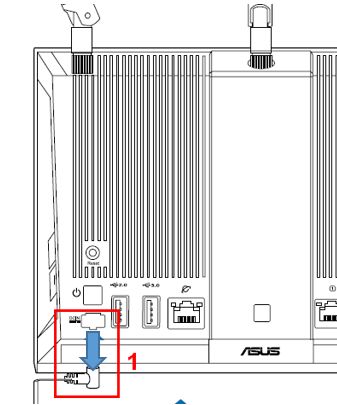 3-2 Press the Reset button.
Keep long pressing the Reset button and plug the cord to DC IN at the same time.
Notice: Please DO NOT release the Reset button until the Rescue Mode is enabled.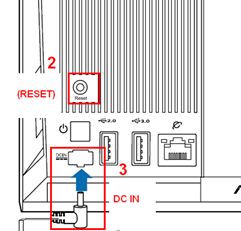 3-3 The router turns to the Rescue mode when you see the power indicator light is slowly flashing.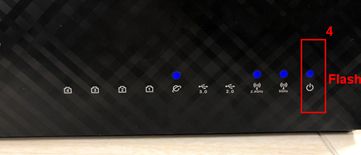 3-4 Click [Start] > [ASUS Utility] > [Firmware Restoration]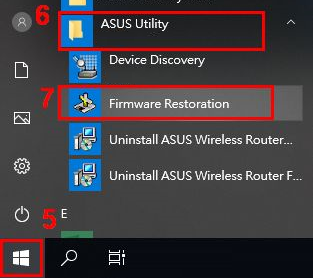 3-5 Click [Browse], and choose the Firmware you downloaded previously.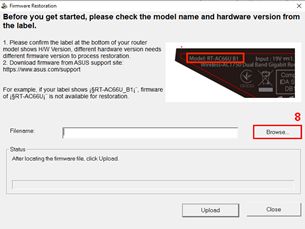 3-6 After choosing the file, click [Open]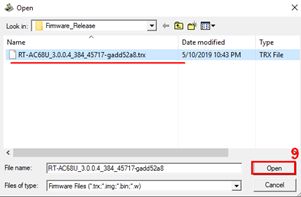 3-7 Click [Upload]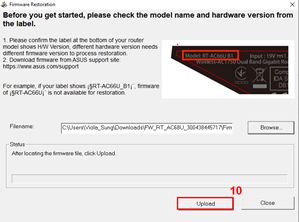 Notice: Before uploading the file, please make sure that you already turn your router to the Rescue Mode.
Otherwise you can't use Firmware Restoration to do the firmware update.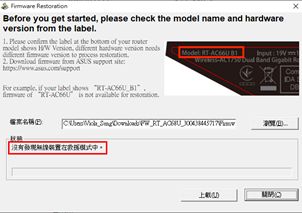 3-8 After you check your router is in the Rescue mode.
Click [Upload] and then wait for around 1 min.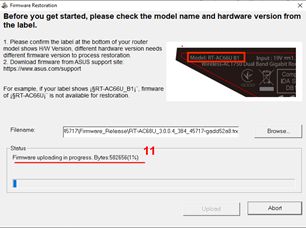 3-9 Steady power light indicates the setting procedure of Rescue Mode has been completed successfully.
Wait for the router to reboot and then click [Close].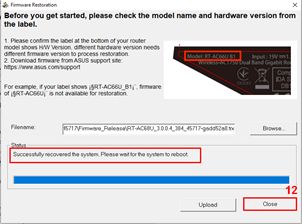 Notice: After the Rescue Mode setting completes, please restore theTCP/IPv4 to the original default settings.
1. Click [Start] > [Settings]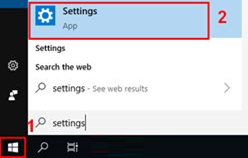 2. Click [Network & Internet]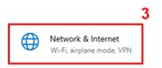 3. Click [Change adapter options]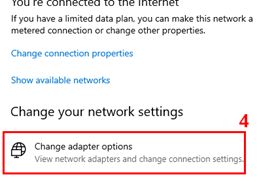 4. Click your LAN> Right-click [Properties]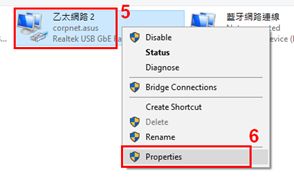 5. Click [Internet Protocol Version 4(TCP/IPv4)] > [Properties]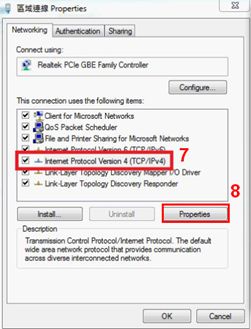 6. Click [Obtain IP address automatically] & [Obtain DSN server address automatically] > Click [OK]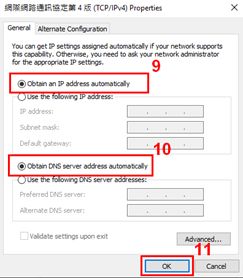 7. After completing firmware update and adapter settings, you can enter router settings page.
If you try to upload the firmware by using Firmware Restoration multiple times and still can't solve the problem, please contact ASUS Customer Service Center.