[Troubleshooting] Cannot use smart phone to share internet through the ASUS router
1. According to spec, LTE series router (4G-AC68U, 4G-AC55U, etc) do not support the function to use 3G/4G for USB wireless dongle or Android phone as a USB modem.
If you wants to use internet that is bond to the SIM card, you may directly insert the SIM card onto the router for LTE internet.
2. Update your firmware regularly to get the latest updates for your router. You can either update on ASUSWRT or update manually.
Please make sure the firmware of the router is up to date.
[Note] For the information of how to upgrade firmware, please refer to [Wireless] How to update the firmware of your router to the latest version ? (ASUSWRT) | Official Support | ASUS Global

3. Please confirm your smart phone setting
Smart phone setting>>Setting >> connection and network >>Enable USB connection
Please contact your smartphone manufacturer for detailed settings.
4. Please confirm setting of USB tethering is correct
The default APN Configuration and PIN code may vary with different providers.
The related information needs to be confirmed with your mobile network or Internet Service Provider (ISP)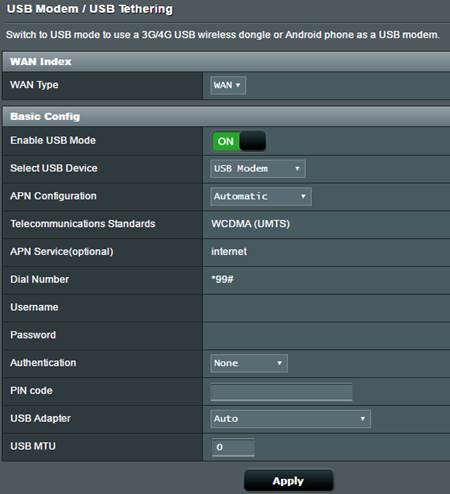 How to get the (Utility / Firmware)?
You can download the latest drivers, software, firmware and user manuals in the ASUS Download Center.
If you need more information about the ASUS Download Center, please refer this link.