[AiMesh] How to locate AiMesh router and the node for the best signal?
For AiMesh introduction, please check https://www.asus.com/microsite/AiMesh/en/index.html
1. We recommend placing the AiMesh node between your AiMesh router and the existing dead zone. A Dead zone is the place where your NB or phone always get bad signal/reception.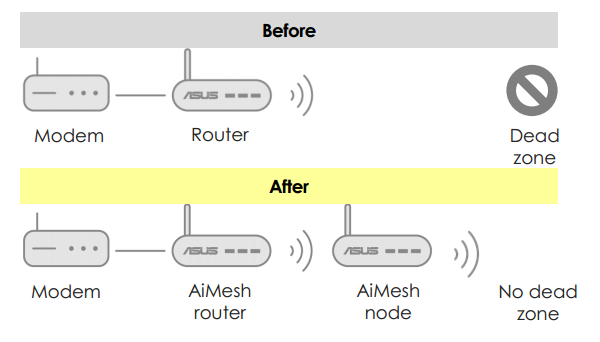 2. Position the AiMesh router and node aimed high and in open space.
3. You can monitor how many devices are connected to the AiMesh node and how good the reception is from the AiMesh router. If you find the AiMesh node gets bad signal from AiMesh router, please move them closer toward each other. You can access this information by using the ASUS Router App or Web GUI.
Please refer to How to enter the router setting page(Web GUI) (ASUSWRT)? to learn more.
Note: ASUS wireless routers have different features depending on the model, before using this feature, please refer to the product specification page to confirm that your router supports the above features.
Please refer this Video
To provide you more detailed instruction, you can also click ASUS Youtube video link below to know more about How to Extend Your WiFi with ASUS AiMesh.
How to get the (Utility / Firmware)?
You can download the latest drivers, software, firmware and user manuals in the ASUS Download Center.
If you need more information about the ASUS Download Center, please refer this link.