[Wireless Router] How to enable the Roaming Assistant on ASUS Router?
Roaming Assistant feature :
In network configurations which involve multiple Access Points (AP) or wireless repeaters, clients with wireless devices sometimes cannot automatically connect to the best available AP because their device is still connecting to the main wireless router. Enable the Roaming Assistant feature so the client's device will automatically disconnect from the main wireless router if the signal strength is under specific threshold and it will connect to a stronger signal.
Step1. Connect your computer to the router via wired or WiFi connection and enter your router LAN IP or router URL http://www.asusrouter.com to the WEB GUI.
Please refer to How to enter the router setting page(Web GUI) (ASUSWRT)? to learn more.
Step2. Key in your router's username and password to log in.
Note: If you forget the user name and/or password, please restore the router to the factory default status and setup.
Please refer to [Wireless Router] How to reset the router to factory default setting? for how to restore the router to default status.
Step3. From the Advanced Settings, go to [Wireless] > [Professional] tab > Select Band and enable Roaming Assistant.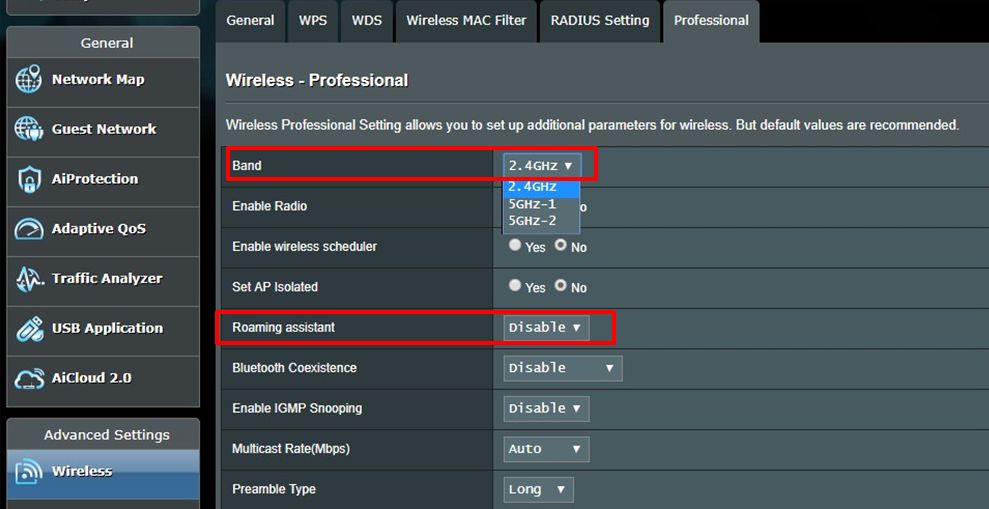 Step4. After enabling the Roaming Assistant, you can set up the value for "Disconnect clients with RSSI lower than -70 (default value) dBm", which can be also modified by yourself. Then click Apply to save the settings.
How to get the (Utility / Firmware)?
You can download the latest drivers, software, firmware and user manuals in the ASUS Download Center.
If you need more information about the ASUS Download Center, please refer this link.