[Notebook] MyASUS - Introduction
New Experience in MyASUS
New Interface Design
Quick Access Options
Fast Account/Product Registration
Easy System Status Monitoring

*Features may different from software structure or models. (learn more

here

)
MyASUS Home Page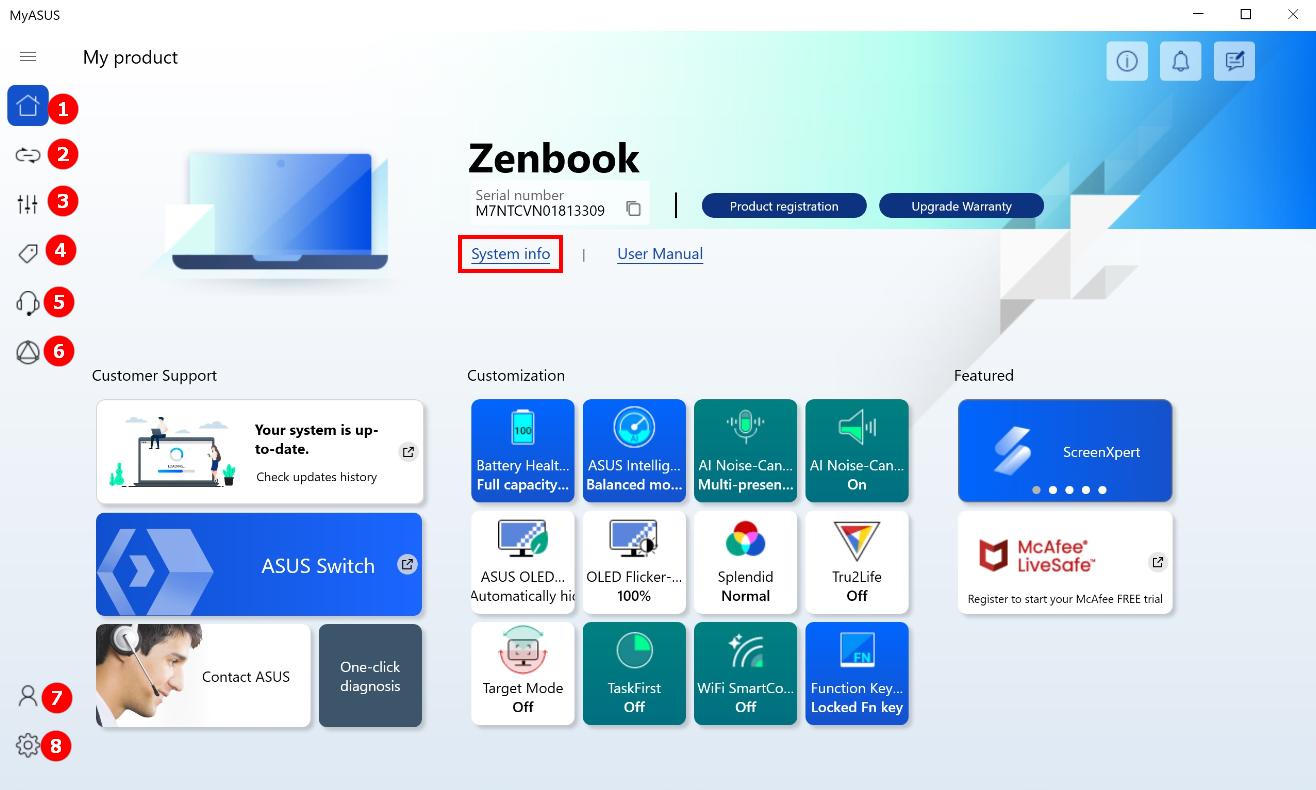 System info
User can find software and hardware information about the system by clicking "System Info".
System software includes operating system and BIOS version.

System hardware includes processor, graphic card, wireless card, storage and memory information.

1. Home
The Home Page display the main features of MyASUS, users can enter appropriate pages by clicking the buttons on the Home page to access further settings and details.
Besides, user could click on "One-click diagnosis" to run system diagnosis directly.
2. Link to MyASUS (*Not available for Windows 10 S)
The Link to MyASUS menu allows users to connect their mobile phones to the laptop and gain ability to control the phone functions directly from the computer screen.
The Customization menu allows users to fine-tune their laptops according to their unique needs — whether it's customizing the usage experience, ensuring top-notch performance, or increasing battery life and overall device longevity.
[Power & Performance]]
[Audio & Visual]
[Connectivity]
[Input Device Settings]
[Privacy & Security]
4. ASUS Promotion
ASUS Promotion menu gives users updates on latest exclusive offers.
[AppDeals]: The [AppDeals] tab allows users to quickly and conveniently download various third-party apps. In addition, you can also find updates on latest exclusive deals, discounts, and recommendations tailored to you (*Not available for Windows S mode)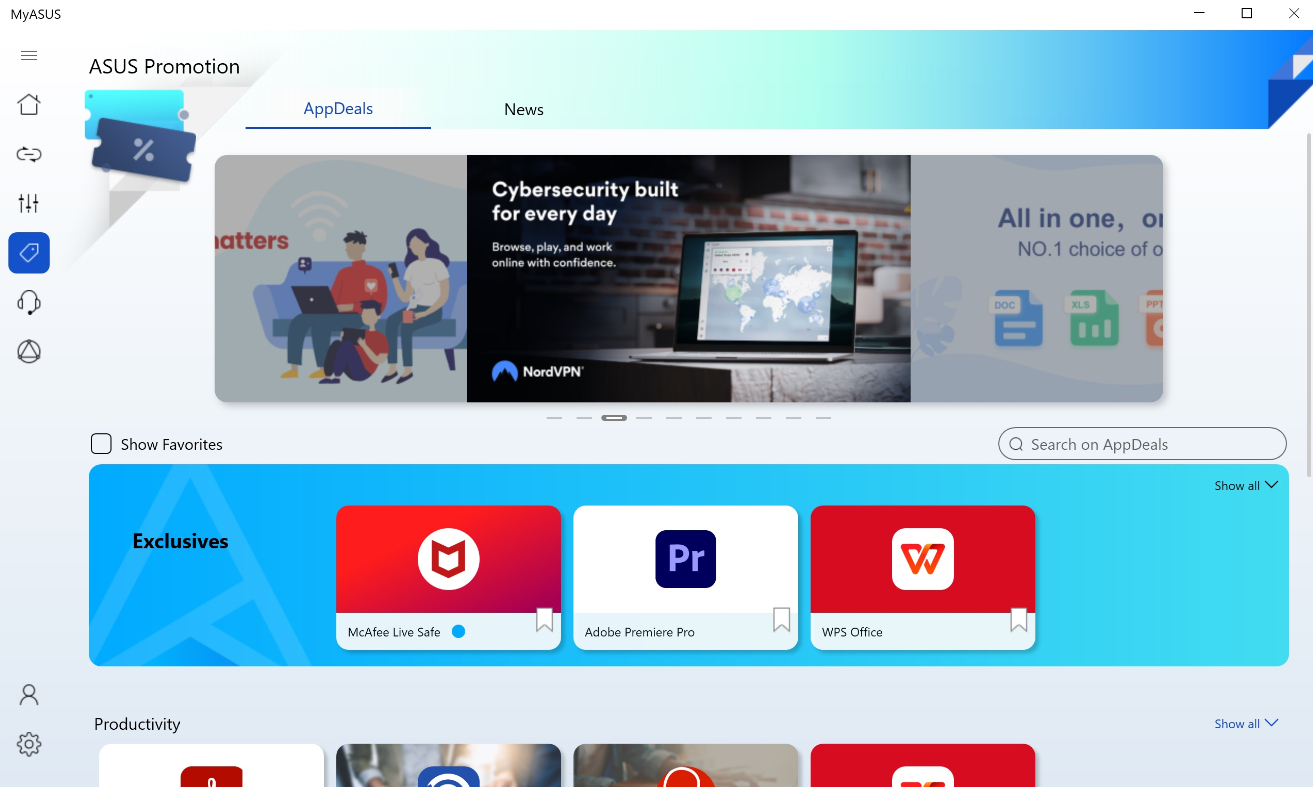 To access the apps you want to use, simply select them from the menu, and click the [Get it now] button to download and install.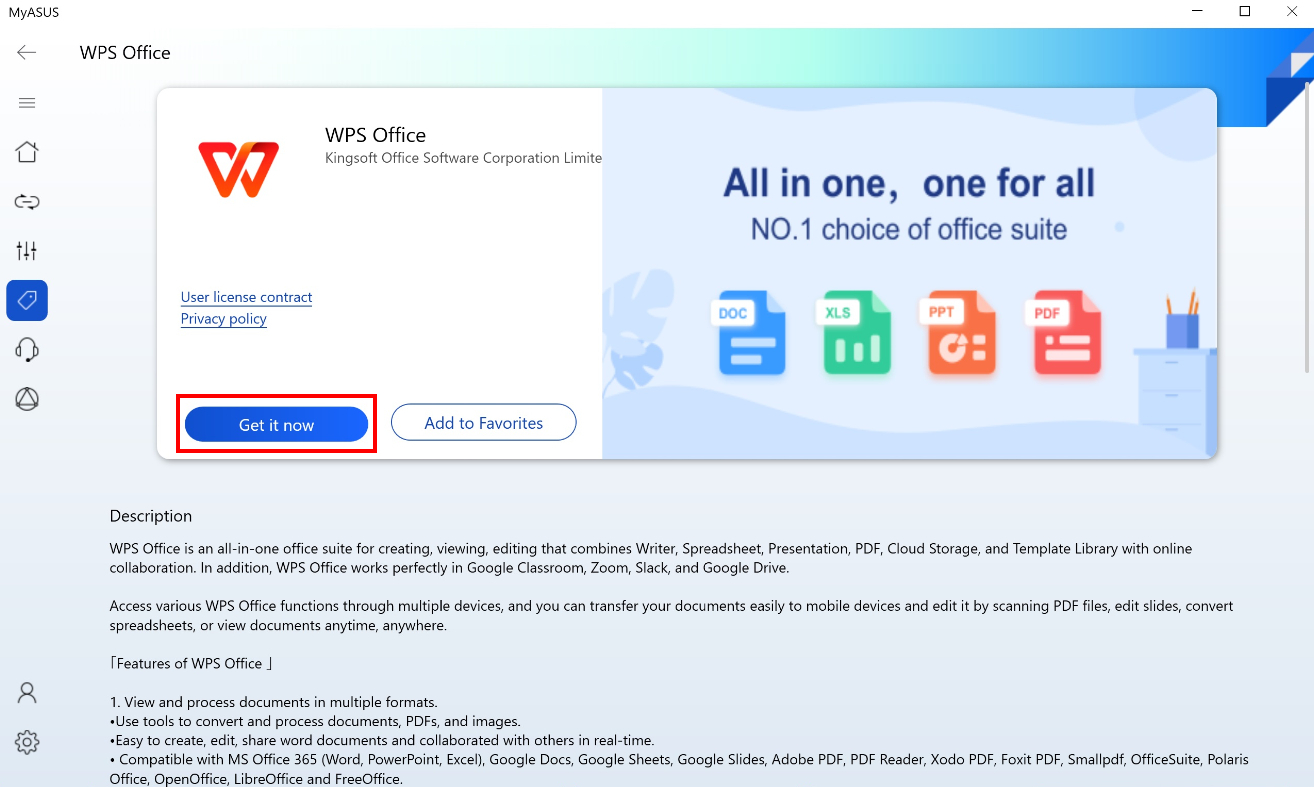 *Note: In MyASUS V2.0.17.0 or later, Giftbox has been renamed as AppDeals.
[News]: In the [News] tab, users can find the latest information about new products, events, and others.
You could agree to MyASUS privacy policy settings to subscribe for ASUS messages.

The Customer Support menu is where users can find help for laptop troubles — whether DIY, or seeking specialists' help.
[System Diagnosis]: In the [System Diagnosis] tab includes tools that help identify any problems that users may encounter with their laptops. It automatically reports the sources of the issues and provides instant fixing suggestions. It also helps our customer service representatives identify problems quickly and efficiently when repairing your laptop.(*Not available for Windows S mode)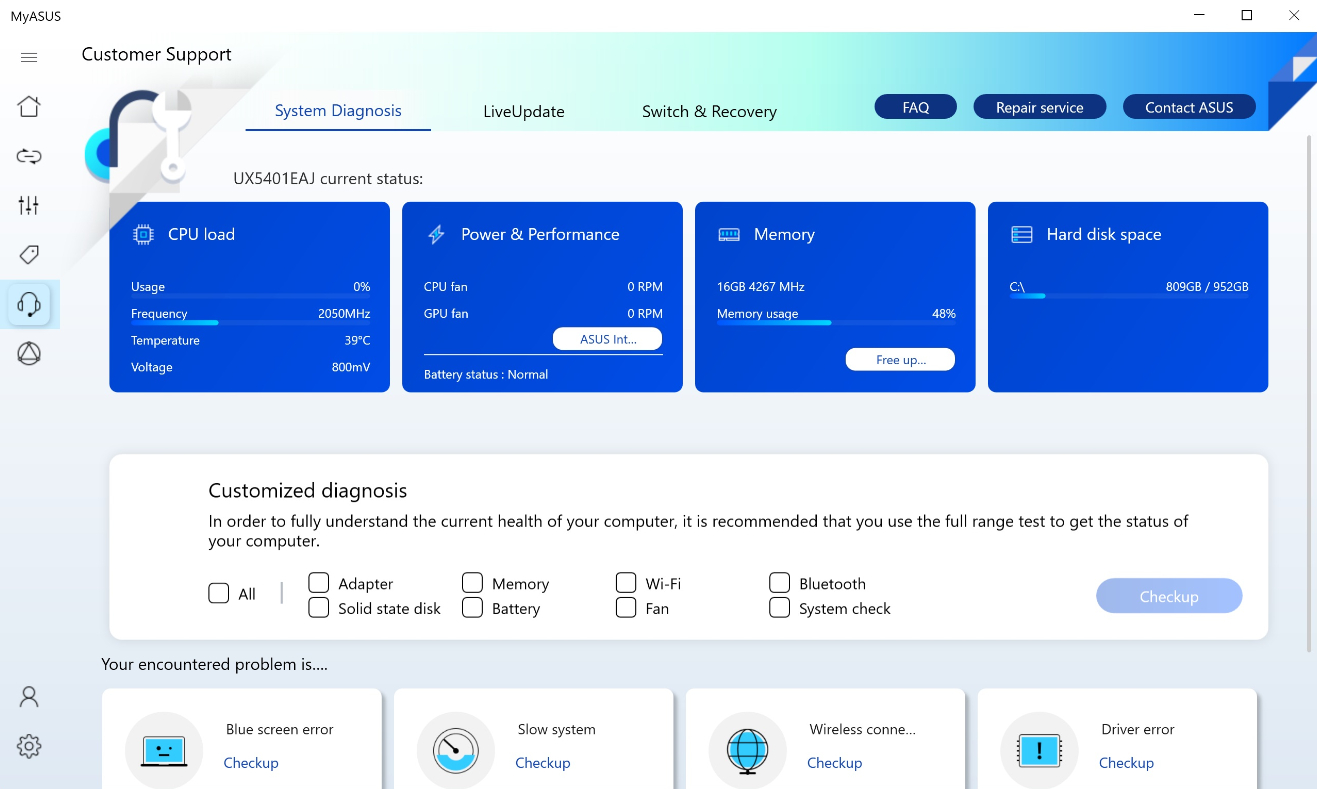 [LiveUpdate]: In the [LiveUpdate] tab, users can find information about updates and other reminders, refreshed daily.
In the Essentials menu, you can directly update various software, including BIOS, drivers, and firmware. (*Not available for Windows S mode)
In the Latest menu, you can download the drivers and install manually.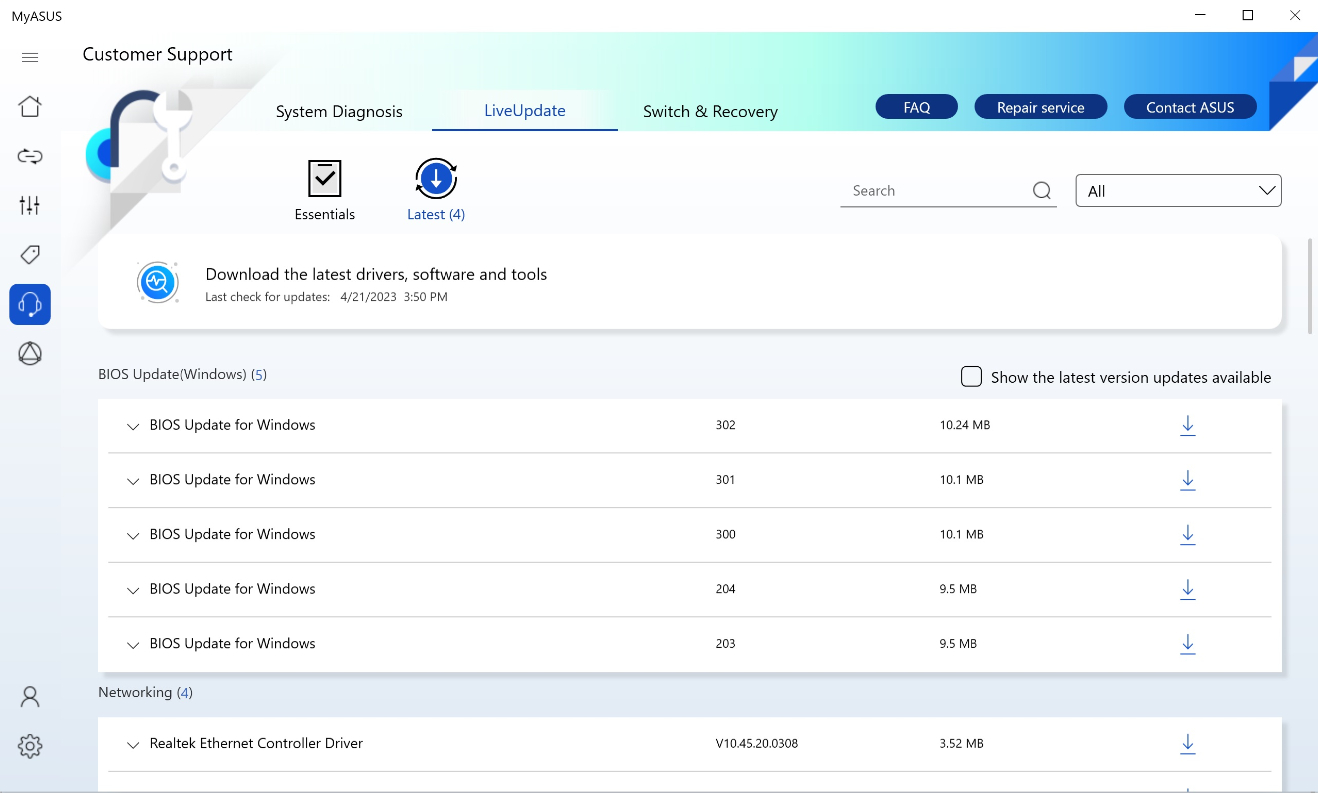 [Switch & Recovery]:The [Switch & Recovery] tab is responsible for ensuring you are safeguarded against all possible trouble and making the transition to new device quick and easy. Learn more here.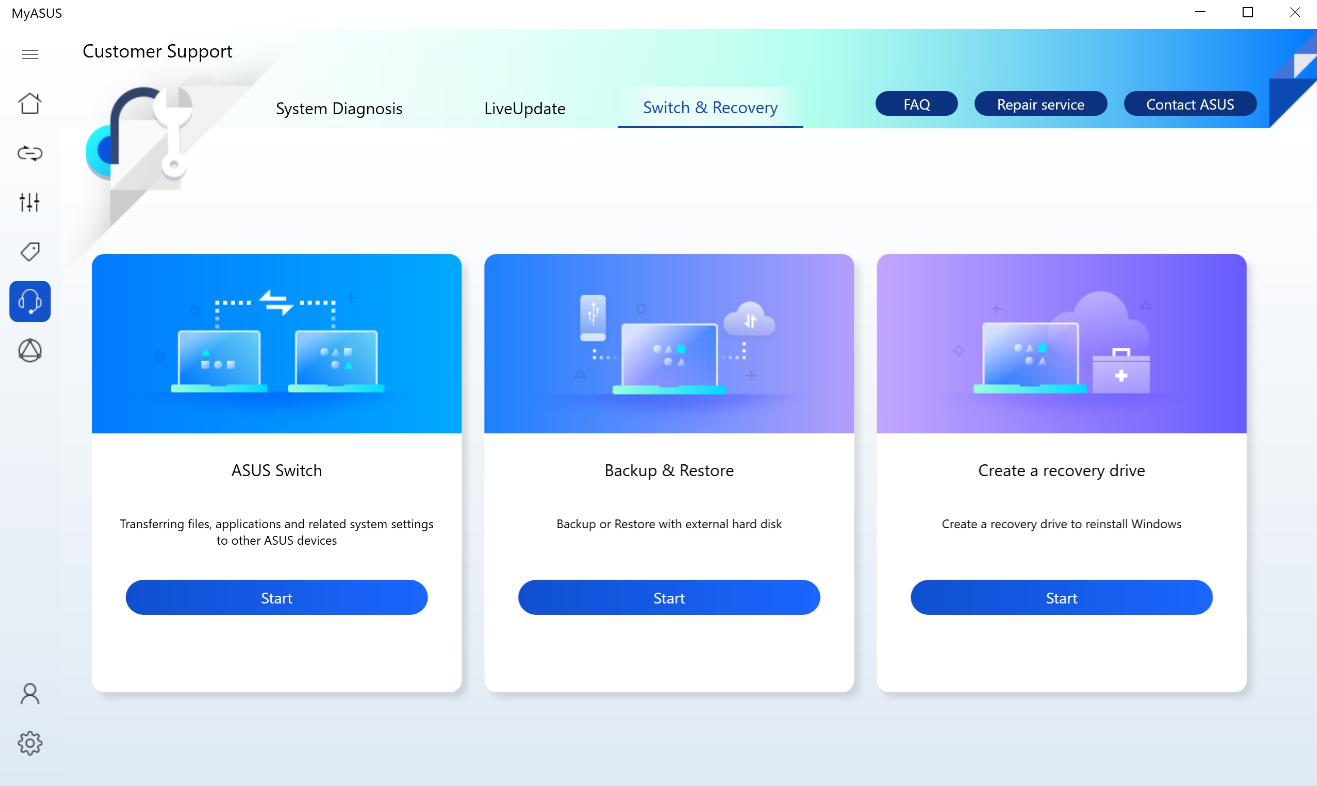 The ASUS Switch function provides a simple way to transfer your data, applications, and settings between ASUS laptops.
The Backup & Restore function gives users an ability to create a backup or restore information from an external hard disk or Dropbox in one click.
Create a recovery drive function in MyASUS creates a system repair drive. This can be used to rest the computer when the system crashes of the laptop wouldn't start. If you back up the system file to the repair drive, you can also use the system file to reinstall Windows.
6. ASUS One
In the ASUS One menu, you can quickly and conveniently find the ASUS branded application, and connect ASUS Routers and ASUS Display to tailor-fit their settings and functions
to your own needs.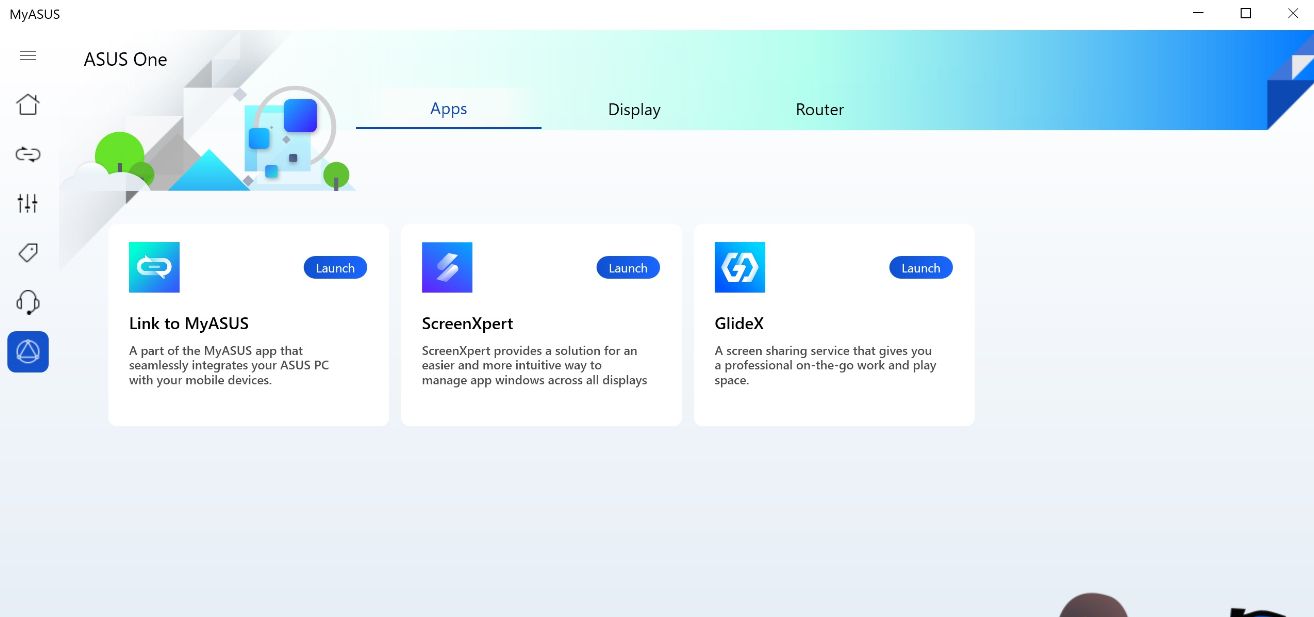 7. User Center
The User Center menu is where you experience the ownership of ASUS products.
The [My product] section allows users to register their ASUS products quickly and easily.
In the [Exclusives] section, users can redirect to ASUS Store for the best deals for ASUS products.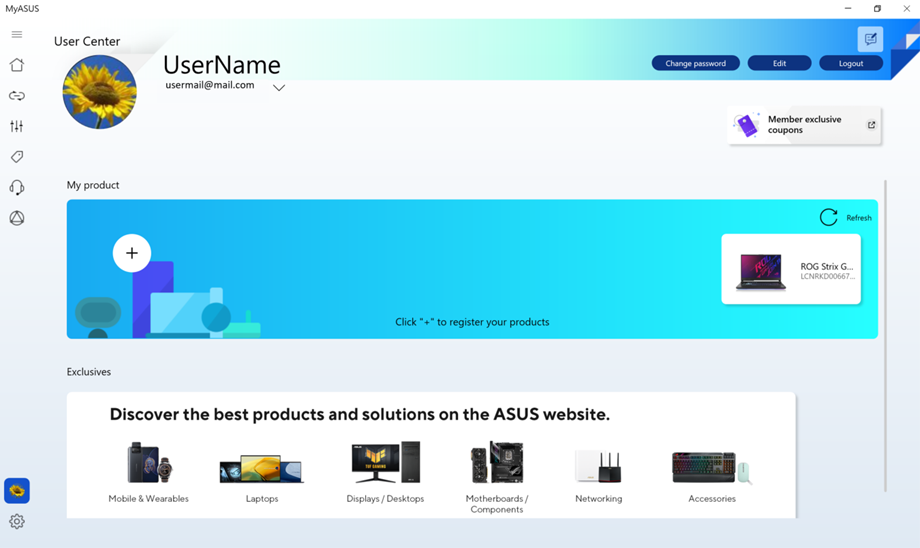 8. Settings
The Settings menu is where users can adjust their MyASUS experience.
In the [General] tab, users can adjust language settings, see privacy terms, modify their subscription to ASUS, and others.
In the [Announcements] tab, users can see important announcements related to MyASUS.
In the [About] tab, users can check the current app version, see the Privacy Policy, or read the Terms of Use Notice.
How to get MyASUS?
MyASUS is pre-installed on all ASUS computers compatible with MyASUS. You can also download it from the ASUS website by following the steps below, or visit the link for more details:
https://www.asus.com/support/FAQ/1035376/
1. Visit ASUS website at asus.com.
2. Find [MyASUS] in Software and Utility menu. Click [DOWNLOAD].

3. It will lead you to the Microsoft Store page. Select [Get to APP].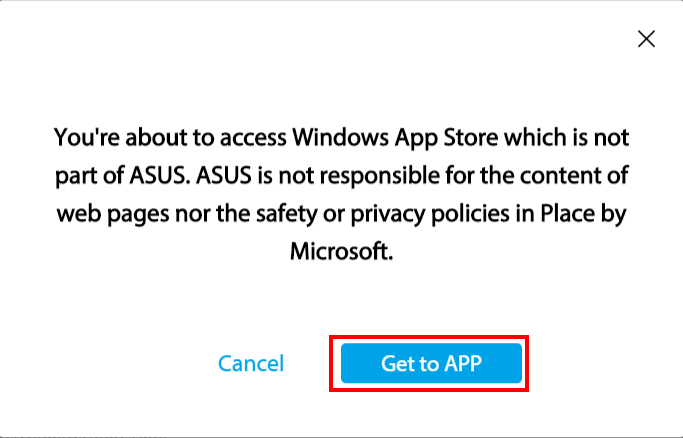 4. Click [Get], and login to your Microsoft account to download the application. Follow the prompts to install.

How to uninstall MyASUS.
If you want to uninstall the app, please refer to the link below:
https://www.asus.com/support/faq/1013598
Troubleshooting
Q1: How to check which driver version should be installed on my device ?
A: Open "Device Manager" > Check the unknown devices > Right click to Properties > Access Detail tab > Select Hardware Ids from property menu > Check if it's ASUS2018 or ASUS1000
If ASUS1000, install ASUS System Control Interface
if ASUS2018, install ASUS System Control Interface V3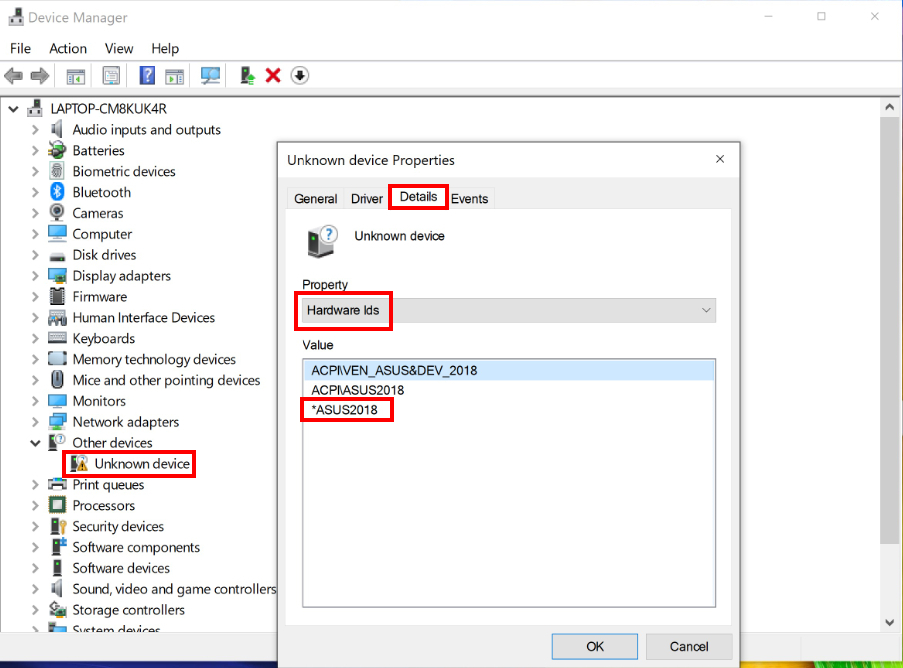 Q2: Why can I only see the partial features in the MyASUS app?
A: Please refer to : [Notebook] MyASUS - Why can I only see the partial features in the MyASUS app?
Q3: How do get the latest version of MyASUS or ASUS System Control Interface V3?
A: You can update the drivers via the Windows Update. Alternatively, you can update the MyASUS app from the Windows Store.
For more details, please refer to : How to use Windows Update in OS system?
Q4: Troubleshooting common issues when using MyASUS
A: Most issues can be solved by updating or reinstalling drivers or the MyASUS app. Please try the steps listed in following articles first when facing common issues with the MyASUS app:
1. Updating Windows10 drivers: Please refer to How to use Windows Update in OS system?
2. How to check for MyASUS driver updates: Please refer to How to update MyASUS?
3. Uninstall and re-install MyASUS: Please refer to How to install MyASUS ?
4. If your problem cannot be solved by methods above, you can directly share your problems and suggestions to ASUS via Give feedback function in MyASUS.
If the problem cannot be solved after the above troubleshooting, you can directly put forward problems and suggestions to ASUS through Give feedback of MyASUS.
For more information, please refer to Give feedback in the menu.
Download MyASUS now to experience perfect service. Click the banner below!