Related Topics
[Motherboard] Armoury Crate - Introduction
Overview
Armoury Crate is a software utility designed to provide centralized control of supported ROG gaming products. From a single interface, Armoury Crate put command of all your AURA gear at your fingertips with the new Aura Creator suite ready. The software also provides control of settings for a growing number of ROG products, making it easier to tune the look and feel of your system. Armoury Crate even offers dedicated product registration and ROG new feeds to help you stay in touch with the ROG gaming community.
System Requirement
1. Armoury Crate is only supported on Windows® 10 RS3 or later. Ensure your Windows OS is updated to Windows® 10 RS3 or later.
2. Ensure the Aura application is not installed on your device, if the Aura application is already installed on your device, please uninstall it before installing or updating Armoury Crate.
3. Ensure the device you wish to install Armoury Crate on has a steady network connection.

Starting from the Intel 600 / AMD X670E series, the Fan Xpert functionality will be integrated into Armoury Crate.
For motherboards below the Intel 600 / AMD X670E series, please refer to this LINK to visit the instructions to use Fan Xpert:
Menu Introduction
*This article take the PRIME Z490-A motherboard for example, menu list may vary from different motherboard.
1. Select [Dashboard]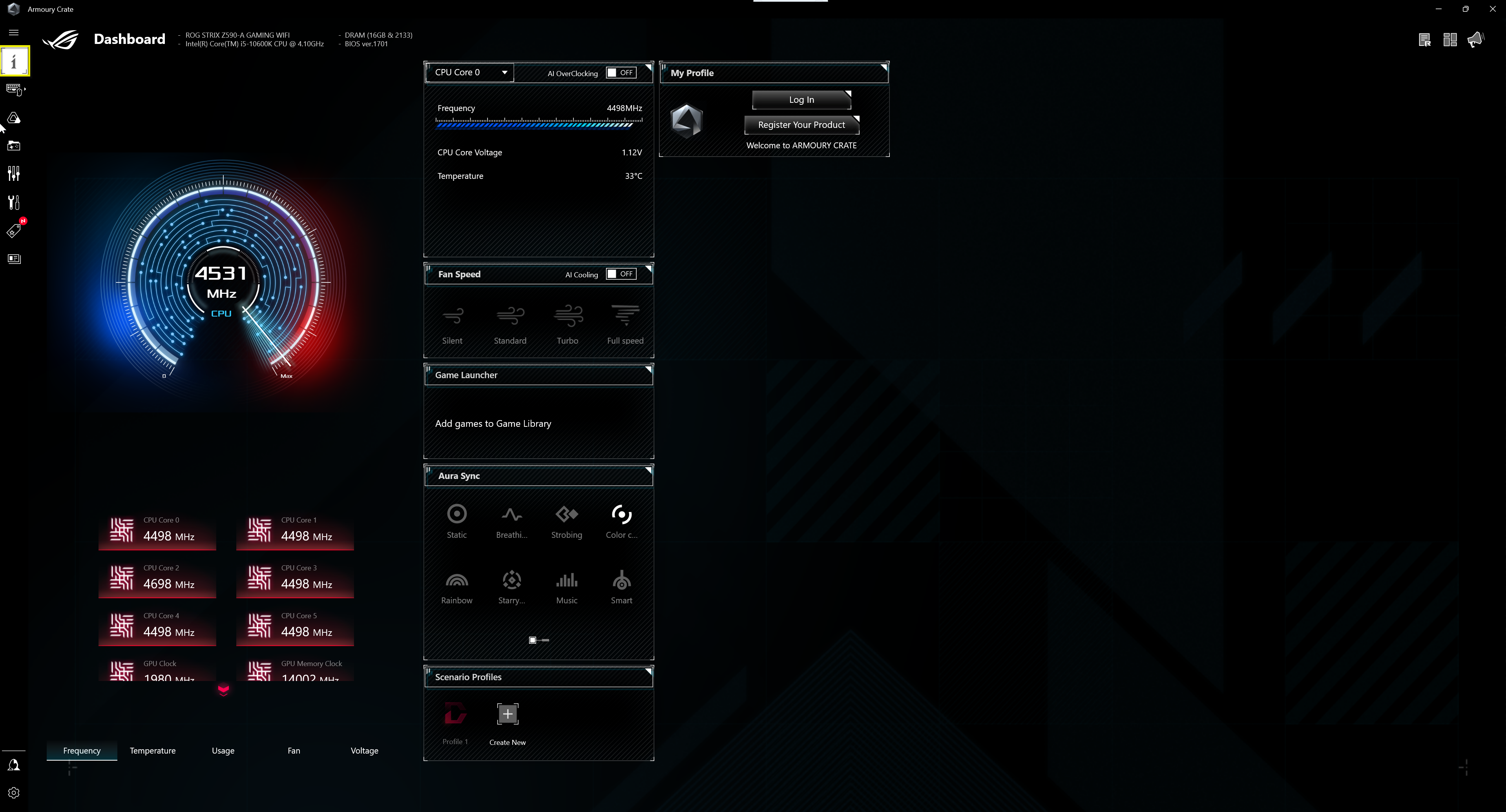 2.To modify fan speed settings, you can choose a preset mode from the menu below. The selected mode will be applied to all fans.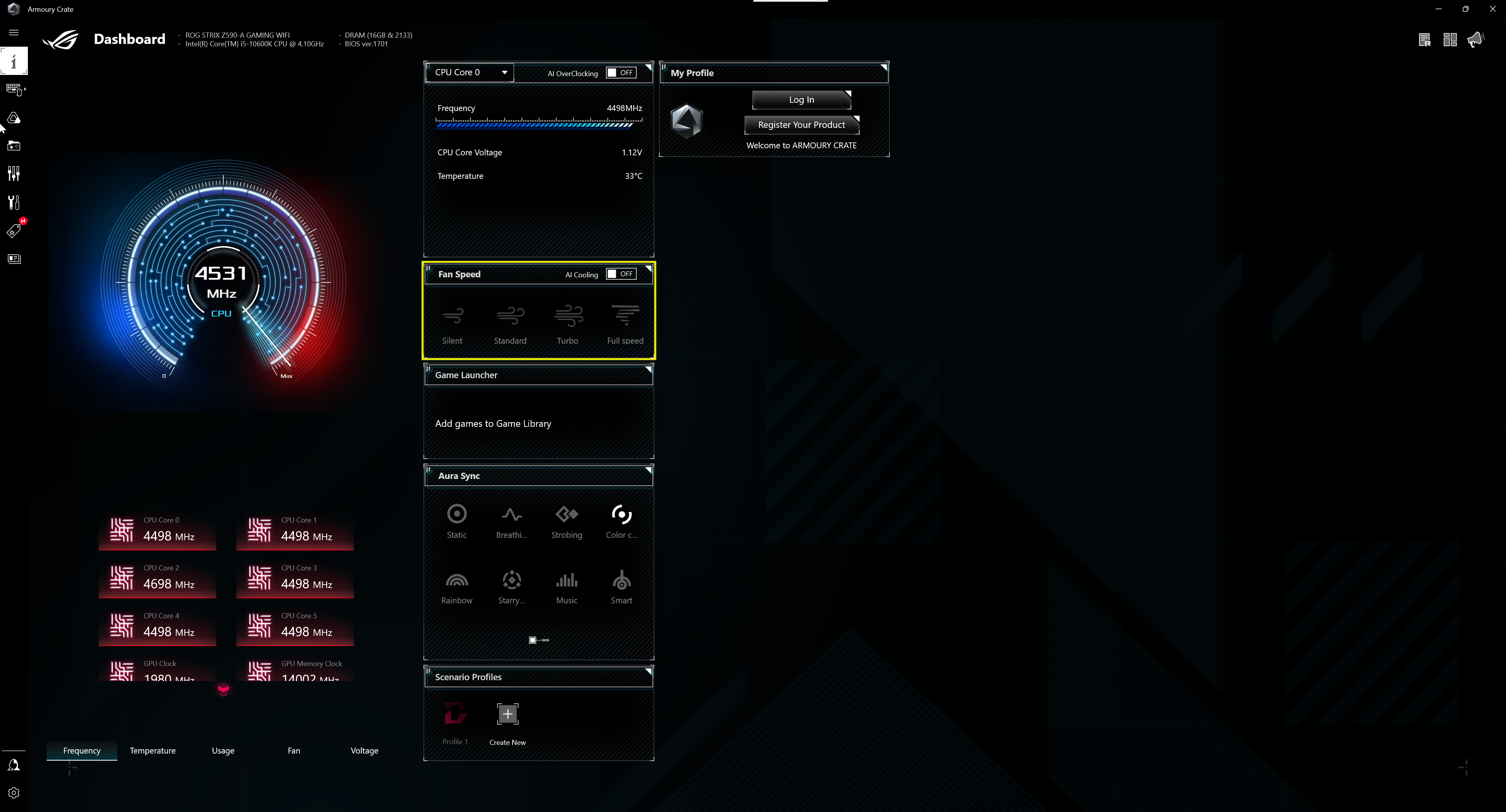 3. To activate AI Cooling to automatically adjust fan acceleration and deceleration times based on device temperatures, preventing drastic changes in fan speed over short periods.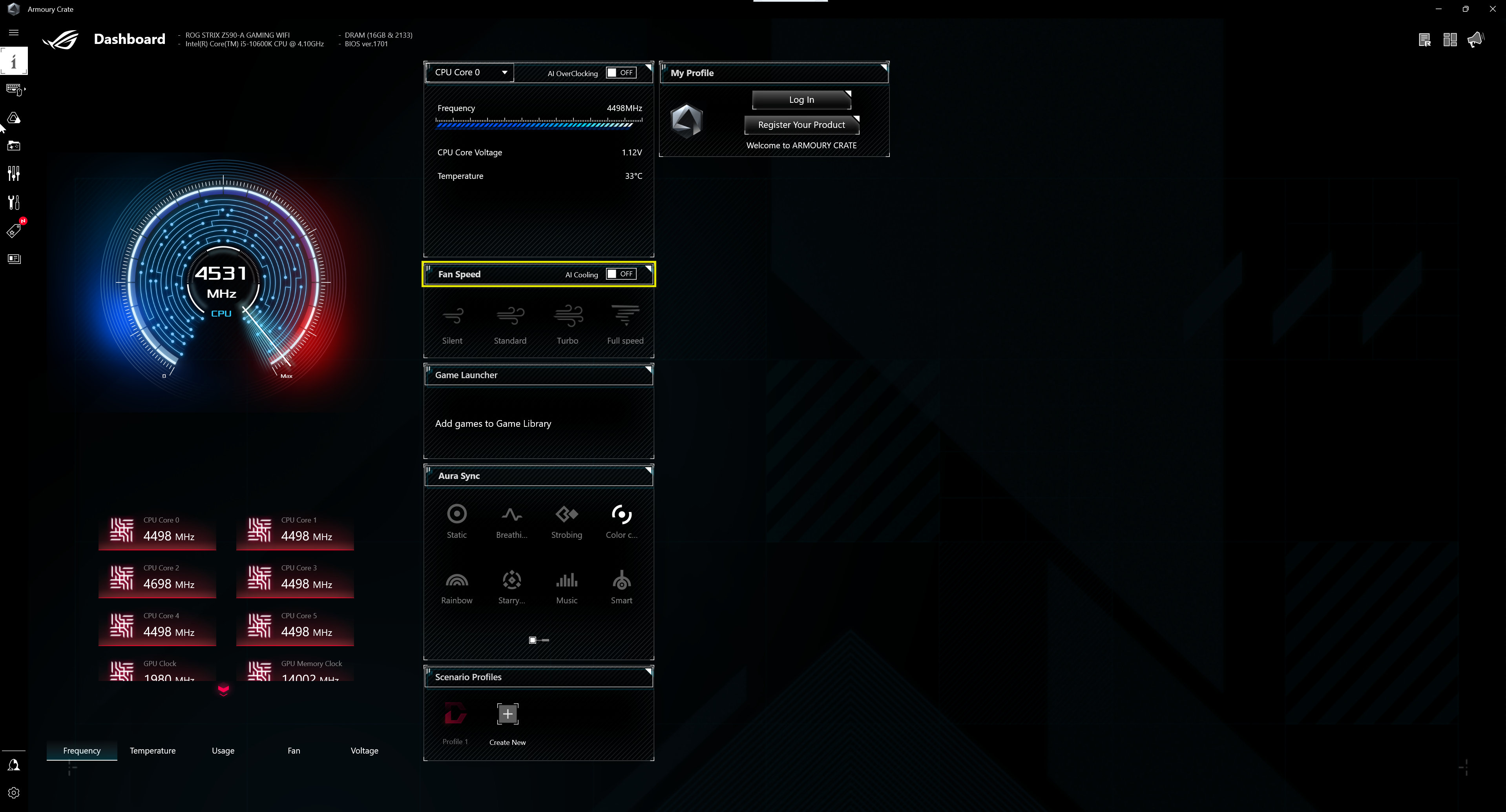 Select the [Fan] menu below to view the operating status of all fans.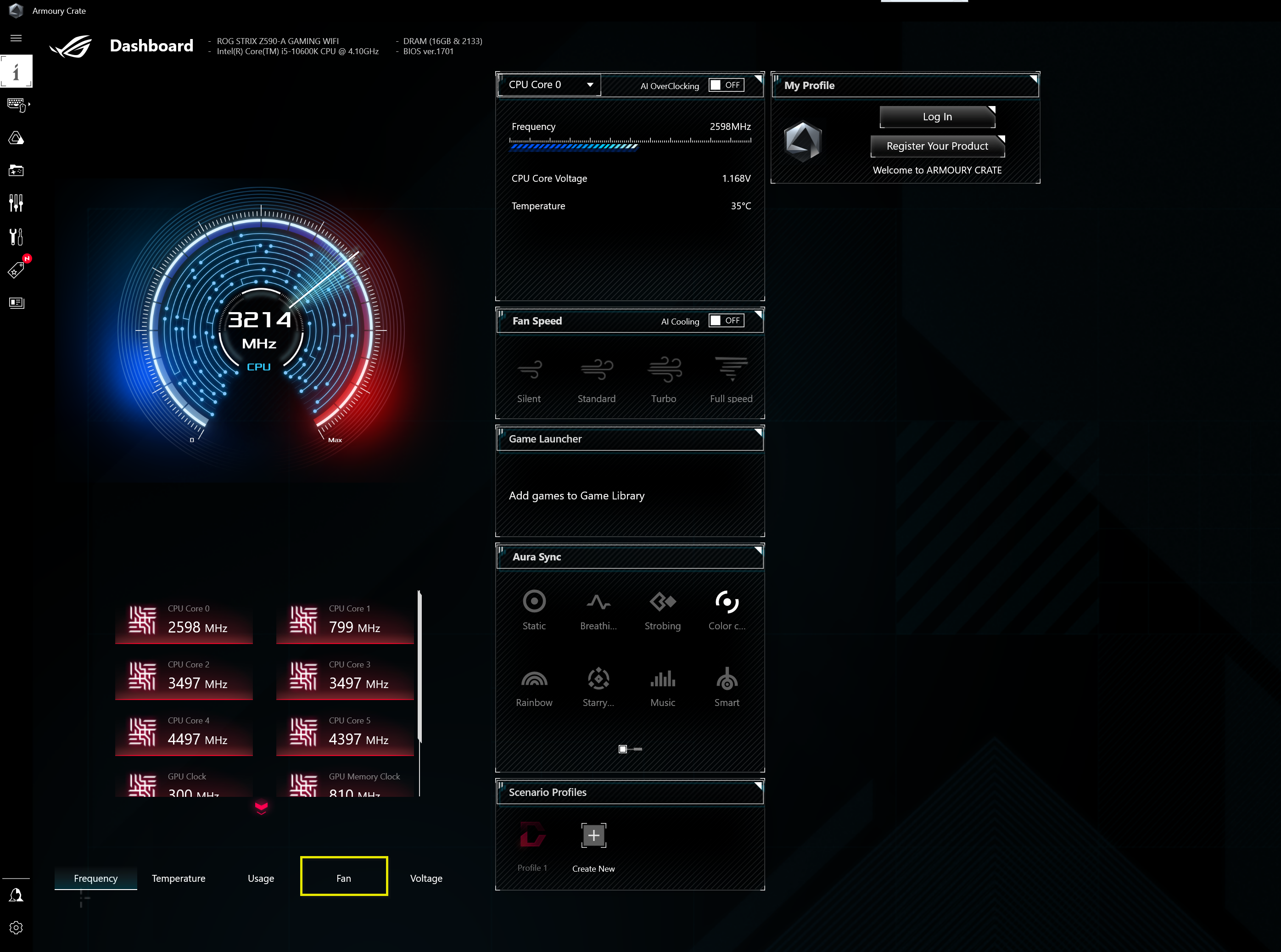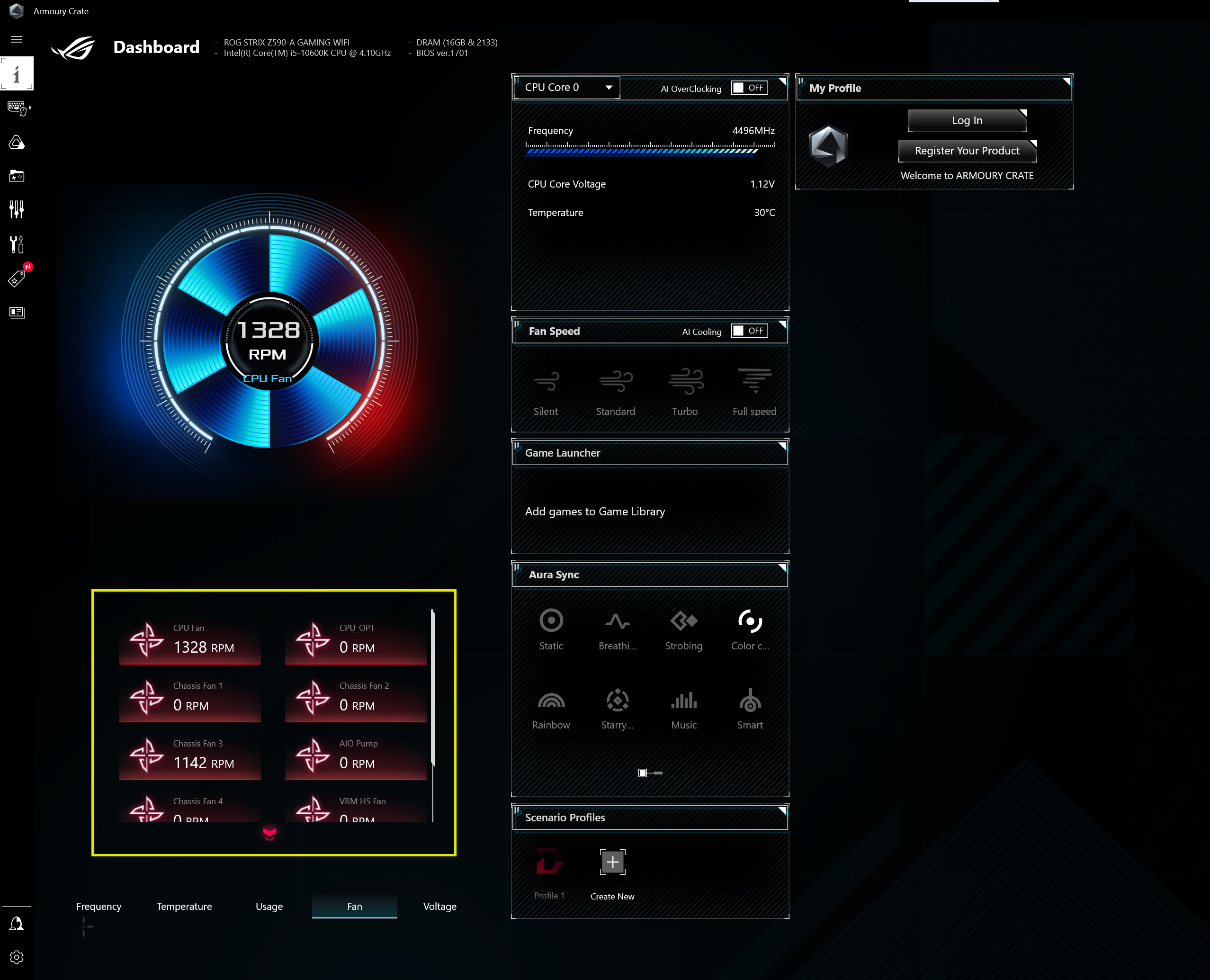 Main menu
Click

to open main menu.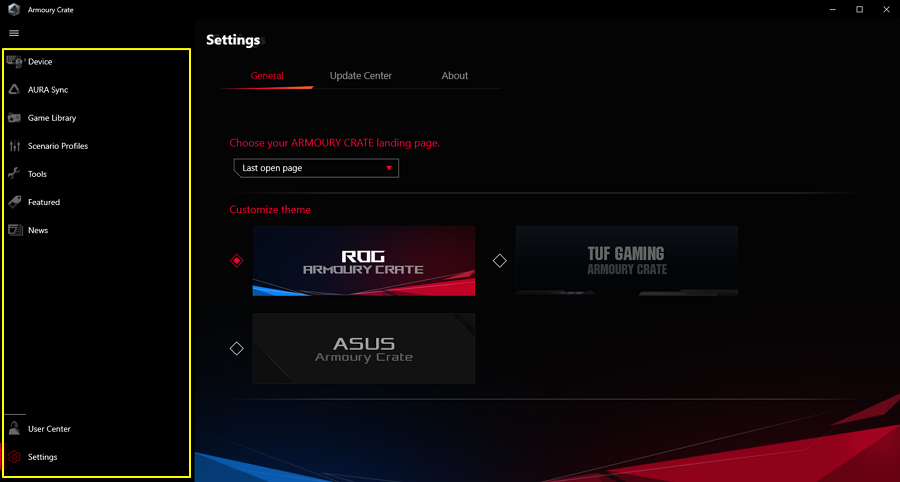 Device
Click device, then choose your motherboard.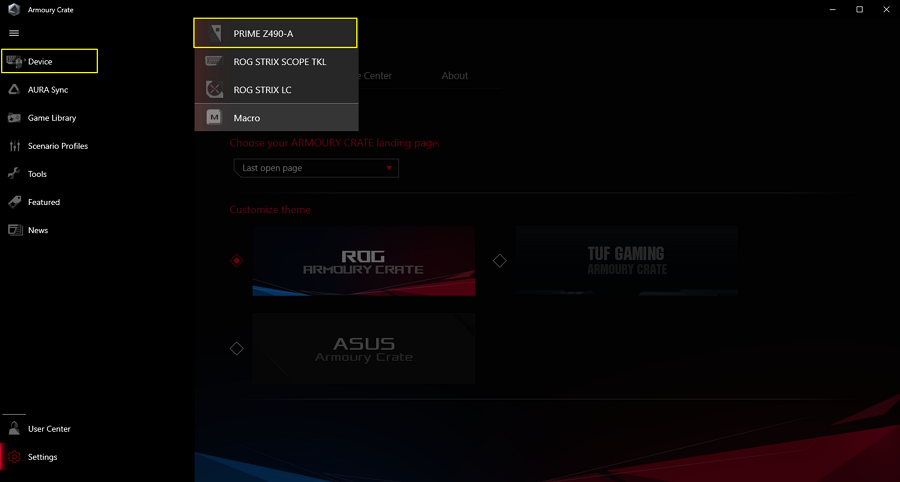 Device→PRIME Z490-A→Shutdown Effect
1.Click ON/OFF to use/close shutdown effect.
2.Chooose basic effects(Static/Breathing/Strobing/Color Cycle/Rainbow/Starry Night).
3. Choose Speed/color.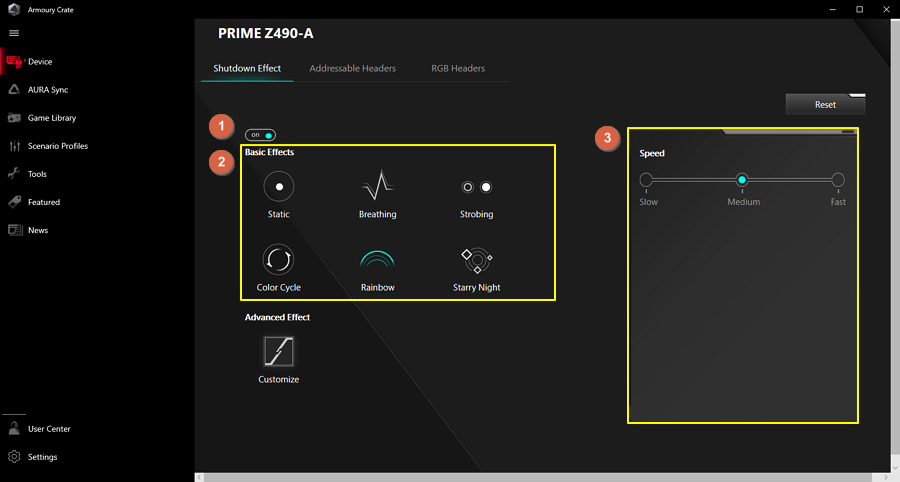 Device→PRIME Z490-A→Addressable Headers
Follow the instruction to setup your addressable headers.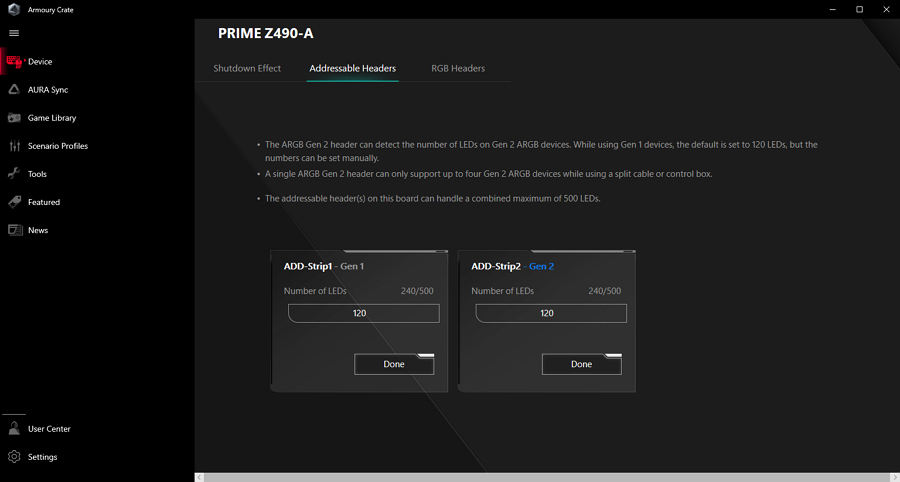 Device→PRIME Z490-A→RGB header
Connect your RGB header(12V/G/R/B) to the motherboard and follow the instruction to setup.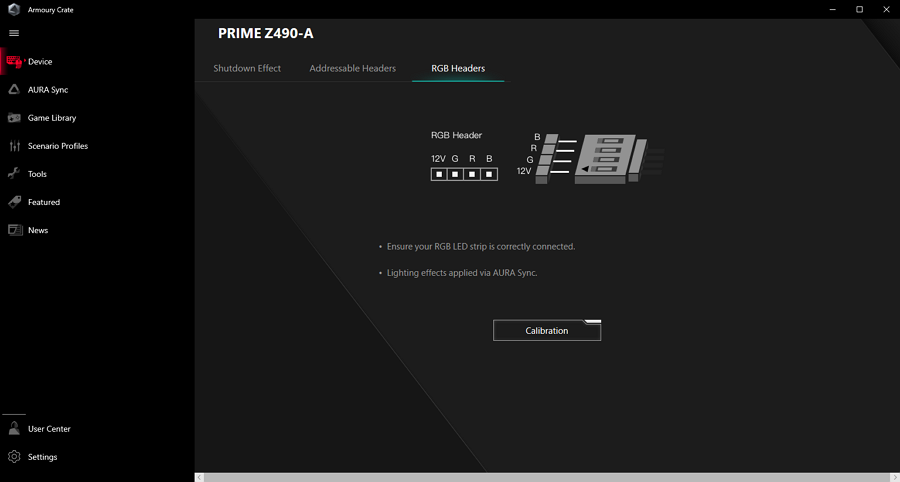 You can choose the Microphone input device and audio output device, and you can also use the two-way AI noise cancelation function to remove background noise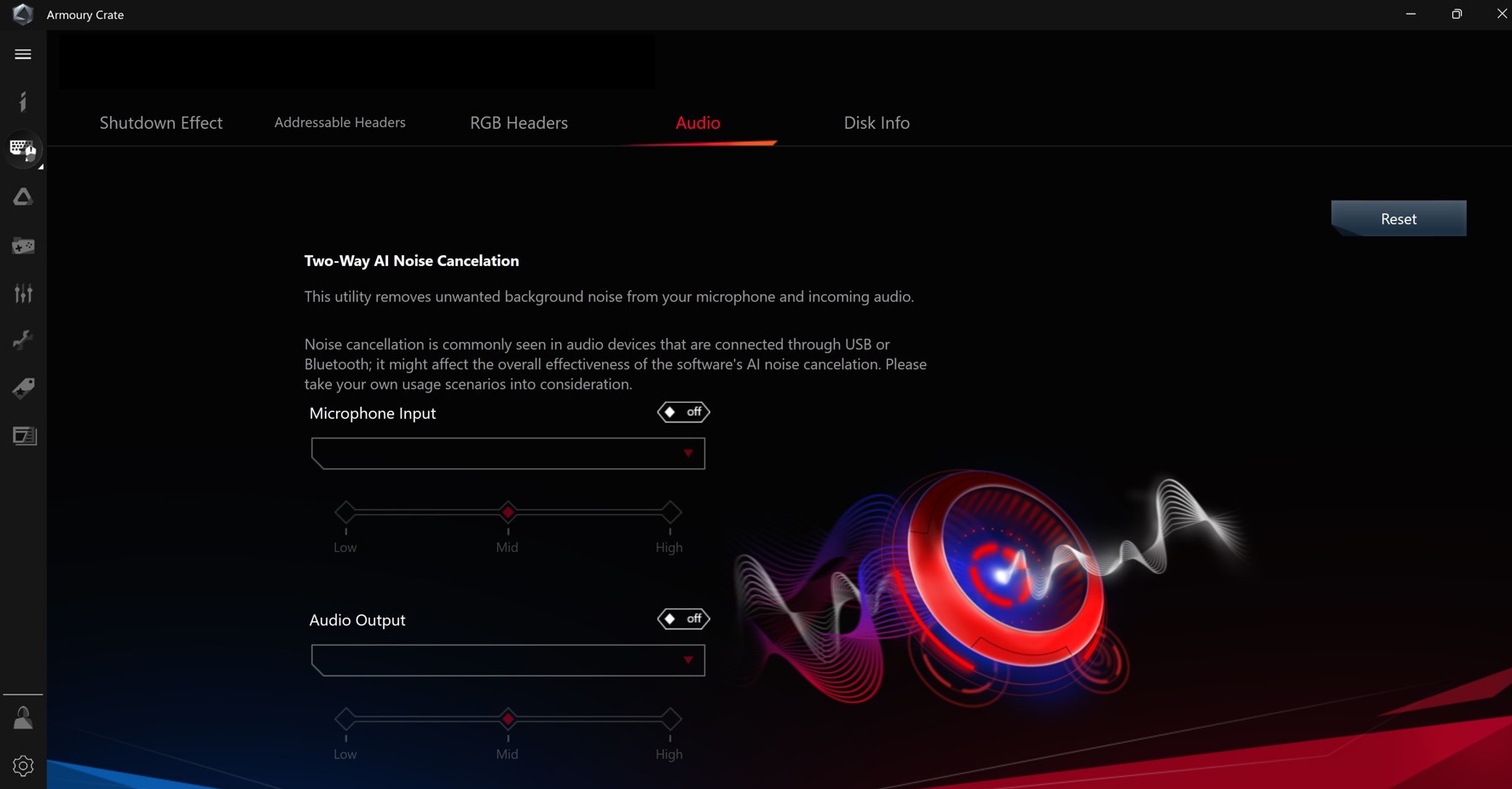 (Note: For this function, please confirm whether your motherboard has AI noise cancelation function)
Disk Info: Select the SSD device on your motherboard and get related information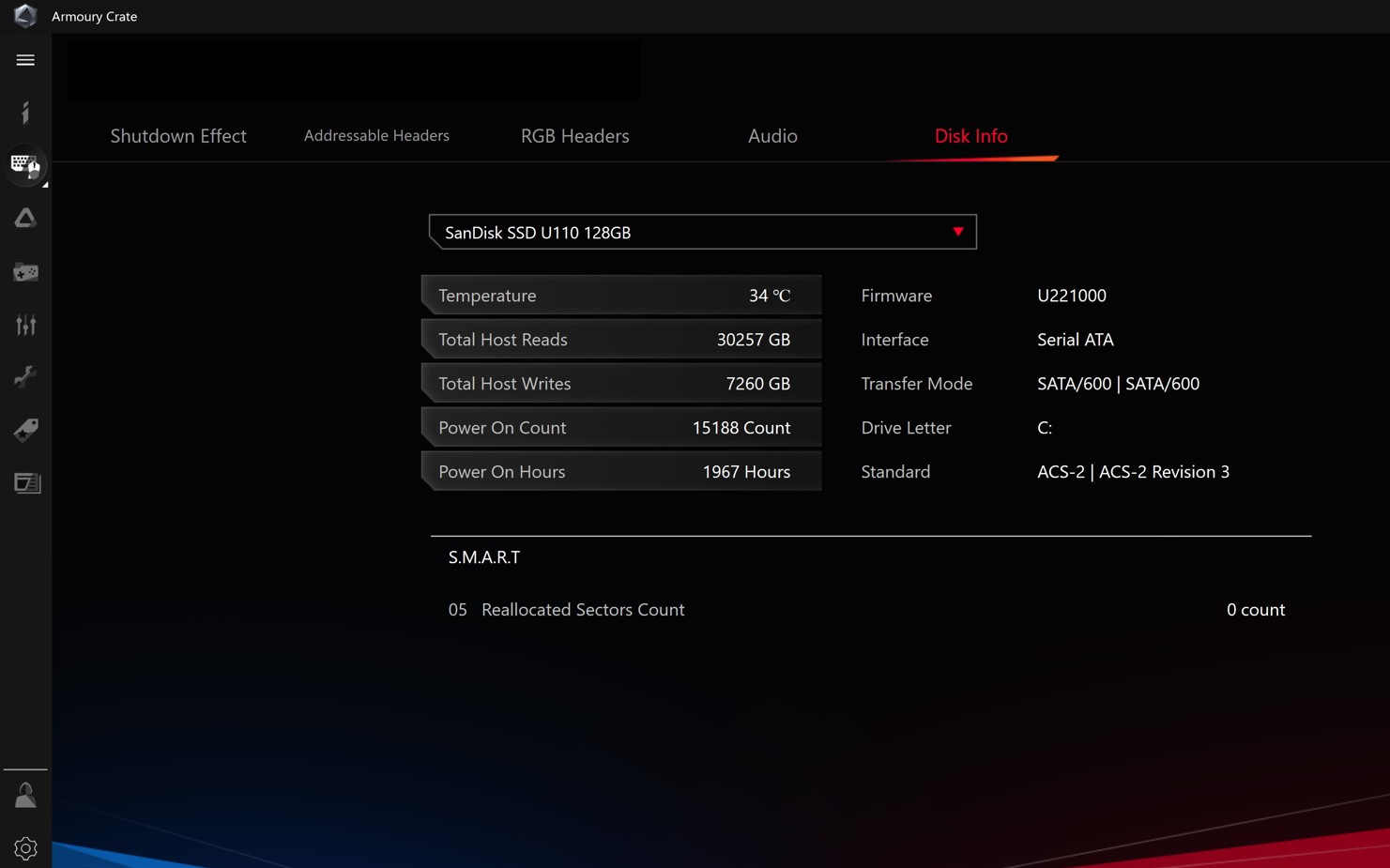 (Note: only supports SSD devices, not supports Disk type hard drive device )
AURA Sync
AURA Sync→Sync devices
1.Select the AURA SYNC compatible devices to sync.
Fan Xpert 4
1. Click Fan Xpert 4 on device.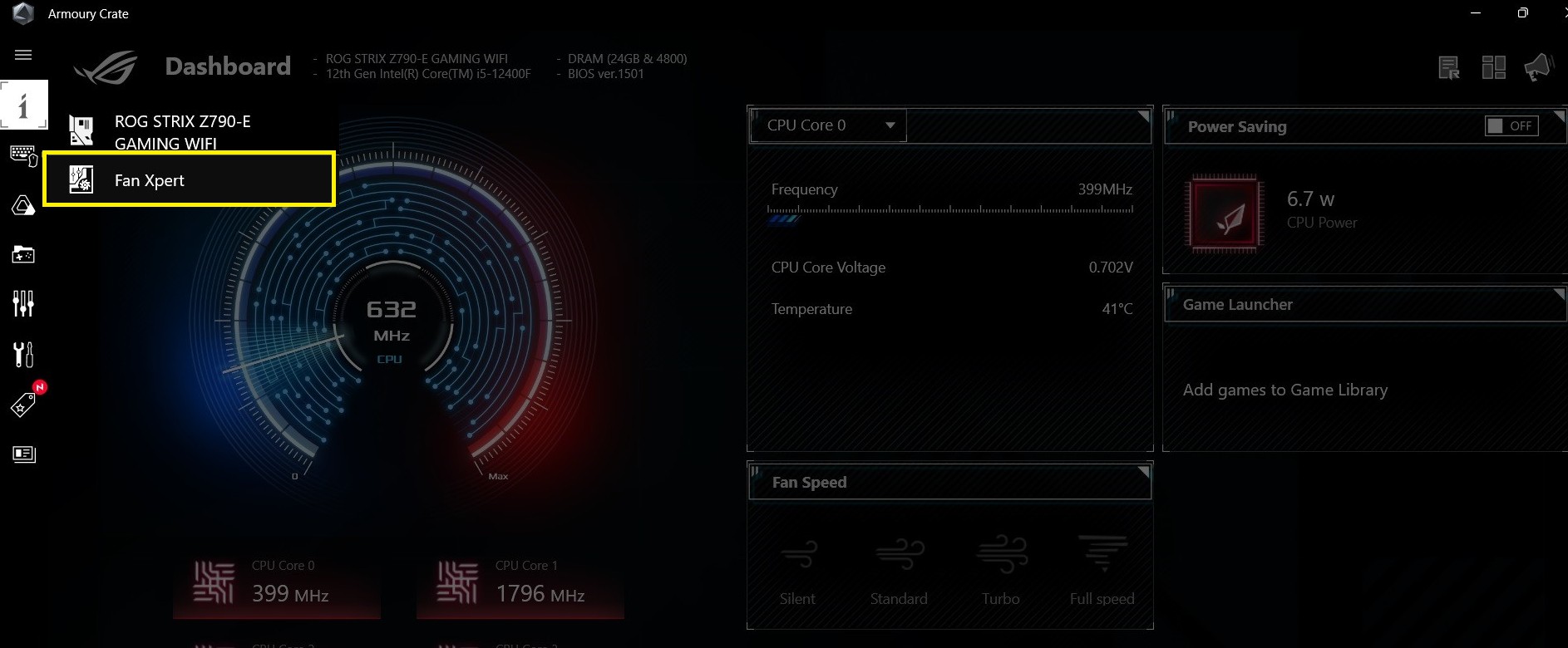 2.Click Auto tuning to apply the suitable setting on all of fans. Tuning process is finished when the screen shows Available.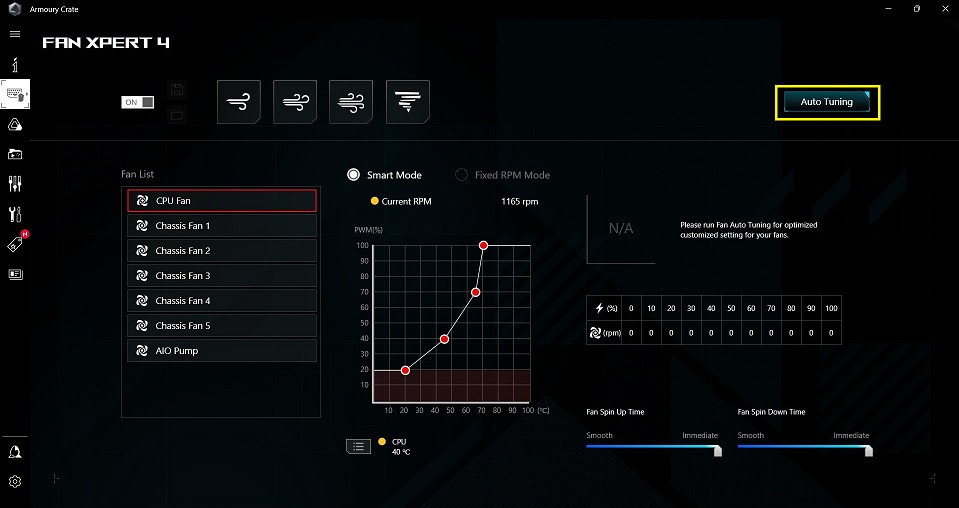 3. User can choose default mode: Silent/Standard/Turbo/Full speed from the list. Mode that user choose will apply to all the fans.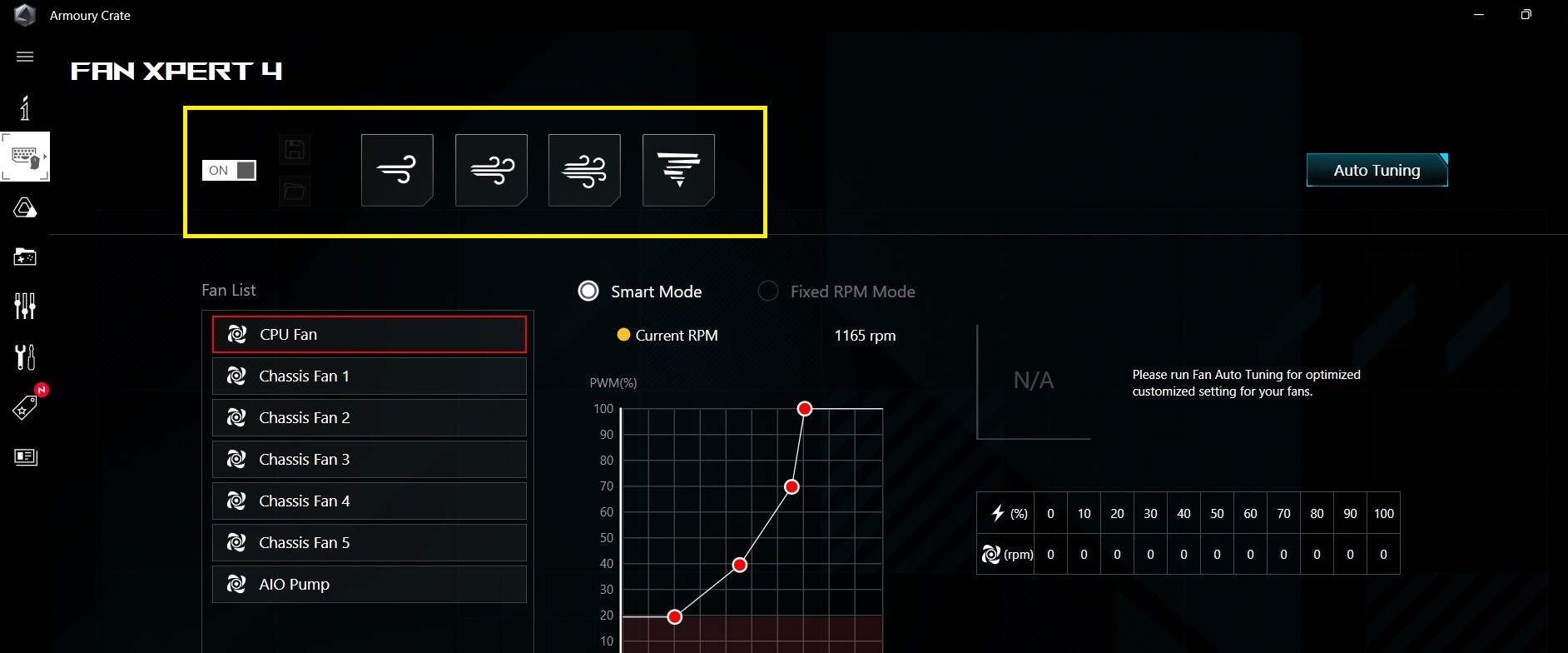 4. Click the diagram to enter the setup.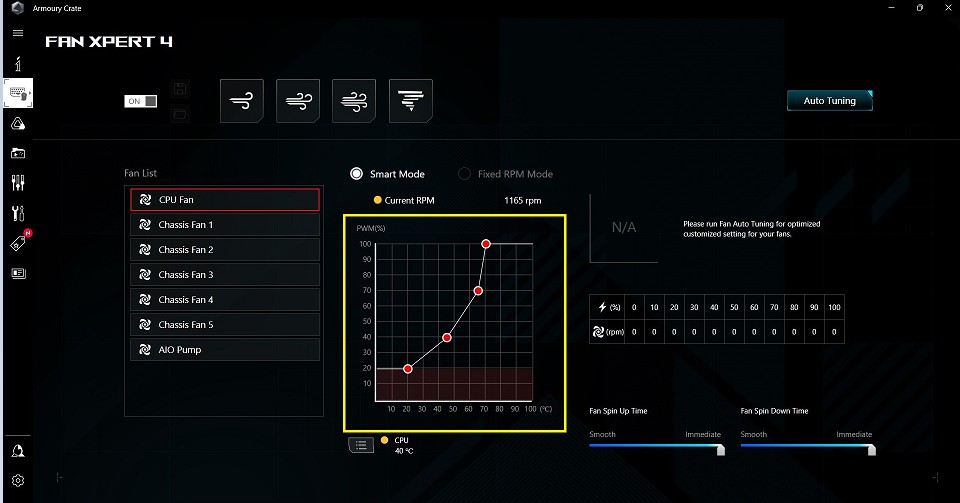 More Settings about Fan Xpert, please Refer to this LINK.
AURA Sync→AURA effects
2.Choose the basic effect or use AURA Creator to customize your own effect.
3.Choose color.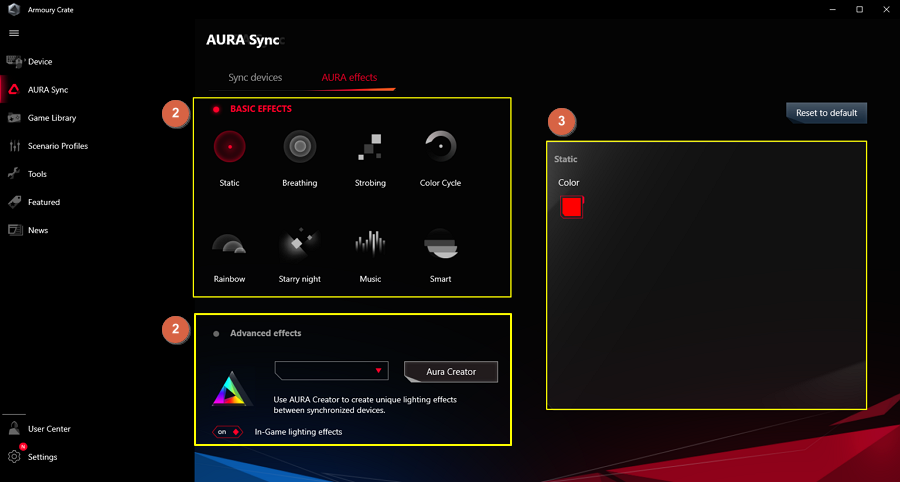 Game library
Use Game library to manage your games.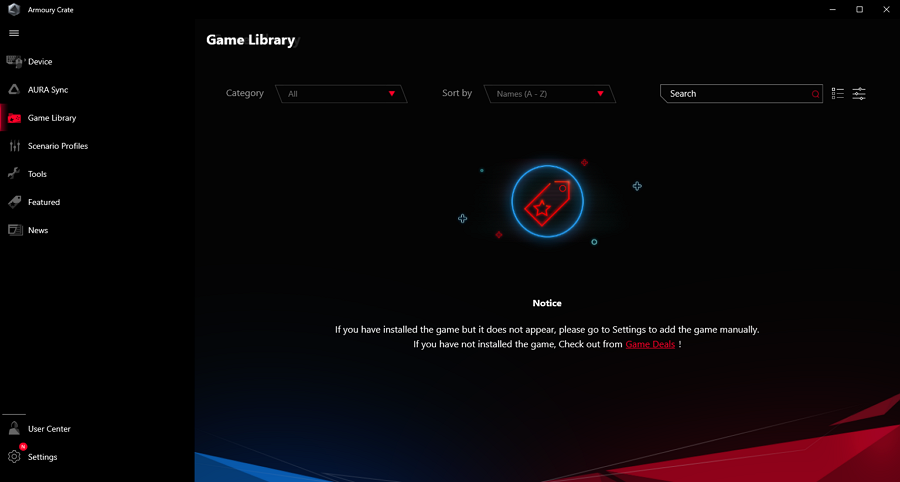 Scenario Profiles
Customize your profile to apply the setting to the APP.
1. Click to add new profile.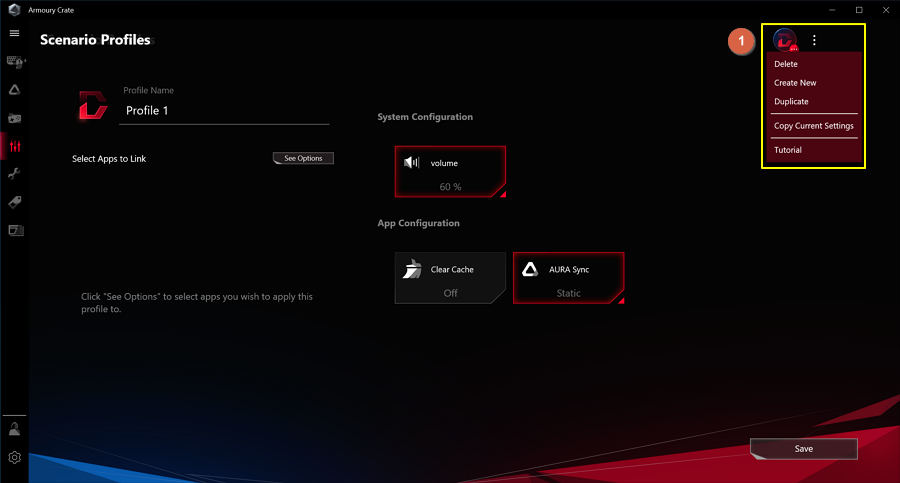 2. Choose the APP to link to profile.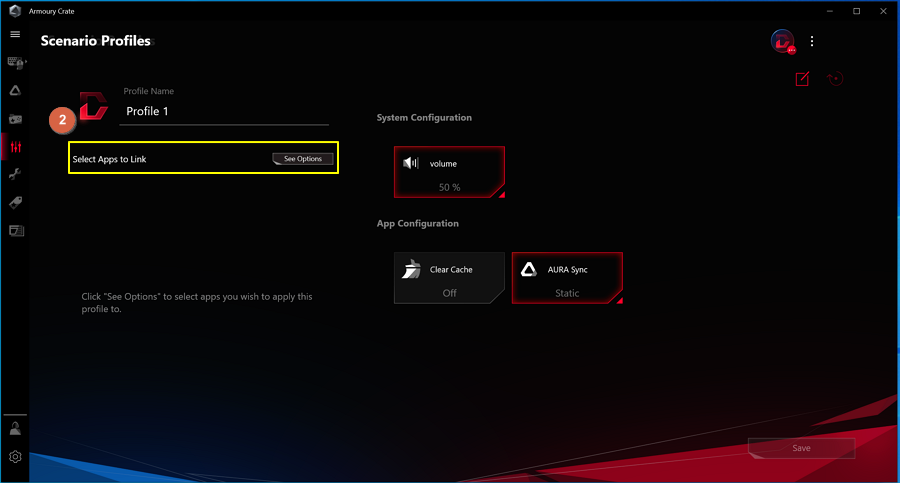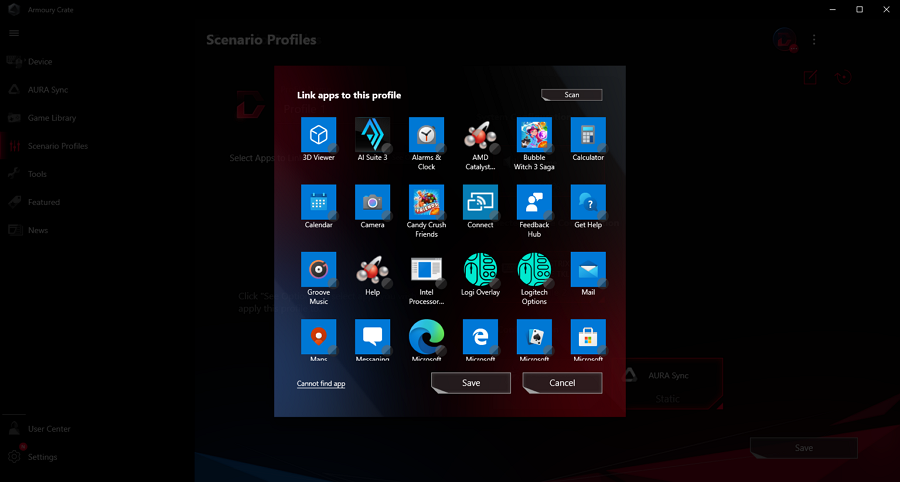 3. Adjust system configuration/APP configuration.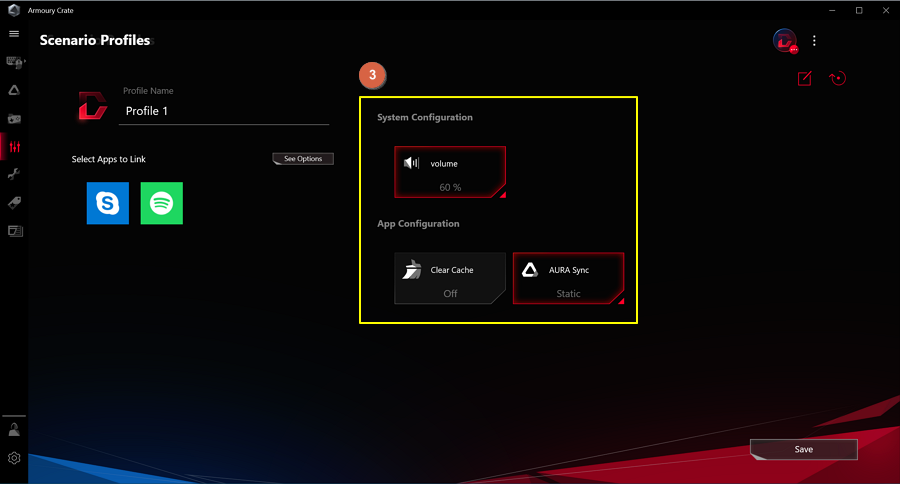 4. Click Save to apply the setting to the APP.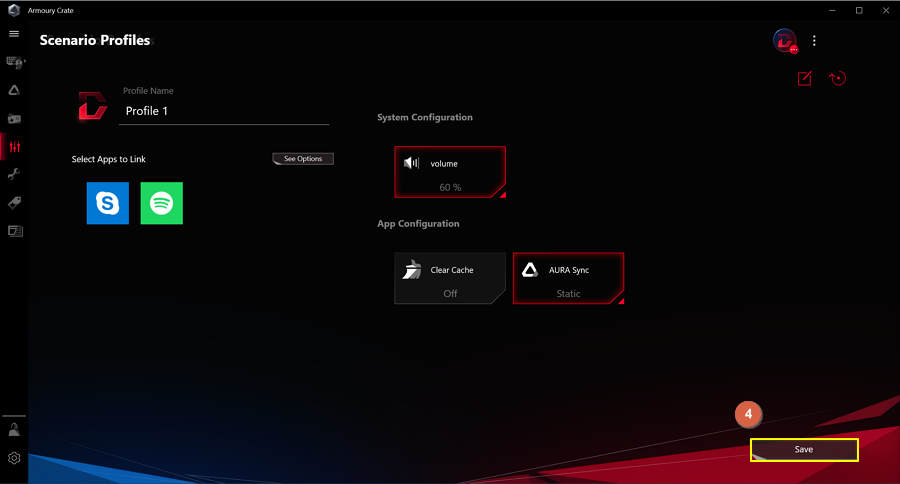 Tool
Tool is an integrated page for user to download Driver/Utility/BIOS/Manual, etc.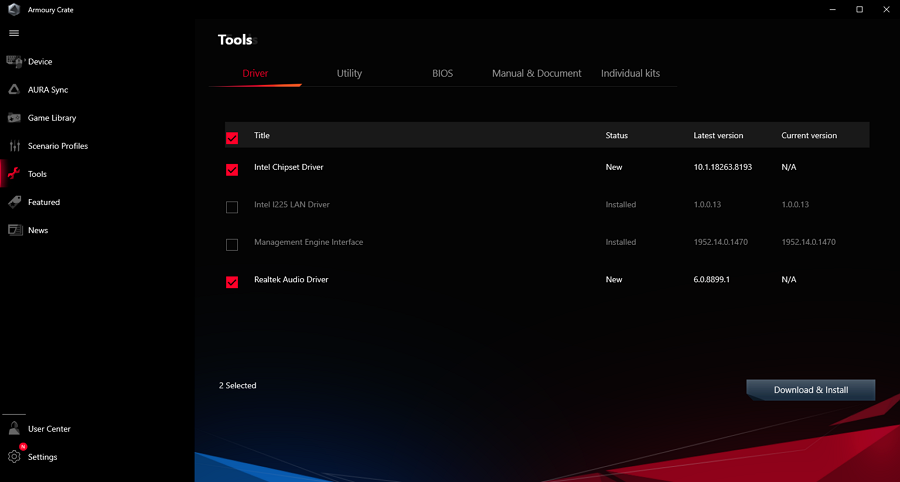 Featured
Enter Game deals, you can log in your ROG account, and get a discount from store.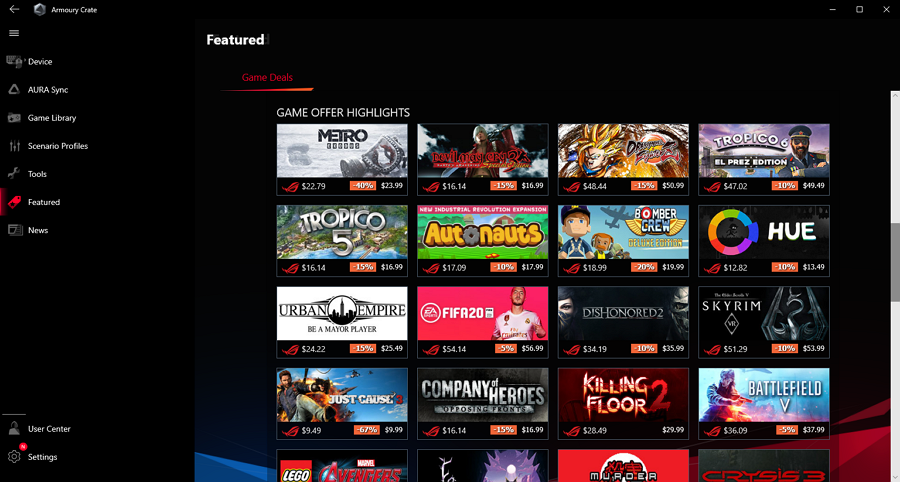 News
News page offers you the latest ASUS product information and related news from social network.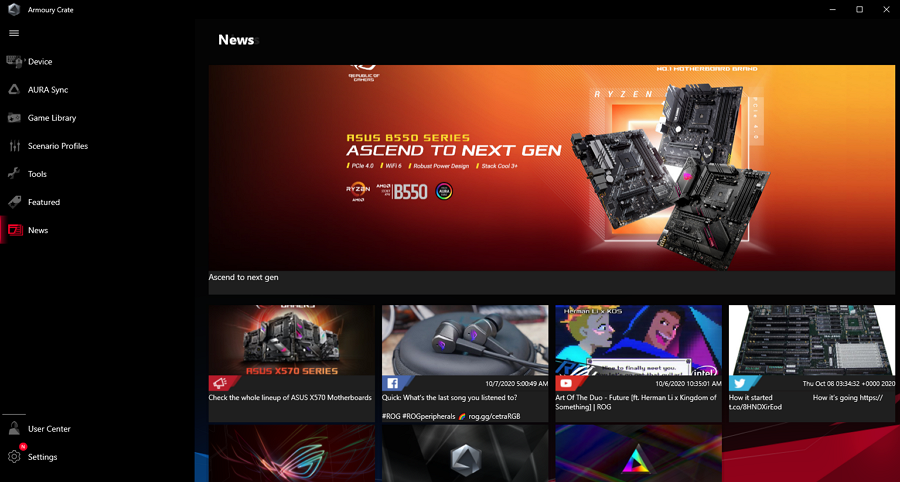 User center
Log in your ROG account to enjoy the VIP service and product service.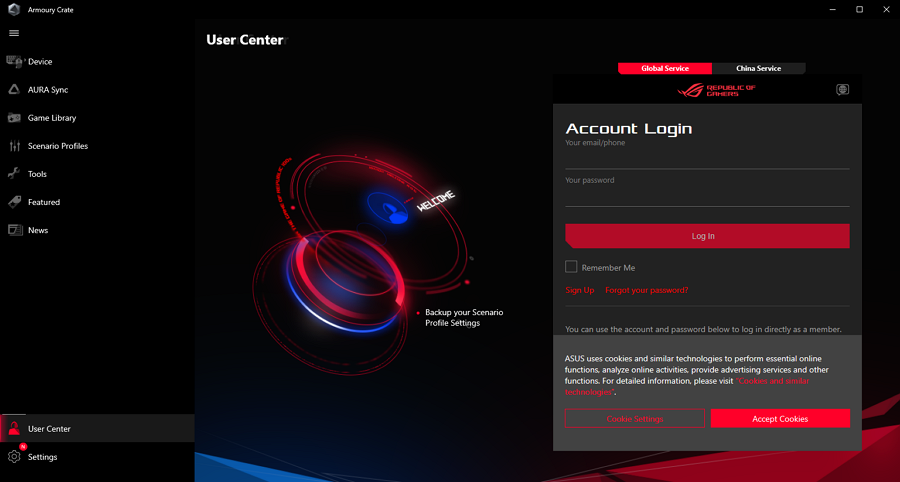 Settings
Settings→General
Choose your Armoury Crate landing page and customize theme through settings page.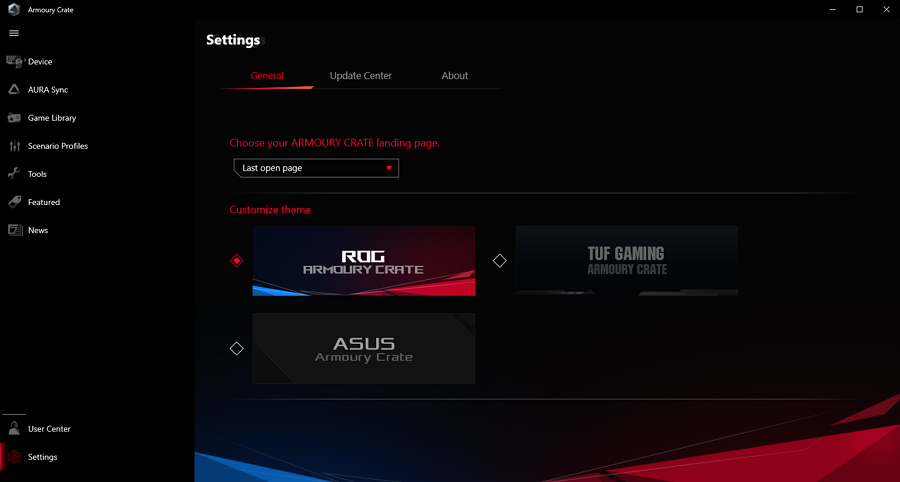 Settings→Update Center
User can click check for updates to check the firmware/software status.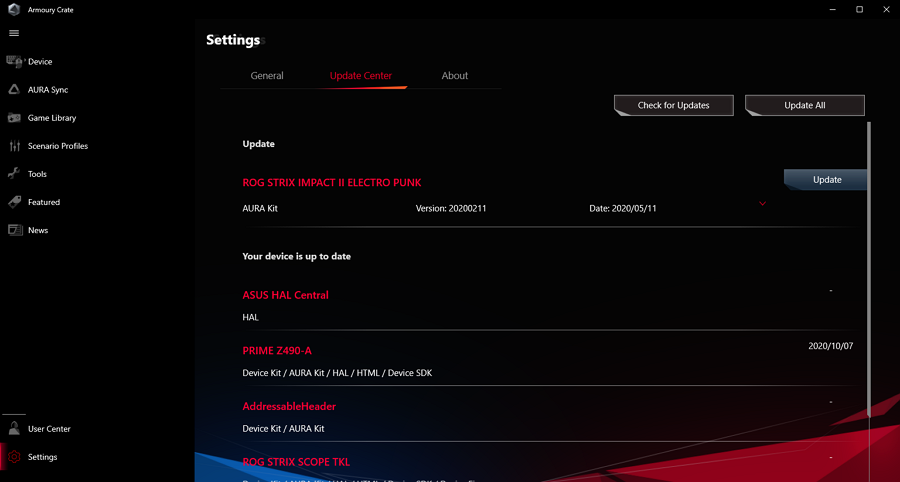 Settings→About
You can check the current version of Armoury Crate and use APP diagnostics to record your log data and generate the file while in need.