[Motherboard] How to install DRAM(Memory) on Motherboard?
First, we recommend you to purchase memory in ASUS QVL memory list
A. For how to query QVL memory, refer to FAQ : Motherboard] How to query (CPU/memory) QVL List?
B. Precautions for purchasing memory
Please follow below steps to confirm the slot for memory that is recommended in the user manual and then install the memory, to improve the stability of the motherboard
Note: Make sure that the power cord is removed before installing or removing DRAM
Below is ROG STRIX Z690–A GAMING WIFI D4 as example
1. Login to Download center and input the Motherboard model name in the search bar. For example:ROG STRIX Z690–A GAMING WIFI D4. Click Manual & Document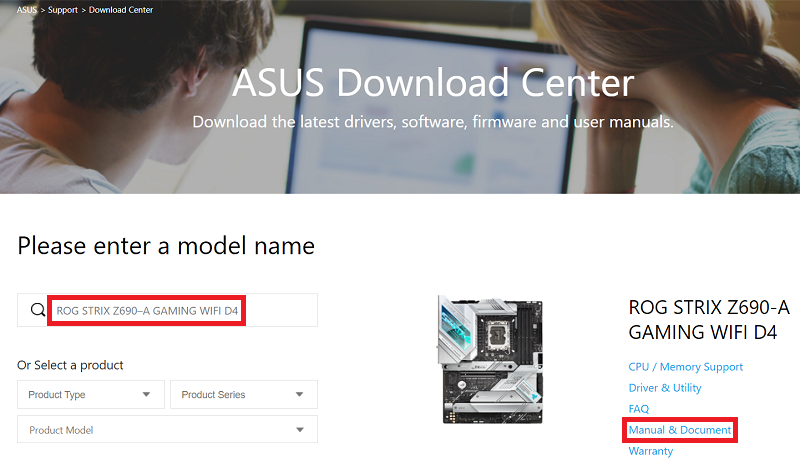 2. In Manual & Document page, select the manual in local language , and then click [DOWNLOAD]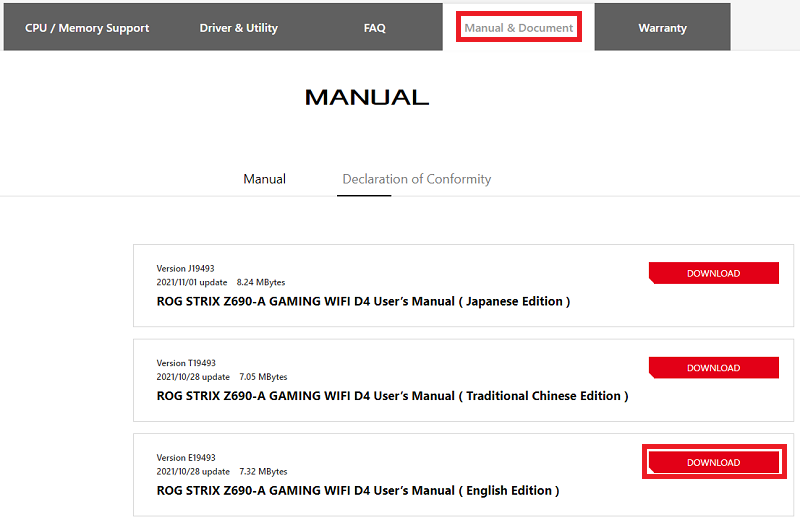 3. Open the downloaded user manual and search for [Recommended memory configuration] as below picture
If only one DRAM, please install to DIMM_A2 slot
If two DRAMs, please install to DIMM_A2 and DIMM_B2 slots
If four DRAMs, please install to DIMM_A1,DIMM_A2 ,DIMM_B1 and DIMM_B2 slots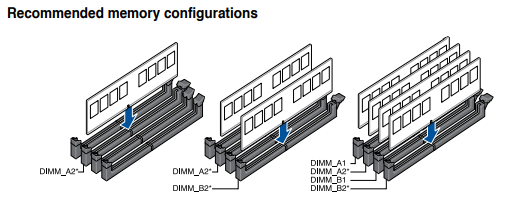 4. How to install DRAM?
a. Press the buckle of the memory slot, refer to below picture

b. Match the notch of the memory with the notch of the socket, and push the memory vertically downward into the socket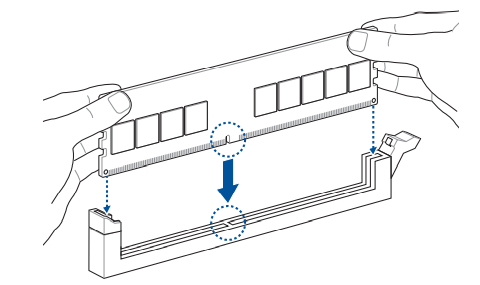 c. When the buckle is automatically locked , it means the DRAM installation completes.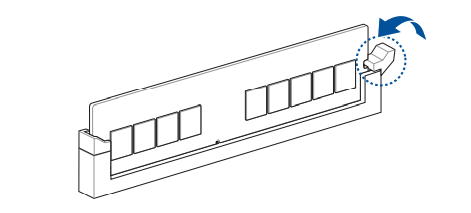 5. How to remove the DRAM ? Please follow below picture:
A:Press the buckle of the memory slot firstly
B:Remove memory vertically upwards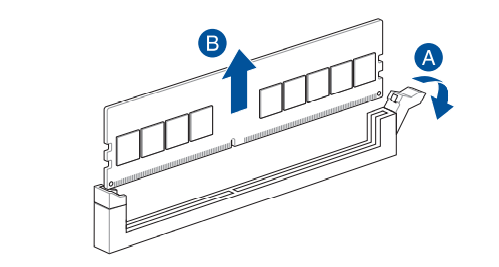 Q&A
Q1: How to confirm whether the memory is normal after installation?
A1: Power on the system and press the "del" key to enter the BIOS [EZ Mode]
Check the DRAM information in DRAM Status item
For example: If you only insert one DRAM into the DIMM_A2 slot, it should display the memory capacity of 8192MB as below picture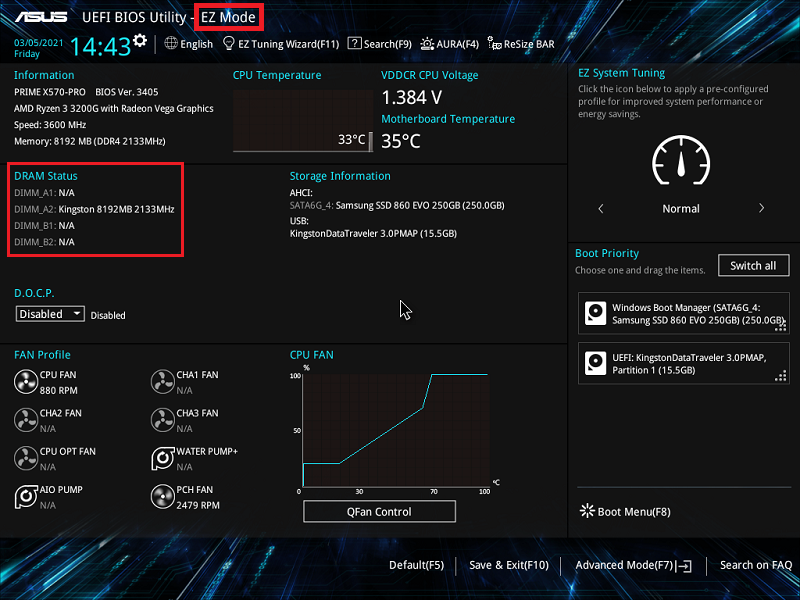 If the BIOS cannot recognize the memory module, please follow the steps above to remove the memory and re-install it to ensure that the memory is firmly inserted into the slot.
Q2: After inserting or replacing the memory, why system still can't power on normally?
A2: If it still fails to boot, please refer to the FAQ: Motherboard] No power/No power on/No display-Troubleshooting
Q3:What are the precautions before installing memory?
A3:
1. Login to Download center and input the Motherboard model name in the search bar. For example:ROG STRIX Z690–A GAMING WIFI D4 and click CPU/Memory Support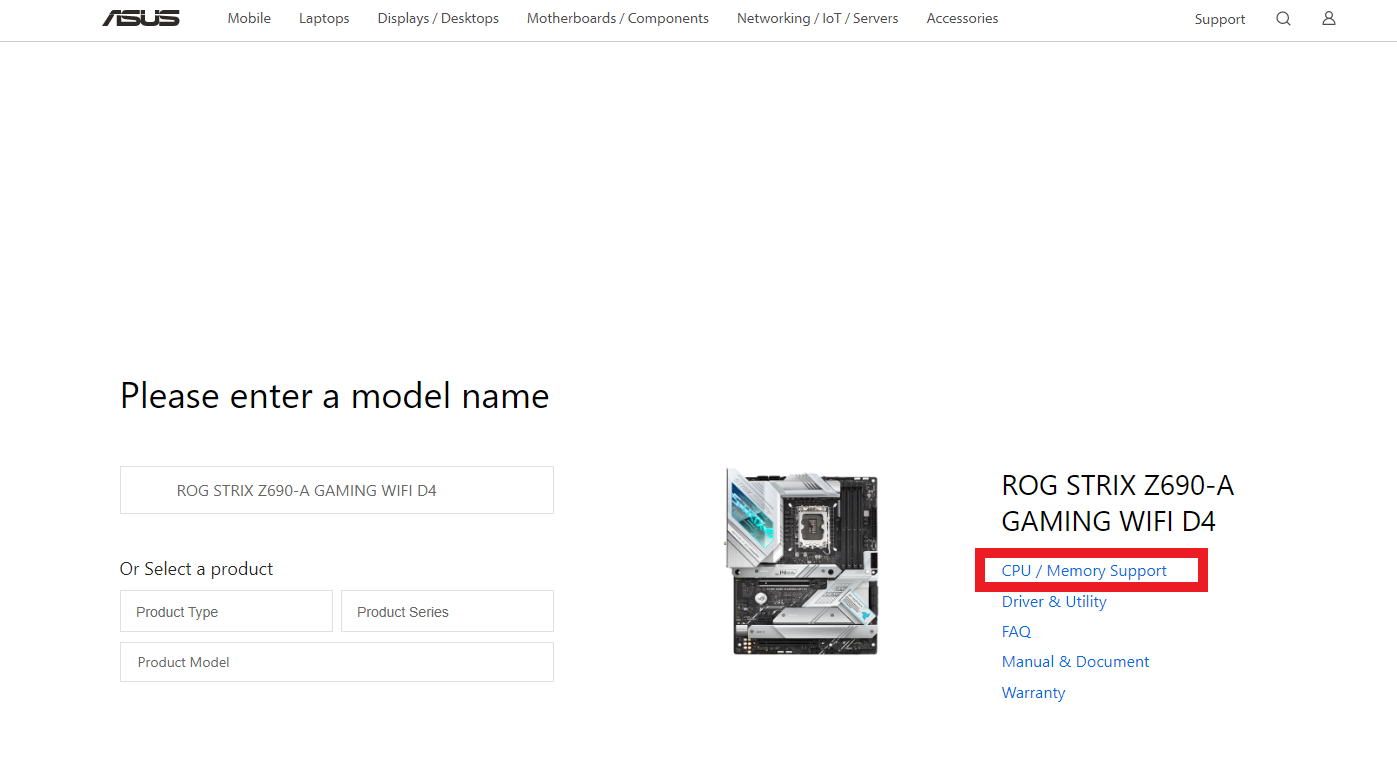 2. In the [CPU/Memory Support], click [Check purchasing and installation guide]