How to set up using an ASUS Router special subscription offer for WTFast®?
[Wireless Router] How to set up Game server Acceleration by using an ASUS- special subscription offer for WTFast®?
WTFast® is the Gamers Private Network (GPN) who provides the best online gaming experience, with lower latency, reducing packet loss, minimizing ping, and optimizing the game connection from a router to a game server. It currently supports over 1000+ games and still increasing.
Users can get a free trial by simply registering for WTFast®, and be able to use 1 hour per day forever! This special subscription offer can only be supported by selected ASUS routers with Triple-level Game Acceleration feature.
*Support models: ROG Rapture GT-AXE16000, GT-AX11000 PRO... (keep up to date)
*Supported game list: https://www.wtfast.com/en/games/
*Platform: Windows only (Window 7 or higher).
*Please be noticed that free offering will vary by service provider in regions below.
Bundle with ISPs or 7 days free trial
Australia
Canada
Singapore
U.S
The following steps will display how to get a free trial and sign up for WTFast account.
Step 1. Connect your laptop to ASUS router via WiFi or Ethernet cable.
Step 2. Open a web browser and navigate to Web GUI (Your router LAN IP or ASUS Router URL http://www.asusrouter.com).
Enter your login username and password on the login page and then click [Sign In].

Note: Please refer to How to enter the router setting page(Web GUI) (ASUSWRT)? to learn more.
Step3. Go to [Game Acceleration] -> [Game Acceleration] tab.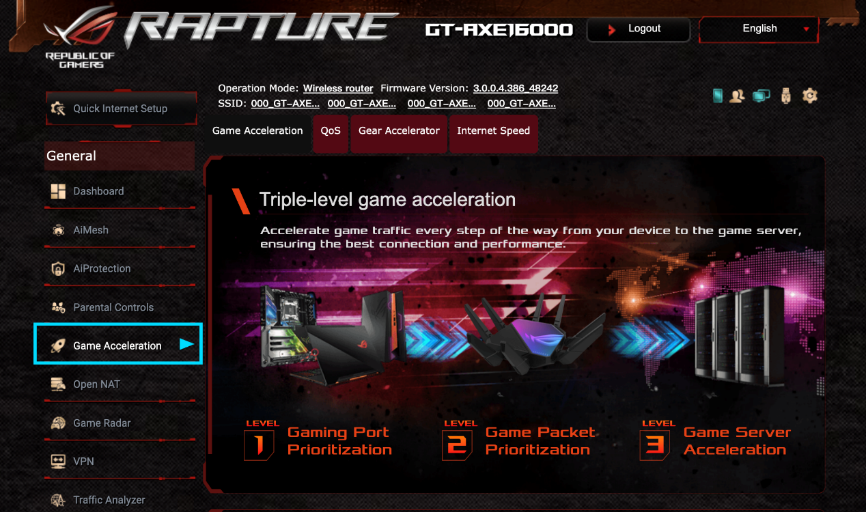 Step4. Click [Go] on Game Server Acceleration, and navigate to the WTFast web page

Step5. Click [Try For Free] to get a free trial.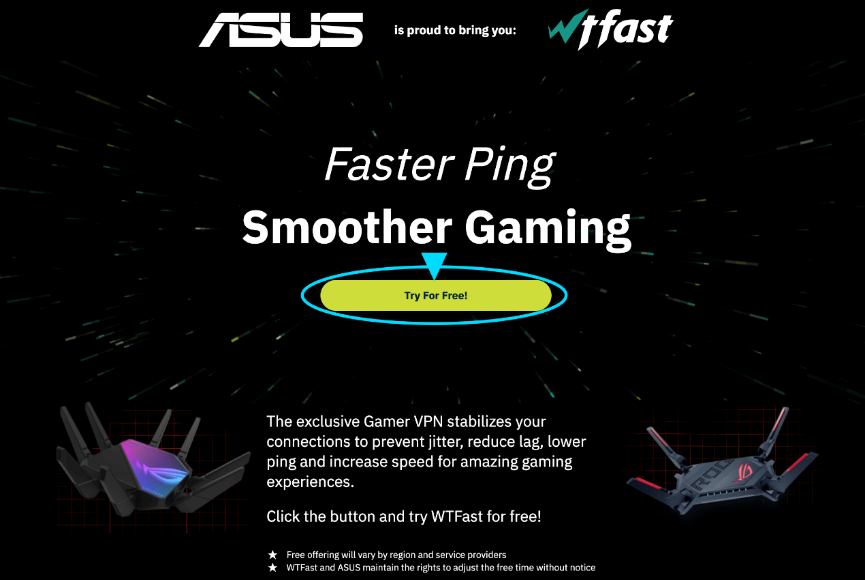 Please download the WTFast utility to your computer after creating a new account.
You can find the latest version here: https://www.wtfast.com/en/download/
How to get the (Utility / Firmware)?
You can download the latest drivers, software, firmware and user manuals in the ASUS Download Center.
If you need more information about the ASUS Download Center, please refer this link.