ASUS RT-AX86U (AX5700) Dual Band WiFi 6 Extendable Gaming Router, 2.5G Port, Gaming Port, Mobile Game Mode, Port Forwarding, Subscription-free Network Security, Instant Guard, VPN, AiMesh Compatible
คุณสมบัติเด่น :
New-generation WiFi 6 - เพลิดเพลินไปกับการใช้งานอินเตอร์เน็ตที่รวดเร็วสูงกว่า 5700 Mbps ด้วยเทคโนโลยี WiFi 6 (802.11ax) และ 160MHz channels
Mobile Game Mode - ช่วยลดค่า latency เพื่อรองรับการเล่นเกมผ่านโมบายโฟน โดยสามารถตั้งค่าผ่าน ASUS Router app
True 2 Gbps และ wireless speeds - การเชื่อมต่อด้วยพอร์ต WAN 2 Gbps หรือ 2.5 Gbps port และเทคโนโลยี WiFi 6
ASUS AiMesh support – คุณสามารถนำเราเตอร์รุ่นนี้ไปใช้งานกับเราเตอร์ AiMesh เพื่อสร้างเป็นเครือข่าย WiFi ที่ครอบคลุม
Commercial-grade home network security – เรามอบสิทธิให้คุณใช้งาน ASUS AiProtection Pro, powered by Trend Micro™ ฟรีตลอดชีพ ซึ่งยังมาพร้อมกับ WPA3 และ advanced Parental Controls ช่วยป้องกันการเข้าถึงเว็บไซต์ที่ไม่เหมาะสม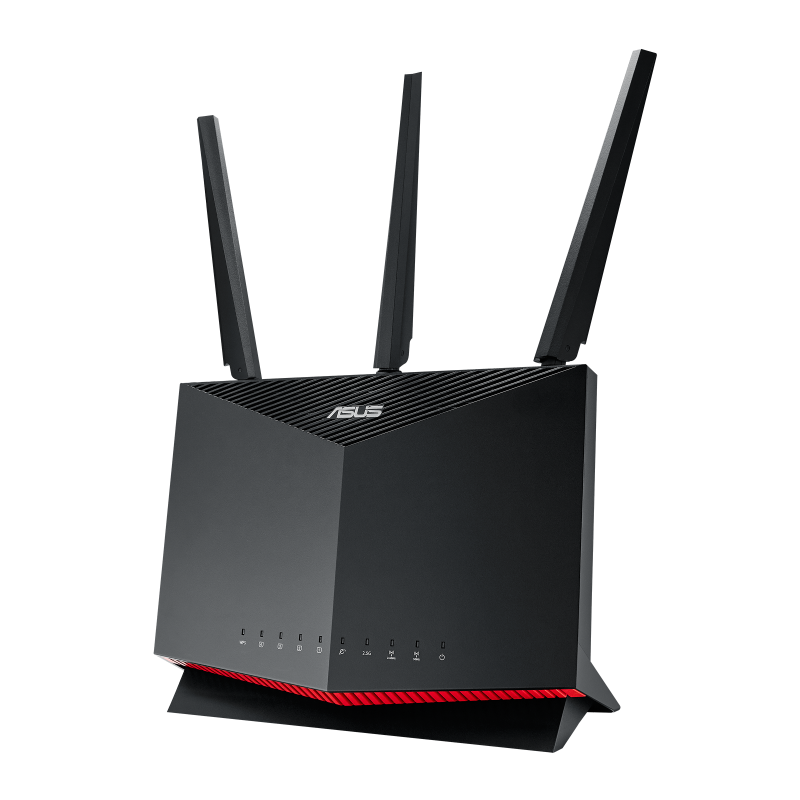 Your Winning Choice
for Mobile Gaming!
Enjoy the fastest, smoothest WiFi gaming connections ever with the ASUS RT-AX86U dual-band WiFi 6 router. It delivers ultrafast WiFi speeds up to 5700 Mbps*, and is packed with advanced technology, including Mobile Game Mode for a lag-free, low-latency mobile gaming experience.
Watch video
Ultrapowerful WiFi 6
Lower latency Faster speeds
Energy efficient Longer range
RT-AX86U brings you all the benefits of WiFi 6 (802.11ax), and works perfectly with all your existing WiFi devices! **
What's WiFi 6 ?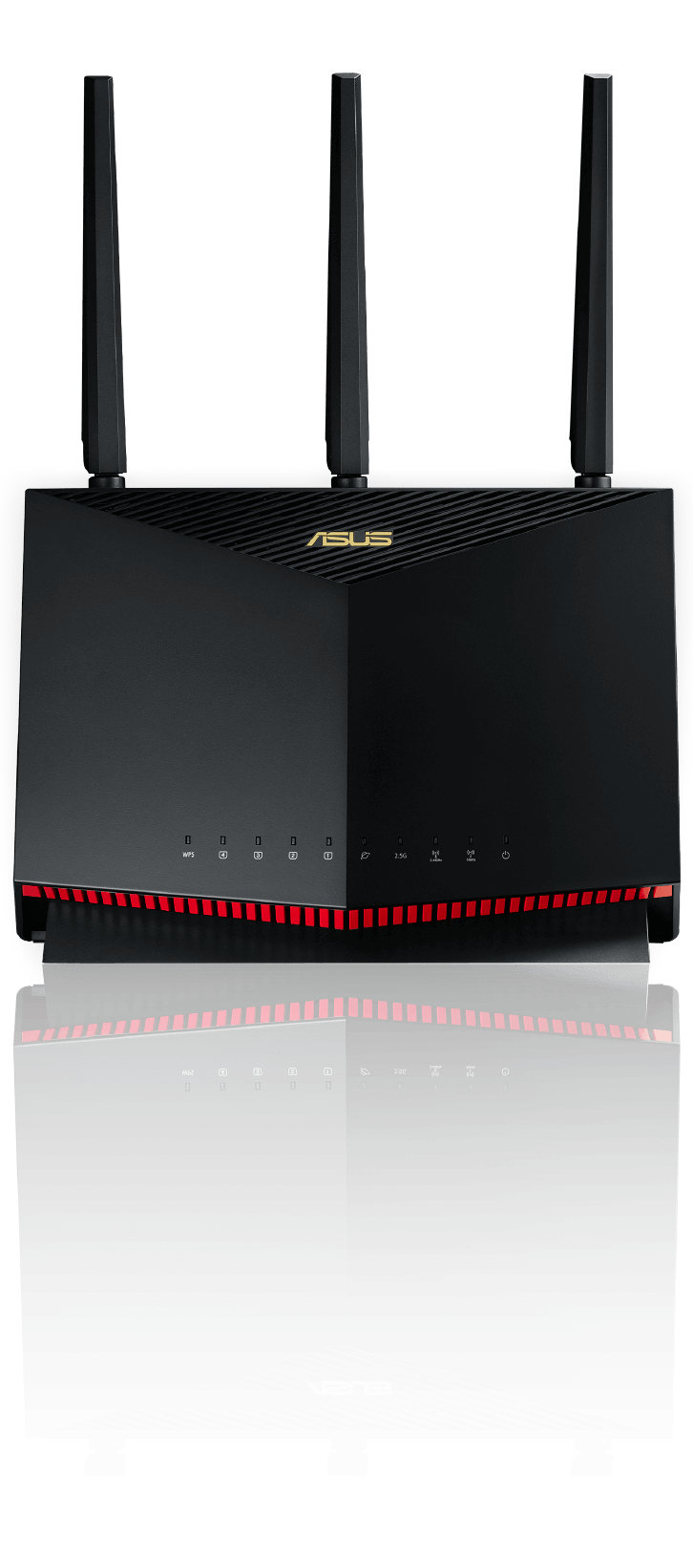 *













*
Boost Your Mobile Gaming
Minimize lag and latency for mobile gaming with just a tap on the ASUS Router app.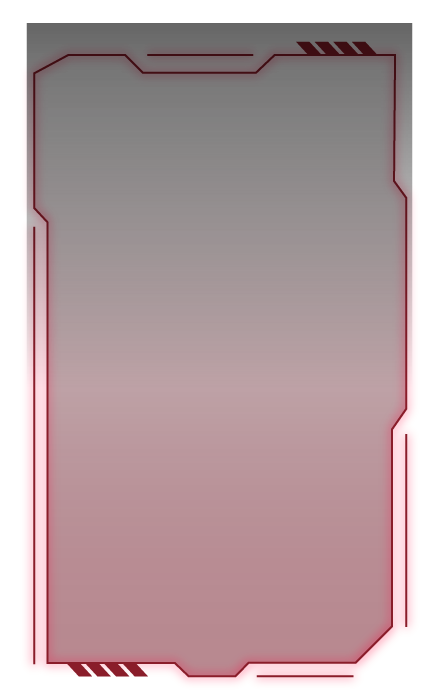 *
Gaming Without Limits
Prioritize via Gaming Port
Prioritize via Gear Accelerator
Eliminate WiFi Congestion
Prioritize via Gaming Port
Prioritize via Gear Accelerator
Eliminate WiFi Congestion
*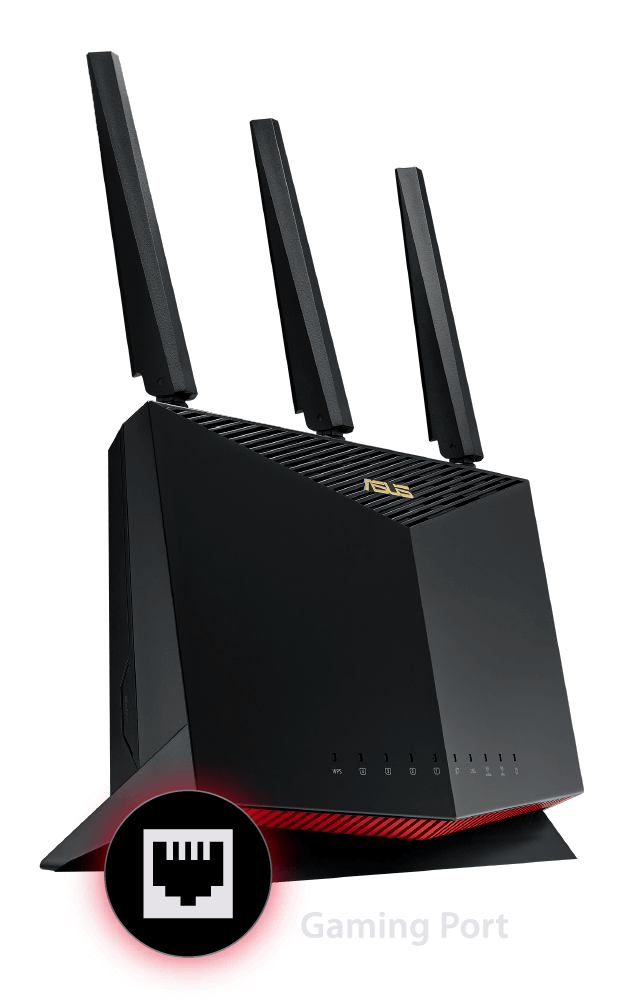 The dedicated gaming port on RT-AX86U automatically prioritizes any wired device connected to it. No complex configuration is needed, just connect your gaming PC or console to the special LAN port to give you a fast, stable connection that's always at the head of the queue.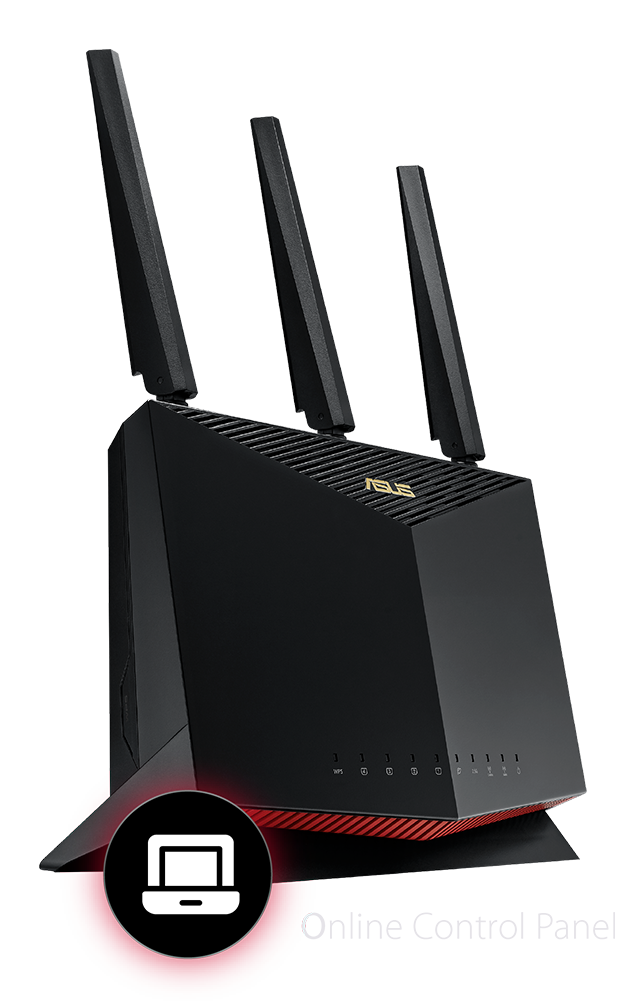 Gear Accelerator lets you prioritize devices wirelessly via RT-AX86U's online control panel. The simple interface lets you prioritize devices to help boost their speed and prevent them fighting over bandwidth with other devices.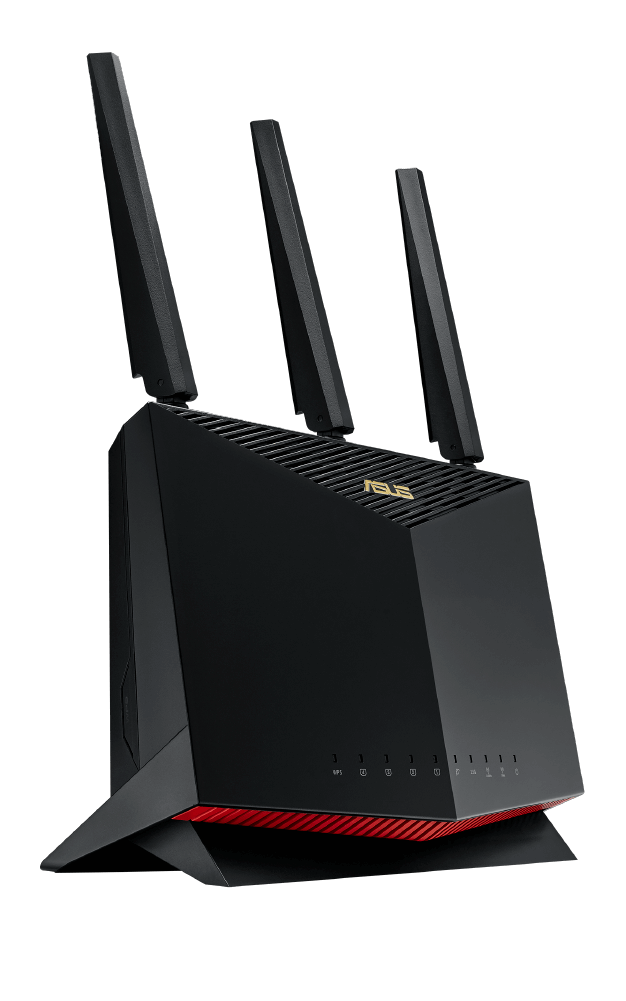 Connect your devices to the 5 GHz band and avoid the often-congested 2.4 GHz band, while enjoying up to 5.6X faster WiFi speeds. Also, optional Dynamic Frequency Selection (DFS) unlocks up to 15 of the least-congested channels on the 5GHz band to give you even more bandwidth for gaming.***

GeForce NOW is NVIDIA's cloud-based gaming service that delivers real-time GeForce-powered gameplay straight from the cloud to all your devices. With GeForce NOW, you can connect to your store accounts and stream your library of games, or play your favorite free-to-play games available on the service. GeForce NOW recommended routers ensure up to 90% of WiFi bandwidth is dedicated to gaming and undergo rigorous testing to deliver the best possible experience and lowest latency for cloud gaming.
*To know more about GeForce NOW server status, please check here

Lightning-Fast
2 Gbps Internet
RT-AX86U is designed to break down all the barriers that can slow down your gaming. It supports up to a 2 Gbps internet connection, so you can unlock the full potential of high-speed networking for both wired and WiFi connections.
How is internet speed unlocked?


Internet Without Limits
RT-AX86U can unlock up to 2 Gbps of internet bandwidth by aggregating two separate 1 Gbps internet services using the WAN port and a 1 Gbps LAN port, doubling the maximum internet connection speed to 2 Gbps! This massive internet bandwidth can then be shared via WiFi 6 or via the 2.5 Gbps wired network port. For extra versatility, the 2.5 Gbps port can be used for either WAN or LAN connections.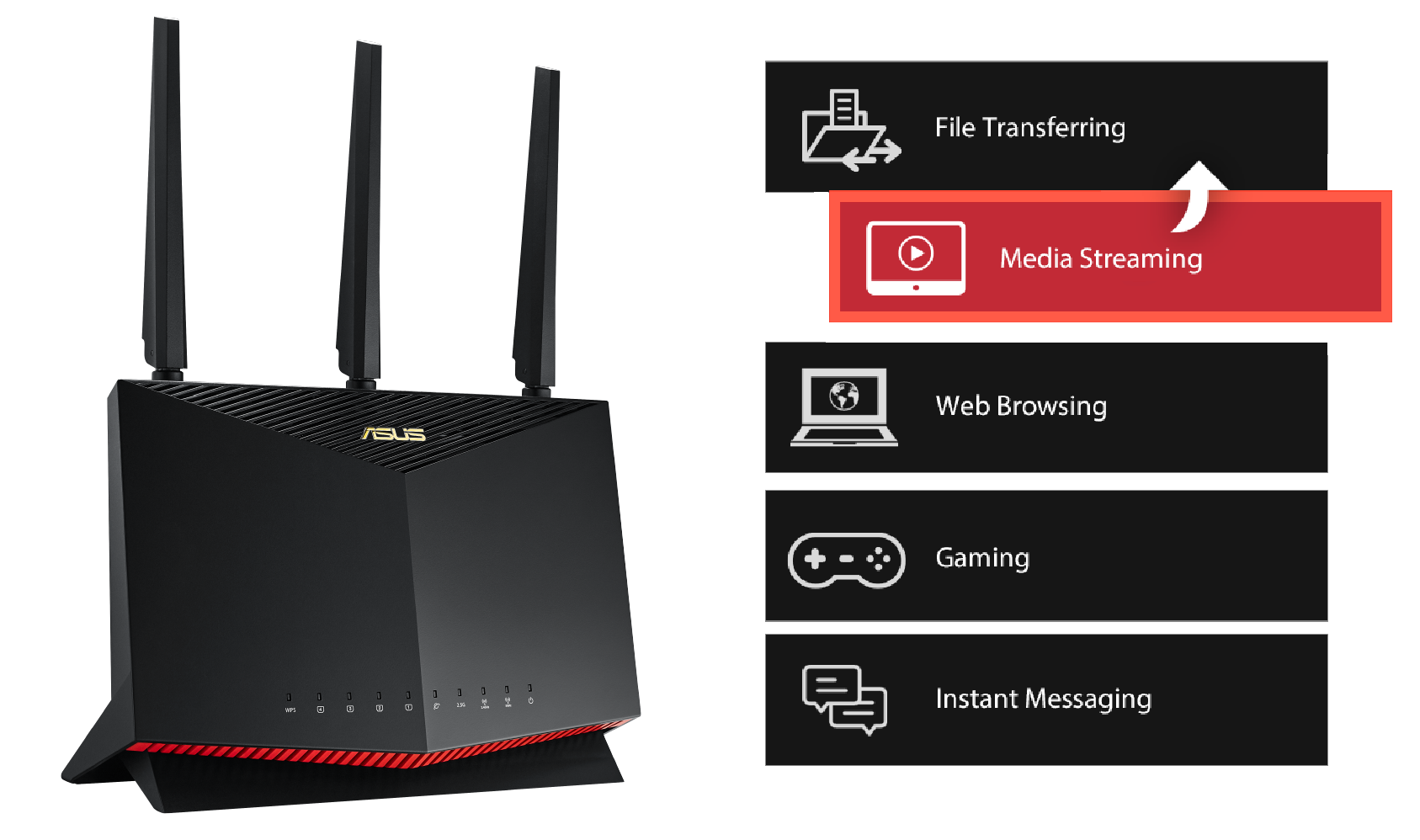 Remove Network Bottlenecks
Adaptive QoS (Quality of Service) lets you keep your network running smoothly by prioritizing network traffic. You can prioritize applications such as streaming video or web surfing, as well as gaming. It's the perfect ally for delivering low-latency WiFi anywhere in your home.


Whole-Home Gaming
Does your router leave you with WiFi dead spots? RT-AX86U supports ASUS AiMesh, a unique mesh-networking technology that creates a whole-home network using multiple ASUS routers. With easy central control and seamless roaming, even non-experts can set it up with any AiMesh-capable routers you own. Say goodbye to WiFi dead zones!
Commercial-grade Security
for Your Home
Home network security is crucial when you have multiple connected devices, and even more so when there are devices without anti-virus capabilities such as IoT devices. RT-AX86U includes lifetime free AiProtection Pro, including the latest WPA3 security protocol and advanced Parental Controls. Every device is protected with RT-AX86U, and you can keep an eye on everything that's happening on your network via the handy mobile app.

AiProtection Pro

WPA3 Security Protocol

Advanced Parental Controls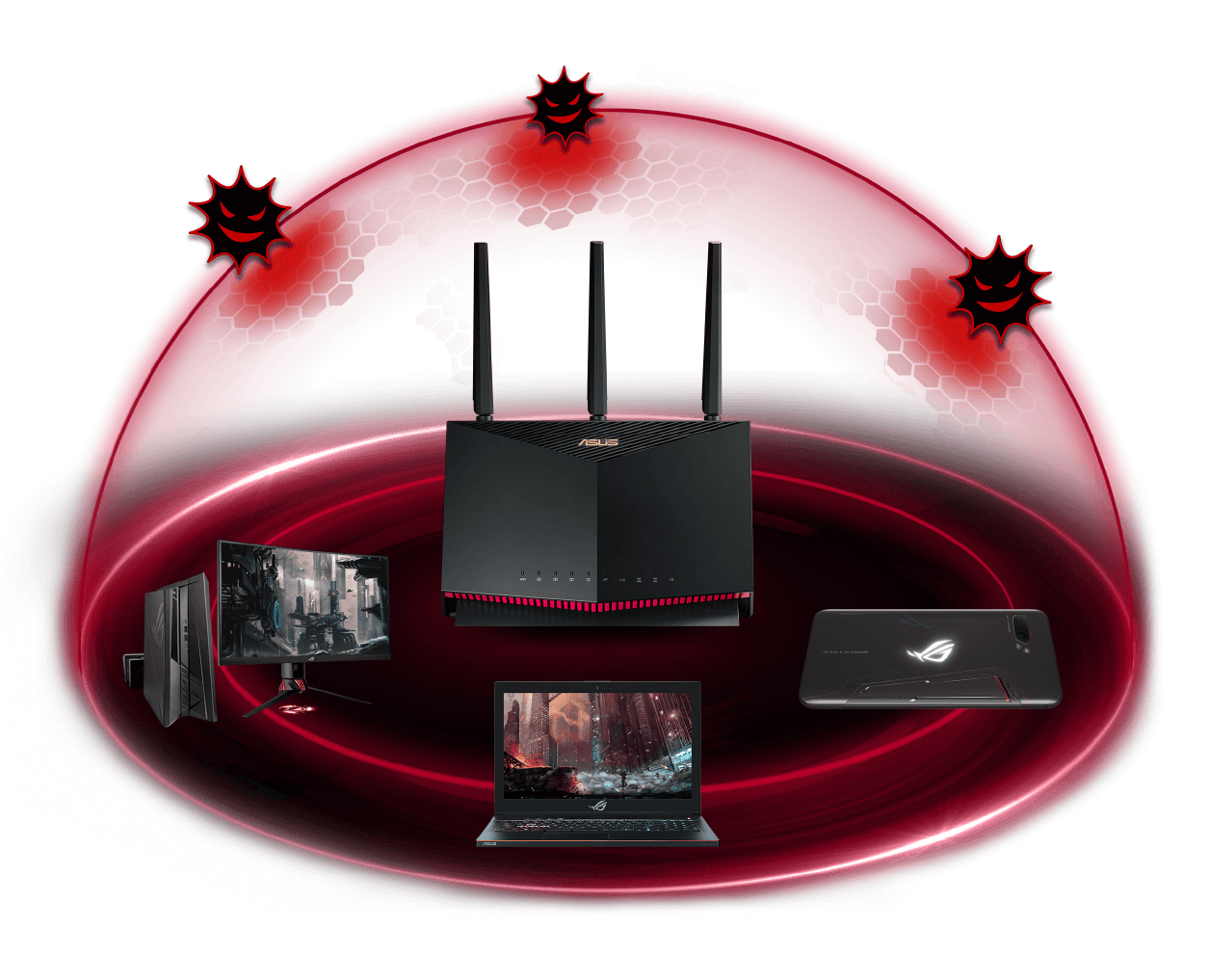 Fortified Frontline Network Security
RT-AX86U features AiProtection Pro powered by Trend Micro™ to defend your network from external attacks, with automatic and regular updates. Working with WPA3, the latest WiFi security protocol, AiProtection Pro keeps out security threats before they can reach your devices, including devices that cannot install anti-virus software — such as smartphones and game consoles.
Get more information
Block Access to
Malicious Sites
Infection Detection
and Blocking
Protection Against
Attacks
No Subscription Fee
Advanced Parental Controls
Advanced Parental Controls has everything you need in one place: it's super-easy to view or change security settings on each of your family member's devices, so your kids can be safer when surfing!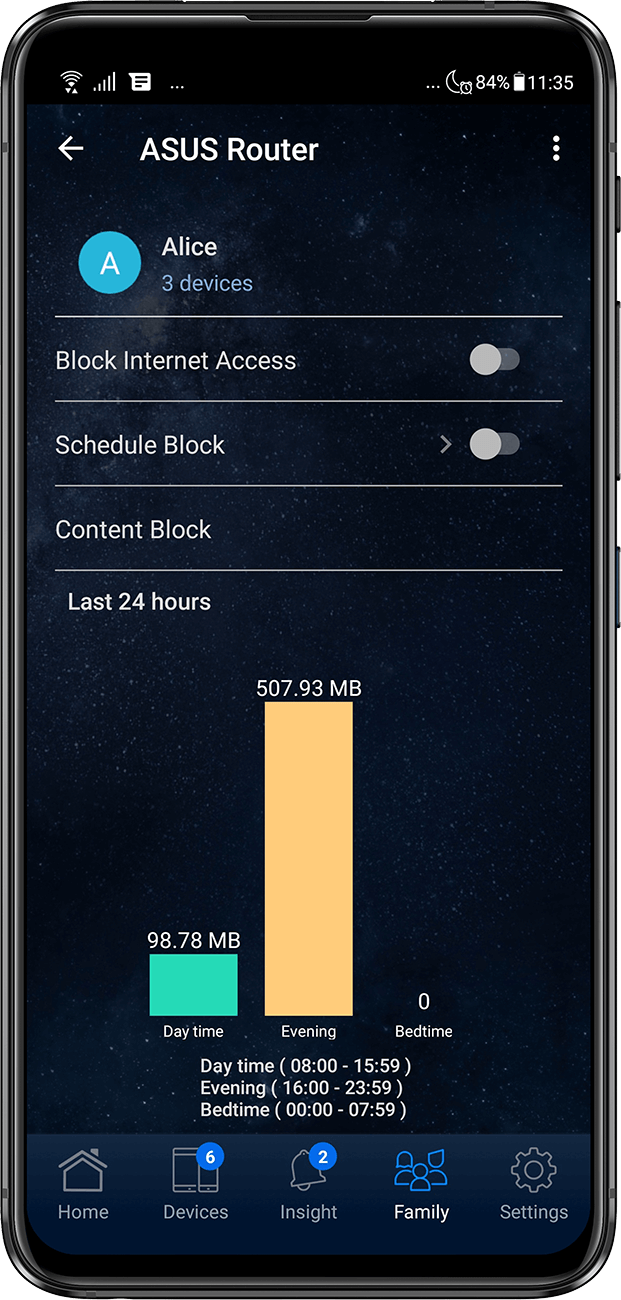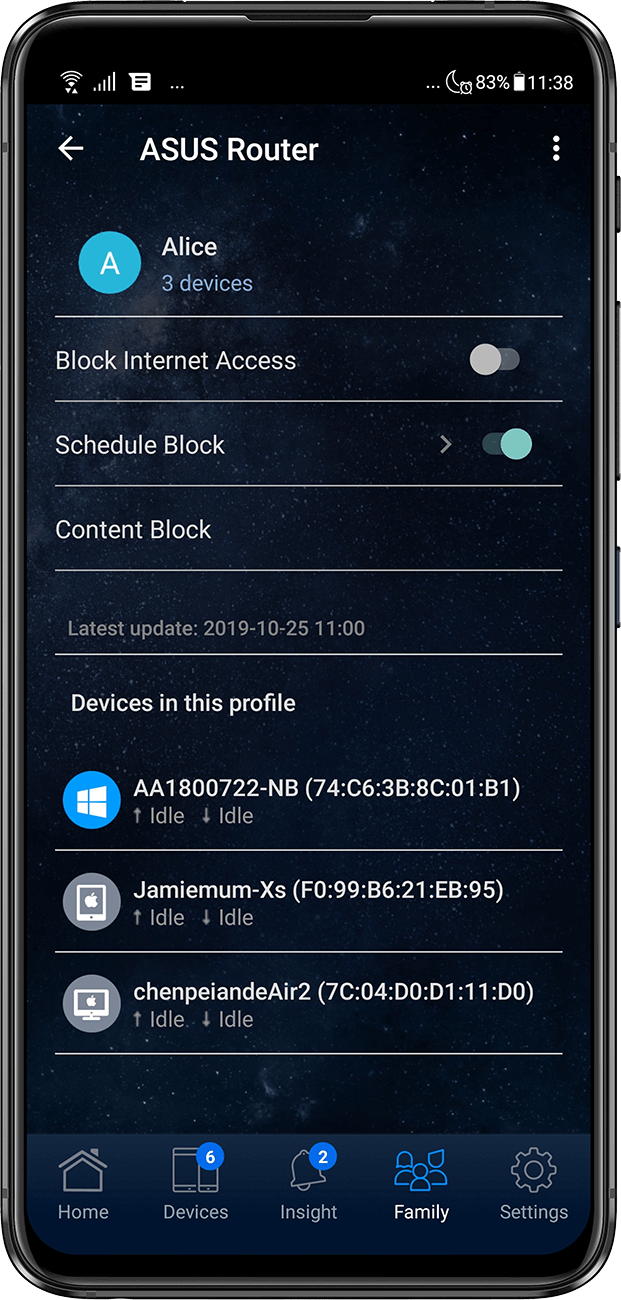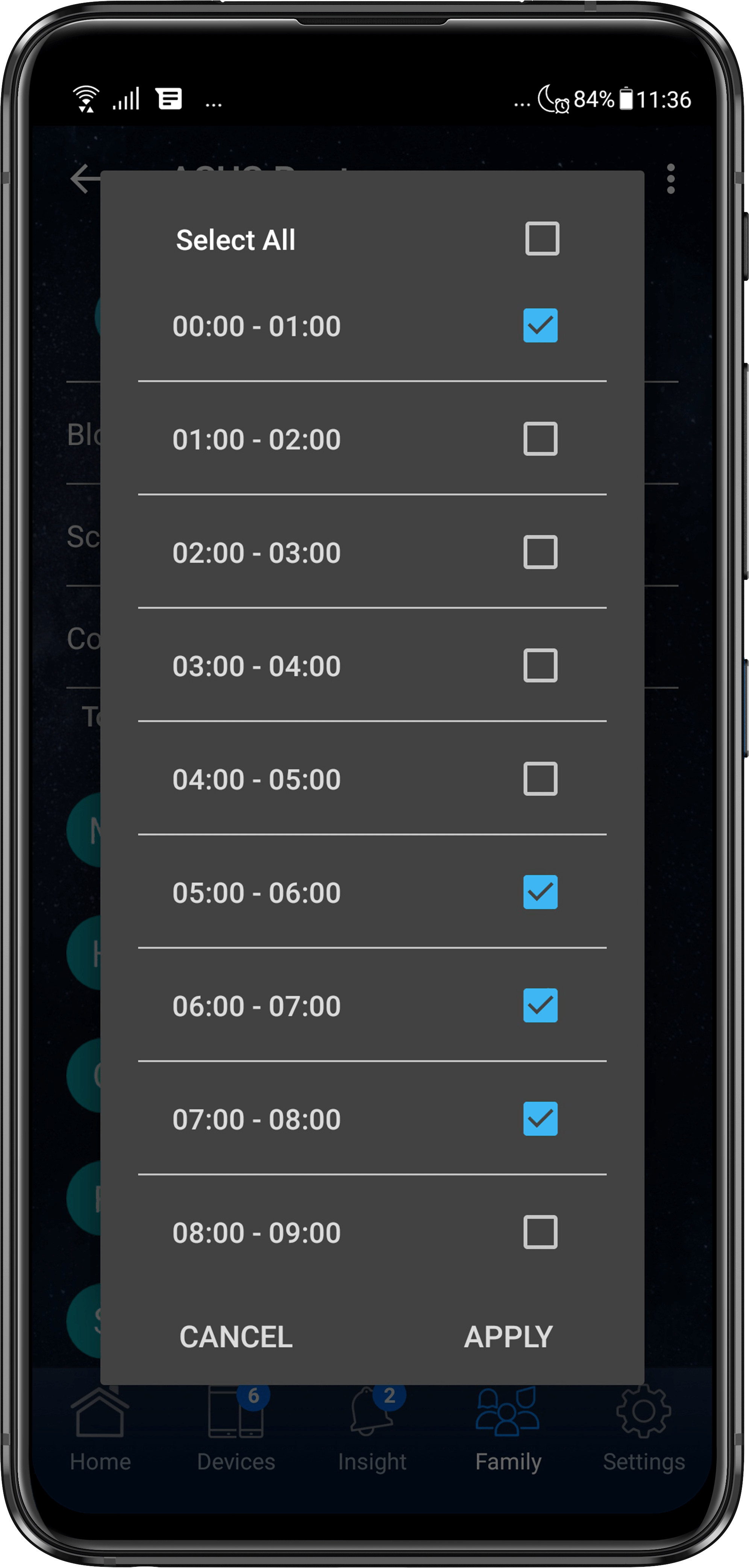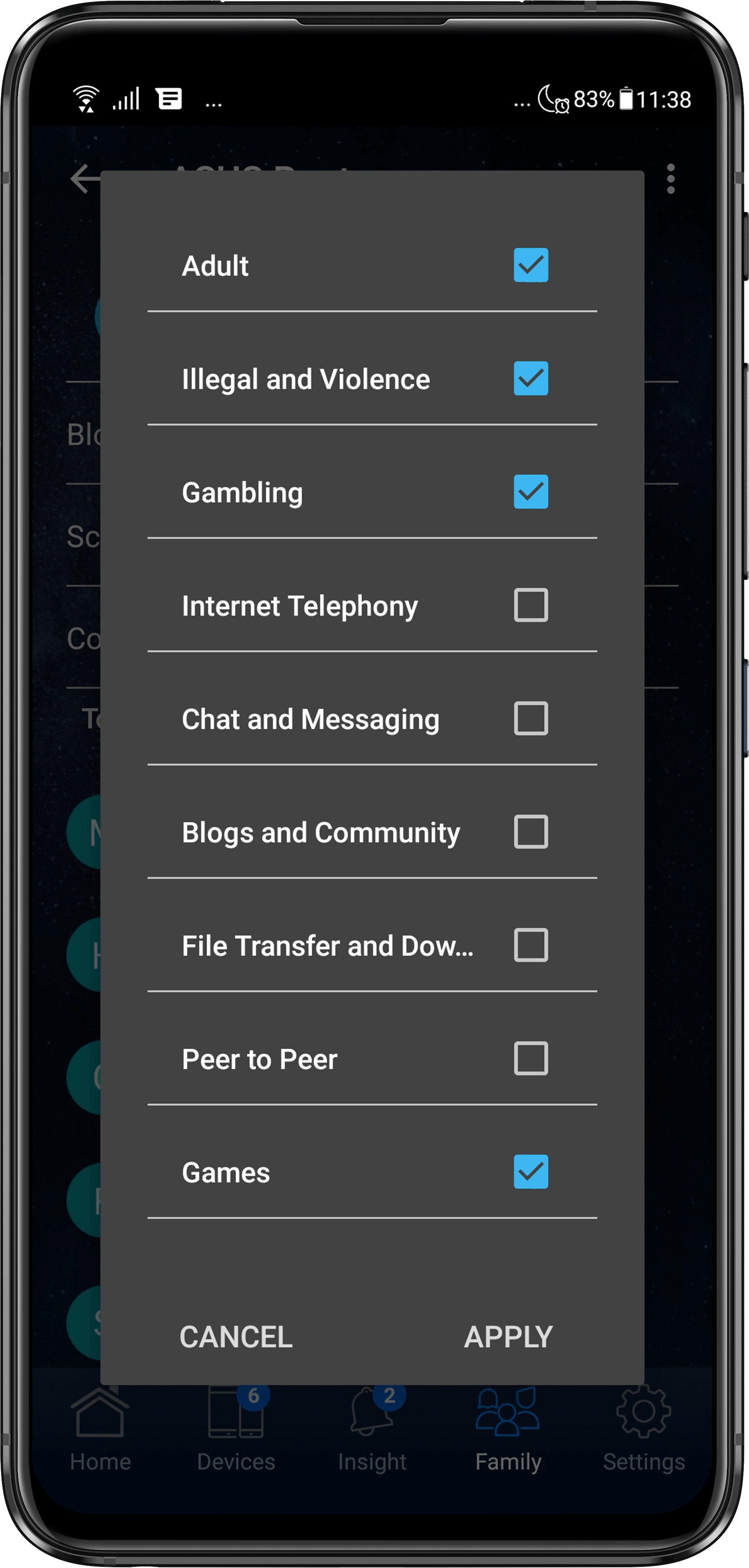 Internet Activity Dashboard
Kid-Safe Preset
Schedule Block Time
Content Filter
View each family member's internet activity on a clear graphical dashboard showing the peak time and what kind of content they are viewing. You can group devices that belong to your children to view aggregated data and apply scheduled block times and content filters with just a few taps.
Check the box when editing a device and profile, and the preset automatically applies filters for inappropriate content to all their devices.
Reserve valuable family time or help your children develop responsible behavior by selecting scheduled time periods to block internet access on specific devices.
Block specific categories of mobile apps and websites, and apply these settings to all devices belonging to individual family members. The advanced filtering integrates Trend Micro's Deep Packet Inspection (DPI) engine to filter not only by website URL, but also by the internet packets themselves, which means it filters content viewed not only in a web browser, but also within mobile apps on your devices.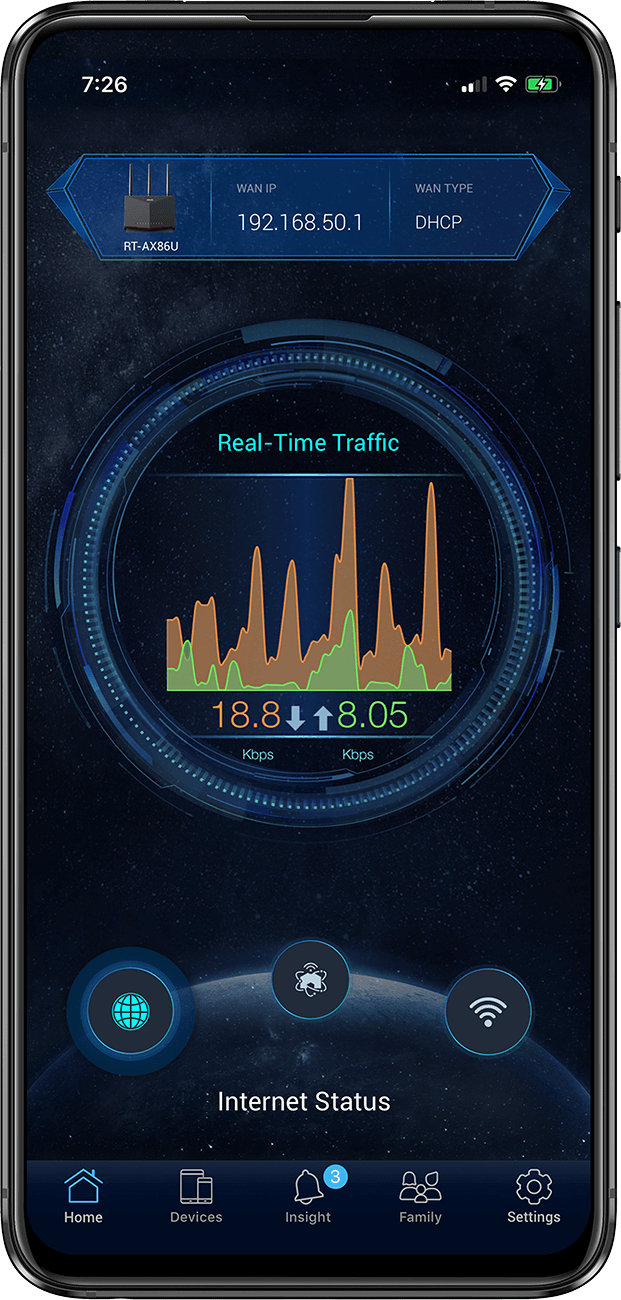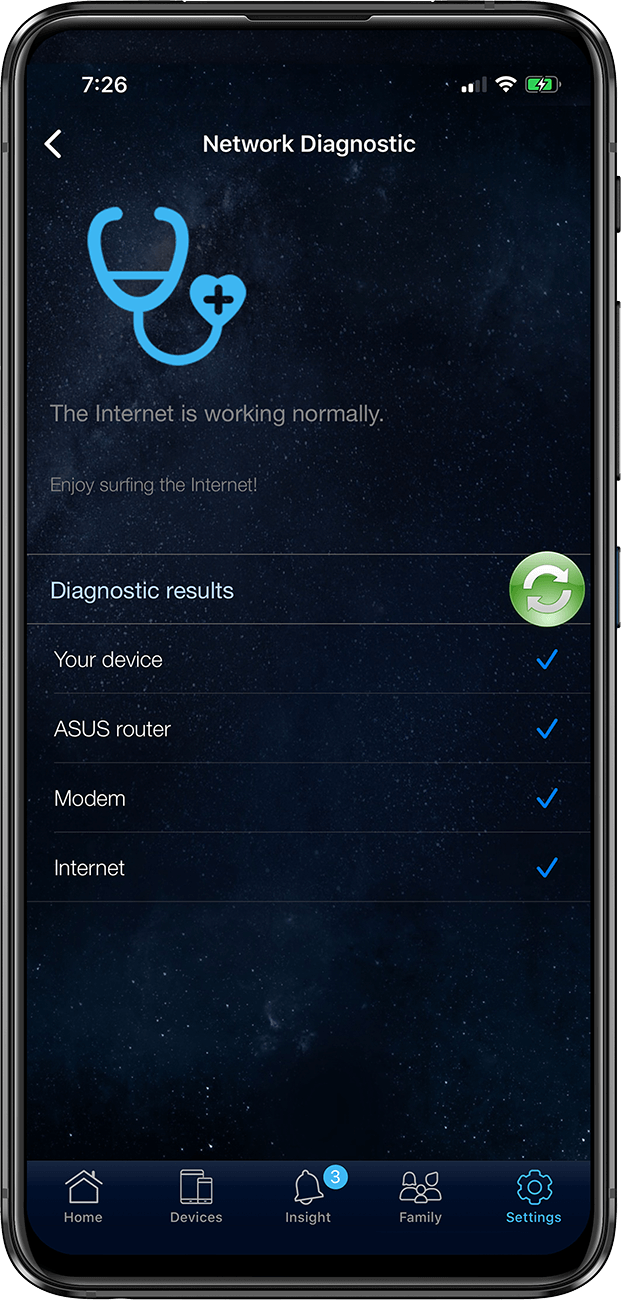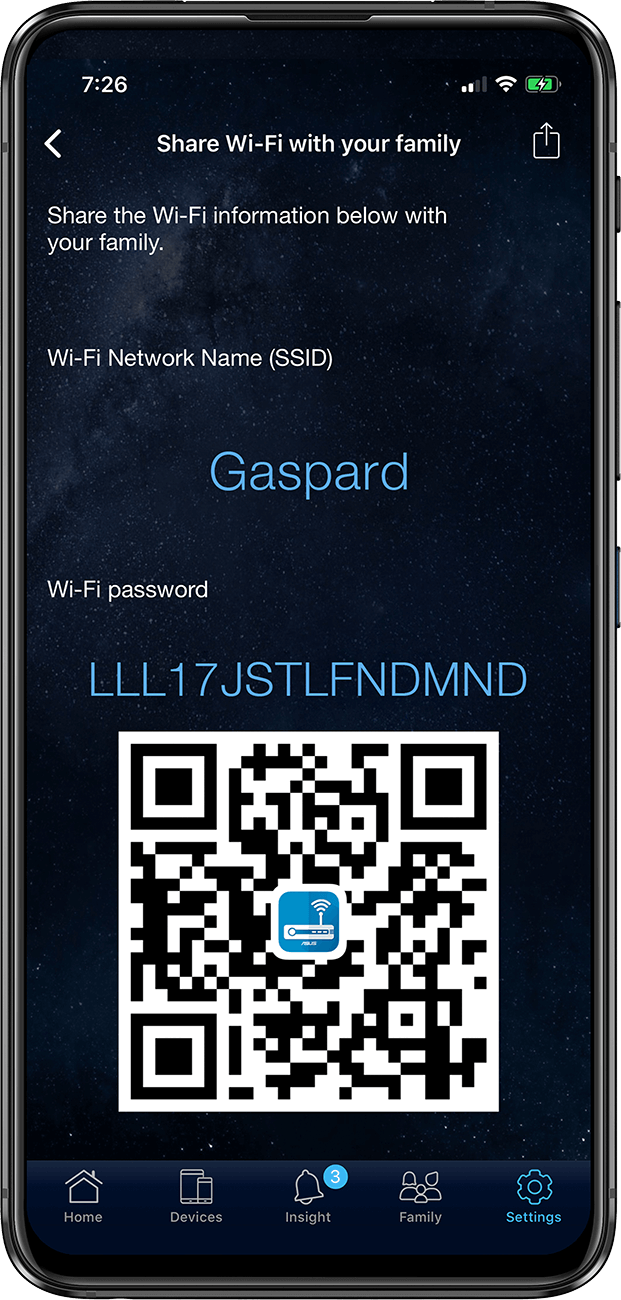 Easy Management Via Mobile App
Traffic Analyzer
Graphical monitoring of real-time traffic.
Network Diagnostics
Pinpoint your network problems with just one tap.
Guest WiFi
The easy way to share your WiFi securely without difficult passwords.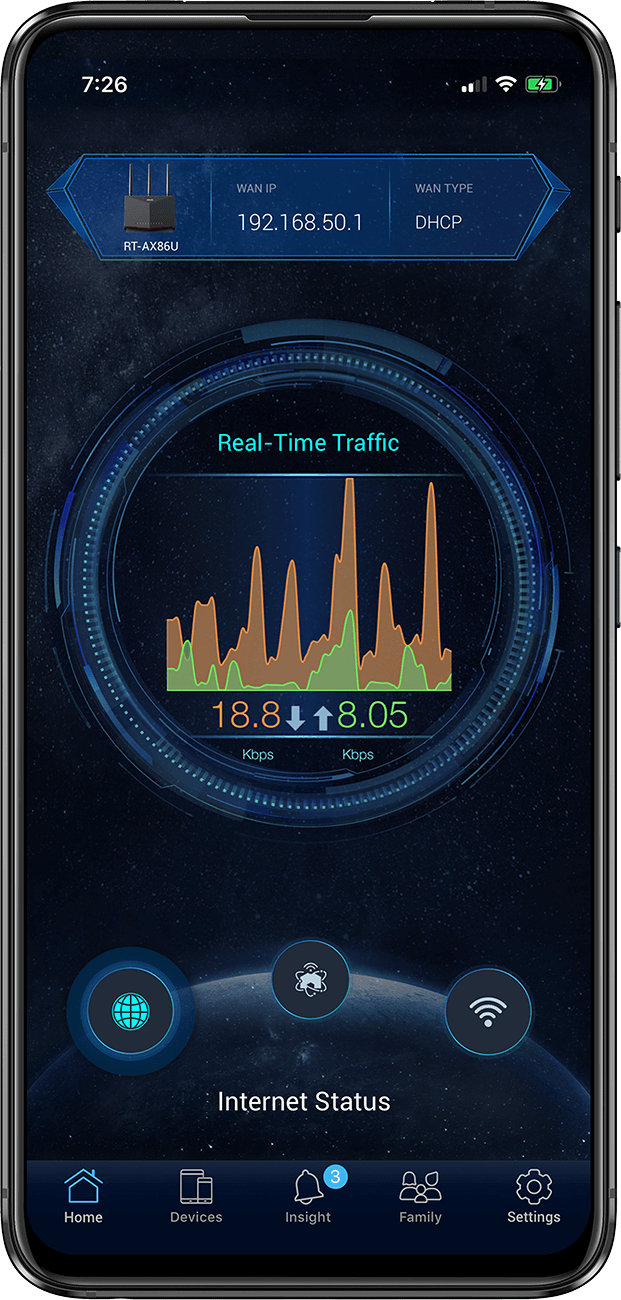 Traffic Analyzer
Graphical monitoring of real-time traffic.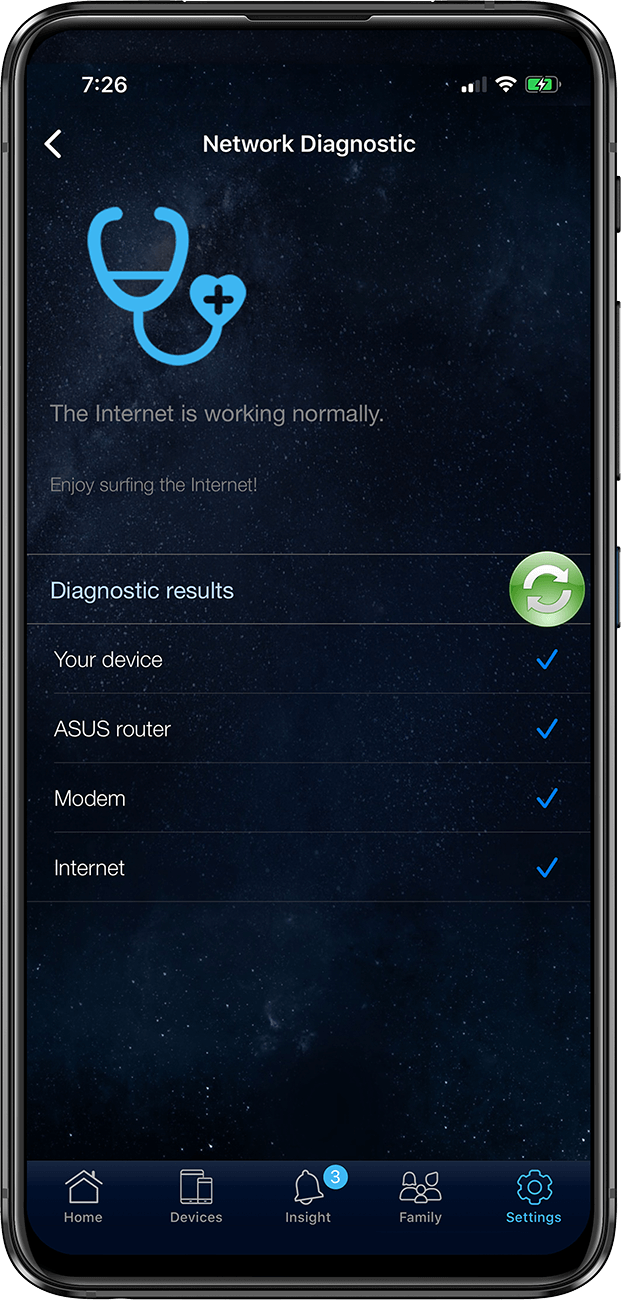 Network Diagnostics
Pinpoint your network problems with just one tap.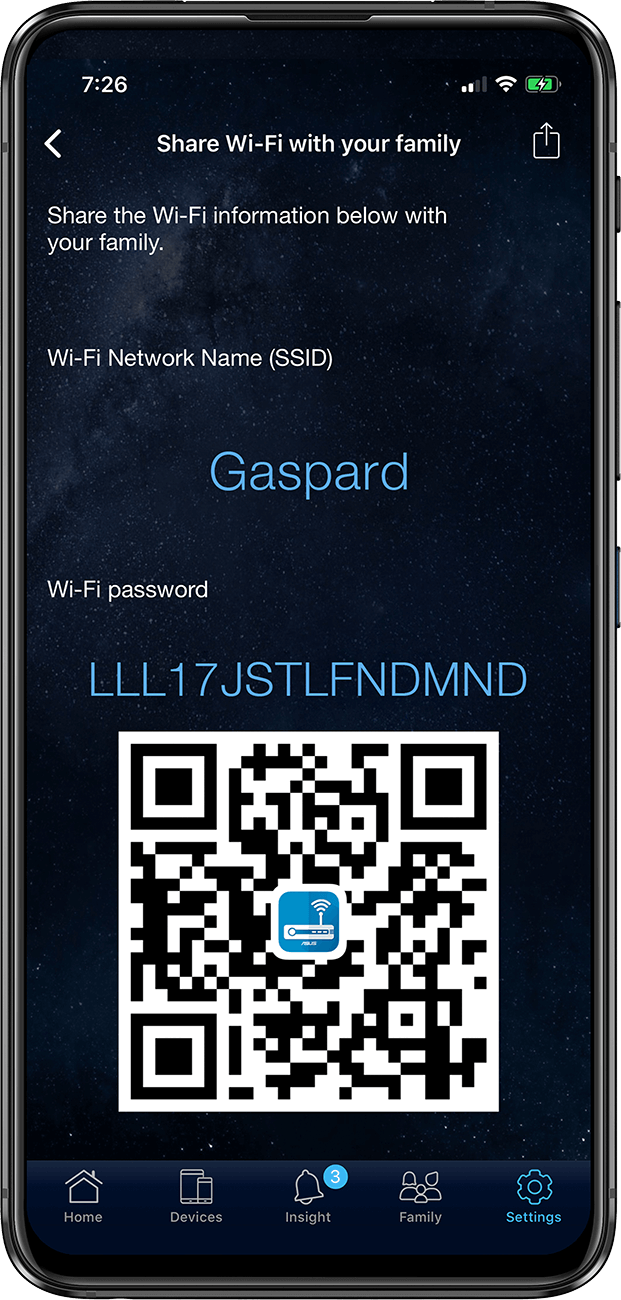 Guest WiFi
The easy way to share your WiFi securely without difficult passwords.

Disclaimer:
* Actual data throughput and WiFi coverage will vary from network conditions and environmental factors, including the volume of network traffic, building material and construction, and network overhead, result in lower actual data throughput and wireless coverage.
** To benefit from WiFi 6 features, the WiFi client needs to be WiFi 6 capable.
*** The number of speed is calculated with data rate of 2.4 GHz band and of 5 GHz band, which are respectively 861 and 4804 Mbps. And the DFS channels may not be supported in some countries due to local regulations.
Compare (0)