June 18, 2021
ASUS Announces Chromebook Flip CX5
First ASUS Chromebook powered by 11th Gen Intel Core i7 CPU elevates cloud-based productivity and entertainment
KEY POINTS
First ASUS Chromebook with an 11th Gen Intel® Core™ i7 processor:

Expands capabilities for empowering cloud-based work and entertainment

Immersive cloud gaming:

Google Stadia and NVIDIA® GeForce NOW, plus a 15.6" ASUS NanoEdge FHD touch display

Minimalist design:

Immersive White exterior and all-black interior, as well as an Obsidian Velvet palm rest area for added style and comfort

Unparalleled connectivity:

Up to WiFi 6, ASUS WiFi Master Premium for Chrome, 2 reversible USB-C® 3.2 Gen 2 ports, HDMI 2.0 and microSD card slot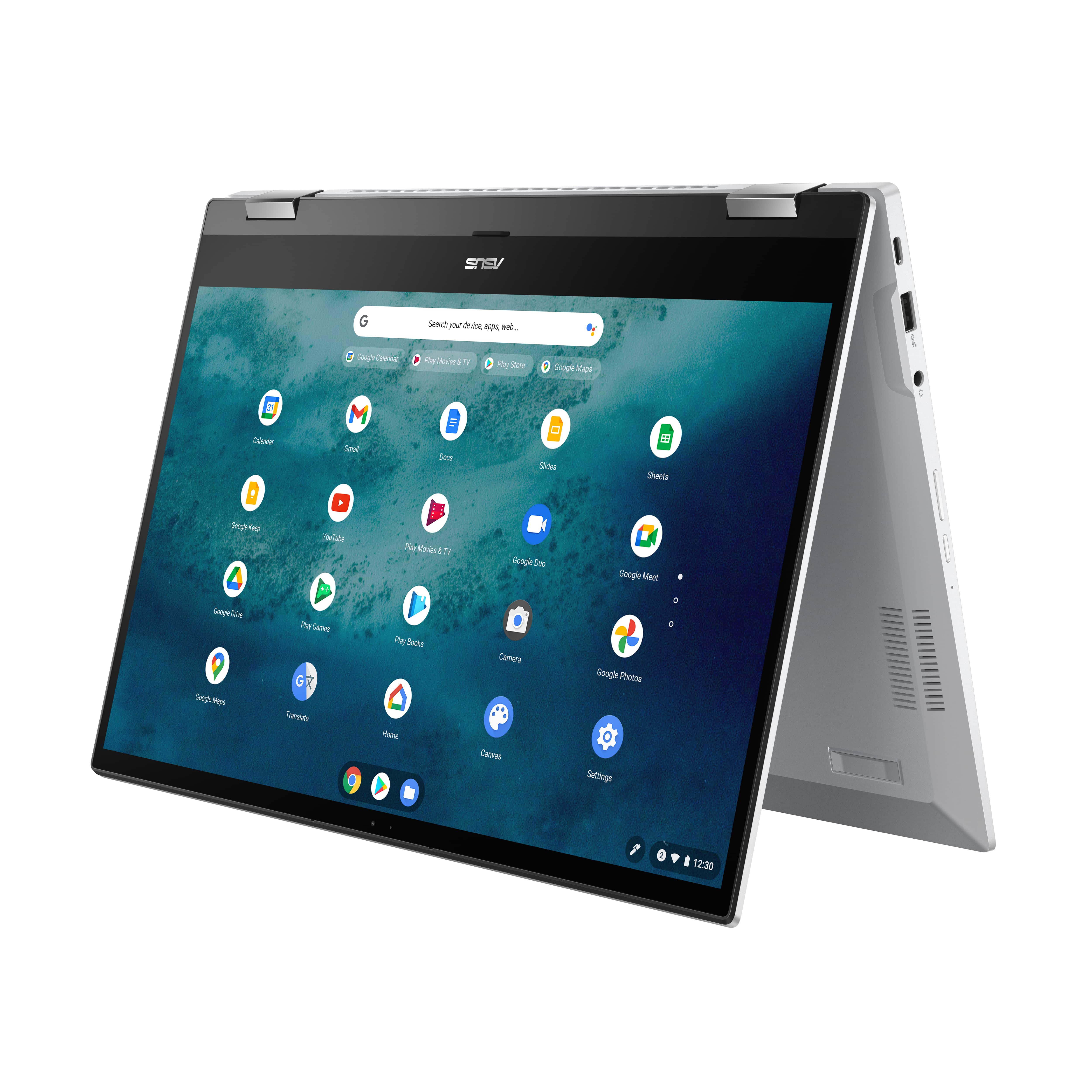 ASUS today announced ASUS Chromebook Flip CX5, a groundbreaking new laptop that expands the capabilities of Chromebooks to further empower users for cloud-based productivity and entertainment. ASUS Chromebook Flip CX5 is the first ASUS Chromebook to be powered by an 11th Generation Intel® Core™ processor with Intel Iris® Xe graphics, and it features up to WiFi 6 connectivity, ASUS WiFi Master Premium for Chrome and dual Harman Kardon-certified speakers. It also supports Google Stadia and NVIDIA® GeForce NOW for immersive cloud gaming experiences. ASUS Chromebook Flip CX5 equips users with the tools they need to take on the new era of work and entertainment.
Performance to empower cloud-based work and entertainment
ASUS Chromebook Flip CX5 is designed for young, tech-savvy users who need an intuitive, user-friendly laptop that provides powerful performance and enables mobile productivity. These users are accustomed to working and enjoying entertainment in the cloud. As the first ASUS Chromebook to be powered by the latest 11th Generation Intel Core i7 processors with Intel Iris Xe graphics, ASUS Chromebook Flip CX5 delivers exceptional performance and responsiveness for ultimate cloud-based productivity and entertainment. The 57 Wh battery offers up to 11 hours of battery life, and the laptop features up to 16 GB of memory as well as storage of up to a 512 GB PCIe® SSD.
Ultimate cloud gaming experiences
ASUS Chromebook Flip CX5 combines support for Google Stadia and NVIDIA GeForce NOW with stunning visuals and crisp, powerful audio to unleash the best of cloud gaming.
Stadia is Google's gaming platform that lets users instantly play their favorite video games on screens they already own. Access to Stadia is free — users only pay for the games. Games can be streamed directly on favorite compatible devices, and they are ready wherever there is WiFi or Ethernet, without waiting for installs, downloads or updates.
GeForce NOW is NVIDIA's cloud-based game streaming service that delivers real-time gameplay straight from the cloud to laptops, desktops, SHIELD TVs, and Android and iOS devices. With cloud-based game saves for supported free-to-play games, users can pick up a game where it was left off, on any supported device, wherever they are.
The seamless visuals and excellent audio on ASUS Chromebook Flip CX5 bring cloud entertainment to the next level. The three-sided NanoEdge display maximizes the screen area and screen-to-body ratio, making visuals more immersive. The display offers Full HD resolution and delivers wide viewing angles and exceptional color reproduction for vivid, true-to-life visuals. Additionally, dual high-quality stereo speakers provide Harman Kardon-certified audio, and USI stylus support enables fluid and efficient creativity, anywhere.
Minimalist design, maximum user comfort
The aesthetic of ASUS Chromebook Flip CX5 is tailored to young, tech-savvy users who embrace minimalism and enjoy creative pursuits. The perfect contrast between the Immersive White chassis and the all-black interior represents the laptop's incredible blend of seamless entertainment and enhanced productivity. A unique coating on the aluminum-alloy cover delivers an elegant, ceramic-like texture for a gentle, simple aesthetic. On the inside, the full‑sized backlit keyboard offers 1.4 mm key travel for more comfortable typing, and the Obsidian Velvet texture of the palm rest area offers a silky-smooth feel for added comfort during extended use.
When in use, the precision-engineered 360° ErgoLift hinge on ASUS Chromebook Flip CX5 smoothly adjusts and secures the display at any angle. The hinge also lifts and tilts the keyboard into the perfect typing position when the display is rotated into laptop mode, and this position creates extra space underneath the laptop to enhance the audio and allow more airflow for improved cooling.
Unparalleled connectivity
The seamless connectivity on ASUS Chromebook Flip CX5 expands possibilities. ASUS WiFi Master Premium for Chrome enhances connections by filtering out wireless interference to provide the fastest possible speeds and stable connections, and the option of integrated WiFi 6 technology lets users enjoy faster-than-wired speeds of up to 2.4 Gbps for smooth streaming of FHD online videos and quick transfers of large files. Two full-function, reversible USB-C® 3.2 Gen 2 ports make it easy to charge connected devices, stream media or connect with peripherals. An HDMI 2.0 port provides the option to connect the laptop with up to an external 60 Hz 4K display, and a microSD slot enables extra storage for maximum convenience and compatibility.
Productivity, reliability and security
For both work and play, ASUS Chromebook Flip CX5 is the gateway to the very best of Google. Users can enjoy full access to the Google Play Store, and Google Assistant is always ready to help. Chrome OS on ASUS Chromebook Flip CX5 offers the full power of Google Workspace, including Google productivity apps such as Gmail, Docs, Drive, Calendar, Meet and more, allowing users to collaborate quickly and seamlessly stay in sync with favorite apps. Also, with seamless cloud integration, users can easily access almost anything from any device.
ASUS Chromebook Flip CX5 meets the ultra-demanding MIL-STD 810H military standard, ensuring reliability and durability. Plus, automatic updates and built-in anti-virus protection seamlessly keep the device safe, secure and always up to date. The laptop is also built around the rock-solid security of a personal Google account, so all private documents, emails, photos and confidential data are kept safe at all times.
Google Stadia is available in the following countries: United States, Canada, United Kingdom, France, Italy, Germany, Austria, Spain, Sweden, Switzerland, Denmark, Norway, Finland, Belgium, Ireland, Netherlands, Poland, Portugal, Czech Republic, Slovakia, Romania, Hungary. For more information and terms of service, please visit https://stadia.google.com/.

GeForce NOW is currently available in over 80 countries in North America, Europe and in various parts of the world through the GeForce NOW Partner Alliance. Visit the server status page (https://status.geforcenow.com/) for a list of available servers and their current status, or the knowledge base article (https://nvidia.custhelp.com/app/answers/detail/a_id/5023) for a list of supported countries and GeForce NOW Partner Alliance details.

Specifications, content and product availability are all subject to change without notice and may differ from country to country. Actual performance may vary depending on applications, usage, environment and other factors. Full specifications are available at http://www.asus.com