Product
MB16AHP, MB16AMT, MB16AP, XG17AHP, XG17AHPE
[ASUS Portable Display] Troubleshooting - When you have trouble in charging or cannot boot normally
① When the battery power is zero, please use the adapter to charge in time. It is normal that the screen doesn't display because the power is insufficient (the battery power is too low (<5%) to display the normal state)
Insert the adapter for a period of time (usually 30 minutes) and it will automatically turn on. During this process, please do not try to press the Menu button or Power button to turn on the screen.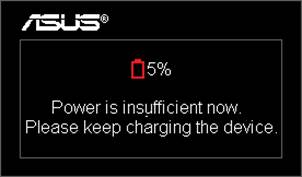 ② When the screen power is not enough to display the Logo and immediately turns off and the LED light does not turn on,
, press the Power button to turn off the screen after connecting the adapter.
At this time, the LED light is red and it enters the charging mode. Please continue to use it after charging.