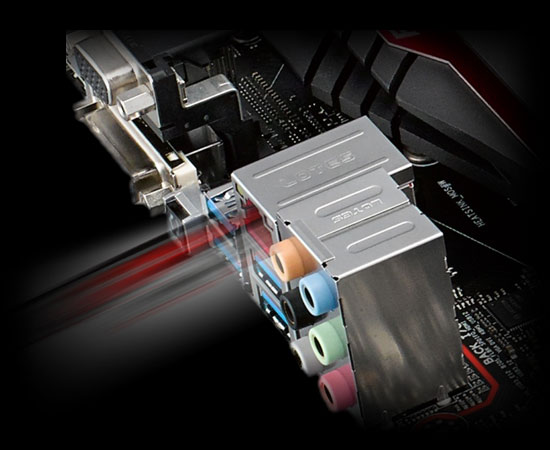 Intel® Gigabit Ethernet provides better throughput with lower processing power for superior speed and, as you would expect from ROG, we've added our own advances to ensure the best possible performance for gamers — in every game and on every battlefield.
Pumped-up throughput. Best surge protection.
ROG has reinvented the LAN port. Advanced signal-coupling technology and premium surface-mounted capacitors improve throughput, while surge-protected and electrostatically-guarded components (ESD Guards) protect your motherboard from lightning strikes and static electricity!
Network-optimization software for no-delay gameplay!
Exclusive GameFirst III has been upgraded with even more gamer-helping features and an interface that's even more intuitive! GameFirst III helps you to assign top priority to game packets and allocate more bandwidth to the game, ensuring the best online gaming.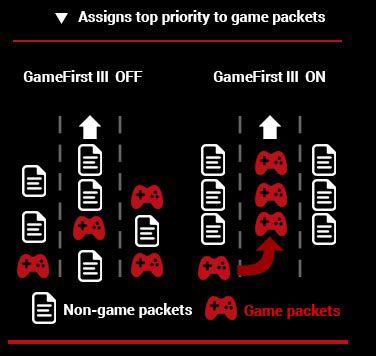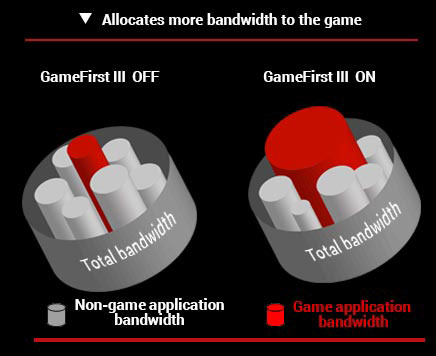 Choose from a preset mode to suit what you're doing – Optimization, Game, Media Streaming or File Sharing. You can manage bandwidth down to the level of individual applications, with five priority levels (highest, higher, normal, lower, lowest) and even the ability to block specific traffic. GameFirst III even has a built-in Network Monitor tool, so you can supervise your network traffic and test your connection speed? to check that you're getting the bandwidth you pay for!