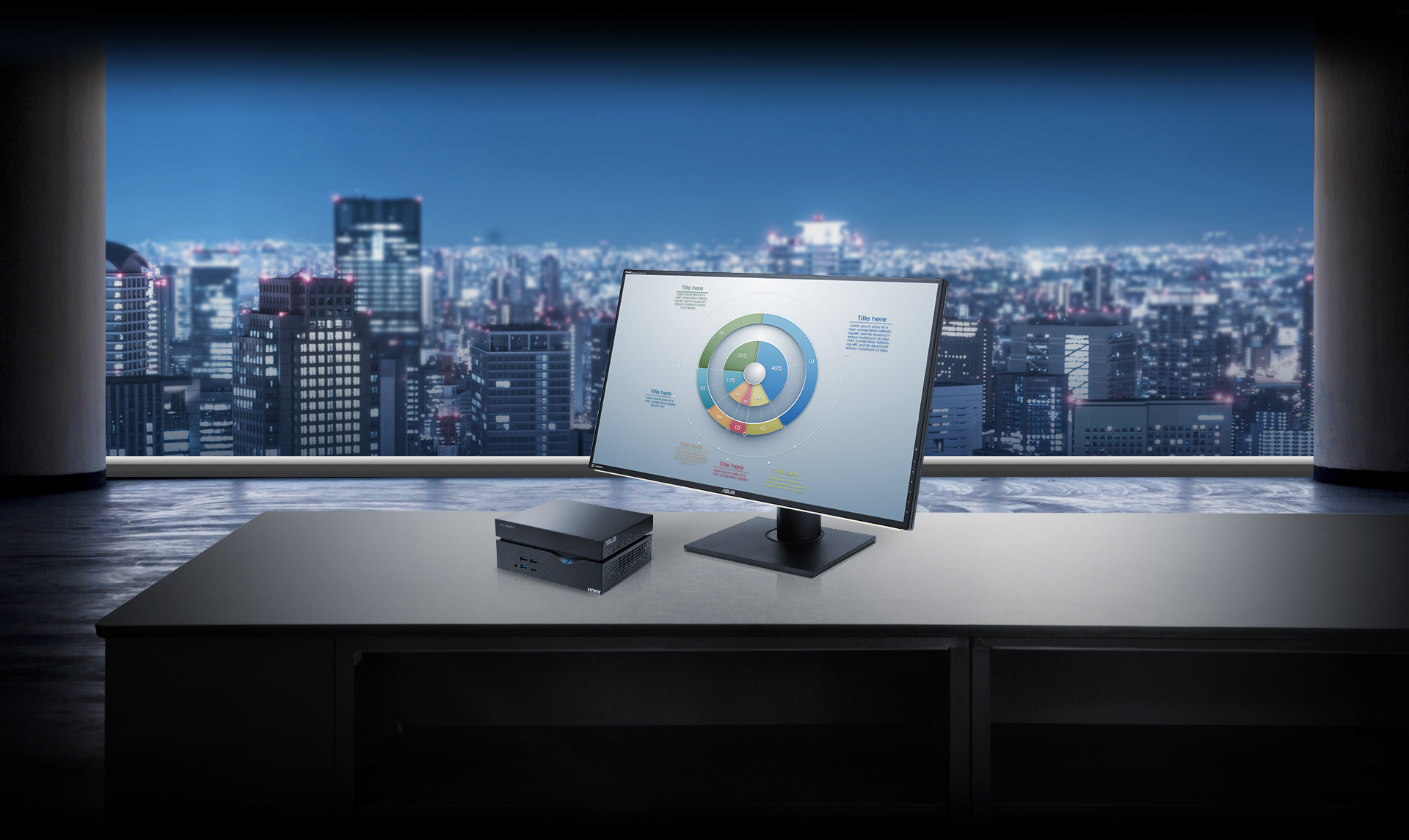 The versatile high- performance mini PC
The ASUS VivoMini VC66 is a high-performance mini PC with a versatile modular design and full connectivity.
The VC66 takes processor-intensive tasks in stride, thanks to its desktop-grade 7th Generation Intel® Core™ (Kaby Lake) processor and DDR4 memory. There's 4K UHD display support, and all-around connectivity with several video output ports for compatibility with various displays.
The VC66 can be specified with one M.2 SSD and two 2.5-inch HDDs or SSDs, or with one 2.5-inch HDD/SSD and an optical disc drive. This flexibility means you can use the VC66 as a file server, a media editing platform, or simply as a mini PC for daily multitasking and entertainment.
The VivoMini PC delivers full PC performance and flexibility, and is ideal if you're looking for a personal PC, a home entertainment center or media library.
And if you're a small business owner, you can also use the VC66 for point-of-sale terminals, digital signage, kiosk displays or workstations.
HOME
Full desktop computing

Home entertainment

Media library
BUSINESS
Office desktops

Digital signage

Kiosk displays

Point-of-sale machines
Do more with 7th Gen Intel Core processors
Powered by a desktop-grade 7th Generation Intel Core i7 processor (Up to 4.2GHz), the ASUS VivoMini VC66 delivers the performance needed for processor-intensive tasks such as media editing or 3D modeling.

Faster and better DDR4 RAM
The DDR4 2400MHz memory of the VivoMini VC66 offers 1.5x faster speeds and 20% better energy-efficiency, versus DDR3 1600MHz memory. This provides you with fast and efficient performance for daily multitask computing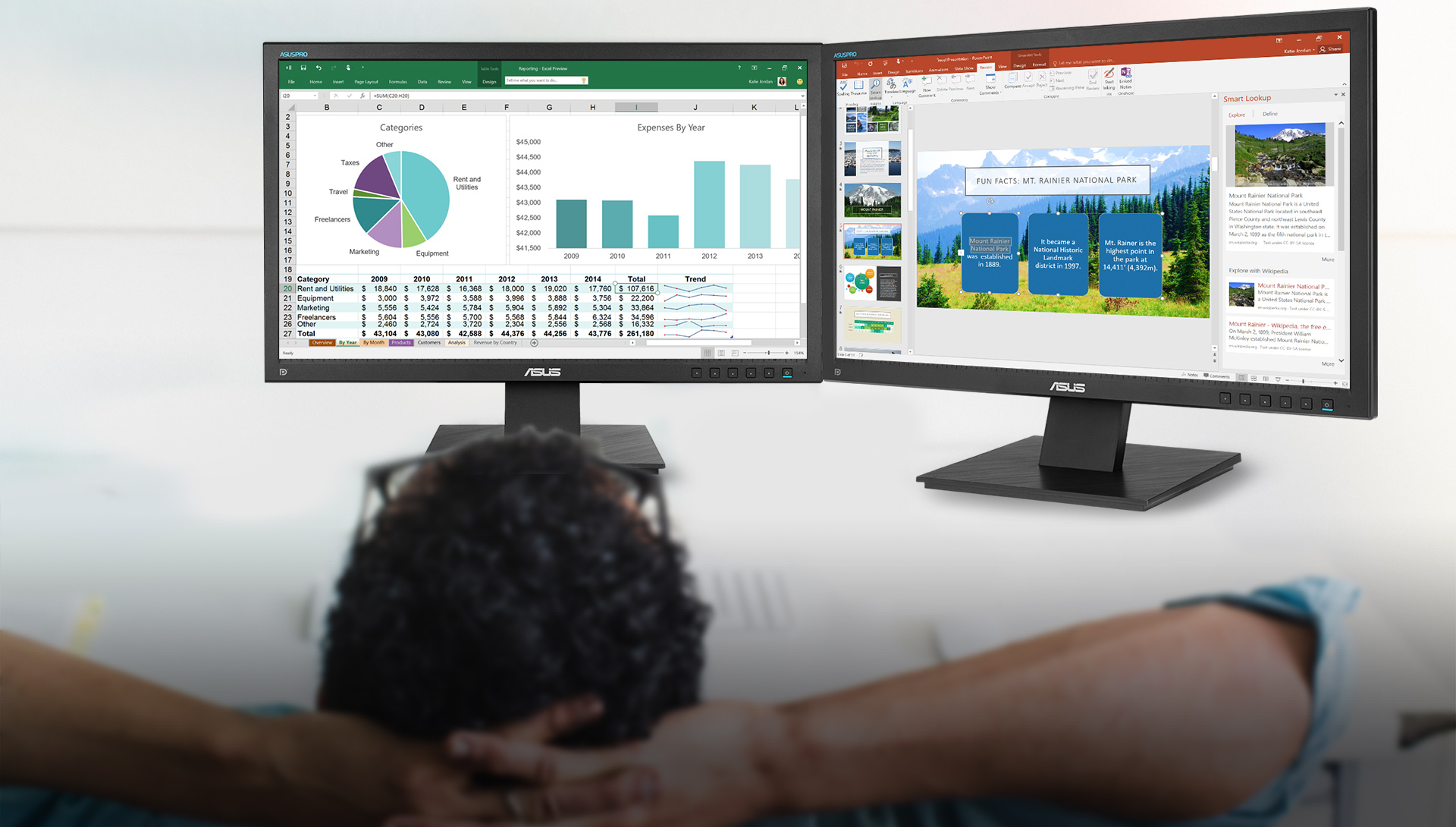 The VivoMini VC66 lets you browse the web, view pictures from your memory card or watch movies in stunning 4K UHD resolution – making it an ideal home theater PC.
HDMI, DisplayPort and DVI-D ports ensure compatibility with monitors, TVs and projectors — so you have a multitude of display options. The VivoMini VC66 even allows you to work on two displays at the same time.
Versatile storage options for every need
The VivoMini VC66 has a versatile modular design ,two factory configuration options provide flexibility:
One configuration offers an M.2 SSD with two HDDs or SSDs. The M.2 SSD and additional SATA SSD offer faster data processing speeds, with the M.2 SSD providing speeds of up to 8Gbps. The HDD option offers large storage capacities for media libraries.
Despite its compact dimensions, the alternative configuration has room for an optional optical drive. Models with two storage modules and an optical disc drive are ideal if you're looking for a mini PC for daily multitasking and entertainment.
Triple-storage configuration

Dual-storage with one optical drive configuration
*Model and configuration availability may vary by region




The VC66 features a quick-access cover for easy component upgrades and maintenance. Switching out the storage drives or DDR4 memory modules is simple – all you need is a screwdriver.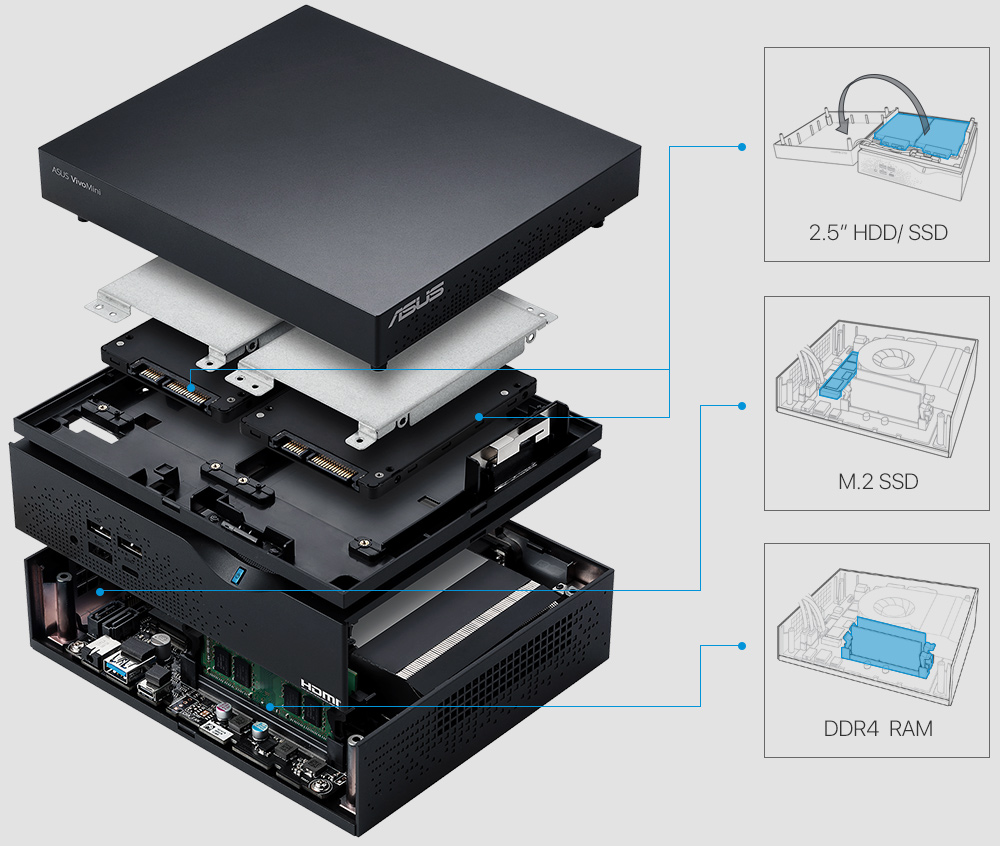 Barebones* option for easy customization
A barebones VivoMini VC66 is also available, allowing for complete customization. Select your preferred operating system, Wi-Fi card or storage options – it's all up to you.


* Barebones solution availability may vary by model or region
The VivoMini VC66 has a compact 2-liter chassis that weighs just 1.5kg. Its modern and stylish aesthetic is a perfect fit for offices, and can also be VESA-mounted on a wall or the back of a monitor. It can cope with heavy loads too, with specially-designed vents to ensure sufficient cooling.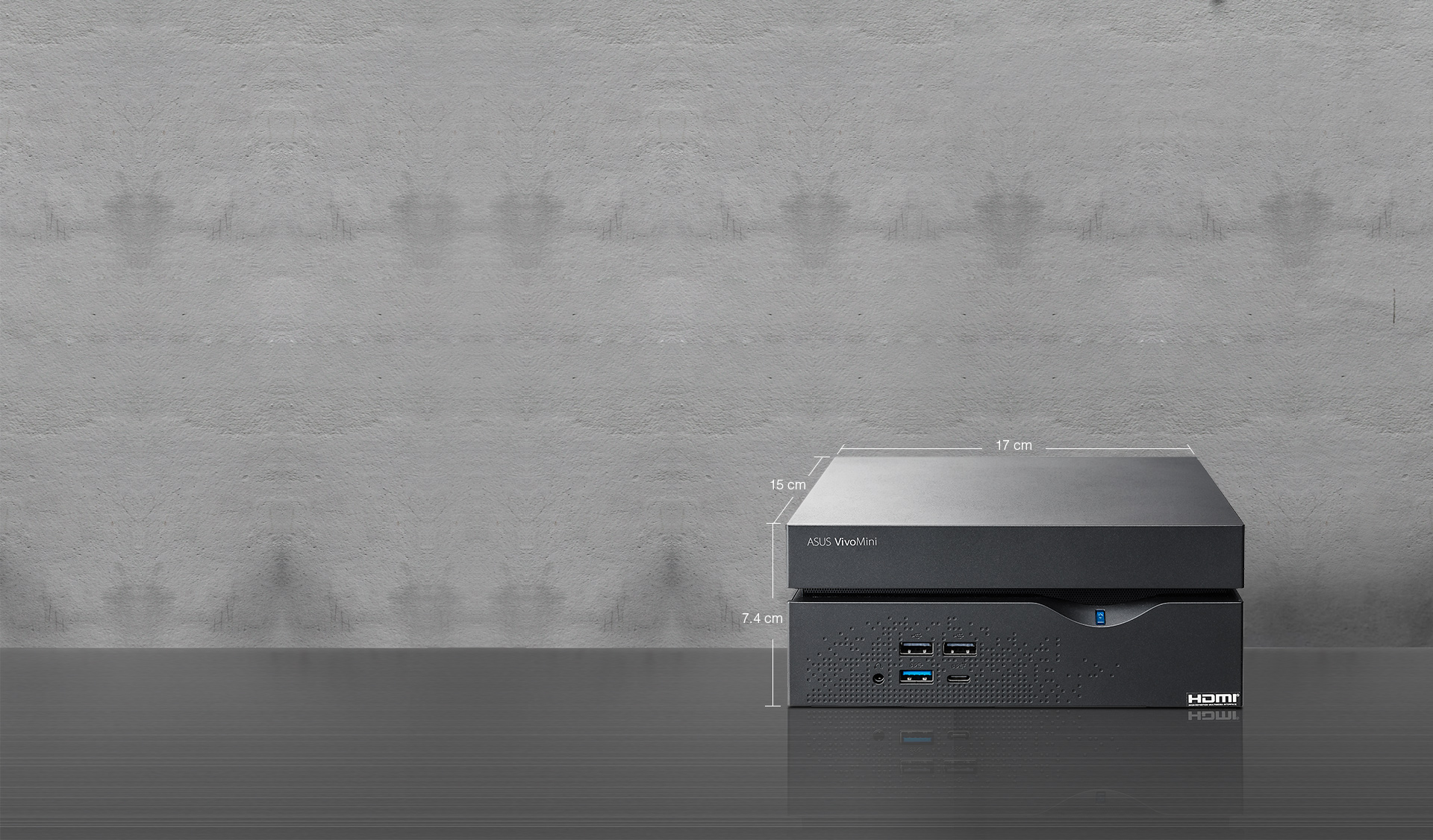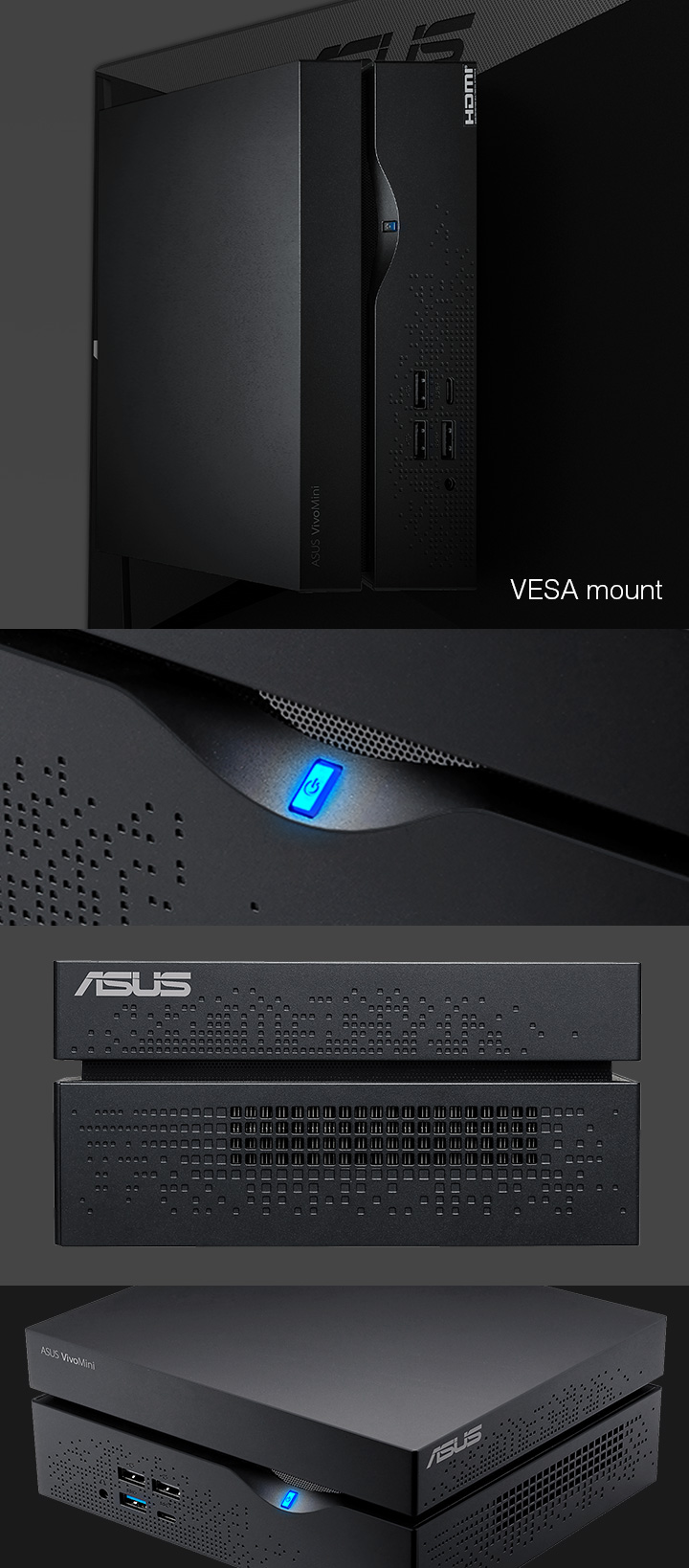 Easily connect to a wide variety of devices
The VivoMini VC66 features four easily accessible front-mounted USB ports, including one reversible USB 3.0 Type-C port. There are two additional USB ports on the rear panel, along with Intel Gigabit Ethernet, a 4-in-1 card reader, and an audio output.
The VC66 has HDMI, DisplayPort++, DVI-D output. A serial port lets you connect the VC66 to legacy embedded systems like bar-code scanners, printers, routers, modems and other devices for point-of-sale systems and vending machines. In addition, the VC66 has the latest 802.11ac Wi-Fi, Bluetooth® 4.1, and a Kensington lock.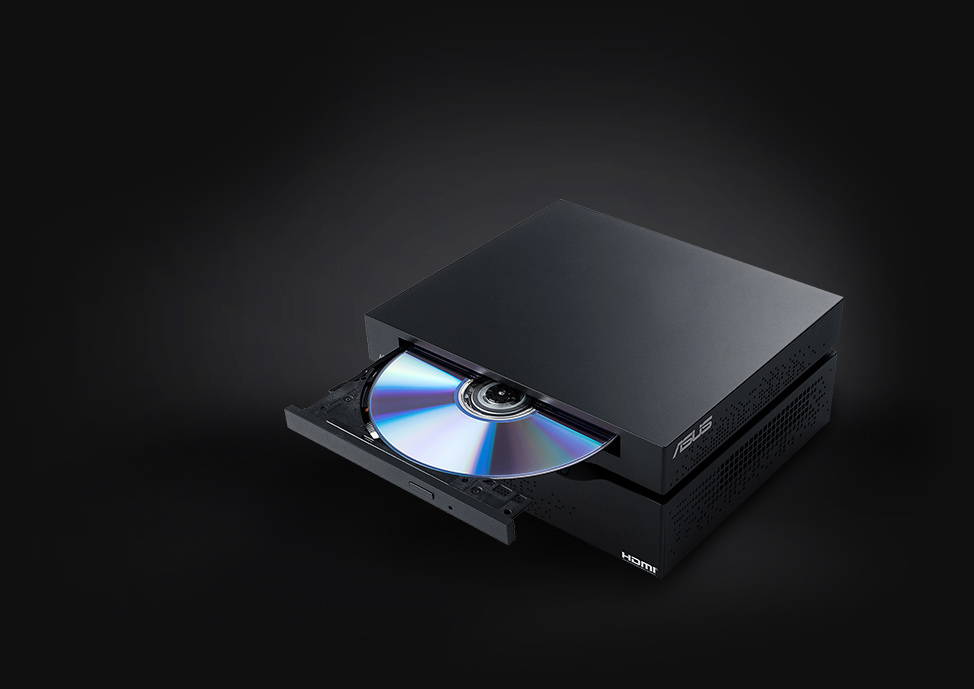 Despite its compact dimensions, there's ample room in the VivoMini VC66 for an optional DVD player/burner for greater multimedia options.


Quiet and energy efficient design
VivoMini VC66 delivers incredible energy efficiency – drawing as little as 18W at idle. This means you can leave VC66 on overnight to download software updates or back-up files, without significantly adding to your electricity bill. The VivoMini is as quiet as a library, too — generating just 19dB of noise at idle.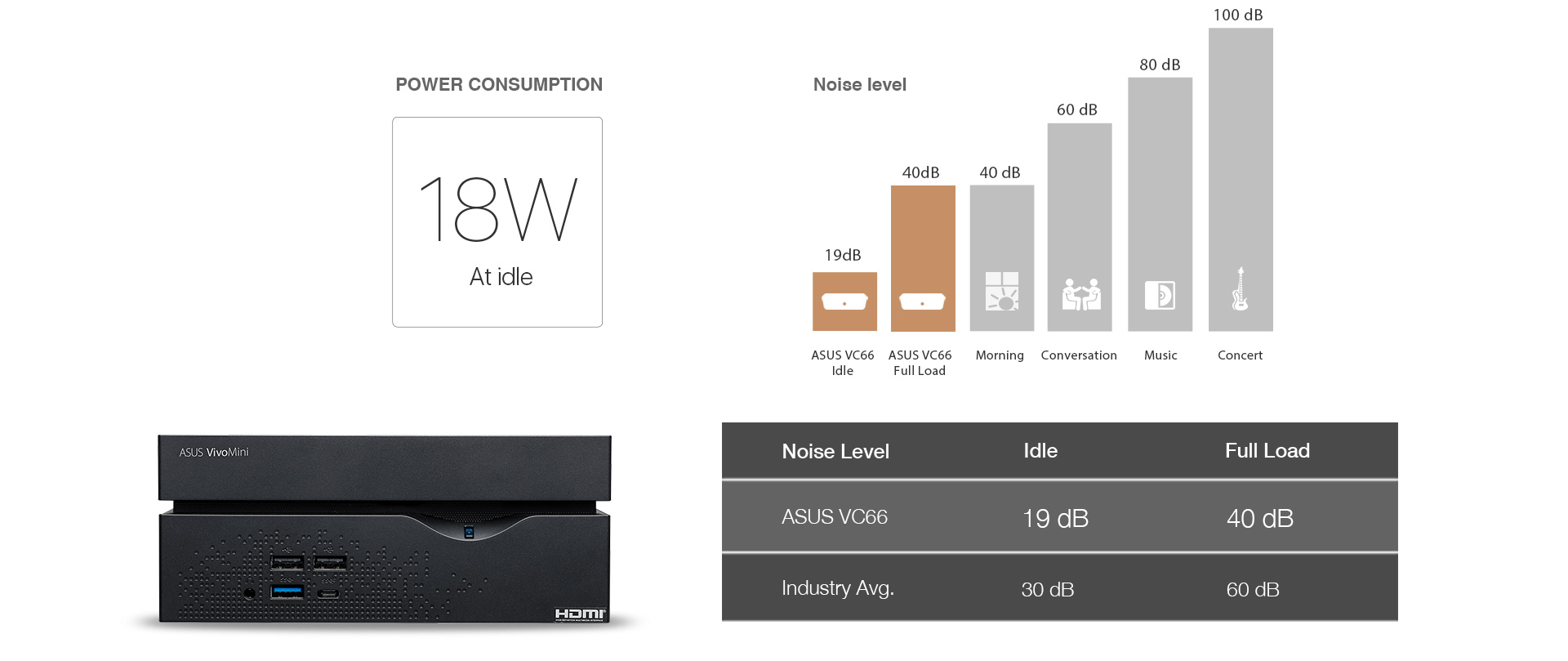 Testing configuration: VC66 | Windows 10 Pro| Intel® Core™ i7-7700 Processor | DDR4 2400 MHz 8G x 2 | 2.5" 128G SATA SSD x 1, 2.5" 1TB SATA HDD x 1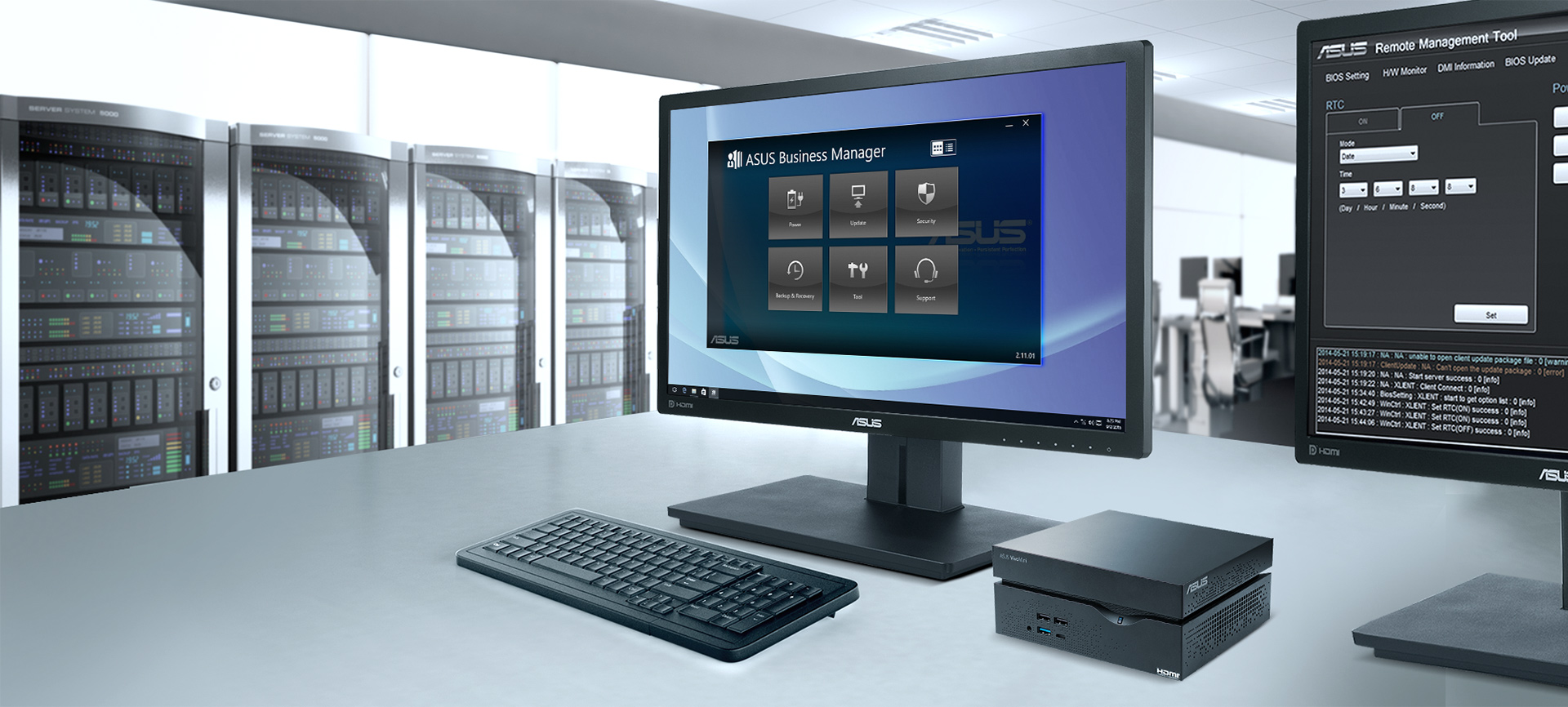 ASUS Business Manager is a one-stop suite of apps and functions designed to help small business owners.

Power

Customize power management and power saver settings

Update

Easily update apps, drivers, and BIOS

Backup & Recovery

Easily backup data, and reset, refresh, or restore the PC

Security

Easily delete cache, cookies, and history, and set a password lock for the USB

Tools

Customize your BIOS logo and change the DMI string

Support

System information at a glance
Access your data anywhere, anytime
The VivoMini VC66 has 100GB of ASUS WebStorage free for an entire year, so you can store and access your files in the cloud, and share them across multiple devices. ASUS WebStorage supports a keyword search feature to help you easily locate files.

ASUS Mini PCs undergo rigorous noise, vibration, drop, and thermal shock tests to ensure they meet exacting ASUS standards and exceed industry requirements. Be confident that your ASUS Mini PC can cope with extreme conditions, ranging from dry -40°C temperatures, to humid and hot environments exceeding 60°C.s


Vibration Test

Drop Test

Port Test

Temperature and Humidity Test

Noise Test

Line Voltage and Frequency Test
Total physical and virtual protection
Safeguarding intellectual property, business information and physical assets is becoming a management priority, especially in today's knowledge economy. ASUS mini PCs are built with sophisticated security features to keep your business — and your personal information — safe and secure.
Trusted Platform Module (TPM) data security

Onboard TPM offers a protected and encapsulated micro-controller security chip for safeguarding internal data structures against real world threats. This ensures that information like keys, passwords, and digital certificates remains safe from external attacks, physical theft, and other types of intrusion.

* TPM chip support may vary by model or region

Kensington lock slot

ASUS VivoMini PC comes with a Kensington lock slot for additional asset management and security so your hardware and confidential data stays well protected.

USB ports read/write control

ASUS VivoMini PCs feature a mouse-controlled interface that enables more flexible and convenient input, including system management tools like I/O port activation.
Compare (0)