Dual-Band Wireless-AC750 Repeater / Access Point
802.11ac concurrent dual-band wireless repeater with speeds up to 300 Mbps (2.4 GHz) and 433 Mbps (5 GHz)
2.4 GHz and 5 GHz signal strength indicators Ÿ
Streaming music with ASUS AiPlayer app and multiple wireless streaming protocols Ÿ
One-touch setup and hassle-free connectivity
Extended coverage with powerful internal antennas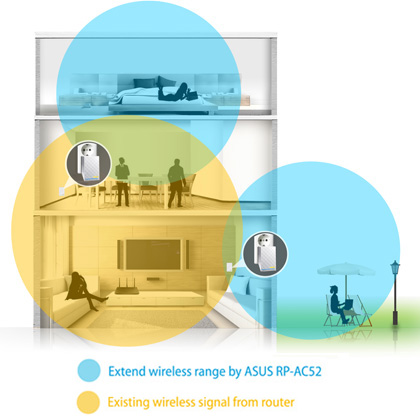 Experience next-generation 802.11ac
Wi-Fi everywhere
The RP-AC52 wireless repeater has powerful internal MIMO antennas that help to eliminate signal dead zones and improve the coverage of any existing wireless router. It works as a repeater, which means it can extend wireless networking to every corner of the home — even to those difficult, hard-to-reach spots. This ensures reliable high-speed internet coverage everywhere for devices such as notebooks, tablets, smartphones, game consoles and smart TVs. RP-AC52 lets you enjoy lag-free gaming and HD multimedia streaming throughout the home.


Dual-band concurrent repeater
The RP-AC52 gets you true dual-band networking even if you're on an older single-band router. Double your wireless performance with up to 733 Mbps bandwidth in 2.4 GHz and 5 GHz simultaneously! 2.4 GHz handles daily tasks like web browsing and social networking, while 5 GHz is great for HD video streaming and online gaming.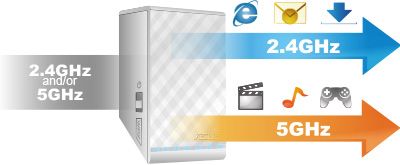 2.4 GHz and 5 GHz signal strength indicators
An LED signal-strength meter on the front of the RP-AC52 wireless repeater shows at a glance the strength of both the 2.4 GHz and 5 GHz signals.

We recommend placing the RP-AC52 between the router and the area where you want to extend wireless coverage. The RP-AC52 works best when it is receiving a strong wireless signal from the router, and you can check this using the signal strength indicator on the front panel of the RP-AC52. This shows the signal strength for both frequency bands — the longer the illuminated band, the stronger the signal. Position the RP-AC52 so that it is as far away from the router as possible but still showing a strong signal level.

Both frequency bands have good signal strength

The 2.4 GHz signal is very strong, but the 5 GHz indicator shows no signal. Check that the 5 GHz frequency is enabled in the router

Both frequency bands are very weak. Move the RP-AC52 closer to the router to increase signal strength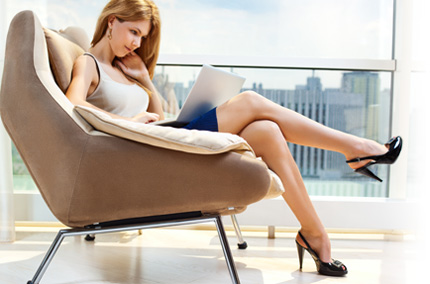 Repeater and access point modes
RP-AC52 has two convenient modes to make it even more flexible. As well as a repeater, it can also work as a wireless access point (AP). In AP mode it can be connected to any wired LAN — for example, a hotel's internet connection — to create a personal Wi-Fi hotspot, allowing the internet connection to be accessed from laptops, phones or other Wi-Fi devices. AP mode is also handy for adding wireless capability to a router with no built-in Wi-Fi.
Streaming music with ASUS AiPlayer app and multiple wireless streaming protocols
You can connect speakers to the RP-AC52 wireless repeater and stream your favorite music direct from any mobile device that has the ASUS AiPlayer app installed. It's compatible with a wide range of multimedia formats and delivers a smooth and effortless streaming experience, anywhere in the home. RP-AC52 also stream music from Mac and iOS devices with no need for extra software.

* Free download ASUS AiPlayer from App Store and Google Play now.


Internet radio
RP-AC52 wireless repeater has built-in support for internet radio, so you can stream all your favorite stations direct from the router's graphical menu interface, or by using the dedicated app.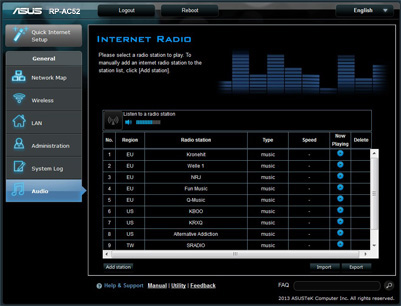 One-press setup and worry-free connectivity
RP-AC52 wireless repeater installation doesn't require a CD or even mouse and keyboard. One press of the WPS button and setup is complete. Optimized performance is assured, so internet experiences are seamless and smooth. For detailed management, you can simply connect the RP-AC52 to a PC via Ethernet cable and go to the configuration page directly, or quickly set it up from tablet or smartphone wirelessly, with no disc or app needed.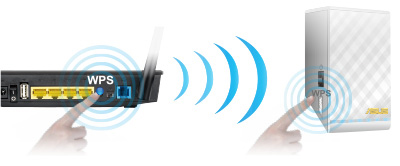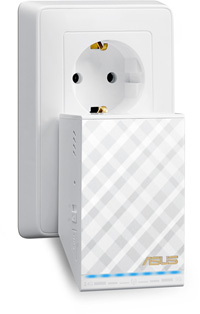 Touch control for music and lighting
Simply touch the sensor on the RP-AC52 wireless repeater to start or stop music playback, or turn the LED lighting on and off. All it takes is one touch, adding instant convenience. You can even personalize the sensor settings via the user-friendly graphical menu interface.


Stylish power lights up your home
The RP-AC52 wireless repeater has an extra LED on the back, turning it into a convenient night light with a gentle white glow.
Compact, flexible and space-saving
The RP-AC52 wireless repeater has a compact space-saving design with the power plug at the rear, giving you more freedom to place it in a convenient location. It needs no power cable, and connects directly to wall sockets or power strips for a clutter-free installation.
Roaming Assist for stable connections, everywhere!
With our hassle-free Roaming Assist technology, you never have to switch connections manually between RP-AC52 and your ASUS router as you move around the home. Once you enable this function, your device will connect automatically to the strongest Wi-Fi signal, whether it's from the router or the repeater. This ensures that you always get a reliable connection wherever you are in the house1.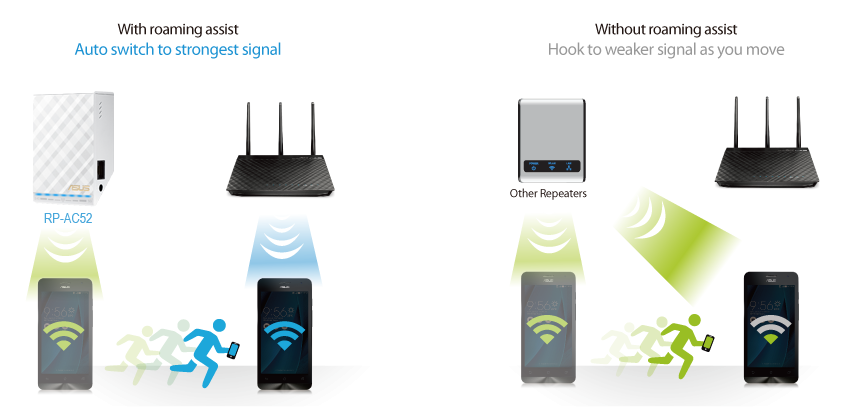 Keep Up to Date!
Remember to always keep your device's firmware up to date so you can benefit from the very latest service and security enhancements — and get exciting new features! Learn more about updating new firmware.
Disclaimer: 1. The effectiveness of the Roaming Assist function varies according to environmental factors.
Discover more wireless AC solutions
* Mac is a trademarks of Apple Inc.
** IOS is a trademark or registered trademark of Cisco in the U.S. and other countries and is used under license.
Compare (0)