ASUS ProArt Display PA32UCG-K - 32-inch, 4K HDR, 1600 nits, 1,152 zones Mini LED Backlight, 120Hz VRR, FreeSync2 HDR, Dolby Vision, HDR-10, HLG, ΔE < 1, DCI-P3, ProArt Hardware Calibration, Thunderbolt™ 3, HDMI(v2.1), VESA DisplayHDR 1400, X-rite i1 Display Pro included
32-inch Mini LED Backlight with 1,152 zones local dimming providing 1600 nits peak brightness & 1000 nits full screen sustained brightness
Support multiple HDR formats (Dolby Vision, HDR-10, HLG) presents lifelike experience and flexibility
48~120 Hz Variable-refresh-rate (VRR) with FreeSync Premium Pro for game developer
True 10 bit color with Quantum-dot technology provides DCI-P3, Rec. 2020, Adobe RGB and sRGB for exceptional color fidelity
World-leading ∆E < 1 color performance and ASUS ProArt Hardware Calibration Technology for color-accuracy optimization, uniformity and color profile write-back
Rich connectivity include dual Thunderbolt™ 3, DisplayPort, HDMI(v2.1) port, and a built-in USB hub
X-rite i1 Display Pro included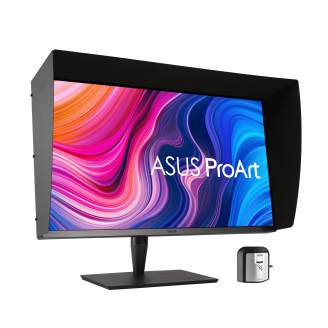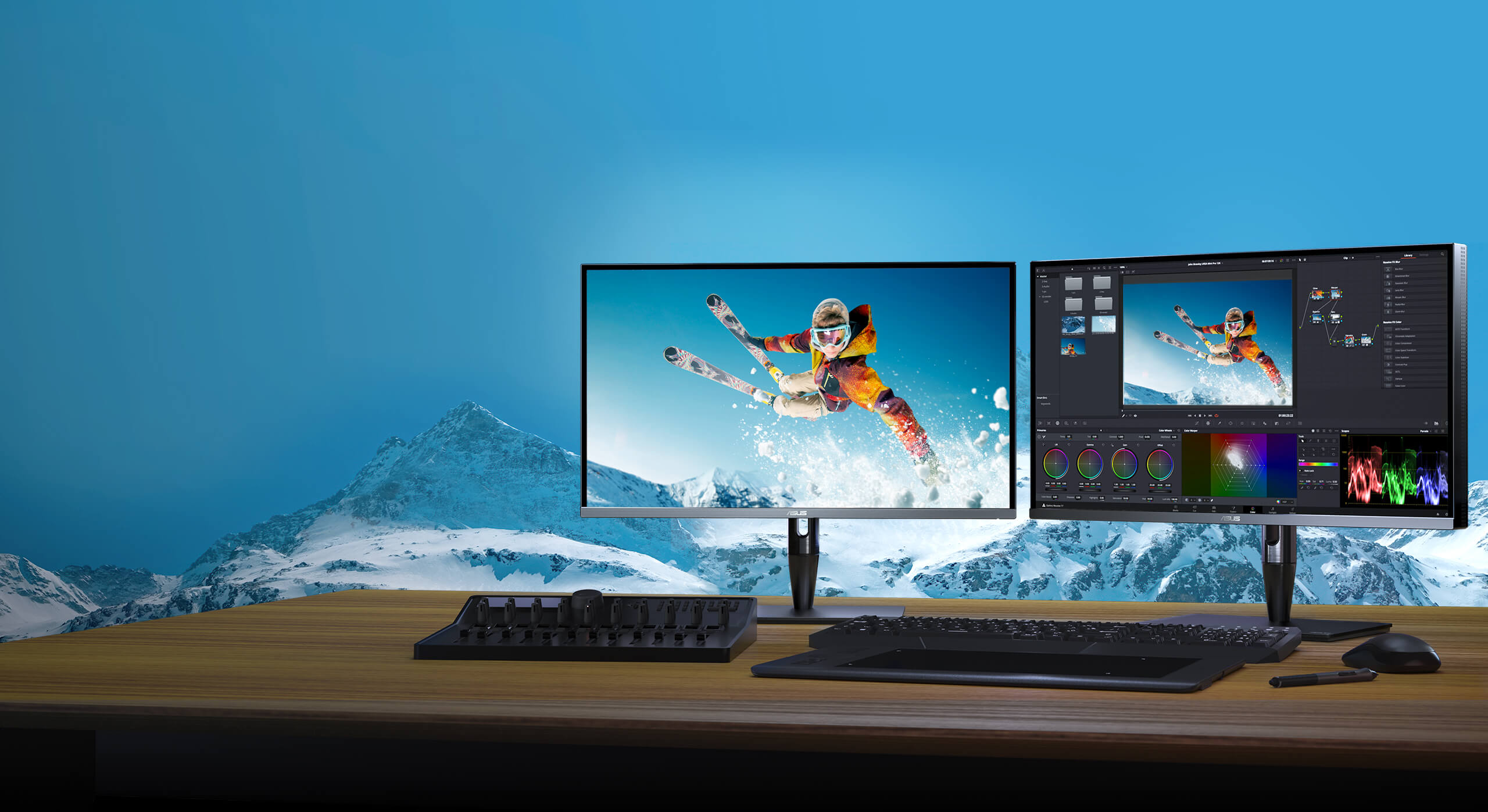 WORLD'S 1st HDR 1600 Nits & 120 Hz Monitor*
It's time to experience ASUS ProArt Display PA32UCG-K – the world's first HDR 1600 display with up to a 120 Hz Variable Refresh Rate. Its mini-LED backlight provides 1600 nits peak brightness and 1000 nits of sustained brightness without partial patch limitation, and industry-leading Delta E < 1 color difference. In addition, convenient hardware calibration, new HDMI(v2.1) and Thunderbolt™ 3 of rich connectivity options make creative workflows seamless and efficient, perfect for content creators.
* Based on currently available HDR professional monitors as of September 2019, featuring 1600 nits peak brightness and 120Hz refresh rate.
Masters' Talks Series
ProArt is an ASUS sub-brand specializing in products designed for content creators. The upcoming series of ProArt Masters' Talks gives content creators the opportunity to learn from industry professionals.

We've invited a technical reviewer, an experienced colorist, and a professional film & commercial director to share their experiences using ProArt PA32UCG-K, the world's first 1600-nit, 120 Hz HDR monitor.
Vincent Teoh is a TV technologist, professional display calibrator and AV journalist. He has established himself as a leading authority on display technology and runs HDTVTest channel on YouTube with 310K subscribers.

Kevin Shaw is the president of Colorist Society International (CSI), he has been color grading for 40 years, and he has firsthand experience of HDR grading. He works on everything from feature films to commercials and is a recognized Dolby Vision instructor.

Jacob Schwarz is an American based film director and cinematographer. Over the past 10 years, Jacob has spent most of his time to direct and shoot commercial content in 8K HDR. He has rich experience of HDR Video shooting and editing.
Empowering content creators
Game Developers

Take advantage of the 48 to 120 Hz refresh rate to create fast-rendering games and conduct quality checks on a single display.

Cinematographers

The 32-inch mini-LED backlit 4K panel offers higher luminance and deeper black hues for exceptional color contrast and accurate reproduction of HDR content.

Colorists

Factory pre-calibration ensures industry-leading color fidelity, and a wide color gamut and Delta E < 1 color difference ensures outstanding color accuracy.
Impeccably detailed visuals
Mini-LED backlight technology uses smaller LEDs to provide up to three times the number of LEDs, compared to a conventional panel of a similar size. The densely packed mini LEDs enable increased granularity and brightness. Plus, individual backlight control across an astounding 1152 zones ensures higher luminance and deep dark colors to deliver unmatched contrast and accurate reproduction of HDR content.
32-inch

4K HDR

Mini LED

1152 zones local dimming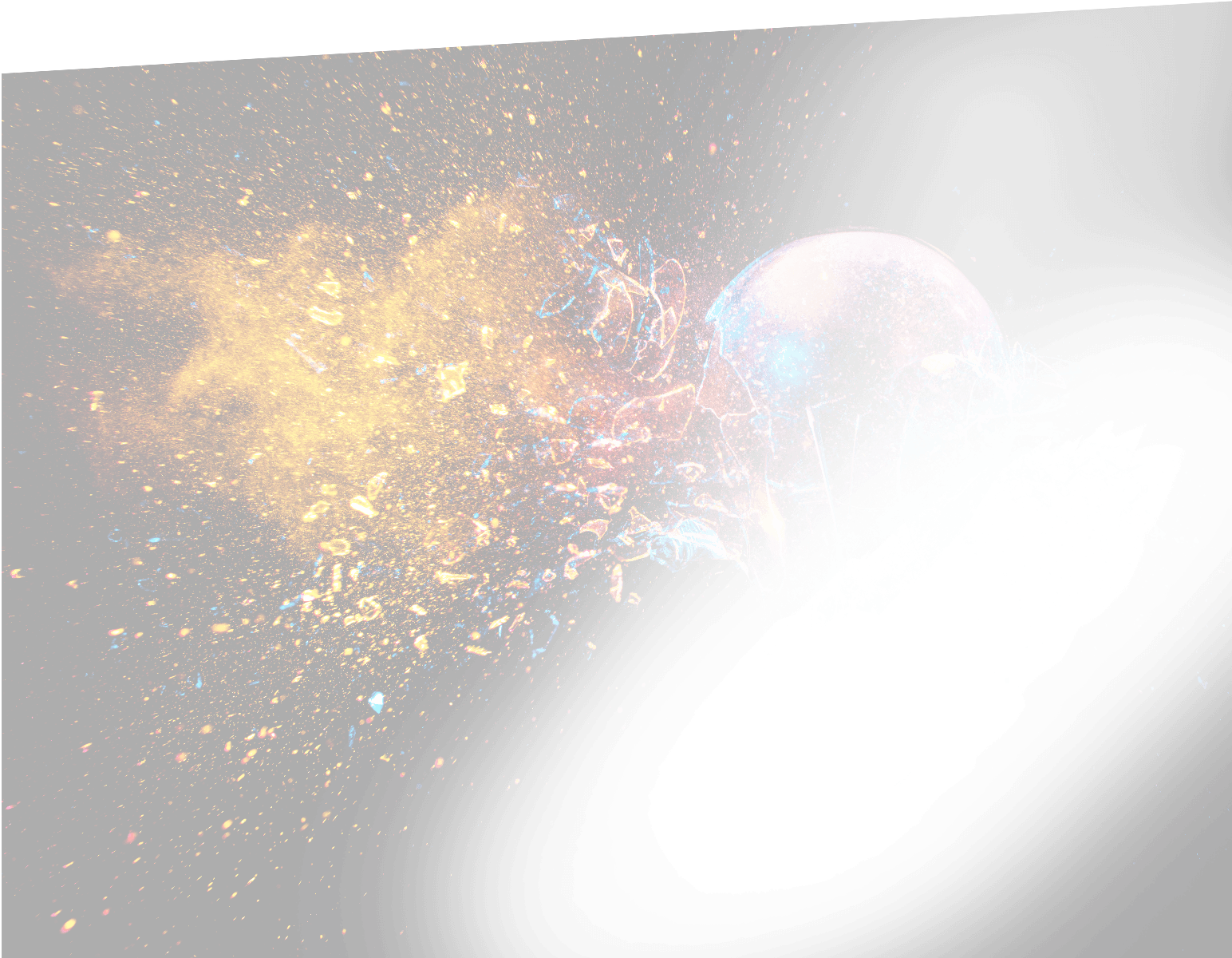 Deeper blacks,
brighter whites
A peak brightness of 1600 nits and industry-leading 1000 nits of full-screen sustained brightness allows for outstanding contrast between the deepest blacks and gleaming whites.
Sustained Brightness

1000 nits

Peak Brightness

1600 nits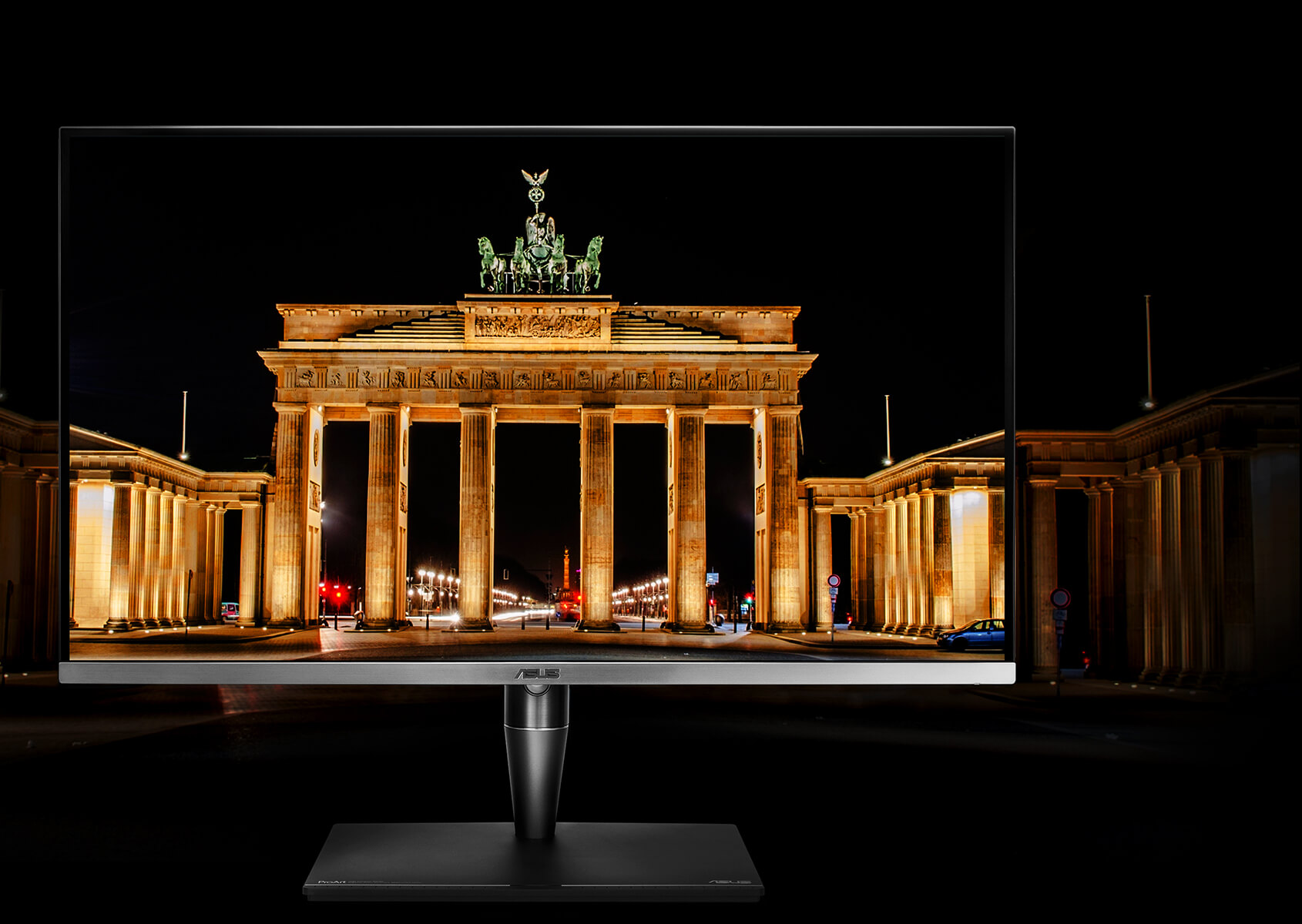 Excellent color and contrast from any viewing angle
Direct type LED backlight displays have narrow viewing angles, which can make collaboration with clients or colleagues on color-critical work challenging due to inaccurate colors being displayed to viewers seated to the side.ASUS Off-Axis Contrast Optimization (OCO) technology solves this problem with a compensation layer that controls light transmittance around the edges, reducing halo effects by 80%* and providing a 7X* contrast-ratio enhancement for dark parts of the image when viewing the screen from an angle.
80%

Halo Effects Reducing

7X

Contrast Ratio Enhancement
*Compared to typical mini-LED displays. Results are based on internal ASUS research and may vary depending on factors including measuring angle, instruments and operating environment.
Create in ultra-vivid HDR
ASUS Smart HDR Technology

Multiple PQ Curves

HDR Preview
Exclusive ASUS Smart HDR technology enables ProArt Display PA32UCG-K to support multiple HDR formats, including Dolby Vision®, HLG and HDR-10.
Dolby Vision transforms the viewing experience with unmatched levels of brightness, contrast and colors.
HLG allows users to view and create material for broadcast and satellite TV platforms such as BBC iPlayer, Japan NHK TV, and DirecTV.
HDR-10 support ensures compatibility with existing streaming video services and a growing list of HDR-enabled games.
HLG

HDR-10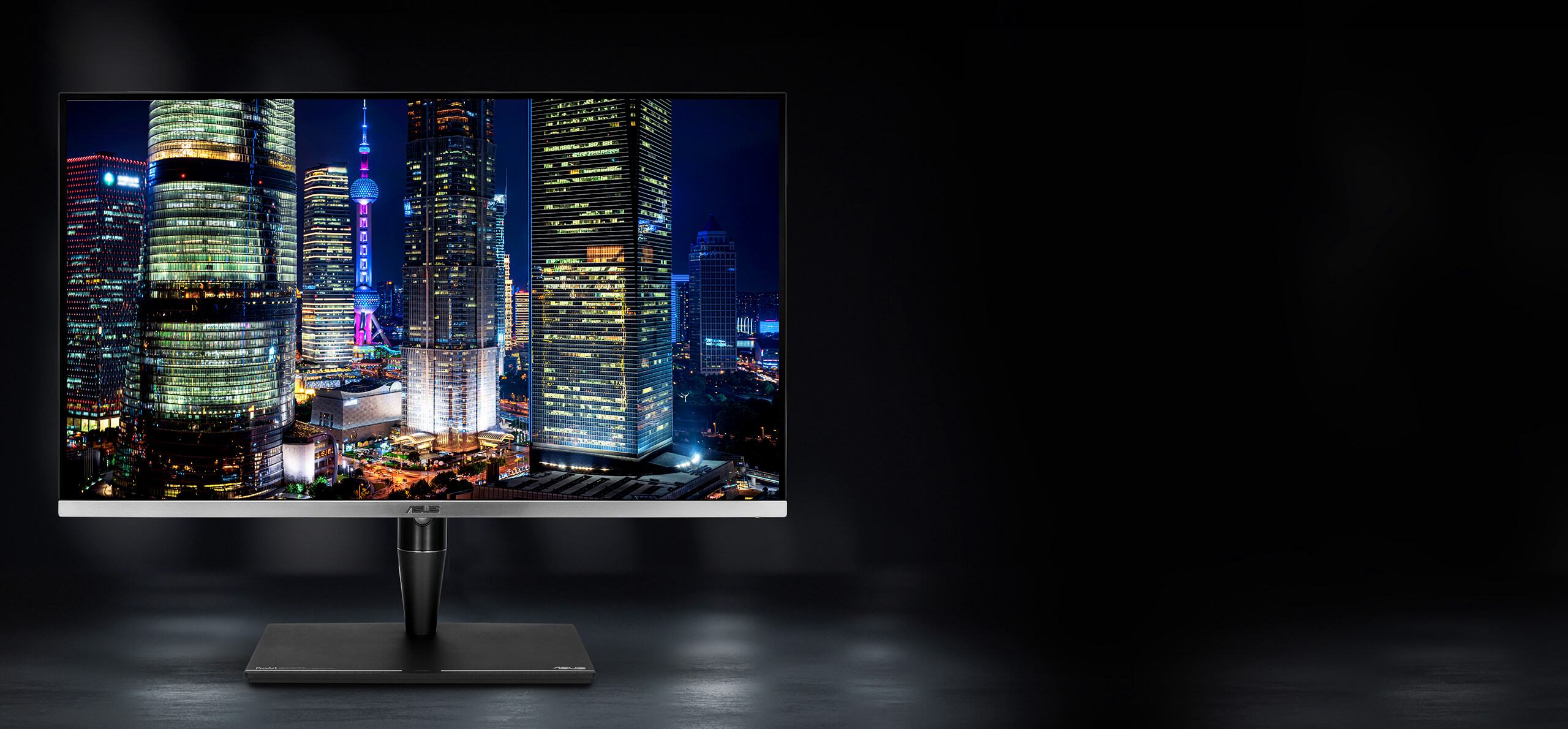 ASUS ProArt Displays support multiple HDR-10 curves, including PQ Hard Clip, PQ Optimized and PQ Basic, which can cover all content creation needs.
PQ Hard Clip

Preserves PQ curve till displaying maximum luminance with accuracy. Any luminance higher than display maximum will be mapped to display maximum.

PQ Optimized

Reproduce accurate gradations corresponding to maximum brightness of the monitor. Deliver the optimized HDR performance of this display.

PQ Basic

Present general HDR performance.
HDR Preview enables a direct camera-to-monitor connection to view captured HDR content with its full tonal range. It also works within most video editing software platforms, providing accurate simulations of the final output for an easier, more streamlined editing experience.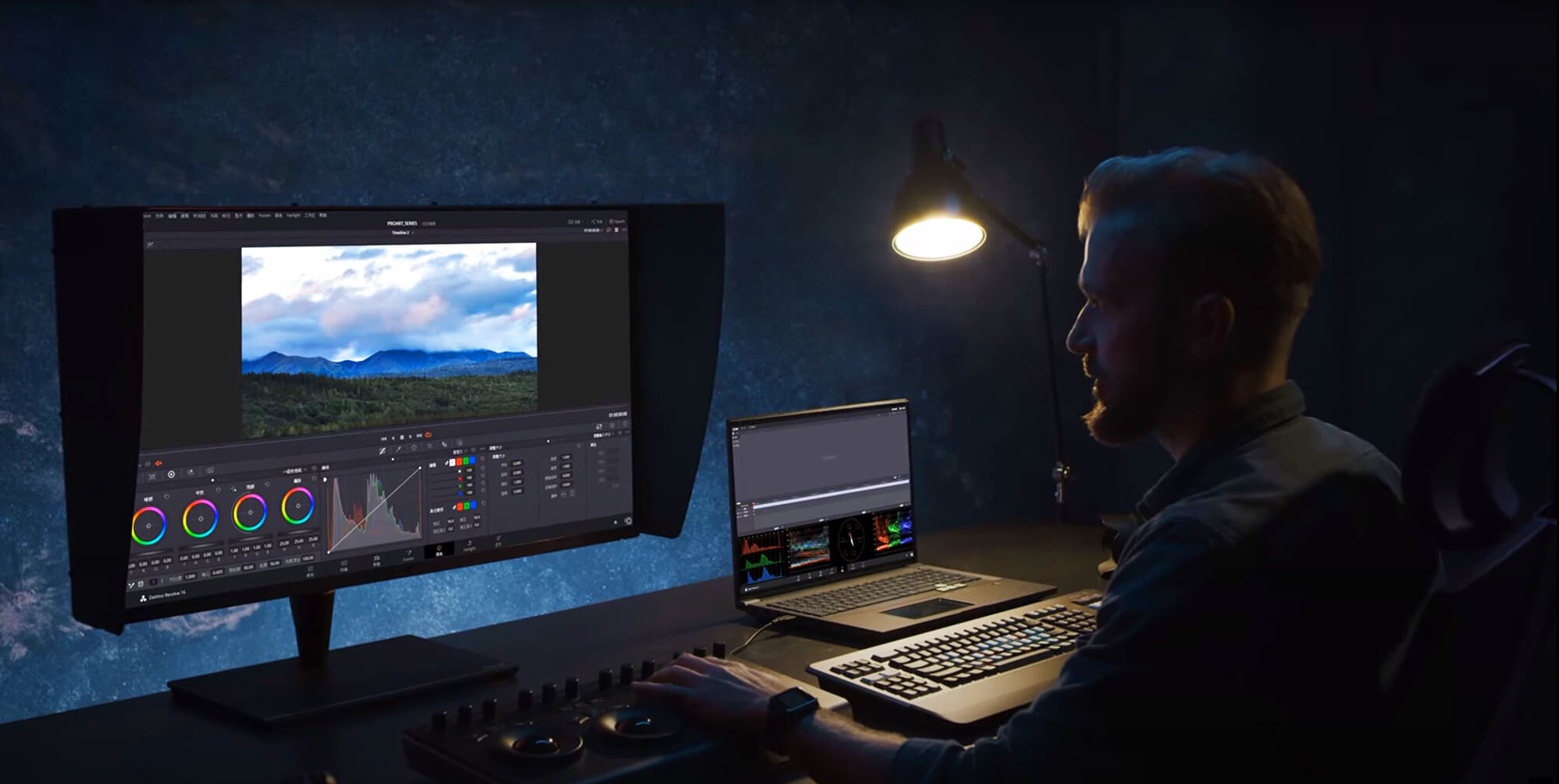 Transform viewing experiences
Quantum Dot Technology delivers 98% DCI-P3, 99.5% Adobe RGB, 100% sRGB, 100% Rec. 709 and Rec. 2020 color spaces for video editing and post-production. Its true 10-bit IPS panel with peak brightness of 1600 nits and Quantum Dot technology provides content creators with a vast color spectrum to play with.
98%

DCI-P3

100%

Rec. 709

True

10-bit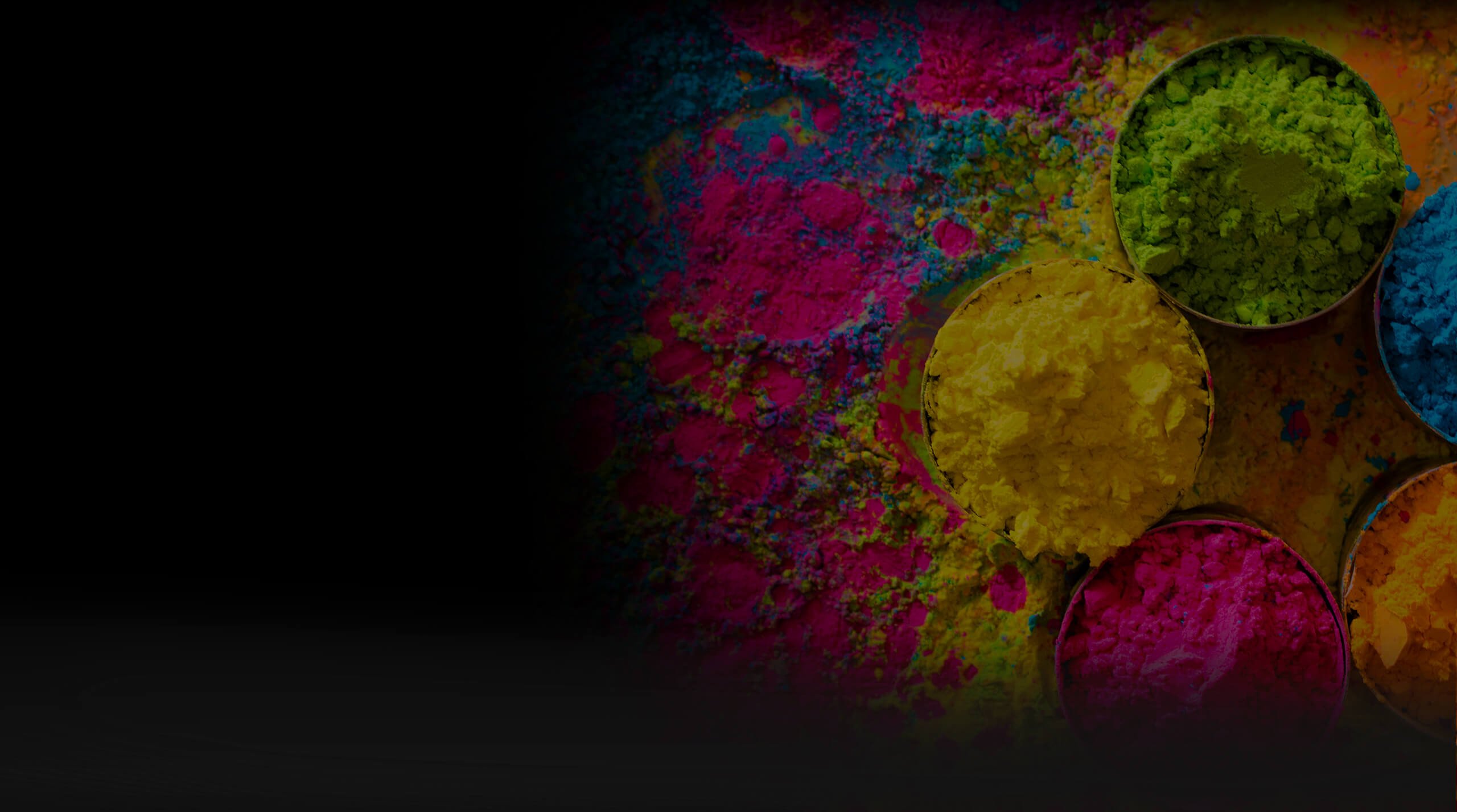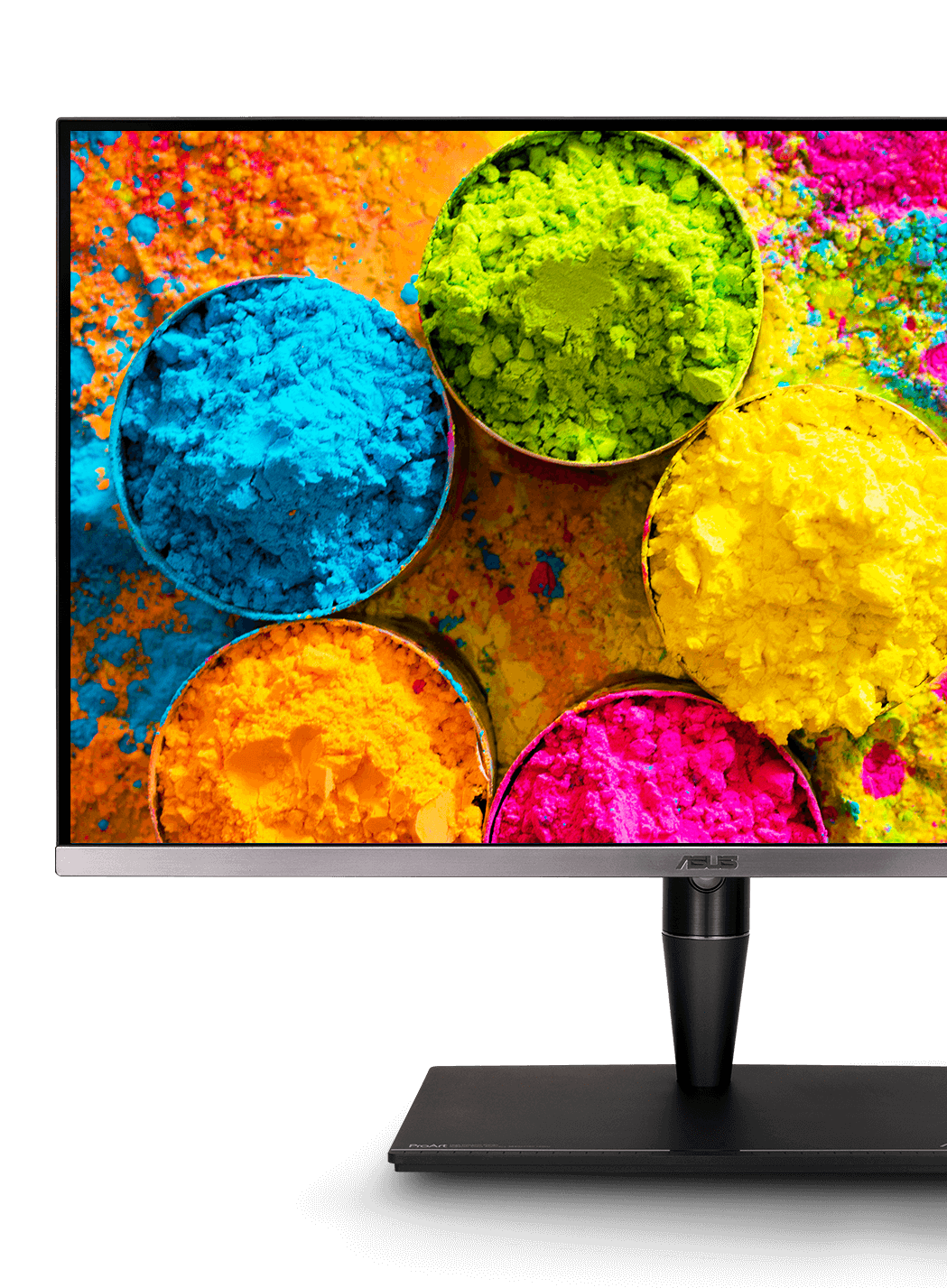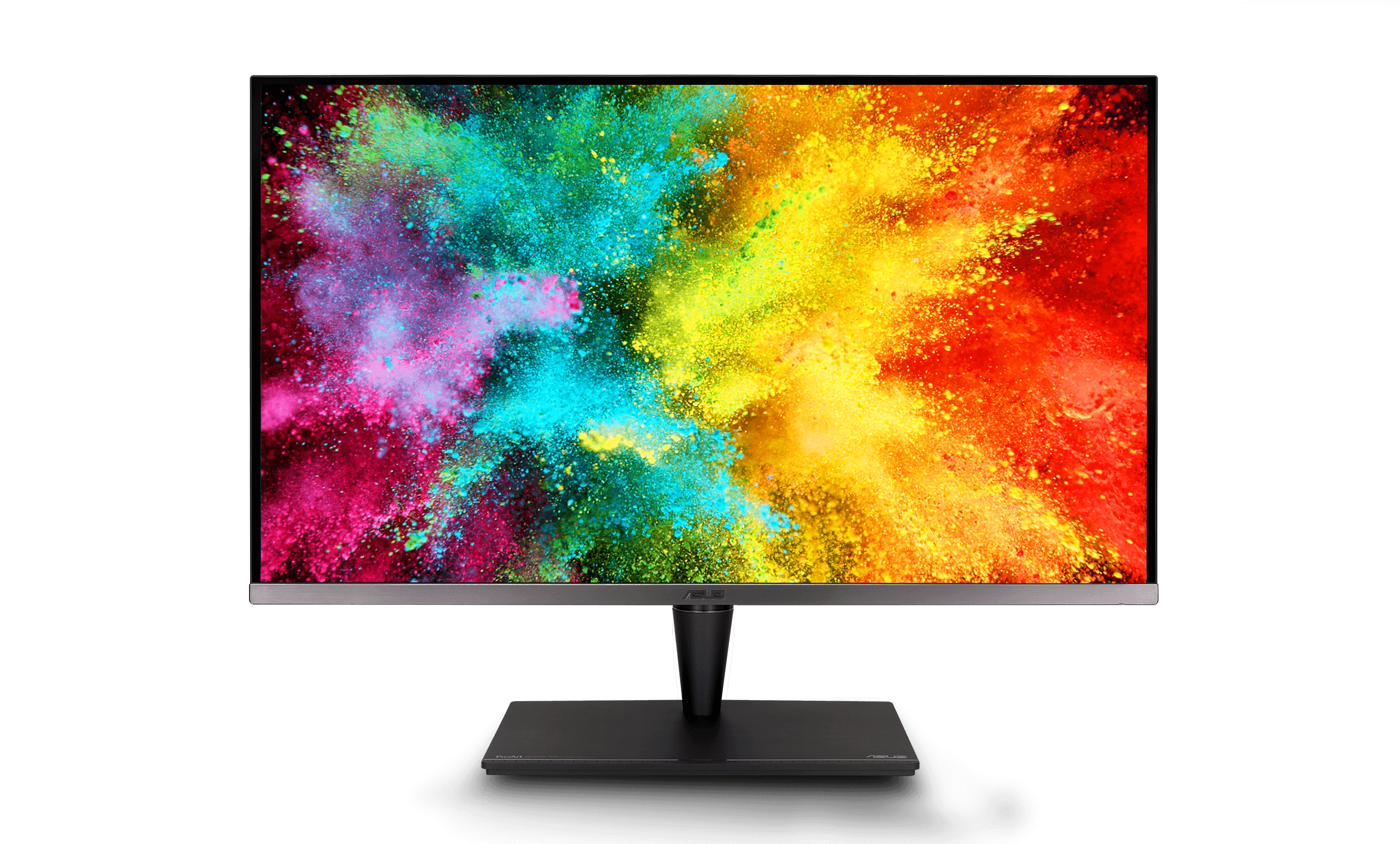 Industry‑leading color fidelity
Factory pre-calibration using a new three-scale process guarantees industry-leading color fidelity. The display also undergoes stringent testing using ASUS advanced grayscale tracking technology to ensure smoother color gradations, better uniformity and exceptional color accuracy with a Delta E (ΔE) < 1 color difference value for the sRGB and Adobe RGB color spaces. Each grayscale level is also carefully measured and set to ensure compliance with the precise DICOM standard.

sRGB and Adobe RGB color spaces

sRGB and Adobe RGB color spaces
Ideal for game developers and video editors
PA32UCG-K offers up to a 120 Hz variable refresh rate (VRR) with FreeSync Premium Pro, allowing game developers to create fast-rendering games and conduct quality checks on one display. HDMI(v2.1) with 4K 120 Hz support also makes it ideal for video editors, enabling them to work with high-quality, detailed visuals at supersmooth frame rates delivers comfortable viewing experience. 
120Hz

Refresh Rate
*FreeSync Premium Pro certification in process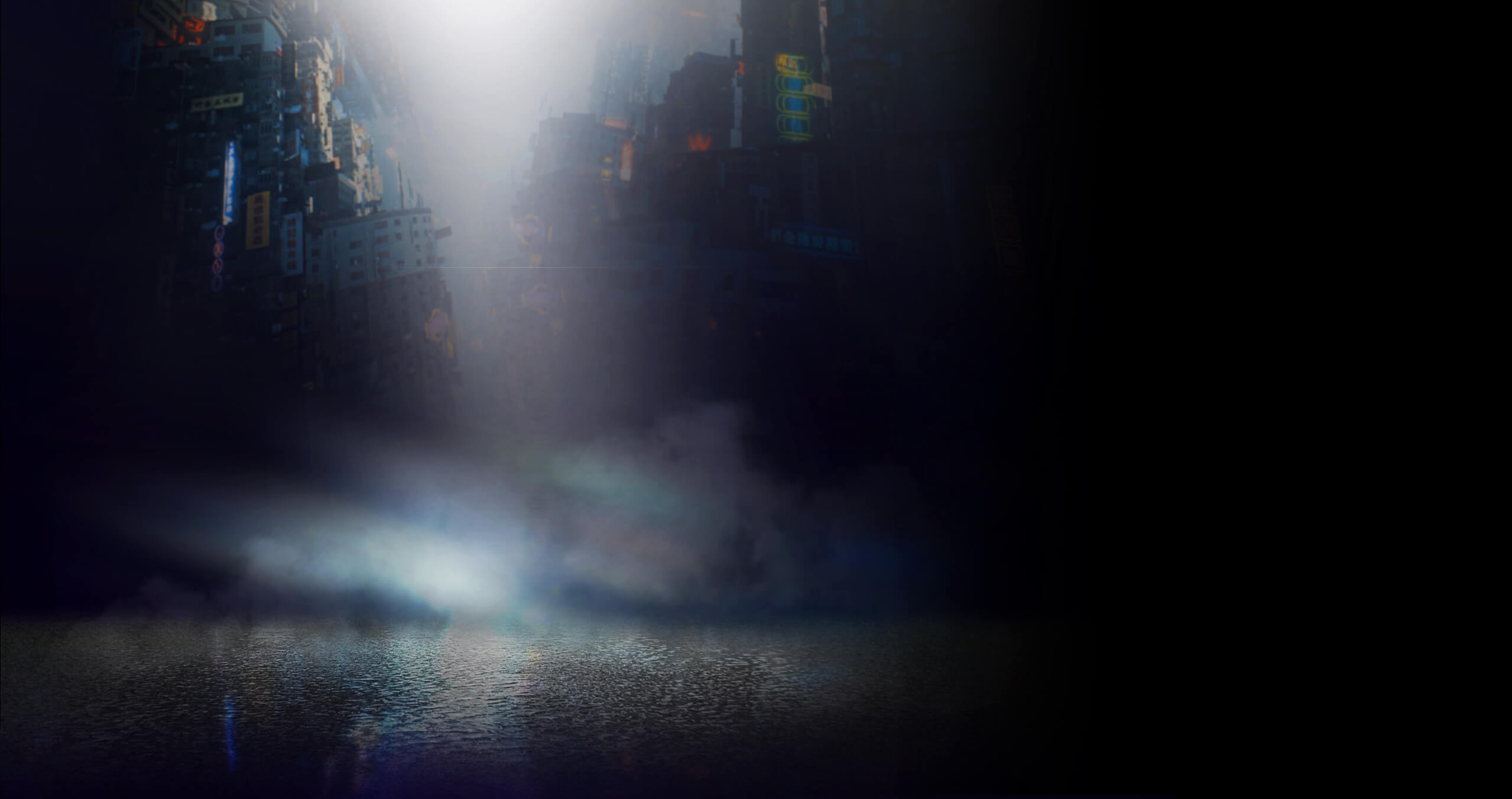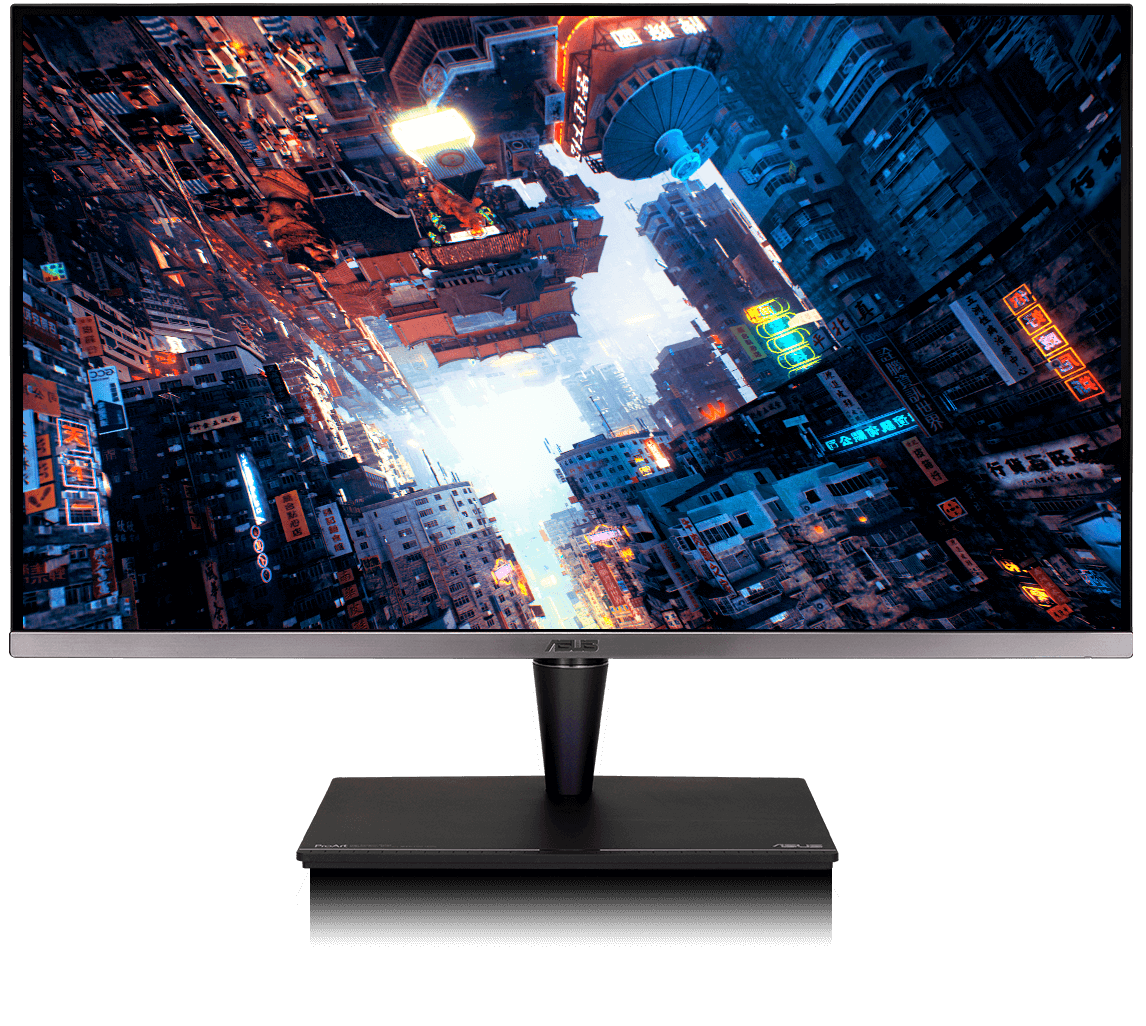 Truest color, flexible calibration
Saved color parameter profiles

ProArt Calibration 2.0

Seamless calibration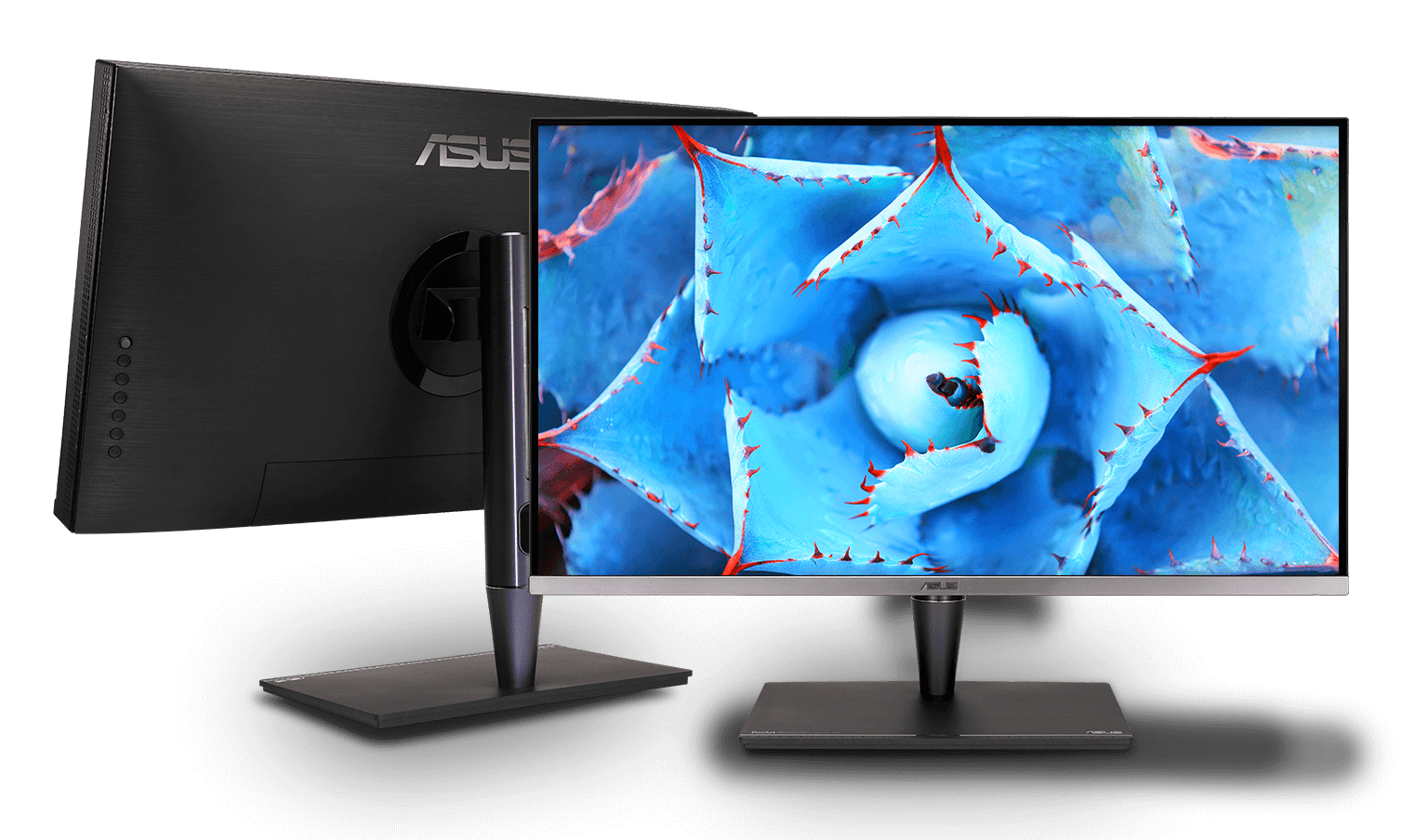 ASUS ProArt Calibration technology saves all color parameter profiles on the ProArt monitor's internal scaler IC chip, instead of on the PC. The saved profiles can be easily activated via the hotkey on the monitor.
The monitor can be calibrated and the look-up table subsequently rewritten, allowing users to connect it to devices with different operating systems or applications without needing to adjust settings. Signal distortion between the IC and the LCD optical spectrum is also reduced.
Integrated ASUS ProArt Calibration 2.0 enables swift and easy adjustments to maintain the color accuracy of ASUS ProArt monitors. It offers SDR and HDR calibration with adjustable brightness, color gamut, color temperature and other parameters to ensure consistent and precise colors.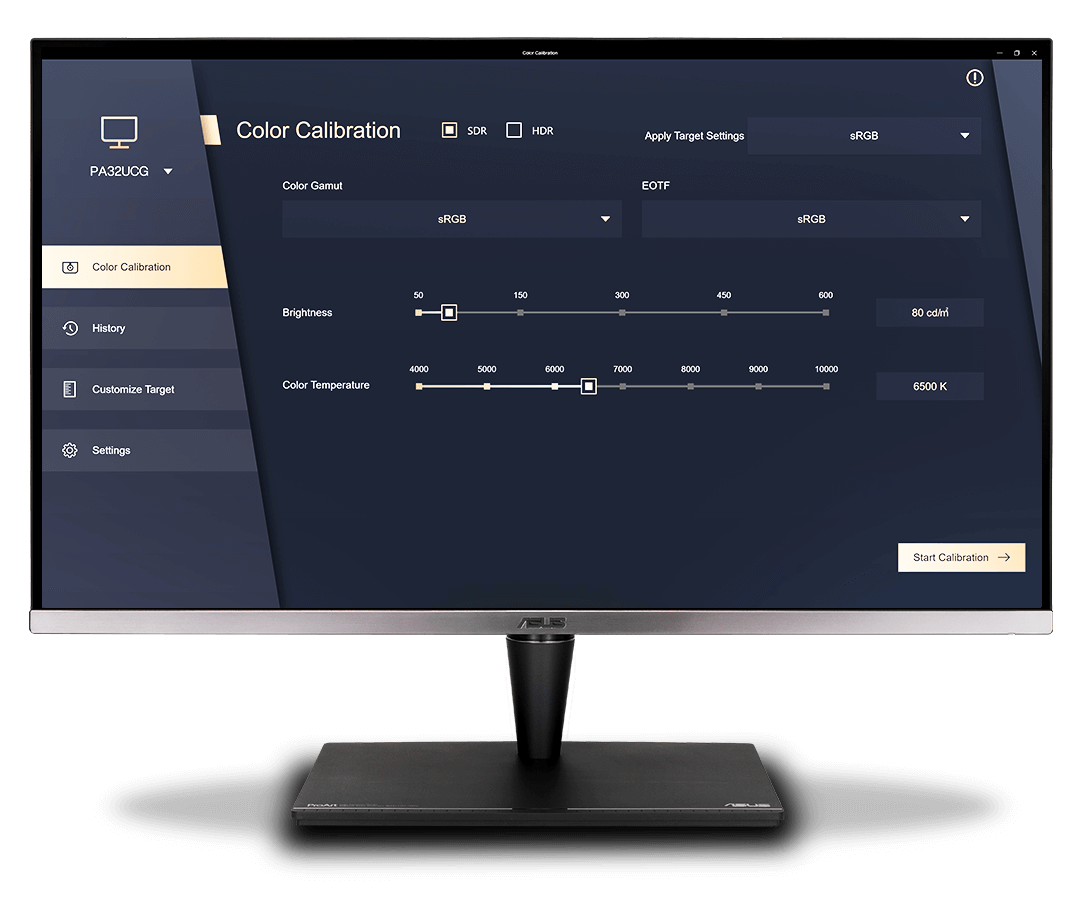 ProArt displays are compatible with most major calibrators, including those from X-Rite, Datacolor and Klein. They also work seamlessly with Calman and Light Illusion ColourSpace CMS professional hardware calibration software* for fast, easy calibration.
*Calman and Light Illusion ColourSpace CMS software are not included with ProArt PA32UCG-K.

*3rd Party software support will be ready in Q2 2022
Streamlined, efficient workflows
Connect to Your Workflow

Diverse viewing options

Ergonomic Design

Detachable Monitor Hood
HDMI(v2.1), DisplayPort 1.4, Thunderbolt™ 3 USB-C and a USB hub enable convenient connections to a desktop, Blu-ray player, control panel or additional display with zero hassle.
HDMI (v2.1)

HDMI (v2.0)

DisplayPort

Thunderbolt™ 3

USB-A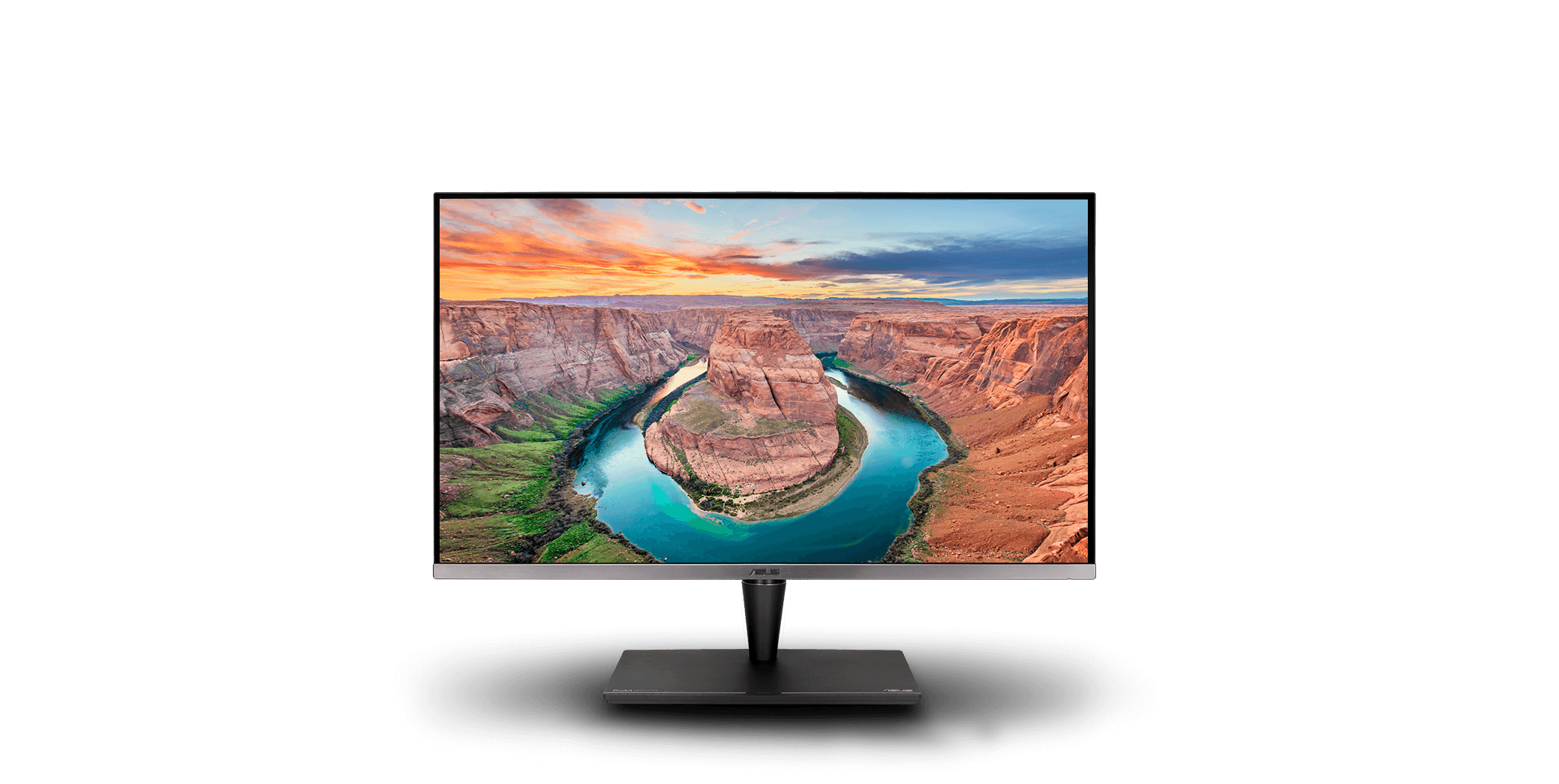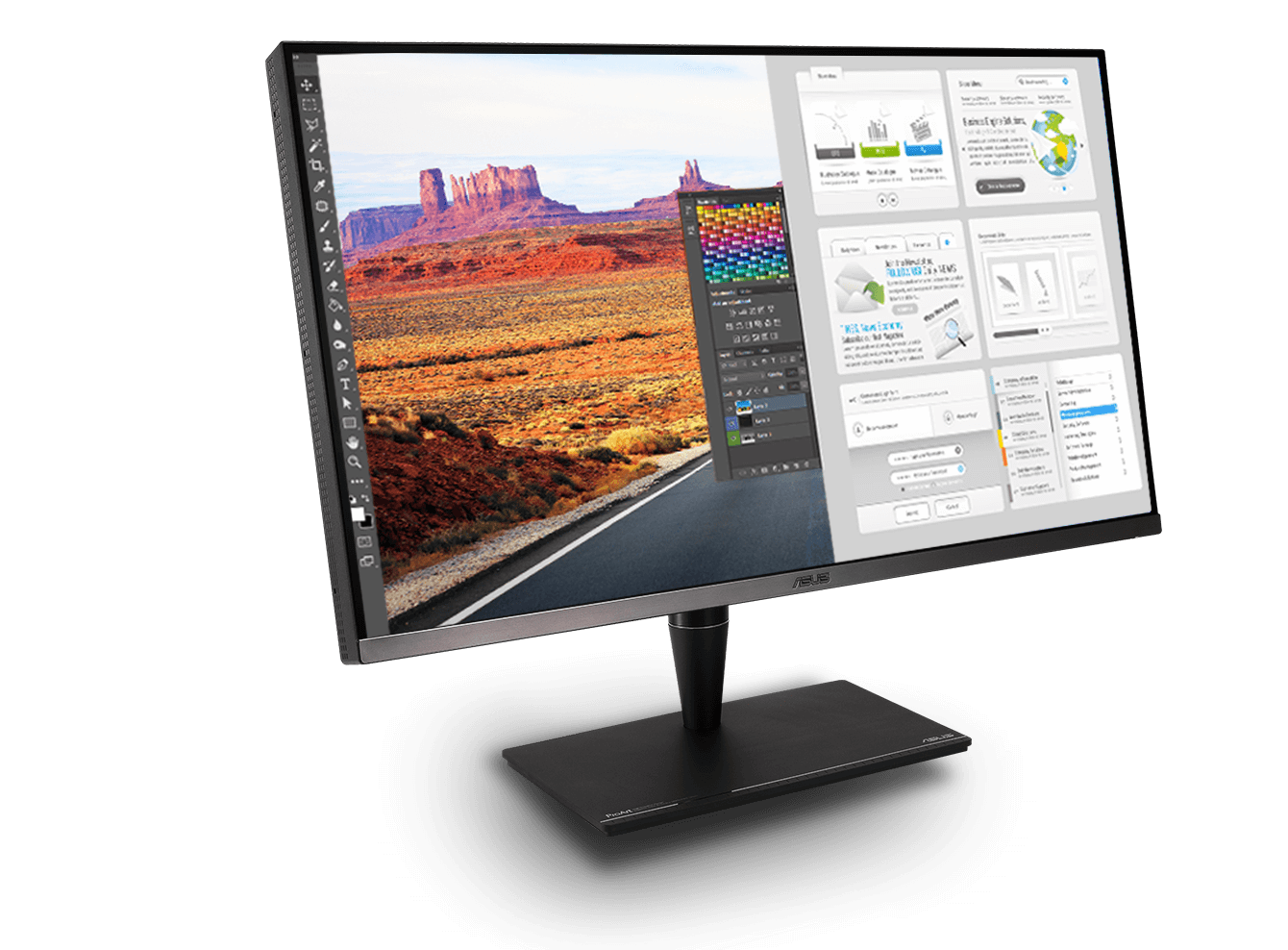 Picture-by-Picture (PbP) mode
View two to four different settings simultaneously by placing multiple input sources onscreen side-by-side; and configure each individual window's color settings with sRGB, Adobe RGB, DCI-P3, Rec. 2020, User Mode 1 or User Mode 2.
An ergonomic stand that offers tilt, swivel, pivot, and height adjustments. The onscreen menu even rotates automatically to display information correctly when the monitor is used in portrait orientation- which is handy when working with websites or longer documents.
Height Adjustment
0~130 mm

Tilt
-5°~+23°

Pivot
-90°~+90°

Swivel
-60°~+60°
A detachable hood efficiently blocks out ambient light and reflections, allowing for more accurate and realistic colors onscreen.