Moniteur ASUS Designo MX279H - 27" FHD (1920x1080), IPS, son par Bang & Olufsen ICEpower®, sans bords, Low Blue Light
Ecran 27" Full HD sans bords avec technologie AH-IPS et angle de vision de 178°
Technologie SonicMaster développée en collaboration avec Bang & Olufsen ICEpower©
Deux ports HDMI pour prendre en charge tous vos périphériques
Design ultrafin récompensé par le Good Design Award 2012
BEAUTY BEYOND BOUNDARIES
Inspired by millennia of artistic legacy, the new Designo MX Series sports an elegant and precision-crafted sundial design. The MX279H features an edge-to-edge frameless panel with 178° ultra-wide viewing angle AH-IPS A+ technology for incredible visuals. In addition, built-in ASUS SonicMaster technology, co-developed with Bang & Olufsen ICEpower®, delivers immersive premium audio performance. The 2012 Good Design Award-winning ultra-slim and ergonomic design can be tilted to provide you highly comfortable viewing experiences, while dual HDMI offers extensive connectivity options.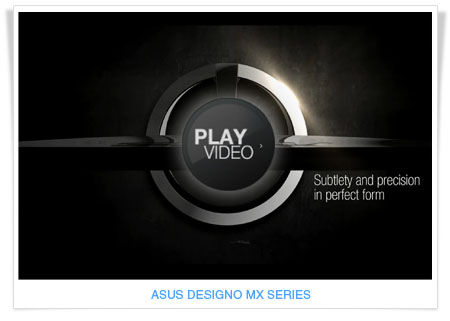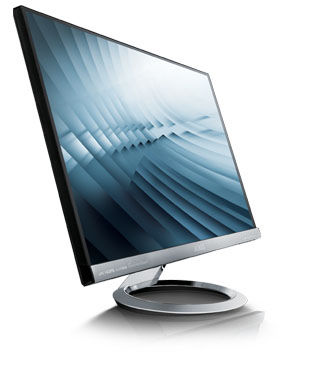 Subtle & elegant design
Incredibly subtle but sophisticated

ASUS Designo MX Series displays sport ultra-slim profiles — with MX279H measuring just 17.5mm at its thinnest point– thereby minimizing desk space requirements. In addition, the MX Series presents an edge-to-edge frameless screen with bezel thickness of just 0.8mm. This subtle but elegant design is further accentuated by a sundial-inspired stand which provides a sturdy base for the monitor. MX Series design has already garnered accolades at the 2012 Good Design Awards.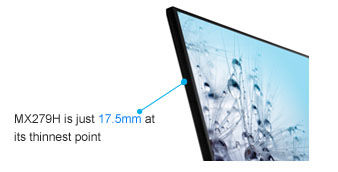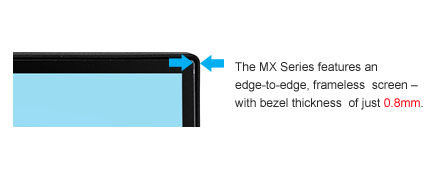 Vivid, lifelike visuals
The latest IPS technology with 178° wide-view angles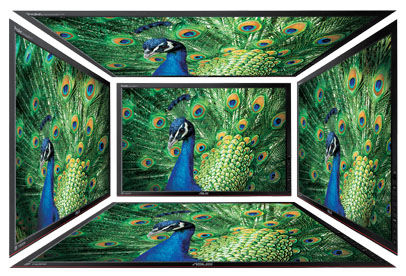 Designo MX279H features a 16:9 aspect ratio LED-backlit AH-IPS A+ panel with a 178° wide-view angle that minimizes color shift on both horizontal and vertical planes to ensure quality visuals from almost any direction. AH-IPS is the latest in IPS technology – delivering improved color accuracy plus increased energy efficiency.

MX279H uses a 178°(H) / 178°(V) ultra-wide viewing angle full HD AH-IPS A+ panel that eliminates color shift from almost any direction and in nearly all environments.
Built tough and gamer-centric comfortable
Tracer Free Technology improves the response time of ASUS monitors, eliminating ghosting and tracers during video playback. It does this by controlling voltage levels, resulting in 5ms response time so MX279H provides fluid and clear video playback with silky-smooth motion during gameplay.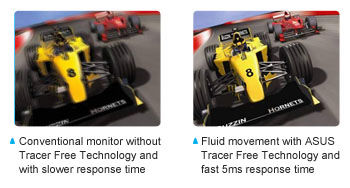 ASUS Exclusive Innovation and Design
ASUS Smart Contrast Ratio for lifelike visuals
With ASUS Smart Contrast Ratio (ASCR) of 80,000,000:1 and 250cd/m² brightness, MX279H augments display contrast and sharpness by adjusting backlighting luminance to achieve the deepest blacks and brightest whites for truly lifelike visuals.

QuickFit Virtual Scale (patent-pending) for true what you see is what you get
ASUS includes its exclusive QuickFit Virtual Scale feature with the MX279H, allowing you to preview photos and documents on-screen in their actual size prior to printing. It can be activated via a monitor hotkey, and serves as a highly useful guide to accurately view and edit photos in their native size.
Supporting Formats:
Document: A4, letter
Photo: 8"x10", 5"x7", 4"x6", 3"x5", 2"x2"
Grid: Alignment

Premium Immersive Audio
The Designo MX279H features ASUS SonicMaster technology – which was co-developed by the ASUS Golden Ear team and Bang & Olufsen ICEpower®. This ASUS-exclusive audio technology combines advanced hardware and software to refine every acoustic detail in pristine quality to deliver crystal clear, true-to-life surround sound — reproducing richer and more distinct vocals at a wider frequency range and louder volumes.
Greater and smoother output with bigger speakers
Considering its slender form factor, adding powerful audio to MX279H presented a challenge. Nonetheless, the display features up to 32mm diameter speakers for greater and smoother sound impact with better bass performance. It also offers a resonance chamber of up to 100cc, expanding monitor sound range to new extremes.
A built-in amplifier powers speaker sound reproduction, just like a car engine with more horsepower means better performance can be attained. MX279H uses up to 5W amplifiers per channel, with speakers embedding large rare earth magnets to generate more powerful and striking sound.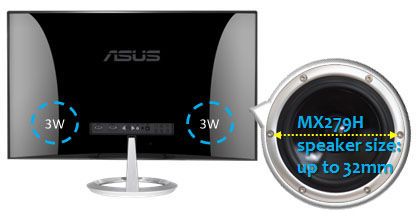 Audio by Bang & Olufsen ICEpower®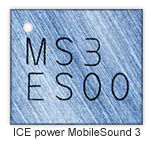 ASUS MX279H delivers outstanding images and stunning graphics that deserve superior sound to complete multimedia experiences whether watching movies, gaming, or listening to music. It features state-of-the-art audio technology from Bang & Olufsen ICEpower®, with great sound packed into its slim form factor to create incredibly engaging sound quality. This means no investment in additional speakers is needed.
Bang & Olufsen ICEpower® technology on MX279H has been developed specifically for compact media products to create excellent sound even in confined spaces. The superior sound quality is a result of innovative technology, ample power delivery, and months of optimizing and fine-tuning by audio engineers. Typically, powerful sound equals high energy consumption, but that's not the case with MX279H. The screen's embedded Class D MobileSound 3 technology is highly energy efficient, converting up to 92 % of power input to useful audio output.
Dual HDMI for extensive connectivity
The Designo MX279H supports Full HD 1920 x 1080 resolutions and has dual HDMI and D-sub (VGA) input ports to ensure compatibility with a variety of multimedia devices including Blu-ray disc players, game consoles, and digital cameras to enrich users' entertainment experience.

Compare (0)