Geared for Productivity
Versatile Performance for Higher Productivity!
The ASUS ExpertBook B1400, powered by up to 12th Gen Intel® Core™ processor, Intel Iris® Xe graphics with coupled up to 40 GB upgradable DDR4 memory and voluminous hybrid storage is the business laptop that equips you for even the most intensive work. It also boasts pure copper pipe for enhanced heat dissipation that provides sustained peak performance.
Immersive Display
Unrivaled and Unbounded Visuals
The near frameless 14-inch NanoEdge display on the B1400 is a true masterpiece that enhances your viewing experience with a three-sided super slim bezels allowing 84% screen-to-body ratio, up to Full HD IPS display & an anti-glare panel that reduces unwanted reflections. It ensures vibrant visuals even in bright environment, and reduces eyestrain even after hours of viewing.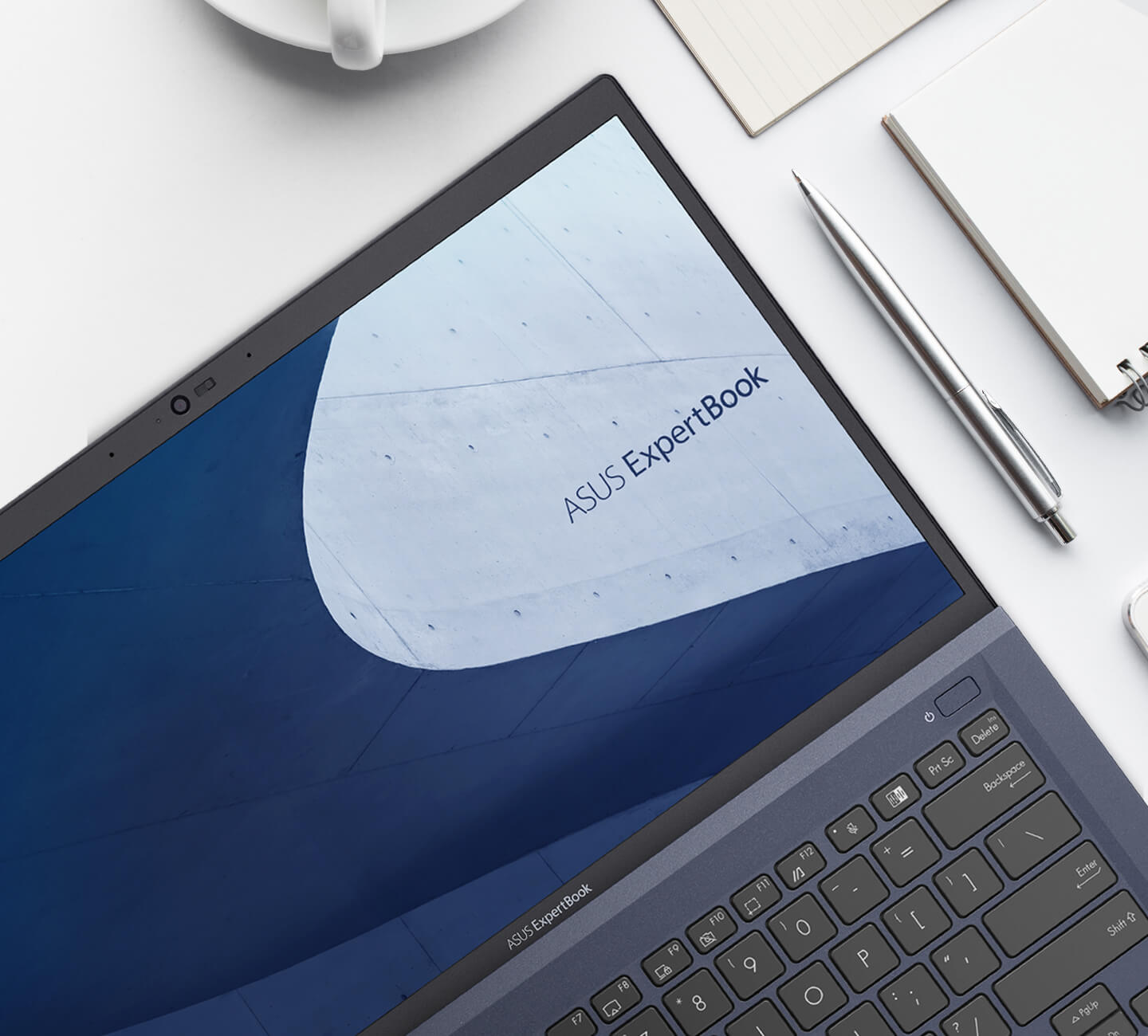 Ergonomic Design
Unparalleled User Experience!
B1400 is designed to ease every aspect of your work, with a bundle of innovative & user-friendly features to augment your productivity. These include up to NumberPad 2.0 enabled precision touchpad, Ergo-lift hinge for a comfortable typing experience, better audio and improved cooling, along with up to a backlit keyboard. The 180° lay-flat hinge allows for an easier screen sharing with your colleagues.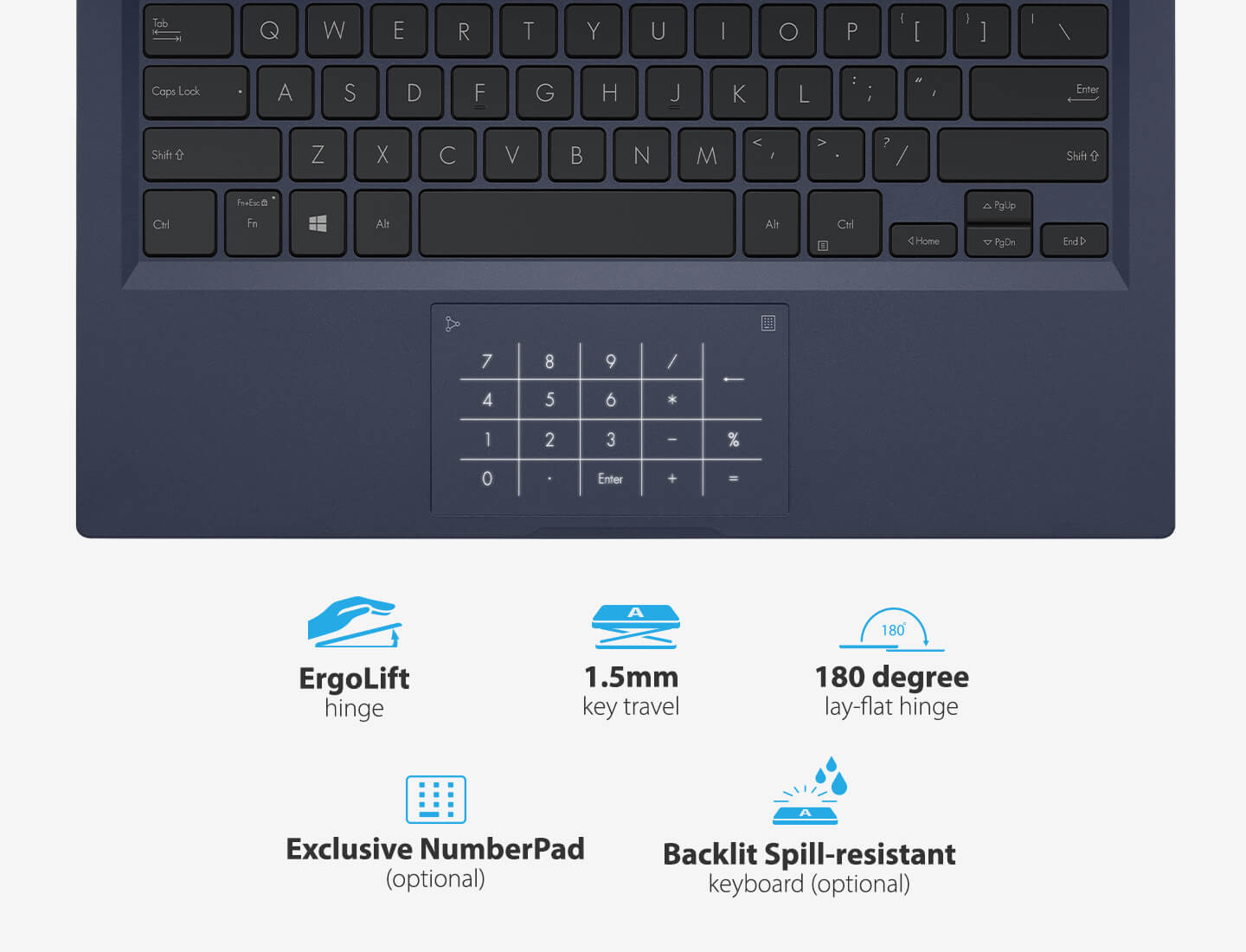 All Day Battery Life
Lasts Longer, Chargers Faster
The Expertbook B1400 will never let you down, be it a busy business day or a long-haul flight. With its 3-cell 42Wh battery, it is able to provide up to 7hrs of productivity on a single full charge!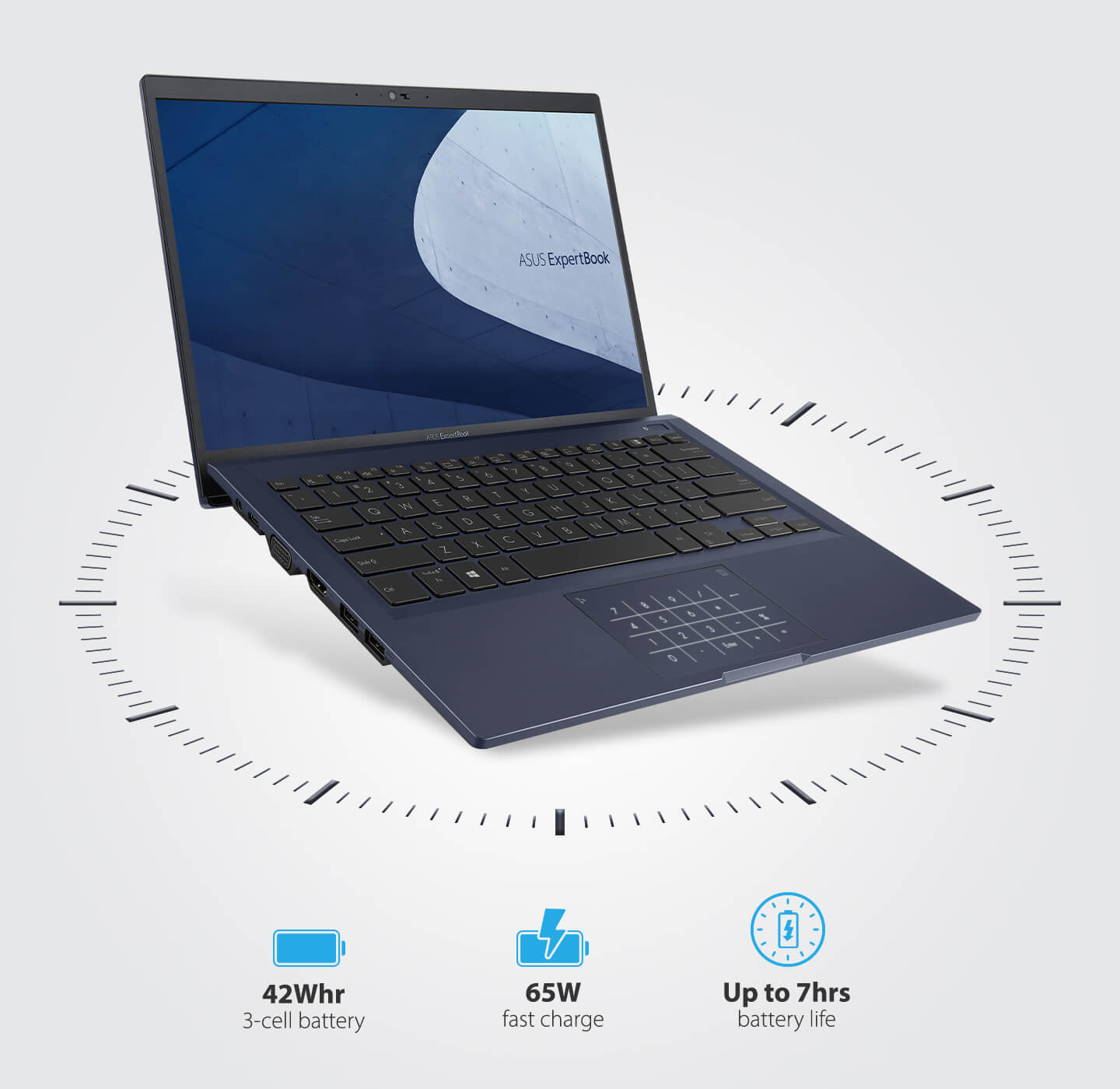 Crystal clear Video Conferencing Experience
Next-level AI Noise-Canceling
Audio Technology!
With the increase of remote work and video conferences, we implemented the ASUS AI noise-canceling technology to ensure the best experience. The onboard Dual-array Mics and the AI Noise cancellation feature in the MyASUS app effectively filters out unwanted ambient noise. There are two modes: Single-presenter mode allows the voice directly in front of the PC to be heard clearly; while Multi-presenter mode clarifies speech from different direction, ensuring optimum quality for group conference calls. The AI Noise-Canceling Speaker feature filters out all ambient noise apart from human speech — so you'll hear what everyone else is saying.
Press play to experience noise-canceling technology
Turn on your device audio to hear the difference.
Office (No noise canceling)
Office (With noise canceling)
Home (No noise canceling)
Home (With noise canceling)
Ultrafast Connectivity
Comprehensive Connectivity with No Compromise!
The B1400 comes packed with a comprehensive set of I/O ports that helps you connect with a wide range of fast business peripherals allowing you to be on top of your work always.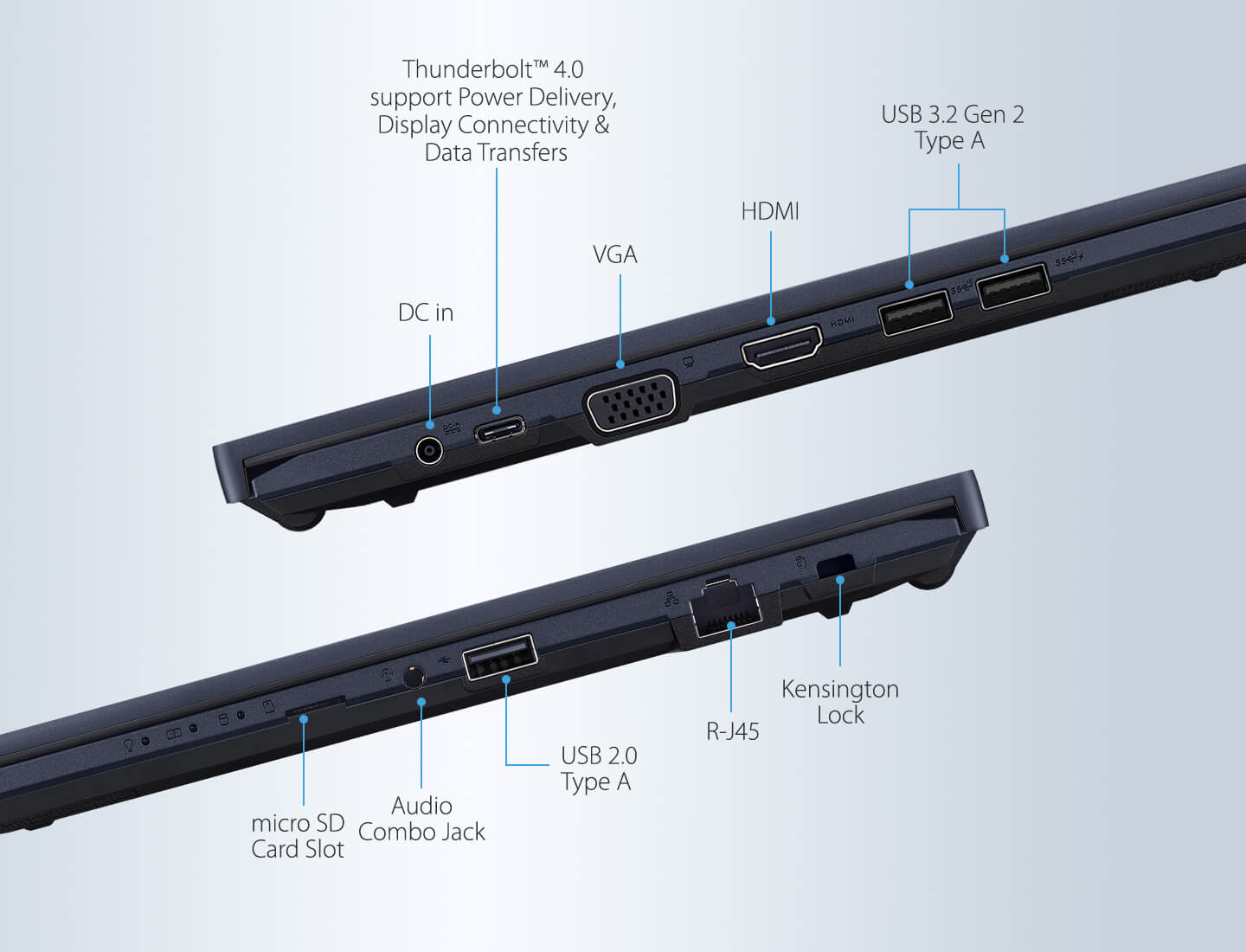 Rugged & Robust Design
Superior Build Quality with Military-grade Toughness!
The chassis is designed with extra structural rigidity to cope up with the rigors of extensive everyday business use. Expertbook B1400 also undergoes additional ASUS internal torture tests to further enhance the rugged reliability.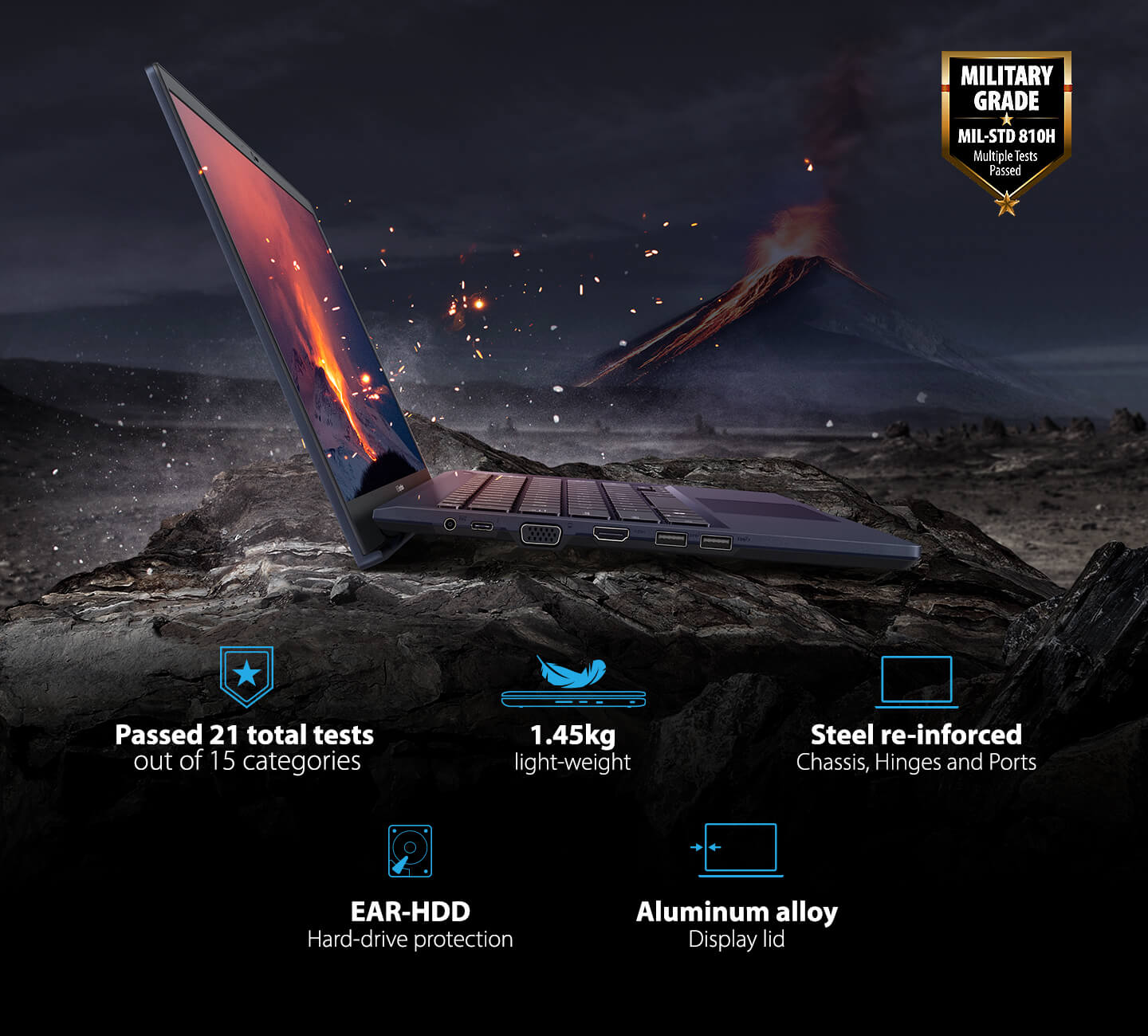 Enterprise-grade Security
Next level Data Privacy & Protection!
ExpertBook B1400 features a wide range of security aspects to protect your valuable business data, which includes a fingerprint sensor integrated with the power button, a physical webcam shield, dedicated TPM 2.0 & a Kensington lock slot that makes it quick and easy to secure your ExportBook.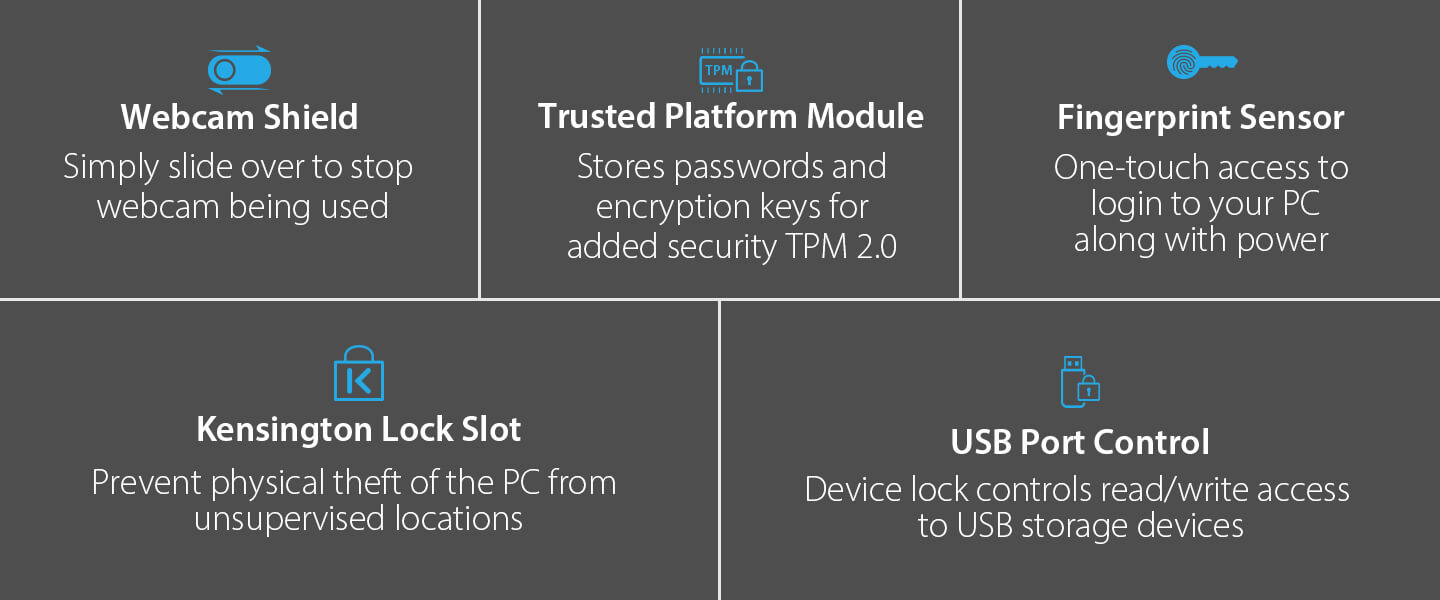 Simplifying your Business Everyday
Management made Easier with ASUS Business PCs.
ASUS management solutions help streamline routine tasks, allowing IT staff to remotely control and manage company assets, saving your organization time and money.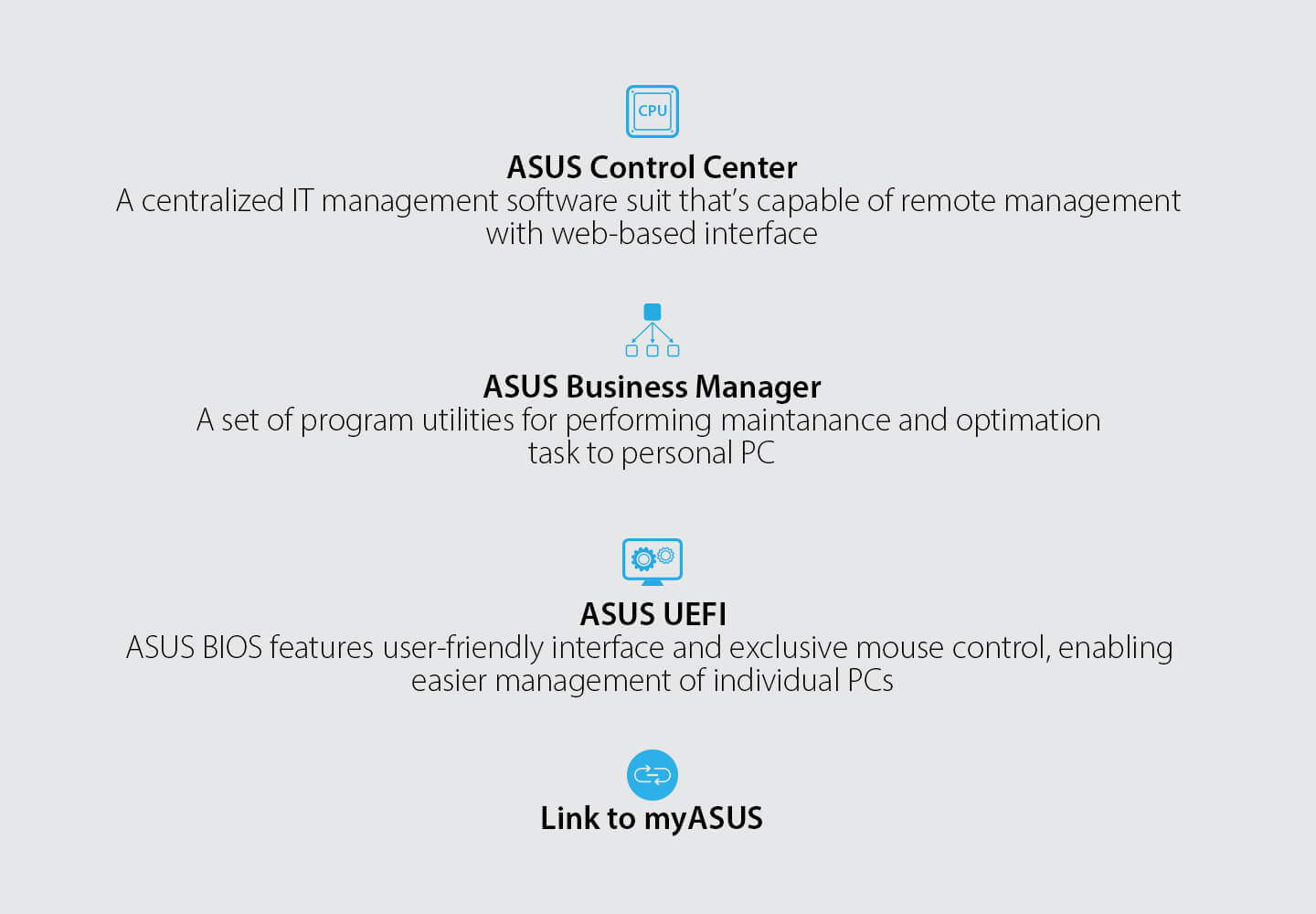 Maximum Support, Minimal Effort
The ASUS Business Service Package offers a wide range of solutions that extend beyond a standard warranty to meet the needs of your business-critical IT environments. Comprehensive coverage protects more than just your hardware and allows you to customize a service solution that best meets the needs of your business.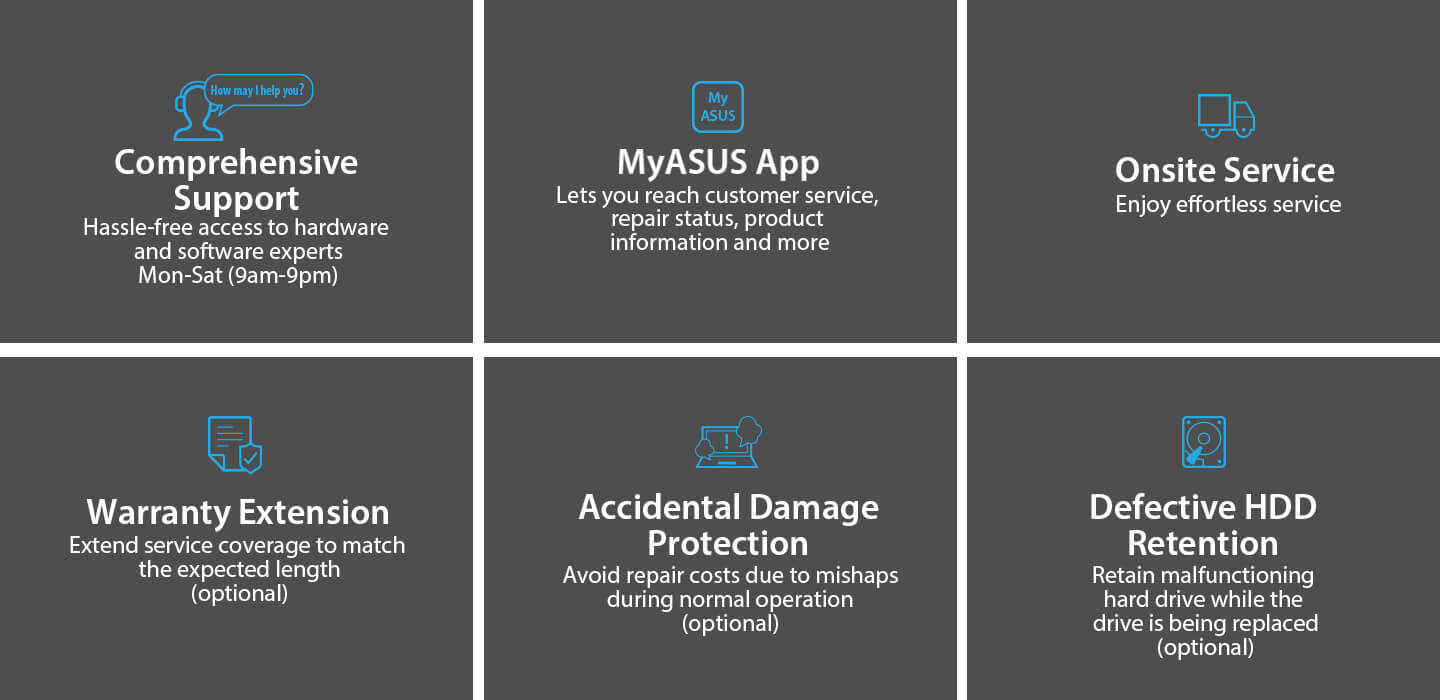 Productivity
Great all-around performance
Enjoy heavy-duty performance on ASUS ExpertBook B1, with an advanced 11th Gen Intel® Core™ processor and NVIDIA® GeForce® discrete graphics1, delivering the powerful performance you need to get the job done. Coupled with up to 48 GB memory and capacious storage, B1 is the business laptop that equips you for even the most intensive work and ensures quick access to the content you need. It's also primed for non-stop connectivity, with congestion-busting WiFi 62 and ASUS WiFi Master3 technology which help you automatically connect to the best WiFi signal, ensuring a rock-solid and stable connection wherever you are.
Core™ i7
11th Gen Intel® CPU
Dual Storage
Speed and capacity, both on board
You can specify ASUS ExpertBook B1 with up to two storage devices, providing a powerful combination of ultra-fast 1 TB SSD and 2 TB HDD, perfect combination of high-speed data access and large storage capacity. Removal of a few screws on the base provides easy access to upgrade the RAM or storage devices without the need to disassemble the entire device.
ASUS Intelligence Performance Technology
Perfectly-balanced power
ASUS ExpertBook B1 features exclusive Intelligent Performance Boost technology to achieve the best laptop performance and agility by tuning the internal thermals. ASUS-exclusive algorithms combine with up to five4 smart sensors, an aerodynamic design and an up to 90-watt5 power supply to intelligently manage CPU performance. This empowers you to switch effortlessly between Performance, Balanced or Whisper modes — enabling you to get on with business while B1 handles power and performance in any scenario.
Performance Mode
Maximizes performance and thermal parameters for heavy workloads6.
Balanced Mode
Intelligently optimizes performance, thermal, and power parameters for everyday tasks.
Whisper Mode
Cool and quiet power-saving operation.
Thin and Light
Freewheeling mobility
ASUS ExpertBook B1 is a thin and light business laptop, weighing as little as 1.45 kg7 — so it's handy to carry anywhere. Just pick up and go!
A bigger window on your world
The narrow-bezel NanoEdge display features a frameless three-sided wide-view, with slim bezels that create an 84% screen-to-body ratio for incredibly immersive viewing experiences.
6.4 mm
three-sided NanoEdge design8
I/O Ports
Extensive,
versatile connectivity
Connectivity is especially important in a business laptop to handle all workloads. ASUS ExpertBook B1 is packed with a comprehensive selection of I/O ports, including the industry-leading Intel® Thunderbolt™ 4 for lightning-fast, up to 40 Gbps data transfers, video output with support for two displays and fast-charge capability16. It also has two USB 3.2 Gen 2 and a USB 2.0 Type-A, HDMI 2.0, Ethernet and a microSD card slot — so it's primed and ready for the today's remote-working paradigm16. For enhanced reliability, the solidly constructed ports are test to endure over 10,000 insertions10.
Remote Working
Multi-task with dual 4K displays
ASUS ExpertBook B1 helps you minimize the hassles and inconveniences of remote work. With both Thunderbolt 4 and HDMI 2.0 ports available, you're free to connect up to two external 4K UHD displays. So, for example, you could host a video conference on B1's own display while using two screens on either side to keep in view information that's important to your call. The screen is also certified by TÜV Rheinland for low blue-light emissions, proving a more comfortable viewing experience that potentially helps to protect your eyes from damage.
WiFi
Faster, more stable connections
With the latest WiFi 6 built in, ASUS ExpertBook B1 delivers faster-than-wired speeds of up to 2.4 Gbps, letting you enjoy smooth streaming of FHD online videos and large file transfers in seconds2. There's also ASUS WiFi Master technology3 to help you automatically connect to the best WiFi signal, ensuring a rock-solid and stable connection wherever you are.
Security Solutions
Strong data protection and privacy
ExpertBook B1 comes with a robust security system in place to ensure confidential and private data does not leak out. These include an integrated fingerprint sensor and physical webcam shield, plus TPM 2.0 to ensure attackers don't get a behind the scenes to look at your private life. There's even an integrated Kensington lock slot, making it quick and easy to secure your ExportBook B1.
Fingerprint-reading power button
ExpertBook B1 has built-in biometric security, with a fingerprint sensor that's integrated into the power button. So, just tap the button to switch on and log in — no difficult-to-remember passwords or PIN required!
Webcam privacy shield
A physical cover obscures ExpertBook B1's webcam for an assurance of instant privacy when it's not in use. Just slide it open to make video calls or recordings, and back across when you're done.
TPM 2.0
A dTPM chip securely stores authentication information used by software, such as passwords or encryption keys, to protect important data and transactions. Your details remain encrypted, virtually eliminating the risk of leaks through hacking.
Durability
Solid construction
The chassis design incorporates features that provide extra structural rigidity to cope with the rigors of everyday use.
Structure-strengthening aluminum-alloy upper cover.
Internal keyboard bracket provides additional structural support.
Protective foam protects the hard drive from bumps and shocks.
Reliability
Military-grade toughness and
build quality
Life on the road is tough, so ExpertBook B1 is designed to both meet and surpass exacting industry thresholds — including the ultra-demanding MIL-STD 810H US military standard. It's built to survive every extreme, from freezing temperatures to the searing heat of desert storms, and high-speed shocks to everyday bumps. B1 also undergoes stringent in-house testing, including panel-pressure, shock and drop tests for an assurance of serious durability11.
Learn more about ASUS ExpertBook Quality Tests
Business-ready
Everyday productivity, elevated
ExpertBook B1 is engineered from the ground up to ease every aspect of your working, with a raft of innovative and configurable user-friendly features to drive your productivity. These include NumberPad 2.0, the ASUS-exclusive virtual numeric key pad, and a backlit keyboard12. Even the display is designed to make life easier, with a hinge that allows it to swing through a full 180° — perfect for sharing information with colleagues or classmates.
NumberPad 2.0
An LED-illuminated numeric keypad that's perfect for crunching numbers. Tap the NumberPad icon on the top right of the touchpad to turn it on, and tap the icon on the left to toggle between two brightness settings.13
Lay-flat display
The extended 180-degree hinge is smooth, flexible and durable, and allows the display to be laid flat for fast collaboration.
Backlit keyboard
The backlit keyboard lets you type effortlessly in dark environments, from aircraft cabins to dim offices.
Ergolift hinge
The innovative ErgoLift hinge automatically tilts the keyboard to the most comfortable typing position.
Service
Maximum support, minimal effort
The ASUS Service Package offers a wider range of solutions that go beyond the standard warranty to meet the needs of business-critical IT environments. The extended offerings protect your business — not just the hardware — allowing you to customize a service solution that best meets your needs.
Comprehensive 24x7 Support
Hassle-free access to hardware and software experts.14
MyASUS App
Contact customer service, view repair status, read product guides and more.
Pick Up & Return/Onsite Service
Enjoy a door-to-door service for effortless maintenance.14
Warranty Extension
Extend service coverage to match the expected length.15
Accidental Damage Protection
Avoid repair costs due to mishaps during normal operation.14,15
Defective HDD Retention
Retain customers' malfunctioning hard drive while their drive is replaced.14,15
Compare (0)