ASUS Chromebook Detachable CZ1 (CZ1000)
ASUS Chromebook Detachable CZ1 (CZ1000)

The robust, flexible learning companion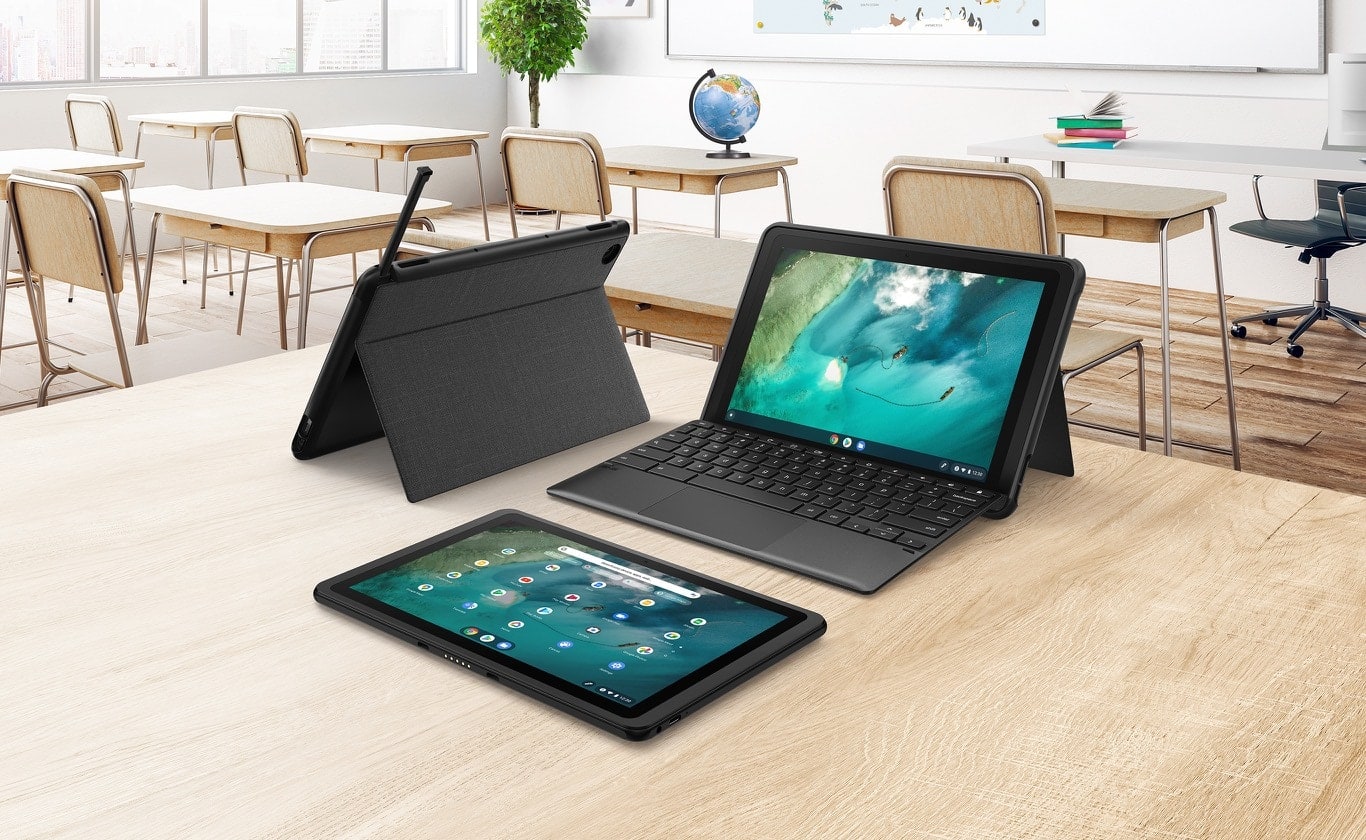 ASUS Chromebook Detachable CZ1 delivers a tough, versatile design for empowering students to achieve their full potential. Built to military-grade standards, it's packed with protective features, including a wrap-around rubber trim, shockproof cover and durable 3D-textured finish. It features a free-angle adjustable stand cover and full-size keyboard with 1.5 mm key travel, plus an ErgoLift design — all to facilitate productivity, flexibility and comfort. A garaged stylus and world-facing camera enable creativity, and an eye-friendly TÜV Rheinland-certified display and all-day battery life combine to let students explore the world without limits.
Design
Ultimate
rugged design
ASUS Chromebook Detachable CZ1 is built to withstand everyday knocks, bumps and drops. So if it's dropped from a classroom desk or the dining-room table, it's built to keep on going.
Durable rubber trim
All four exterior edges and corners are protected by a tough rubber trim, which reduces the impact of physical shocks to ensure critical components remain safe and sound.
Durable 3D-textured finish
A tough, micro-dimpled finish doesn't show scratches or fingerprints!
Shockproof cover
In addition to the shock-absorbent material on each of the four corners, a solid cover provides an extra layer of defense that keeps the laptop safe when accidental drops or mishaps occur.
Durability
Ready for action
Learning can be tough — but ASUS Chromebook Detachable CZ1 is tougher! To provide durability for any learning environment, it offers structural reinforcements to boost chassis strength. It also meets next-level, industry-leading US MIL-STD 810H standards
1
, which are more rigorous and demanding than ever before. In addition, ASUS Chromebook Detachable CZ1 has passed stringent in-house testing — including panel-pressure, shock and drop tests — to ensure maximal toughness.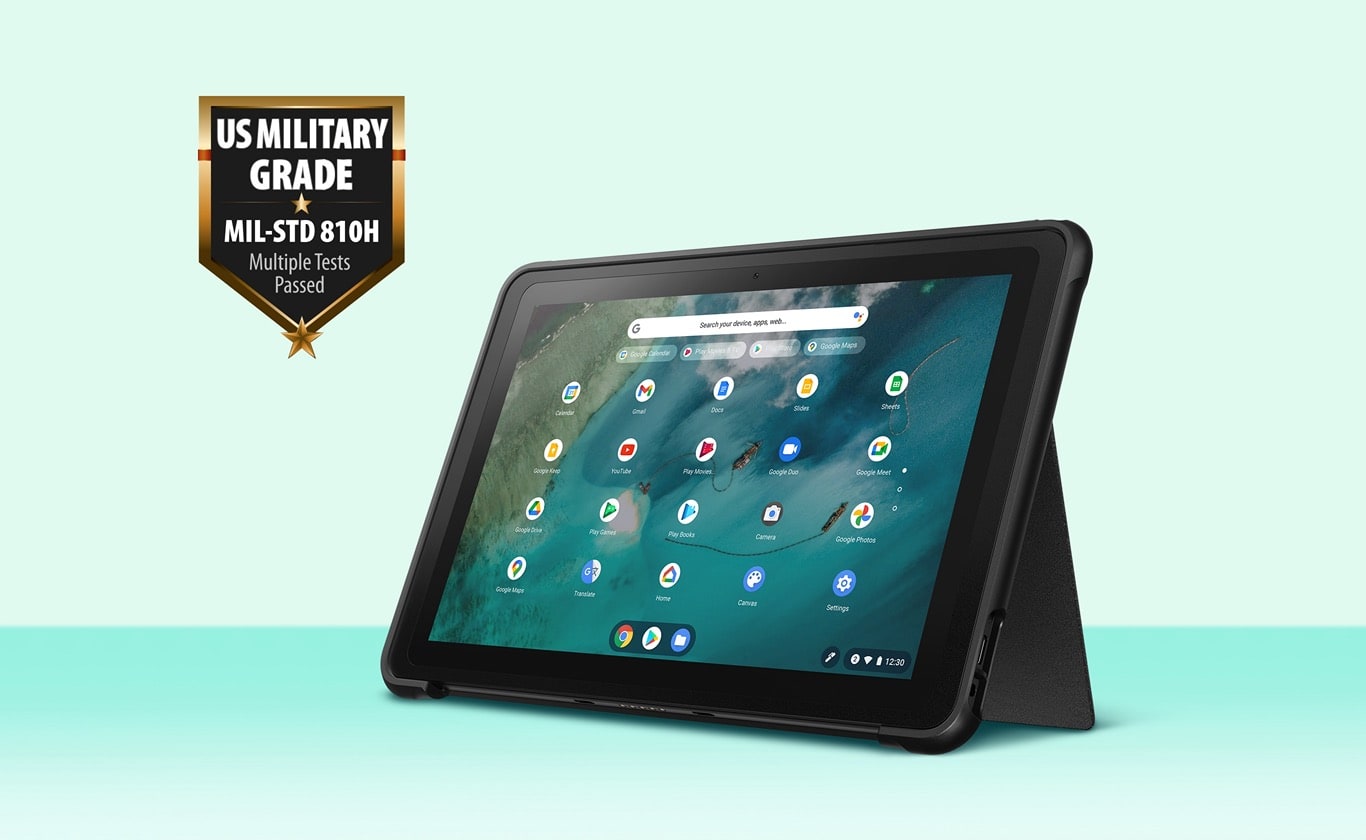 Shock Test
Withstand three harsh shocks in each direction at the speed of 120 G / 3 ms
Drop Test
120 cm drop while powered on to mimic desk accident
Port Durability Test
Physical durability is tested with 5,000 insertion-and-removal cycles
Panel Pressure Test
Laptop must endure 15 kg force on lid and bottom without panel damage
Garaged Stylus
A touch of genius
ASUS Chromebook Detachable CZ1 features a stylus that quickly and automatically charges when garaged, keeping it ready for use and providing a safe place to store it. The stylus enables quick, precise movements for unleashing creativity and productivity, so students can easily take notes, sketch, or jot down those "Aha!" moments whenever innovative ideas strike.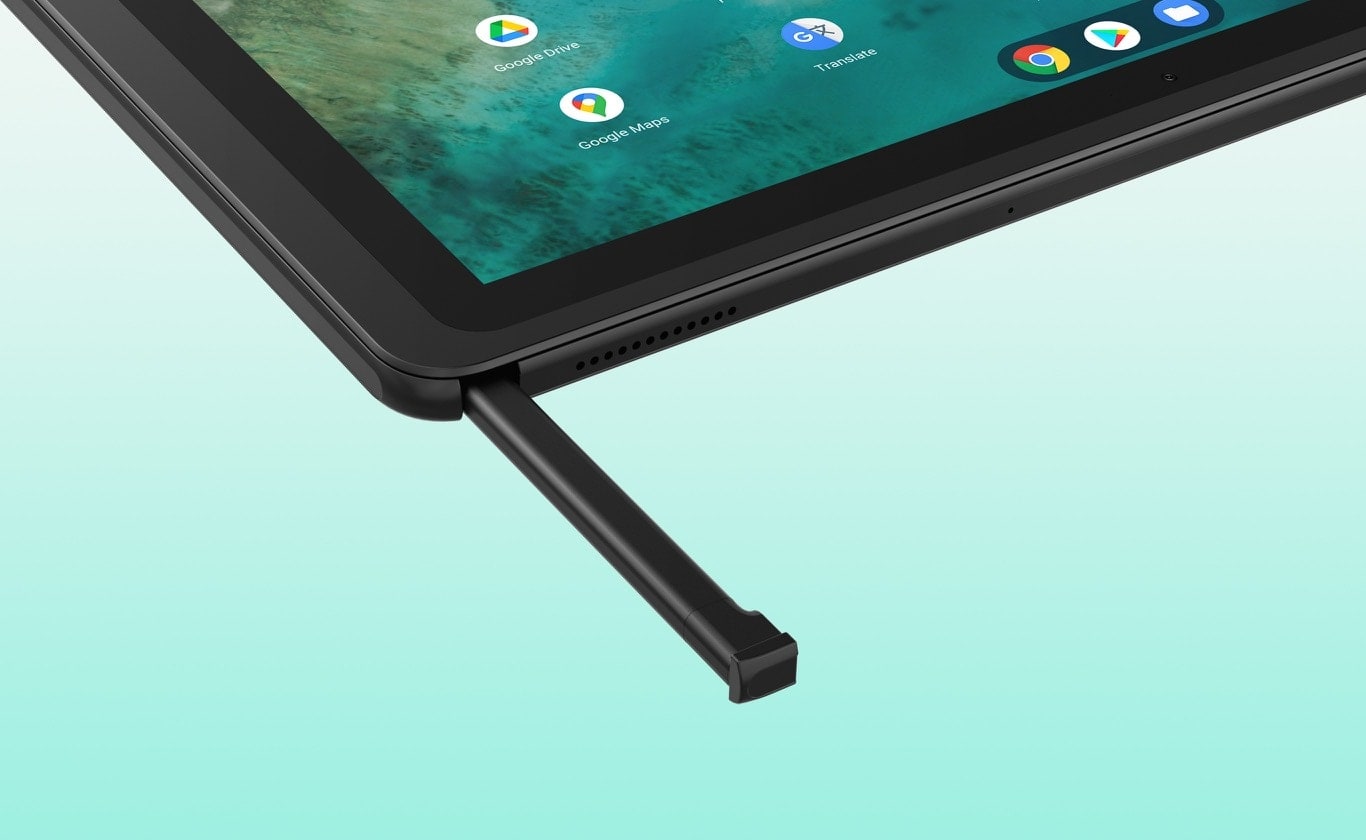 15 sec
fast charge for 45 minutes of use
Camera
Two cameras, twice the creativity
Dual cameras on ASUS Chromebook Detachable CZ1 combine to enrich the way students learn. An 8 MP world-facing camera on the back and a 2 MP camera on the front let students capture vivid, high-quality photos and videos.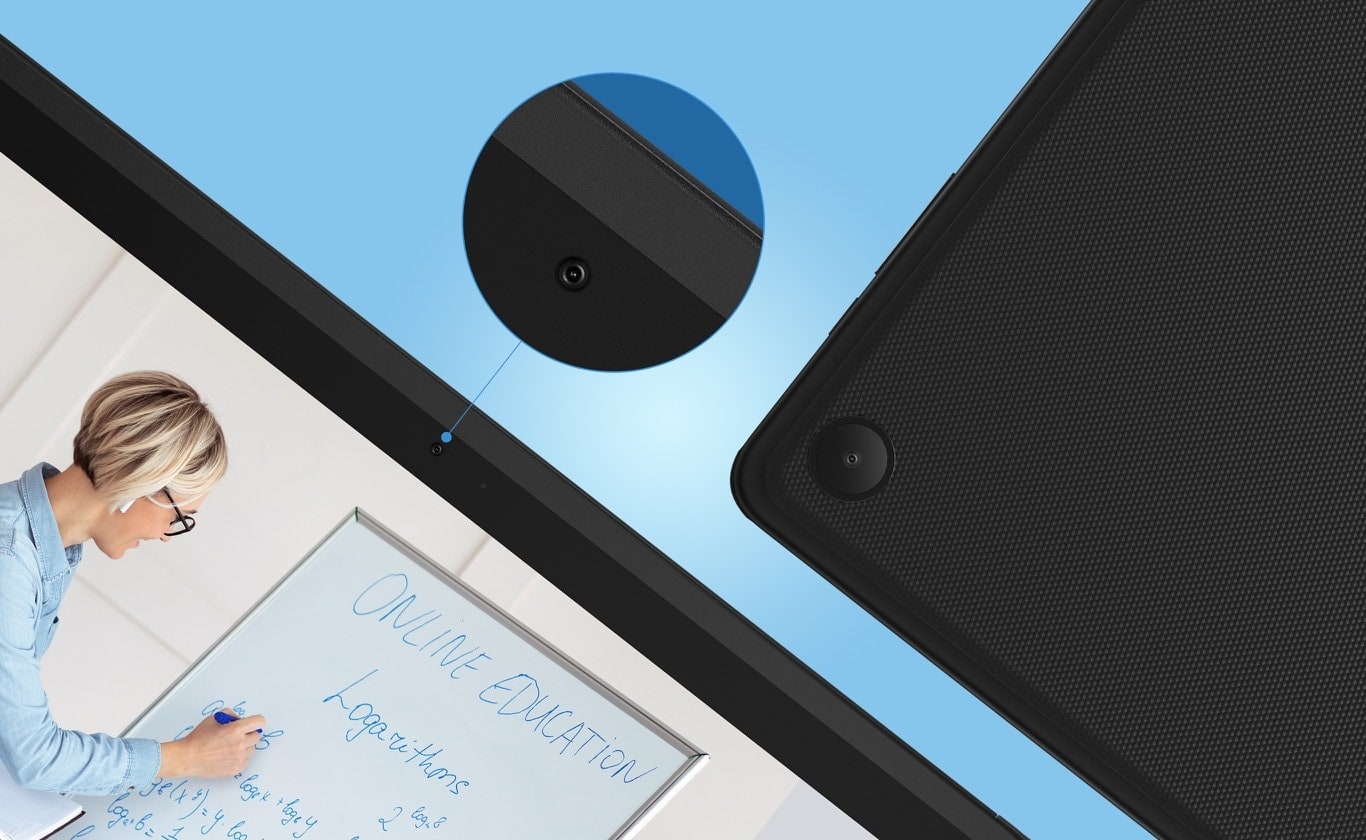 Versatility
Multiple modes, endless possibilities
The possibilities are limitless with the unparalleled versatility that ASUS Chromebook Detachable CZ1 offers. The detachable design of the stand cover and keyboard enhances productivity and entertainment in laptop, stand or tablet mode.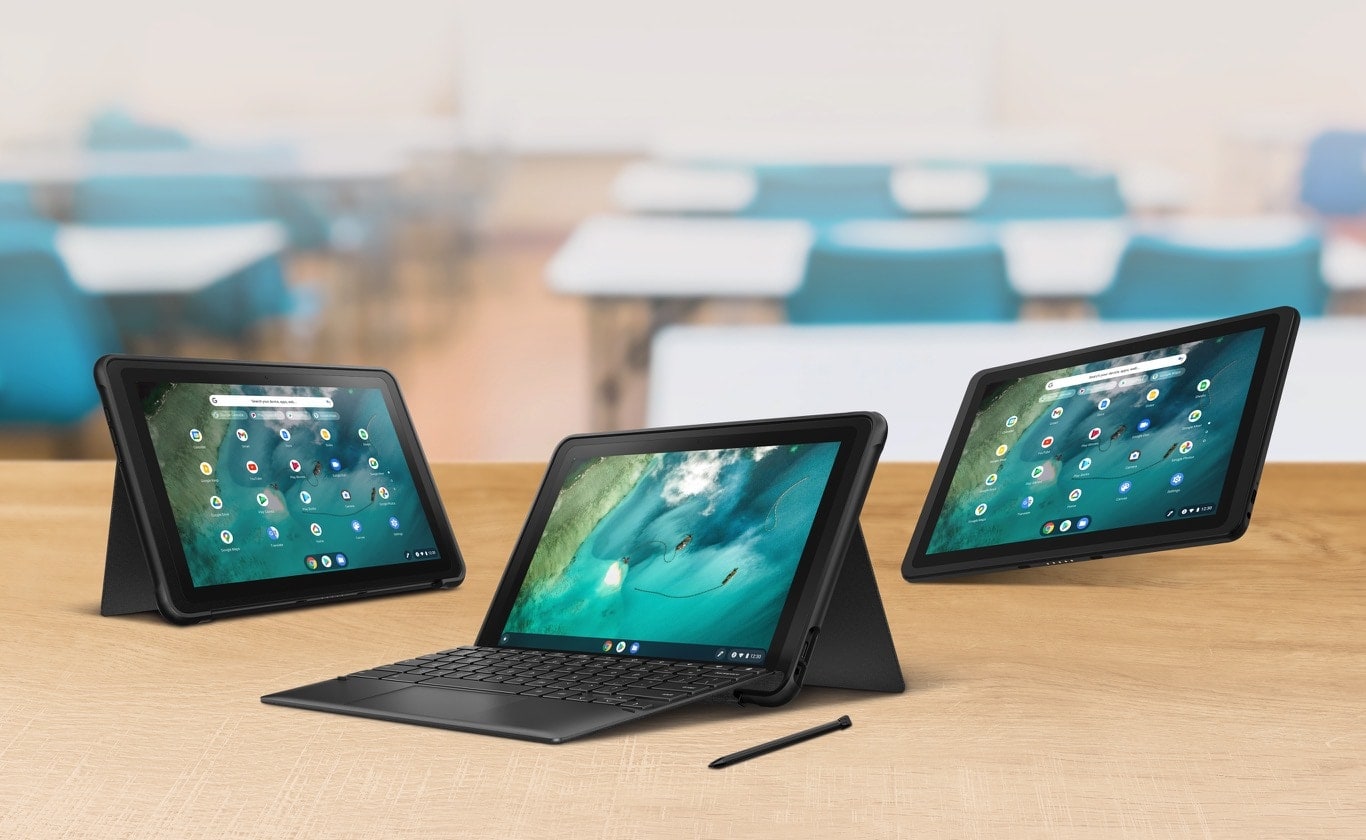 Stand
Flexible stand design
The innovative free-angle stand on ASUS Chromebook Detachable CZ1 is designed to meet a wide range of student needs for study and play. The device can be easily adjusted up to lay flat and remains in a stable position, providing perfect viewing angles for web-browsing, watching videos, taking notes, or for a range of other activities.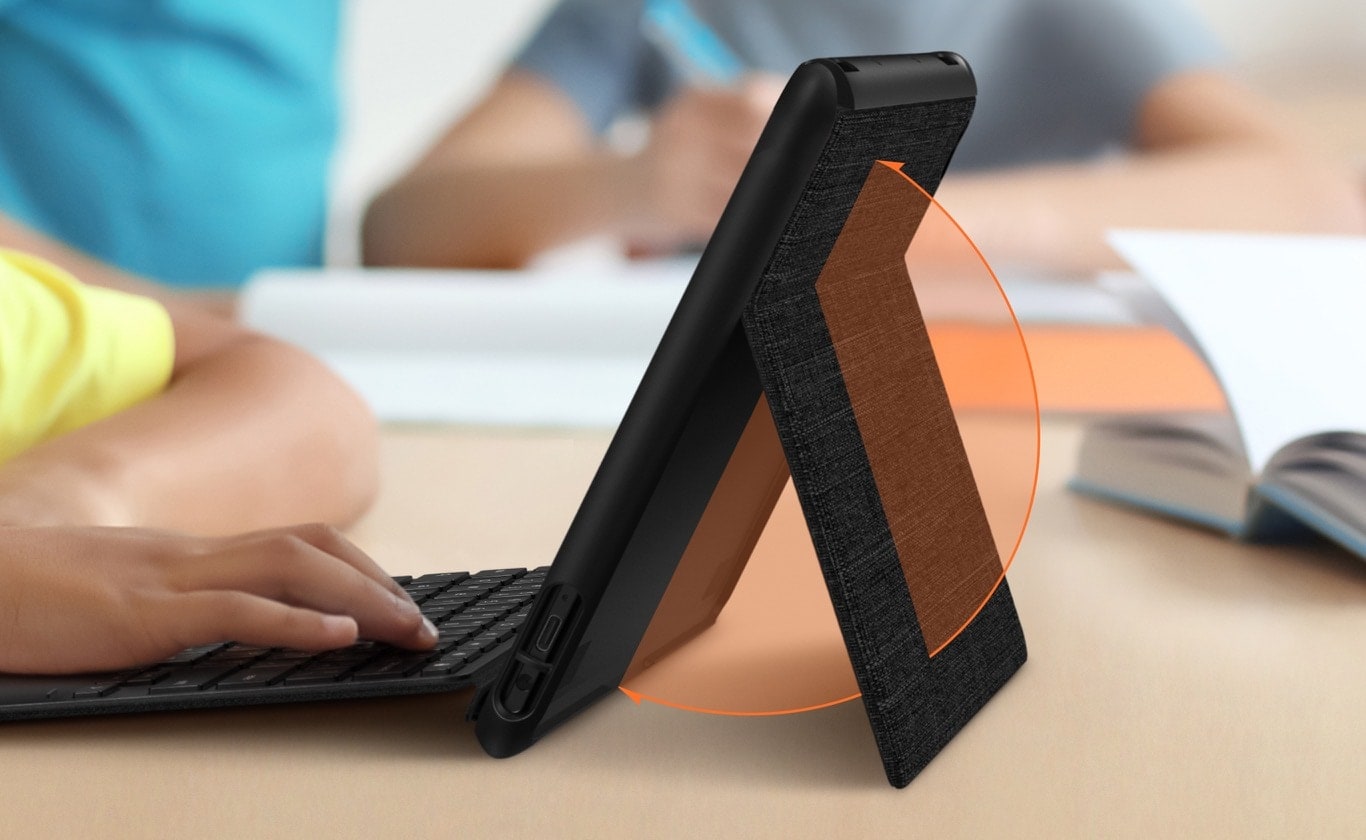 Keyboard
Ergonomic to enhance productivity
The easily detachable keyboard and magnetic free-angle stand cover on ASUS Chromebook Detachable CZ1 facilitate productivity and transform it into a laptop that's perfect for distance learning or for working on homework, anywhere. The ErgoLift design, 1.5 mm key travel and full-size keyboard enable intuitive, comfortable typing experiences.
Display
FHD screen with
eye-care

technology

ASUS Chromebook Detachable CZ1 has a Full HD 10.1-inch multitouch display, providing vivid visuals and intuitive input for modern learning experiences. The screen is certified by TÜV Rheinland for low blue-light emissions, helping to protect children's eyes from potential damage.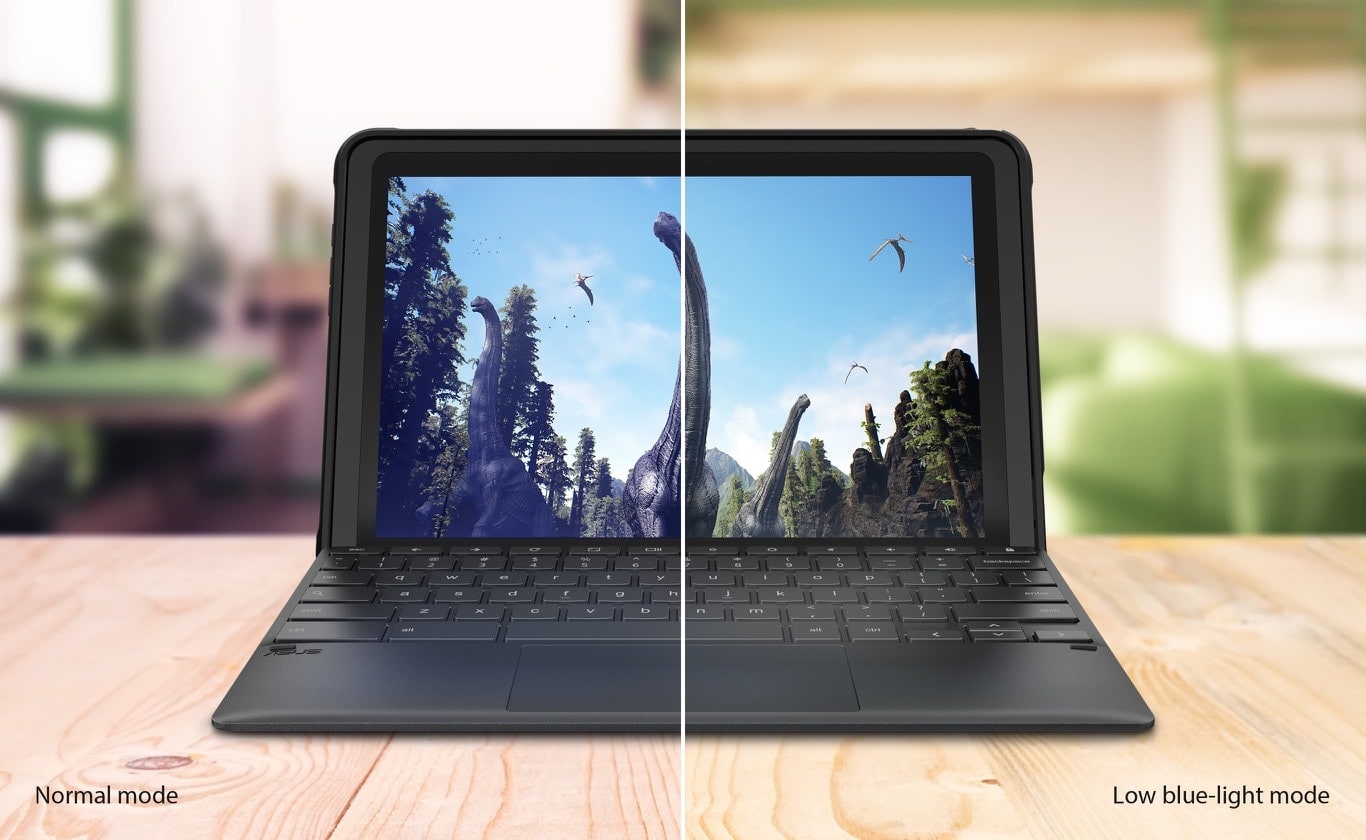 panel
Audio
Powerful, clear audio
The dual high-quality 5-magnet stereo speakers on ASUS Chromebook Detachable CZ1 generate high-fidelity audio, delivering a surround-sound effect and crisp, powerful audio for immersive experiences when listening to music and video streaming.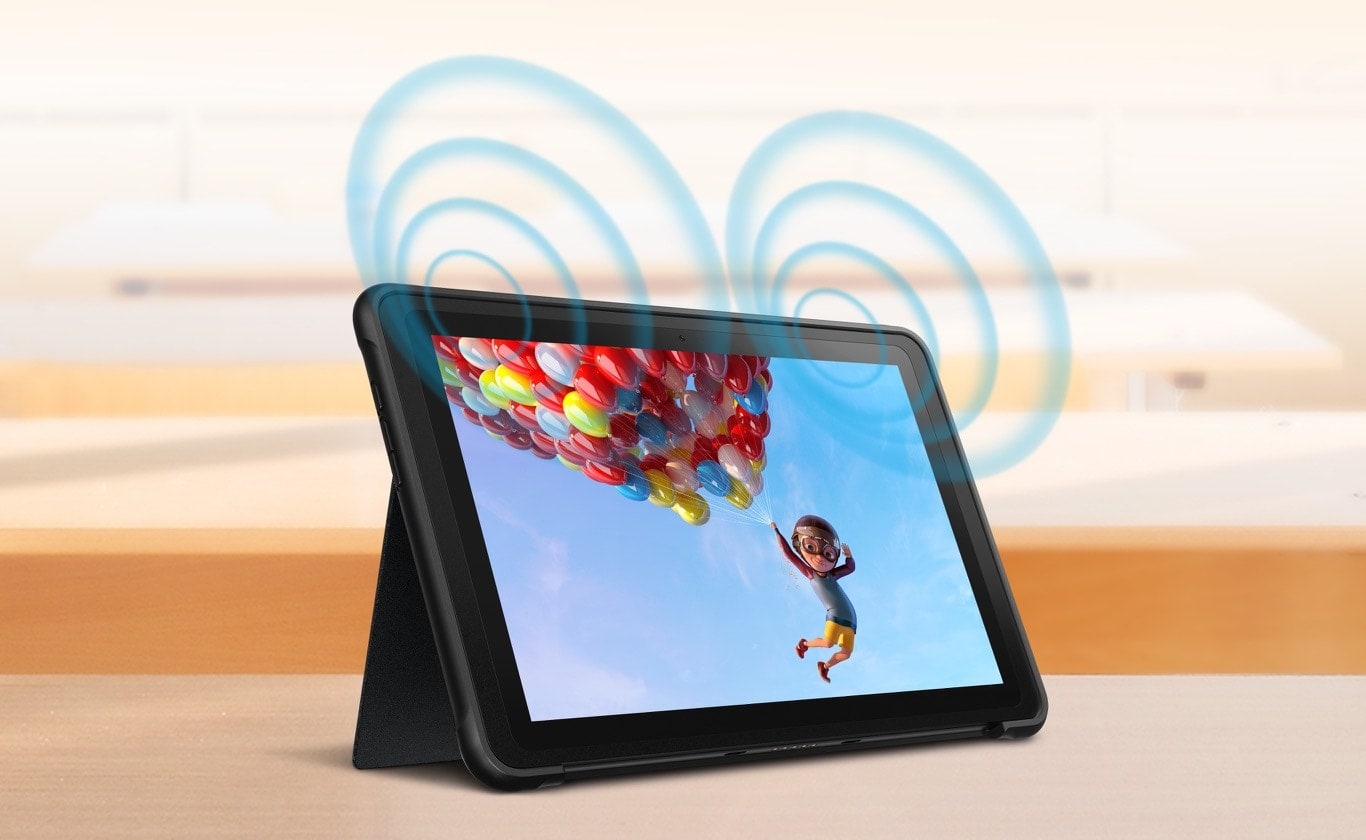 Battery
All-day battery
Offering up to 11 hours of battery life on a single charge
2
, ASUS Chromebook Detachable CZ1 will last for a full day of classes and more — empowering students to enjoy uninterrupted learning and, later, entertainment.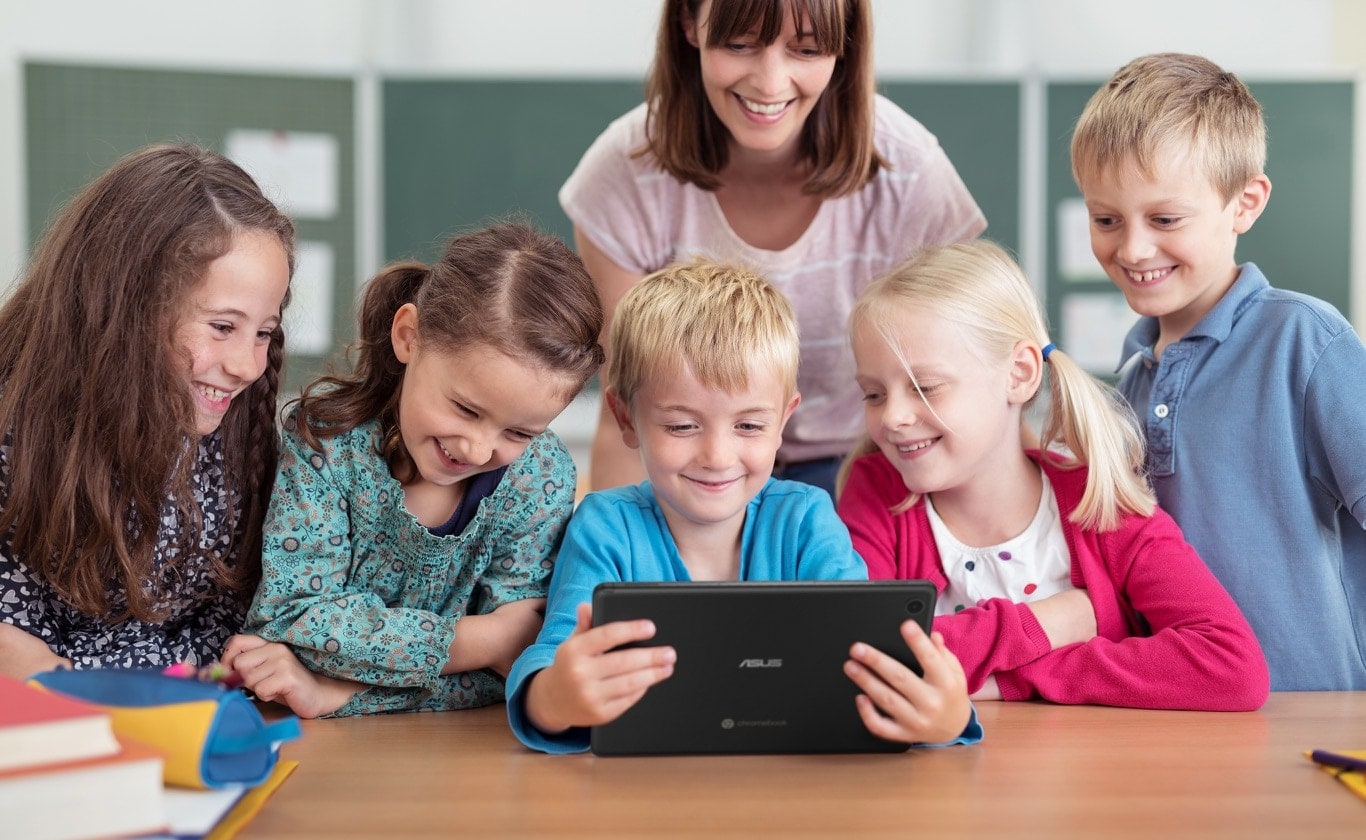 ChromeOS
Enjoy the best of Google
It doesn't get better than ChromeOS. For both study and leisure time, ASUS Chromebook Detachable CZ1 is your gateway to the very best of Google. You'll enjoy full access to Google Play
3
and you can talk to Google to get things done.
Easy access to apps on Google Play
Full access to Google Play
3
lets you use your favorite apps for study, play and creativity. Also, with seamless cloud integration, you can easily access almost anything from any device. ASUS Chromebook Detachable CZ1 opens a whole new world of freedom!
Built-in security features
ASUS Chromebook Detachable CZ1 is enabled with automatic updates
4
and built-in anti-virus protection, seamlessly keeping your device safe, secure and always up to date. Because it leverages the rock-solid security of your personal Google Account, you can rest assured that private documents, emails, photos and confidential data are safe at all times.
Get Google One with 100 GB of cloud storage
Your ASUS Chromebook Detachable CZ1 purchase entitles you to a 12-month subscription of Google One
5
.
The subscription includes 100 GB of storage across Google Drive, Gmail and Google Photos, as well as access to Google experts and extra member benefits — all in one shareable family plan
Activate your Google One offer
Zero-touch enrollment
With zero-touch enrollment, IT departments can deploy ChromeOS devices that automatically enroll as soon as a student or teacher connects to the internet. This eliminates the need for manual device enrollment, and enables users to connect to the internet and log in as soon as they receive their device. Zero-touch enrollment is also built with security in mind and employs hardware-based mechanisms to prevent spoofing attacks.