Monitor táctil ASUS VT168HR: 16 pulgadas (15,6" visibles) (1366x768), táctil de 10 puntos, HDMI, Flicker free, Low Blue Light, montaje en pared, Eye care
Capacidad táctil de 10 puntos de 16 pulgadas (15,6" visibles), adecuada para cualquier aplicación que involucre teclado virtual o multitáctil.
Ángulo de inclinación de -5 ° ~30 °, lo suficientemente flexible para escenarios como un monitor extendido o una máquina POS.
Diseño delgado y elegante con soporte VESA (75 mm x 75 mm).
Dispositivo superado en la prueba de cumplimiento de Windows 10.
Los monitores ASUS Eye Care cuentan con tecnologías Flicker-free y Low Blue Light certificadas por TÜV Rheinland para garantizar una experiencia de visualización cómoda.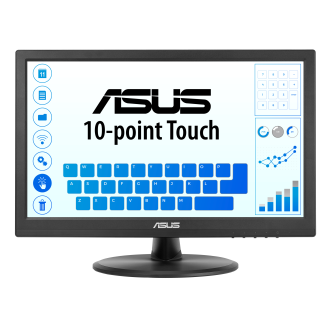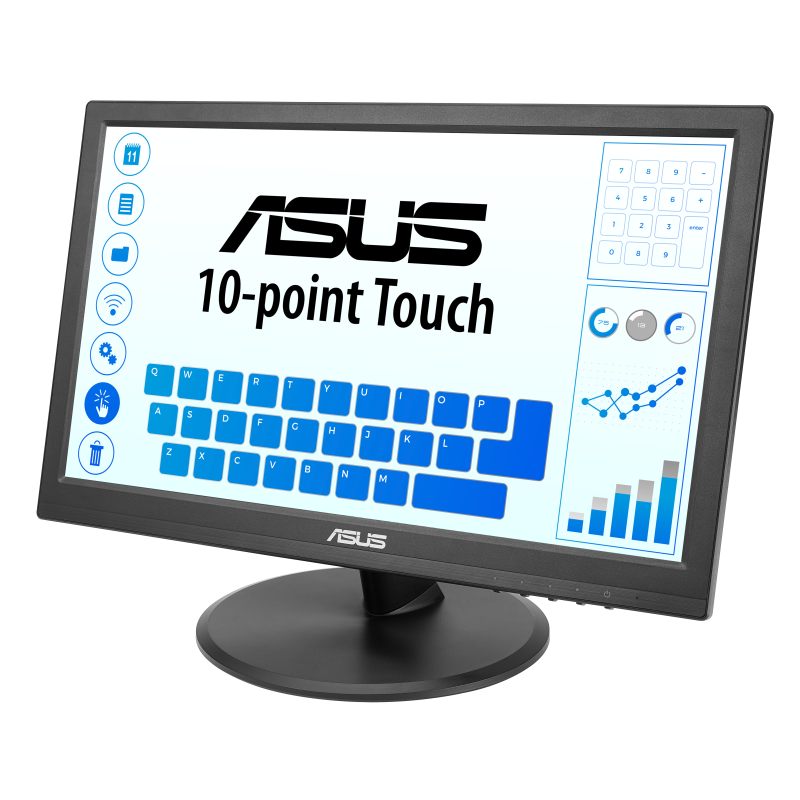 10-Point Multi-touch – An Incredibly Intuitive Touch Experience
The ASUS VT168HR touchscreen monitor combines 10-point multi-touch capability with superb image quality, flexible connectivity and great ergonomics. The precise and accurate multi-touch display — allowing up to 10 simultaneous touches — is optimized for use with Windows 10 , allowing you to work smarter and more efficiently.

Windows 10 compatible
VT168HR has passed the tests and been confirmed that it has best compatibility and reliability with Windows10 operating system. Ensuring home and business users of Microsoft's new operating system can benefit from ASUS Touch Monitor.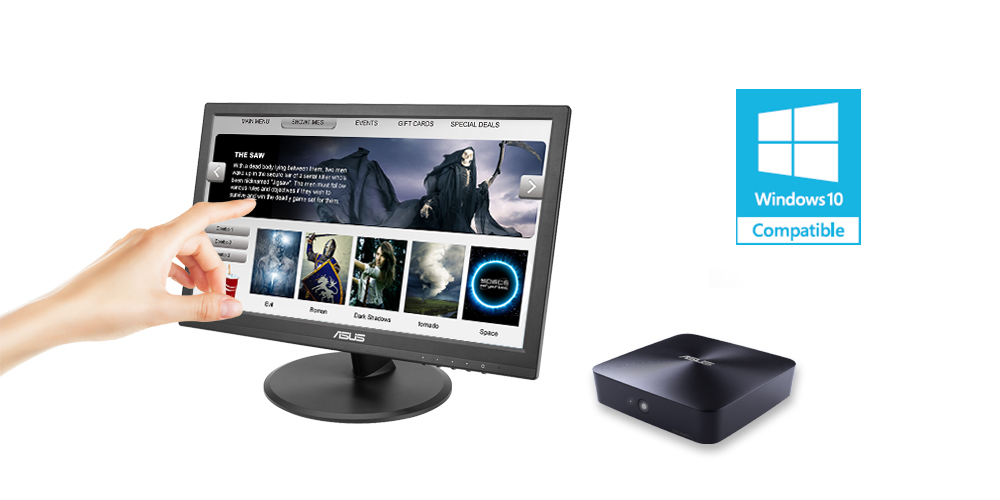 The Touchscreen Monitor That Gives You Much More
ASUS Splendid Video Intelligence Technology employs a color engine with eight preset modes. These allow you to adjust your display easily for the best color accuracy and image fidelity, depending on what kind of content is being displayed. You can access the presets via a designated hotkey.
| | | | |
| --- | --- | --- | --- |
| Reading | Darkroom | Scenery | Theater |
| Creating comfortable experience as if reading actual books by adjusting the monitor's color temperature and brightness levels, simulating paperback books. | Best choice for soft ambient light environment for visual pleasure. | Increases the brightness range, introducing more contrast gradations and selectively tweaking color saturation for more lush landscapes. | Enhances the contrast and color saturation of the image — delivering livelier and more vivid visuals for greater immersion. |
| | | | |
| --- | --- | --- | --- |
| sRGB | Game | Night View | Standard |
| Provides the best performance for viewing graphics. | Brings out dark, hard-to-see areas while leaving well-lit portions untouched — allowing you to see opponents lurking in obscure corners. | Intelligently raises Y-luminance to highlight poorly-lit details, capturing each scene's beauty in a crisp and vibrant fashion. | Delivers clear document viewing and web browsing experiences with optimized color and contrast. |
Perfect Comfort and Flexibility for Home and Office
Designed With You in Mind
VT168HR has multiple video and peripheral connectors, including VGA and HDMI, making it suitable for use anywhere, either in the home or at the office.

VT168HR features an elegant circular base with an ergonomically-designed tilting stand that lets you choose the ideal viewing position. The monitor is also VESA mount-compatible, making it easy to mount on a wall or monitor arm. Advanced power-saving features ensure low energy costs and maximum reliability, and it meets stringent environmental standards including RoHS, ENERGY STAR and TCO.
Protect your eyes with ASUS Eye Care technology


VT168HR has undergone stringent performance tests and is awarded Flicker-free and Low Blue Light certifications by TÜV Rheinland laboratories, a global provider of technical, safety, and certification services, to
show display quality with clear image and prevent users suffering from eye strain and fatigue.

Ultra-low Blue Light Monitor
The TUV Rheinland-certified ASUS Blue Light Filter protects you from harmful blue light, and you can easily access its four different filter settings via a hotkey. VT168HR has undergone stringent performance tests and has been certified by TUV Rheinland laboratories, a global provider of technical, safety, and certification services, to be flicker-free and to emit low blue light levels
| | |
| --- | --- |
| | |
| Level 1 is ideal for normal web browsing, and gives you excellent color reproduction for lifelike visuals, minimal color shift. | Level 2 is ideal when you're viewing photos and videos, giving you a perfect balance of high image quality. |
| | |
| Level 3 gives you the look of real paper, making it ideal for long hours of reading or word processing. | Level 4 is ideal for environments with dim ambient light. |
Flicker-free Technology
It's time to say goodbye to those tired, strained eyes. VT168HR features TUV Rheinland-certified ASUS Flicker-Free technology to reduce flicker for a comfortable viewing experience. This technology helps minimize instances of eyestrain and other damaging ailments, especially when you spend long, countless hours in front of a display watching favorite videos.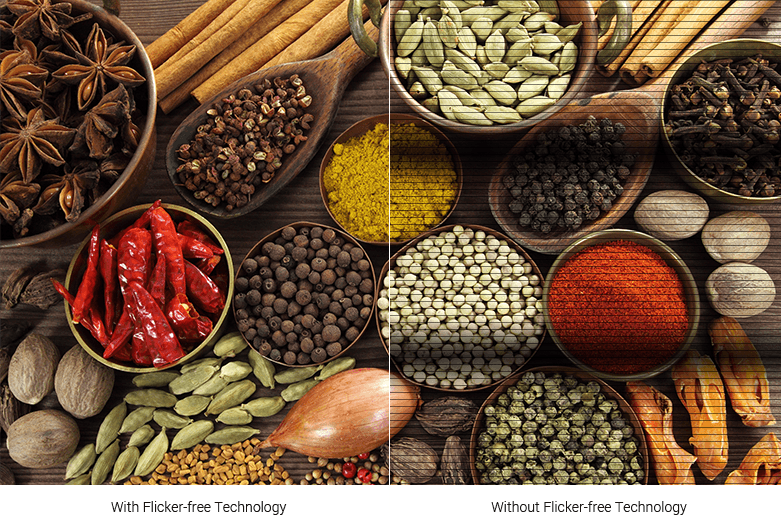 Productos relacionados
Mini PC ultracompacta con procesadores Intel® Core de 10a generación, hasta 64 GB de RAM DDR4, SSD M.2, Thunderbolt 3, Wi-Fi 6, Windows 10 y USB 3.1 Gen 2 Tipo-C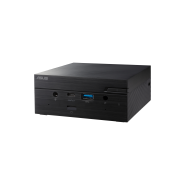 Computadora ultracompacta con procesador móvil AMD Ryzen serie 5000 y soporte para cuerto pantallas 4K, con hasta 64 GB de RAM DDR4, SSD M.2, WiFi 6, Windows 10 Pro y doble USB 3.2 Gen 2 Tipo-C.
Compare (0)