ASUS Dual Radeon™ RX 6750 XT OC Edition 12GB GDDR6
ASUS Dual Radeon™ RX 6750 XT OC Edition 12GB GDDR6 está armada para repartir cuadros por segundo y mantener los signos vitales bajo control.
Modo OC: Hasta 2638 MHz (Boost Clock) / hasta 2532 MHz (Game Clock).
El diseño del ventilador Axial-tech presenta un centro de ventilador más pequeño que facilita aspas más largas y un anillo de barrera que aumenta la presión del aire hacia abajo.
Los baleros de ventilador de bolas dobles pueden durar hasta el doble que otros diseños de baleros.
Tecnología Auto-Extreme utiliza la automatización para mejorar la confiabilidad.
Una placa trasera protectora evita que la PCB se flexione y se dañen las trazas.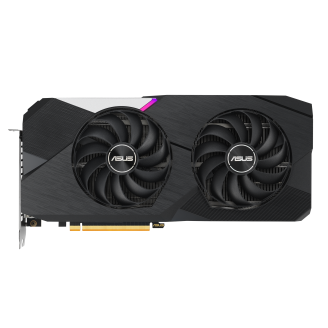 2x Fans. 2x Fun.
Delivering the latest AMD RDNA™ 2 architecture experience in its purest form, the ASUS Dual Radeon™ RX 6750 XT melds performance and simplicity like no other. Leveraging advanced cooling technologies derived from flagship graphics cards, the Dual opts for substance over style, the perfect choice for a well-balanced build. Buckle up and engage cutting-edge gaming prowess.
COOLING
Axial-tech Fan Design
Better, faster, stronger
Two tried-and-true Axial-tech fans feature a smaller hub that facilitates longer blades and a barrier ring to increase downward air pressure.
0dB Technology
Quiet intelligence
An advanced onboard controller brings fans to a standstill when the GPU core temperature is below 55 Celsius, letting you enjoy light gaming in relative silence. As temps rise past the threshold, the fans automatically start up again.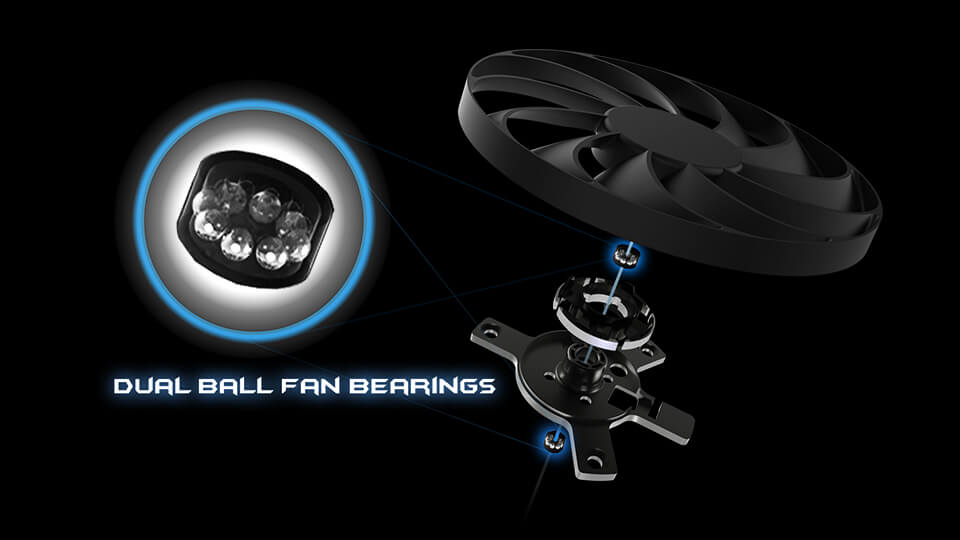 Dual Ball Fan Bearings
2x longer lifespan
Different bearing types have unique pros and cons. Ball bearings excel at durability and can last up to twice as long as sleeve bearing designs.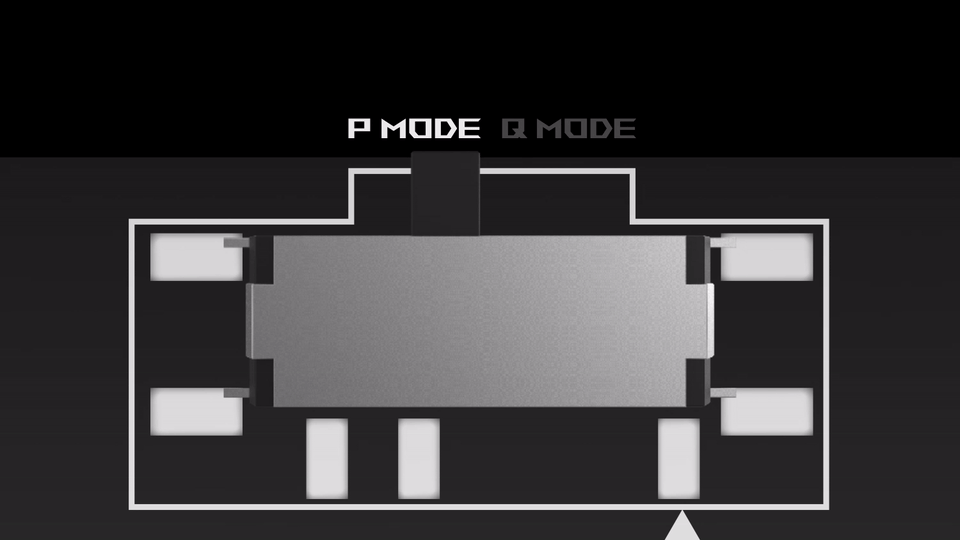 Dual BIOS
Choose wisely
Do you prioritize low core temps or low noise levels? Performance mode will let the fans spin up to keep the card running cool all the time. Quiet mode keeps the same power target and top-end settings, but offers a less aggressive fan curve for quieter operation at medium temps. For even more customization and control, check out our GPU Tweak II software.
ENGINEERING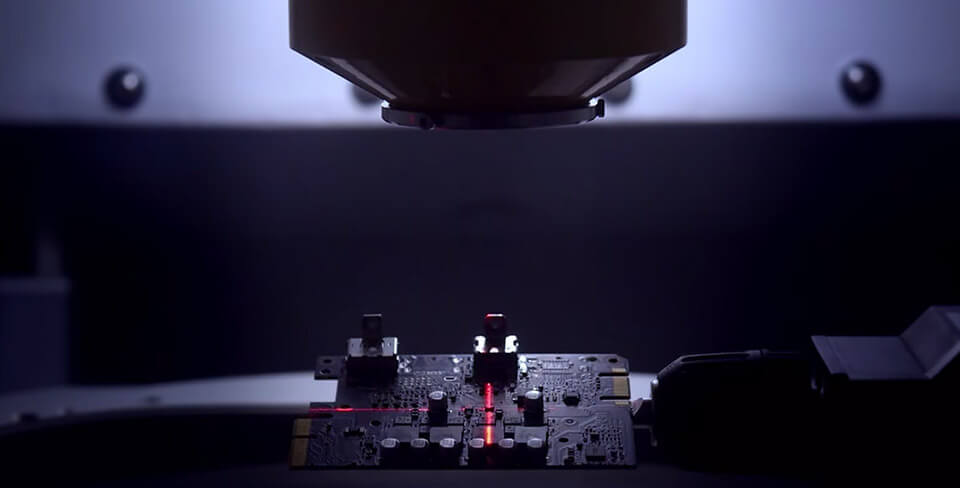 Auto-Extreme Technology
Precision automated manufacturing
Auto-Extreme Technology is an automated manufacturing process that sets new standards in the industry by allowing all soldering to be completed in a single pass. This reduces thermal strain on components and avoids the use of harsh cleaning chemicals, resulting in less environmental impact, lower manufacturing power consumption, and a more reliable product overall.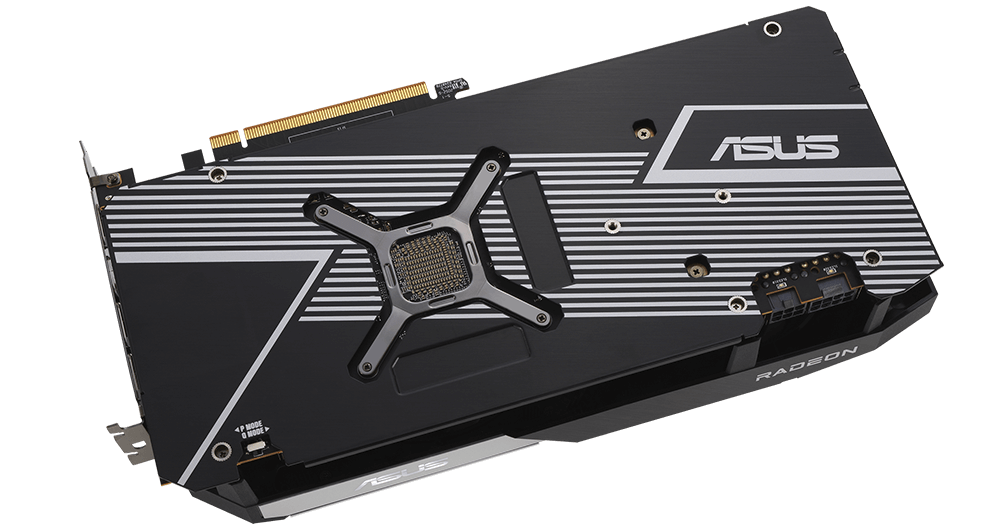 Protective Backplate
That's so metal!
The PCB is reinforced by an aluminum backplate that adds structural rigidity, helping to prevent flex and protect components and trace pathways from damage.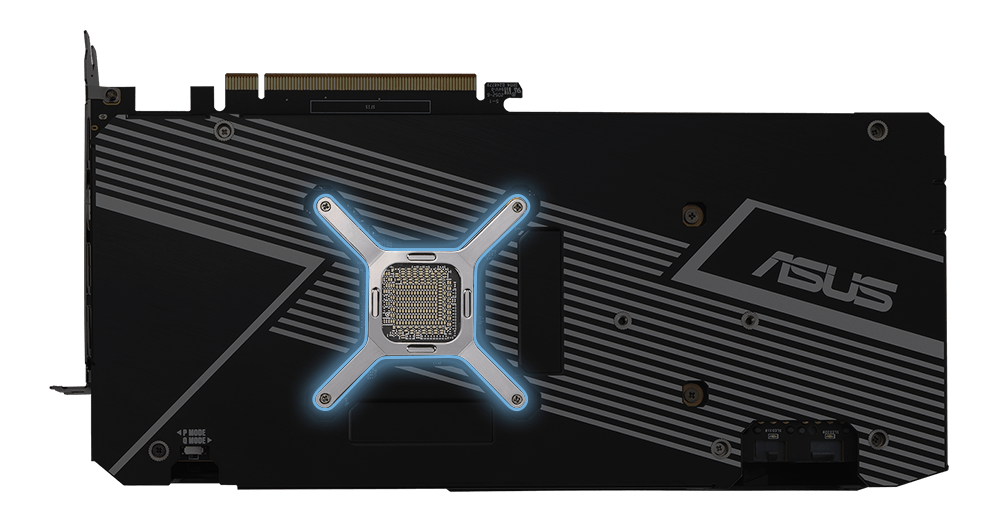 GPU Bracket
Locked and loaded
A GPU bracket provides uniform mounting pressure and extra stability to the critical connection between die and heat spreader.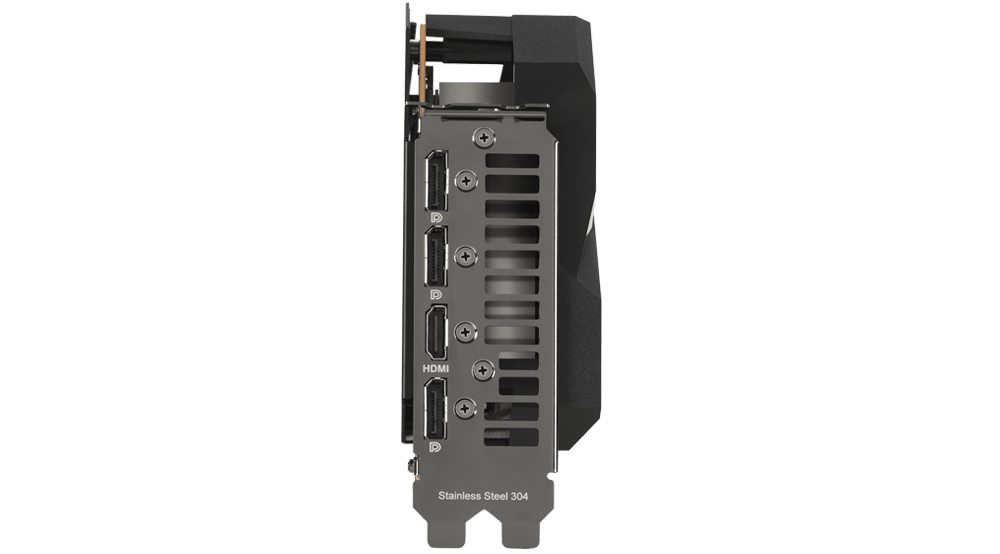 Stainless Steel Bracket
Steel yourself
The mounting bracket of the Dual has been beefed up with 304 Stainless Steel that is harder and more resistant to corrosion.
SOFTWARE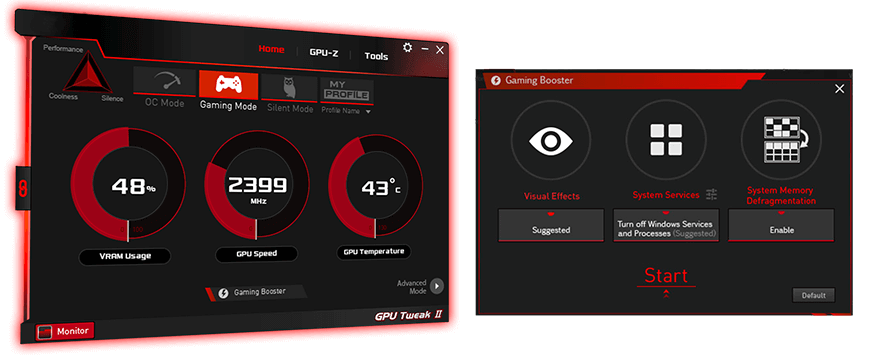 GPU Tweak II
Monitor, tweak, and tune
The ASUS GPU Tweak II utility takes graphics card tuning to the next level. It allows you to tweak critical parameters including GPU core clocks, memory frequency, and voltage settings, with the option to monitor everything in real-time through a customizable on-screen display. Advanced fan control is also included along with many more features to help you get the most out of your graphics card. AMD Radeon™ Software
Change the way you game
The latest Radeon™ Software unleashes the full potential of your GPU with day-0 drivers optimized for new game releases and a highly customizable gaming experience.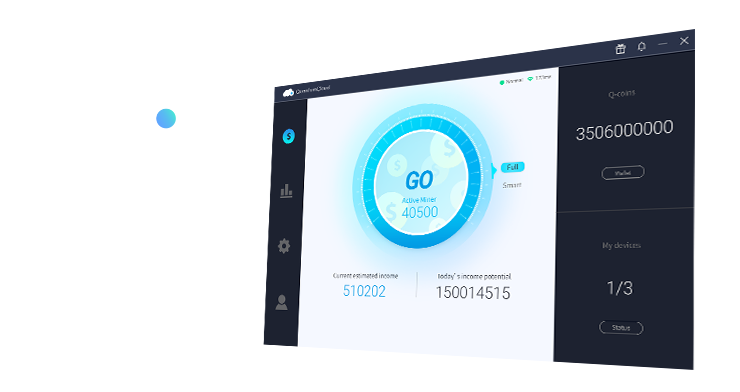 QuantumCloud
Profit from GPU power
QuantumCloud is a safe and easy-to-use application that lets you effortlessly earn extra money by sharing your graphics card's computing power. Earnings are accessible through your PayPal or WeChat account, and QuantumCloud also supports multiple exchange methods, including Steam. In addition, QuantumCloud doesn't collect any personal data, so your privacy stays protected. Get started right away with just one click!
EXPERIENCE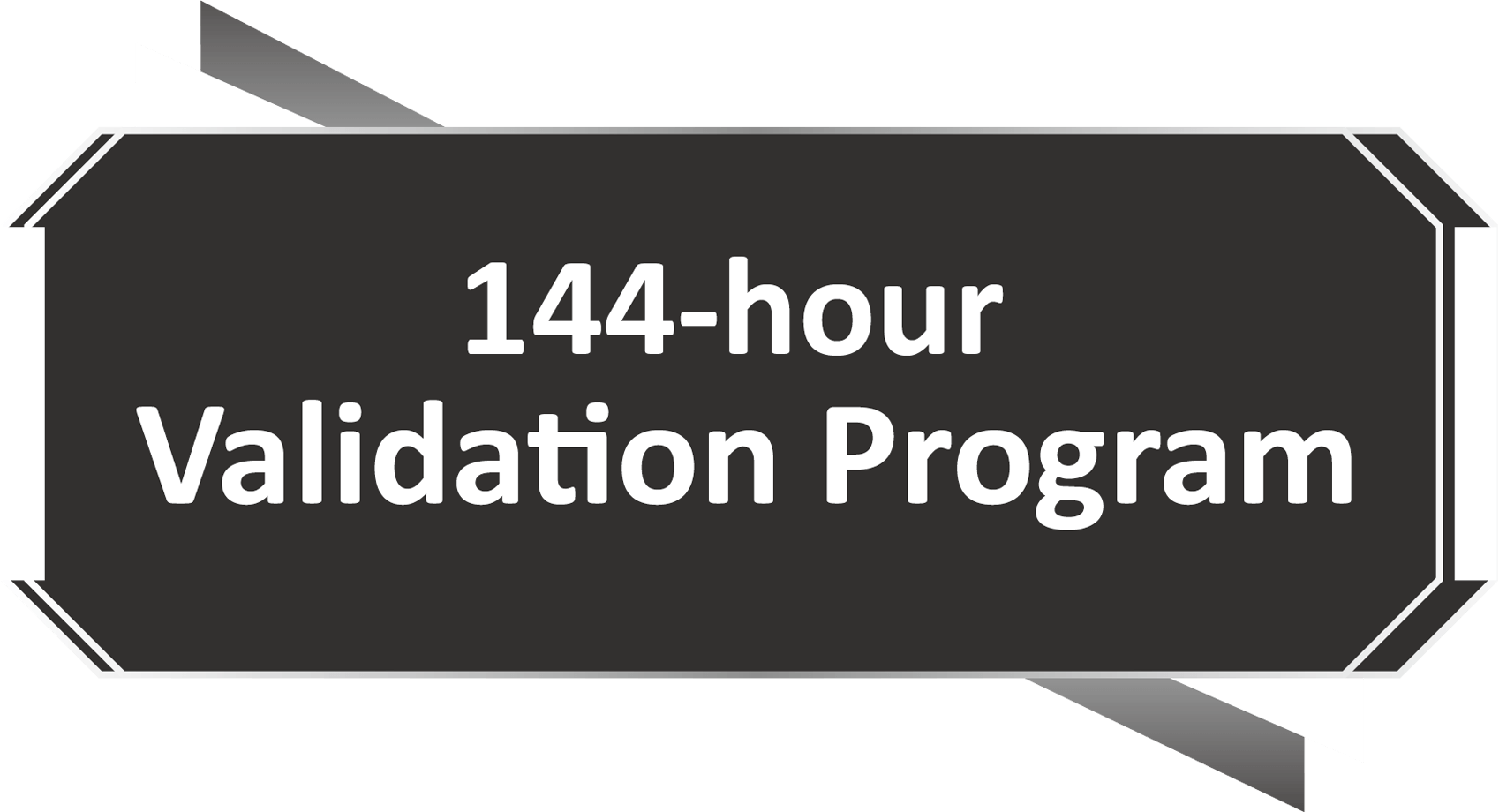 144-hour Validation Program
"Extensive" may be an understatement
Each card must meet rigorous performance and reliability standards before it ships. Performance and stress tests are run with the latest chart-topping titles like Fortnite, League of Legends, Overwatch, and PlayerUnknown's Battlegrounds. We also carry out reliability trials that include a 144-hour stability test and a series of 3DMark benchmarking runs to ensure the card performs well when pushed to the limits.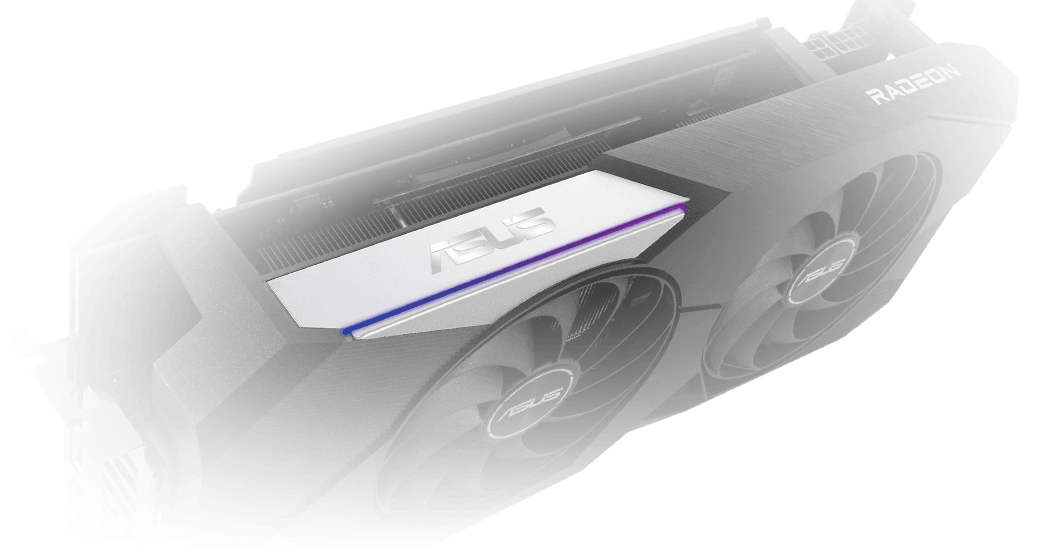 Subtle Lighting
A bit lit
The shroud features a subtle illuminated strip that creates a stylish accent for your build.
Free 1 Month of Adobe Creative Cloud
Get complimentary membership with the purchase of selected ASUS products.* 

20+ Adobe apps

Industry-leading apps including Photoshop, Illustrator, InDesign, Spark and XD.

Adobe Fonts

Access thousands of fonts right within your Creative Cloud apps.

Behance

Find inspiration in the world's largest creative community.

Creative Cloud Libraries

Your team can share assets across their apps and devices, so everyone's in sync.

1TB of cloud storage per user

Extra storage makes it easier for your team to share and manage creative assets.
Master Your Game With Legendary Performance
The new AMD Radeon™ RX 6950 XT, RX 6750 XT, and RX 6650 XT graphics cards are optimized for DirectStorage to help reduce load times in games and bring expansive worlds to life in amazing detail. The Radeon™ RX 6000 Series graphics cards take full advantage of the latest innovations in upscaling technologies such as AMD FidelityFX™ Super Resolution2 or the new Radeon™ Super Resolution1. Whether it is AAA gaming or eSports, experience all your games without compromise.
Supercharged Performance
The Radeon™ RX 6000 Series graphics cards can take on the most demanding titles at maximum settings with all the latest features enabled. With up to 80 powerful graphics compute units, coupled with up to 16GB of high-speed GDDR6 memory, and up to 128MB of low-latency AMD Infinity Cache™, these cards redefine enthusiast level performance.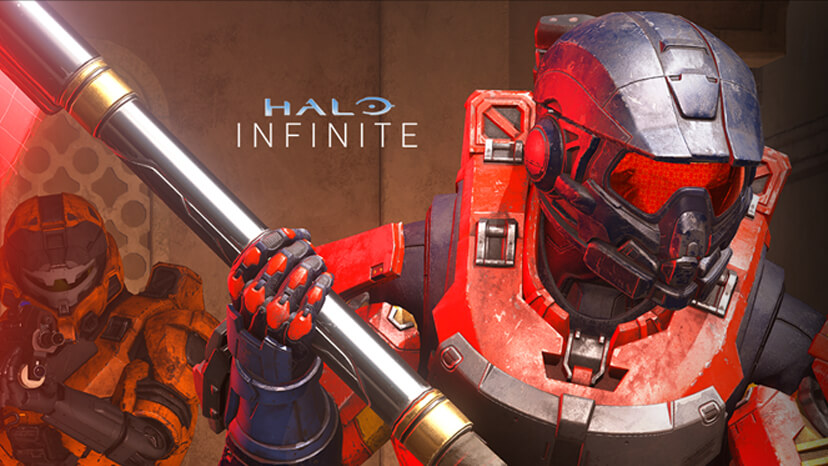 Vivid Visuals
Experience a new level of immersion with the Radeon™ RX 6000 Series graphics cards with support for the latest software innovations such as DirectX® 12 Ultimate and the latest AMD FidelityFX™ technology feature set, enabling realistic lighting, shadows, and reflections in extreme detail. AMD FidelityFX™ technology features are optimized for the AMD RDNA™ 2 architecture to power the next generation of gaming visuals at high framerates, providing a mesmerizing gaming experience.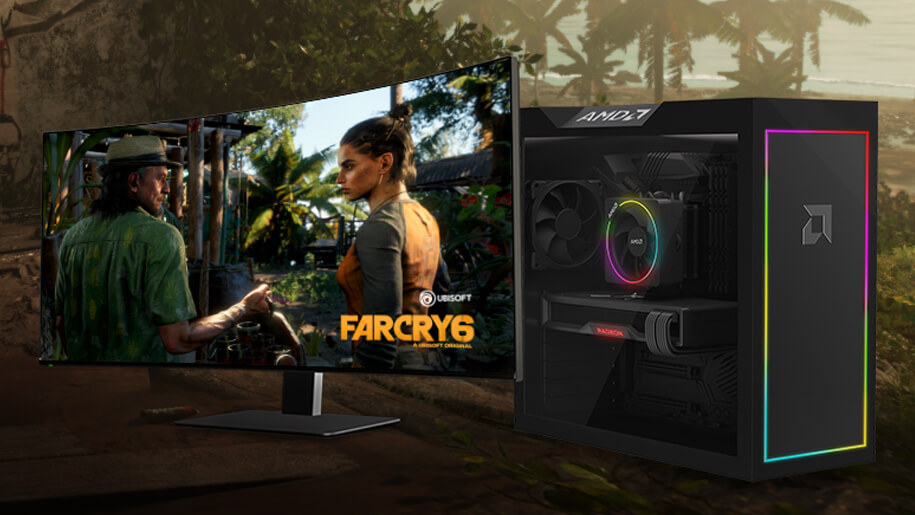 Elevated Experiences
The new Radeon™ RX 6000 Series graphics cards are optimized for DirectStorage to help reduce load times in games and bring expansive worlds to life in amazing detail. Complete the experience with the widest available display ecosystem on the market3, supporting the latest HDMI™ 2.1 VRR technology with the 2000+ AMD FreeSync4 technology-enabled gaming displays available at high refresh rates. With the new AMD Link™ 5.05, enjoy co-op with up to 4 players and experience your games across different devices seamlessly, as easy as clicking a button.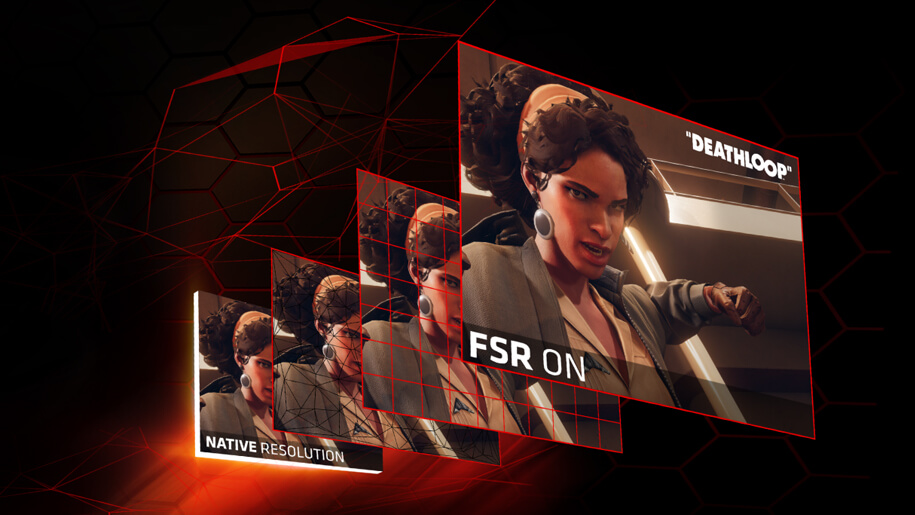 Get A Boost In Frames For Your Games2
Maximize image quality and supercharge performance with AMD FidelityFX™ Super Resolution (FSR)2 across select supported games or boost your frame rates across a wide number of games with Radeon™ Super Resolution (RSR)1 to deliver high-quality, high-resolution, and high framerate gaming experiences on AMD Radeon™ graphics cards.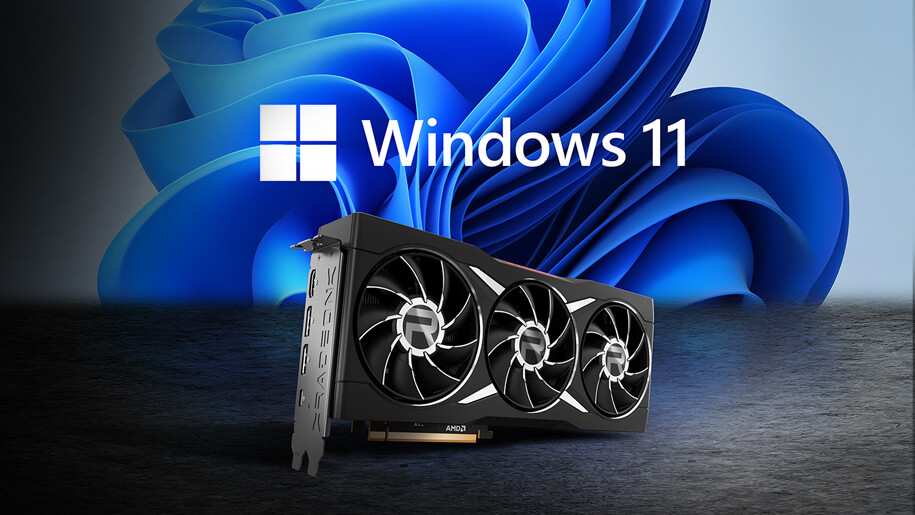 The Best Gaming Experience For The Best Gaming OS
AMD Radeon™ graphics with Windows 11 enables the ultimate gaming experience through superior graphics, amazing performance, and optimized security features. Supercharge your gaming experience on Windows 11—featuring support for DirectX® 12 Ultimate, Auto HDR, AMD Radeon™ graphics, and AMD Software.
As of January 2022, Radeon Super Resolution is compatible with Radeon RX 5000 series graphics and newer and works with games that support exclusive full-screen mode. AMD Software: Adrenalin Edition 22.1.3 or newer is required. GD-197.
AMD FidelityFX Super Resolution is available on select games and requires developer integration. See https://www.amd.com/en/technologies/radeon-software-fidelityfx-super-resolution for a list of supported games. AMD FidelityFX Super Resolution is "game dependent" and is supported on the following AMD products: AMD Radeon™ RX 6000, RX 5000, RX 500, RX Vega Series graphics cards & all AMD Ryzen™ Processors with Radeon™ Graphics, as long as the minimum requirements of the game are met. AMD does not provide technical or warranty support for AMD FidelityFX Super Resolution enablement on other vendors' graphics cards. GD-187.
Testing by AMD Performance Labs as of July 22, 2021, on a test system configured with an AMD Ryzen™ 9 5900X CPU, AMD Radeon™ 6900 XT/6800 XT/6700 XT/6600 XT graphics cards, 16GB DDR4-3200 RAM, and Windows 10 Pro, with Smart Access Memory enabled and using FSR "Performance" mode vs. FSR off. Actual performance will vary. Games tested: Baldur's Gate 3 ("Ultra"); Black Desert ("Epic"); Chernobylite ("Epic"); Deathloop™ ("Ultra"); Far Cry® 6 ("Ultra"); Gamedec ("Very High") Grounded ("Epic"); Necromunda®: Hired Gun™ ("Epic"); Resident Evil™ Village ("Epic"); Vampire: The Masquerade - Bloodhunt ("Ultra"). Benchmark tests: Baldur's Gate 3, Vulkan®, 3840 x 2160, "Ultra" settings, FSR OFF/FSR "Performance" mode. Black Desert, DX11, 3840 x 2160, "Epic" settings, FSR OFF/FSR "Performance" mode. Vampire: The Masquerade - Bloodhunt, DX12, 3840 x 2160, "Ultra" settings, FSR OFF/FSR "Performance" mode. Chernobylite, DX11, 3840 x 2160, "Epic" settings, FSR OFF/FSR "Performance" mode. Deathloop™, DX12, 3840 x 2160, "Ultra" settings, FSR OFF/FSR "Performance" mode vs. the same system with FSR off. Far Cry® 6, DX12, 3840 x 2160, "Ultra" settings, FSR OFF/FSR "Performance" mode. Gamedec, DX12, 3840 x 2160, "Very High" settings, FSR OFF/FSR "Performance" mode. Grounded, DX12, 3840 x 2160, "Epic" settings, FSR OFF/FSR "Performance" mode. Necromunda®: Hired Gun™, DX12, 3840 x 2160, "Epic" settings, FSR OFF/FSR "Performance" mode. Resident Evil™ Village, DX12, 3840 x 2160, "Epic" Settings, FSR OFF/FSR "Performance" mode. RS-430.
As of February 2022, the number of FreeSync technology-enabled displays available is ~2000+, compared to the publicly available listings of competing product solutions at https://www.nvidia.com/en-us/geforce/products/g-sync-monitors/specs/ which lists 308 screens. GD-130.
AMD FreeSync™ technology requires AMD Radeon™ graphics and a display that supports FreeSync technology as certified by AMD. AMD FreeSync™ Premium technology adds requirements of mandatory low framerate compensation and at least 120 Hz refresh rate at minimum FHD. AMD FreeSync™ Premium Pro technology adds requirements for the display to meet AMD FreeSync Premium Pro compliance tests. See www.amd.com/freesync for complete details. Confirm capability with your system manufacturer before purchase. GD-127
© 2022 Advanced Micro Devices, Inc. All rights reserved. AMD, the AMD Arrow logo, Radeon, FidelityFX, FreeSync, Infinity Cache, RDNA, and combinations thereof are trademarks of Advanced Micro Devices, Inc. HDMI, the HDMI logo and High-Definition Multimedia Interface are trademarks or registered trademarks of HDMI Licensing, LLC in the United States and other countries. Microsoft, Windows, and DirectX are registered trademarks of Microsoft Corporation in the U.S. and/or other jurisdictions.
DEATHLOOP® ©2021 ZeniMax Media Inc. All Rights Reserved.
© 2020 Ubisoft Entertainment. All Rights Reserved. Far Cry, Ubisoft and the Ubisoft logo are registered or unregistered trademarks of Ubisoft Entertainment in the U.S. and/or other countries.
Halo Infinite is rated ESRB "T" for Teen and PEGI 16. May contain content inappropriate for children. Please consult with ESRB.org, PEGI.info, or your regional game rating organization.
© 2021 Microsoft Corporation. All Rights Reserved.