Tarjeta madre para juegos AMD B450 (AM4) micro ATX con soporte M.2, micrófono con cancelación de ruido IA, HDMI, DVI-D, USB 3.2 Gen 2 Tipo A, USB 3.2 Gen 1 Tipo A y Tipo C, e iluminación Aura Sync RGB
Refrigeración completa: Disipadores VRM, disipador PCH y Fan Xpert 2+.
Conectividad Next-gen: Compatibilidad con USB 3.2 Gen 2 Type-A.
Códec Realtek S1200A: Calidad de audio impecable con una relación señal-ruido sin precedentes de 108 dB para salida de línea estéreo y SNR de 103 dB para entrada de línea.
Micrófono con cancelación de ruido AI: Proporciona una comunicación de voz nítida en el juego.
Iluminación Aura Sync RGB: Sincronice la iluminación LED con una amplia variedad de equipos de PC compatibles.
DURABLE. STABLE. RELIABLE.
TUF Gaming motherboards are specially designed and tested to survive and thrive in conditions where other boards would struggle. Engineered with military-grade components, an upgraded power solution and a comprehensive set of cooling options, this motherboard delivers rock-solid performance with unwavering gaming stability.
When you build with a TUF Gaming motherboard, you also benefit from the TUF Gaming Alliance — an ASUS collaboration with trusted industry partners that ensures easier building, best compatibility, and complementary aesthetics from components to case.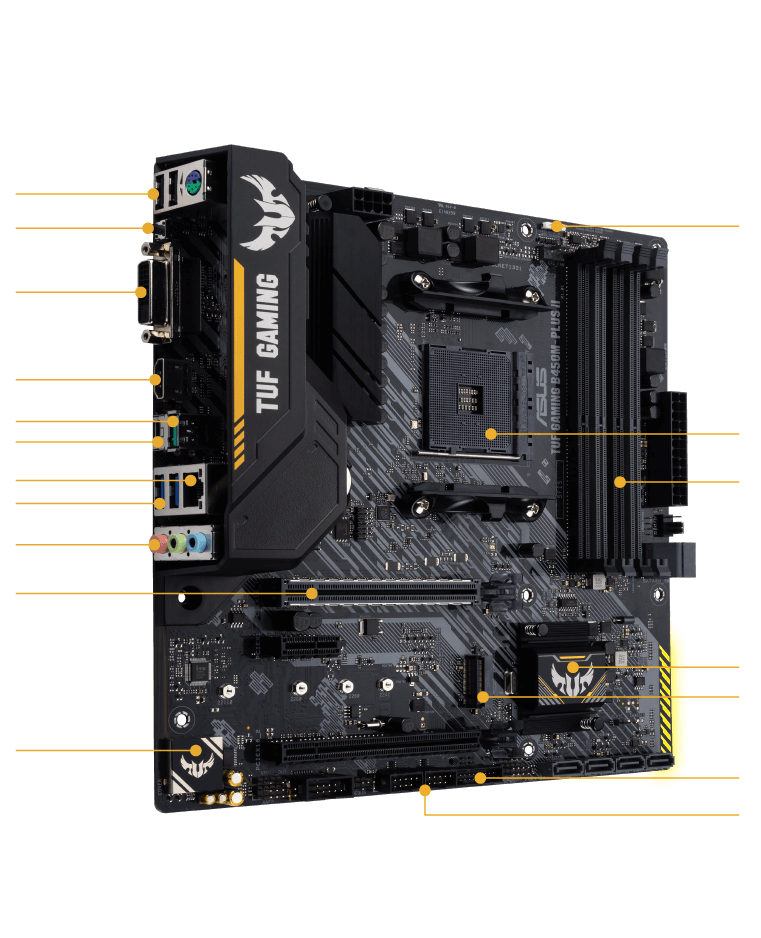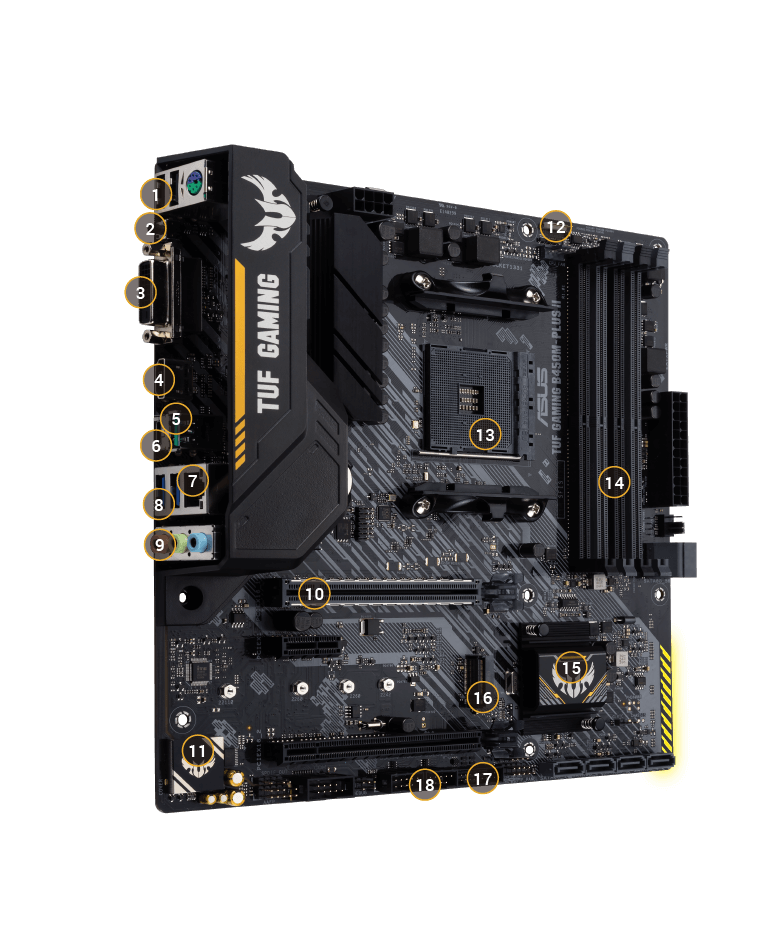 2 x USB 2.0

BIOS FlashBack™
button

DVI-D

HDMI

1 x USB 3.2 Gen 2

1 x USB 3.2 Gen 1(Type-C®)

Realtek LAN

2 x USB 3.2 Gen 1

3 x Audio jacks

PCIe 3.0 x16 slot
ASUS SafeSlot

Realtek ALC 887
Exclusive DTS Custom for
Gaming headsets
- TUF Gaming Audio Cover
- Audio Shielding
- Dedicated audio PCB layers
- Premium Japanese audio
 capacitors

1 x AURA RGB header

AMD Socket AM4

DDR4 support

AMD B450 Chipset

32Gb/s M.2 support
PCIe 3.0 x4 & SATA mode

2 x Front USB 3.2 Gen 1

4 x Front USB 2.0
ROCK-SOLID PERFORMANCE
With upgraded power delivery and comprehensive cooling options to fuel the latest AMD Ryzen CPUs, plus support for faster storage and connectivity, TUF GAMING B450M-PLUS II is the perfect foundation for your next high-core-count battle rig.
Power Design
TUF COMPONENTS

TUF CHOKES
Certified military-grade TUF chokes deliver rock-steady power to the CPU, improving system stability.
TUF CAPACITORS
Proprietary capacitors provide up to 20% greater temperature tolerance and 5X-longer lifespan.
Digi+ VRM
The integrated Digi+ VRM voltage-regulator module (VRM) is one of the finest in the industry, ensuring ultra-smooth and ultra-clean power delivery to the CPU at all times.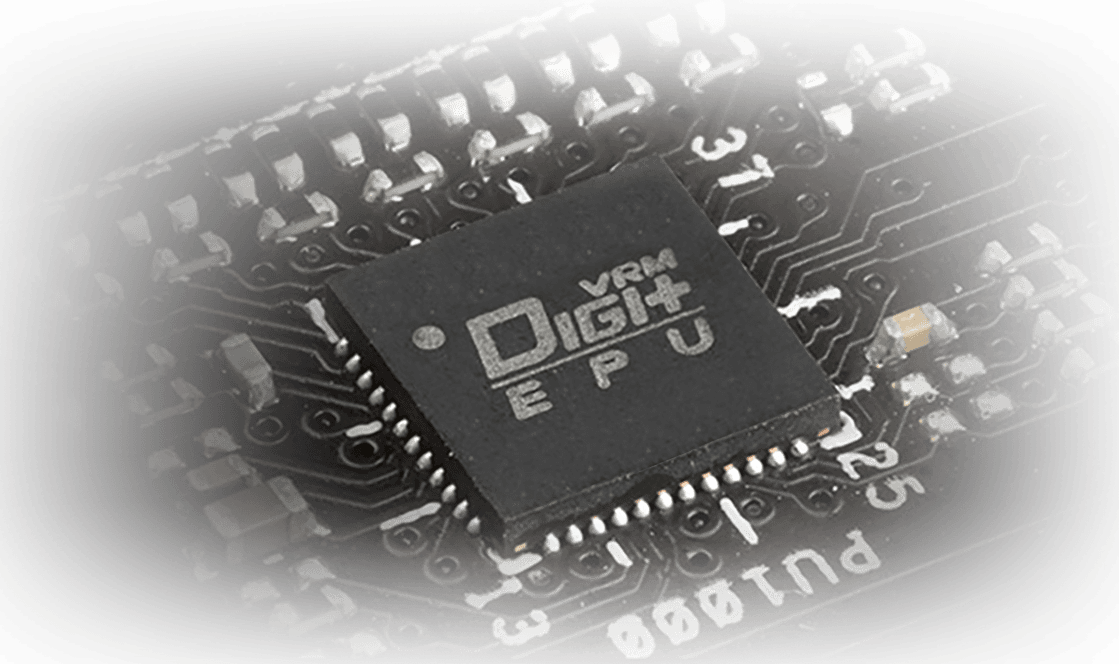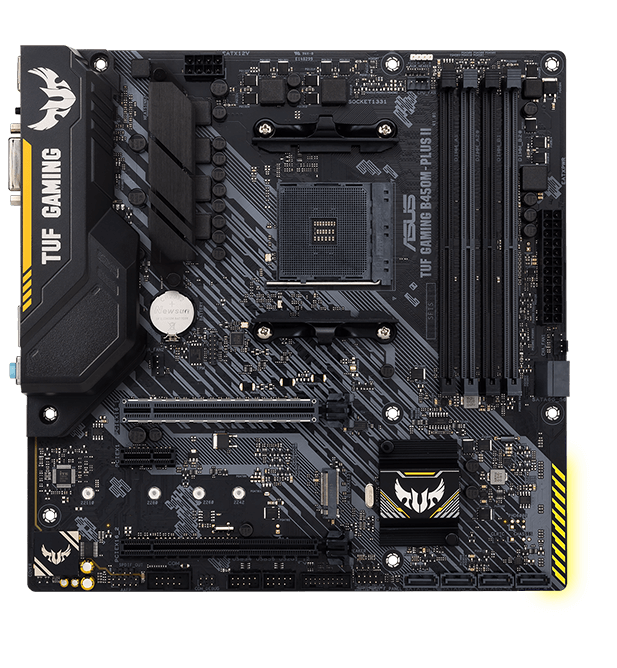 COMPREHENSIVE FAN CONTROLS
TUF GAMING B450M-PLUS II features comprehensive fan controls that can be configured via Fan Xpert 2+ utility or via the award-winning ASUS UEFI BIOS.
Multiple temperature sources
4-pin PWM/DC fan
Smart protection
Each header can be set to monitor and react to two user-configurable thermal sensors for workload-based cooling, and all settings can be easily managed by Fan Xpert 2+ or via the UEFI.​

All onboard chassis fan headers support PWM/DC fans.

A dedicated integrated circuit protects each fan header from over-temperature and overcurrent.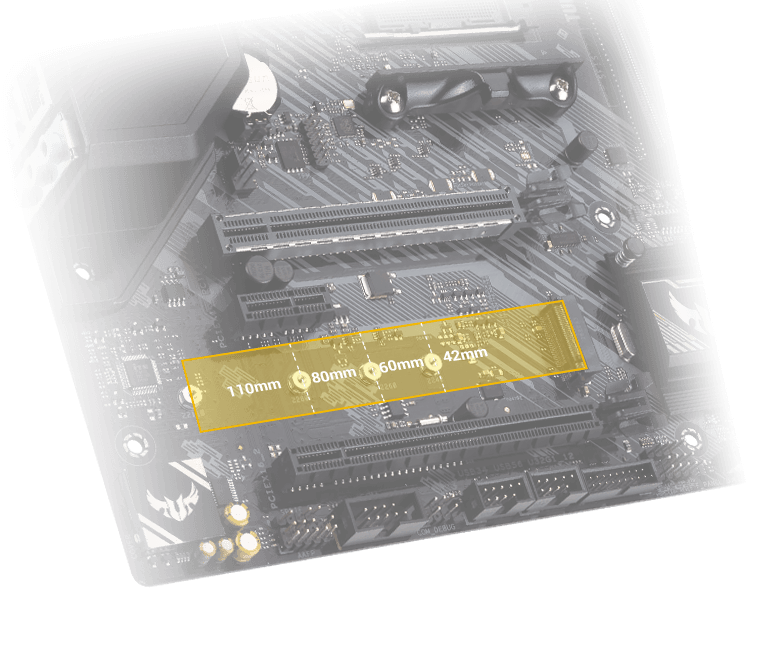 32Gbps M.2 Support
M.2 slot supports up to 22110 and data-transfer speeds of up to 32 Gbps via x4 PCI Express 3.0 bandwidth, enabling quicker boot-up and app load times with OS or application drives.
*Actual transmission speed will be lower than theoretical maximum speed.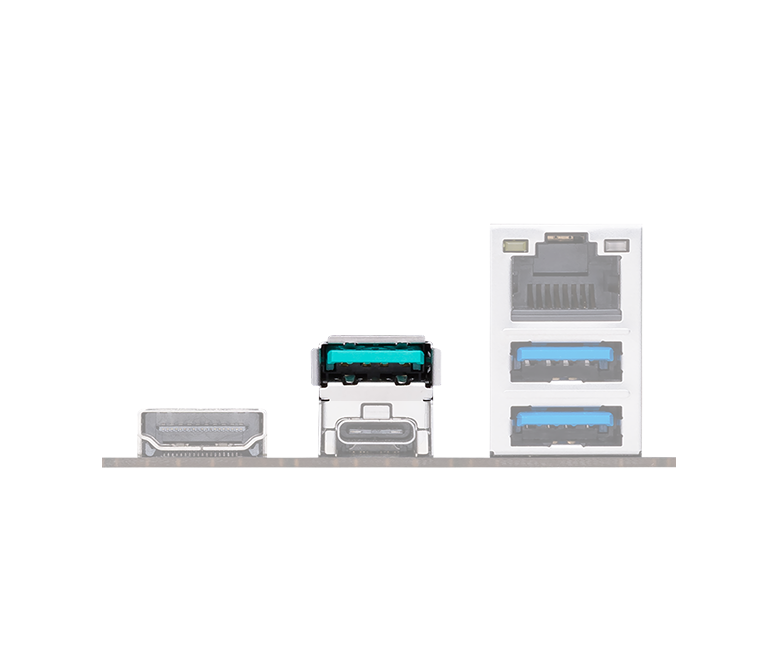 USB 3.2 GEN 2 TYPEA
Numerous USB ports support gaming rigs loaded with peripherals, including a USB Type-A connector with fast USB 3.2 Gen 2 connectivity for compatible cases.
EASY PC DIY
TUF Gaming motherboards are designed to be easy to set up and configure just the way you want — even for first-time builders. The TUF Gaming Alliance ecosystem makes selecting compatible parts easy, while Armoury Crate software offers full control of system settings via a single dashboard. TUF Gaming motherboards give you everything you need to build your dream gaming rig without adding complexity.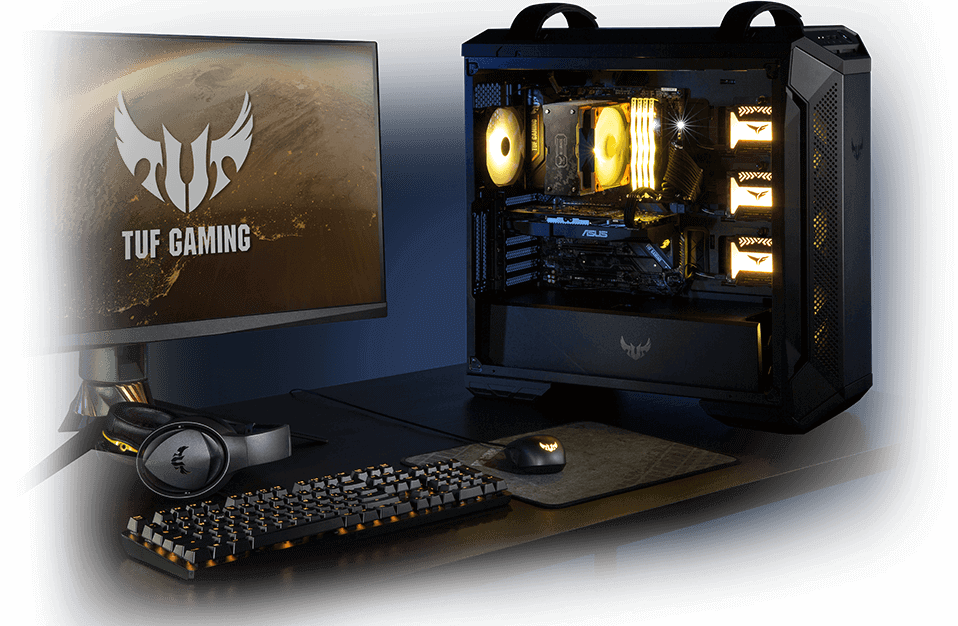 Build with confidence

TUF Gaming Alliance is a collaboration between ASUS and trusted PC-component brands to ensure compatibility with a wide range of parts, such as PC cases, power supplies, CPU coolers, memory kits and more. With more partnerships and components being added regularly, the TUF Gaming Alliance will continue to grow even stronger. Learn More
TUF PROTECTION
SafeSlot
SafeSlot is the PCIe slot reinvented by ASUS and engineered to provide superior retention and shearing resistance. Manufactured via a new insert-molding process, SafeSlot integrates fortifying metal for an inherently stronger slot, which is then firmly anchored to the PCB through additional solder points.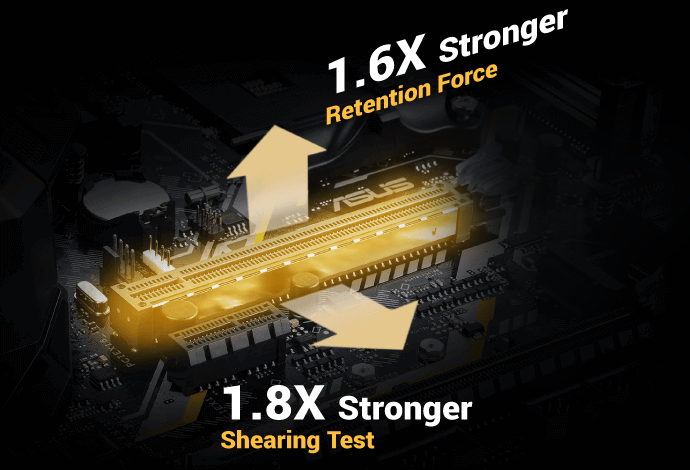 ESD guards
ESD Guards prolong the life of components while preventing damage from electrostatic discharge, providing protection for up to +/- 10 kV of air discharge and +/- 6 kV of contact discharge — greatly surpassing the respective industry standards of +/- 6 kV and +/- 4 kV.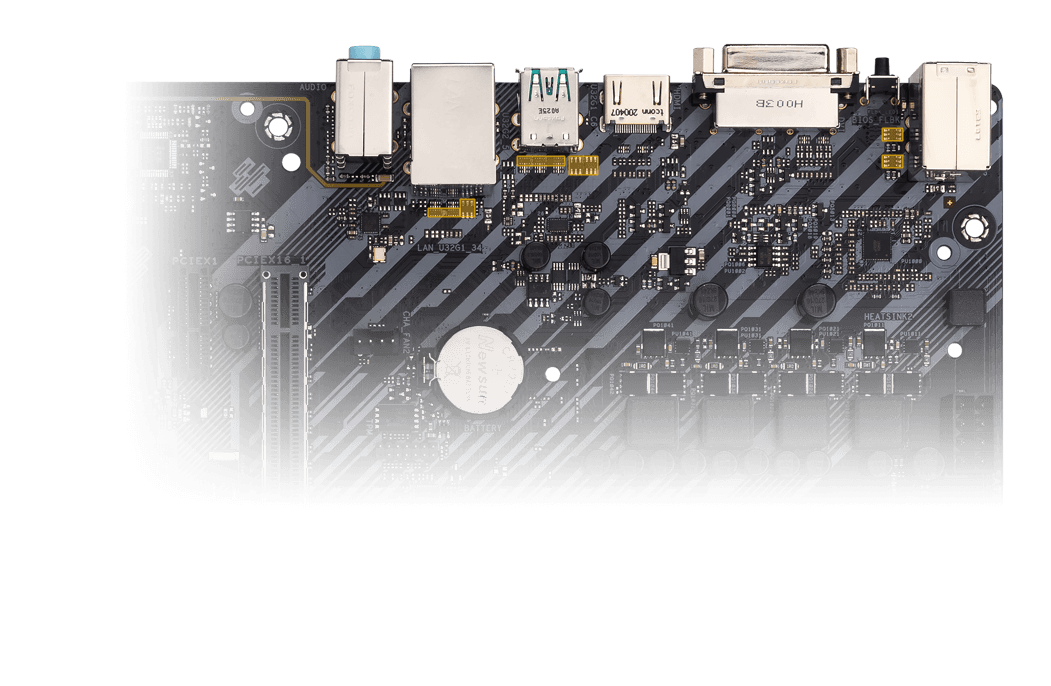 TUF LANGuard
TUF LANGuard is a military-grade innovation that integrates advanced signal-coupling technology and premium surface-mounted capacitors to improve throughput, protecting the motherboard from lightning strikes and static electricity.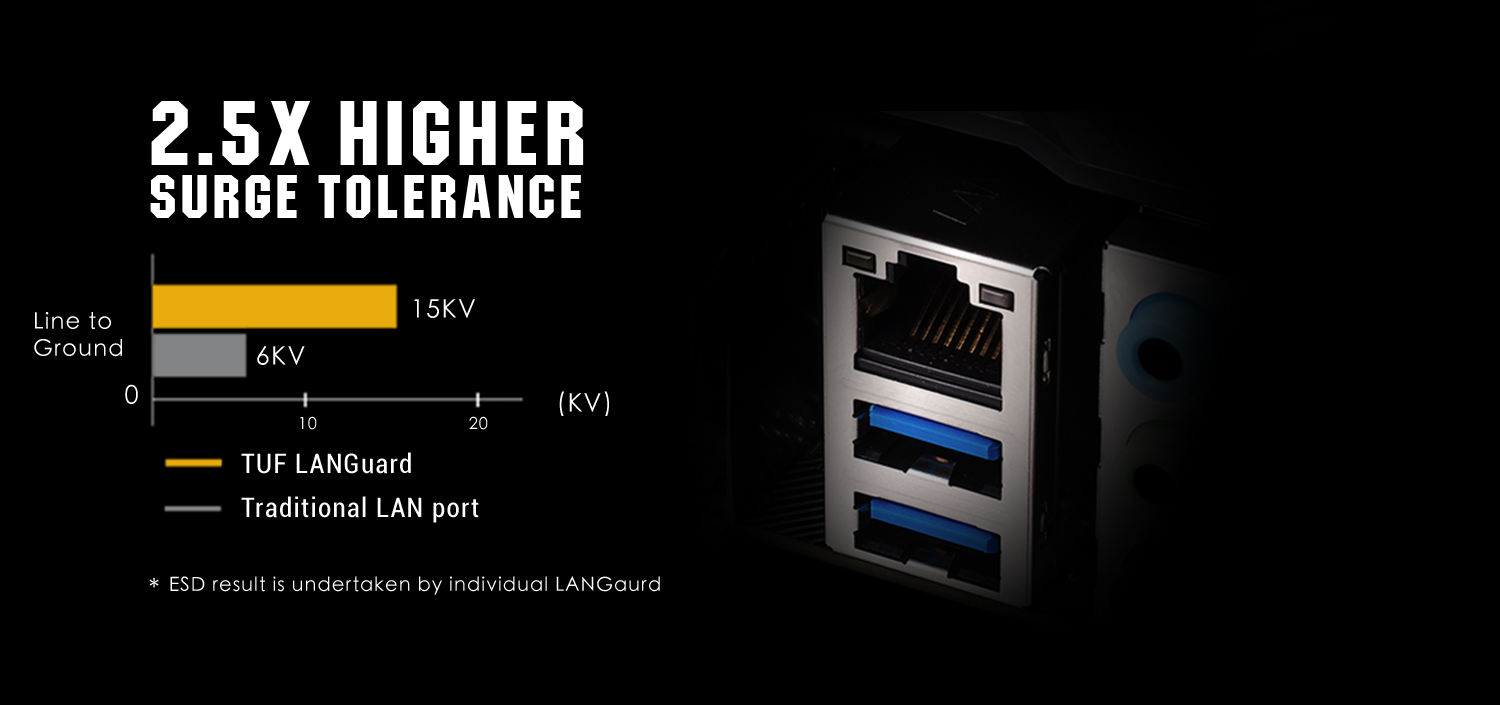 DRAM overvoltage protection
Onboard resettable fuses prevent overcurrent and short-circuit damage. This extends beyond I/O ports to DRAM to safeguard the lifespan of your system and connected devices.

Stainless-steel back I/O panel
TUF Gaming motherboards have a corrosion-resistant stainless-steel back I/O panel bonded with chromium oxide to provide a 3X-longer lifespan versus traditional panels. With this protective feature, TUF Gaming motherboards passed 72-hour salt fog testing, while other brands only passed 24-hour testing.
EASY CONFIGURATION
BIOS FlashBack™
BIOS FlashBack™ is the simplest and safest (UEFI) BIOS update method. Simply drop the (UEFI) BIOS file onto a FAT32 formatted USB stick, plug it into the USB BIOS FlashBack™ port and press the button. Updates can even be performed without having memory or a CPU installed.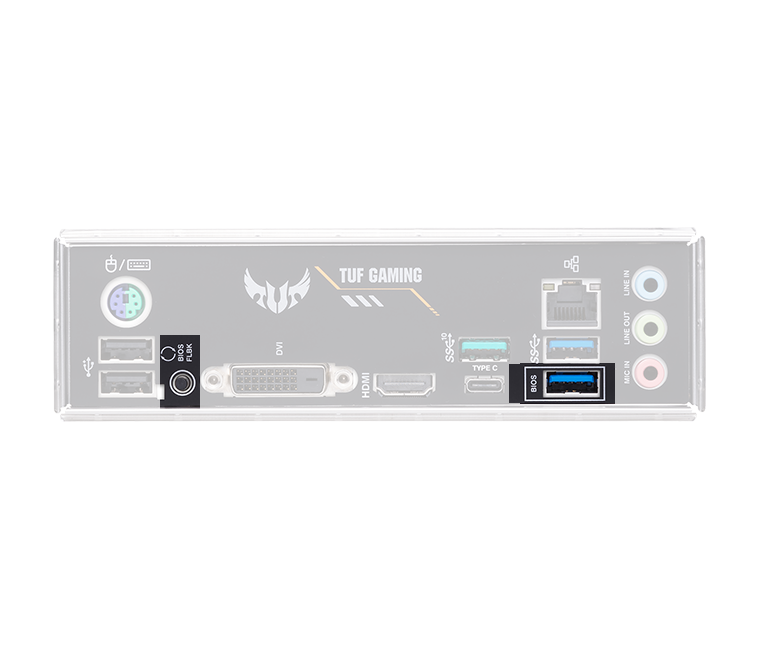 Armoury Crate
Armoury Crate is a new software utility designed to give you centralized control of supported gaming products. From a single intuitive interface, Armoury Crate lets you easily customize RGB lighting and effects for every compatible device in your arsenal and synchronize them with Aura Sync for unified system lighting effects. You can also turn on the AI Noise-Canceling Microphone function for crystal-clear in-game voice communication. The software also provides control of settings for a select and growing number of products, including keyboard and mouse preferences as well as laptop overclocking and fan speeds, making it easier to tune the look and feel of your system. Armoury Crate even features dedicated product registration and news areas to help you stay in touch with the gaming community.
AI NOISE-CANCELING

AURA SYNC

DRIVER & MANUAL DOWNLOAD

Account Management
IMMERSIVE GAMING
TUF GAMING B450M-PLUS II provides a complete, high-performance gaming package with a long list of features to improve your experience, including ultrafast networking for smoother online gameplay, pristine audio with positional cues for FPS gaming, and onboard RGB lighting that syncs with attached accessories to help you create a personalized gaming atmosphere.
Turbo LAN
Network-optimization software for customizable packet prioritization
Turbo LAN is a network-optimization software for customizable packet prioritization. With cFosSpeed traffic-shaping technology, it allows you to configure application priority via an intuitive interface, and reduces network lag.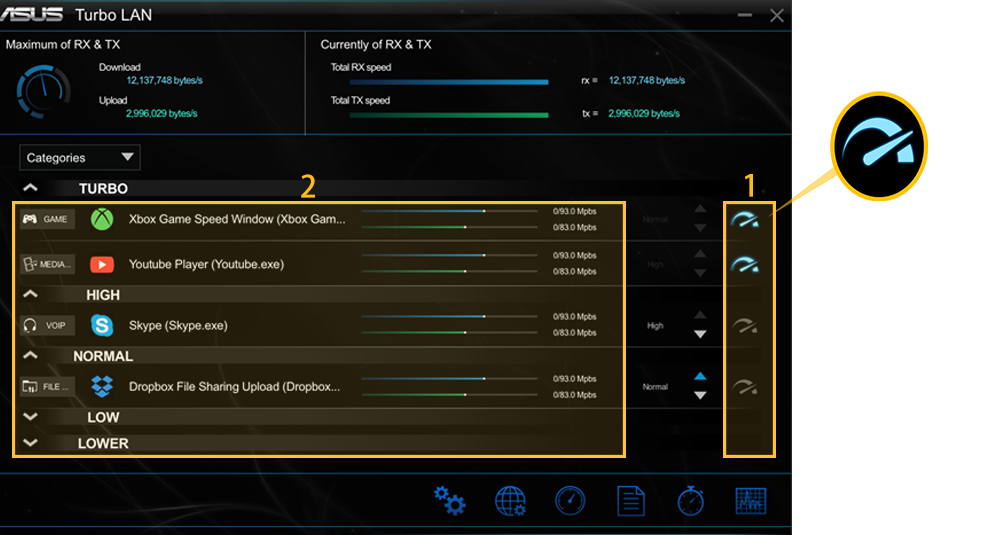 1. ONE CLICK TURBO

Adjust the network transmission priority by one click!

2. AUTO DETECT GAME LIST

Turbo Lan will detect every game in system, and add in list automatically.
AI NOISE-CANCELING MICROPHONE
AI Noise-Canceling Microphone software is exclusively featured on ASUS motherboards and supports 3.5 mm, USB, or Bluetooth headsets. The utility leverages a massive deep-learning database to preserve the sound of your voice while eliminating distracting keyboard clatter, mouse clicks, and other forms of environmental noise. And it only places a slight load on the CPU, ensuring minimal impact on gaming performance.
3DMark - FPS (2560x1440)

*Testing configuration: CPU: AMD Ryzen 5 3600x; Motherboard: ROG STRIX B550-I GAMING; Graphics card: NVIDIA RTX 2060-O6G; DRAM: Hynix 2666 16GB; Power: Seasonic 430W; HDD: Seagate M.2 NVME 2TB; Cooling: Enermax T.B.APOLLISH; Voice Communication App: Discord (In-app noise canceling effects disabled) ; Background noise: Keyboard typing, mouse clicking, people talking, and music playing
*Actual performance varies by configuration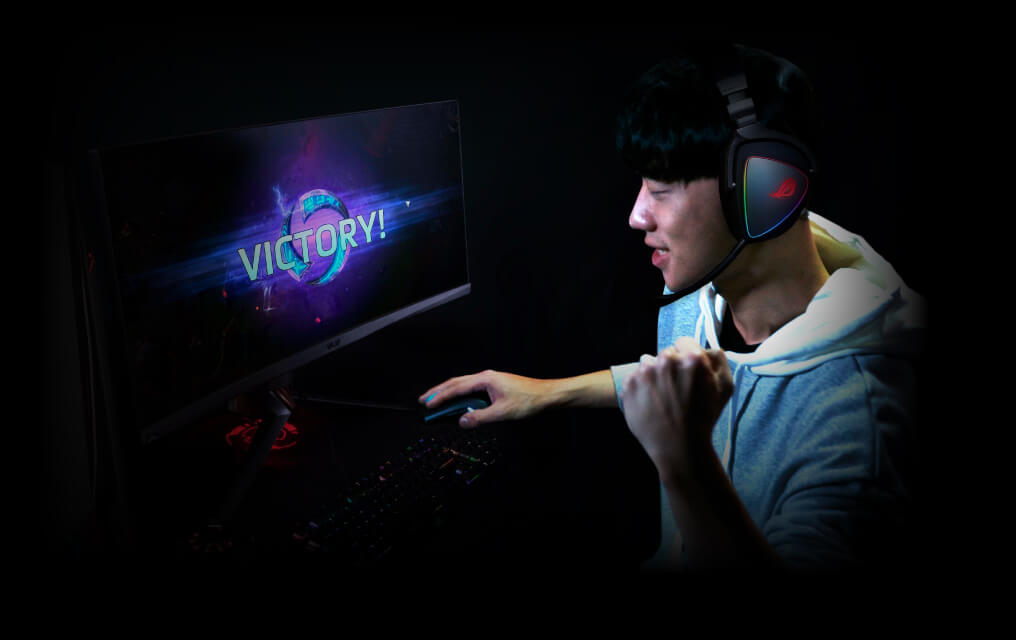 Gaming audio
DTS® Custom for gaming headsets
Hone your battle skills with exclusive DTS® Custom onboard audio. Utilizing advanced emulation techniques to create positional cues via stereo headphones, DTS Custom takes onboard audio to a new frontier. With three presets ― Aerial, Soundscape, and Tactical ― for different genres, you'll have a distinct advantage in every game.
AERIAL MODE
Experience audio as though hovering above the game world, with sound coming from ahead — perfect for MOBA, RTA, strategy and sports titles!
SOUNDSCAPE MODE
The ideal audio envelope for MMO, RPG, action and horror games — your ears will put you in the center of the action!
Tactical Mode
Shhh — is that an enemy just around the corner? DTS Custom emphasises detail for stealthy play, so you'll detect and locate every footstep!
OUTSHINE THE COMPETITION
Aura Sync
A well-tuned system deserves a matching aesthetic. ASUS Aura offers full RGB lighting control with a variety of functional presets for the built-in RGB LEDs as well as strip connected to the onboard RGB header. And it can all be synced with an ever-growing portfolio of Aura-capable hardware.
Learn more about ASUS
Aura Sync
.
Static
Breathing
Strobing
Rainbow
Color Cycle
Starry Night
Music Effect
Smart
Compare (0)
Comprar y más información
Móvil

Moda y Cuidado de Salud

Monitores / Desktops

Tarjetas Madre/ Componentes
Computadora Single Board

Redes / IoT / Servidores
Adaptadores

AIoT y Solución Industrial

Accesorios