The ASUS TUF Gaming 650W Bronze PSU leads in durability.
Capacitors and chokes pass demanding tests to achieve Military-grade Certification.
Dual ball fan bearings can last up to twice as long as sleeve bearing designs.
A protective PCB coating protects against moisture, dust, and extreme temperatures.
An 80 Plus Bronze Certification is earned with high-quality components that pass rigorous testing.
Axial-tech fan design features a smaller fan hub that facilitates longer blades and a barrier ring that increases downward air pressure.
0dB technology lets you enjoy light gaming in relative silence.
Sleeved cables leave your rig looking tactically clean.
80cm 8-pin CPU connector (EPS 12V)
6-year warranty included.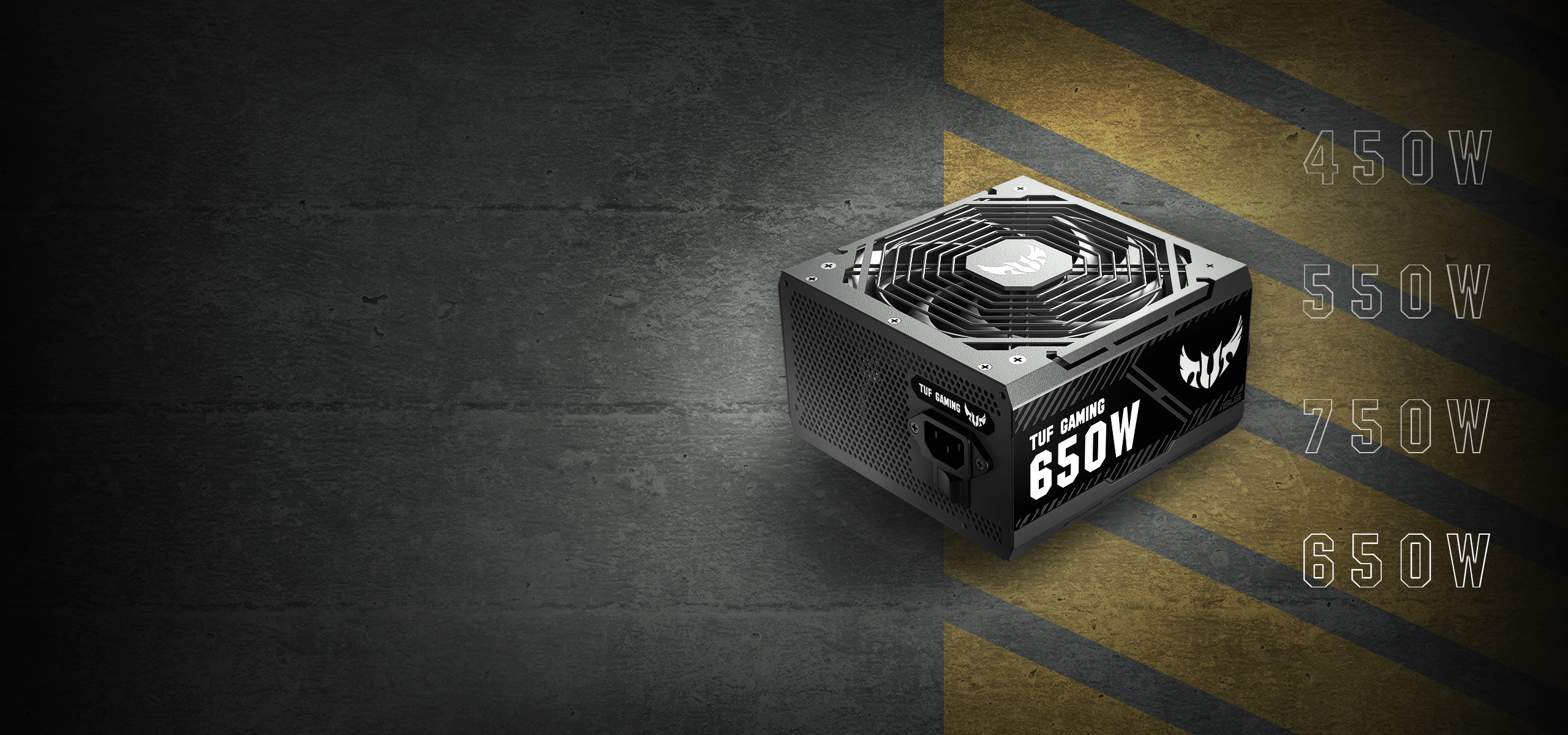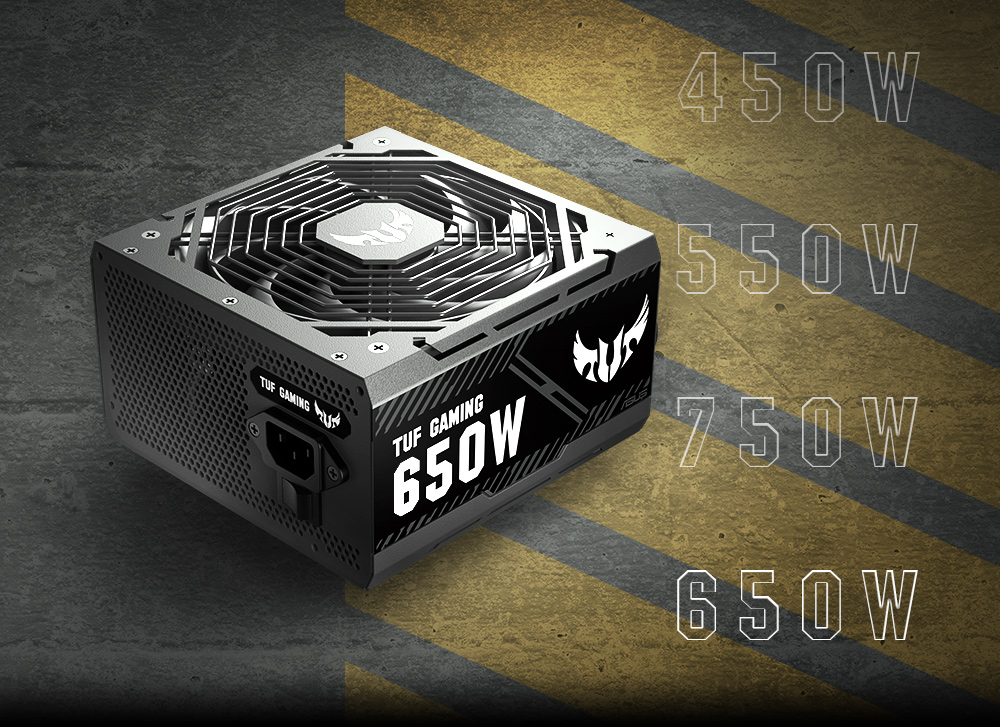 TUF Gaming series PSUs bring military-grade components and a robust cooling solution together to create a power platform you can depend on. High-quality capacitors and chokes undergo a myriad of tests, including extreme temperatures and vibration tests, to ensure they meet rigorous military specifications. An Axial-tech fan with a dual ball fan bearing design offers more longevity than other fan types, increasing the overall lifespan of the product. It's the perfect PSU to slot into a TUF Gaming rig or any DIY build designed to power through AAA games for years to come.
Military−grade Certification
Top marks
All critical capacitors and chokes in TUF Gaming PSUs are certified to military-grade specifications, ensuring reliable operation over a wide range of temperatures.
2x longer lifespan
Exemplary cooling is provided by a 135mm fan spinning on a dual ball bearing setup that will last up to twice as long as a sleeve bearing design.
All wrapped up
A protective conformal coating envelops the PCB to protect against short-circuits caused by moisture, dust, and debris.
80 Plus Bronze Certification
Brains and Bronze
The high-quality components used in TUF Gaming power supplies ensure efficient and reliable operation worthy of an 80 PLUS Bronze Certification. The efficiency also leads to low temperatures within the PSU, facilitating an even quieter acoustic profile for the 135mm Axial-tech fan.
Better, faster, stronger
Originally developed for top-end ROG graphics cards, Axial-tech fan design features a smaller fan hub that facilitates longer blades and a barrier ring that increases downward air pressure. For TUF Gaming series PSUs, we've scaled that design to 135mm so it keeps things cool at low RPMs while producing less noise.
Quiet intelligence
An onboard controller brings the 135mm fan to a standstill when thermal design power (TDP) is below 30%, letting you enjoy light gaming in relative silence. Above 30% TDP, the fans automatically start up again.
Entrenched performance
We're so confident about the reliability of the TUF Gaming series PSUs that we back them with a 6-year worldwide warranty.
Slim-fit
Cables swathed in black sleeving leave your rig looking tactically clean.
Monitor, tweak, and tune
The ASUS GPU Tweak II utility takes graphics card tuning to the next level. It allows you to tweak critical parameters including GPU core clocks, memory frequency, and voltage settings, with the option to monitor everything in real-time through a customizable on-screen display. Advanced fan control is also included along with many more features to help you get the most out of your graphics card.
Play lag-free
We've partnered with wtfast to help you to play free from lag, latency issues, and lost packets. With a 6-month subscription to the wtfast Gamers Private Network, you'll enjoy lower ping for a smoother, more fluid online gaming experience. Buy an ASUS graphics card - and don't be left waiting!

Learn more about wtfast >
Premium streaming
XSplit offers a premium streaming experience with in-game annotations and other advanced features. Enjoy a free license with the purchase of select ASUS graphics cards. See you online!

Learn more about XSplit >
Profit from GPU power
Quantumcloud is a simple and secure service that lets you effortlessly earn extra money by putting your idle GPU to work. Through an easy-to-use app, your computer can help run cloud-based applications, making you money in the process. Earnings are automatically transferred to your WeChat or PayPal account, and your privacy remains intact because Quantumcloud doesn't collect your personal data. Get started making money today!

Learn more about Quantumcloud >
AMD Radeon™ Software Adrenalin 2019 Edition
Hardcore software
Radeon Software is a powerful hub that provides tools to customize in-game aesthetics, record gameplay, tweak performance, update drivers, and much more. The latest edition features Radeon™ Anti-Lag, a new technology that reduces input lag, effectively increasing the response time of the game and offering a significant competitive advantage in many titles.
0%