ASUS Zenbook 14 Flip OLED (UP3404)
ASUS Zenbook 14 Flip OLED (UP3404)
ASUS Zenbook 14 Flip OLED
360° of Ultra Thin Perfection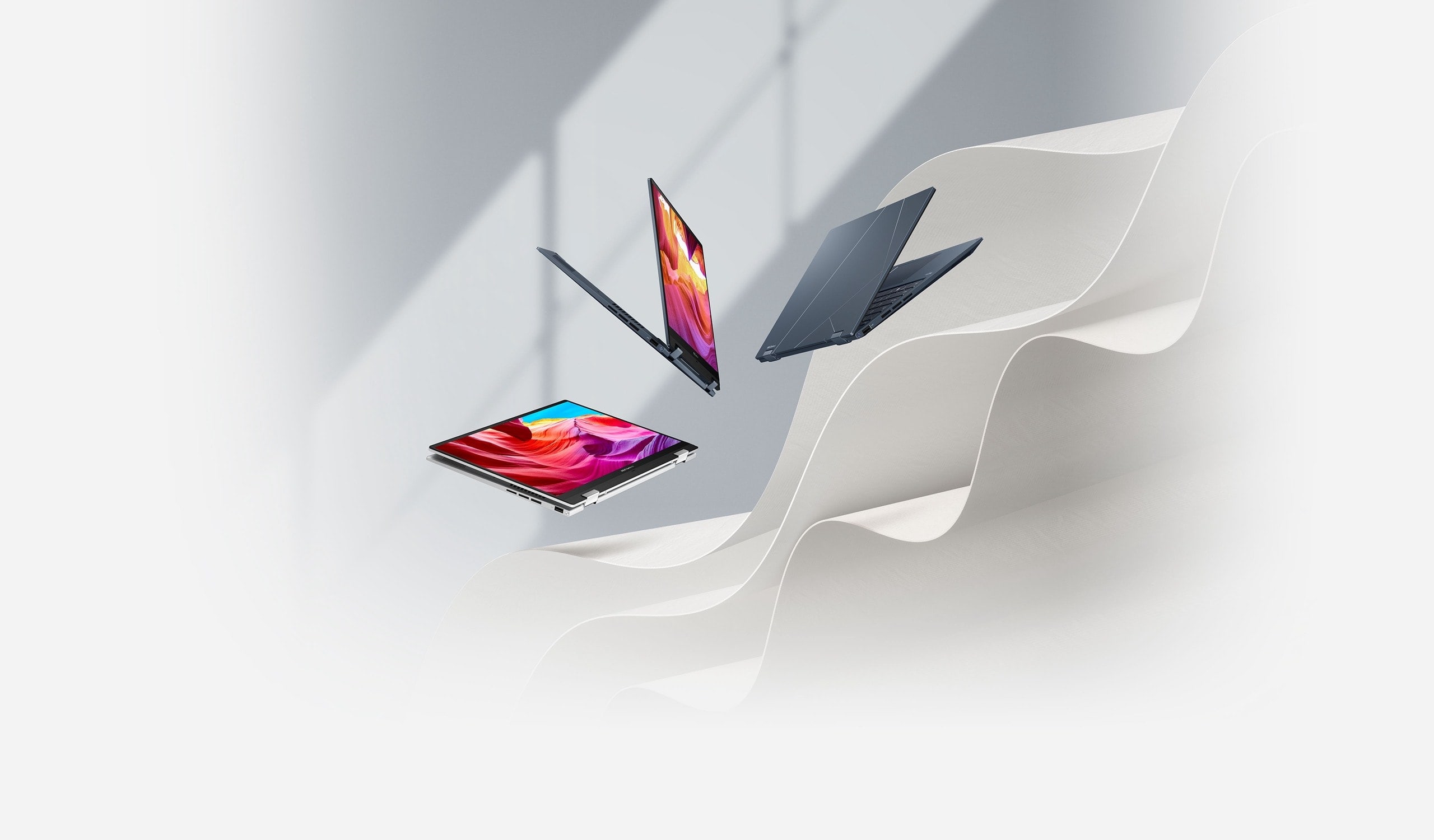 The versatile Zenbook 14 Flip OLED is everything you need for your busy on-the-go lifestyle. Its compact and elegant chassis now packs a bigger 14-inch 16:10 2.8K OLED HDR touchscreen with superb PANTONE® Validated color-accurate visuals, and it supports a 4096-pressure-level MPP 2.0 stylus for natural input. Powered by the latest 13th Gen Intel Core CPUs, Zenbook 14 Flip OLED has a class-leading 75 Wh battery, and its 1.5 kg-light chassis is just 15.9 mm thin, with a 360° any-position hinge for effortless versatility. There's a powerful Harman Kardon-certified Dolby Atmos® sound system for awesome audio and crystal-clear conferencing. Zenbook 14 Flip OLED gives you more power and more versatility!
ASUS No.1 OLED: GFK and NPD combined retail data in 2021 Q4~2022 Q3, worldwide market.
14" 2.8K OLED convertible laptop
16:10, 2.8K (2880 by 1800) high resolution, OLED NanoEdge touchscreen, 0.2 ms response time, 100% DCI-P3 color gamut, up to 550 nits peak brightness
Versatile convertible laptop
with 4096-pressure-level stylus support
75 Wh high-capacity battery
2 x Thunderbolt™ 4
1 x USB 3.2
1 x HDMI 2.1 (TMDS)
1 x audio jack
fast face login and clear video calls
DESIGN
More versatile, more elegant
A compact space-saving design and ultra-reliable 360° ErgoLift hinge make Zenbook 14 Flip OLED a versatile companion for work or play: you can use it in laptop, tent, stand, or tablet mode — or anything in between. And you can take your pick of two sophisticated colors, Ponder Blue and Foggy Silver. Ponder Blue is inspired by silent nights spent alone, and it projects professional wisdom and introspection. Foggy Silver is an introspective silvery white that echoes stability, purity, and healing vibes, with a finely sandblasted feel.
Foggy Silver & Ponder Blue
ASUS PEN 2.0
More intuitive input
ASUS Pen 2.0
2
is an MPP 2.0-compliant stylus with 4096 pressure levels, ultra-low latency and fast response, so it accurately reproduces the finest lines and the broadest brush strokes. It also features a 5-350 gram pen tip force, a handy multi-function shortcut button, and fast USB-C charging. The four switchable pen tips replicate the feel of different pencil types for natural-feeling writing or drawing.
Switchable pen tip
4 different tips can be replaced: 2H/H/HB/B
PERFORMANCE
Even more performance
With the compact, lightweight Zenbook 14 Flip OLED, you can tackle any task, wherever you are — in the office, at home or on the road. It gives you all the performance you need in any situation, with outstanding visuals and battery-friendly power efficiency. Zenbook 14 Flip OLED gives you more, so you can do more.
DISPLAY
More stunning visuals
For ultimate visual experience, Zenbook 14 Flip OLED features 16:10 2.8K OLED HDR NanoEdge touchscreen with stylus support. The expansive 16:10 aspect ratio enlarges your workspace. You will enjoy stunningly vivid and detailed visuals with its cinema-grade DCI-P3 color gamut. For superb color accuracy, the display is PANTONE® Validated, and the VESA DisplayHDR™ True Black 500 certification means it displays the deepest possible blacks. It's also certified by both SGS and TÜV Rheinland for eye care, so your eyes won't get as tired, even during marathon viewing sessions.
Exhilarating OLED displays
Bring scenes to life with professional-grade colors.
Make it personal, ASUS Splendid
Fully customizable color with sRGB, DCI-P3, Display-P3, and Native options.
Corning® Gorilla® Glass
A display surface that's six times more durable than ordinary laptop glass.
BATTERY
More battery power
To let you work or play all day with fewer visits to the power outlet, there's a high-capacity 75 Wh battery in Zenbook 14 Flip OLED. And when it does need a charge, the fast-charge technology tops it up to 60% capacity in as little as 49 minutes, so there's no need to break your flow. ASUS USB-C
®
Easy Charge lets you quickly charge it with any USB-C Power Delivery-certified charger, or you can top it up with a standard USB-C charger
7
such as an airline charger, a portable charger or a power bank.
I/O PORTS
More connections
Zenbook 14 Flip OLED is packed with all the I/O ports you need for easy connectivity to your devices and peripherals. The ultrafast Thunderbolt
™
4 USB-C
®
ports support fast charging, 4K UHD external displays and up to 40 Gbps
8
data transfers. There's also a HDMI
®
2.1 (TMDS) along with a USB 3.2 Gen 2 port. Communications and audio I/O are taken care of by the convenient audio combo jack.
2 x Thunderbolt™ 4 USB-C®
AUDIO
More immersive audio
To immerse you in sound, Zenbook 14 Flip OLED has a Dolby Atmos stereo sound system that's also Harman Kardon certified, with a Smart Amplifier that delivers up to 3.5x louder sound than a standard amplifier. It's crystal-clear, and the multi-dimensional soundscape of Dolby Atmos immerses you in your favorite entertainment with sound that moves all around you for breathtaking realism in any kind of entertainment.
Always in the best listening spot
Dive into a multi-dimensional cinematic sound experience with Dolby Atmos.
Maximum possible volume
Using a Smart Amplifier and ASUS Audio Booster technology, the audio volume is boosted by up to 5.25x.
SMART CONFERENCING
AI camera and audio system
With Zenbook 14 Flip OLED, it's effortless to keep in touch with colleagues, thanks to the unbeatable combination of an advanced webcam and ASUS AI noise-canceling technology. You'll enjoy crystal-clear images and audio, whatever your surroundings.
Best online meeting experience
ASUS AiSense camera makes sure that you always look your best during virtual conferences.
Hear and be heard clearly
Two-Way AI Noise Cancelation leverages a massive deep-learning database to reduce background noise for microphone and audio.
USER EXPERIENCE
Unrivaled input experience
We've designed Zenbook 14 Flip OLED to work the way you like, with an IR webcam that lets you log in with just your face. Comfortable typing and navigation is assured with the ErgoSense keyboard and large touchpad, and for easy data entry there's the optional ASUS NumberPad 2.0
9
.
ErgoSense keyboard, comfortable typing experience
The ASUS ErgoSense keyboard has an incredibly satisfying feel, with the optimum key bounce and travel, calculated with fine-tuned precision.
Rapid data entry
For easy number-crunching, the touchpad includes the ASUS NumberPad 2.0 virtual numeric keypad.
ErgoSense touchpad, smooth as new, with every touch
The ASUS ErgoSense touchpad is smooth, comfortable, responsive and easy to clean.
Perfect brightness and color tone!
The ambient light color sensor auto-adjusts for changes in the environment brightness and color temperature.
Unlock, instantly
The FHD infrared (IR) camera allows you to unlock your laptop quickly and securely.
ENVIRONMENT
Made for the Earth. Made for you.
ASUS is committed to driving progress toward a more sustainable future. Zenbook 14 Flip OLED incorporates sustainable materials in the product and its packaging. Top ecolabels and compliance, including EPEAT Silver
11
, ENERGY STAR
®
, and RoHS, prove our commitment to protecting the earth and giving you the best.
Learn more about our sustainability actions
30% Post-Consumer Recycled (PCR) Plastics
Designed with the Earth in mind by using 30% PCR plastics, all without compromising quality, function, and durability.
100% Recyclable Packaging
Recyclable packaging reduces the need for single-use paper, achieving the goal of reduce, reuse, and recycle.
30% More Efficient than ENERGY STAR®
The energy efficiency of ASUS laptops in 2022 exceeded ENERGY STAR
®
standards by 30% on average
12
, greatly reducing its carbon footprint.
MILITARY-GRADE
World's most strictly tested US military-grade laptop durability13
ASUS laptops
14
are engineered with extraordinary toughness meet the exacting US MIL-STD-810H military-grade standard, undergoing 12 rigorous test methods and 26 punishing test procedures — exceeding industry standards. The upshot is a range of products that are renowned for reliability and durability. These factors also inherently benefit longevity and thus sustainability, so you can work, travel or relax with the confidence that your ASUS laptop is ready for the real world — today, and long into the future.
Learn more about each laptop quality test results
12
military-grade test methods
26
military-grade test procedures
-51~71°C​
extreme temperature endurance
95%
humidity tolerance for 10 days
Operational, Unpackage, 40 g, 11 ms, 18 shocks
2.
Transportation shock – on road
Non-operational, Package, 5.1-7.6 g, 11 ms, 3-42 shocks
Non-operational, Unpackage, 30-50 g, 18 shocks
Non-operational, Unpackage, 75 g, 6 ms, 12 shocks
Operational, Unpackage, 100 mm
Unpackage
Non-operational vibration: 5-500 Hz
Duration: 32 minutes
Unpackage
Non-operational vibration:5-500 Hz
Duration: 40 minutes
Unpackage
Operational vibration: 5-500 Hz
Duration: 60 minutes
9.
Basic hot storage and transit
Non-operational, 30~63°C, 168 hours, 5~44% humidity
10.
Basic hot operational
Operational, 30~43°C, 72 hours, 14~44% humidity
11.
Hot dry storage and transit
Non-operational, 33~71°C, 168 hours
Operational, 32~49°C, 72 hours
13.
Basic climatic storage and transit
Non-operational, -25~-33°C, 168 hours
14.
Basic climatic operational
Operational, -21~-32°C, 72 hours
15.
Cold climatic storage and transit
Non-operational, -37~-46°C, 168 hours
16.
Cold climatic operational
Operational, -37~-46°C, 72 hours
Operational
Particle density: 10 +/- 7 g/m3
Air velocity: 300~1750 ft/min
Temperature: 60°C
Operational
Particle density: 1.2 g/m3
Air velocity: 28 m/s
Temperature: 60°C
Non-operational, 40,000 feet, -20°C, 12 hours
Operational, 15,000 feet, 5°C/40°C, 12 hours
Humidity: 95% RH
Temperature: 30°C/-10°C
Duration: 1 hour, 3 cycles
Non-operational
Humidity: 95% RH
Duration: 10 days
Non-operational
Temperature: -51~71°C
Duration: 1 hour, 3 cycles
Non-operational
Spectral irradiance: 1120 W/m2, 49°C
Duration: 24 hours, 3 cycles
Mechanical Vibration Test
Operational
Frequency: 4-33 Hz
Duration: 2 hours
Explosive Atmosphere Test
Operational
Altitude: 15,000~3300 feet
Explosive air: 95% n-Hexane
SOFTWARE
Truly personalized workflow
Zenbook 14 Flip OLED is packed with useful tools to improve your productivity, optimize performance and contact customer service. MyASUS hosts a collection of handy ASUS apps and tools that help you get more out of your laptop. GlideX is a powerful cross-device screen-sharing solution. ScreenXpert helps you to manage app windows across displays connected to your ASUS PC, giving you full control of your workflow!
MyASUS
MyASUS provides easy access to ASUS apps that are designed to help you maintain your system, update your software, optimize your PC's performance, and contact ASUS for after-sales support.
Learn more about MyASUS
GlideX
GlideX is a cross-device screen-sharing solution that uses wired or wireless connections to give you a bigger and better space for work and play. GlideX optimizes your workflow in the blink of an eye!
Learn more about GlideX
ScreenXpert for ASUS PCs
ScreenXpert for ASUS PCs — which you can download from Microsoft Store or find in your PC's Start menu — helps you to manage app windows across displays connected to your ASUS PC and puts you in full control of your workflow!
Learn more about ScreenXpert for ASUS PCs
Battery tests conducted by ASUS on December 16, 2022 using the 1080p Video Playback scenario. Test configuration: Zenbook 14 Flip OLED UP3404VA, Intel i5-1340P, 256 GB SSD, 8 GB RAM. Test settings: WiFi enabled but disconnected (not connected to any access point), Windows Power Plan set to Balanced, display brightness set to 150 nits (79%). Actual battery life may vary depending on product configuration, usage, operational conditions and power management settings. Battery life will decrease over the lifetime of the battery.
Weight might vary by specifications.
ASUS Pen 2.0 is optional.
WiFi 6E availability may vary by country and their specific regulations. Feature is only supported in Windows 11 or later.
Compared to an average LCD laptop panel. Average LCD display has a 10 ms response time.
Compared to average LCD displays in the market, measuring energy emission of blue light in between 415-455 nm wavelength.
Testing done on discrete parts, using soda-lime glass as comparative reference. Figures and tests provided by Corning.
The charging speed of a Power Delivery charger will match the connected adapter's power output, up to a maximum of 100 watts. USB-C® Easy Charge provides 4.5 watt charging when connected to a non-Power Delivery charger, including most portable and USB Type-A to USB-C® chargers. Some portable chargers may not support such features, depending on the configuration.
Unless otherwise stated, all performance claims are based on theoretical performance. Actual figures may vary in real-world situations.
Please note that all versions of ASUS NumberPad only work with the Microsoft Windows operating system, and NumberPad is optional.
The color-temperature-adjustment feature is available with OLED models only.
EPEAT registered where applicable. EPEAT registration varies by country. See www.epeat.net for registration status by country.
Percentage varies according to device configuration.
Selected products are tested using enhanced military-grade MIL-STD-810H durability standards, with 12 test methods and 26 test procedures, to ensure extraordinary toughness. Based on ASUS internal market research using available information and testing reports from main laptop brand websites on Oct 28, 2022, ASUS consumer laptops use a regime consisting of 26 test procedures, which is the consumer laptop industry's strictest and most extensive test regime for the MIL-STD-810H standard.
The testing regime includes the requirements of both military-grade standards and ASUS quality tests, and varies depending on device. MIL-STD-810 testing is conducted on selected ASUS products only. Note that the MIL-STD-810 testing helps to ensure the quality of ASUS products but does not indicate a particular fitness for military use. The test is performed under laboratory conditions. Any damage caused by attempts to replicate these test conditions would be considered accidental, and would not be covered by the standard ASUS warranty. Additional coverage is available with ASUS Premium Care.