ASUS ExpertBook B9
Elite lightness for the exceptional
Windows 11 Pro-ASUS recommends Windows 11 Pro for business
Latest-generation Intel Core CPU
The world's lightest 14" business laptop1
Ultralight and thin design with premium magnesium alloy construction
All-day battery
Enterprise-grade security for robust protection
Supports the Intel vPro platform
Full-sized keyboard and spill-resistant up to 330cc2
Download datasheet
360˚ View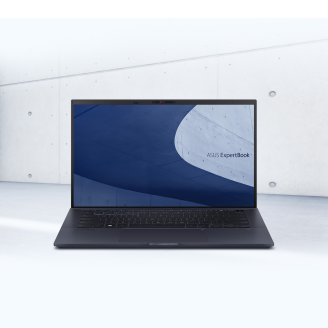 The world's lightest 14" business laptop1
ASUS ExpertBook B9 is crafted for premium perfection, empowering business executives to take charge of the business world in style. Its sleek, minimalist and precision-machined chassis pushes the limits of lightness for ultimate portability, with a magnesium-alloy design that delivers luxury and toughness without equal. It's built for serious travel with an amazing all-day battery life, and is engineered with many cutting-edge technologies to improve your on-the-go work efficiency and provide enterprise-grade security to keep your confidential data safe. Extremely portable, powerful and tough, ExpertBook B9 is your ideal partner in the corporate world — and the new benchmark for elite business laptops.
Ultrathin and light
Crafted from a premium magnesium alloy, ExpertBook B9 weighs a featherlight 880 g
3
and is a mere 14.9 mm thin for exceptional portability that's always ready. As robust as it is light, ExpertBook B9 meets durability standards for the best on-the-go experience.
Enterprise-grade security
Engineered with robust features that include NFC
4
login, face login, TPM 2.0
5
security, a Kensington lock slot, physical webcam shield and a fingerprint sensor, ExpertBook B9 delivers security that's fit for business — offering serious safety and protection for your premium device and priceless data.
Exceedingly powerful
Powered by up to 12th Gen Intel Core
™
vPro
®
i7 processor with Iris X
e
graphics, ExpertBook B9 is built for business and delivers the fast and responsive performance you need to get the job done. It also features two SSDs to provide huge up to 4 TB capacity and faster speed, and supports RAID technology
6
for improved data reliability or faster operation.
Carbon neutrality ​
ExpertBook B9 is designed to be sustainable, aiming for multiple recognized certifications — ensuring the best quality for consumers and an ever-reducing impact on the environment.​
The world's first carbon-neutral business laptop​
ASUS Expert series merges the ASUS Design Thinking ethos with the latest sustainability technology to foster a circular future. ExpertBook B9 attained the coveted status of becoming the world's first carbon-neutral business laptop by surpassing ENERGY STAR® standards, adopting post-industrial recycled metal and FSC™ Mix-certified paper to reduce carbon footprint and offset residual emissions with nature-based carbon credits. In addition, ExpertBook B9 is also rated EPEAT Gold*. ​
Download Carbon Footprint Report
Achieves
PAS 2060
carbon neutrality​
&nbsp
FSC™ Mix​
paper certified​
Exceeds
66%
ENERGY STAR® standards​
Lighter, stronger and more portable
Encased in a premium and durable magnesium alloy chassis, ExpertBook B9 is an upliftingly featherlight 880 g
3
. Superslim bezels enable a 14-inch display to fit the 13-inch-class chassis, making ExpertBook B9 extremely compact. Also, built with structural reinforcement for increased chassis strength, ExpertBook B9 meets the industry-leading MIL-STD 810H US military standard — in addition to undergoing extensive and stringent in-house testing, including panel-pressure, shock and drop tests
7
. Slip it into a briefcase or bag, and you're ready for productivity in or out of the office.​
Lasts longer, charges faster
ExpertBook B9 will never let you down throughout the business day or a long-haul flight. It provides all-day battery life on a single charge. On top of that, fast-charge technology lets you accelerate battery capacity up to 60% in as little as 44 minutes
8
, so you're up and running in no time.
Enterprise-grade security
With extensive and of robust security features, ExpertBook B9 is the ultimate personal guard for your confidential files.
AdaptiveLock
ASUS AdaptiveLock detects your presence and uses an integrated infrared camera to recognize your face and log you in without lifting a finger. The moment you step away, ExpertBook B9 automatically locks to protect both your laptop and your data.
Fingerprint sensor
ExpertBook B9 has built-in biometric security, with a fingerprint sensor for easy access. So, just tap the button to log in — no difficult-to-remember passwords or PIN required!
TPM 2.0
A discrete TPM 2.0
5
chip securely stores authentication information used by software, such as passwords or encryption keys, to protect important data and transactions. Your details remain encrypted, virtually eliminating the risk of leaks through hacking.
Kensington Nano Security Slot™
An integrated Kensington lock slot allows the ExpertBook B9 to be physically secured in unsupervised locations.
Webcam privacy shield
A physical cover obscures ExpertBook B9's webcam for an assurance of instant privacy when it's not in use.
Remote experiences, elevated
From WiFi 6E
11
to immersive Dolby Atmos
®
audio, ExpertBook B9 is packed with premium features to improve both work and entertainment experiences — plus loads of innovations and enhancements that boost productivity.
With WiFi 6E
11
onboard, ExpertBook B9 allows you to wave goodbye to speed and capacity limitations. Transfer speeds are up to 3x faster than WiFi 5, enabling lightning-speed sharing, backups and updates — so you'll enjoy ultralow latency and improved performance in even the most-crowded wireless environments.
ExpertBook B9 delivers top-notch audio, drawing on the combined power of immersive Dolby Atmos audio, four omnidirectional far-field microphones, smart-amplifier technology and Harman/Kardon-certified speakers. Dolby Atmos technology creates enveloping 3D audio for cinematic experiences when watching movies or listening to music for post-work relaxation. It's also great for lifelike chats with colleagues during the day.
To level up professional conferencing, ExpertBook B9 has AI-powered noise-canceling technology that employs sophisticated machine-learning techniques. The technology includes both an upstream function to filter noise around the speaker, and a downstream function to eliminate noise from the person at the other end of the conversation. This ensures minimal distraction for high-quality communication, so it's just like being in the room with other people. It also includes shortcut keys to enable the technology or mute the microphones with simple clicks.
With ExpertBook B9's AI-powered camera, you'll enjoy excellent video quality for every virtual meeting. The motion-tracking technology automatically keeps your face centered, and adjusts to the focus of your eyes — eliminating the annoyance of having to adjust your camera mid-chat. With its ability to enhance both image quality and brightness automatically, the AI camera is perfect for working anywhere, anytime.
Comprehensive connectivity with no compromise
Despite its thin profile, ExpertBook B9 is loaded with I/O ports. These include cutting-edge Thunderbolt™ 4, the next generation of the universal cable connectivity solution that offers support for the next-level USB 4 interface, 40 Gbps data transfer speeds, 4K display output, and fast charging. The laptop offers USB Type-A and an HDMI output, plus wired network connectivity with a MAC address pass-through for easy device management. ExpertBook B9 supports up to three 4K external displays.
RJ45 via micro HDMI
HDMI
Thunderbolt™ 4 USB-C®
Kensington lock slot
USB 3.2 Gen 2
Audio combo jack
EPEAT Gold registered in the U.S. EPEAT registration varies by country. See www.epeat.net for registration status by country.
As of Jan. 7th, 2022. Based on internal ASUS market analysis comparing the size and weight of ExpertBook B9 to competitor products from vendors including LG, HP, Dell, and Lenovo. Actual weight may vary by specifications.
ASUS ExpertBook B9 keyboard is spill-resistant, not waterproof. Water damage is possible if the product is submerged or exposed to large amounts of liquids for long periods of time. The ASUS standard limited warranty does not cover problems resulting from accidents such as water damage. To prevent water damage resulting from large spills or other accidents, ASUS recommends turning off the laptop, then tilting it to drain away the excess liquid and wiping off it and letting it dry for at least 24 hours.
Weight may vary according to configuration.
NFC is optional and its specification varies according to country. Authentication works with FIDO 2 certified cards only.
Trusted Platform Module (TPM) optional.
The same device will offer differing levels of available storage depending on the chosen RAID level. If RAID 0 is used, the system combines the capacity of all SSDs in order to enhance data-transfer speeds. The available storage will equal the combined physical capacity of all the SSDs on the device. However, if the device is configured with RAID 1, two copies of the data are saved simultaneously in order to protect your data if one SSD fails. As a result, the available storage capacity will be half of the combined physical storage capacity, as half the storage is used for backup copies. For example, a device with two 1 TB SSDs in a RAID 0 configuration will have 2 TB of available storage capacity, but with RAID 1 the available storage capacity will be 1 TB.
The testing regime includes the requirements of both military-grade standards and ASUS quality tests, and varies depending on device. MIL-STD-810 testing is conducted on selected ASUS products only. Note that the MIL-STD-810 testing helps to ensure the quality of ASUS products but does not indicate a particular fitness for military use. The test is performed under laboratory conditions. Any damage caused by attempts to replicate these test conditions would be considered accidental, and would not be covered by the standard ASUS warranty. Additional coverage is available with ASUS Premium Care.​
Recharges the battery up to 60% within 44 minutes when the system is off or in standby mode. Power adapter with a minimum capacity of 66 watts is required. After charging has reached 60% capacity, charging will return to normal. Charging time may vary +/- 10% due to System tolerance.
Battery tests conducted by ASUS in March, 2022 using the MobileMark® 2018 Office Productivity scenario. Battery life test configuration: Intel® Core™i5-1235U, 8 GB RAM, FHD display, 1 TB PCIe® 4.0 x4 SSD, 66 Whr. Test settings: WiFi enabled, BT off, the display brightness set to 200 cd/m2, NumberPad off, backlit keyboard off. Actual battery life may vary depending on product configuration, usage, operational conditions and power management settings. Battery life will decrease over the lifetime of the battery.
Please note that all versions of NumberPad work only with the Microsoft Windows operating system.
WiFi 6E network card is available on selected models. The connectivity of WiFi 6E band may vary according to the regulation and certification of each country/ region.
ASUS Control Center is optional and its availability varies according to country. Please check with your local ASUS retailer for details.
ASUS management solutions include ASUS Control Center and ASUS Business Manager platform.
ASUS Service Package options include: 24x7 support; MyASUS app; Three-year international warranty; Pick up & return service; Onsite service; Next business day onsite response; Accidental damage protection; Defective HDD retention. Service and warranty coverage may vary depending on country and territory. Service may not be available in all markets. We recommend that you check with your local retailers to confirm the options available.
Note that the supplied accessory box is manufactured from recyclable paperboard. The condition of this material will naturally deteriorate over time and is not covered by an ASUS warranty. Check your accessory box regularly and, when it is no longer suitable to be used as a laptop stand, please dispose of it responsibly.
Compare (0)